Set to release May 27, 2016 is The Urban Voodoo Machine's fourth album Hellbound Hymns; this album is London's very own child of anarchy. With psychedelic jazz and blues comes twisted tales of fate vocalized by the ever-talented Mr. Paul – Ronney Angel. Thirteen tracks of booze fueled nights full of debauchery and ravishingly powerful groove fueling rhythms.
Track number one titled While We Were All Sleeping, begins with a joyful yet overwhelmingly demented circus feeling. Fast horns, strong bass lines, and whimsical piano melodies build the sensation of being center ring at the show. With this track being one of three singles off Hellbound Hymns track number two titled Love and Addiction is the second single. Love and Addiction throws an almost mariachi esque tranquility on the tragic tale of what one can interpret as drug abuse. The third track titled Shattered Dreams is also The Urban Voodoo Machine's third single off Hellbound Hymns. Shattered Dreams puts an early western frontier energy into this acidic jazz and blues album, full of loud tenacious keys the story to keep on living may not be pretty but it's what must be done. Track number four titled Hit the Road Rag belongs in a time period with Ray Charles, this swing filled dance jazz makes for a wonderful change of pace, and keeps the pulse very alive. The Ghost from My Bastard Past is track number five, with this singer songwriter approach to a unique memory of a past presence of time The Urban Voodoo Machine breaths life into lost skeletons in the closet. Track number six titled Bucket of Blood aches the bones to get up and dance to the hypnotic lyrics and transcendent energy brought on by The Urban Voodoo Machine's extraordinarily talented musicians. Track number seven titled Baby's Turning Blue slows the heart rate down to just above beating, this slow dance of a tragedy telling of overdose and love, one can only imagine the visuals brought on by Mr. Paul – Ronney Angel's powerful storytelling capabilities. Track number eight titled All Mixed Up is a classic rock 'n roll song blended into the unique style of The Urban Voodoo Machine. Groovy blues, whiskey drinking, and tobacco smoking tunes that is good for the human body to get up and move to. Track number nine titled Let You Rot is a steady beat of the drum and strum of the guitar to a story of acceptance and understanding.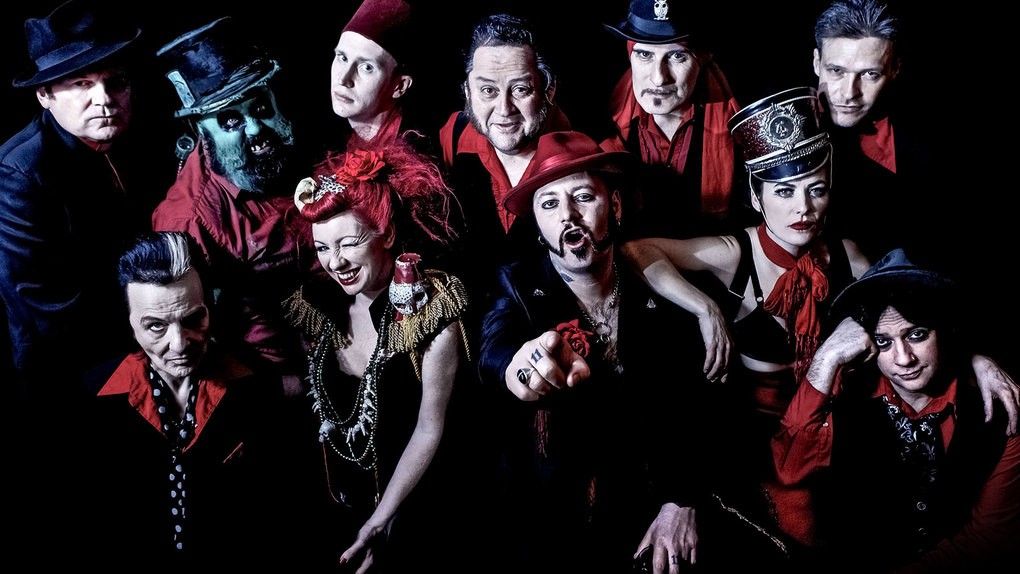 Quick to change tempo the horns become hard, and the keys become sharp, all making the vocals of Mr. Paul – Ronney Angel crisp and clear. The tenth track titled Rusty Water and Coffin Nails offers the unique visual of classic blues in the sight of modern times, a story of love once had and better days previously seen. Track number eleven titled Destiny Angel whistles through the mind of those open to the experience. Fallen Brothers track number twelve however grabs the back of the brain and relieves the pressure of what could have been. Lucky number thirteen is titled Lullabye, a portrait of love and conscious soul found in all living beings.
The Urban Voodoo Machine's Hellbound Hymns set to be released may 27, 2016 will also be on the Lucky Thirteen Tour this summer, with dates yet to be released as well. This marks The Urban Voodoo Machine's thirteenth year together as a force to be reckon with by the citizens of the state. Thank you to all the engineers, musicians, and those unmentioned for the hard work on this album.