"There's nothing better than a music festival in the heartland of the country," said Jeff Austin of Yonder Mountain String Band on the festival's last day.  Even though I can think of some things that are better, there is a lot of truth to this statement.  Despite its sputtering start with heightened police threats, and at times clueless security, the third Wakarusa music festival was a wonderful experience. The biggest strength that this festival boasts is its size capped at 15,000 people. This left each show with plenty of room to dance and breathe, which was necessary in the 90 degrees plus heat.  After attending four years in a row of Bonnaroo, my expectations were high, and it took me a day or two to adjust to the smaller-scaled climate. On the other hand, once I did, I really started to appreciate the short walk to my tent and the easy access to space at the venues.
When I interviewed Brett Mosiman, the creator of the festival, he said it best when I asked him how his festival compares with others of its kind by saying, "It is strictly about the music." As the festival and I warmed up, together we came to see the reason why we were there: the music. Wakarusa's unique personal touch lies in its 7,000-acre manmade lake and beach, where festival-goers came to take a swim in the hot mornings before dancing the day away.  There was even a disc golf course set up in the campground and yoga every morning. But for most die-hard music lovers like myself, there isn't enough time in the day for many activities besides show going. And that is what I did a lot!
In this review, I will detail each show that I attended. There are also shows that I may comment on that I saw at least four songs, so I could at least get some flavor from a band's performance.
Day 1 - Thurs. 6/8/06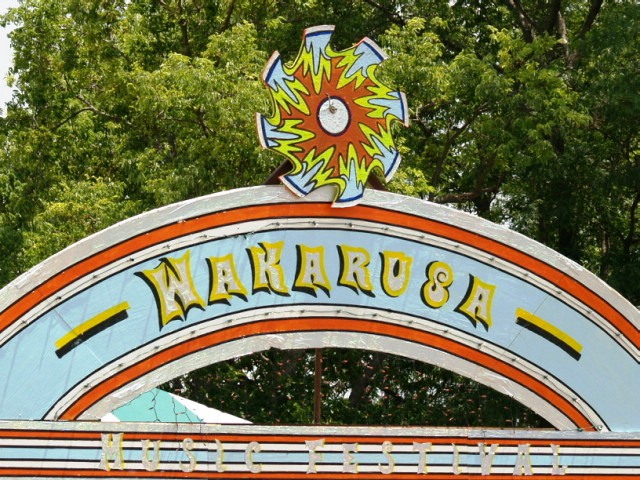 This band that pays homage to the influence, message, and music of Bob Marley in their own name, began my festival for me with a very enthusiastic opener. But it was no thanks to the sound guys, who were frantically adjusting levels throughout the entire show. It was completely annoying. But, the band continued to push through it with a fast harmonica solo hoe down that got everyone in the Voodoo tent kickin' up dirt. It even ended with an enthusiastic "Yee-haw!" and everyone in the venue realized that this band has some talent. On the other hand, it wasn't until vocalist Anne Katzfew belted the Chaka Khan cover "Tell Me Something Good," that the crowd really got standing and moving. After more disaster with adjusting the sound levels, the band played another cover that made the people sing and dance with joy. It was Harry Belafonte's "Jump in the Line." This energetic song went into about a ten-minute impressive drum solo with the whole band in a circle on the stage playing percussion instruments. To me, this was the highlight of this show. Besides having the worst sound men that I have ever heard, 56 Hope Road delivered and ended big with their rendition of the Phish cover "Julius," where appreciative phans everywhere danced with fury. This was a good start to a long festival.
Grace Potter and the Nocturnals
This is a band that I have been waiting to see for a very long time.  They have been getting a lot of press lately and for good reason. The great Taj Mahal recently recommended that "you keep your eye on this band."  After seeing their set at Wakarusa, I couldn't agree more.  This show exceeded my expectation. As I went to get something to eat, I heard this rocking bluesy quartet start their show, and by the second song when I got back, they were playing my favorite Elvis song, "Train" with personal brilliance. Grace Potter is a 22-year-old phenomenon from Vermont whose voice sounds like a rugged angel.  This doesn't even describe the power and beautiful darkness she expresses on the Hammond B3.  Another amazing lick that they featured off their new album was called "Treat Me Right." This song had a heavy Zeppelin or Floyd sound to it, which was outstanding to hear in these times.  The best way that I can describe their sound is a haunting soulful funk that rocks with intrigue. When they were over, I wanted more.  This was a dark horse for me at this festival that I was glad to finally see.  I won't miss them when they come around my area again, that's for sure.
Delta Nove has a cool California sound that displays the diverse backgrounds of the six-piece from Long Beach. I didn't know what to expect from this band, but what they played seemed great for the moment. They mixed through genres including jazz, rock, world, Brazilian samba, amongst other styles. I got really excited when I heard the Manu Chao cover "Bongo Bong". I have never heard a band cover Manu Chao before, and it seemed like no one else in the crowd had either. Delta Nove also dabbled with ska and some really powerful South American drumming with chants and full band participation. Personally, I love when bands play really intense drum solos where the crowd can just let loose and feel primal and sweaty.  They encored with a calypso song that left the crowd uplifted and plenty warmed for the night's headliner.
This night's Bisco show was one of my favorite shows of the weekend. The night belonged to Jon Gutwillig, (guitar, vocals) and it was apparent right from the beginning when they opened with his song "Sweating Bullets." After, they played "House Dog Party Favor," which sent the crowd into its groove with blue lights descending from the stage.  "Helicopters" rang in next with a call of "Hey, helicopters, look out below." The lights were turning as Gutwillig was just hitting his stride of lucid epiphany like jamming. The next song, "Commercial Amen," originally penned by Conspirator seemed like a set up for the madness about to come next with red lights roaring and people spinning.  One could sense the presence of a dragon's lair approaching and suddenly, "Spaga." After the beautiful journey through the dragon's den we entered the best song combo of the night. It was "Story of the World > 42 > Story of the World." "Story of the World," which is the first song of the second disc of the new double cd called Wind at Four to Fly, sandwiched the Brownstein bass load "42." Finally, the encore for the night was the dark trance-fusion special called "Confrontation." One could easily see a fire from the boys from Philly on this night. It was clear that they are back and here to stay.
I have seen Lotus before a couple of different times, but I never saw them put on a dance party as they did on this night.  This was a late-night show, so anything less would have been unacceptable. They proved themselves worthy of this time slot.  The "kids" were out in abundance tonight finally dancing in a temperature that was tolerable. The electronica-filled night came to a close on a perfect note as we had a long way to go on this crazy weekend.
Day 2 – Friday, 6/9/06
I walked around the grounds in time for the first shows today, and on a recommendation from my mother-in-law, we went to see Jake Shimabukuro.  As I walked past a really boring sounding Assembly of Dust, I realized that the generic jam band sound that they produce just bores me to death.  I don't know what the big deal is about Reid Genuar and his bands. There were about six months where it seemed that Relix, a magazine that I usually thoroughly enjoy, could not stop talking about Reid and his new project. I was kind of a fan of Strangefolk, but AOD is just too safe for me. Therefore, I decided to see something different.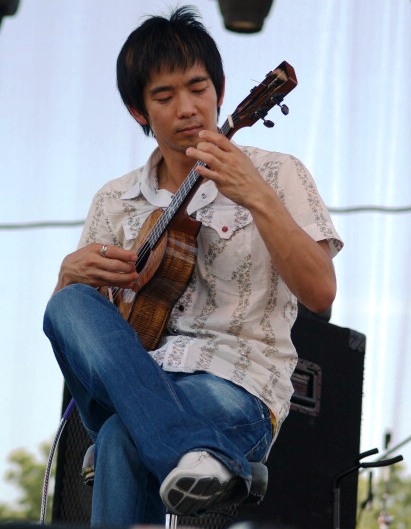 As we walked up to the Sun Up stage where Jake was playing, we could here the gentle tones of his singing ukulele from Hawaii divide the sky.  This virtuoso seems as if he is on a mission to show the world what this fine instrument can do. He gracefully weaves in and out of genres and gives off relaxing energy for the crowd to soak up.  There was one fan that had a ukulele tied to a kite string high in the air.  Jake saw this and commented and joked with the crowd in his pleasant Hawaiian demeanor.  This was the perfect afternoon show to start the day.  One of the most memorable parts of this show for me was his rendition of "Ave Maria." This is not a song that I would usually expect to see at a festival, on the other hand, there was true grace in his interpretation of this classic.  He played a lot of songs off of his new album. One song that I was hoping to hear that I didn't was George Harrison's "While My Guitar Gently Weeps." I saw an internet clip of Shimabukuro playing that entire song on his ukulele that was extremely impressive. Overall, I had a good time listening to this 29-year-old virtuoso open the day for me.
"These men and women who sing, whose voices move me, whose songs tell me the stories of living, loving, hating, hurting, healing and dying…Lord I hope I do them proud."  - JJ Grey did more than do me proud. The amount of soul that I heard come out of this man's voice was tremendous. JJ Grey plays the Hammond B3 while changing his voice in songs from sounding like an 80 yr. old black blues legend to a modern-day Stevie Wonder type falsetto.  At the press conference, JJ talked about festivals being all about fun just like life. He likes the fact that we can all take off our watches and live in these surreal moments in a sea of reality. His music translates the breaking down of genres, which he doesn't even believe in, and it is apparent while listening to his music. He told me, "Everyone is an individual even though it is natural to group. It is about relating." And relating is something that I believe his band does very well. They connect to the crowd through their complete realness heard in their music. I recommend this band to anyone who loves and respects the blues in rock n' roll.
This show started out well with a haunting opener with really interesting keyboard effects. But, as the set continued it got increasingly boring to me. I say to me because many of their fans were singing along and enjoying themselves thoroughly.  The keyboard player, Matt McDonald seemed to control the fun of the crowd almost solely. At one point he even switched gears to a very electronic sound which got the crowd up and rockin'. The best part of this show for me was when two firefighters soaked the crowd with a lot of water that they shot into the air. The crowd started to get a second wind when the drenching continued. As for me, I wanted to catch the ending of Tim Reynolds in the Voodoo tent.
As I entered the area where Reynolds had already started playing, I noticed the faces of the mesmerized crowd that was patiently listening to an incredibly good musician. I sat down to listen to a song that reminded me of the style of Paco De Lucia. His fast finger picking style had the crowd hanging onto every note. Unfortunately, I did not get to see too much of this set, but I did get to hear a slow and sexy rendition of the James Brown classic "Sex Machine." This guitar player has the ability to hypnotize a crowd.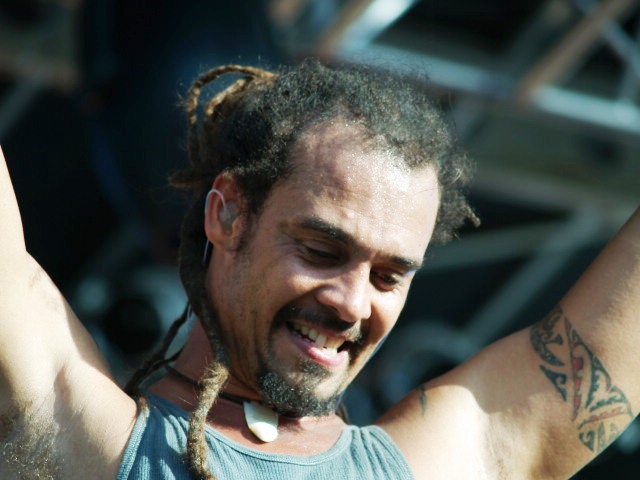 One of everyone's wives' and girlfriends' favorite bands came next.  Michael Franti's energetic and charismatic stage presence allows people to fall in love with him and hang on his every word.  But it is not only these qualities that attract all kinds of people. The biggest reason is his message.  Face it, Michael Franti makes people happy.  His messages and spirit seem to talk to all different types of people.  His messages are political, but they are also necessary in a time of almost universal denial.  The music is so free, and the looks on faces in the crowd are priceless.  Pure joy surrounded the Sun Down stage with mass amounts of jumping, singing, hugging, hand-holding, swaying, and rasta kicking.  Franti said it best before one of his most popular songs called "Everyone Loves Music." He said, "Dick Cheney deserves music!" Everyone has the right to music and more importantly, they deserve to grow from it just like most of us - a reminder we all need once in a while. The music, spirit, love, connection, and freedom all spread through every listener on the field. It was a very inspirational set of music.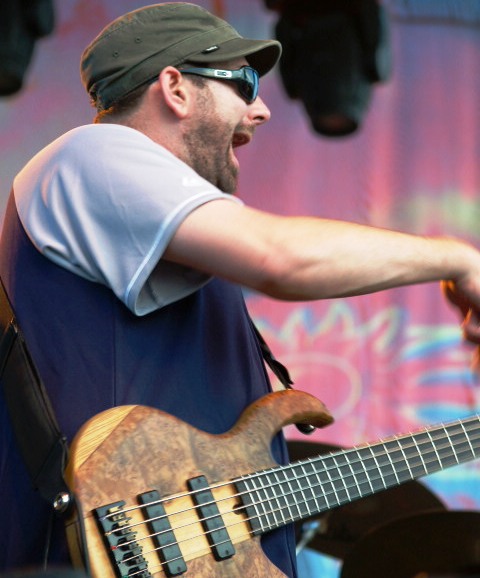 The day time set for the Biscuits seemed to stutter to a start even though they opened with one of my favorite songs of theirs, "High Wire." This song wasn't played nearly as well as it is on the album, "They Missed the Perfume." Aron Magner (keyboard) was missing, and Marc Brownstein (bass) was obviously pissed off at the sound guy throughout "I Remember When" and "Shelby Rose > Svenghali > Shelby Rose." I was actually listening from the side of the stage during these numbers and for some reason, the sound man was not understanding Brownstein's frustrations. Eventually, the bomb-dropping bass player just put his head down and started laying it down pretty thick. Things started to come together when they played a Magner song that was debuted the last time that I saw them at the Fillmore Auditorium in Denver on February 4 of this year. It's called "The Great Abyss," and when it debuted it was played between the "Nughuffer jam" in the second set.  Here, they busted it out with a mean "Cyclone" following it. Then came my favorite part of the night with a "King of the World" into one of my all-time favorite eighties songs, "Safety Dance." I've been waiting for a while to catch this song, and it finally came in a field in Kansas.  The final song of the set was another new song called "Step Inside." Marc Brownstein spoke about the encore telling the crowd that he made a promise to someone at 2 am about playing this particular song to close out their Wakarusa experience.  It was "Mulberry's Dream," and just an average mellow encore. Overall, the Disco Biscuits represented their message of music, and with the addition of their new amazing drummer Allen Aucoin, they haven't missed a beat.
Ragweed is deeply entrenched with Texas alt-country rock n' roll. I think that they're an average band with a clear leader in their frontman and lead guitarist Cody Canada. They played many different types of songs, but the songs that I enjoyed were the ballad type songs that told a story. The only gripe that I had with this band was that they have a guitarist on the other side of Canada that was not really doing much to add to the overall sound of the band. He was more of a distraction than anything else. I think that Ragweed would be better off as a power trio.
Robert Randolph and the Family Band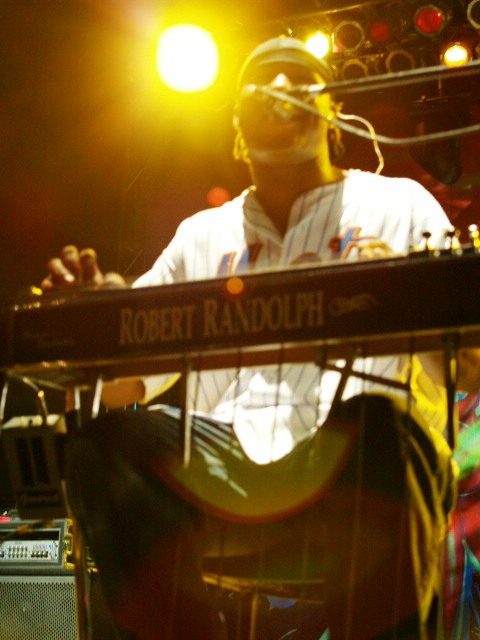 Hallelujah! That is what comes to mind when Robert Randolph struts on stage clad with his usual sports jersey on.  This time he is wearing a Mets Pedro Martinez shirt.  The reason why praise comes to mind when he starts playing his "sacred steel" beauty we formally call the pedal steel guitar, is that I always feel like I'm at church when Randolph starts his squeals. His soulful gospel tunes and jamming enthusiasm brings happiness to his crowds. This day was the same. I saw a smile in every direction I looked throughout the crowd. The crowd only became more satisfied when Randolph covered three of the greatest songs ever with "Can't Stop Till You Get Enough," "Isn't She Lovely," and "Voodoo Chile." Randolph didn't do his usual stomping and dancing, but he did focus on the beauty of those notes that were dancing across the Kansas stars.
I sneaked over to see the Reverend play because of how much I have heard about his magical shows in the past. I have never had the pleasure of seeing him live, and I have been intrigued for years. Finally, I was able to catch about four songs of this show before it ended, and it was worth it.  What a show! Charisma is the word that came to my mind when I watched Jim Heath (aka the Rev) put on his cowboy hat and jam on the front of the stage with his prolific and talented stand-up bass player Jimbo Wallace. This slap-happy stand up bass player matches the Rev's outrageous talent. There were many times during the four songs that I saw that I felt like I was walking in Texas in the middle of a Quentin Tarantino movie.
Day 3 – 6/10/06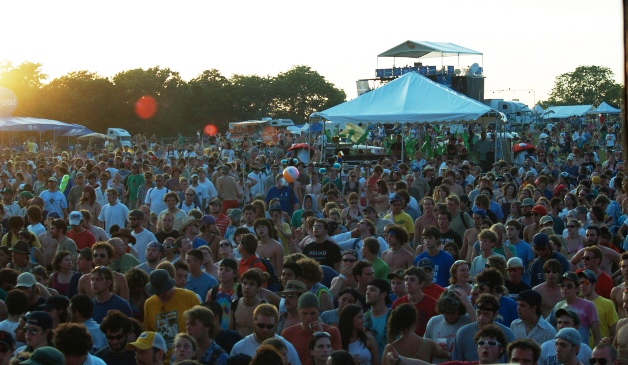 In case you are wondering why I didn't see any late-night shows last night, it was because I had to take the biggest test of my life at the University of Kansas at 7 am. I found out a week before the festival that I would have to take this exam if I wanted to get a job teaching in Philadelphia next year. Well, I did it, and I kicked it ass. I came back to the festival wide awake and ready to take on anything.  I didn't make it in time to catch all of Camper Van Beethoven's show, but I did see most of Cracker before the big press conference at 1 pm. Also, I did see all of the late nights tonight getting to bed at 5 am.
... "we're back on the block
with our freedom rock..."
— Everybody Gets One For Free, Greenland
I got to see the second half of this show, which I was very appreciative of. As I approached the stage I could feel the leadership of the lead singer and guitarist David Lowery. The other great thing about this show was that they were playing a lot of new material off of their new album Greenland. Cracker labored hard for this new product. The band themselves admit that this was one of their hardest pieces to record. The songs were alive and rootsy.  Craker also played with the guitarist from Camper Van Beethoven which made for a special and unique show. Of course, they ended the show with the crowd favorite "Low," and the sing a long ended on a high note.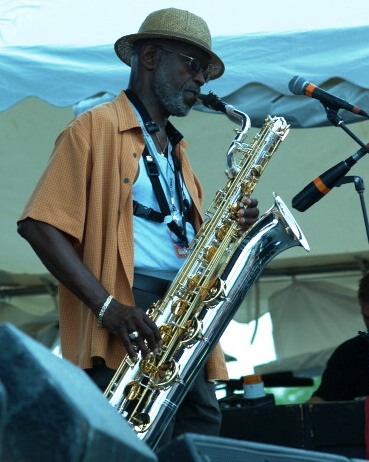 Roger Lewis (Baritone and Soprano sax) said it best at the press conference when he said, "We have no setlist. We just party and play!" That's exactly what these guys do every time I go and see them. I love the New Orleans style of music that bellows out of those powerful horns. I can feel the history, culture, partying, and fun that leaks out of those horns with every saliva and sweat drip that the band leaks out. It's always a jazz party, and this time they even had huge characters in costumes dancing flamboyantly on the stage. They also had a girl on stilts jumping up and spreading her legs out wide with every lift-off. This was a typical Dirty Dozen, "what?... party!! Ain't nothin' but a parrrrrty!"
Just like the majority of the crowd that was in attendance, I only stuck around for three songs. I learned my lesson last year at Bonnaroo when I was tricked. You see, the show was billed as Gabby La La featuring Les Claypool, therefore a lot of people showed up and were quickly disappointed. No offense against Gabby, but she just is not a solo act. She is a talented and unique musician who plays instruments such as the sitar, ukulele, toy piano, accordion, and Theremin. As I was walking up to the stage hysterically laughing because she was playing "Somewhere Over the Rainbow" on the Theremin, and it sounded like someone was letting air out of a balloon throughout the entire song. I couldn't help but just laugh at the absurdity. After the ridiculous song she had some sound problems, and people saw it as their queue to leave as fast as possible. She is amusing, and she is wonderful as support for Claypool's crazy bands, but as a solo musician, I will never spend my time to see her again.
Bernie Worrell and the Woo Warriors
I don't mean to disrespect a guy who has been a legend and has played with several legends in his lifetime, but this show was boring. Worrell is in the rock n' roll hall of fame with two bands (Parliament/Funkadelic and Talking Heads), and he wrote a piano concerto at the ripe age of eight. Therefore, I would not be dumb enough to talk smack about a piano legend. On the other hand, this show bored me.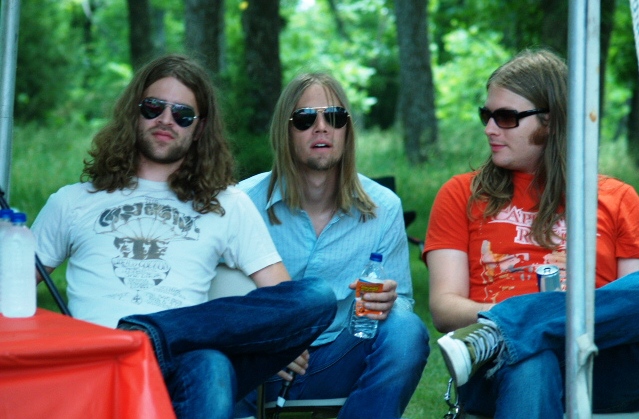 "We play rock n' roll!" Jake Sproul yelled out to a very accepting crowd on this sunshine rainy afternoon. And they do.  I'm a little partial to these boys because they are from my current hometown of Boulder, and I have been seeing them for some time while watching them grow.  Rose Hill Drive is the type of band that it is easy to see that they are destined for huge success. They are a hard rock group with a lot of classic appeals. There are not too many bands out nowadays that achieve this sound and feel.  They are dark, loud, arrogant, and they even play ballads.  I got a feeling about their immaturity at the press conference when they didn't really know how to answer any of the questions asked.  Not to mention that Daniel Sproul (guitar) kept handing the microphone to Jake (lead singer, bass) as if every question was too difficult while he sat back with his upper lip perched with coolness.  Then I saw why.  Jake had the funniest answer of the whole press conference.  When asked if they could hit anyone with any piece of meat, who would it be, and with what kind of meat, his reply was, "Your mom with my meat."  By far, the best answer of the press conference. Their forceful rock exploded the small crowd that was there for the intense show after a drizzle finally cooled the crowd down. This was the beginning of a heavy rock infested day.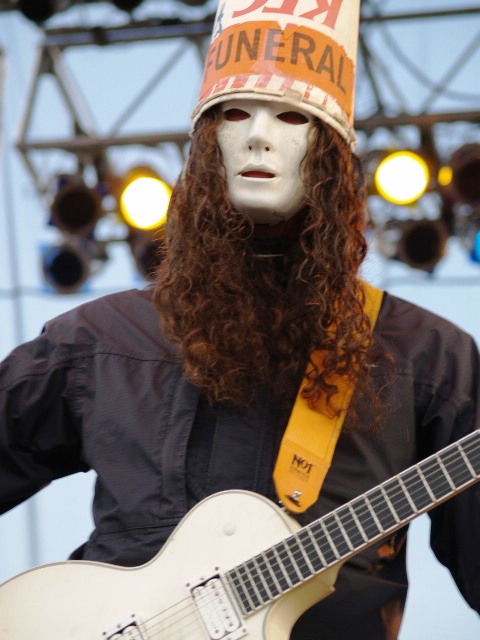 This mysterious speed guitar threat did what he always sets out to do…rock and entertain the crowd.  As sure as the sun shines Buckethead came on the stage with his KFC bucket with the word Funeral taped to it and his white scary mask to face the interested crowd.  He quickly showed off his extremely fast guitar talent while later playing a medley which included songs from Willie Wonka and Star Wars.  Then, he showed his softer side by playing "Right Here Waiting For You" by Richard Marx.  Buckethead does a great job of displaying how good he really is on that axe.  He played a few songs with Les Claypool wearing his infamous pig mask. Claypool was also playing his one-string stand-up bass that he invented in which he plays with a drum stick. It was a tight beginning of the set when suddenly Claypool left, and Bucket pumped out the numb chucks. After whipping them around like a samurai, he slung out a rubber chicken from his bag of goodies.  Meanwhile, the crowd had spotted Bernie Worrell backstage, and they were screaming for him to come out and join Buckethead.  Well, with the chicken came Bernie running out to choke Buckethead's chicken.  As he came out the crowd went wild and Worrell continues to strum the guitar with the chicken as Buckethead held his hands on some funky sounding chords. The tomfoolery continued with Buckethead doing his robot break dancing moves, which continued to work the crowd. Finally, Buckethead's drummer got into the fun. If you have ever seen this short balding man with his pants pulled up to his chest screaming in his silly voice you can understand what was to follow.  I believe his name is Del Rey Brewer or "Don Monti" as he screamed out to the crowd over and over again. His jokingly dope raps and chants to the kiddies swept over the hysterically dumbfounded crowd.  Buckethead is an experience, and especially a great warm-up for the craziness that was next.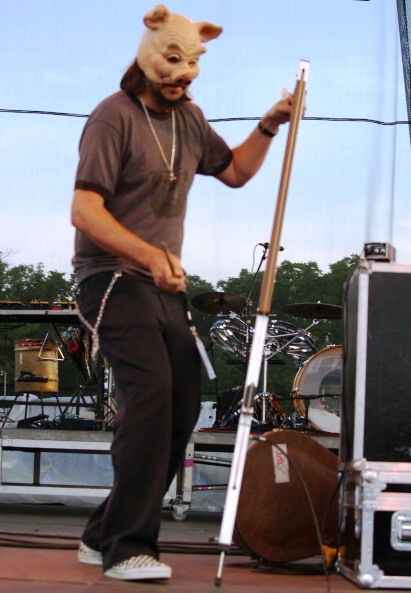 The provocative lineup known as the "Fancy Band," which includes Gabby La La, Mike Dillon, Skerik, and Paulo Baldi were performing many songs from their new album entitled Of Whales and Woe. This was a decent set of music where Claypool enjoys the freedom to play many different instruments for experimentation.  One has to make sure that they know what they are seeing when they see a Les Claypool project because they are very different from one another.  Soon the fun started when as expected Bernie Worrell and Buckethead came out to join the supergroup.  Les Claypool got on the microphone to announce that "they now had on stage, Col. Claypool's Fancy Bucket of Bernie Baldi." Worrell got behind his organ and played a beautifully distorted rhythm with the tone of church hymn.  With that, the band continued to play the entire night experimenting with their new songs as well as playing around with total improvisations.
**This concludes Part 1 of the Wakarusa Experience.**  Please keep checking back for the best part of the review. Part 2 will include all 3 of the best shows of the festival. I promise that you will need to read the second part due to the fact that the last day was the best. Thanks for reading!
Check out more photos from the 2006 Wakarusa Music Festival.