Thanks for waiting to read about the best part of Wakarusa! The best three shows of the festival lay here in the second half of the review. In this section, I want to tell you which bands earned my top three ribbons of the festival.  Please keep in mind that I could not possibly see all of the bands that played, although I did try to see most.
Honorable Mentions: Disco Biscuits 6/8/06 and Yonder Mountain String Band
Please read my reviews and rationales below.
Continued Day 3 – Saturday 6/10/06
Unfortunately, I only got to see about four songs by one of my favorite bands at the festival. I have seen these all-stars a bunch, so I wanted to diversify my musical experiences.  I can tell you though, it was extremely difficult to leave being that they played two of my favorite Greyboy songs, "Duffin' Round" and "Jack Rabbit."  These guys came out quickly and brought out the FUNK! The guitar work from Mike Andrews, aka Elgin Park constantly amazes me.  The quick hollow body sound that the jazz guitarist's Wes Montgomery like fingers vibrated through the thrusting crowd.  This guy can really play.  If you're a fan of the jazz guitar, Elgin Park embarked on his first solo tour of his career and only has a few shows left.  Check him out.
This combination of musicians is of a high quality caliber, and although I only saw a few songs, this show was off to a roaring start.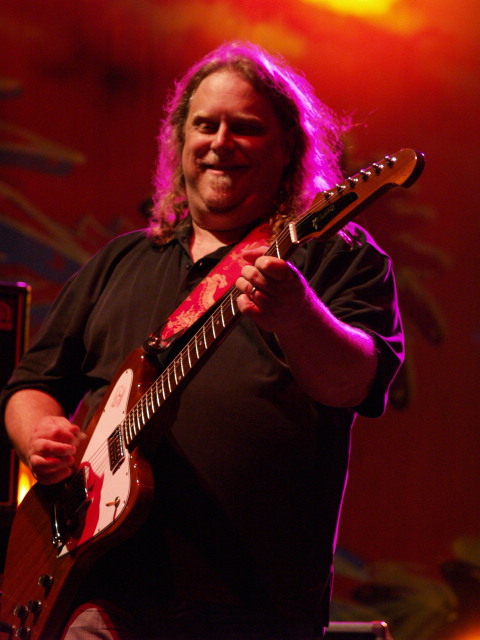 One of the greatest problems that one can experience in their lives is to have too many difficult decisions as to which bands they would like to see.  I have seen Gov't Mule many times, but I have never seen the Flaming Lips until tonight, therefore, I caught only four songs of Mule as well.  And again, it is difficult to walk away when a wailing Warren Haynes is calling you back.  They opened with "Bad Little Doggie," which also is the opener for one of Gov't Mule's best albums called The Deepest End.  "Bad Little Doggie" seems like Haynes' way of telling a crowd that they're naughty, and they're in for quite a show.  "Bad Little Doggie" and the next song "Brand New Angel" are fairly new songs off the soon to be released live album entitled High & Mighty.  High & Mighty was recorded on 5/22/06 at the Bowery Ballroom in New York City.  "Brand New Angel" is one of this band's best new songs.  I was truly glad that I was able to hear more new music from the hardest working man in the industry.  After, these two new songs, they played "Thorazine Shuffle," which always reminds me of the late Allen Woody because of its deep bass groove.  The experience and talents of Andy Hess (bass) did the song justice as the crowd erupted with cheers.  The addition of keyboardist Danny Louis and bassist Andy Hess has sent Gov't Mule into another revolving chapter of success.  And Warren Haynes wouldn't have it any other way.  This show was hot, and I only got to see one more song.  It was "Don't Step On the Grass" the Steppenwolf cover from their 1968 release, The Second. And as if on queue the audience decided it was time to light up. At that point I had to leave to get down to the front row of the Flaming Lips. On my way out they brought Bernie Worrell up on the stage for their classic song, "Mule."  The rest of their set list was as follows:
I'm a Ram > Love Me Do > I'm a Ram, Fallen Down, Hunger Strike > Dear Mr. Fantasy > Huger Strike, Time to Confess, Mr. Man, Blind Man in the Dark
E. One Can't You See (with Sam Holt) and Soulshine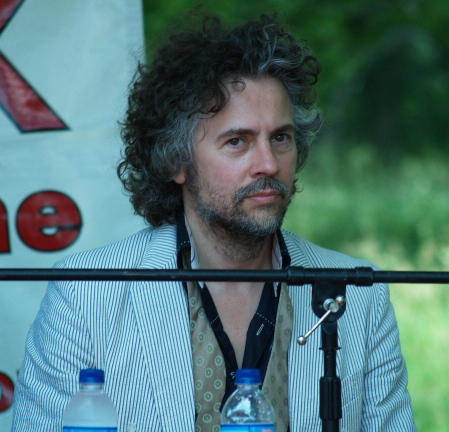 This was an amazing experience for me! It started with talking to Wayne Coyne, the pepper haired guitar player and front man of the band earlier in the day at the press conference and ended with streamers, sing-a-longs, and a colorful array of music.  "Isn't this fun? Isn't this the most perfect night of the festival?" Wayne shouted out to the crowd.  It was a much more perfect night now.  I gave this show my third star of the weekend because of their elaborateness.  The intelligence and keen sense of knowing radiates from Wayne Coyne like a twinkling star in the sky.  There is something about him that is special.  He is honest, plain speaking, and friendly.  As a matter of fact, when discussing the future of these special music festivals that seem to be infiltrating the country, Coyne warns that they must keep changing for their success to continue.  He talked about a festival that they attended in 1987 with bands like Sonic Youth and Europe, known for, as he sang aloud, "The Final Countdown." He said, "The reason why festivals like that and Lollapalooza are unsuccessful are because they stayed within the same genre. Festival creators have to keep it new or else their following will say that they've already been there and done that."  He continued to praise the way that festivals like Bonnaroo and Wakarusa mix up the type of bands that play at their festivals.  Coyne also mentioned that they work because they are, "intense experiences for youths.  There's sex, drugs, and rock n' roll. What's better than that?" However he was clear to say that festivals do not change the world.  He said that it may change people, but they did not feed starving people or save the lives of the oppressed.  These are messages that were also relayed during an amazing on stage performance.  Although the show started a little late due to technological problems, it did start off with a bang from the streamer spewing gun that Wayne Coyne shot off to mark the beginning of the show.  As he got into the gigantic blow-up ball, I helped him get off the stage and passed him back into the crowd.  It was fun to be in the press section for this show.  As he sailed through the front of the crowd and back on the stage the music continued and off we went into another dimension or at least it felt like it.  For their second song, they did a crowd sing-a-long of Queen's "Bohemian Rhapsody."  Then, he welcomed a whole stage full of Santa Clauses and Aliens, which he later explained could be interpreted as symbols of the wars between  fundamentalists like the Scientologists and the Christians.  Like I said earlier, this was quite an experience.  I have always read reviews or saw clips of the bigness of a Lips show, but it is a whole different experience to view it first hand.  Ironically, they played a lot of songs off of the wonderful album, Yoshimi Battles the Pink Robots.  The album seems to be about a metaphorical fight against pink robots, which ends in death and regret.  Songs like, "Yoshimi Battles the Pink Robots Pt.1," "One More Robot/Sympathy 3000-21," and "Do You Realize," were extra meaningful and intense with a stage full of Santa Clauses and Aliens. As I imagined it would be, the show was aesthetic.  They brought me to a beautiful place.  The only small problem that I had was that they took a little too long between songs.  It was a performance show, which made it entertaining.  The screen was gigantic and Wayne's face, specifically his nostrils were close up to crowd to provide a trippy ride through the night.  "She Don't Use Jelly" and "The Yeah, Yeah, Yeah Song" were another two of the night's sing-a-long rides through the carnival.  Overall, I thoroughly enjoyed myself at the show. The only question that I have is, do they do these tricks at every show?  From what I know of they do, and I still can't wait to see them with Ween at Red Rocks in July!
This was a late night show that I was really looking forward to.  I've seen these guys a bunch, and I always look forward to seeing what new tricks they have up their sleeves.  They came on really late so their set was cut short.  On the other hand, one never feels shorted leaving one of their shows.  They played an intensely tight set of music that sounded like four or more people instead of two.  Marco Benevento and Joe Russo play with fury and smiles.  They connect so well as musicians.  This is one of the reasons that Mike Gordon recommended them to play with Trey on his new album.  In a recent interview in Relix, Trey mentioned that after they played once together, he could see why Mike toured with them.  And now we have G.R.A.B. (Gordon, Russo, Anastasio, and Benevento) to look forward to this summer on a tour with Phil & Friends.
ALO (Animal Liberation Orchestra)
ALO has been another band that I have been looking forward to listening to live because of the recent surge of press that they have been getting.  This show was better than I expected.  The best thing that I recognized from this very late night show was that I appreciate the diverse styles of music that they bring to their shows.
Day 4 – 6/11/06
Wow! The last day of Wakarusa madness. It was this last and final day that provided the best music for the patient fans that stayed the course.  It was extra tough to wake up early on this morning after going to bed at 7am.  Because of this I missed one of the performances that I was looking forward to the most, Jesus Christ Superstar.  When I interviewed Brett Mosiman, the festival creator, he stressed the importance of the performance art bands such as Mutaytor and Yard Dogs Road Show, but it is really difficult to see everything that one plans to see.  From my tent, as I was making breakfast, I listened to the sounds of Jesus Christ Superstar, which included festival performer Eric Mardis (Split Lip Rayfield) as Jesus.  Many other local musicians put the performance together as well.  It sounded amazing, and many festival goers throughout the day filled me in on the exhilarating performance that I missed.
My great friend and musician, Matt Wasowski (Jaka, Jyemo, Murungu, Charlie Sounds etc.) highly recommended this talented band from up state New York.  I got to hear some of the show, and what I "herd" I enjoyed.  What sticks with me the most about this band are the vocals of Kathy Ziegler and Tara Nevins.  These voices rang through the grounds of Wakarusa.  I appreciate their dedication to an Old-time Americana type sound.  Ziegler plays an array of instruments which includes: accordion, fiddle, acoustic guitar, and even a scrubboard.  The peaceful sound of Donna the Buffalo was exactly what I needed on a Sunday morning. Their music started the day that was dominated by the sounds of Americana, bluegrass, and new grass.
The reason that I was anxiously awaiting this show was because within the past year I have been hearing about their live shows, so I decided to buy their new album, which didn't impress me in the least.  On the other hand, lead singer Tom Hamilton's voice sounded so much better live.  It seemed to have an 80's quality to it, which I really enjoyed.  These Philly guys really know how to throw down.  They have a sound that is surprisingly different in a sometimes monotonous genre.  I had a lot of fun at this show! This was music to dance to on a warm afternoon in the sun.  Brother's Past has a lot of potential because they experiment with things like mood, effects, and shifting tempos.  I was happy with their changes and how often this electronica band can mix up their sound. This is what separates them from the rest of the pack.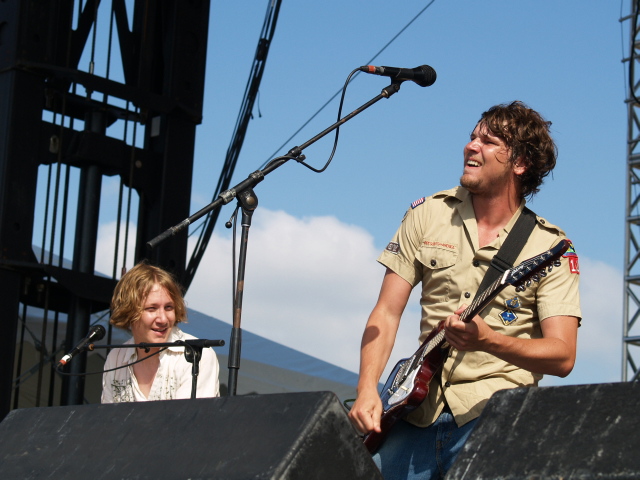 I have never been a big fan of Tea Leaf although I have seen them about four times now.  In the past, I always thought that they sounded like a typical jamband that wouldn't last.  They reminded me of a Strangefold or Ekoostik Hookah type band.  These bands seem to never take any real chances with their music. This experience was different for me.  I grew to appreciate their potential and power at this show.  I also got a chance to meet Trevor Garrod, and he is without a doubt one of the most humble musicians that I have met.  One of the best answers regarding genre was from Trevor.  Trevor said, "I don't know what a jamband is.  To me, there are two kinds of music, good and bad."  On this day, Tea Leaf Green's music was good!
The first half of the show which included, "These Two Chairs," "Vote On Tuesday," "Rapture" > "Incandescent Devil," "Georgie P.," "Devil's Pay," seemed like it was shaping up to be just average with the exception to Trevor wailing on the harmonica during "Incandescent Devil."  Then they played "Freedom."  From "Freedom" until the end of the show the boys from Cali kept it coming.  Guitarist Josh Clark ripped with almost a Trey Anastasio type build for the next few songs, which were "One Reason" > Sex in the 70's," "Faced with Love," and "Franz Hanzerbeak."  Josh Clark showed why he is a guitarist of the future to listen to.  It was fun to dance and listen to a quality guitar player like Clark.  By the way, if you get a chance, check out his art work as well.  These guys are talented.
I almost went to see these guys for the first time this New Year's Eve, but I was vetoed by my friends.  I really wanted to see what the recent hype was about Railroad Earth.  They came onstage with a few mellow American roots songs.  It really wasn't my cup of tea at first, but as the show progressed, they became more fun.  The best part of the show was when violinist Tim Carbone ripped an intense solo, and the music picked up a faster bluegrass sound.  Towards the end of the show the band played more bluegrass and the crowd was able to kick down before the future of bluegrass themselves took the stage.
With Colorado flags waving, people spinning, and that high country sound elevating through swaying bodies, YMSB played their hearts out as usual.  This was definitely one of the best shows of the weekend.  I have seen these guys often, but what was so impressive about this show was hearing their new songs.  Their new self titled fourth album just reached #1 on the bluegrass billboard charts.  They opened with a cover from the iconoclastic alt-country star Todd Snider called, "Sideshow Blues."  Then, moved into a Rolling Stones cover with "No Expectations."  With a shout out from mandolin player Jeff Austin the crowd from Idaho went wild as they played "Idaho" from their sophomore album, town by town.  The next four songs are off their new album.  They played the pop sounding "How 'Bout You," followed by "Fastball," East Nashville Easter," and "Classic Situation."  It was great to hear that their brilliance for writing great bluegrass continues.  After, they played "Mother's Only Son," the hoe down really got moving.  They brought the legendary Bela Fleck on the stage for the best collaboration of the festival.  It was a song sandwich that included, "If There's Still Ramblin' in the Rambler (let him go)," > "Angel," > "If There's Still Ramblin' in the Rambler (let him go)."  First of all, this is probably my favorite YMSB song, and playing with Bela made i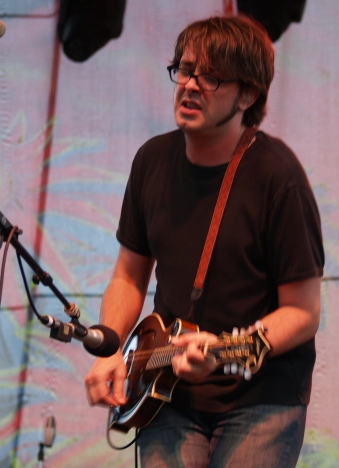 t one of those epic moments in festival music history.  When the madness ended, Yonder played another new song, "Sidewalk Stars," and then brought out another very special guest.  It was Jeff Coffin from Bela Fleck and the Flecktones.  The jam continued with, "Years with Rosie," written by Benny "Burle" Gallaway and "King Ebenezer Rap."  Finally, they closed the set by going back into "Years with Rosie," and "Holding." "Holding" is a dark song about a misunderstanding between two friends each thinking that they have the party's festivities.  The encore was a final cover of the song "Death Trip," that left all who Yonder with a closure of swinging their partners to the sweet sounds of this extremely talented Colorado bluegrass band.
This incredibly talented and unusual band won my gold medal for the best show of this festival by a long shot.  I have seen the band in the past, but it has been a little while, and I'm ashamed to say that I have neglected to see them for so long.  This show featuring Bela Fleck (banjo), Victor Wooten (bass), Jeff Coffin (saxophone, flute, composer), and Future Man (Drumitar, percussion) was an awe inspiring look at some of the most talented musicians in the world.  It was unanimous between all of the people that I traveled to the festival with that this show was far and away the best.  I couldn't believe the high quality mixture of bluegrass and jazz that has been penned, "blu-bop."  Listening to Bela Fleck play a wah wah sound on his banjo for the funkier Herbie Hancock sounding songs blew my mind.  In addition, the slapping that Victor Wooten was putting on his bass is proof of why he is one of the most celebrated electric bass players in the world.  Future Man blew my mind most of all.  Just watching him with one hand pounding drums while the other is playing the rest of the kit on an instrument called the drumitar that looks like it just dropped out of a Star Wars movie.  The instrument that he invented is a guitar shaped instrument with lots of buttons that allows him to replicate the sound of a drum kit with his fingers.  It is an amazing experience to be leaning on the stage watching these incredible musicians have a conversation back and forth with their musical prowess.  I cannot wait to see these guys again.  If you haven't seen them before you are missing out.  Go and see them as soon as possible!
I would have never expected this to be my second favorite show of the festival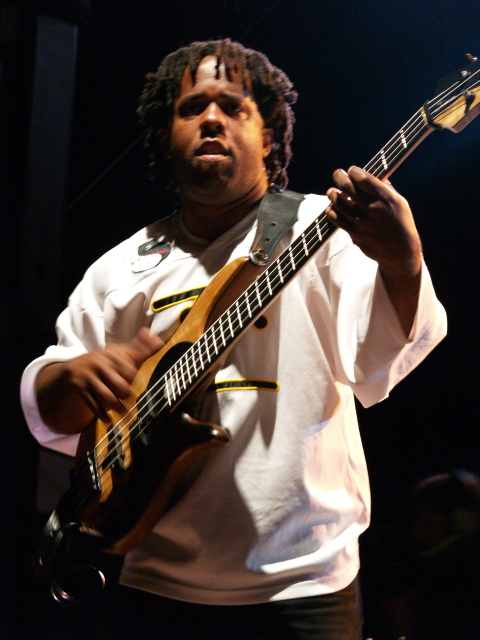 .  If someone told me that three men from Norway who wear their pants with their butts showing and their pubic hairs exposed and bang on kitchen appliances would be a highlight of Wakarusa, I would have told them that they were nuts.  Well, it true, and they are nuts.  This show made such an impact on me that I told everyone I knew to see them two days ago at the Fox Theatre in Boulder.  Please, do me a favor, and go and see them for yourself.  You'll never see a show like this again.  It was like being at a live recording of Spinal Tap.  This crazy power trio uses washers and drier, freezers, and electric toothbrushes to create a fun and loud sounding percussion.  All of my friends disregarded my advice because they thought that it sounded stupid.  After the show, everyone thanked me for dragging them to this circus of music.  At the end of the show, the band proceeded to beat the daylights out of their washers and driers and had to be carried off of the stage.  Kristopher Schau (percussionist) shows Americans how to be sexy by pulling his pants really high while spitting and snotting on his nipples.  This sounds ludicrous, but it is the most intriguing show I have ever seen.  These guys give their audience their money's worth.  Also, at this show I was in the front row with members of the Yard Dog Road Show, and the girls in the band were screaming with joy for the entire show.  They were claiming that it was the best show of the festival. They weren't that far off.
Finally, I recommend the Wakarusa music festival to you all.  The atmosphere was very friendly and low key.  It was really quiet late at night, and the festival's beer sponsor needs to get recognition for not taking advantage of unsuspecting festival goers.  The New Belgium Brewing company deserves a hand for only charging $4 for a large cup of quality beer.  I would like to end with a quote from musician J.J. Graves from Mofro.  He said, "I'm not too good with genres. We are all individuals, and I don't give a shit about grouping. It's about relating."  Wakarusa was about their musicians and their audiences relating.  This festival provides fun for the mid west region of the country. Hopefully, Wakarusa will continue to improve in order to stay unique and individual.
Part 2 - festival pictures