WinterWonderGrass, in its third Lake Tahoe-area incarnation, this time with a feet-thick blanket of snow all around, brought a distinctive assemblage of mountaintop adventure-seekers to Northern California for a symphonic unification of jam-happy roots and bluegrass music, fine craft brews, and mountain views/activities. The setting for the utopian weekend, March 31 to April 2, was once again the pastoral Squaw Valley, site of the 1960 Winter Olympics.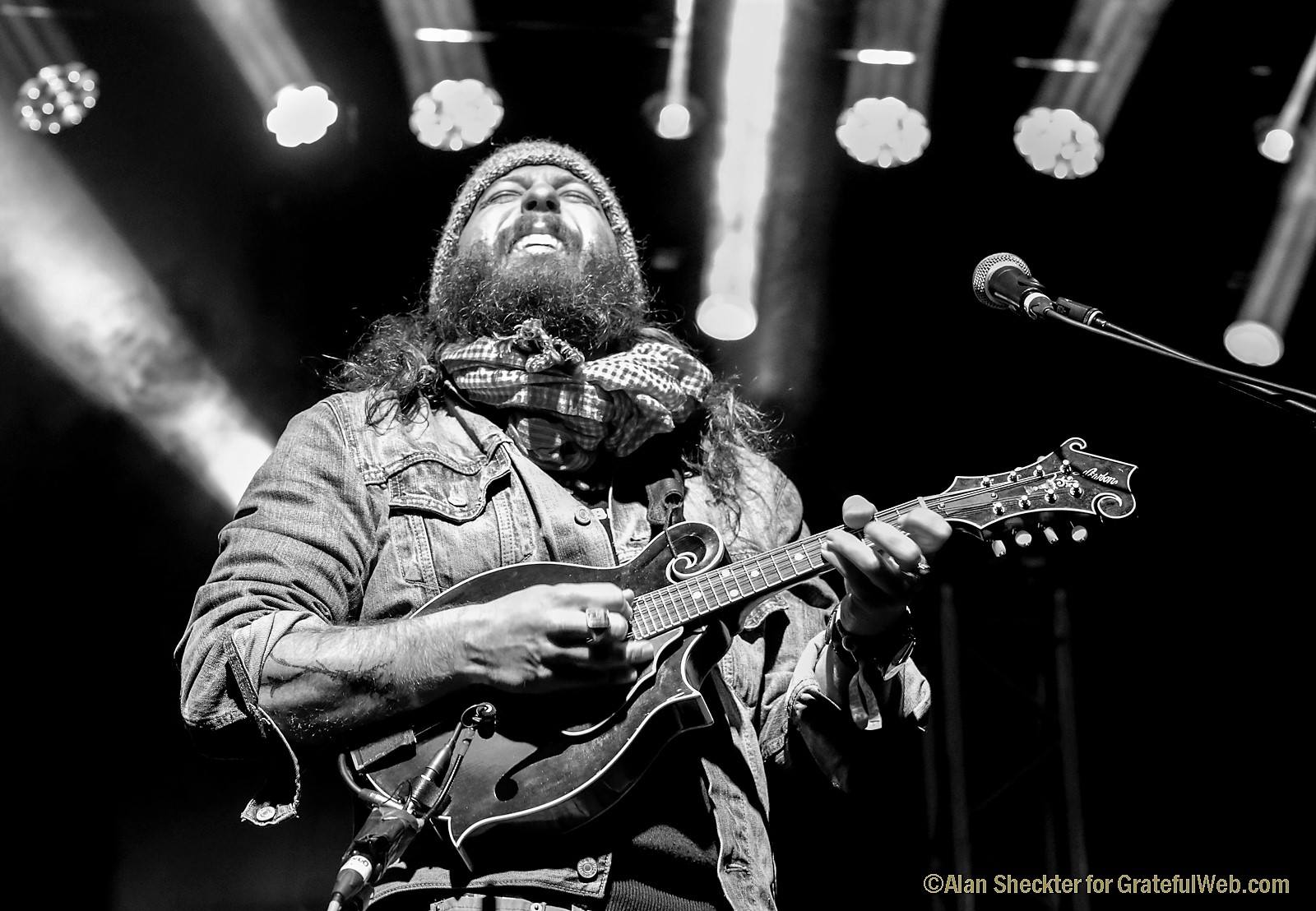 With celebrated live headlining performers – The Infamous Stringdusters (Friday), Greensky Bluegrass (Saturday), and Leftover Salmon (Sunday) – leading the way with head-swaying and foot-stomping 90-minute closing sets, WinterWonderGrass 2017 provided a glorious locale for upwards of 5,000 appropriate-clothing-layered music fans per day, according to Festival Producer/Partner Jennifer Brazill, who in February helped preside over the sixth such annual event in Colorado, this time in Steamboat Springs. In addition to the aforementioned headliners, inspired main stage performances were delivered by other phenoms deeply entrenched in the roosty/jammy/Americana circuit, including Dustbowl Revival, Yonder Mountain String Band, Fruition, Dead Winter Carpenters, and Head for the Hills.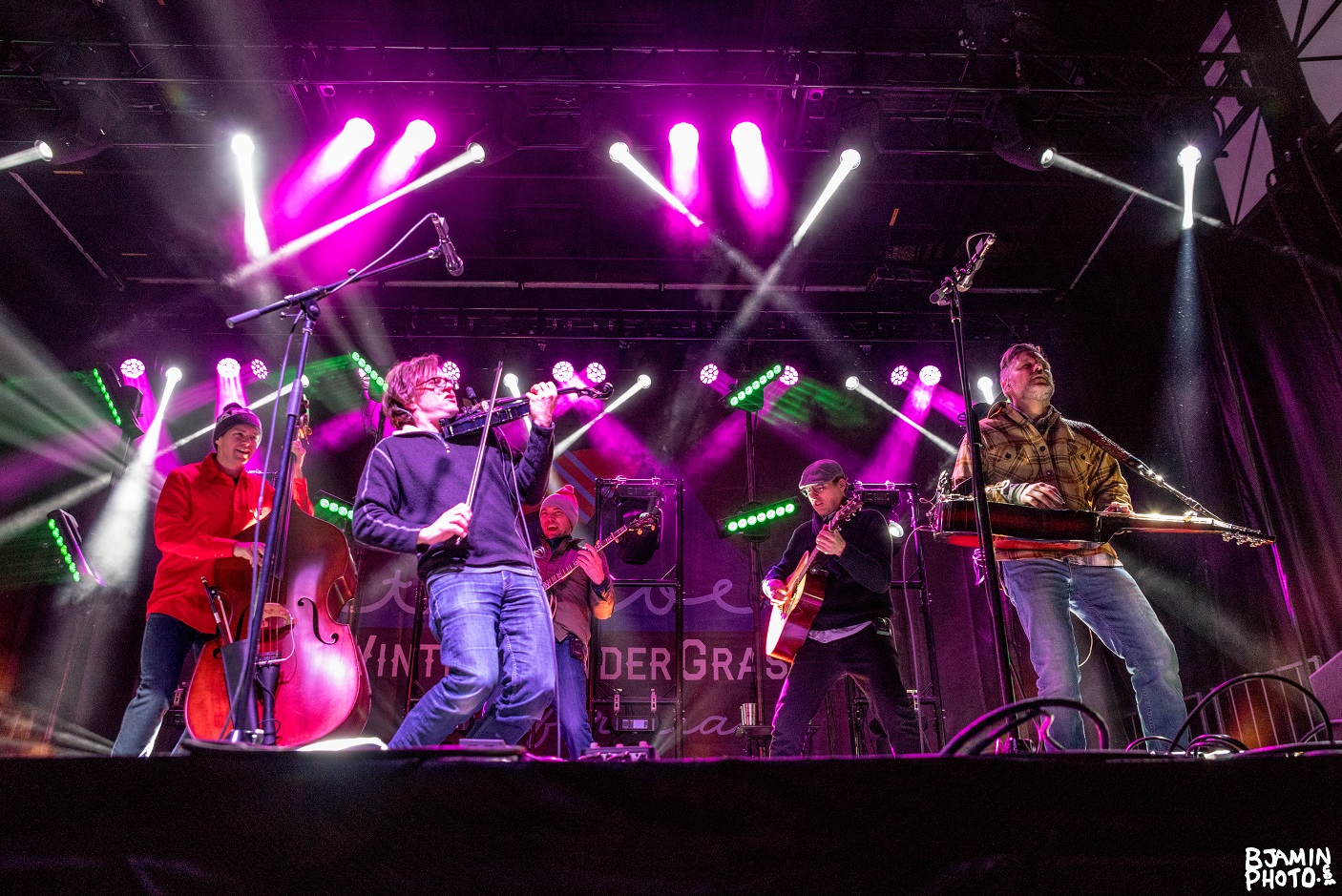 One of the core distinctions of WinterWonderGrass is the "pride of place" as California folk welcomed Colorado folk (and other intrepid travelers) to the idyllic scene, all ready to greet weather that can range from brilliant early spring sunshine (which is did), to early spring mountain storms (which it didn't).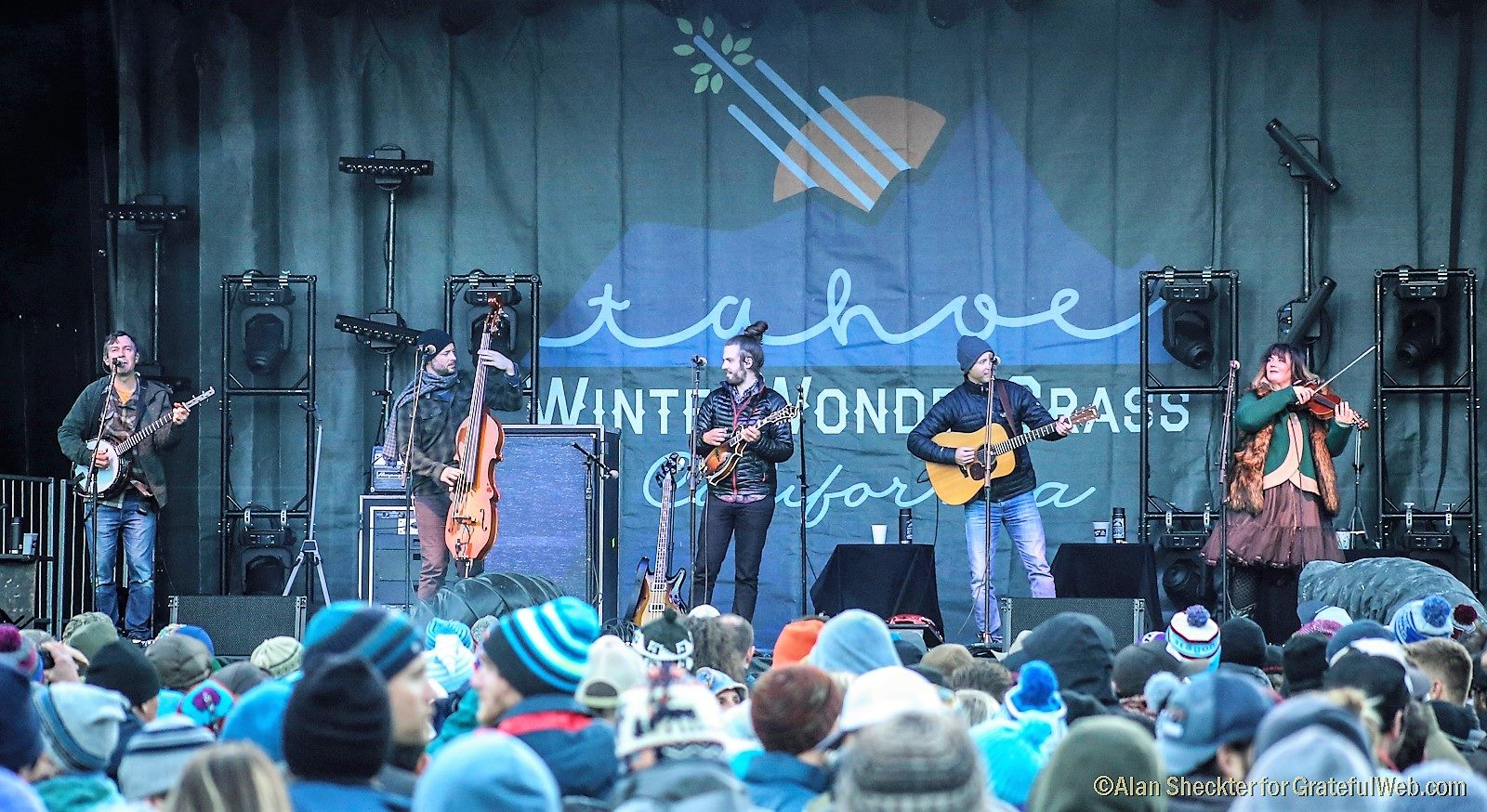 In addition to the obvious magnificent landscapes, both mountainous and musical, another facet of the charm here was the vibe. Sold-out as it was, and especially crowded on Saturday, the bowl-shaped festival environs always felt intimate. Water was provided by large water tank fill stations, the dispensing of which was made easier by the metal Klean Kanteen cups given to fest attendees. Fire dancers, a kids activities area, and other enhancements dotted the scene and contributed to WinterWonderGrass's overall composition.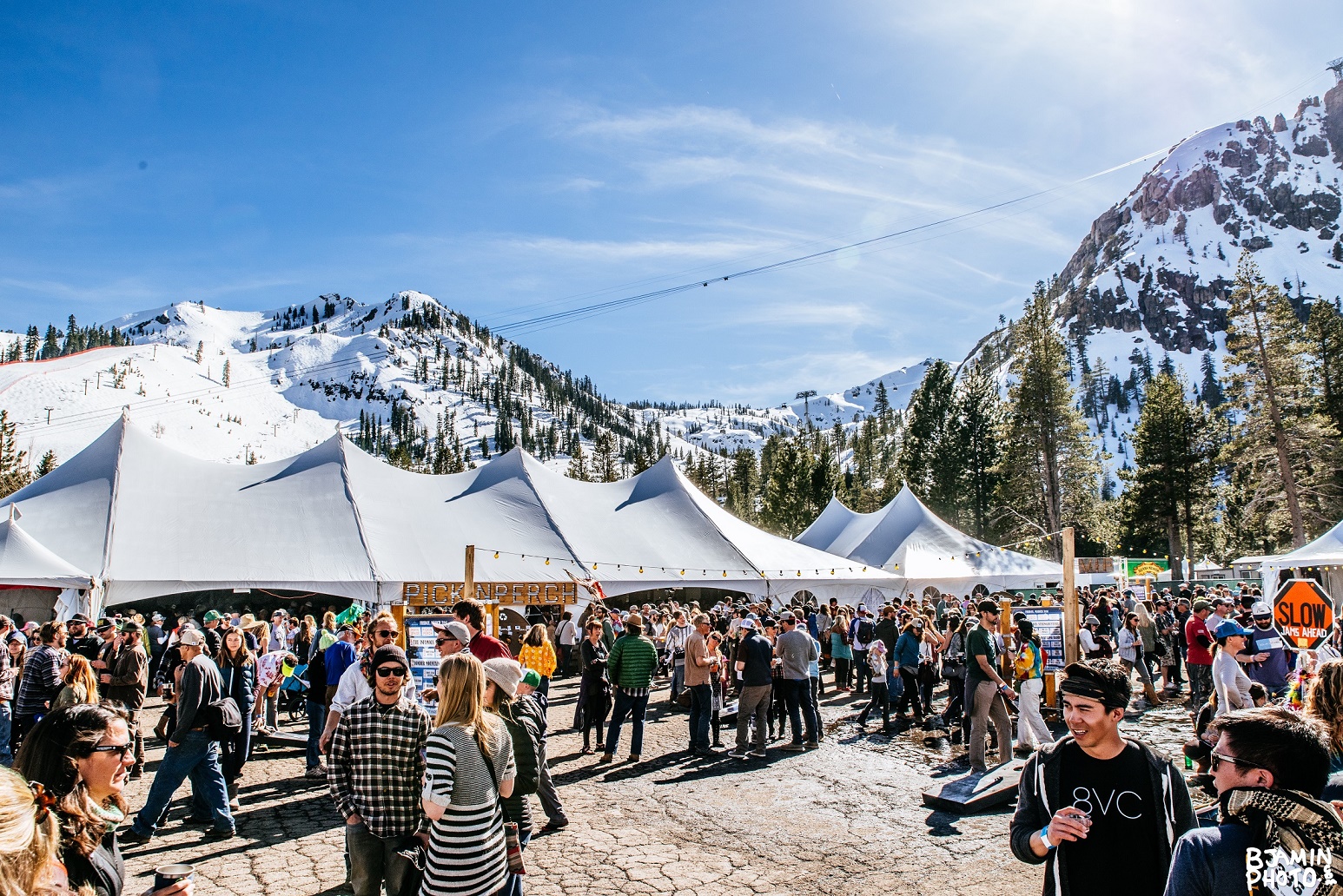 "We are elated with the local support and incredible inspiring words from fans traveling from around the country to join us," said Festival Co-founder Scotty Stoughton, an adventure-seeker himself who got into the acro-yoga circle and nailed it.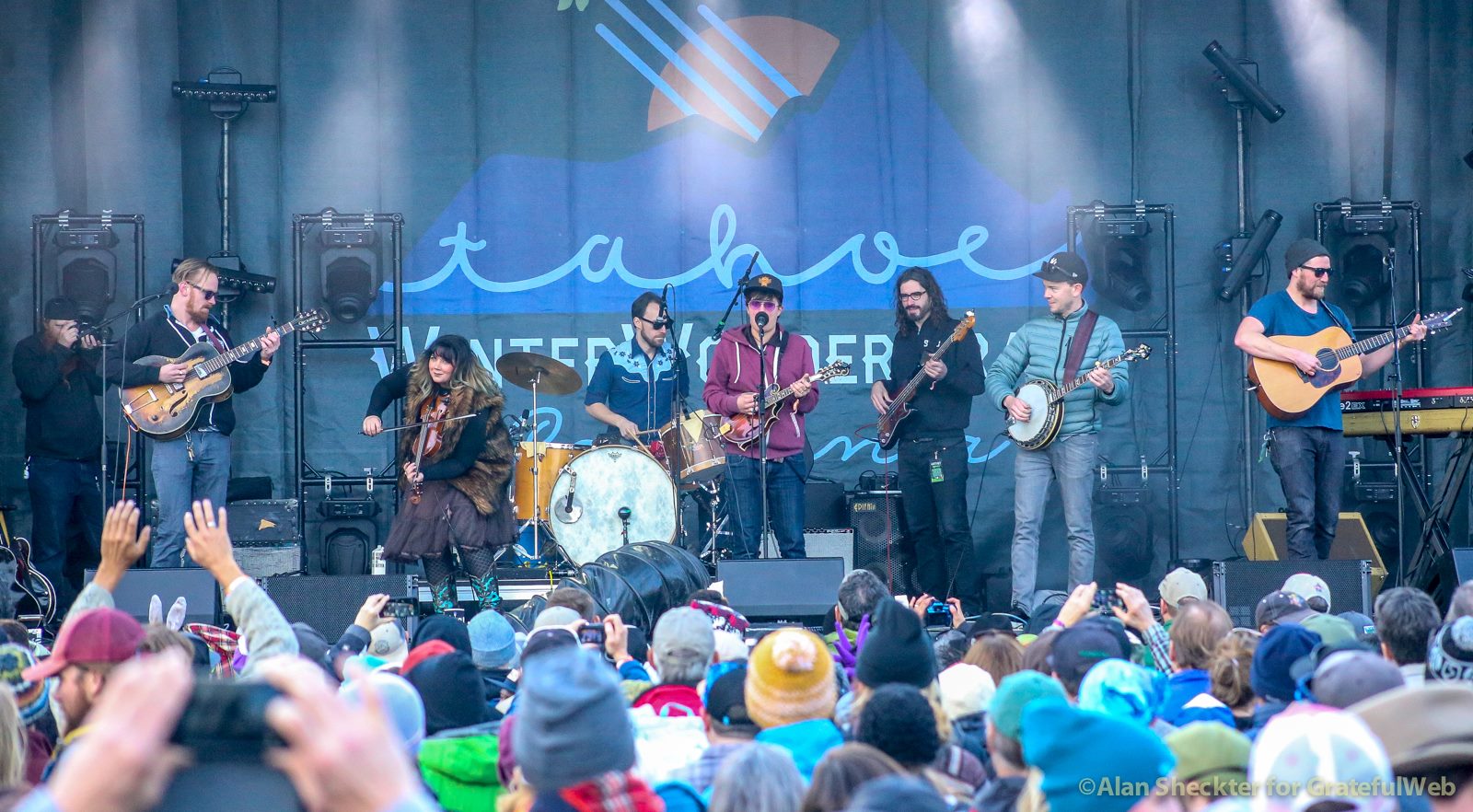 The festival-wide camaraderie included musicians as well, as pickin'-and-grinnin' collaborations transpired all over the place. During Fruition's Friday afternoon main stage session, for instance, Yonder Mountain String Band fiddler Allie Kral, The Infamous Stringdusters' banjoist Chris Pandolfi, guitarist Tyler Grant of the Grant Farm, and veteran dobro player Jay Starling all joined the fun (the latter two on Fruition's song, "Spliff." And Dead Winter Carpenters' twilight set on Sunday included Leftover Salmon's banjoist Andy Thorn, Fruition guitarist Jay Cobb Anderson, and front woman Jenni Charles' dad, Pete, on bass.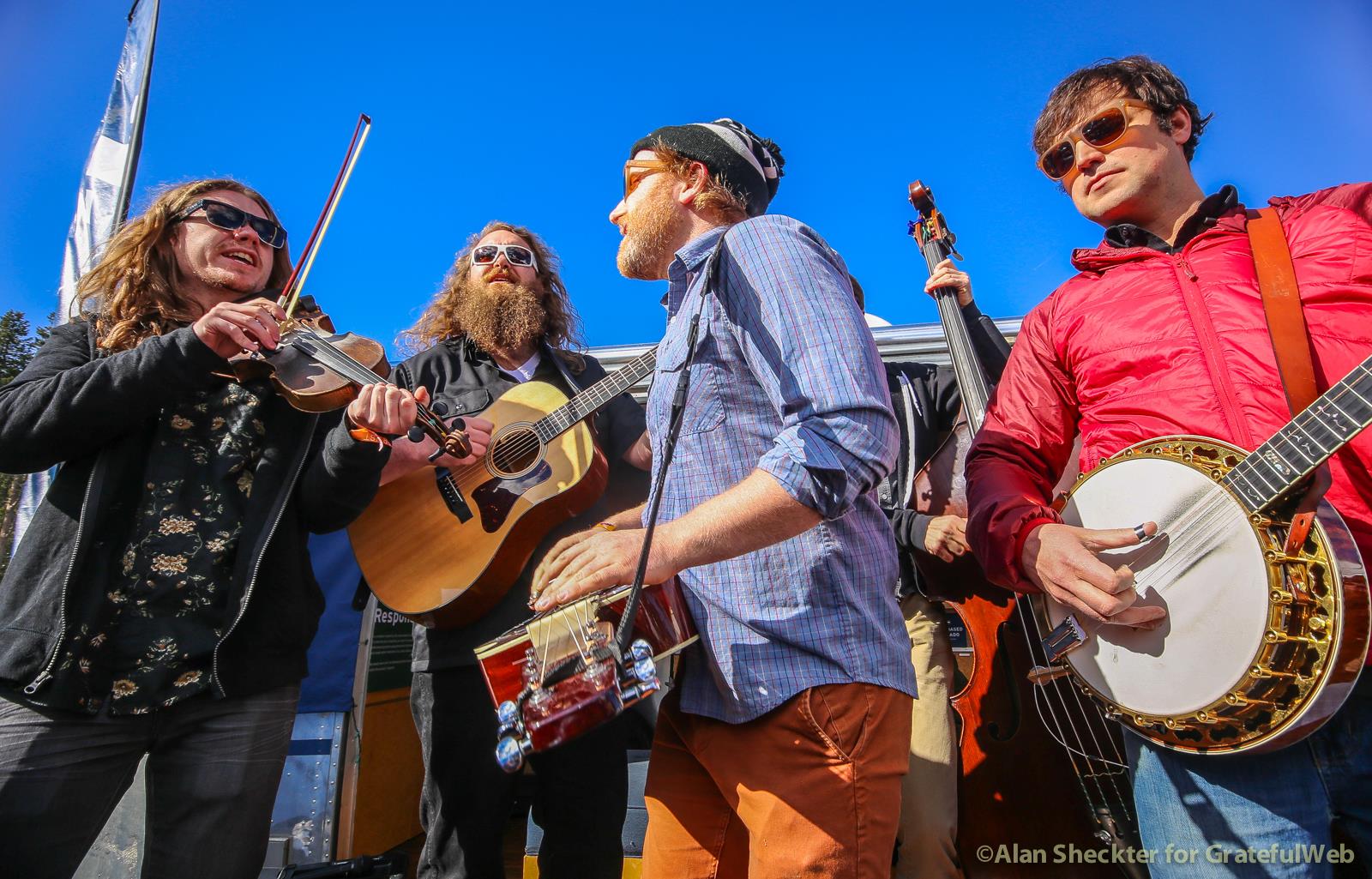 And then there were unique occurrences like a shit-kickin', impromptu set Friday afternoon by the Lil' Smokies atop the Zeal Optics sunglasses booth-turned stage, and fest band Dead Horses playing free to the public early Sunday afternoon in the Olympic Village Events Plaza.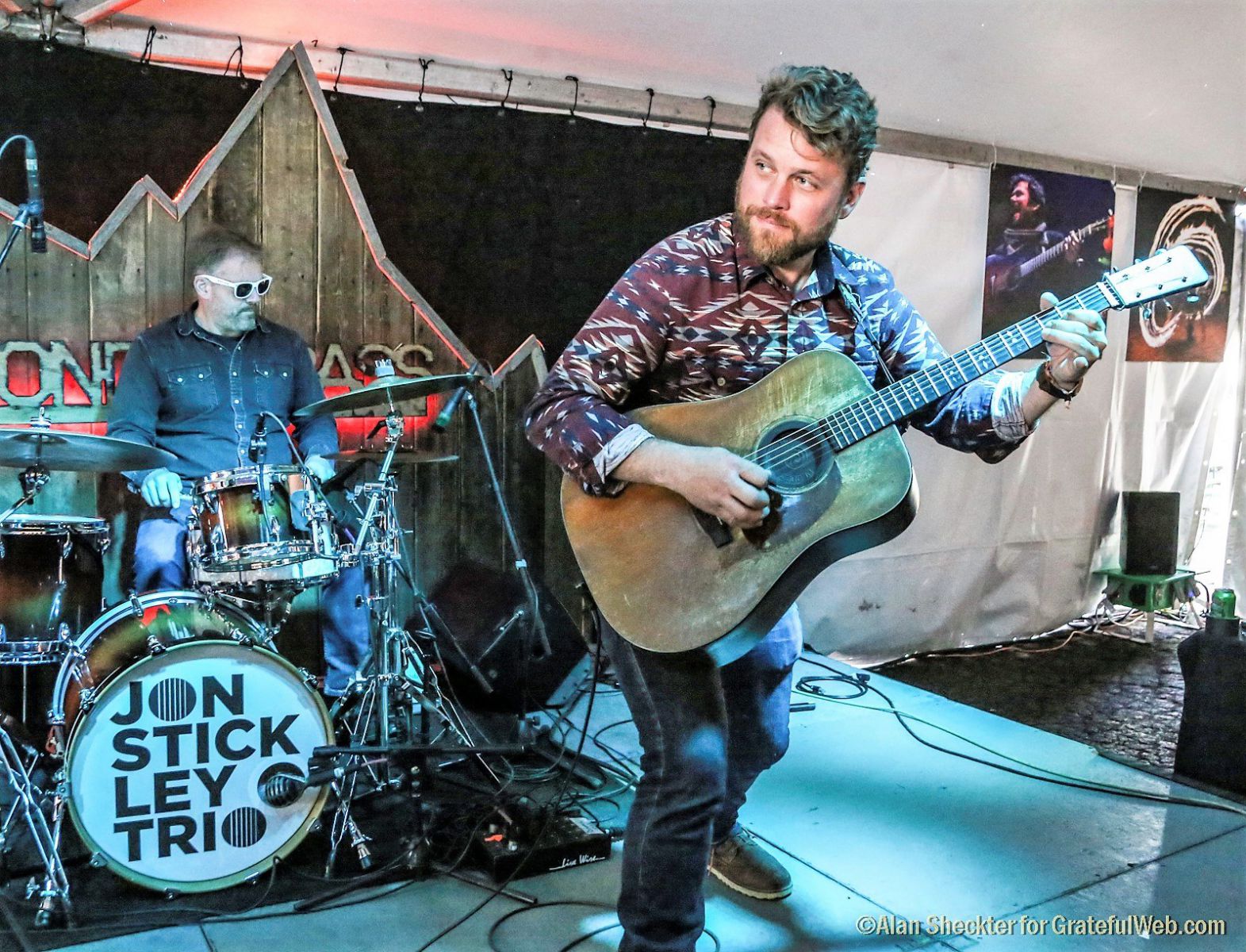 There was also plenty of Grateful Dead in the air. On Saturday in the Pickin' Perch tent, the Bluegrass Generals, featuring Chris Pandolfi and Andy Hall from the Infamous Stringdusters as well as Jon Stickley kicked out, newgrass style, such old faves as "Mr. Charlie" and "Brown-Eyed Women." On Sunday in the Jamboree tent, "Pickin' on The Dead" sets, featuring Tyler Grant, Jake Wolf, and members of the Good Time Travelers, were extremely popular. Revelers downed beer samplers while foot-tapping to such Dead classics as "U.S. Blues," "Oh the Wind and Rain" (Jerry Garcia), "Throwing Stones," "Jackaroe," and "Beat it on Down the Line."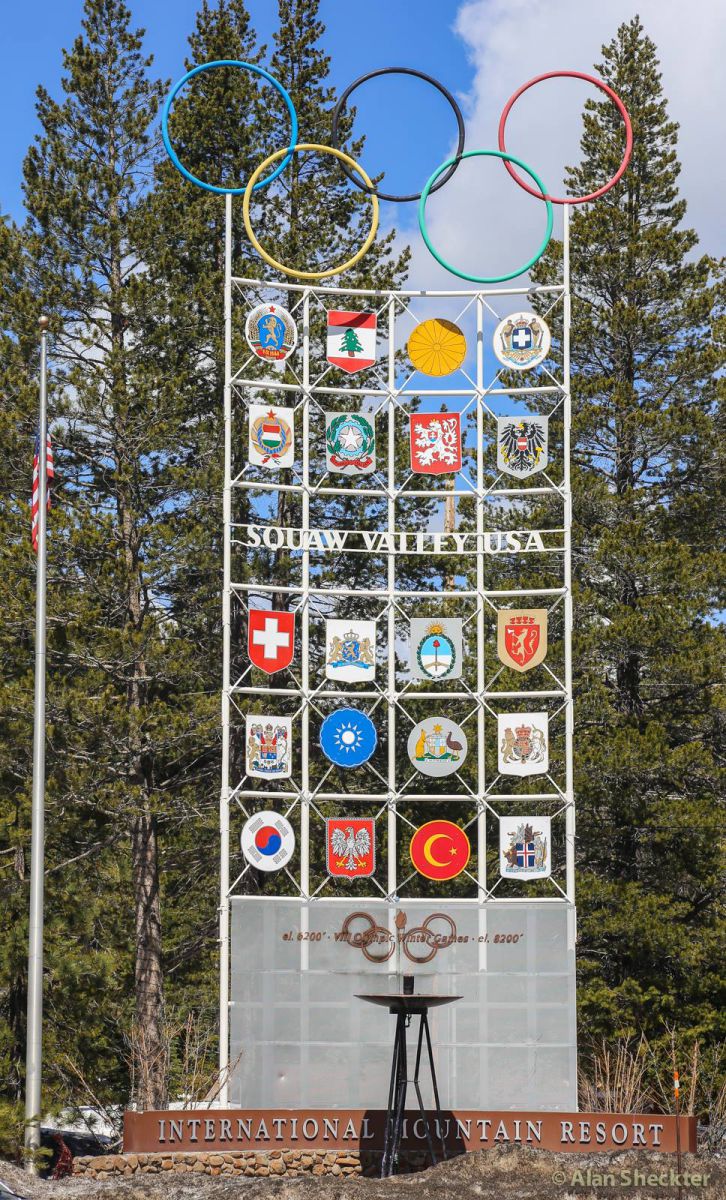 Away from the stages, gourmet food venders, more than last year, dotted the perimeter with high-quality provisions, and festival promoters provided heat-generated beer-hall-and-performance tents, two of which offered myriad beer choices while the other served up hot beverages. The VIP section, which featured outdoor standing heaters, also had a heated beverage and meal tent in which to lounge. And all weekend, neighboring Olympic Village, a classy wintertime destination community, was thriving with winter sport activities, hotels, shops, bars, restaurants, and fun.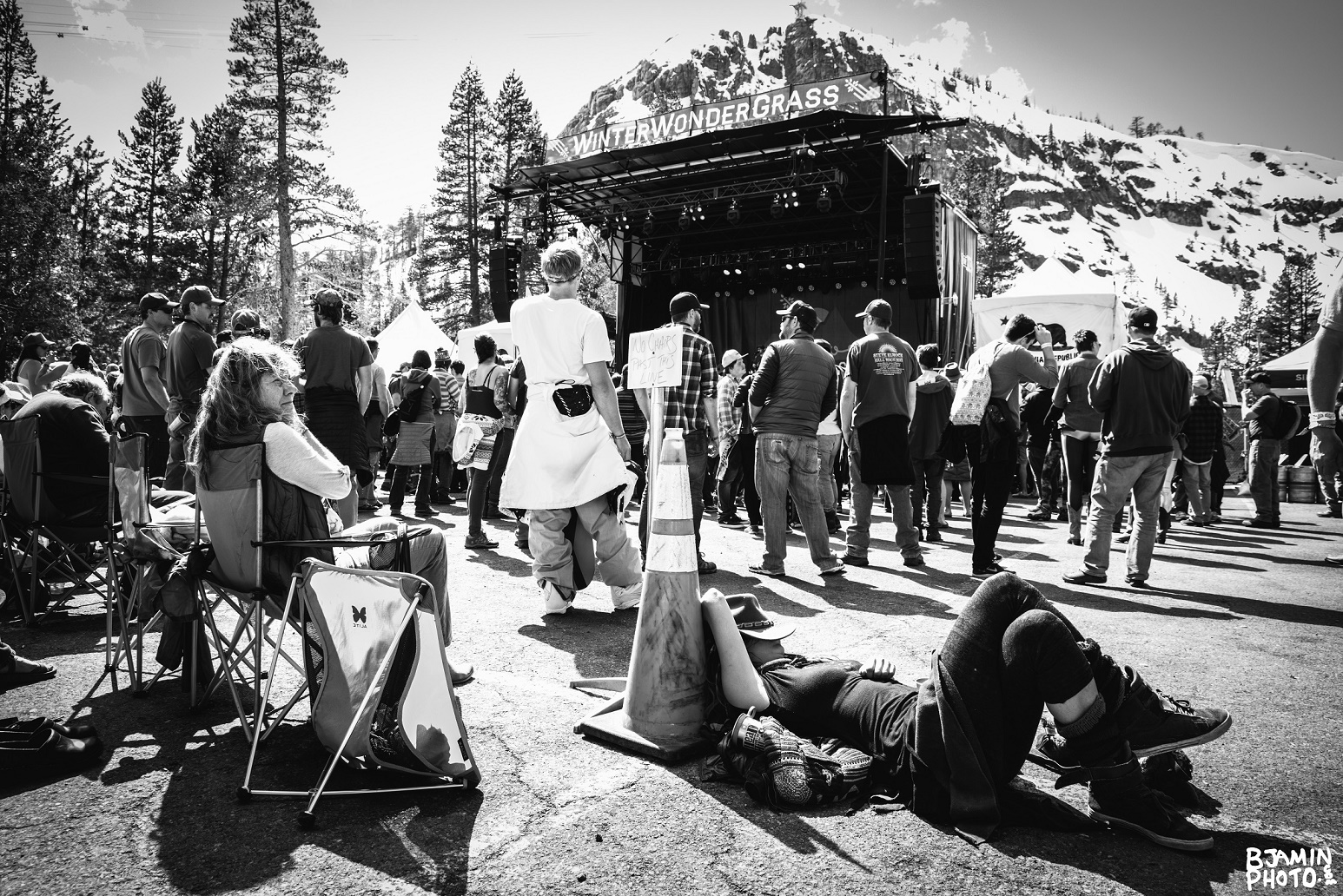 The festival's irresistible promotion band of "beer, bluegrass, and mountains," was spot on, with each ingredient deserving a deeper look.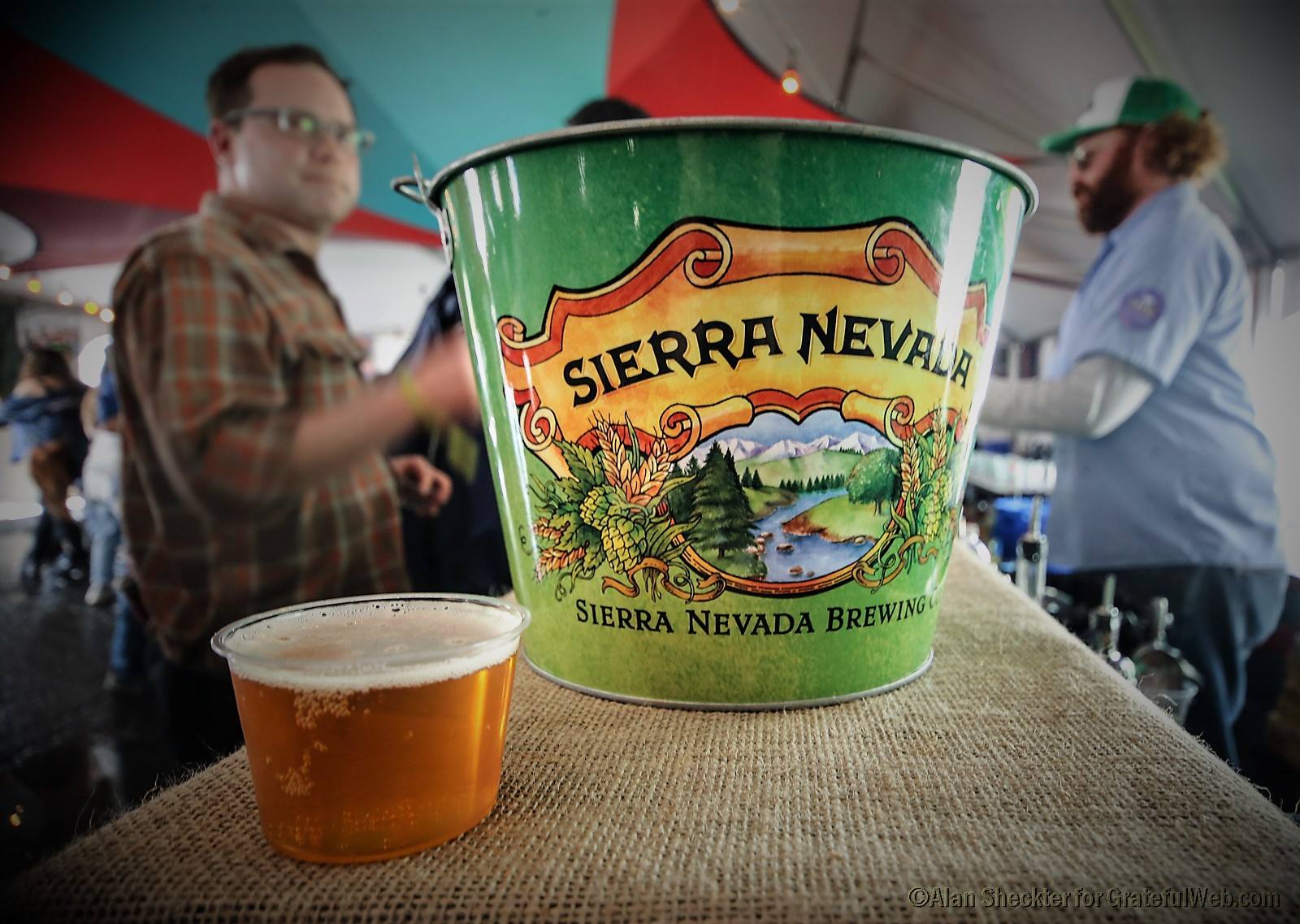 Beer: Sure, every festival serves beer. But the added bonus here was that between 2 p.m. and 5 p.m. daily, 21-and-over attendees were privy to free, craft-beer tastings to the accompaniment of afternoon main-stage acts that included Hot Buttered Rum, Head for the Hills, and Mandolin Orange. One was able to have as many three-ounce cupfuls as desired, though lines for each brew did keep beer intake, and potential boorish behavior, from getting out of hand. About one dozen California craft-beer brewers were present, including Sierra Nevada, Lagunitas, North Coast, Two Rivers, Magnolia, and Green Flash breweries were pouring. Samples were served from the massive Pickin' Perch and Jamboree tents, which simultaneously presented music during quiet main-stage times, including sounds from The Good Bad, The Grant Farm, The Deer, Dead Horses, and Horseshoes & Hand Grenades.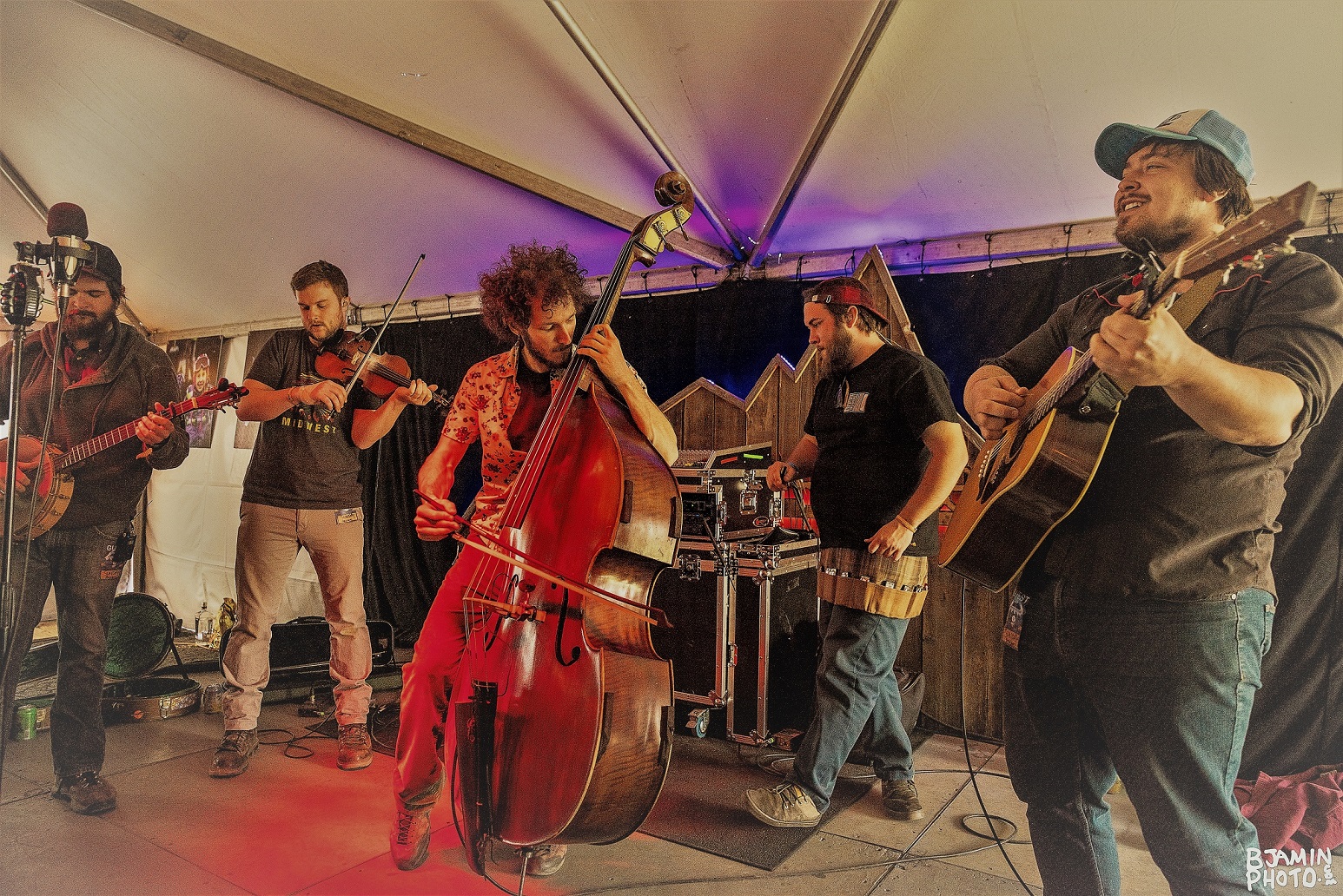 Music Legends: On Saturday, mandolinist/singer/songwriter Sam Bush, who co-founded New Grass Revival with Bela Fleck, John Cowan, and others more than 45 years ago, presided over a heritage-filled early-evening set that included classics such as Bill Monroe's "Roll on Buddy, Roll On," and Flatt and Scruggs' "My Little Girl in Tennessee," and older Sam Bush tunes such as "Riding That Bluegrass Train," and newer, such as "Play By Your Own Rules." In addition, Bush turned Jerry Lee Lewis' "Great Balls of Fire" and Robert Palmer's "Sneakin' Sally Through the Alley" into delightful, though improbable contemporary bluegrass numbers. Bush also guested later that night on Greensky Bluegrass's headlining set. Stoughton got into the Sam Bush act as well, delivering a stream-of-consciousness rap, accompanied instrumentally by the Sam Bush Band.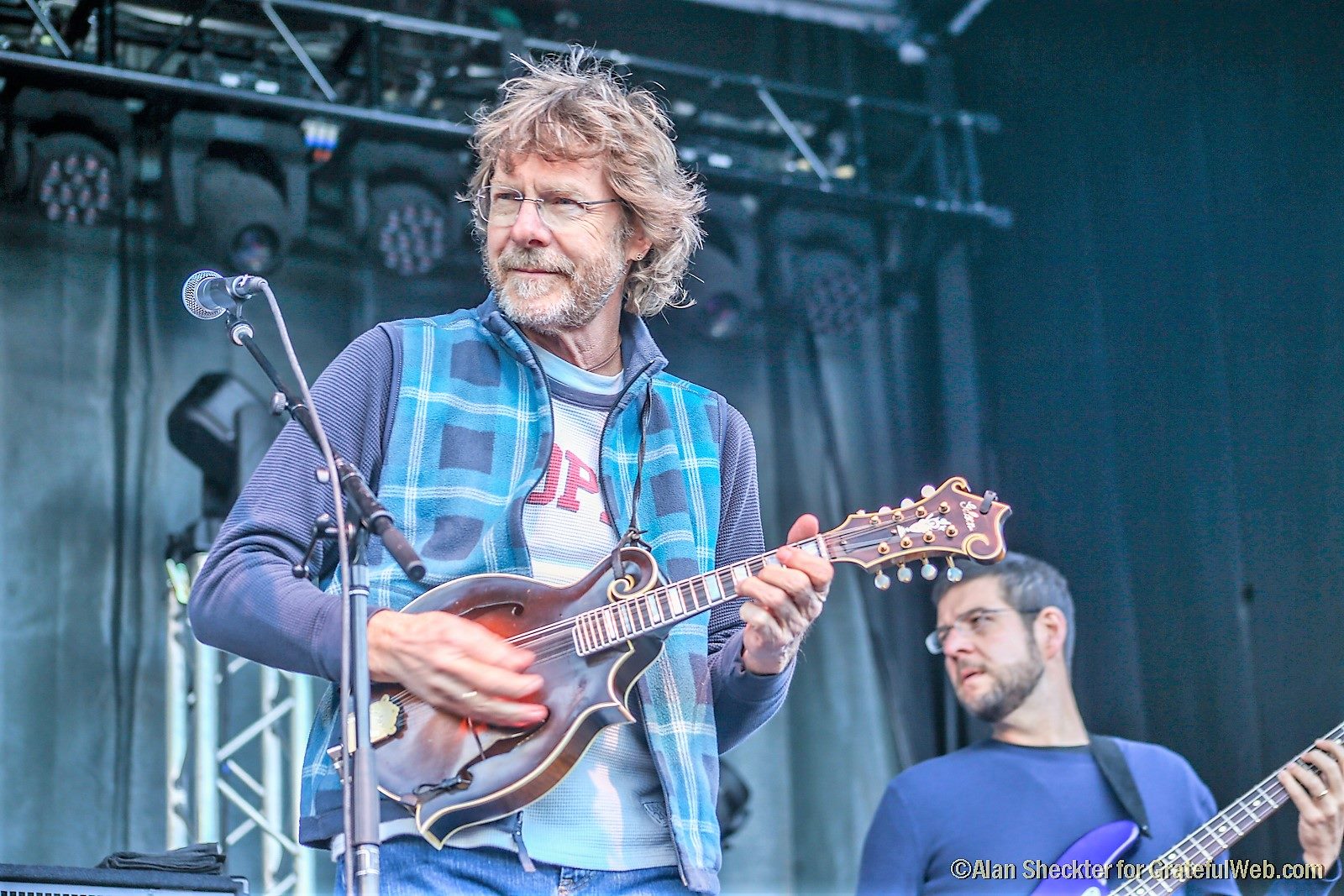 "Totally spontaneous," Stoughton said. "Sam asked if I would join him on a freestyle, so we discussed a little backstage about the song and potential style. I was side stage talking to Sam's wife, nervously asking what she thought; I think she said, 'Let it rip.' When I get invited to speak or freestyle I am always focused on humanizing the experience between the audience and the players on stage - providing a direct conduit to the feelings both parties are experiencing and doing my best to deliver the positivity between the two."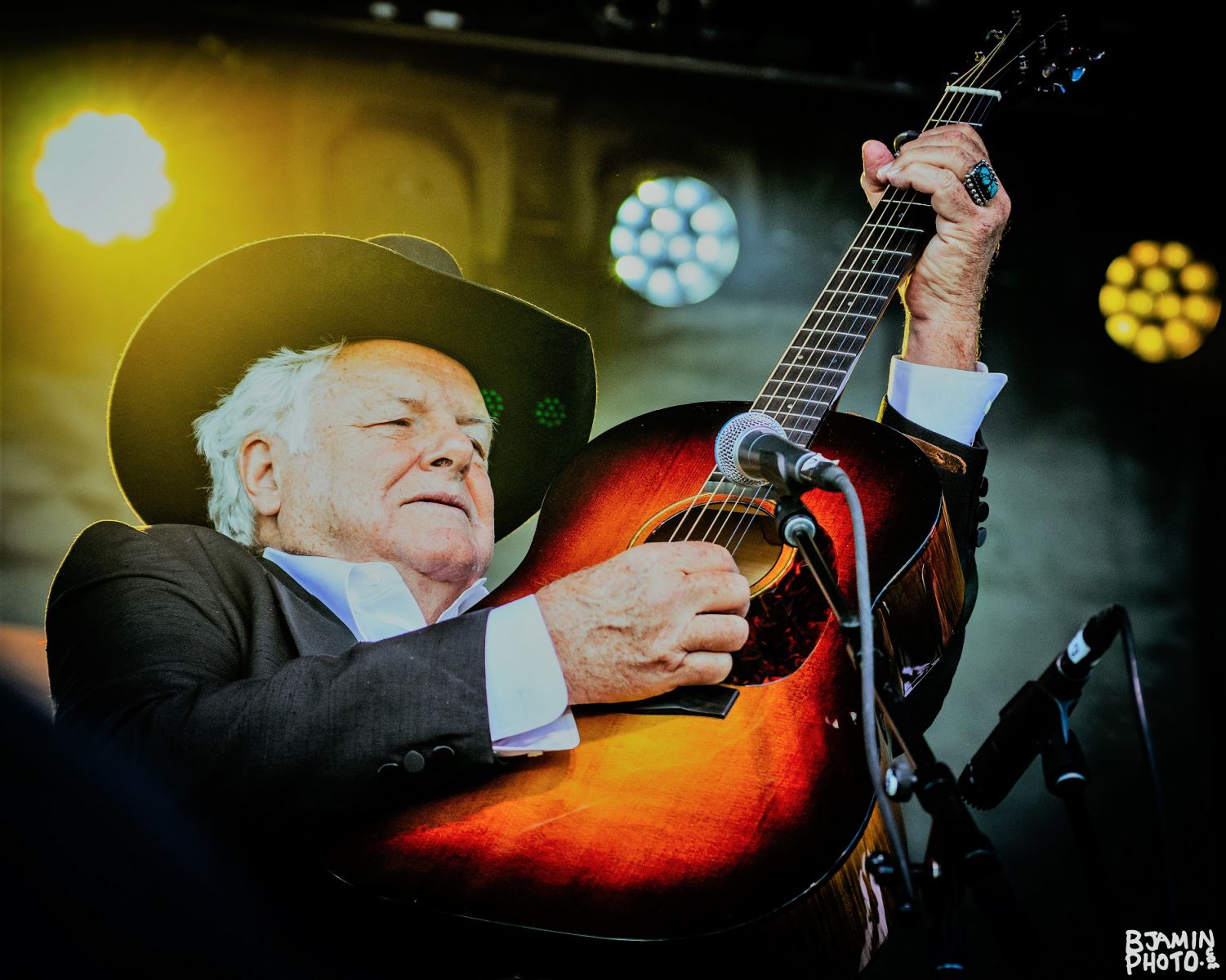 Sunday, contemporary bluegrass pioneer Peter Rowan, who invited members of Mandolin Orange, Fruition, and Grant Farm onstage, performed many of his classics including "Panama Red," "Free Mexican Air Force," "Midnight Moonlight," and an epic set-ender of "Land of the Navajo," also threw in the traditional "Wayfaring Stranger and tunes by bluegrass patriarchs Bill Monroe and Jimmy Rodgers.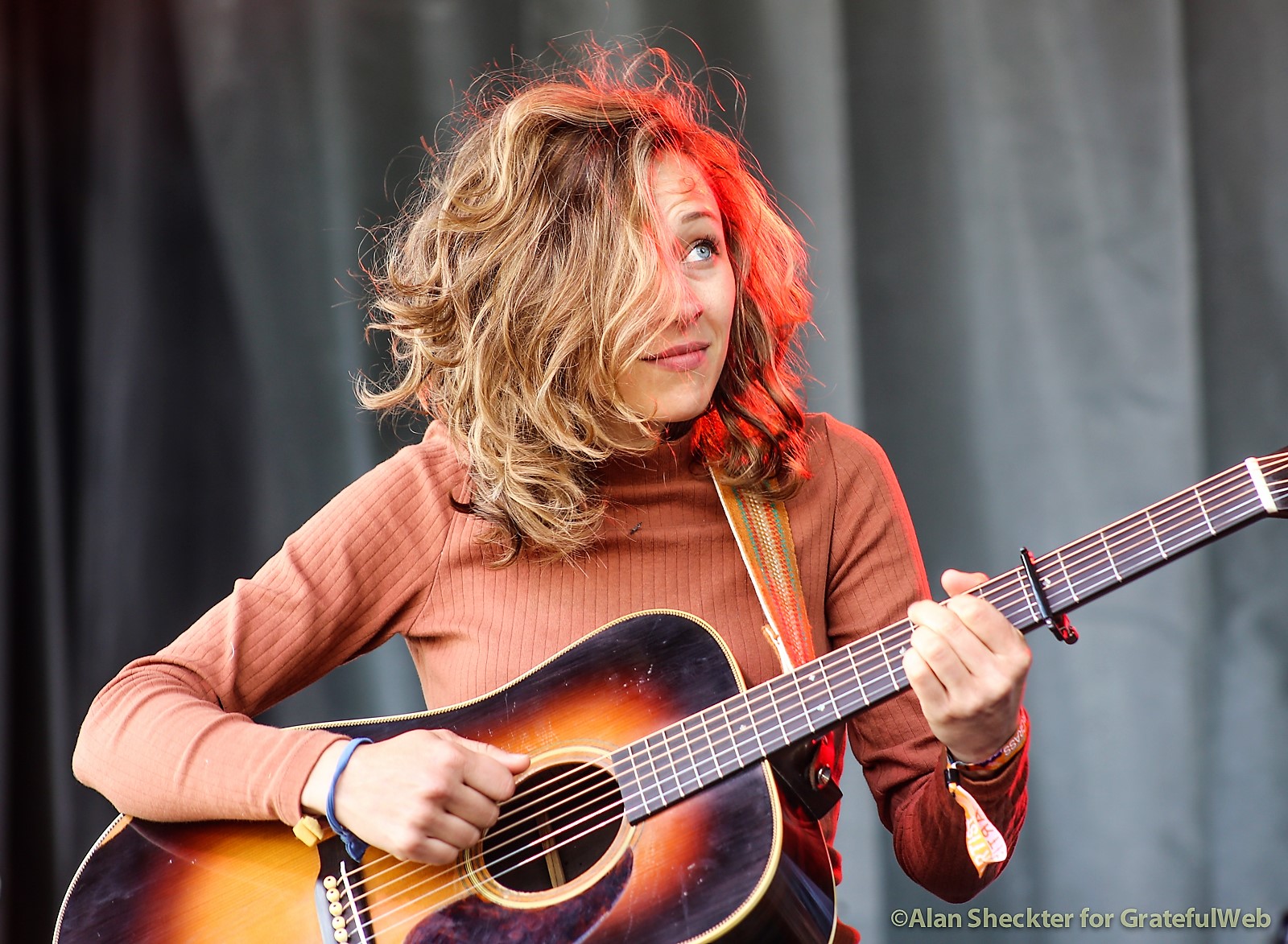 Bluegrass: While this genre was not represented by pure, traditional bluegrass excepting the aforementioned traditional pieces of music by Bush and Rowan, bluegrass WonderGrass-style was more aptly a potpourri of acoustic/electric contemporary roots and Americana. This is not to say that performances lacked variety. While each band gave at least a nod to bluegrass and some delivered sounds closer to the traditional genre than others, each band's jammy take on progressive bluegrass, circa 2017, was compelling to behold, with everyone delivering their unique allures and charms.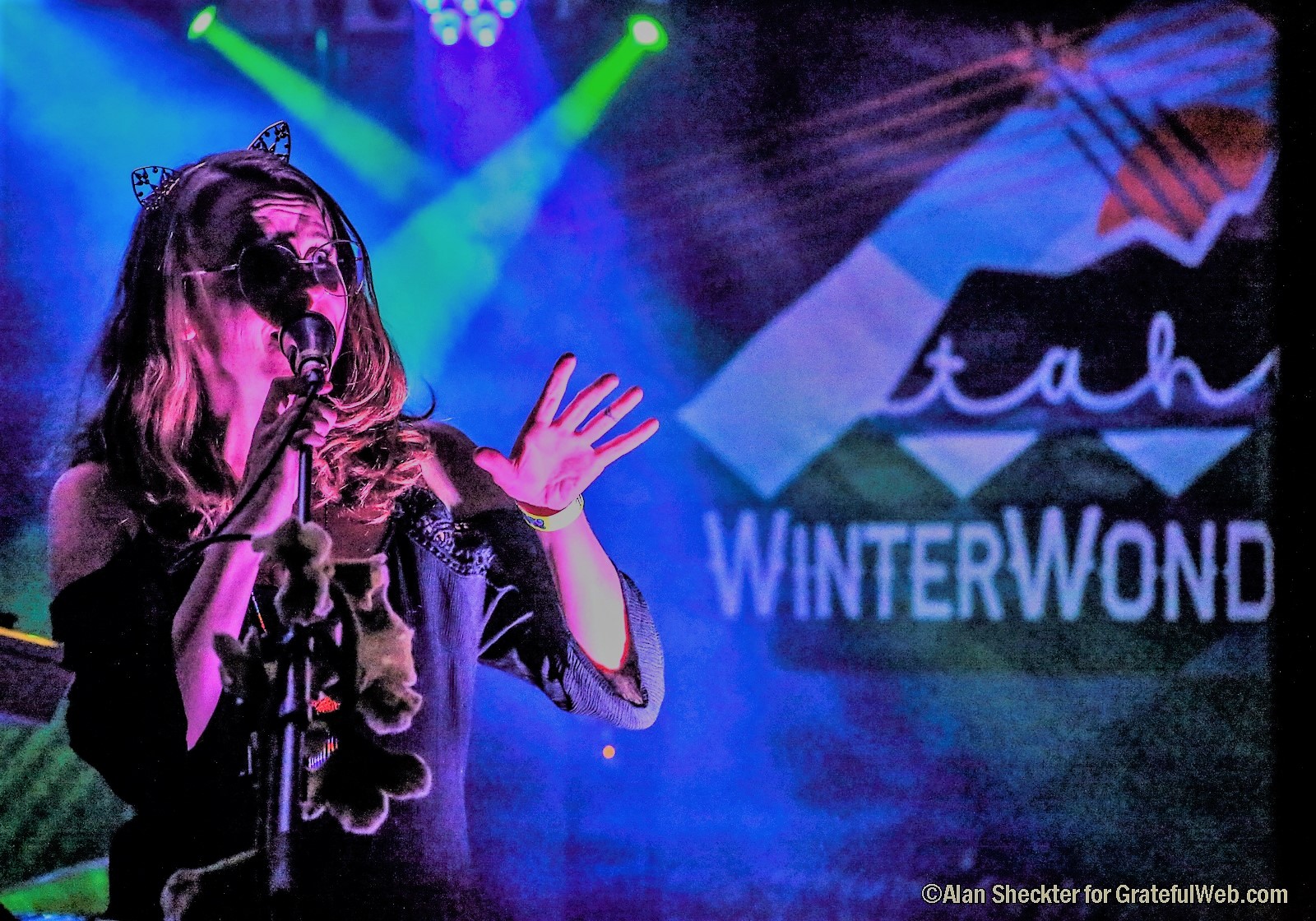 "Grass After Dark": After each day's headlining performances the energy continued with two-act, late-night shows at Squaw's Olympic Valley Lodge, as well as at Moe's BBQ, on the lake in Tahoe City. These created interesting combinations, such as Friday night's twin billing of The Deer, a team of quirky evocative dreamscapers, and Front Country, a Bay Area-rooted quintet of merry contemporary bluegrass performers. Their midnight set coincided with the release of their new album, "Other Love Songs."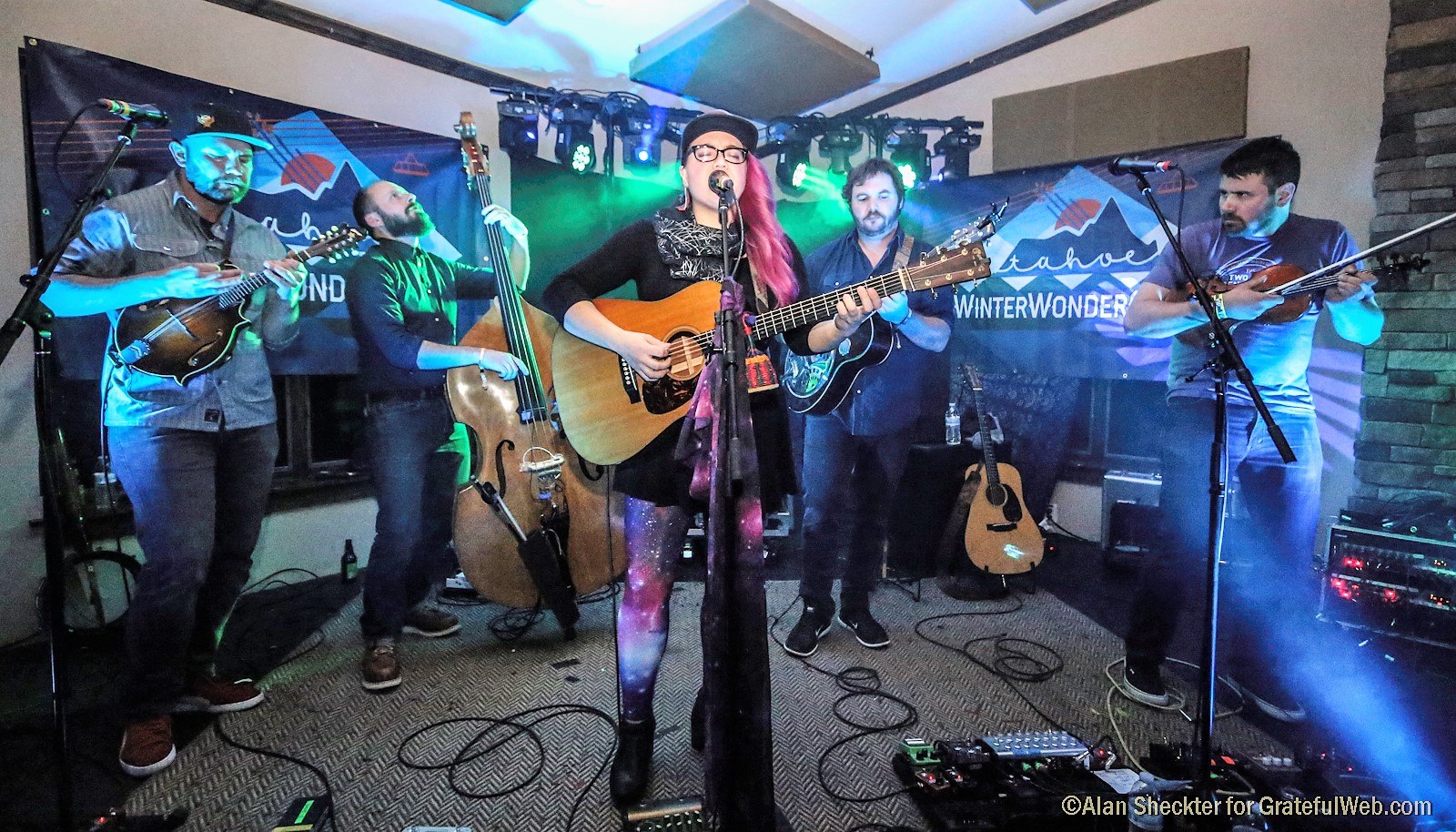 "Late night sets are always high energy and a party," said Front Country's Jacob Groopman. "The highlight of that night was having Chris from the Dusters and Jake from Yonder Mountain come sit in. It's always a little scary playing new music for people, and our new music is somewhat different then what it's been in the past. I felt like the new tunes went over really well! It was also great to hear The Deer open for us. They are a fantastic band from Austin, Texas that I had not heard of before."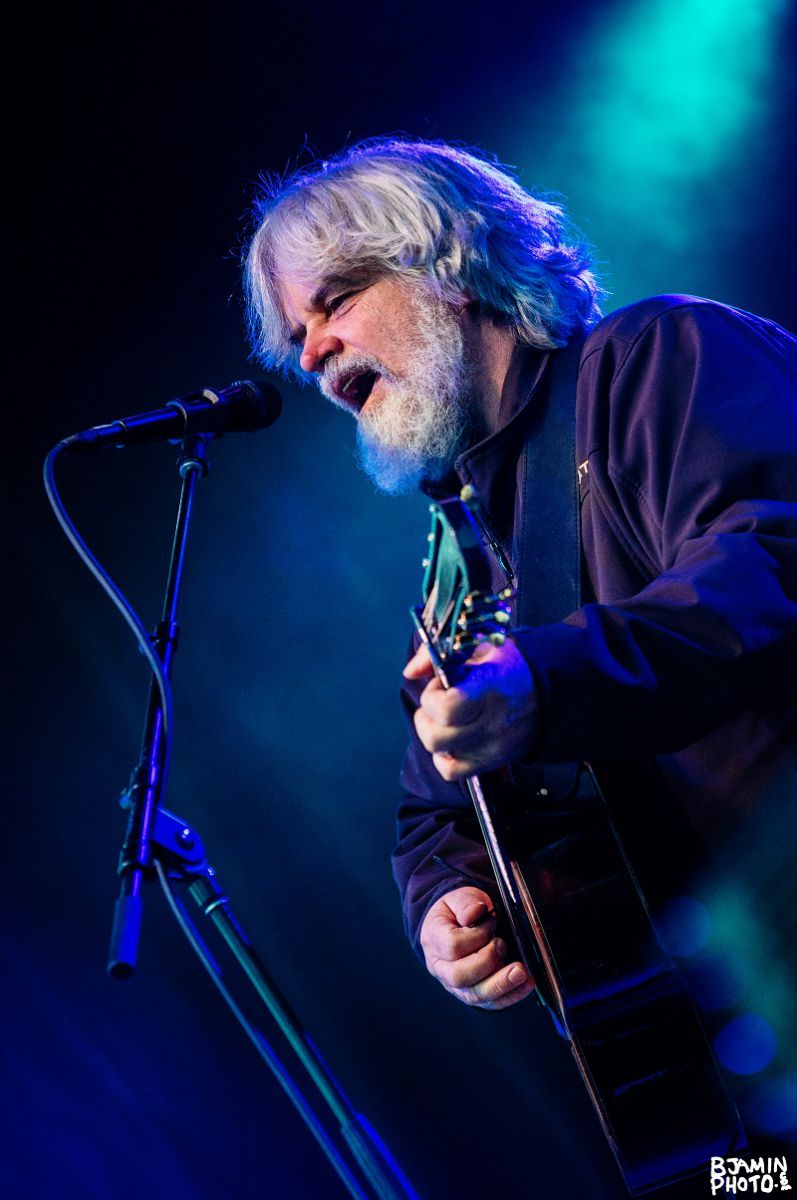 A quite notable late-night show occurred on Sunday, while most attendees were already on their way off the mountain. There at the Olympic Valley Lodge, the Everyone Orchestra, led as always by Matt Butler, included members of Leftover Salmon, Fruition, The Grant Farm, Horseshoes & Hand Grenades, and more.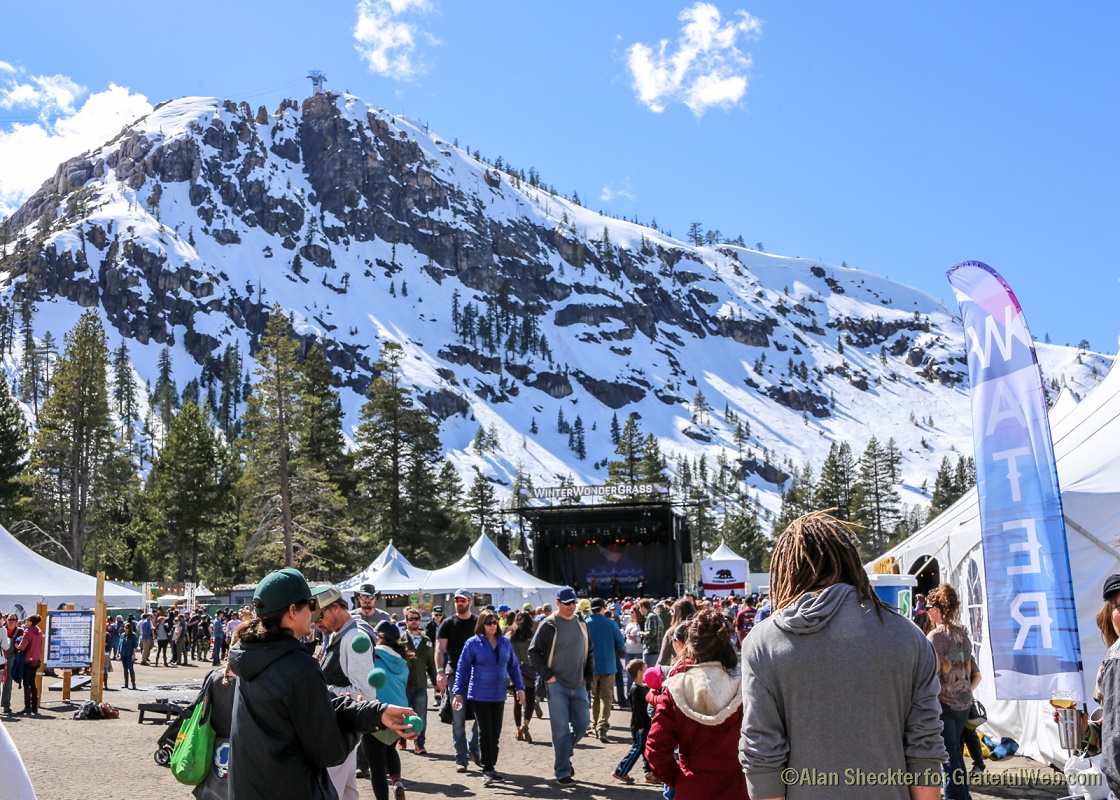 Mountains: An abundance of snow surrounding the bowl-shaped festival site provided an idyllic winter wonderland setting that was fairly missing from last year's snow-drought-stricken WonderGrass environs. And while the snow allowed top-notch spring skiing and snowboarding conditions for those that purchased a "music and mountain" festival pass–more than 75 open trails on a mountain that received over 650 inches of snow this season, according to Squaw's website—daytime conditions at the 6,200-foot festival's base level were downright balmy. The unseasonably warm weather allowed many festivalgoers to romp around in shirt-sleeves and open shoes, at least by day. At night, the chill did come quickly, with music fans donning additional, and fashionable, insulating garments.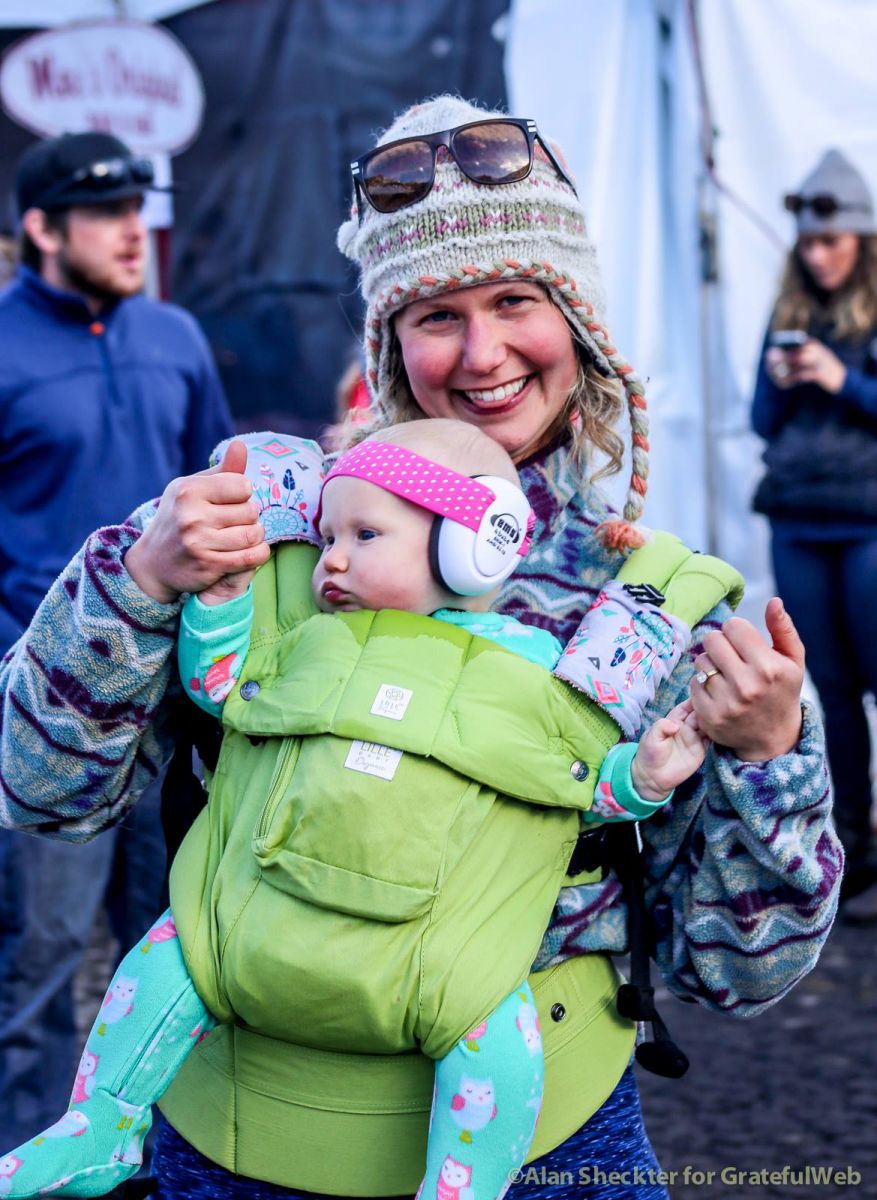 An Inconvenient Truth: While Saturday's full house created a challenge of maneuverability around the festival grounds, there was also air of harmony in those tight quarters. Whether or not you knew the people around you, you both formed an unspoken bond sharing something very special, at a very extraordinary place. However, for some reason, the crowd also turned Saturday evening into unannounced cigarette night, with scores (hundreds?) of attendees exhaling a toxic shroud on their surroundings while abandoning designated smoking section signs and descriptive guidelines that appeared on the socially and environmentally conscious WinterWonderGrass website: "Squaw Valley Mountain Resort is a non-smoking property except in designated areas. We respectfully ask you to follow Squaw Valley policies and smoke only in designated areas and a distance of 25 feet away from any persons."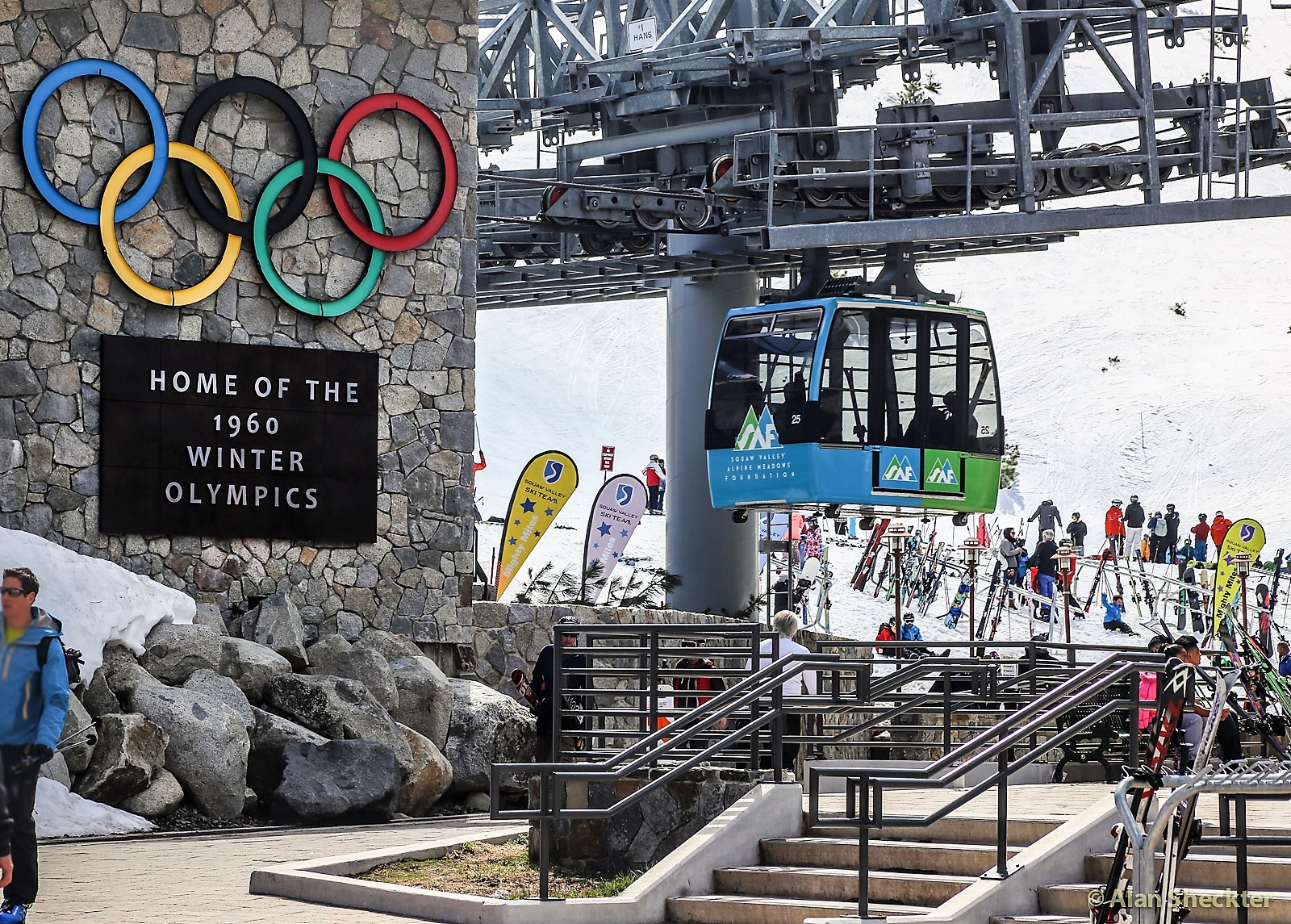 And There Was More: Some lucky few witnessed a Jon Stickley Trio midday set at 9,000 atop one of the Squaw Valley peaks on Sunday.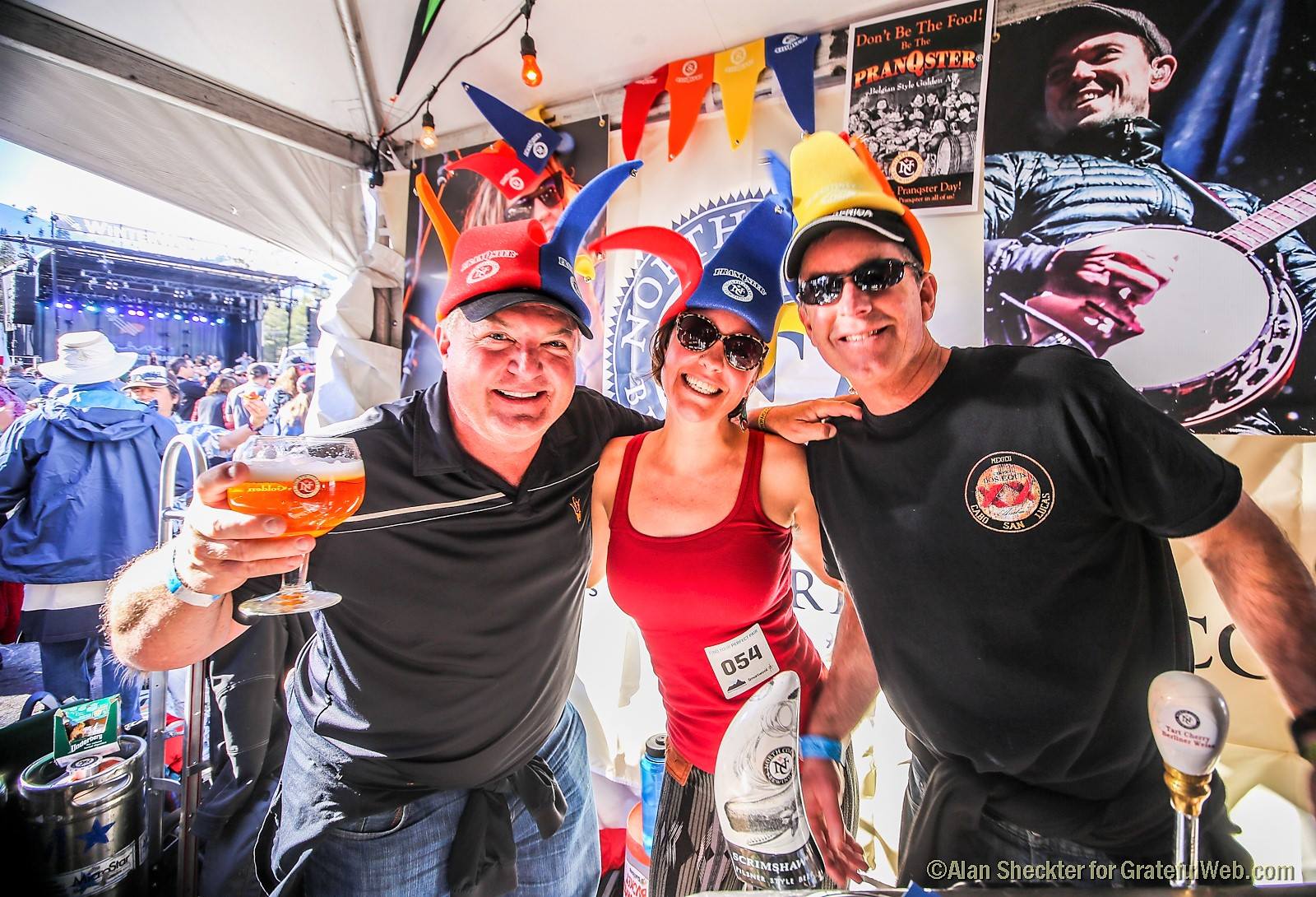 That particular set was "open to the public and anyone skiing/riding Squaw Valley that day," said Festival Partner Jennifer Brazill. "You do not technically need to have a festival wristband to watch the on mountain show but it is ski in/ski out only so you have to have a lift ticket! We transported the gear up to the top on Snow Cats and snowmobiles."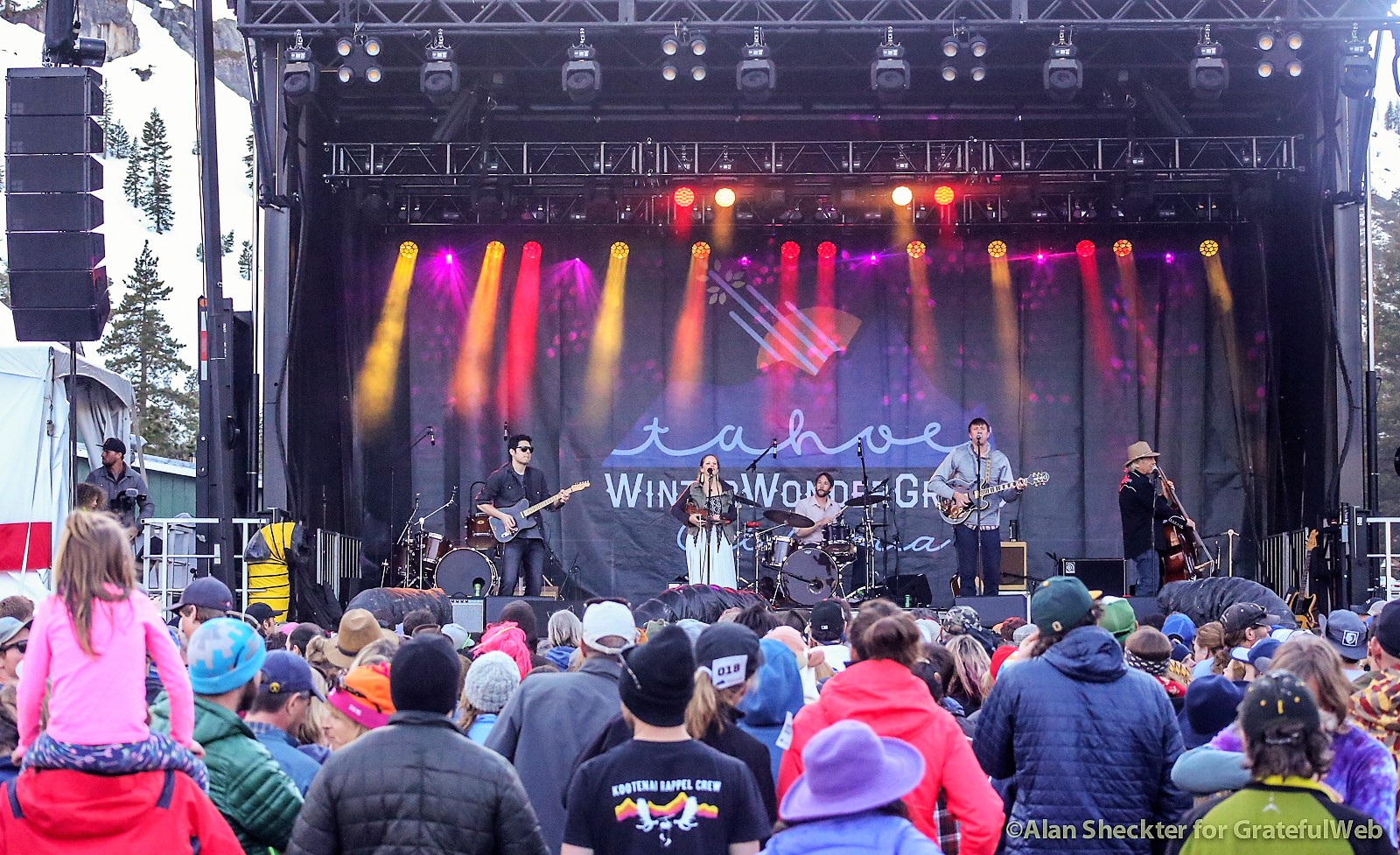 A very lucky few witnesses rode along on one of two famed "tram jams," in which many fest players perform inside of a moving 110-person capacity aerial tram. "They are a unique opportunity for the bands and artists to collaborate together in a very special setting," Brazill said.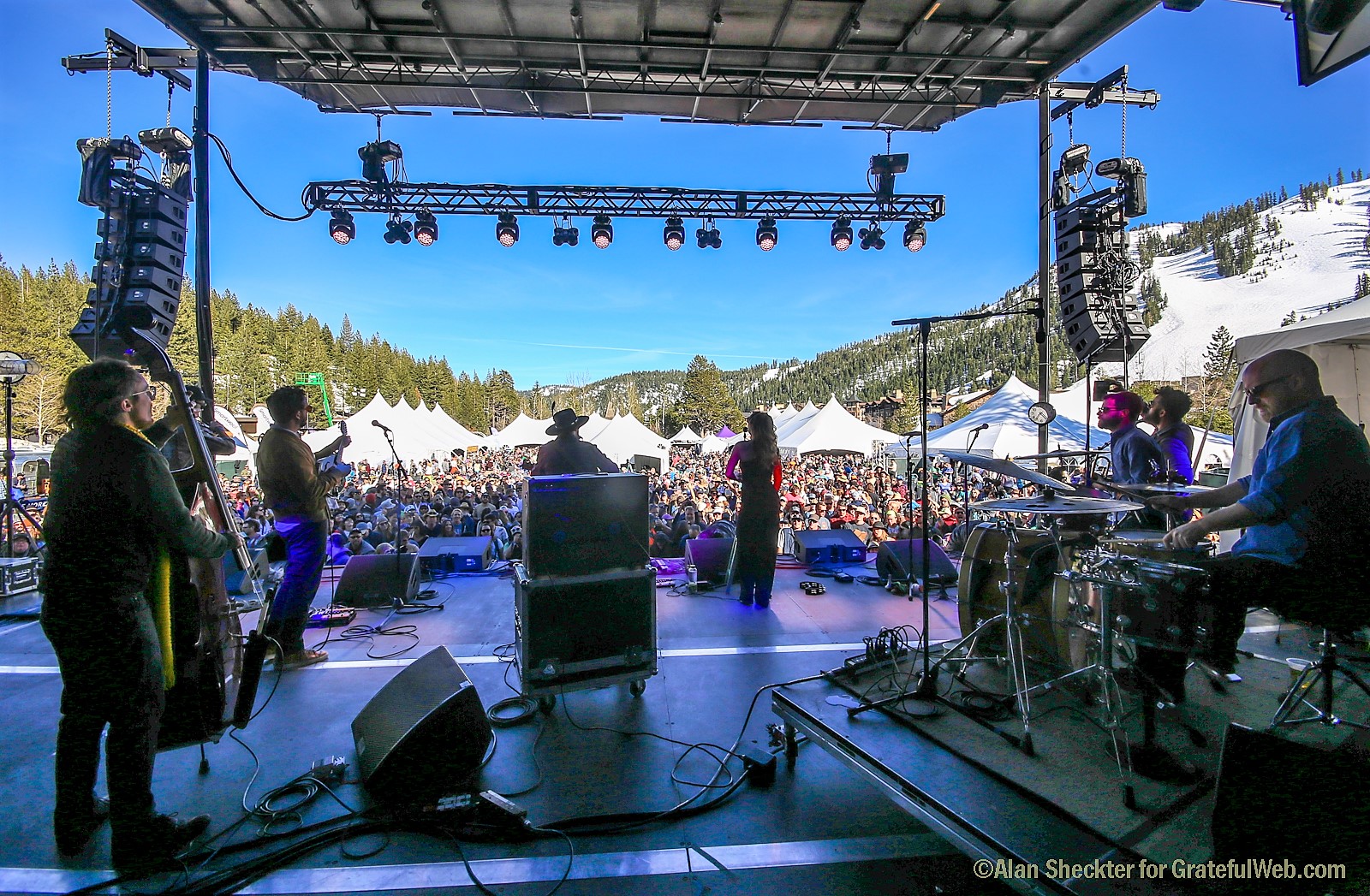 And totally off the main WinterWonderGrass grid, winter-sports video legends Warren Miller Entertainment recorded Fruition performing on a Squaw mountaintop.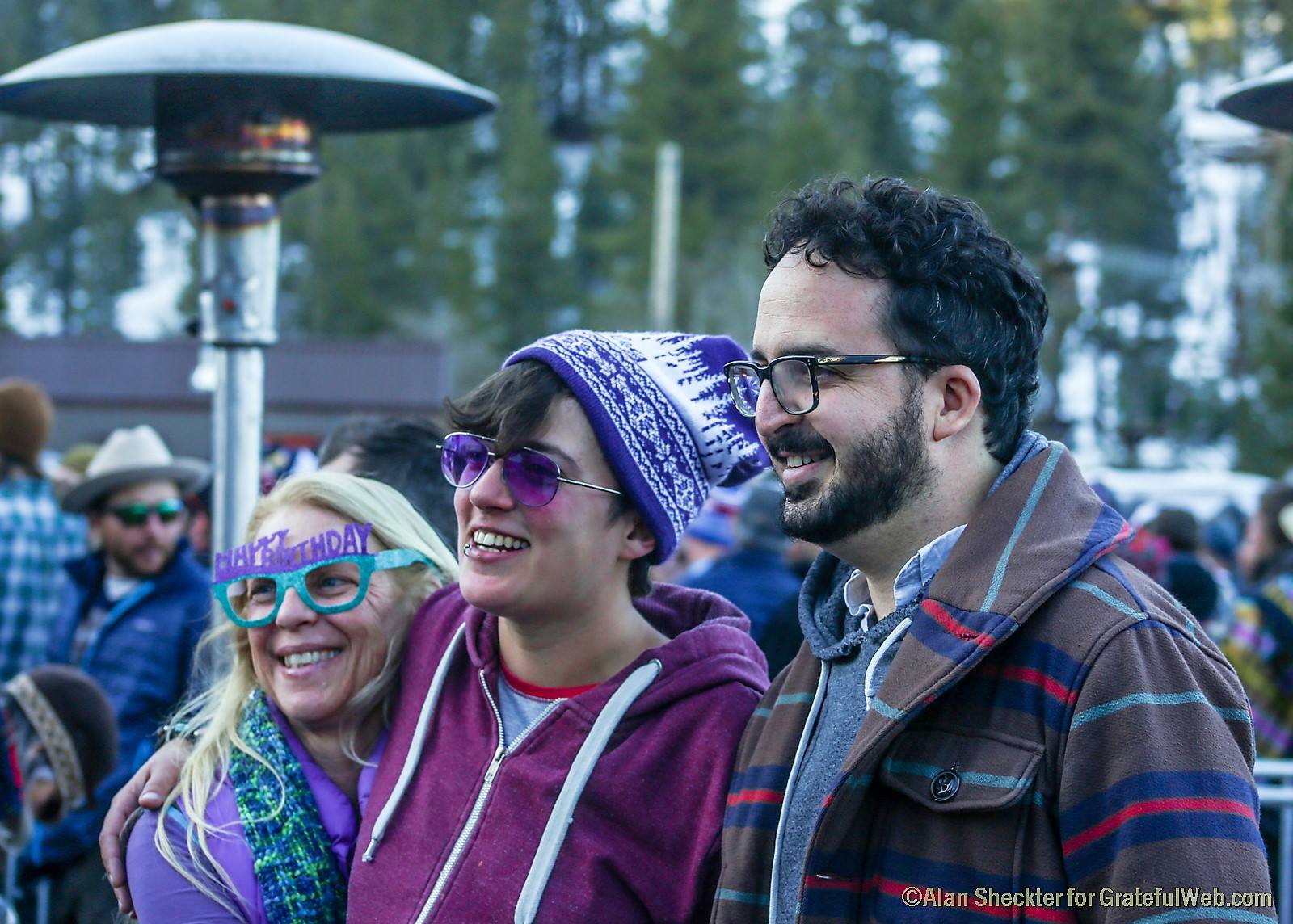 "I feel so lucky to be able to create these incredible events in these very special communities," Brazill said, referring to both California and Colorado festivals. "We have a small team that works very hard to deliver the best possible experience for the fans and artists. Having lived in San Francisco for over 10 years, Squaw Valley has always been special to me and it's a dream to be able to call this my job.