WOLF!, the treasured Brooklyn-based guitarist Scott Metzger's "Telecaster rock trio" with bassist Jon Shaw and drummer Taylor Floreth, returns after a six year hiatus with a new EP, Adult Entertainment, to be released via Royal Potato Family on October 28. Sounding like the love child of Pulp Fiction and The Endless Summer running off together under a full moon, WOLF!'s greasy instrumental rumblings weave together elements of surf, rockabilly, boogaloo and more into delectable, bite-sized musical nuggets. As has been WOLF!'s modus operandi since forming in 2014, tone, touch and taste are always front and center. As is the case on the six track collection's first single, "Ratso," out today on all streaming platforms (listen here).
"We had WOLF! up and running pretty hard back in 2016. There were two really great albums, a bunch of sold out shows, a few songs licensed to film and television and then for a laundry list of reasons, some still even unclear to us as a band, our attention got pulled towards other endeavors," explains Metzger. "In 2018, we ducked back into the studio and put down some tracks, but again life pointed us in other directions and the recordings wound up on the back burner. As things started to open up following the pandemic, it quickly became apparent that it was time to finish up the EP and get the band back out playing shows again."
Recorded at Restoration Sound in Brooklyn, NY and mixed by Chris Connors, Adult Entertainment refines WOLF!'s distinct approach heard on its first two releases with songs like "Ratso" and "Patty Cake," but expands the concept with "Hey Francis," a sub-octave guitar rock gem underpinned by a clave rhythm, the lilting exotica of "Hawaiian Shirt" featuring Marco Benevento on Farfisa organ and the jaunty Gabor Szabo-meets-Bill Frisell set closer "Cottonmouth." The EP will be unveiled with four singles over the coming weeks leading up through its release.
"WOLF! has a thing. There's an innate chemistry when the three of us play together," says Metzger. "I don't hear anyone else really playing instrumental music like this right now. It's a guitar-centered band, but it's not about guitar solos or fancy chops. It's about three dudes in a room making music in real time that just straight up feels good, you get it the first time you hear it. I think we all need a little of that these days."
After regaining their footing with a performance in Brooklyn's Industry City this summer, WOLF! plays four shows this Fall in the Northeast with more dates being planned for 2023.
WOLF! | Adult Entertainment
Track Listing:
1. Ratso
2. Hedgehog
3. Patty Cake
4. Hey Francis
5. Hawaiian Shirt
6. Cottonmouth
Available October 28, 2022 on Digital Formats via Royal Potato Family
Pre-Save / Pre-Order Available Here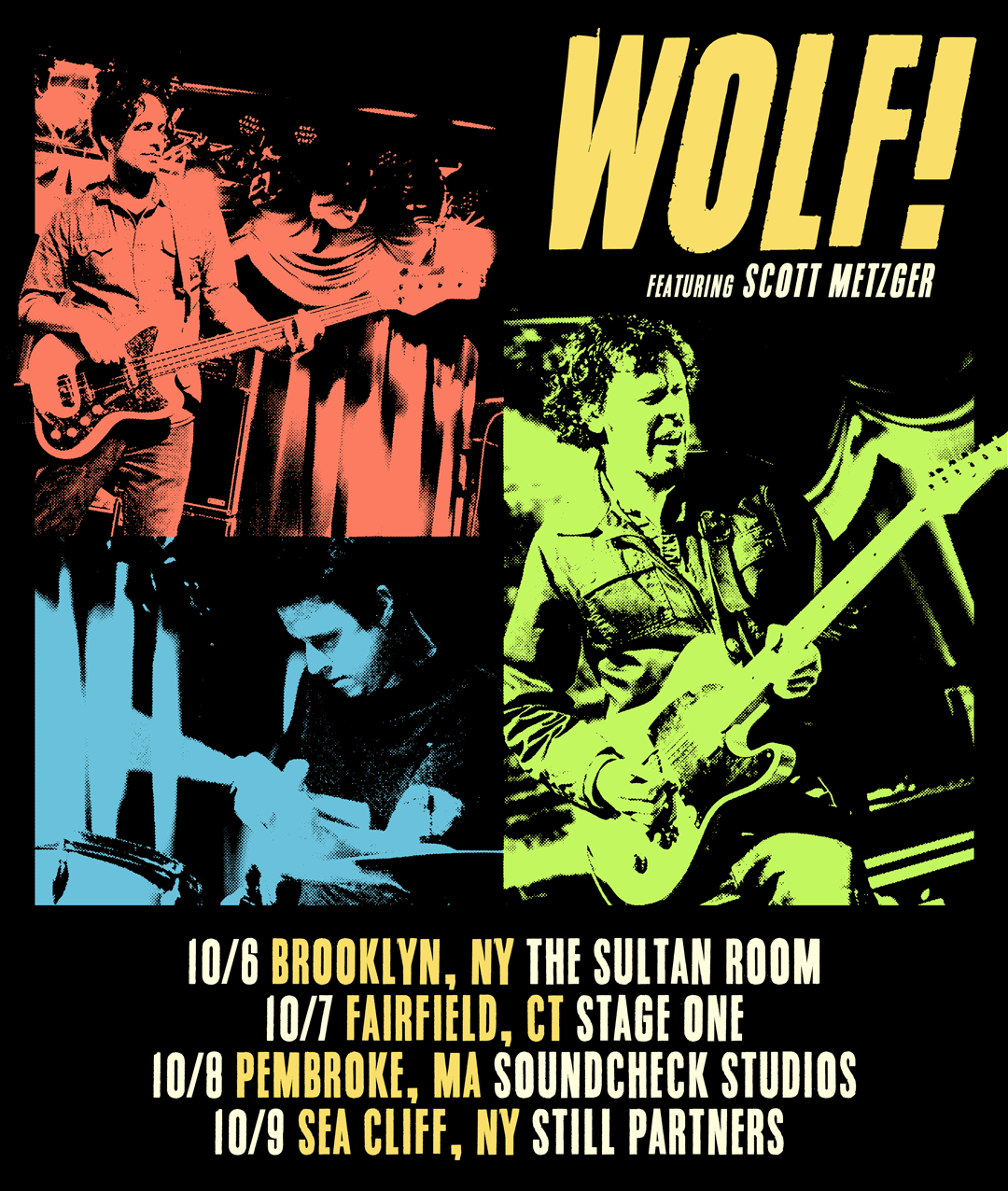 WOLF!
Tour Dates
10/6 - Brooklyn, NY - The Sultan Room
10/7 - Fairfield, CT - Stage One
10/8 - Pembroke, MA - Soundcheck Studios
10/9 - Sea Cliff, NY - Still Partners