Attention please…  The 10th annual Summer Camp Music Festival took place as it has for the past decade in Chillicothe IL May 28th – 30 2010.  Where is Chillicothe, you may ask?  It's just over 3 hours from the city of Chicago. Over Memorial Day weekend, there could be no better expression of freedom than Summer Camp, a party for the outsiders.
My favorite astrologer, Rob Bresney describes the state of experiencing the visceral yet also cerebral excitement that comes from listening to live music played impeccably by skilled musicians as lyrical consonance.  That is the bliss that was from Thursday until Sunday night at Summer Camp.  That is the tradition at this festival.  I was lucky enough to make a spur of the moment decision 10 years ago and head down to the new first ever Summer Camp festival.
Summer Camp 2000 was a main stage and some camping.  moe. has played every year in this decade long journey, and I recall falling asleep after the Saturday night set 10 long years ago.  Apparently I was sleeping right near this cement slab that has since become the camping stage.  My friends tried to wake me up but I didn't. I missed the first ever late night set of moe. just chilling on that "camping stage" with just a crate taxi and some tunes as they took requests from the audience.  May I say that this triumphant return is a testament to moe. and the fans that love them as they played 5 sets over this 2010 Memorial Day weekend.
The Midwest's best festival spent 3 months prepping Three Sisters Park for what would be their biggest audience yet, 13,000 people.  Luscious, loud sounds abound everywhere you could imagine.  What a long way they have come from a decade ago.  There was a sound stage as you entered into the grounds, waiting in line for security to check all your Summer Camp gear.  They sell beer and liquor of all sorts inside the venue, however, one unique part of summer camp is that there is no car camping, never has been.  You haul all your gear from parking lot into the grounds and before you can enter you must assure the security guards that you're legit.
Once inside you are blessed with the campfire stage, the camping stage (my old sleeping sector), the starshine stage, the sunshine stage, and the moonshine stage.  Seems as though these names are for the experienced only, as most called the moonshine stage, "the main stage"; the starshine stage this year was dubbed "the Yager stage" (Yagermeister was a main sponsor); The sunshine stage was the big field with no shade, the camping stage is a given due to its most coveted location, and the campfire stage is you know, that one up by the entrance.
Whatever you call the 5 stages of music inside the festival that is not all Summer Camp has to offer.  There is also the vibes tent and the soulshine tent and the red barn late night shows.  There are musician workshops in the church (that is air-conditioned) that this year included a full house for Victor Wooten's demonstrations on how to play bass guitar.  There were films after dark on a huge big screen projection out in the field of the sunshine stage.  I was lucky enough to catch my favorite Joni Mitchell performance in the Last Waltz.  They also ran Pink Floyd's The Wall and The Incident at Kickapoo Creek, a film about a music fest in the great Midwest back in 1970 that is not available on Netflix.
Friday, May 28th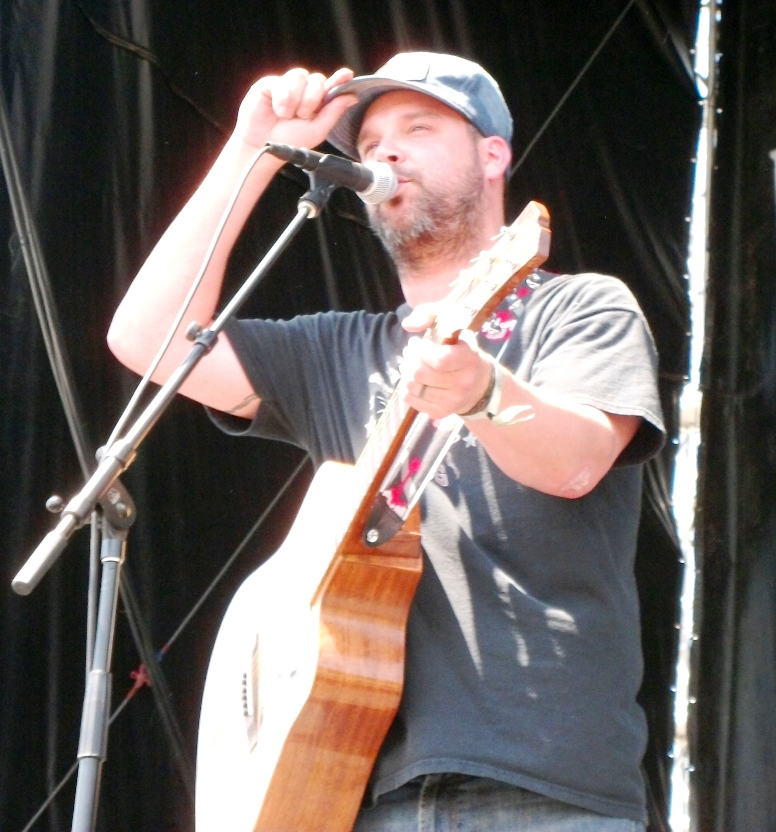 Buzz was all over Summer Camp about the home town favorites, Backyard Tire Fire and all time favorites, Cornmeal.  Their set kicked off what the production team labeled as a normal Friday night for Summer Camp.  By Friday morning already 5000 festival goers had arrived and taken up the sweet shaded camping spots in the A (touch of grey), B (the blues), and C (mello yellow) camping areas.  I kept hearing about the late night sets by Future Rock and Dumpstafunk joining in.  Blew folks minds, they said.
So at the crack of almost noon here I find myself finally set up and ready to rock.  Lucky for me the wake n bake session of Strange Arrangement rocked my socks off.  The best part of waking up was funky keys in my cup.  I could hear the keys that knocked my knees to dance as I made my way from the E (pink floyd) camping area where I had just set up my friend and her gear.  Weary from setting up not only my campsite but trekking out to find a good spot for her too, I forgot all my cares as my eyes drifted to the little blue canopy with big piano sounds coming from it.  I'm a sucker for a piano.  By far, the piano is my favorite instrument and this still sinks in as one of my favorite sets from the weekend.
Strange Arrangement is a Chicago area band that was keyed up and ready to jump start the day. The choral keys bounced my knees and no longer did I feel pressure to help anyone with their campsite or set up the camping kitchen, or find friends I was supposed to meet up with.  No. Being here now what was mattered most cuz how could I pass up the sweet sounds of Bed Bugs, Polygraph, Steamroller, and the killer finale working on the Highway.  I have never seen this band before but I knew who that guest spot was.  During Highway, Joel from Umphrey's McGee hopped up and grabbed some more keys to please my Summer Camp soul.  I was a happy camper already!
One gal interviewed had driven 2 hours to see the Friday performance of Rev Peyton's Big Damn Band.  I probably would too cuz they have a washboard!  I love the tapping of a washboard.
Thinner Teed, another local Chicago band, made their way to Summer Camp by winning a contest to be there. They also won their spot in 2009 by bringing the biggest audience to the Abbey Pub in the On-The-Road-Contest for the Summer Camp spot.  This year they had a considerably bigger audience thanks to a spot uncontested by 2009's Willie Nelson performance.

I headed down to the moonshine stage to hear my darling Cornmeal.  You may have read my reviews before, but I can't say enough about Cornmeal.  Their main stage set was no less than their standard high energy fantastic performance.  The 5 o'clock sun filtered through the trees and acted as a spotlight to Chris, Kris, Allie, JP, and Wavy.  I noticed a camera crew diligently filming.  Are we going to see some Cornmeal footage in the future?
I felt like a broom, all skinny and kicking up dust as I let my Irish heritage flow through my body. I danced until I tripped, trying to write notes while dancing form the hips down.  It's not hard to do with Cornmeal's copious hootenanny style pumping through me until I hit the level of exhaustion.  I fell to the back of the crowd and continued to smile.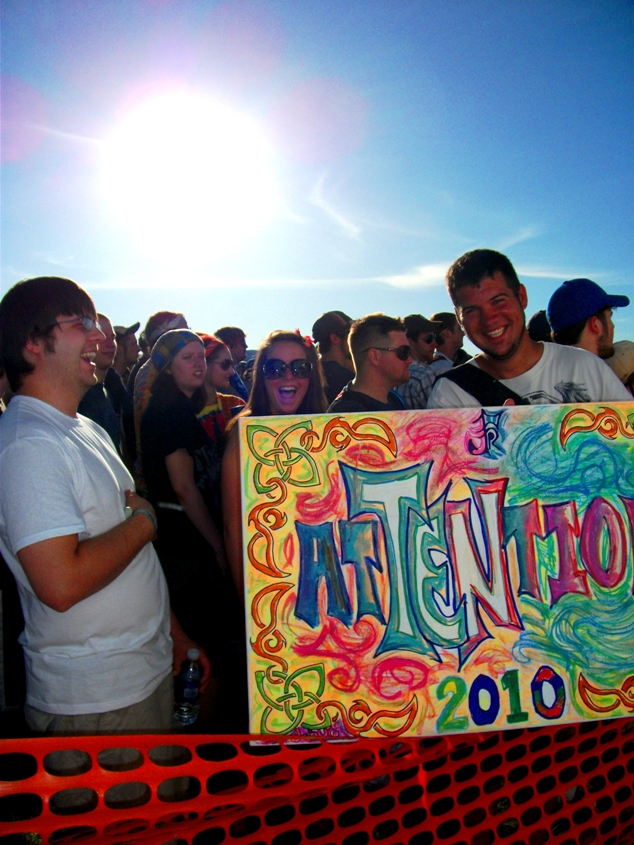 I faded quickly on Friday night, catching a bit of the jamtronica that Summer Camp offered before calling it a night.  Sound Tribe Sector 9 played the sunshine stage at 6 pm and gave the crowd only a taste of what the Tribe is known for.  It was as if I was watching a sports team whose best player had just been injured.  Yeah, the excitement of the game still thrives but the pizzazz is lost.  Don't get me wrong, Sound Tribe plays beautiful music but the appeal really lies in the experience of a Sound Tribe show.  Their lights and the reverb of the thumping bass were not well suited to the sunshine stage.
Come morning, everyone was talking about Bassnectar.  From the woods to the vibes tent to the campfire stage I knew I had missed something sweet.  Angela sells beautiful jewelry, pendants wire wrapped into trees with leaves of gorgeous gems and minerals.  She said she couldn't stop grooving the beats in her head even still.  "When he spun Massive Attack I just melted."  Nothing would stop my boyfriend from catching that set.  Of course he had to rub in how good it was. "It was mellow for a Bassnectar show, you should have stayed awake."  No first-hand accounts for you dear reader, but the buzz about Bassnectar makes him one to note.
Saturday May 29
Any good festival goer knows when it comes to pacing yourself all weekend you must persevere.  I decide to start off my day right where I had begun 10 years ago, at the camping stage.  And much to my delight was Jaik Willis.  Overheard in the crowd as I made my way through the shaded camping areas most were calling "the woods" was "who's got my vision? Going on a vision quest, looking for my vision…" Tents upon tents in a Tetris like maze of folks grasping at shade to catch up on sleep.  There I was in front of the Jaik Willis Merchandise booth of sorts, tee shirts spread on a car window, and it was there I found my magical friend I only see on special occasions.  No, not molly, but Amanda-festation!  She also creates amazing jewelry and moved here to the Illinois valley from Flagstaff AZ just in time for Summer Camp.  Yes, there is beauty here in the cornfields.  People do chose to live here.  Bald eagles make their nests just off the Illinois River; to be sure, there is a special appeal for the city outsiders here.
So, back to Jaik Willis.  He has the soul voice of acoustic funk prophet Bradley Nowell but the look of something entirely different.  Jaik has a long braided red beard and he wears cowboy boots. He brought punk rowk to June Carter Cash's favorite instrument, the autoharp.  You can sense with every fiber of his being he is a revolutionary in the movement of hope.  He rallies the audience with such songs as "anything is possible" yet on this particular Saturday afternoon just before he smashed his guitar he sang, "Fucking profit! That's America!" It was a blank moment.  No sound.  No movement from the audience, until Jaik simply and calmly speaks into the microphone. "I won't be needing that guitar anymore sound man." Then Jaik proceeded to beat box Michael Jackson's classic Billie Jean.  Not only did he flip the script into that acoustic funk that made the audience breathe again, but he took it into an extended jam that amazed me.  He wasn't using any looping feature… How did he even have enough breath to do what he was doing? After the slow beat box fade the audience erupted with applause and respect for a heart and soul performance under the shade of the camping stage.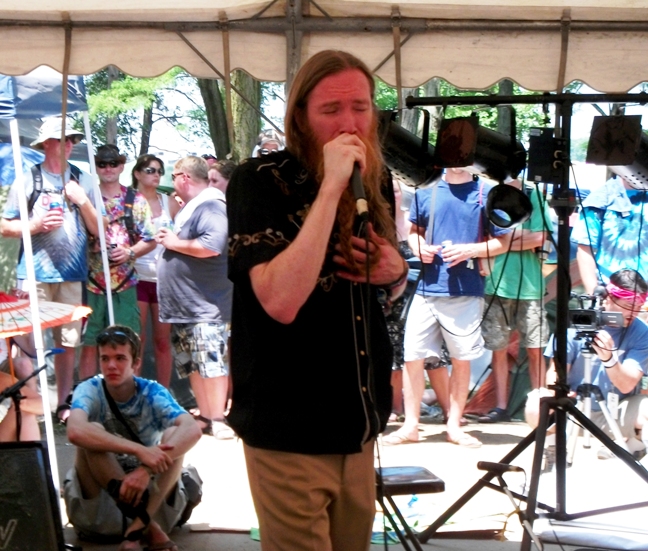 I felt cool enough to brave the sun, the sunshine stage.  There was minimal shade at this field but Peoria local favorites Backyard Tire Fire were on stage and giving it their all.  The bursting sound of the PA on full blast was a treat for their fans as they kicked up the dust carpet and cut a rug.  Go big or go home is the vibe I sensed with this musical mixture.  This is Backyard Tire Fire's living room.  Their second set at this Summer Camp weekend provided the storytelling sound that drew outsiders as well as the die-hard crowd.  The Story of Estelle had that good old swagger of the Beatles Don't Let Me Down and a tuning in minor key that left my heart waiting for the major key.  BTF revved up with a dedication to the passed Sir Gary Coleman, a cover of Fleetwood Mac's Only You.  In tribute to a man that was a little different, this rendition was just that… a little different.  They imitated the Mac with grit and almost a rusty lid on top.  Backyard Tire Fire definitely exemplified the farmland fortitude of the local landscape and people.
The landscape lay out before me a desolate tract of humidity and heat that beat through my veins and sent sweat sticking to my every pore.  I give props to production for not pushing the crowds with high energy electronica constant dance music on Saturday afternoon.  The sun is a serious health consideration and I applaud the schedulers for thinking of what is best for the people at Summer Camp and not just the pocketbook.
Steel Pulse is a band that can handle the heat.  A 2 o'clock set on the main stage brought the hips to a steady swagger and a happy jam-i-can vibe.  No worries!
In constant pursuit of as much music as I could consume, I traveled back to the campfire stage where my current hometown, Fort Collins CO was represented with superhero capes and Colorado flags.  Fort Collins' own Dubskin performed at 3 that afternoon with raw yet harmonic insightful lyrics.  Phil Salvaggio is a guitarist I recognized from other bands in the past and that drummer is easily recognizable as Cory Eberhard from Pretty Lights.  I was taken back with the pure power of these players subdued to showcase Jamal Skinner's in your face great Jamaican vocals. The clearly Colorado crowd grinned with Rasta enticement and had plenty of room to take it all in.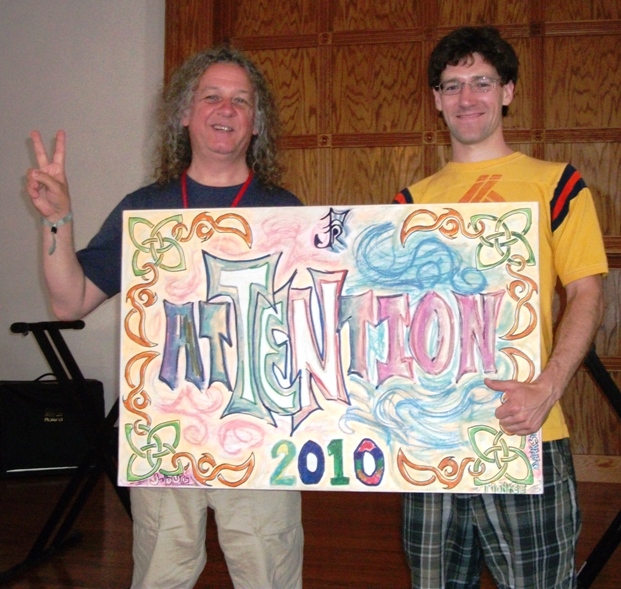 The spirit of my mountain home Colorado called from the shaded camping stage.  Mountain Standard Time was tooting their horns and I can't get enough of these guys.  I ducked back into the comfort of the woods, what I thought of as the ewok village, and tried as best I could to get close to the MST sounds that were jumping from under the camping stage canopy.  It was a difficult task considering the audience had packed in toe to toe with the band.  Most in the Midwest had yet to see the legend of the Mountain Standard Time.  Thanks to their minstrel wanderings later Saturday night at about 2 am, I think most won't forget them now. Full on funk mardi-gras was matched with humility and grace by the band.  "We originally left Colorado in a hail storm that promised a huge snow. We followed the sun to Summer Camp.  You had a lot of choices this afternoon, Thanks for coming." They played the favorite Whiskey Blanket that I had seen them perform just a couple weeks earlier at the first ever Waterfront Festival in Bellvue, CO.  It was remarkable to see the sunny Summer Camp version as opposed to that wet, damp, and cold day out in Colorado.
Changing the surroundings with the simple pure bliss of music, the Lyrical Consonance continued at the soundboard of Ana Sia.  She is a one woman world tribal beat making machine.  Her sweaty soundboard style sent the kids skipping down the hill in an effort to ride the rail and get a glimpse of this DJ that primarily plays west coast events.  If you aren't getting down at least half as much as she is on stage, step back.  There are plenty of dancers that want to get close and send the love right back to her.  Closing the set, I had noted not only her sampling of tribal world beats, but old NES "I won Super Mario Brothers!" sounds, a lil Wu Tang, Beastie Boys, and maybe, just maybe… did I hear a lil Rob Base in there too?  Ana Sia was graceful, feminine, and fearless.  She got off stage and made her way right towards the adoring crowd.  I had wanted to ask if she would pose for some attention press, but I found myself star struck.  She signed autographs, answered questions, and high-fived a girl who had made her way to the front of the crowd.  After she slapped hand in a high five approval, the girl rushed back to her friends gasping, "oh my gawd, oh my gawd, oh my gawd."
The spirit of the Divine Feminine called me back to the nurturing shade.  As I wandered down the trails, I wondered why Summer Camp can't have those great interactive non-profit displays that Bonnaroo does.  After Jaik Willis' set a representative from Why Hunger got on the microphone to announce her cause.  She spoke out against Senate Bill S510 that threatens to make growing, selling, or trading homegrown food illegal.  Hunger affects 49 million Americans and Why Hunger is aimed to teach people self reliance and address the root causes of hunger and poverty through grassroots action.  I hope her message was heard loud and clear.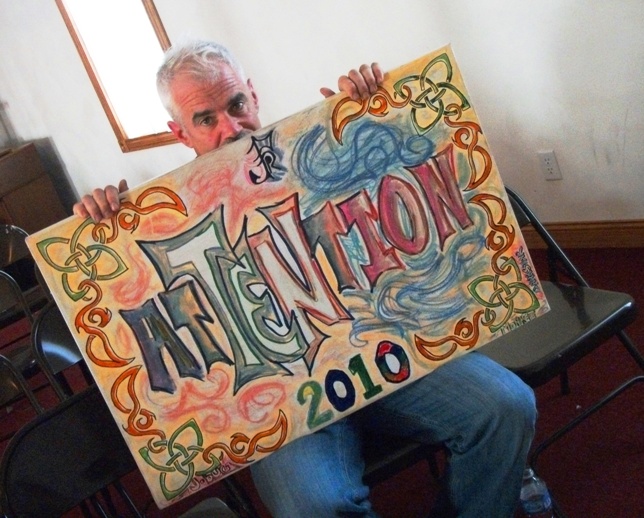 As far as festivals go, EOTO's Michael Travis has been playing a lot of them.  When asked what his favorite festivals are, he responded with a good old memory of when High Sierra festival was held up in the mountains at Bear Valley. "There was an amazing drum circle, String Cheese was playing there that weekend that sticks out as just the best moment at a festival I've had." When asked about the improv style of EOTO, his current project, he responded, "I like when everyone in the audience can jump in.  It makes it more than just a set.  Like the Grateful Dead, when people in the audience would say things like, 'I was so high it was like I was playing Jerry's guitar' ya know?  I most enjoy the principle of co-creating what happens next with the audience.  Everyone has their own style and improv is ours; Trey wouldn't be Trey had it not been for his classical training."
EOTO's jamtronica style is an excellent example of a new wave to hit the jamband scene.  Saturday night's Pretty Lights set was indeed a wave of glowsticks and pretty lights to set the mood from dusk till dark.  Producer Derek Vincent Smith and Cody Eberhard on drums drew the crowd to an astonishing degree.  Production said that 70% of the time slot's audience was at the starshine stage to see Pretty Lights, as opposed to the other main stage performance moe. was putting on.  To be fair, audiences had a choice of 5 different moe. sets to catch during the weekend and it was the choice of most 17-22 year olds to see the band named after a vintage Pink Floyd poster.  It was for the New Years Eve rave performance with The Who in 1966- 1967.  The solid spiritual jamtronica disco set brought out with led light boards, fog machines and the setting sun an atmosphere where boys were girls and girls were boys.  There was fashion: Eskimo boots, sparkly sequined shirts, glow belts and arm wraps, legs wraps – basically any item to be worn made out of glow sticks was all the rage.  There were festival props, including my favorites, the inflatable whale that was decked out with balloons taped to it and a mini hot air balloon that went up.  This was a gathering of the tribes, and the enjoyable show I had been hearing about so much.  In Fort Collins, they aren't even put on the marquee at clubs because they sell out that fast.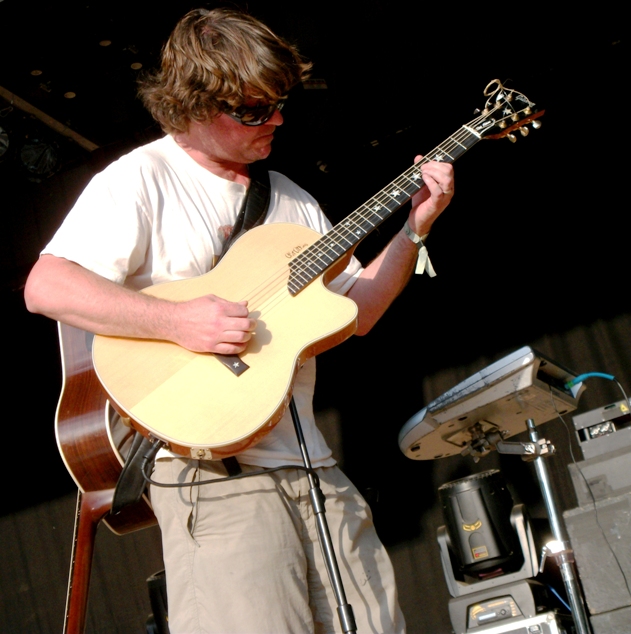 Selling out quickly is a testament of Keller Williams' performances here at Summer Camp throughout the years.  Since he signed on back in 2002, he has helped to expand the festival to large degrees.  One person interviewed came down from Milwaukee just to see Keller.  His set was tight, having fun barefoot and all by himself.  He was all by himself looping some classic disco until he beat boxed a freestyle version of Tell Me Something Good and introduced banjo player Danny Barnes on stage.  His freestyle form was relatable and well used as he played the favorites for the overheated crowd.  Freaker by the speaker was switched up, "but it's perfectly normal at night – when the sun goes down!" The crowd went crazy with an eclectic blend of all folks stopping by to see his set.
The tenth anniversary of Summer Camp was a celebration of the evolution and consistent shows put on by moe.  The Saturday night set was uncontested and worth every bit of it.  Every note, every step, every tempo change, and every ding of the xylophone was on queue.  Al Schnier thanked the audience. "A couple years back I had tendonitis and I was bummed that I couldn't play for you.  You've always been so good to us here, this one's for you."  They went in a 32 things that was insane.  Lasers to compete with Umphrey's fireworks at the other stage were combined with the cool evening air that brought a perfect atmosphere to the Saturday night at Summer Camp 2010.
Sunday, May 30
I fell asleep Saturday night and woke up Sunday morning on cloud 9 with Hot Buttered Rum in my ear. It was just after dawn that I awoke to a game of kickball.  12999 of my closest friends and family members were gathered in, enjoying coffee and pancakes.  Like a community function of the largest capacity, a city of peace carried on this special Sunday afternoon.  The musician workshop on keys was at the Church.  I felt it only proper to attend Church on Sunday. The sound stylings of Railroad Earth, North Carolina's Avett Brothers, Kyle Hollingsworth Band, a 2 o'clock Umphrey's McGee set, G. Love & Special Sauce, the church of EOTO, Zappa Plays Zappa just before UV Hippo, along with 2 final sets of moe. to close it off. Amen.
Organs versus Pianos were demonstrated and explained by Kyle Hollingsworth and Jordan Wilkow.  Even playing with SCI and now his own project, the Kyle Hollingsworth Band, he said playing piano due to its crisp and varied ways still makes him nervous.  It was great watching the two converse about why they choose the tones they do and advising the crowd to "Just get weird with it."
The sun's poison rays were full force as not a cloud in the sky on this Summer Camp Sunday.  If Summer Camp was a pinball machine, I was the ball bouncing from wall of sound to wall of sound.  Summer Camp was filled with full on fun living board games.  For Timothy Carbone and Andrew Altman of Railroad Earth their summer will be bouncing between festival to festival, Delfest, now Summer Camp, and next Wakarusa.  Favorites thus far included Telluride's Bluegrass Festival, High Sierra when Peter Rowan sat in with Hot Buttered Rum, last year's Rothbury and Spring Fest.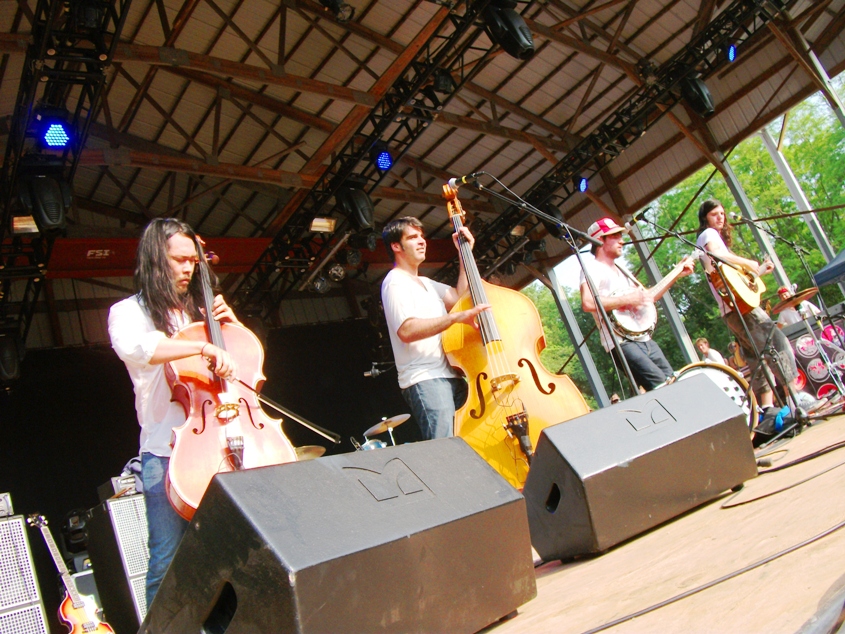 Railroad Earth is a busy band, with producing other bands, touring, and putting out another album.  Timothy Carbone said of their style, "we are in service to the songs.  The way Todd writes the songs, it gives us a lot of room to move." This could account for the focused efforts of the band, constantly having fun and being creative sounds like a good time to listeners.  This railroad is a band that's going places.  Their Sunday afternoon set was at the main stage, packed with a devoted following migrating thru the sun to show their loyalty and love.
Over at the sunshine stage, Kintex was high energy, almost transforming the blistering heat out in their performance. They never stopped moving and working the stage while they bust out into Bohemian Rhapsody and tunes off the new album Let Me In that was recorded at Legendary Studios with the likes of Black Flag and the Descendants.  Originally from Denver, CO this band's energy clearly generated from the release of the new album and jumped onto the live performance as they continue to tour in support of it.  Independent record store Twist and Shout in Colorado reported Let Me In was among the top 5 discs sold the week of it release and a much anticipated Red Rocks gig would ensure this bands energy will continue to grow.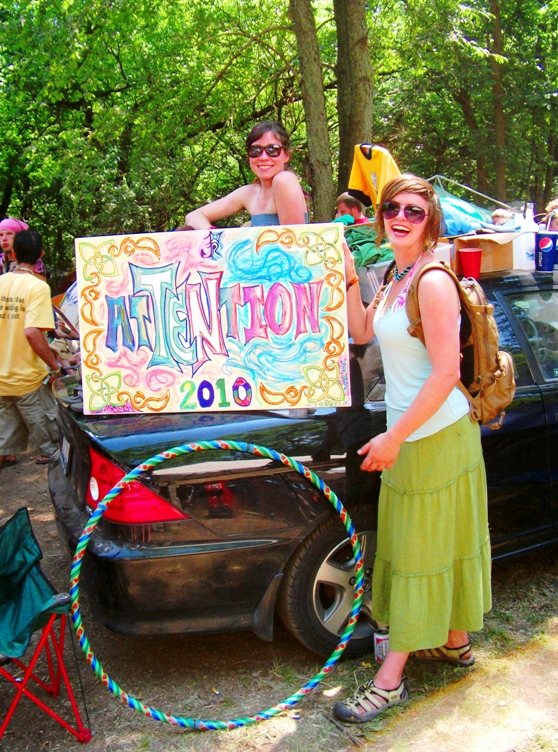 Just before a face melting moe. double header Sunday night was EOTO.  The uniform of the EOTO fan includes amazing heavy minerals wire wrapped into personal amulets. Girls may wear little to nothing because of the excessive sweat that comes when dance as hard as you do at an EOTO show, especially in the Midwest.  The vibe is ancient but the look is exceptionally modern.  Dejembes with boom boxes, cassettes with Macintosh computers, malachite and mixed up glow sticks dot the crowd as the arms raise up in the supreme beat as the dubstep bass drops and the whole crowd goes nutz.
There was something from every location and every generation. New Mastersounds brought the Louisiana funk, UV Hippo brought their Michigan Oberon's beer and lake side attitude, and North Carolina brought some slam grassin Avett Brothers.  Avett Brothers might be the best live performance I have seen in a very long time.  Dare I say that Seth and Scott made me crazy? Girls are giving off the 20's flapper vibe swinging their hips, being naughty and smoking cigarettes while crowds kicked up the dust on the main stage Sunday affairs.  It's as if that dust cloud constantly being created was the only SPF protecting skin from sun exposure.
Looking back at my photos from 2000, the first ever Summer Camp festival, I was astonished and awestruck at how meticulous, inclusive, and expansive it's become.  I saw old phamily from 10 years ago, 7 years ago, and new friends from 7 months ago, a gathering of the minds and a great Midwest celebration to kick off festival season.  If this weekend of over 60 bands and peaceful parties, arts and charities are any indication… This summer is heating up to be a hot one already.
Check out more of June's photos from Summer Camp.