DelFest, the festival brainchild of Del McCoury and his extended McCoury family now in its 13th year, in partnership with High Sierra Music, announced an initial star-studded lineup today. Held at the Allegany County Fairgrounds in beautiful Cumberland, MD, DelFest originated from the desire to create a family-friendly music festival celebrating the rich legacy of McCoury music while creating a forum for world-class musical collaborations and to showcase fresh new talent.
Read More
Superstar phenom Billy Strings returns as Artist-in-Residence, joining 40+ award-winning bluegrass acts including the Del McCoury Band, Leftover Salmon, Tommy Emmanuel and many more at the 2019 Grey Fox Bluegrass Festival from July 18-21.
Read More
Born into a coal-mining family that later moved to Michigan's upper peninsula and raised in an extended family with a grandmother who was both a Civil Rights activist and a Christian, I get a sense of all of those roots in her music.
Read More
Organizers of Jam In The Trees, The Pisgah Brewing Outdoor Stage Series, and HoosierDevil are proud to announce Strings & Suds, a two-day music event held at Pisgah Brewing Company's legendary taproom and outdoor stage on August 23rd and 24th, 2019.
Read More
Sam Bush Band, Steep Canyon Rangers, Sierra Hull and Ghost Light are among the final list of bands announced for the 11th annual Rooster Walk Music & Arts Festival. Other new additions include: The Steel Wheels, The Black Lillies, 'Yarn Morrison' (Yarn's tribute to Van Morrison), Runaway Gin, The Trongone Band, Sanctum Sully, Disco Risqué, Kate Rhudy, Adar, The Folly, Chamomile & Whiskey, Prosperity's Folly, The Drove, and MHC Praise Band.
Read More
Sierra Hull is pleased to announce the 'Christmas Time Is Here' tour in which each of the four tour stops will be partnered with Toys for Tots and/or a local food bank-- seeking to ease the stress of the holidays for the less fortunate. Each attending fan who donates an unwrapped toy, canned foods, or makes a monetary donation to the local food bank on-site will receive a free signed Weighted Mind (Hull's latest release, a GRAMMY-nominated record) poster while supplies last.
Read More
Alison Brown, Becky Buller, Sierra Hull, Missy Raines & Molly Tuttle | Cold Rain & Snow | RockyGrass
A story with a head wound is always a good story. This story has a head wound. But it's not the best part of the story. This story is about music. Music at Grey Fox Bluegrass Festival. You'll notice I omitted the. It's not The Grey Fox Bluegrass Festival. It's Grey Fox. We'll get to that just like we'll get to the head wound. But first, music. After all, that's why we travel to the Catskills every year. But why this music? What about this music sets it apart? Truth be told, bluegrass can feel so rigid.
Read More
Sierra Hull, the singer, mandolinist and former child prodigy who signed with Rounder at age 13 and distinguished herself by becoming the first bluegrass musician to receive a Presidential Scholarship to the prestigious Berklee College of Music, released 'Weighted Mind,' her first new album in five years, on January 29, 2016.
Read More
"We Rainbow Girls are normally at festivals because we are scheduled to play them," said multi-instrumentalist Caitlin Gowdey, 27, "but High Sierra is the only festival I will always go to even if I have to pay for my ticket."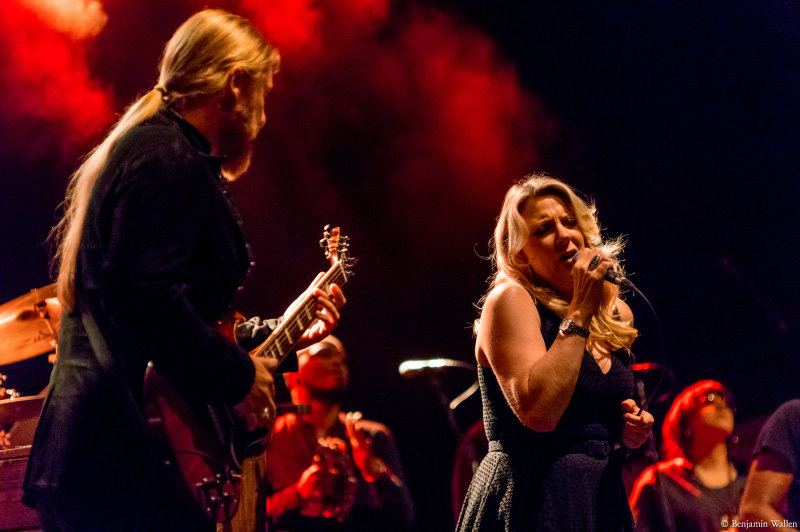 Read More