The Revivalists Wrapping Up Summer Festival Tour & Add Fall Dates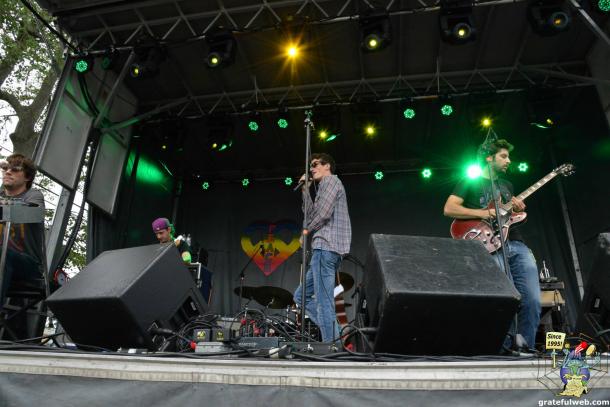 It's been a landmark summer for The Revivalists, with monster festival sets at Bonnaroo, Governor's Ball, Hangout, Mountain Jam, High Sierra, Ride Fest, Gathering of the Vibes and more. The Big Easy septet aren't letting up and now add a slew of new dates to their schedule, including a run w/ J.J. Grey and Mofro, the Voodoo Music & Arts Festival in New Orleans and Jam Cruise.  Their compelling Daytrotter session is live today, capturing the energy of their stage set in a concise four-song performance.
Incessantly on tour in support of their Ben Ellman (Galactic, Trombone Shorty) produced album, City of Sound, The Revivalists' mix of soulful indie rock, r&b and funk with their magnanimous live performances has been slowly building their following in every city. Relix dubbed them 'Summer Stars' and Michael Bialias profiled their festival run for the Huffington Post and No Depression.
David Fricke of Rolling Stone calls their show, "A Crescent City-rhythm spin on jam-band jubilee" and The Horn in Austin proclaims, "Between frontman David Shaw's infectious vocals and frontman antics, a powerful horn section, and the uniquely atypical presence of a pedal steel guitar, The Revivalists are delivering a freshly interesting sound to increasing audiences around the country." Jessica Novack of the Syracuse New Times agrees, "For The Revivalists, it seems to be one part organic impulses and one part meaning it with every bit of every spontaneous performance that makes their blend of New Orleans-infused funk, rock and soul work."
Grab a free download of "Criminal," from City of Sound, over at Diffuser and be sure to check out the Daytrotter session. You'll want to catch The Revivalists live so a full list of tour dates can be found below.
The Revivalists Tour Dates:
8/15 - Charleston, SC - The Pour House
8/16 - Asheville, NC - Downtown After Five
8/18 - Equinunk, PA - Equifunk
9/05 - Greensboro, NC - The Blind Tiger
9/06 - Southern Pines, NC - Sunrise Theatre Green
9/07 - Roswell, GA - Riverside Park
9/08 - Raleigh, NC - Southland Ballroom
9/10 - Baltimore, MD - 8x10
9/11 - Fairfield, CT - Stage One
9/12 - Portland, ME - Port City Music Hall*
9/14 - Fredericton, Canada - Harvest Jazz & Blues
9/17 - Charlottesville, VA - The Southern
9/18 - Charlotte, NC - The Chop Shop
9/19 - Auburn, AL - Bourbon Street Bar
9/20 - Lafayette, LA - The District
9/21 - New Orleans, LA – Tipitina's Uptown
9/26 - Tuscaloosa, AL - Jupiter Bar & Grill
10/03 - Dallas, TX - Prophet Bar
10/18 - Athens, GA - The Georgia Theatre
10/19 - Jackson, MS - Martins
10/22 - San Antonio, TX - Sams Burger Joint*
10/23 - Baton Rouge, LA - Varsity Theatre*
10/24 - Oxford, MS - Lyric Theatre*
10/25 - Chicago, IL - The Vic Theatre*
10/26 -  St Louis, MO - The Pageant*
10/27 - Bay St Louis, LA - Bay Bridge Fest
10/30 - Chattanooga, TN - Track 29*
11/02 - New Orleans, LA - Voodoo Music & Arts Festival
11/08 - Bangalore, India - Windmill Craftworks
11/09 - Bangalore, India - Windmill Craftworks
11/10 - Bangalore, India - Windmill Craftworks
11/15 - Live Oak, FL - Bear Creek Music & Arts Festival
11/18 - Raleigh, NC - Southland Ballroom
11/20 - Richmond, VA - The Capital Ale House
11/21 - Washington DC - The Hamilton
11/22 - New York, NY - Brooklyn Bowl
11/23 - Philadelphia, PA - The Blockley
12/27 - Pensacola, FL - Vinyl Music Hall
12/28 - Pensacola, FL - Vinyl Music Hall
1/04 - Jam Cruise
* w/ JJ Grey & Mofro