The Stones' 'Sweet Summer Sun - Hyde Park Live' Premieres 11/6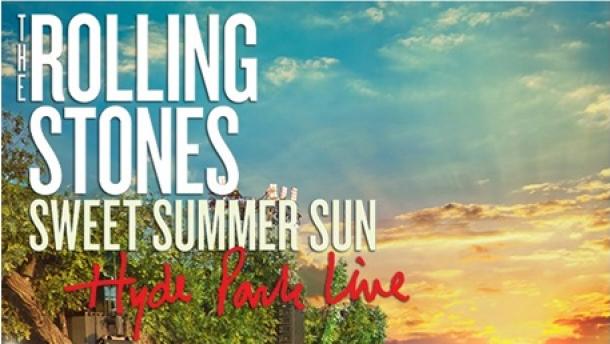 SpectiCast is pleased to announce the theatrical release of The Rolling Stones 'Sweet Summer Sun – Hyde Park Live' premiering worldwide (excluding the UK, Canada, and Japan) on 6 November 2013. 'Sweet Summer Sun – Hyde Park Live' chronicles The Rolling Stones' historic and triumphant return to London's Hyde Park with a 2-hour live concert film.
In July 2013, over 100,000 ecstatic fans packed into Hyde Park for two spectacular outdoor concerts to see Mick Jagger, Keith Richards, Charlie Watts and Ronnie Wood do what they do best. Augmenting the line-up were long-term live touring band members Lisa Fischer, Darryl Jones, Chuck Leavell, Bernard Fowler, Bobby Keys and Tim Ries, who all added their inimitable flair and finesse. The Stones delivered a five star performance that had both fans and critics singing their praises. The Stones packed in hit after hit such as, Satisfaction, Start Me Up, Brown Sugar, Jumpin' Jack Flash, Miss You, It's Only Rock 'n' Roll, Gimme Shelter, Doom and Gloom and Sympathy for the Devil.  
Former guitarist Mick Taylor, whose live debut with the Stones took place at the original 1969 Hyde Park concert – joined the band on stage to guest on the bluesy 'Midnight Rambler' and on closing track 'Satisfaction' 
"We are once again excited to be working with Eagle Rock Entertainment and I believe that Rolling Stones 'Sweet Summer Sun: Hyde Park Live' will be one of the biggest Event Cinema programs of the season, says Mark Rupp, Co-Founder and President of SpectiCast. "The energy and excitement of this high-quality concert film is sure to draw music fans across the globe."
From the moment The Rolling Stones stepped out onto the stage each night, through to the dazzling firework and pyrotechnic display that heralded the end of the concert, fans old and new were treated to non-stop, hit after hit performances, which took them through the Stones' huge back catalogue.
Keith Richards wowed the crowds by weaving his charismatic guitar licks with Ronnie Wood's immense solos.  Mick Jagger was on spectacular form, and his boundless energy on stage matched by a number of stunning outfit changes, and Charlie Watts the unflappable heartbeat of the band, driving the band on through the set.
Mick Jagger said: "It was a great gig…It was beautiful with the sun going down over Hyde Park. I can't think of a better way celebrate the Rolling Stones' 50 than doing it on our home patch in front of 100,000 people on a glorious summer night…enjoy it… we certainly did."
Keith Richards commented: "Coming back to Hyde Park was like a full circle being drawn, and the band were in top form. We thought what could be more appropriate than having a great summer in London!"
The Rolling Stones 'Sweet Summer Sun – Hyde Park Live' is the perfect way for concert-goers to relive their favourite memories from the gigs, and for all fans to see the band back where they truly belong: live on the stage in their hometown.
 ABOUT THE FILM:
Captured live at Hyde Park, London in July 6 and 13, 2013
Available beginning Wednesday, November 6, 2013
Running Time: 118 minutes
Treat as PG
Tracklisting:
1.   "Start Me Up"
2.   "It's Only Rock 'n' Roll"
3.   "Street Fighting Man"
4.   "Ruby Tuesday"
5.   "Doom and Gloom"
6.   "Honky Tonk Women"
7.   "You Got The Silver"
8.   "Happy"
9.   "Miss You"
10. "Midnight Rambler"
11. "Gimme Shelter"
12. "Jumpin' Jack Flash"
13. "Sympathy For The Devil"
14. "Brown Sugar"
15. "You Can't Always Get What You Want"
16. "(I Can't Get No) Satisfaction"