Wailers Join The Stone Roses for the UK's Most Anticipated Musical Event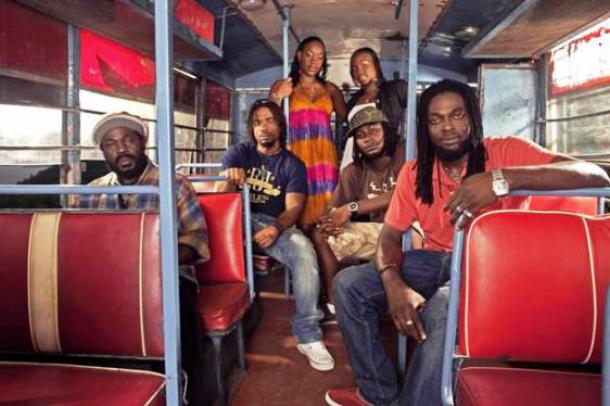 Seminal British rock band, The Stone Roses, announced their reunion tour earlier this year, to the delight of their faithful fans. Perhaps the most important stop on this international tour is Heaton Park in their hometown of Manchester, UK. Their homecoming is being celebrated by three consecutive sold-out shows on Friday, June 29, Saturday, June 30, and Sunday, July 1, 2012.
The Stone Roses asked reggae royalty and one of their musical influences, The Wailers, to support them for this homecoming weekend. The Wailers have influenced generations of musicians, The Stone Roses included. This unlikely pairing is a result of The Stone Roses front man Ian Brown and Mani having learned bass by playing along to Family Man's bass patterns in some of reggae's most revered songs. Playing with a band that considers them a musical influence is an opportunity that embodies everything the Wailers believe about the power of music. Wailers lead singer, Koolant Brown, says "music is a shared experience meant to spread peace and love to all." There is no better way of showing audiences the power of music than to join with other musicians who share in its mission.
When asked about being a musical influence, Family Man said "Reggae's got soul, funk, R&B, jazz, and elements of so many other genres. Reggae music is a mix of all types of music from different cultures, which is why people love it so much. Music is the magic, it is the oxygen of the people –it's the message of roots culture and reality."
The Wailers will be performing at all three shows in Manchester, and are looking forward to the opportunity to spread the message of peace, love, and redemption through their music. Looking at the international impact of the Wailers' music, Family Man says "It is like a prophecy fulfilled. We have been given a mission to spread the messages of roots, culture and reality for the healing of the hurt, and that is being done with every show. We are chosen for that mission, and it must be done. Playing around the world continues that mission."
For a full list of the Wailers' UK tour dates, see below:
The Wailers 2012 European Summer Tour
Thurs, June 28                 Brighton, UNITED KINGDOM- Concorde 2
Fri, June 29                       Manchester, UNITED KINGDOM - Heaton Park [with The Stone Roses]
Sat, June 30                     Manchester, UNITED KINGDOM - Heaton Park [with The Stone Roses]
Sun, July 1                        Manchester, UNITED KINGDOM - Heaton Park [with The Stone Roses]
Tues, July 3                      Bristol, UNITED KINGDOM- Bristol Academy
Wed, July 4                       London, UNITED KINGDOM - Shepherd's Bush Empire
Thurs, July 5                     Dublin, IRELAND- Phoenix Park [with The Stone Roses]
Fri, July 6                           Leeds, UNITED KINGDOM- Leeds Academy
Sat, July 7                         Balado, Kinross, SCOTLAND- T in the Park Festival [with The Stone Roses]