Tedeschi Trucks Band Release Live Album "Everybody's Talkin'" on May 22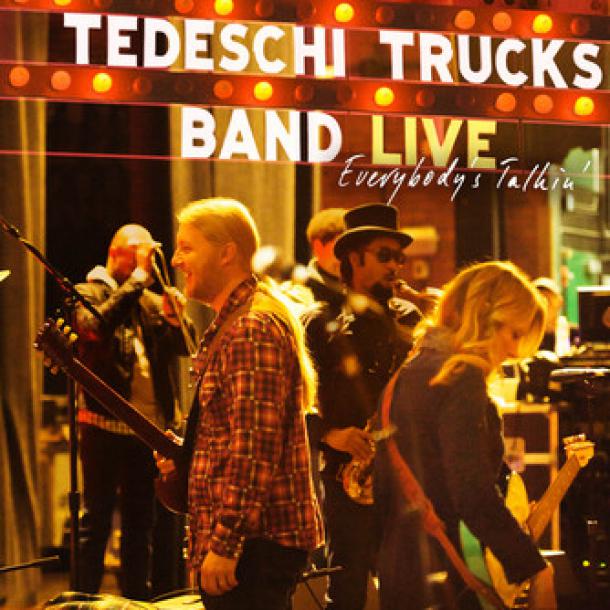 On May 22, Tedeschi Trucks Band will release Everybody's Talkin', their sophomore album in their second full year as a band.  The uplifting, energy-packed double-disc set by the 11-piece ensemble led by husband-wife team Derek Trucks and Susan Tedeschi that recently marked their first anniversary with a Grammy win for their debut album Revelator. TTB (as their fans know them) shows off a stunning rate of musical progress on Everybody's Talkin', eleven tracks selected from a year's worth of concerts from around the globe plus one new track ("Nobody's Free"). The performances—a hearty blend of originals and spirited covers of rock, R&B and even gospel classics—capture the group's roots-rich musical mix, laced with Truck's signature slide-guitar sound and fronted by Tedeschi's pliant, honey-to-husky voice (as well as her own gritty guitar-work). The collection also includes all of the joyful, spontaneous energy that has helped TTB build a growing circle of fans and earned them an unprecedented string of triumphs in just the past few months.
TTB have lined up some special treats for fans who pre-order their copy of Everybody's Talkin'.  All pre-order customers will receive a bonus downloadable live track of one of TTB's explosive encores, a medley of two Sly & The Family Stone songs, "Simple Song>Take You Higher." It's a perfect complement to Everybody's Talkin', and it's only available for pre-order customers.  The band is also giving away a prize package to one lucky pre-order customer that includes a pair of tickets to any TTB concert after June 15th during their 2012 tour, a special meet-and-greet with Derek and Susan, and a Gibson SG Special guitar autographed by Derek and Susan. Five second-prize winners will receive a signed vinyl copy of Everybody's Talkin'. For sweepstakes details and complete official rules, click here.