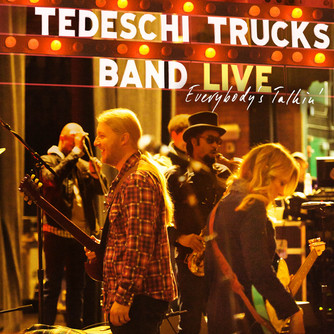 Tedeschi Trucks Band released Everybody's Talkin' this week, their sophomore album in their second full year as a band. The uplifting, energy-packed double-disc set by the 11-piece ensemble led by husband-wife team Derek Trucks and Susan Tedeschi that recently marked their first anniversary with a Grammy win for their debut album Revelator.
Kurt B. Reighley of MSN Music lauds, "From the opening moments of the Fred Neil title tune, ripe with warm brass and sweet vocal harmonies, the group's passion for performing together resonates loud and clear, and the extended song forms accommodate plenty of virtuoso instrumental turns -- even the flute solos rock!"
Billy Heller of the NY Post notes, "Over guitar, horns, organ and percussion from the 11-piece band, Tedeschi even makes the between-verse "wah, wah, wah, wah, wah" her own." This of course takes a different approach than Iggy Pop's recent version of "Everybody's Talkin."
Mike McGuirk of Rhapsody calls TTB, "about the best rock band working in the post-millennial era" and Enrique Lopetegui of the San Antonio Current confirms, "TTB is Sly Stone, Otis Redding, and James Brown all rolled into one."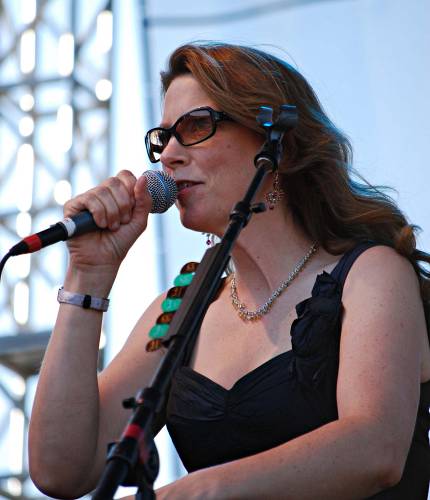 Tedeschi Trucks Band
just posted a video for the title track on their website and you can also grab a free download of "Learn How To Love" when you sign up for the new
etter..
Besides the Grammy for Best Blues Album of the Year in February, Trucks himself, along with TTB bandmate Oteil Burbridge, were honored with a Grammy Lifetime Achievement Award for their membership in The Allman Brothers Band. In March, Tedeschi and Trucks were invited to perform at the White House with B.B, King, Buddy Guy, and yes, President Barack Obama himself (who sang a verse of "Sweet Home Chicago"). A week later, they appeared at the Apollo Theater, joining Eric Clapton, Keith Richards, and a host of guitar heavyweights in an all-star tribute to bluesman Hubert Sumlin. On April 30th Tedeschi and Trucks will perform at the United Nations General Assembly in New York at a concert to celebrate International Jazz Day. Other featured performers include: Herbie Hancock, Esperanza Spalding, Wynton Marsalis and others.
The Tedeschi Trucks band is on the road all summer hitting festivals and theaters as well as a special run of performances with the legendary B.B. King. More info and a full list of tour dates can be found here.
TTB TOUR DATES
May 27 – Chillicothe, IL – Summer Camp Music Festival
May 30 – Indianapolis, IN – Murat Theatre
June 1 – Pittsburgh, PA – Stage AE
June 2 – Elmer, NJ – Appel Farm Arts & Music Festival
June 3 – Hunter, NY – Mountain Jam
June 15 – Seattle, WA – Paramount Theatre
June 16 – Jacksonville, OR – Brittfest
June 17 – Portland, OR – Arlene Schnitzer Concert Hall
June 19 – Vancouver, BC – Center in Vancouver for Performing Arts
June 24 – Apple Valley, MN – Minnesota Zoo Amphitheater
June 25 – Apple Valley, MN – Minnesota Zoo Amphitheater
June 27 – Madison, WI – Overture Center for the Arts
June 29 – Toronto Jazz Festival
July 6 – Winnipeg, MB – Winnepeg Folk Festival
July 7 – Thunder Bay, ON – Thunder Bay Blues Festival
July 10 – Ottawa, ON – Bluesfest
July 11 – Quebec City, QC - Quebec City Summer Festival
July 18 – Highland Park, IL – Ravinia Festival
Aug 5 – Newport, RI – Newport Jazz Festival
Aug 11 – Scranton, PA – The Peach Music Festival
Aug 28 – Brand Prairie, TX – Verizon Theatre w/ B.B. King
Aug 29 – Albuquerque, NM - Sandia Casino Amphitheater
Aug 30 – Morrison, CO – Red Rocks Amphitheatre w/ B.B. King
Sept 1 – Phoenix, AZ – Comerica Theatre w/ B.B. King
Sept 2 – Las Vegas, NV – The Joint w/ B.B. King
Sept 5 – Los Angeles, CA – Hollywood Bowl w/ B.B. King
Sept 7 – Stockton, CA - Bob Hope Theatre
Sept 8 – Saratoga, CA - Mountain Winery
Sept 9 – Valley Center, CA – Harrah's Casino w/ B.B. King
Sept 20 – New York, NY – Beacon Theatre
Sept 21 – New York, NY – Beacon Theatre
Oct 27 – San Juan, PR – Legendary Rhythm & Blues Cruise