The fourth annual 10,000 Lakes Festival (10KLF) kicked off on a mild Wednesday evening at the Soo Pass Ranch of Detroit Lakes, MN.  The four-day bonanza of music and entertainment has matured into a full-fledged mainstay on the summer tour circuit for headliners and up-and-coming regional acts alike.  While cars rolled in all day and night into Thursday morning, visitors set up their temporary homes, and neighborhoods, with extensive attention to detail evident from the picnic tables, screened porches, tiki torches, hammocks, and other simple pleasures they brought from home.  Just about everyone that night met a stranger with no other connection to them than the fact that they had parked next to each other just hours earlier: that, and a shared enthusiasm for a smorgasbord of music played hard and honest.
While some familiar bands such as the Black Crowes, Dark Star Orchestra, Widespread Panic, Particle and Les Claypool did not return to wow a larger crowd of about 17,000 fans and vendors this year, many did return, including Trey Anastasio- who likely rolled in on Saturday night knowing he would not stop playing until the wee hours of Sunday morning.
Instead of going through and listing the bands and pointing out how awesome they all were, I would like to give you, the regretful festival absentee, a feeling of what this festival is all about, and what you just might run into should you choose to take the short cruise west on I-94 to Detroit Lakes, MN, home of many critics' top choice for the road trip of the summer.
The Scene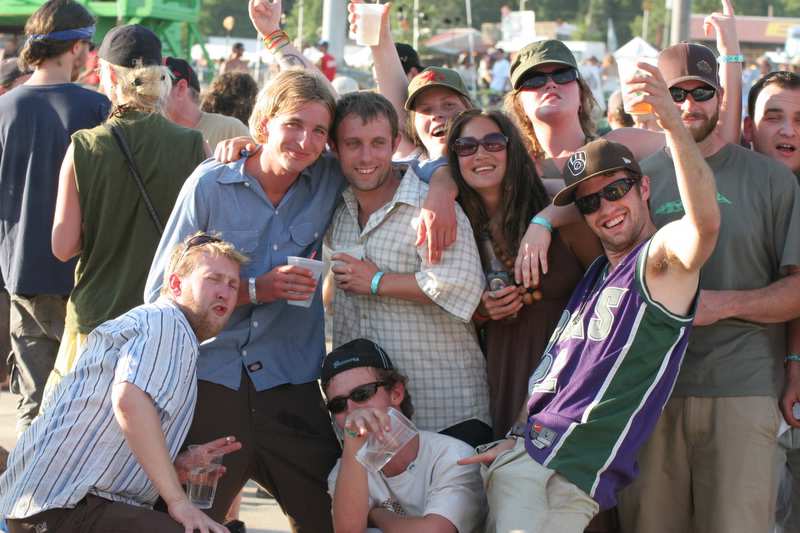 The Soo Pass Ranch is a large property nestled among thousands of lakes, leading from Alexandria, MN on north.  A fan who has visited any music festival on earth can immediately tell that the promoters of this gig have welcomed thousands of campers many times before.  A temporary road sign pointed lit arrows the direction towards one of the five main entrances.  Many overdrove their entrance, expecting an enormous traffic jam just over that hill- but alas, most arrived without waiting more than minutes for a brief vehicle search and the exchange of tickets for wristbands. 
Most smart campers found a plot big enough for their guests, close enough to make new friends with those among them, and far enough away from the large, well placed sets of port-o-jons and water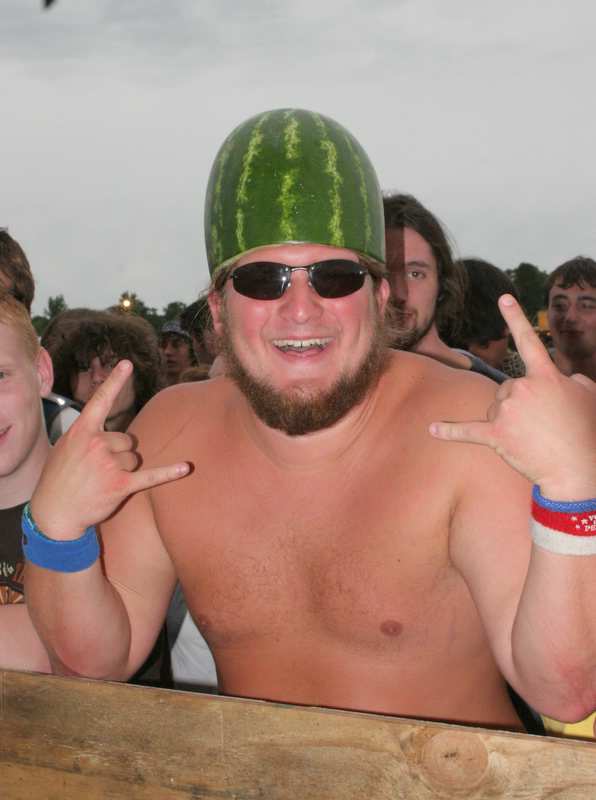 tanks with spigots. The Northwoods, VIP and Lake Sallie campgrounds were the first to sell out because of their well-shaded forested setting.  The late to purchase tickets ended up on nice prairie, hopefully with a source of shade or a wiser neighbor than they.
The campgrounds were all connected by a series of paved and gravel paths that surround the large festival grounds.  A shakedown full of vendors and peddlers lined each road in.  Over 40 bands were scheduled to play across the 4 stages over the three plus days of music and entertainment.  For the weary of foot, a "Festaxi" would scoop you up and take you anywhere over the hundreds of acres for just $3 per head.  The souped-up golf carts are specially built to carry 8 or 9 passengers too tired or bonkered out to get to their destination.
While the beer prices have been sneaking up over the past years, most goods and grub were affordable and lines short.  Many visitors wise to the capitalist ways of all festivals ate and drank well before making it to the music.
Ken Doogan, "The Wizard" MC'd many show breaks- reminding the festival goers to drink their water and put on sunscreen.  "You don't need to remind these people to drink beer, they know how to do that," he commented, "it's the water that they need help with."
The Bands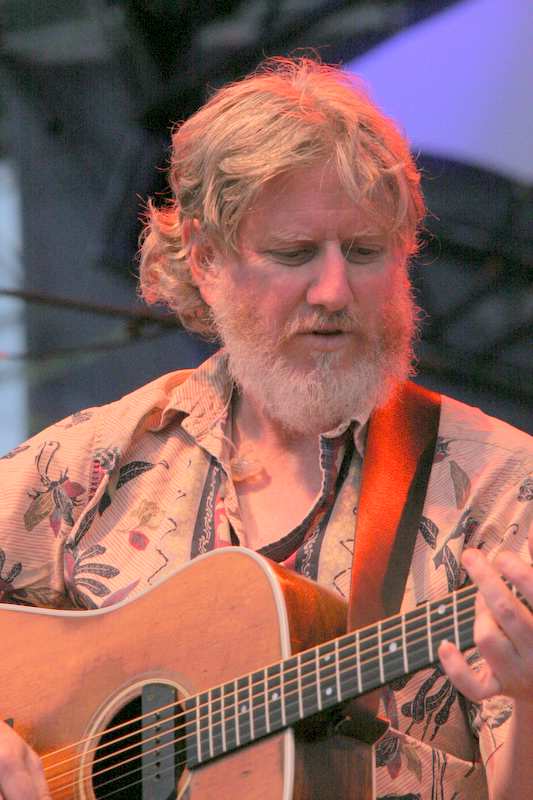 An eclectic combination of bands traveled from near and far to participate in this year's 10KLF.  Garaj Majal jammed 'far east swing', drawing national attention, while the Duluth group Trampled by Turtles brought many of their fans from across the state.  Thursday night's headliner was String Cheese Incident, a Boulder, CO band that has carried a loyal following for a decade or so- coming up playing similar festivals across the country, albeit on the smaller stages until more recently exploding in popularity among the jam band Phish converts searching for more show after Phish's music stopped.  SCI's first song, "Texas" set the mood for weekend to come, with lyrics reminiscing the roads traveled by outlaw bands on their way to the next gig only to be pulled over and busted in the country, or not. . .
A showstopper for many was the rousing of "Mutaytor", an LA-based theatre act reminiscent of a Vegas-style review.  The front of the field stage was lined with gas powered fire pits exploding in flame.  While their music was no more than a glorified drum circle, the theatrics included fire swallowing and two risk takers on extending stilts, eventually reaching about 30 feet tall.
Railroad Earth has been making a buzz around the Midwest as of late.  Their bluegrass base is pure Americana for some, while they are bold enough to mingle it with reggae, Celtic and more percussive stylings.  Since their 10th show ever at the 2001 Telluride Bluegrass festival, their popularity has been growing.  Their two-show appearance at the 10KLF was one of the tightest and well-received small-stage gigs of the weekend.  By the first show on day 2, word had spread of their talent, and the barn stage was jam-packed with new fans.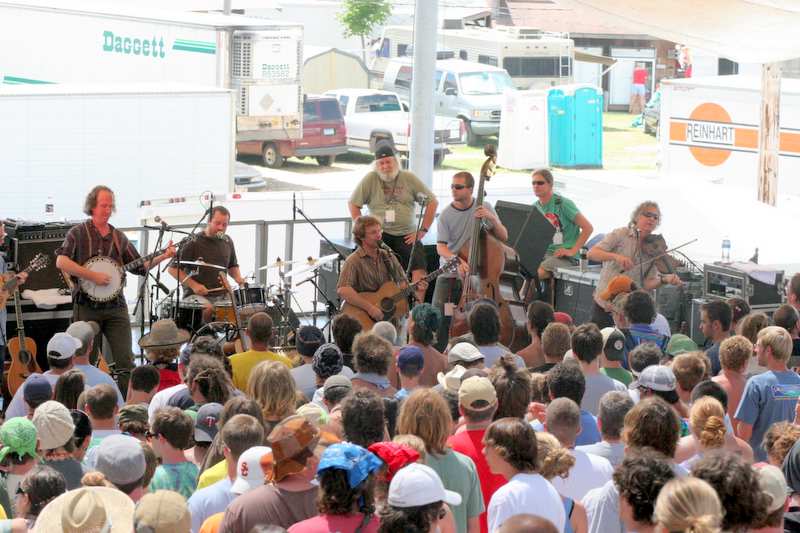 Other bands too good not to be mentioned, included Backyard Tire Fire, a Midwestern work-horse on the jam band scene. They have a bluesy, Black Keys feel to them and are playing the 400 club in November.  The Milwaukee scene was represented by the young, vibrant winners of the Cosmic Break tour, Stealin' Strings.  They certainly know their music and enjoyed the opportunity to take stage at this year's 10KLF.  It seems that their schedule has taken off as well- booking gigs throughout the Midwest this autumn.  Shooter Jennings and the 357s played to an excited daylight crowd at the barn stage.  He, according to his father Waylon Jennings's autobiography, got his nickname after peeing on a nurse shortly after birth in 1979.  Labeled "Country", Shooter's tunes hardly deserve the same genre as the Dixie Chicks or Kenny Chesney.  The wiry-framed tough guy opened hard and loud with a lil' story about getting busted on the road after their 3rd gig.  He will be appearing on October 13th at the Cabooze in Minneapolis.
While it has been said that the headliners bring the crowds, but the small stage acts make the show, it is hard to imagine this year's 10KLF without Phil Lesh and Trey Anastasio.  Phil rocked a solid dead set, and Joan Osborne of 90's pop fame has come over to the bright side of music.  With classic Dead noodlings like Big River, Shakedown Street, St. Stephen, Dark Star, and China Cat, you never miss a beat.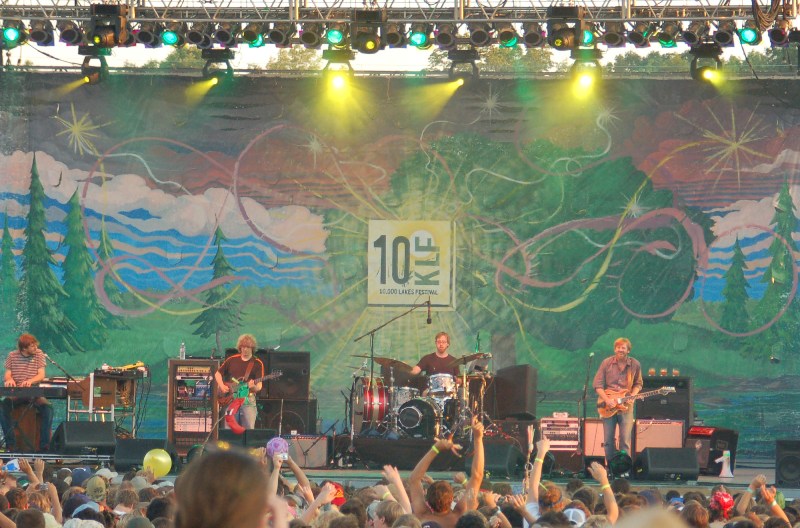 Trey played with former Phish partner, Mike Gordon and a surprising (isn't it always?) drum and keyboard combo by the name of the Benevento/Russo Duo.  These East Coasters know how to entertain, and wrapped up the big stage evening with the Who cover, "Who Are You" and an encore Beatles cover, "Get Back' which led into a fine fireworks show that celebrated the event, and end of the road for many of the acts that finished their summer tour at this special 10KLF event.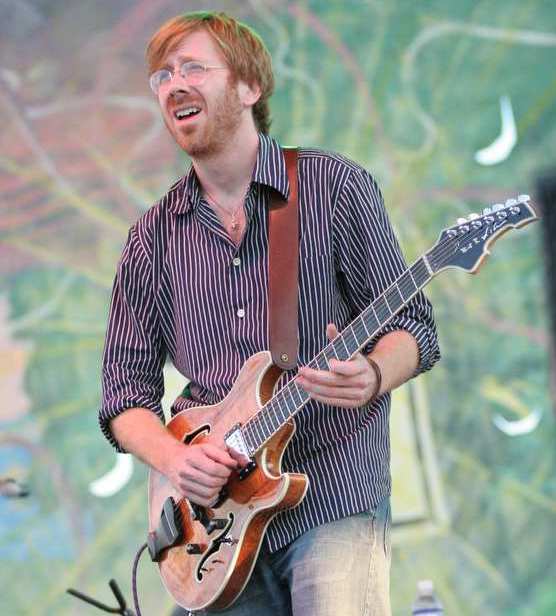 Trey was not done yet, as he jammed for another hour with the after show party at the field stage.  Medeski Martin and Wood, the Brooklyn based jazz trio tripped out the soberest kid there with their creepy tangential episodes and 80's style album art on a gigantic screen stage left.  It was a chance for many to cool off, while Trey (with his new Sharpie "MMW" tattoo on his right arm) was keeping it hot.  Maybe he was just paying John Medeski back for pouncing onto main stage towards the end of their set earlier- wishing Marco Benevento a happy birthday with a cake and a 17,000 chorale singing "Happy Birthday to You".
American music coming to terms with its diversity in sound, but similarity in purpose, was the theme of this year's 10KLF festival.  Anyone who has been in tune with the jam band scene over the last decade has been witness to an explosion of sounds based on funk, house, jazz, blues, metal, drum n' bass and Americana alike.  All in all, there was too much music to even hear, much less report.  The producers have created a buzz around the versatility and constant change of the 10KLF, and it is one worth catching.  While there were some bands "missing" this year, others appeared and solidified this venue as a northwoods respite for national and Midwest acts alike.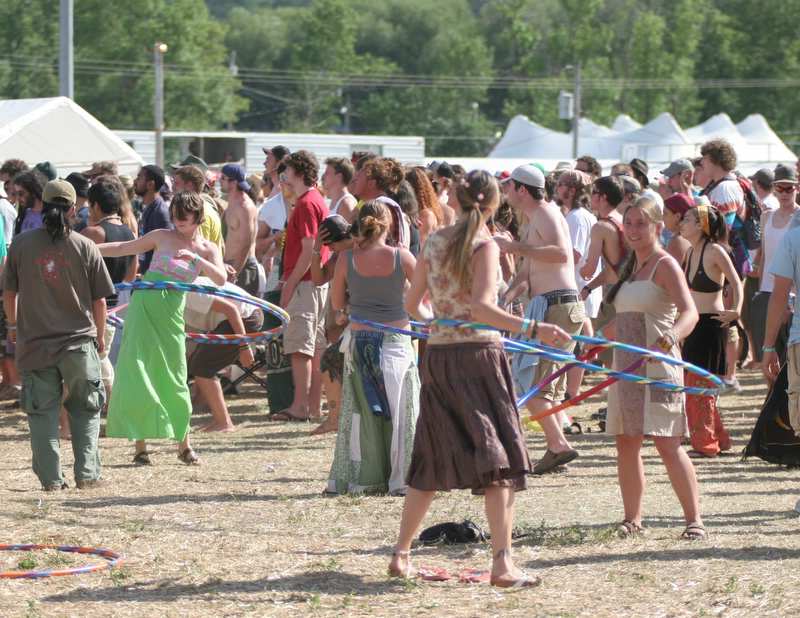 Check out more photos from the 2006 10KLF.