Last summer, Analog Son released one of the strongest debut albums I've heard in quite some time. Guitarist Jordan Linit and bassist Josh Fairman composed the tracks and enlisted 18 musicians – ranging from nationally recognized to locally cherished – to imbue the songs with a euphonious blend of fusion and funk. Attempting to match a feat of such dynamism is not an enviable task, but Analog Son's follow up record, Stomp and Shout, did just that. The concinnity of the band's arrangements was, in fact, demonstrably tighter than its eponymously titled debut. Linit and Fairman adapted between seven and 14 instruments per track into a series of polished, yet visceral songs. And if you're more of a jamband aficionado than a member of the funk-o-sphere, I know the word "polished" may elicit negative connotations (i.e. most Grateful Dead studio albums). Vanquish that thought and replace it with the following; Stomp and Shout is an absolute gem. Like Analog Son, it boasts an incredible lineup of 25 guest musicians coming together to create one powerful sphere of sonic beauty. Linit and Fairman are both the axis on which it spins and the orbital path which it follows.
In all likelihood, I doubt "guest musicians" is the germane phrase to describe the contributing efforts on this album. It smacks, at least to me, of opportunism or commercialism. It seems like every other hip-hop, pop, or country video these days says Iggy Azalea Ft. Someone Actually Talented or 2 Chainz Feat. Someone More Physically Palatable. With Linit and Fairman, "collaborators" is a far more apropos term in some instances – and "longtime friends" in others. There's even a pianist whose moniker could be "mentor extraordinaire". So I'm fashioning a new blanket term for everyone else who played on Stomp and Shout: funk friends. In all, 12 funk friends who worked on Analog Son returned to assist with the new album and 13 more, including Benzel Baltimore (P-Funk) and Nigel Hall (Lettuce), came aboard for their maiden voyage.
The first track, Shady Nights, is an allusion to two of its cowriters - Ryan Zoidis and Eric "Benny" Bloom – collectively known as The Shady Horns. Usually on the road with Lettuce or Soulive, The Shady Horns played an integral role in Analog Son and continue to prove their mettle on Stomp and Shout. Fairman and Linit launch with a simple, but potent, funk riff and then Zoidis's saxophone enters the soundscape like a dream, with quick, laconic phrases stretched out in echo and delay. Bloom soon joins in on trumpet and, as the song unfolds, the two horns become urban pied pipers leading me on a nostalgic, albeit bizarre, journey.
The first time I listened to this piece, I didn't bother to take note of its title. Nonetheless, Shady Nights – in particular the two horns – brought me back a decade ago to when I lived in Chicago. The music triggered a pastiche of Friday and Saturday nights as I remembered some of the most random and (absolutely) shady shit that went down: Loyola sorority girls vomiting on the windshield of a BMW outside The Riv; two wooks doing lines off of The Aragon floor during a moe. show (not only shady, but insanely disgusting). You get the picture. When I actually looked at the tracking the second time around, I was taken aback by how eerie the title (pun as it may be) lined up with the seedy, and often absurd, scenes I was picturing from those memorable Windy City weekends. From the get-go, I knew Shady Nights was primed to be a live showstopper and, sure enough, Analog Son brought the house down performing it in front of a packed crowd at The Bluebird Theater last night (March 7).
While I certainly enjoyed the memories that the studio version of Shady Nights elicited, I only became fully invested in the music from Stomp and Shout after listening to its second track: The Gun Show. Linit and Fairman are always quick to credit Eric Gunnison, a music professor at Denver University, as both a mentor and a defining influence on their own evolution. So while "the gun show" may evoke the image of vain men flexing their biceps, the titular pun is a literal one: a showcase for Gunnison. The Gun Show heaves and sweats with a distinctly jubilant, danceable ambience from the very first bars and even when the mood grows discordant, the palpable exultation never relents.
Mike Chiesa (sax) and Gabe Mervine (trumpet) are tagged in for The Gun Show and open with rollicking fills in this Earth, Wind, and Fire meets John Medeski instrumental. Gunnison, using everything from a Nord Electro 3 to a Hammond, joins in with a Clavinet-timbered companion melody to Chiesa and Mervine while texturizing the sound with pockets of Fender Rhodes-inflected notes. After a truncated Linit solo, Gunnison brings the Fender Rhodes intonation to the foreground to launch his solo, altering the aura entirely from funk to a tumultuous fusion. A dark, dystopian cacophony unfolds as the timbre of his keyboard continues to growl with higher levels of distortion. In the background, Fairman adeptly switches from an elongated funk bass line to punchy syncopation to match the turbulence. As the solo nears its peak, chords from the organ harmonize with the clamorous modulation of the electric piano. Finally all of Gunnison's discrete tangents coalesce and swirl upwards into a thick sonic vapor. The Gun Show returns from its MMW wormhole back to a horn-led funk reprise. I've listened to it at least a dozen times already and it is most definitely a highlight of the album. And believe me when I tell you – it was one of the three biggest highlights of the entire album release party last night. I was in the front row, immediately to the right of Gunnison's keyboard "L". I watched the sweat pour down his face during a max intensity solo, lathering the crowd into a ball of hysterasy (Louis Carroll portmanteau for "hysterical ecstasy").
All ten tracks are worthy of in-depth unpacking, but I will instead draw your attention to two more that most garnered mine. The title track features Ivan Neville from Dumpstaphunk (keys and vocals), Nigel Hall (keys) and four backup vocalists. A mid-tempo funk celebration, Stomp and Shout is a perfect model for how Linit and Fairman create the central axis on which the entire piece rotates. Due to the slower tempo, Fairman's bass line is as well-pronounced as a BBC anchor. Every note is articulated in full color and depth. Meanwhile, Linit plays a guitar riff in and around the spaces Fairman leaves. However, every bar has one protracted note in which the bass and guitar converge to voice a single lush harmony. A carousel of other sounds cycle around each of Linit and Fairman's guiding phrases, rising and falling in a sonorous dance. It's a marvel to hear a slew of funk musicians gravitate to this rhythmic axis and perform in perfect concert – like a veteran band with decades of experience under its belt.
Neville sings lead on Stomp and Shout, opening with the lines: "Comin' down the mountain / sippin' on some funk / lady by my side / as I'm feeling love drunk." Written by Linit, the lyrics are clearly an ode to the music that accompanies it. The Shady Horns blend their fills with tumescent bursts and beautiful harmonic swells. Backup vocalists Su Charles, Devon Parker, and Ashley Niven create even more mellifluous texture during the chorus, which is part call and response with Neville: "Hey now (hey now) / stomp and shout (stomp and shout) / listen to the music / let it all hang out." Linit's solo before the final refrain begins with a few series of notes, bent and warbled, deliberately spaced as if to signal "I'm just getting warm." Then he starts ascending with pace, as if he was winding up to unleash the full-Hendrix. But immediately after gestation, the solo cedes its momentum to the final refrain. I would've liked to see Linit extend things and really explore for more than just a minute. And he did, indeed, unleash his inner-Magellan last night with a ground-shaking rainbow-beveled rock 'n' roll solo.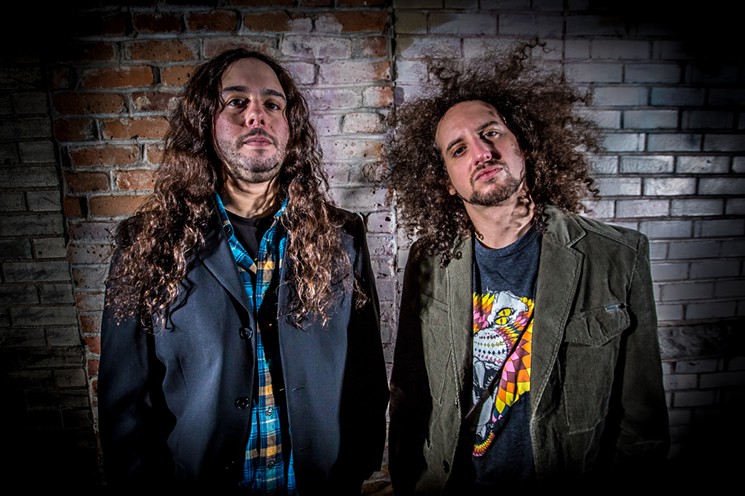 Stomp and Shout is nonetheless one of the standouts on the entire album. In a way, it's unfair for me to circumscribe my expectations of studio work using the barometer of its live cousin. They may be relatives, but are still, nonetheless, entirely different beings. And the beauty of it is this; you don't have to choose between the two. Stomp and Shout is a joyous album and, for me at least, served as a point of entry to a band that's fast becoming a Front Range phenomenon. My familiarity with the album saliently enhanced my experience at the Bluebird last night. It was actually fun to see how Analog Son transformed their assiduously composed, skillfully executed studio arrangements into balls-to-the-wall forces of nature on stage.
Finally, another standout track, What It Is!, melds funk, gospel, and New Orleans brass band to foster an absolutely euphoric sculpture of sound. It's the type of music that arouses…excites…grooves. To give you an idea, I'm currently "sitting" at my desk typing this review, not even listening to the actual music. Right now I'm bouncing on the balls of my feet and swinging side-to-side just replaying the song in my head. Once lead vocalist Devon Parker preaches in her gospel lilt, "When the bass is pumping, hips are humping / we just do our thang…", I'm totally hooked. I'm dancing to the mere memory of music while sitting down. The song, coauthored by Parker, Linit, and Motet vocalist Jans Ingber, boasts almost everything I love about funk: gorgeous harmonies from backup singers LaDamion Massey, Dax Oliver, and Ashley Niven; hypnotizing cowbell (courtesy of Benzel Baltimore) and the deft deployment of conga counter-rhythms (Rafa Pereira); an undulating bass line (Fairman); a stanky wah-driven guitar riff (Linit); a libidinous guitar solo that feeds off the sticky bounce of the bass; and a crescendo weaving together ethereal Hammond glory chords (Joe Tatton), choreographed bursts of saxophone (Clark Smith) and trumpet (Jon Gray), and euphoric choral refrains. What It Is!...is damn near perfect.
The six tracks from Stomp and Shout on which I did not elucidate are also wondrous canvases on which a daring and fearless funk-fusion ethos is painted. Some will compel you to see Analog Son live. Others will get you dancing even after the music has stopped. But all ten songs on the album live and breathe because of two supremely talented musicians – Jordan Linit and Josh Fairman – and their cohort of fabulous funk friends.