It is quite rare for album art to get noticed in the age of iTunes and Mp3 players. But I found myself captivated by the cover of Analog Son's eponymously titled debut album when it arrived in the mail. I couldn't help but notice a distinct similarity to one of funk's most celebrated records. On the cover of Maggot Brain, Funkadelic's '71 masterpiece, a woman is buried neck deep in the dirt, her licorice-colored Afro almost camouflaged by the soil that surrounds it. Her face is photographed in bright light as she cries out, mouth agape, for all to hear. The Analog Son cover similarly centers a woman's countenance and sizable coiffure. However in this rendering, drawn by Belinda Jackson, she exudes peace and calm. The palms of her hands meet each other above her head and her eyes and mouth are closed in meditation. The woman's Afro is fashioned from wavy peacock plumage while piano keys jut out from the gold and green to accentuate her contemplative pose. The juxtaposition seems like an homage to the classic with an eye on the contemporary.
Which is fitting because even the album's title and band name – Analog Son – alludes to the fusion of past and present. Forty years ago, during the golden age of funk, analog recording was used to produce music for popular consumption (vinyl was its medium, for the those of you under 25). And the successor, or "son", of analog was, of course, digitally encoded music. Guitarist Jordan Linit and bassist Josh Fairman wed vintage equipment and tape machines with modern production and technology to engineer an extraordinary debut offering. In it, juicy funk and meaty grooves are united with an up-tempo rock and fusion ethos to create a 51-minute voyage that is stimulating, in equal parts, to the ears and feet. I listened to this album driving in my car, perched at my desk, and even lying down in bed and, no matter where I was or what position my body was in, I was dancing. The grooves were viscerally contagious. And the answer to your question is, "Yes, of course you can dance lying down in bed."
After 17 years together, Linit and Fairman have developed an intimate musical rapport while cultivating a national following with their funk-rock group Kinetix. It's quite obvious, given the album's unique setup, that they also fostered a slew of musical friendships along the way. While the duo took on songwriting responsibilities and performed on all tracks, a total of 18 guest musicians sat in to shape this standout album. The construct was perfect. There were only two architects, but after the blueprint was conceived, a coterie of expert artisans was able to put its discrete stamp on the structure. The finished product is ten unique sonic experiences that flow together effortlessly, anchored by the prevailing framework of its two designers-in-chief.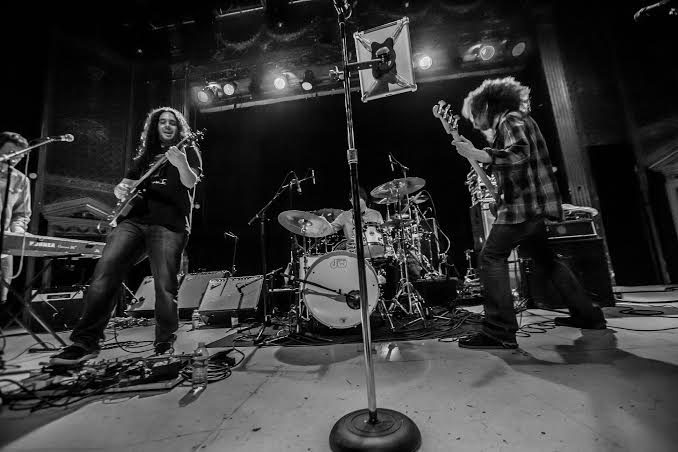 In Analog Son's opening piece, The Professor, Linit initiates with a riff that would make Freddie Stone proud. The first dozen bars are the apotheosis of yeasty, furnace-room funk. However, the sound soon shifts gears, gutting any expectation of monolithic influence. Ryan Zoidis (saxophone) and Eric "Benny" Bloom (trumpet) from The Shady Horns, along with Joe Tatton (keys) from The New Mastersounds, put the bounce in Linit's step as The Professor unfurls with the dynamics of Galactic meets brass-infused salsa. The best part of the piece is Fairman's bass play. He constantly stokes the fires of Tatton's organ solo and augments Zoidis and Bloom's horn fills with punchy syncopation. Throughout the entire album, in fact, Fairman has an uncanny ability to make everyone around him sound better while concomitantly showcasing his own talents.
Of the sundry guest musicians, Denver vocalist Devon Parker makes an outsized contribution. Penning the lyrics for three of the album's songs, Parker delivers a velvety performance with a voice that is, by now, renowned throughout The Front Range. She's Somethin' and Struttin' both have a neo-funk attitude, imbued with a bit of hip-hop and even a splash of soul. Parker's intonation, passion, and silky vibrato make me envision the star of a gospel choir. Paired with Linit and Fairman's groove, her vocals cut a potent edge into the dynamic.
In her most notable piece, Parker lends her voice to the wave of societal discontent towards financial institutions and The One Percent rigging The Game.
"Listen up everybody take heed, it's time you best beware
Wolves in sheep clothes and fancy suits, sittin' in fancy chairs
Making rules to life's games, but they never wanna play it fair
Take more than they wanna give, so do you really think they care?"
This piece reminds me, at least lyrically, of The Motet's recent song Rich in People wherein Jans Ingber takes aim at the political machinations and belligerent rhetoric miring Congress in gridlock. But whereas Ingber exalts where true wealth resides, Parker's song is a supplication of sorts – an appeal to those who are willfully ignoring the problem. The cynical anguish born from her lyrics seems to, paradoxically, bolster the optimistic resolve in her delivery. Mike Chiesa (saxophone) and Gabe Mervine (trumpet) punctuate the piece with gorgeous fills while Chiesa steers it straight into the funk zone with a penetrating solo. If ever performed live, this is the type of piece that should be explored and jammed out into a white-hot crescendo and accelerando. Given the studio format, truncated boundaries are somewhat understandable.
Mervine wasn't the only Motet member to lend his talents to Analog Son. In the aptly titled A Trip Around The Son, Joey Porter (keys), along with his Juno What?! band mate, Steve Watkins (synthesizer), help Linit and Fairman navigate a musical trip that touches on soundscapes as diverse as EDM and big band jazz. But the main funk theme woven throughout lends itself, most, to a cinematic tapestry. The first time I listened to this piece, and every one thereafter, I had visions of a revenge-thriller sequence. I pictured an aggrieved samurai neutralizing first and second line security defenses as he furtively navigates the target's lair – his blood boils with rage as the climactic battle fast approaches. The Shady Horns take lead in this piece as their suspenseful bursts, connoting quick, stealthy movement, give way to long swells that chart each new layer the samurai breaches. Finally, he enters the villain's inner-sanctum and, bathed in bravado, girds for battle. The Juno What?! duo takes over as the combatants first lay eyes on each other. Porter insinuates ambient chords of electric piano along the lower registers and, with the commencement of the final fight a mere seconds away, Watkins joins in with a spray of ambient synth, projected with flanger-like highs and lows. Porter and Watkins, along with The Shady Horns, Linit, and Fairman, crescendo in perfect unison. I'm not one to usually indulge in such a detailed visuals when discussing music, but one of the best parts about studio albums (I usually review shows) is their ability to spark the imagination. If Quinton Tarantino ever follows through with Kill Bill Vol. 3, A Trip Around The Son should be part of the score.
Analog Island, a heady confluence of funk and jazz-fusion, is my favorite piece on the album. It's not as fastidiously composed as the band's other songs because it is, in part, a showcase for Linit and Tatton's soloing abilities. The opening riff, which Linit installs in two guitar parts, is yet another libidinous gem of classic funk origins. With drummer Mike Marlier utilizing his hi-hats to drive the rhythm, The Shady Horns ride the melody until they give way to Linit. Using an envelope filter and pushing the tempo, his solo glistens with heat. He shreds the way John McLaughlin tore it up on the jazz-fusion monument The Inner Mounting Flame. And, interestingly enough, when Linit hands the reins to Tatton, he immediately reminded me of McLaughlin's oft collaborator Chick Corea – and not only because the timbre of his electric piano matched almost perfectly to that heard on Bitches Brew or Return to Forever. Tatton's solo dominates the second half of Analog Island with its tight phrasing and smooth articulation – all while sounding as improvised as if it was being performed live. Corea is a master of instinctual phrasing and making the difficult sound easy. Tatton exhibits those qualities in abundance during his moment in the spotlight. Tatton segues to Fairman who lights it up with a truncated solo and then the entire septet rises as one to put an exclamation point on the song. If I had one complaint, it was the nearly muted levels on Joel Scanlon's congas, but it's a minor quibble compared with the majesty and execution of the entire piece.
Analog Son will be released on June 24. Please follow the link below to buy it on iTunes. And make no mistake – it is a very worthy purchase. Linit and Fairman have brilliantly cross-pollinated the essence of '70s funk and fusion with flavors of modern rock, hip-hop, and soul. Every song on the album will have you moving your feet, even if they aren't touching the ground. The groove is so infectious that you could be flat on your back without your feet even noticing. Mine sure as hell didn't.
https://itunes.apple.com/us/album/analog-son/id882860334
And since this is a funk review on The Grateful Web, I would be remiss if I failed to link you to possibly the greatest sans Jerry Sugaree ever – Soulive, The Shady Horns, George Porter Jr., Nicki Bluhm, and Warren Haynes. Start video at 24:30.