Having arrived in Austin on Thursday night with a belly full of kolaches from The Little Czech Stop in West, TX and a car full of gear, I was as well prepared as one might be to tackle the music and sun in the days ahead.  As I approached the festival gates on Friday never having been to Austin City Limits before, I felt a sense of familiarity with the festival.  It was as if I had been transported back to Chicago and the likes of Lollapalooza only with a lot more cowboy boots and hats.  Both festivals are put on by C3 productions and going off of my experience with the awesomeness that is Perry Farrell's Lollapalooza, I was definitely in for a great festival experience and weekend!
After wandering around aimlessly trying to locate stages, water refill stations, and shaded spots to seek refuge from the sun, I settled myself at The Budweiser Stage as The Mountain Goats were about to start their set.  John Darnielle, Peter Hughes, and Jon Wurster took to the stage looking rather dapper, all dressed in nice sport coats—not your typical festival attire.  They started things off with '1 Samuel 15:23' off of their 2009 release The Life of the World to Come.  Darnielle switched from keys to guitar and hammered out song after song displaying his clever lyrics to the most appropriate of tunes.  He also played a few solo songs and seemingly forgot the lyrics to 'Source Decay' off of his 2002 release All Hail West Texas.  Turning to the crowd for help, he found his way back into the song and provided a humble opportunity to engage the fans.  In addition they played a fan favorite, "This Year" as well as a cover from the band Nothing Painted Blue titled 'Houseguest'.  Wrapping things up, I took this as an opportunity to head to the BMI Stage to catch The Kicks.
Nashville based group The Kicks previously known as The Four Kicks, (you will see the bass drum art cleverly taped over) were one of the underdog acts of the festival. The Rise of King Richie, released just over a year ago, has been gaining much deserved notoriety.  Their sound draws heavy influences from classic rock and subtle pop tones to reel it in to a modern yet classic sound. Before they took the stage, a motivational group hug went down, sure to calm nerves before playing a festival of this size.  'Shake it Loose' was tight and the band laid down song after song as if they had been playing together all of their lives.  The lead singer Jordan lent unique vocals and a bit of playfulness to the set.  The Kicks were definitely well received by the crowd and the energy was mind-blowing. It appeared that everyone was having a great time and I'm sure this won't be the last time we see Jordan, Gabe, Adam, and Lucas in Austin.  Over on the Honda Stage, Miike Snow had started their set.  Each masked in a reflective effigy complimenting an array of sliver reflective instruments, Bloodshy & Avant took to the stage with vocalist Andrew Wyatt and they proceeded to put on a sensational show. They were greeted by the largest, most energetic crowd I'd yet seen at the festival packed-in in front of the Honda Stage singing along and dancing to the familiar electro staccato of the single 'Animals' and others culled mostly from their 2009 debut eponymous release. Powered by Wyatt's insistent and intense vocal presence and unyielding production, this set was still being talked about on Sunday evening singled out as many people's favorite of the fest.  After Miike Snow finished, the crowd began to divide.  Some were waiting for Beach House and others were hustling in hoards towards the AMD stage to catch The Black Keys.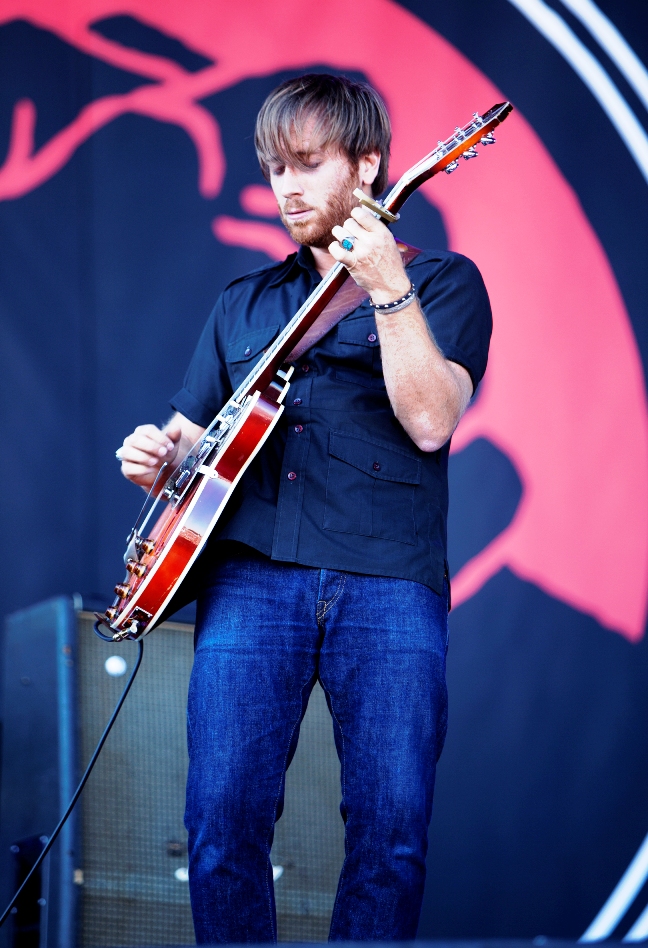 As they strolled out on stage, front man Dan A. looked like a new chap—rockin' a "summer beard"—which I'm sure his face welcomed against the warm breeze of October in Texas.  Patrick was clean-cut and had his iconic black-framed glasses in tow.  Almost half of the set was from their 2010 release Brothers, but they pleased the long time fans by playing songs that reached as far back as 'Thickfreakness' and then some.  Tighten up was surely a crowd-pleaser and they ended their set with "I Got Mine".  Their sound is raw and transports the ears back to a time when music was pure and un-masked by digital wizardry.  Not only do The Black Keys produce killer studio albums, they bring every bit of that sound to their live performances.  You know when rock legends of yore dig your sound and what you are doing musically; you've hit the nail on the head.  Back over at the Honda Stage, a few clouds had broken the sun and there was a recognizable stillness in the air along with a collective sigh of relief from the crowd across the park. There to fill this tranquil moment and give voice to the calm was Beach House's meditative, reclusive, and beautifully uplifting set.  If there was anything that could have transported an entire audience of sweaty, hungry and tired people it was this, Victoria Le Grand's reassuring cadence of her lyrics reminding you that this too shall pass.  I might have just been particularly in need at that point in the day, but to look at the younger-than-expected faces surrounding me with wrapped attention, I wasn't alone.  'Norway' and 'Used To Be' were fan favorite high points in an extremely solid set made up mostly of their 2010 release Teen Dream (not to be confused with Katy Perry's less than stellar album Teenage Dream).
The sun was beginning to go down and began to peek its way onto the stage and mingle with the oversized string of clear light bulbs that wrapped around microphone stands and instruments in anticipation of the next band to play on the AMD Stage, Spoon.  The crowd gave a resounding hometown (even though they are now based out of Portland) welcome to Britt Daniel, Jim Eno, Rob Pope, and Eric Harvey as they took to the stage.  Austin played host to their humble beginnings around 17 years ago and continues to be a favored stop while on tour.  They opened the set with "Car Radio" and played a multitude of their most recognizable songs including 'You Got Yr. Cherry Bomb' and 'I Turn My Camera On'.  Eleanor Friedberger of the Fiery Furnaces joined Spoon on stage as they did 'Waiting to Know You' off of The Fiery Furnances 2006 album Bitter Tea.  Only playing a couple songs off of their newest 2010 release "Transference" and the rest was a nostalgic amalgam of songs that brought the band to the level of notoriety they have reached today.
Sonic Youth took the Honda Stage Friday evening making good on their canceled performance at ACL 2009 and it was clear from the people around me that some had been waiting a lot longer than that to get a chance to see them perform.  Jennifer, Bianca, and several friends had driven all the way from Monterrey Mexico and paid for tickets to ACL for this singular event and they weren't let down.  Kim Gordon kicked off the set with 'Sacred Trickster' off their most recent album The Eternal. Dressed in a gold evening dress and her blonde hair set aflame by the stage lights, this was definitely a formal engagement hosted by icons of indie rock.  Thurston Moore attacked his guitar with the energy and recklessness of a teenager throughout the set made up mostly of songs off The Eternal but they touched on tracks from 'Goo' and 'Sister' en route to rounding the show out with 'The Sprawl' and 'Cross The Breeze' off 1988's Daydream Nation.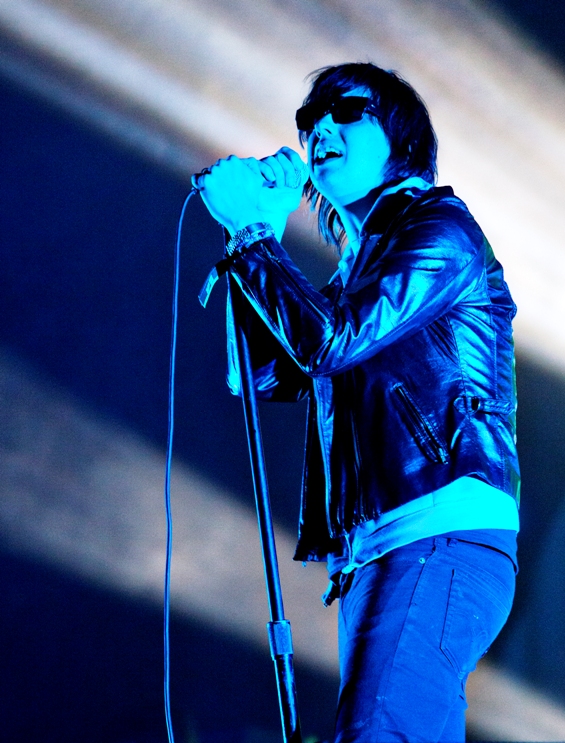 After Sonic Youth finished their set, the fans began to pack in like sardines for one of the highly anticipated headliners of the evening, The Strokes.  Some of those fans talked about the bummer of a show that The Strokes had played at Stubb's on Wednesday night.  Everyone waited patiently for a couple hours—no opening act—and then to their surprise were only regaled with a 45-minute set.  There was much anticipation to see if the band would actually commit to their 2-hour time slot or pull a quickie leaving fans wanting more.  Unfortunately, the latter was the case.  The NYC fab five (Julian, Albert, Nick, Nikolai, and Fabrizio) took the stage and it was like nothing had changed in the few years it's been since I had seen them last… the old suits and shades were dusted off for one more performance.  Despite the spotty vocals and botched lyrics by front man Julian Casablancas, the rest of the group seemed to keep it together and deliver song after song with a nostalgic punch that made me feel like I was back in Chicago at the Aragon Ballroom seeing them for the first time!  To their credit, they played a good mix of songs so that even those who were left disappointed by the sheer length of the set, were at least pleased that they got to hear favorites such as "Someday", "Reptilia", "Last Nite", and "New York City Cops".  In between songs, Julian delivered some interesting stage banter which included a very random rendition of the Thundercats theme song and asking the age old question "Who is messing with Texas?".  Overall this wasn't the best Strokes performance I've seen, but definitely a memorable one… especially the girl behind me that kept yelling for Julian to "take his top off"… he must not have heard her.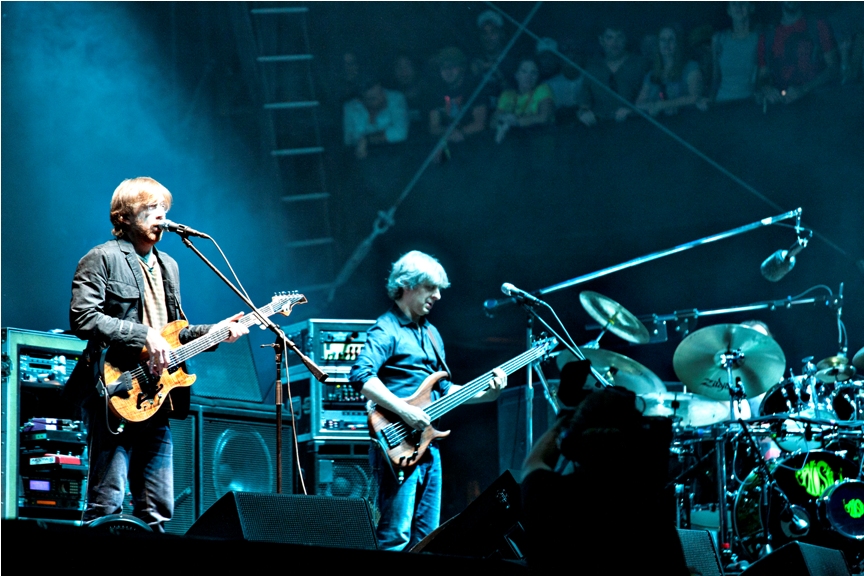 Across the park, the other highly anticipated headliner for the night was Phish and Austin City Limits was the first stop on their Fall Tour.  Drawing a robust crowd of Phish Phans mixed in with a very diverse group of first timers, and some who were just there to re-kindle their love for Phish that they had in college, Trey, Page, Mike, and Fishman (wearing his iconic muumuu of course) took the stage to start the night off right with "Down With Disease".  Coupled with an amazing light show that only CK5 knows how to bring, the quartet laid down some serious funk as they jammed on into the night.  Angela Loftus of Austin, TX said that she was completely engrossed in the lights as they were colorful, constantly changing, and psychedelic. Glow-sticks also helped to light up the dark night sky and the stage was set against the amazing backdrop that is downtown Austin.  This was the band's first time back in Austin since 1999 and they made their presence known throughout Zilker Park.  It was nice that the Strokes cut their set early, giving Phish the go ahead to play on as loudly as they pleased.  Phish didn't really do much extended jamming on any of the songs and many Phans complained that "Cities" was cut too short, but by and large they were extremely cohesive and solid as a group and hammered out a set that pleased the masses in the time frame they were allotted.  A complete setlist can be found here.
Check out more photos from Austin City Limits. | Part II | Part III