In a town that has produced acts such acts as Prince, Soul Asylum, Semisonic, Jimmy Jam and Terry Lewis, and a host famous musicians, it is easy to get lost in the shuffle of the Minneapolis music scene. OK, it's not L.A. or New York, but outside of that it is arguably one of the top music markets in the United States, and definitely easy for a band to get lost in the fray.
So when any band gets a heralded weeknight house gig at one of the top venues in Minneapolis and then proceeds to keep it for two years, you begin to notice that band - God Johnson is such a band.
GJ has been holding down the Wednesday night slot at the Cabooze on the west bank of Minneapolis now for two years, recent crowds are any indication, they are just getting started good. According to the band, their maiden Wednesday brought around 30 of their close friends, and now they are use to seeing somewhere between 270 and 450.
Formed only three years ago, GJ was started by former Big Wu guitarist Jason Fladager, with Jimmy Rogers on bass, and Scott Roerick on Keyboards. Soon after Royce Rock was brought in on drums, and Kevin Sinclair on Sax. (Sinclair also handles management for GJ)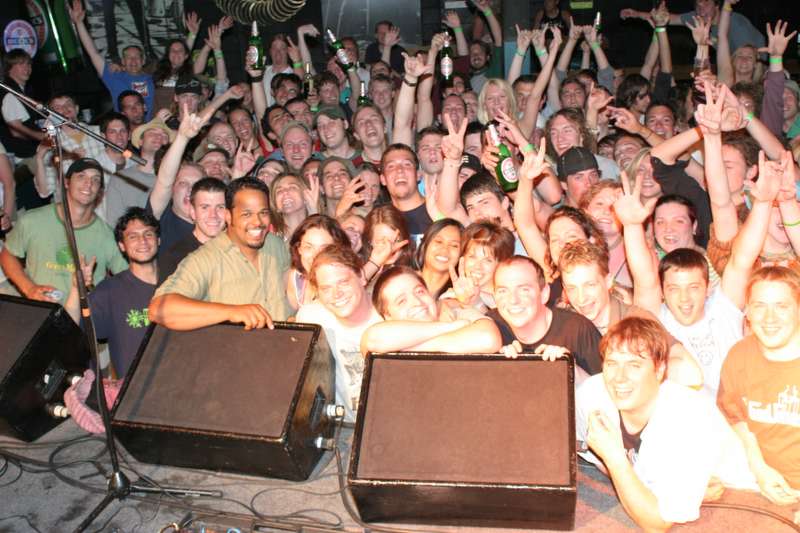 According to Fladager though, it was the addition of second keyboardist Tim Carrow a year and a half ago that brought things full circle. "From the minute Tim got here, everything just started coming together," Fladager said. "He was the missing link."
Nowadays, a gracious Fladager shares not only the front of the stage and lead singing responsibilities with Carrow, but more and more of his original music is winding up on the set list each week also. "Tim's writing is really beginning to define our sound," Fladager said.
With a full schedule on the weekends, Wednesday nights going so well, one CD, Multiples on the shelves, and a new one in the works, one could easily expect a level of pretentiousness around them, but the Johnson's will have nothing of it. In fact when asked to explain there name, it stems around them defining themselves as a bunch of normal guys. "It's a common name," they maintained.
"We're really just trying to have fun and play music," Fladager said. "If things happen, that's cool, but that's not our focus - it's about enjoying the music."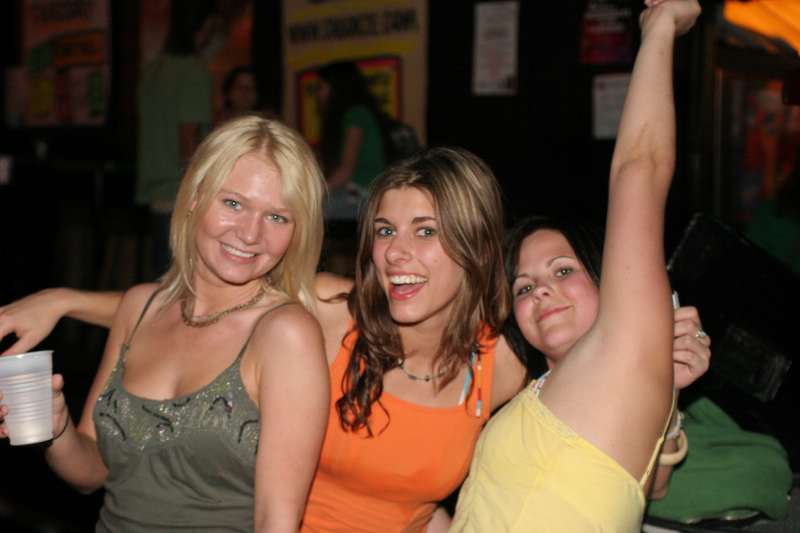 According to Sinclair, what makes the Johnson's click, is the combination of all the parts. "It's about elements," he said. Each one by themselves is good, but when we all come together, it's special."
The fact is, things are happening for GJ. They have an ongoing camaraderie with the Big Wu, and play with them several times a year, they are opening for National touring acts around the Twin Cities, and in July, will make their second trek to Detroit Lakes, MN to play at the Annual 10,000 Lakes festival, with names like Phil Lesh, Trey Anastasio, and The String Cheese Incident among others.
"We get stoked about playing this festival," Sinclair said. To be a local band and be able to represent there, and also to play on the same bill with many of the bands that we look up to, is definitely a big deal for us."
God Johnson live at the Cabooze
While God Johnson doesn't really call themselves a jam band per se, they are pretty ok with getting to play there music wherever they can, and agree tat they do seem to fit that demographic. There shows also have some free-form improvisation, and certainly the audience they draw tends to have the same vibe you see at other jam band show. But according to them, they just are who they are.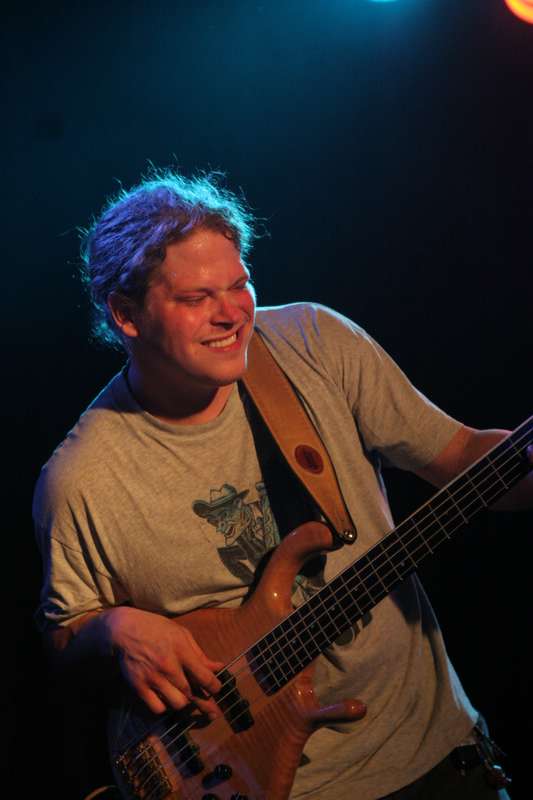 What you notice first about GJ, is that they don't come out from backstage with a big entrance with flash pots booming and fog bellowing. In fact, before there shows at the Cabooze in Minneapolis on Wednesdays, they are pretty much hanging out and slapping five with the crowd. In fact, if you weren't careful you could mistake them for part of the audience.
Even once on stage, during line checks they are having fun. Although you can tell they mean business, they are still laughing, making eye contact with the crowd, and waving at their friends.
When they start, you don't get four bars into the first song before their faithful following is at the front of the stage dancing - which is where they are all night.
At the front of the stage is band founder and guitarist Jason Fladager, who also sings about half of the songs. While not overpowering, his guitar work is usually tasty and well placed, and he presides over the band with an unwavering mellow, mixed with true passion for what he is doing. He is not the strongest singer in the band, but his thoughtful, socially aware but not angry lyrics can often time carry a bit of a Garcia-esque vibe that is fun to watch.
On either side of him are Tim Carrow and Scott Roerick on keys, each one having their on distinctive role. Roerick layers the overall sound and provides synth tones, while Carrow focus's on groove related clav based chops. Carrow's original songs and vocals are definitely a stand out, and his keyboard chops add a nice touch to they rhythm aspects of the band.
Also a stand out is Jimmy Rogers on the bass. His lines are progressive, but tasty, and when you here a slap, it belongs there. He also has an excitable, yet infectious presence on stage, and a guy that is clearly having fun. He and Royce Rogers seem to stay pretty well locked all night long, and again, Rogers is not flashy, but always there.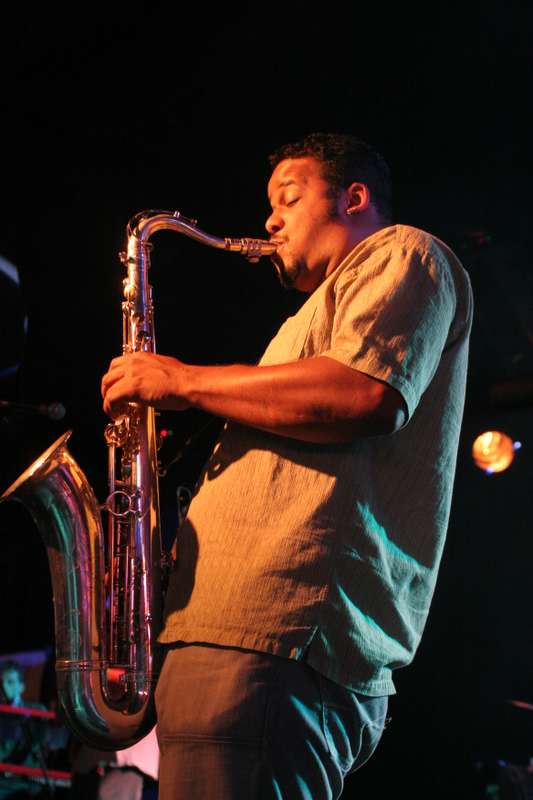 The Sax of Kevin Sinclair is only featured on about 40% of the show, but is a nice addition to the sound. His chops are not overpowering, but tasty, and definitely a crowd favorite.
Some times pretty hard rock, usually funky, and occasionally poignant, in all the Johnson sound and stage presence is good clean fun. The fact that they have only been in this configuration for a year and a half, makes what they are doing impressive.
Their songs don't push any envelopes, although they do have some nice breaks, and a few melodic lines throughout their jams. Their grooves can often times remind you of other things, but they mix them up and change them around nicely.
In all, while God Johnson is a band well worth seeing right now, if they can stay this pumped for five more years, and keep having fun and inspiring each other, they have the potential to be a premier jam band.