Billy Iuso was Born on January 26, 1969 in Port Chester, New York. While being born an Aquarian, during "the age of Aquarius " didn't Pre-determine his destiny in music, Billy, like so many other children of his time was weaned on the changing culture and the music that symbolized it.
His Mom and Dad were at Woodstock and early on, Billy was constantly hearing the likes of Joe Cocker, Van Morrison, The Band and of course The Grateful Dead. But, in particular, even though he was living in the Northeast, was exposed to the Southern Rock bands of the early 70's...i.e. The Allman Brothers, Marshall Tucker, Wet Willie. Also the New York Radio stations playing the funky soulful sounds of Sly and the Family Stone, James Brown, Jackson Five, and Marvin Gaye etc. All of the music, influenced but did not define where Billy was heading.
From age 8-15, Bill moved around a lot with his mother, he lived in Ohio, Miami FL and Houston TX. He received his first guitar as a present from his dad at the age of 13. But it wasn't until he moved back to Northeast at 15 , that he taught himself how to play the guitar and discovered that his recently changed voice had a "guttural" singing quality to it.
Billy formed his first band in 1986 at 17, not surprisingly it was a Grateful Dead "cover" band called Euphoria. They were quite successful in and around the New England area, even playing the opening week for the now defunct Wetlands NYC, the first club dedicated to this genre of jam music. Gradually moving from imitation to emulation Billy inserted a couple of his originals into the set. However, again not surprisingly, like so many other successful cover bands, Billy had the urge to create and play his own music.
So in 1989, Billy told his dad " don't waste your money on sending me to college" and moved to Providence, RI to seek a city /college town to spawn his music. Then he formed the now critically acclaimed "Brides of Jesus" playing music at the forefront of his musical genre that came to be known as the Jam-Band movement.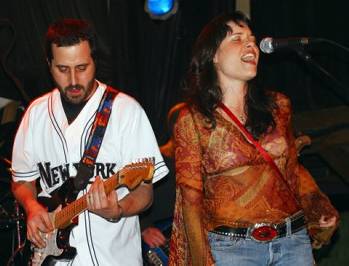 In the early 90's Billy had his "ups", opening for the likes of Dave Matthews, Widespread Panic, George Clinton, Funky Meters. And his "downs", living in his rehearsal space because he couldn't afford a separate place to live and a place to practice and opted for the latter. Through the ups and downs, coming and goings of band members, and relocating to Athens, Georgia, Billy remained true to a high energy mix of funk and roots rock in his writing, vocals and playing.
In 1994, Billy released the first Brides CD " What's Going to Set You Free" with acclaimed Allman Brothers producer Johnny Sandlin. While in Athens Billy and the Brides toured constantly all over the country with headlining and opening slots building his career. One of the most influential bands which they opened for on many occasions were the Meters, which built a friendship and a bond that linked him to his new home the Crescent City.
Billy moved to New Orleans in early 1997, here Billy recorded the second Brides CD For Real. After touring constantly for nearly four years Billy had an opportunity to stage manage for The Meters, Neville Brothers, and Vida Blue (Phish's Page McConnell side project) which in turn put his own musical career on the back burner.
Still playing a few Brides shows here and there, Billy released the third Brides CD Saints and Sinners in 2002 and returned to the touring circuit. Wanting a change and due to the unavailability of other members of BOJ due to their other musical commitments, Billy decided to go solo. His new self titled CD Restless Natives is a collection of new and unrecorded originals and a few choice covers that don¹t confine him to the Jam funk style that the Brides are known for.
Billy continues to perform as Billy Iuso and the Restless Natives with a familiar ever-changing cast of characters, 'Mean' Willie Gree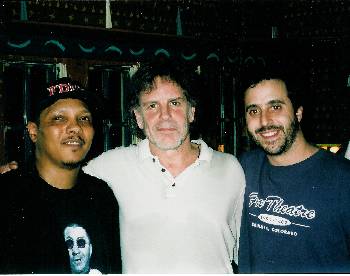 n, Bryan Besse, Marc Pero, Ryan Plattsmier, and Chris Marsciel, Sam Hothckiss and other.
Recent highlights of the Natives include a stellar show at Tipitina's that featured Russell Batiste on a second drum set, late night jams in the French Quarter with the likes of the Grateful Dead's own Bobby Weir in the audience, and bringing the patio bar at House of Blues to a second-line sing-a-long on Mardi Gras Day.