Following upon the heels of last year's highly regarded jam at the Lyons Folk Festival, Bob Weir, Chris Robinson and Jackie Greene cleared their schedules for a mini-tour that saw them headline the legendary Ryman Theater in Nashville and also get in three nights at three legendary Colorado venues - the Boulder Theatre, the Mishawaka Amphitheater and Chautaqua Auditorium.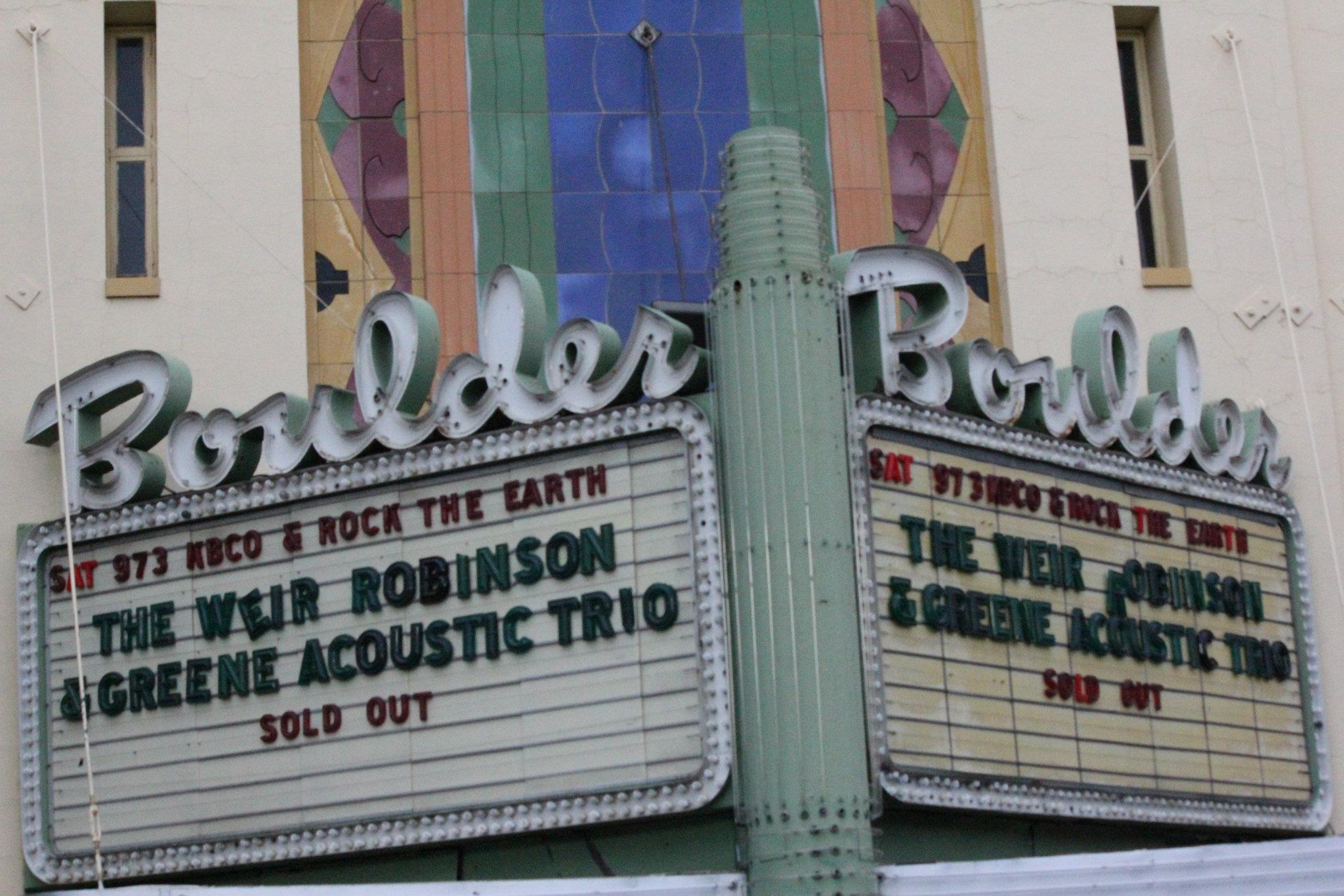 And once again the estimable Mike Moran, your proprietor and editor of the Grateful Web put out the call and asked me to take in an evening with Bobby and his fellow beardsmen.  I caught up with them on the first night of the Colorado swing at the Boulder Theater with Mike himself along for to take pictures and provide a note of vicariousness for this dad of two small children whose attendance at shows has taken a steep dive in recent years.  A knowedgeable devoted crowd in Boulder is a slam dunk and this evening at the Boulder Theater is no exception.  The line to get in stretches around block and the usual gang of hawkers, gawkers and stalkers mill around the entryway.  The occasional miracle is found and all make their way in for the show which begins without delay.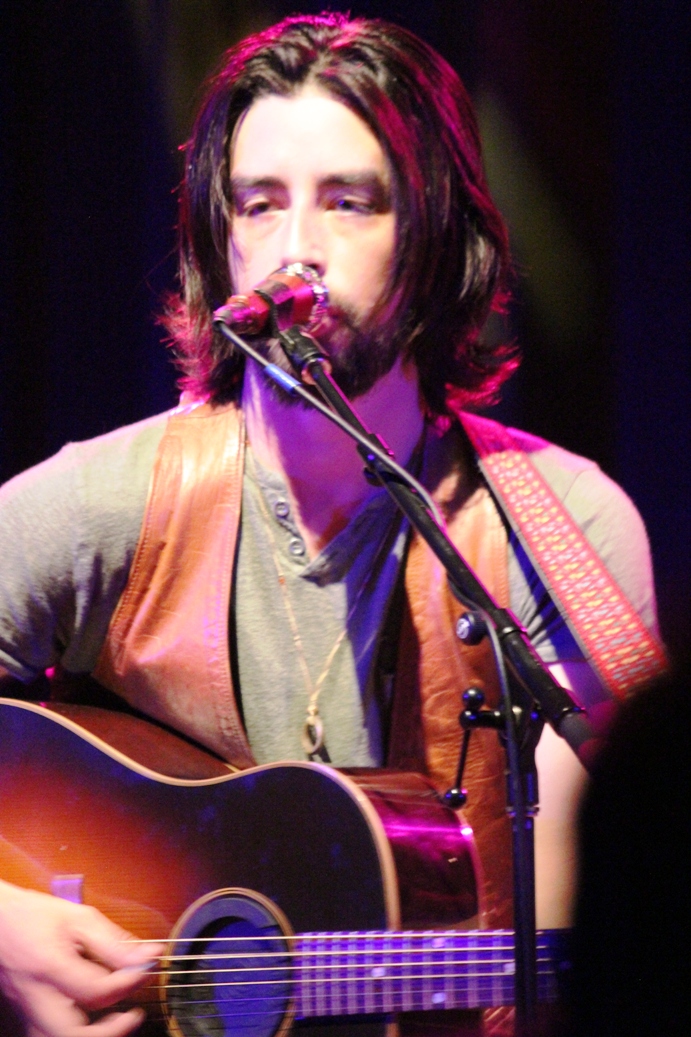 To begin our diary style recap, Bobby is front and center, Jackie to his right and Chris to his left.  They strum around a bit to get warmed up and then launch into "Truckin" followed by a bright "Loose Lucy" with Bobby starting to get his howl on (more on that to come).  Jackie switches into an Americana hat and banjo as the trio hits a couple of Bluegrass standards, perhaps in memory of Doc Watson as they had other nights on this tour -  "Love, Please Come Home" and "East Virginia Blues" each taking a lead on vocals.  At this point, these three bearded troubadours are channeling two equally venerable musical traditions - that of the wandering minstrel and the off-campus house impromptu jam session.  You can almost picture these three fellows representing three generations of American blues and roots rock sitting on cigarette scored couches with a bong between them rocking out jam band standards (more on that to come) late into the night.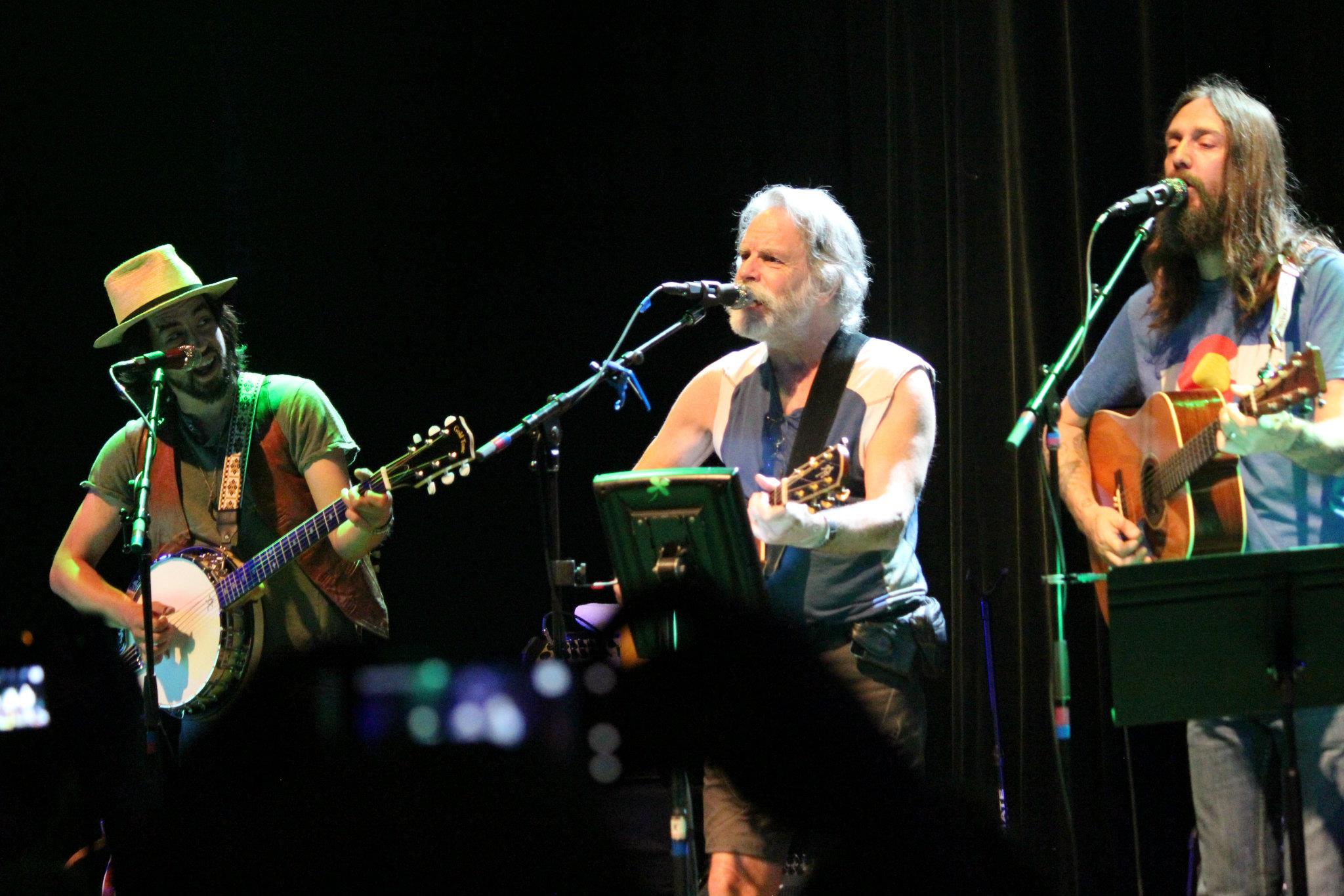 With Weir at 65, Robinson at 45, and Greene 31 these guys literally are three generations of Psychedlicbluesfolkrootsrock.  Each will now take a solo turn as Bobby announces with Jackie going first.  Despite an incident with a fallen harmonica that had to be held too his mouth by a roadie on "Never Satsified," Greene showcases his stuff, which along with a relentless touring schedule has caused him to be unfairly tagged as the latest next Bob Dylan.  Harmonica holder firmly in place for "Gone Wanderin'" with his hat brim low and vocal growl one is prompted to wonder how truly unfair those Dylan comparisions are.  Nonetheless it is obvious why this one has so quickly become a fixture and fan favorite in the Grateful Dead and associated other musical communities.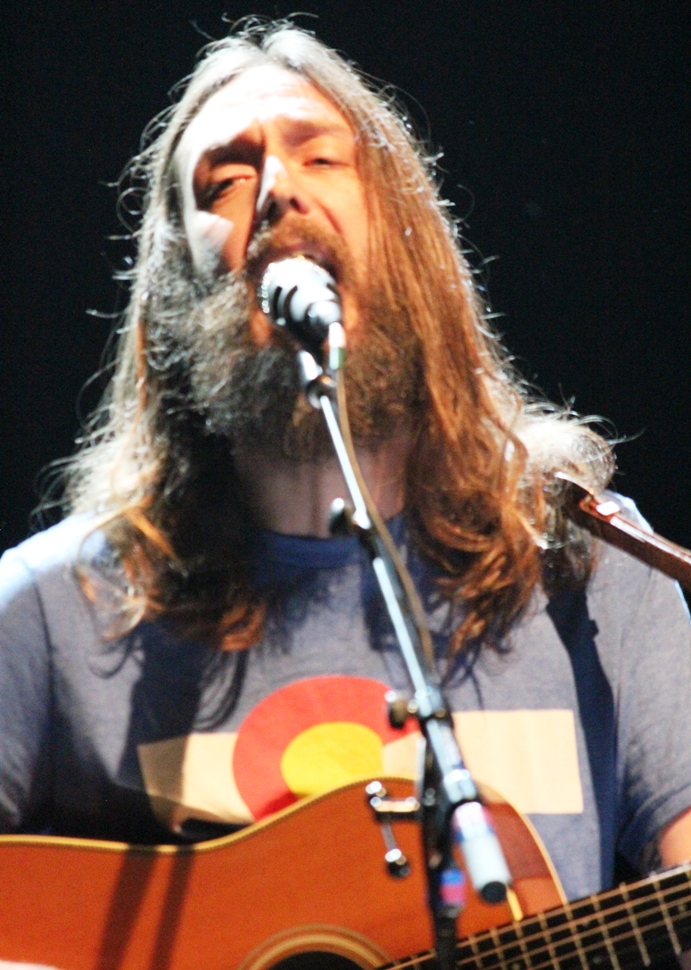 Up next, Chris Robinson, who I keep thinking is the guy from Stillwater.  I swear, the long hair seventies 'do, the beard, the old shool Colorado logo T-shirt - am I getting reality and fiction mixed up.  He did marry Penny Lane, right?  Ok, but this dude has morphed from the rock stomp of the Black Crowes into a seriously insightful and folky singer-songwriter.  The Robinson original "Reflections on a Broken Mirror" comes across like a cocktail of Dylan and Robert Hunter but remains it's own unique concoction.  The oft covered "Driving Wheel" is another dead-on choice for Robinson as he concludes his solo set.
Bobby's turn - Weir steps up to the center mic, Boulder Theater crowd in mad applause and says "This one is by request" before launching into the only solo acoustic "Weather Report Suite" I am likely to see.  Degree of difficulty on this one is off the charts, but Weir navigates the whole thing perfectly his voice still bell clear, the "I am's" just as strong and resonant as they were in '74.  Grateful Dead fans and followers will to their dying breath love and critque their heroes in equal measure but for all the loving pokes Bobby has endured over the years, his voice is his signature instrument and shows little sign of age and wear.  A thrilling thing to experience for everyone in the packed house.
Jackie and Chris rejoin Weir on stage and crank out "Casey Jones" to end the first set, now officially bookended by the two most timeworn Dead standards and once again invoking the beat up couch jam vibe.
Back now after intermission.  Stocked up on beverages and ready to go.  The three guitarists come back to the stage and without much hesitation launch into "Stealin'" (the Dead's first record ever!) followed up by "Wake Up Little Suzie."  Nothing revolutionary or eye opening here.  Warming up a bit by playing a couple staples of the campfire jam.  "Deal" follows right on their heels.  Things are about to get interesting though.
Jam Band time.  The opening notes of "Dark Star" are played.  Another high degree of difficulty tune for an acoustic trio.  The extended improvisation and jazz-like meandering are largely absent here as the reading is fairly straight but after a couple of verses, out of nowhere Uncle Johns teases its way in but it's cut off pretty quickly and we're back in to Dark Star.  At this point it seems like Uncle John's is certainly coming as a couple more snippets seem to break through but instead it's a straight segue into a burning "Death Don't Have No Mercy" - the song of the night.  As the band pushes further into it, Weir seems to get angier and angrier in his lament taking his howling to the next level with Jackie and Chris keeping freight train time on each side of him.
With the end of Death Don't and momentum on their side, they bust out "Easy to Slip" one of my all time favorite Little Feat tunes and Bobby cover songs, with Weir's vocals again seeming as youthful as ever.  Has there been a Dylan cover yet, in spite of my frequent points of reference?  Oh here we go - more echoes of the traditional couch jam with "Knocking on Heaven's Door" and then, because it's Saturday night everyone knows the song, a second set closer of "One More Saturday Night."
The encore tonight is "Ripple" which they've used a couple previous times on this short tour.  In this rendition a pretty good song to bring the generations on stage and in the crowd, together and when you think about it, it feels like the reason this collaboration - a one off a year ago, a short tour now and who knows what in the future - has been so fruitful is the sharing of the music amongst three generations.  Not so much a passing of the torch but a powerful reminder that the flame is alive and will burn long into the years that follow.