Despite the weather forecasts throughout the few days prior to the event, mother nature decided she'd cooperate with the city of Cincinnati last weekend as Bunbury Music Festival took place at Yeatman's Cove and Sawyer Point. The venue sits along the Ohio River, with three of Cincinnati's bridges and several skyscrapers looming above the stages.  Northern Kentucky's neighborhoods sit just across the river, providing the perfect backdrop for an urban music festival.
Friday afternoon Ohio natives The Orphan The Poet kicked off the festival properly with their catchy style of indie pop-rock. Other daytime shows included Poppy, who performed on the main stage, sponsored by Monster Energy, Joywave, Witt Lowry, and Taylor Janzen.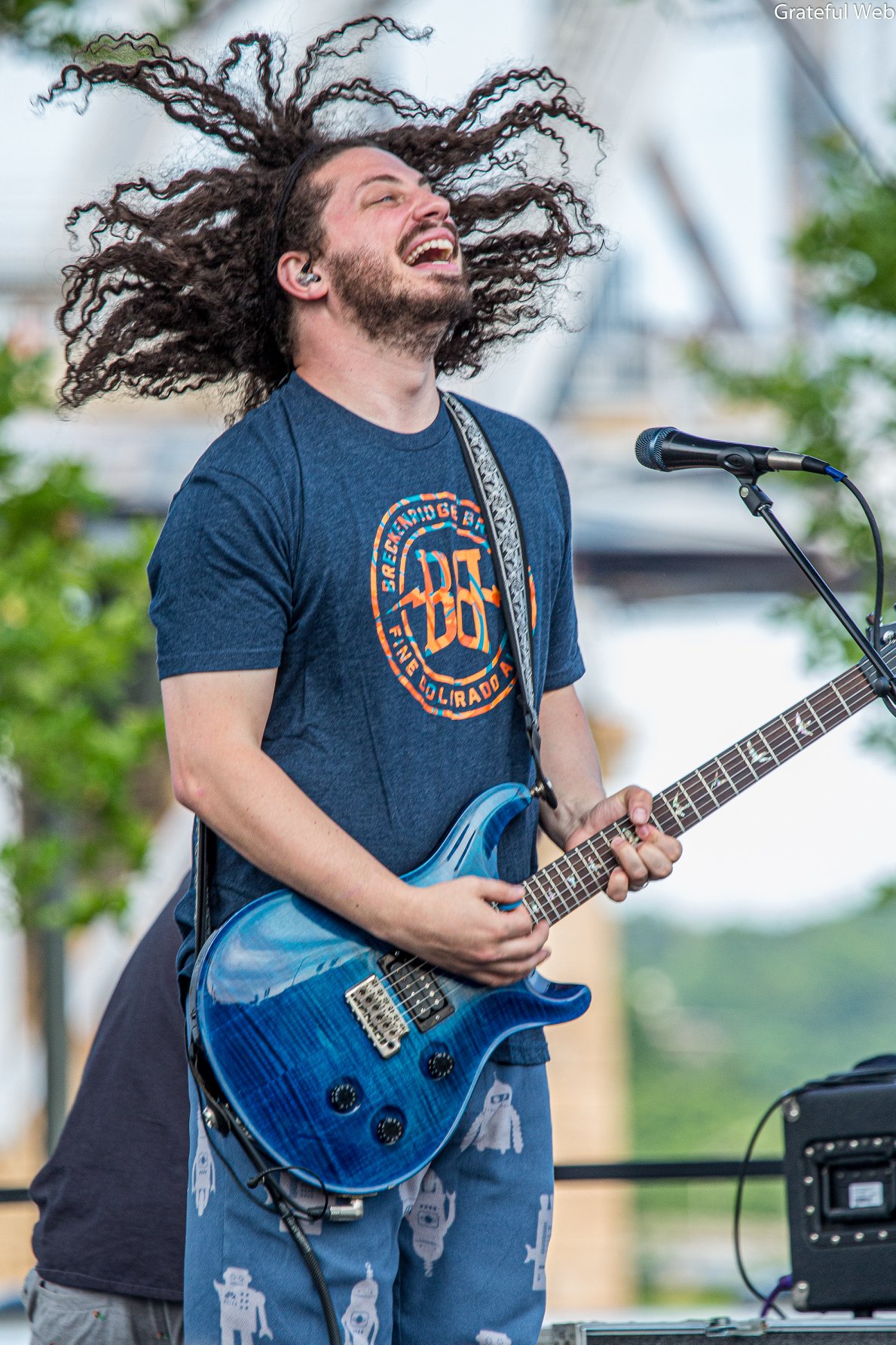 By the time The Grateful Web was able to make it to the festival, the afternoon had ended, and crowds were hurrying to make it inside to see acts like Bayside, Machine Gun Kelly, and Pigeons Playing Ping Pong.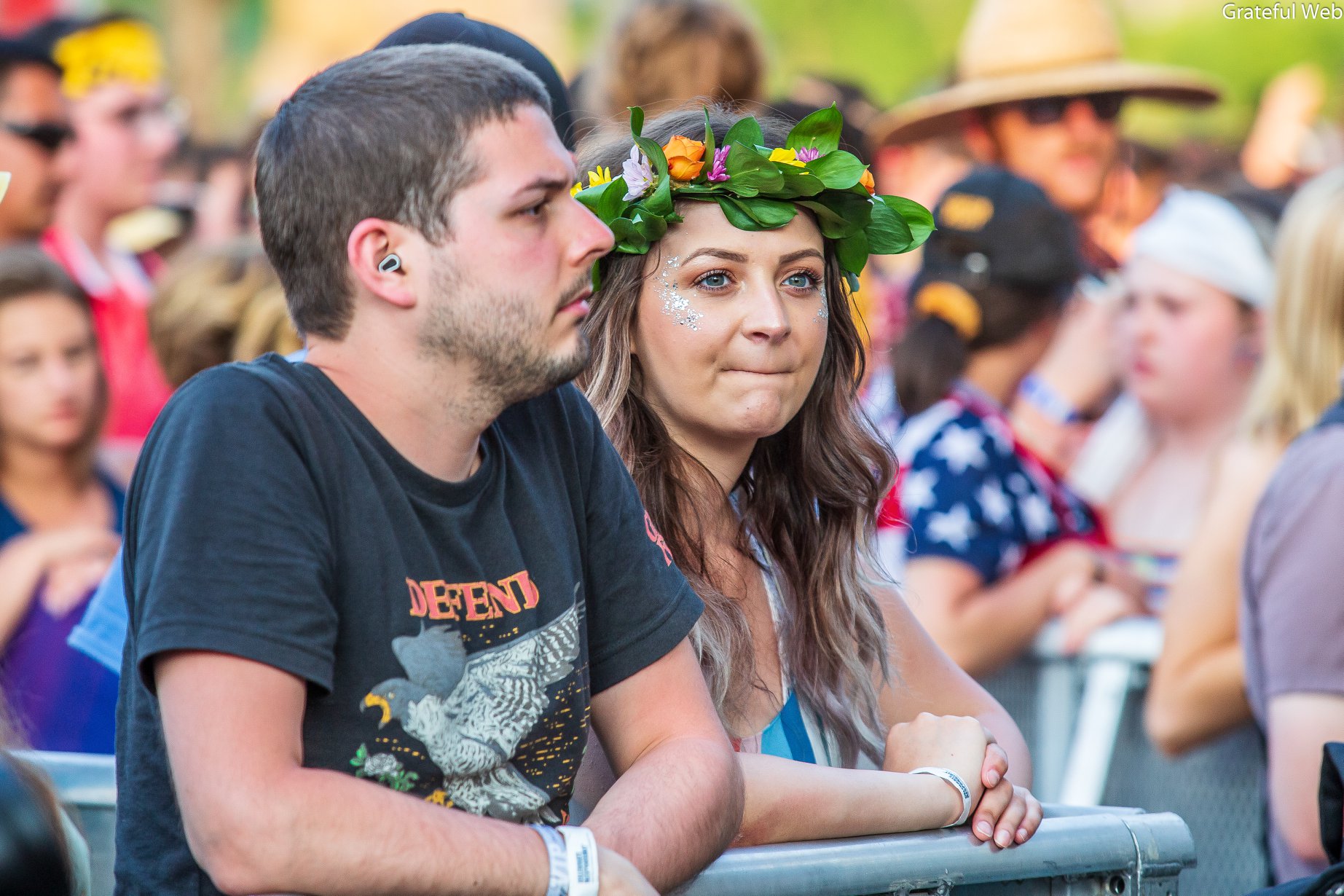 With a lineup as eclectic and diverse as Bunbury's, you can assume that a good portion of any crowd has never seen or heard of the artist on stage. Because of this, the musicians are bringing a level of showmanship and talent to the stage that stands out, turns heads, and leave an impression on any newcomers that encourages further listening once the festival is over and they're back at home.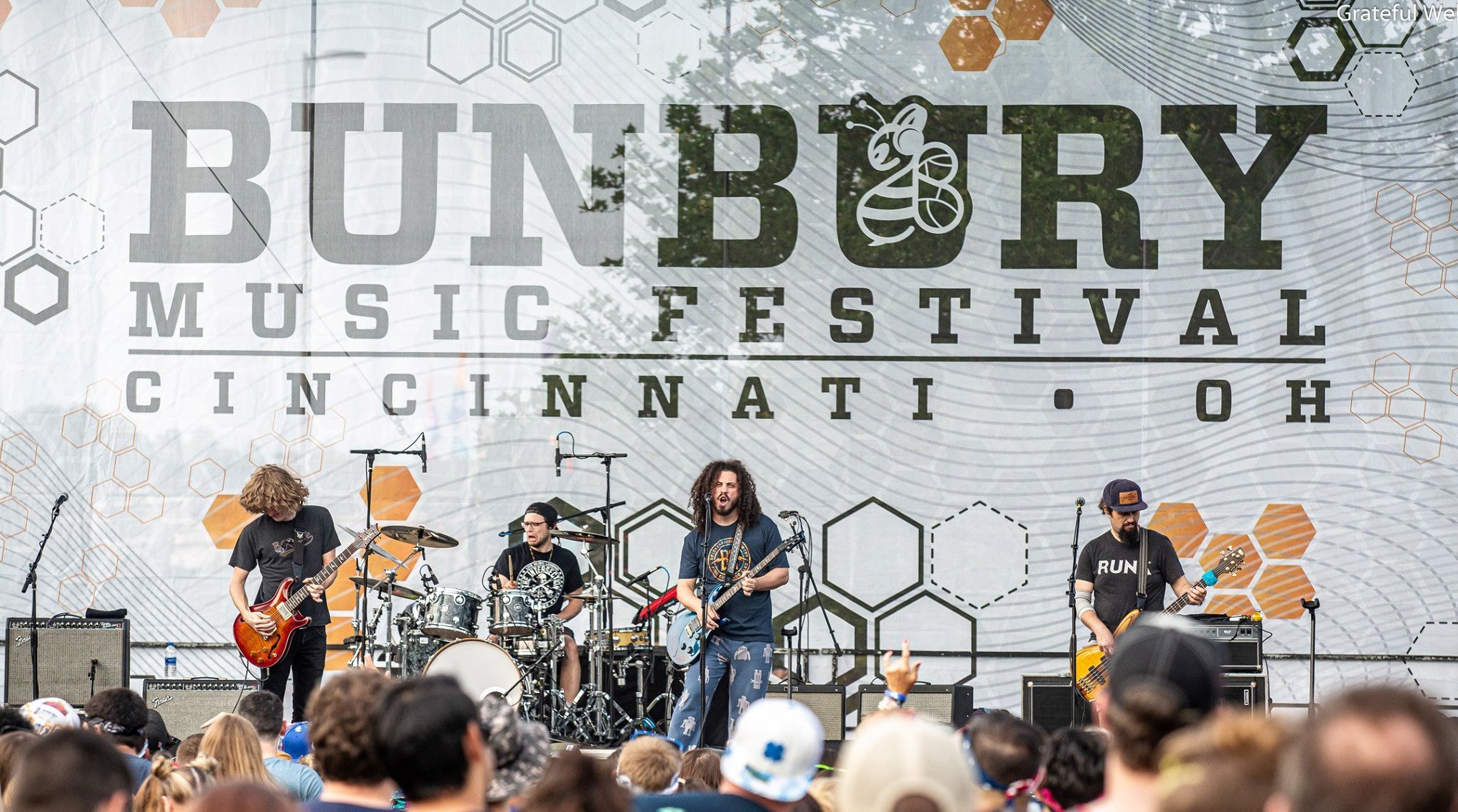 This was the case with Pigeons Playing Ping Pong from the moment I arrived. Their upbeat and high energy style of psychedelic funk music seemed to be the perfect soundtrack for the evening. As you looked around the crowd, you saw nothing but smiles, hugs, dancing, and general music festival merriment. The band was having as much fun as anyone in the crowd, and it showed through their music.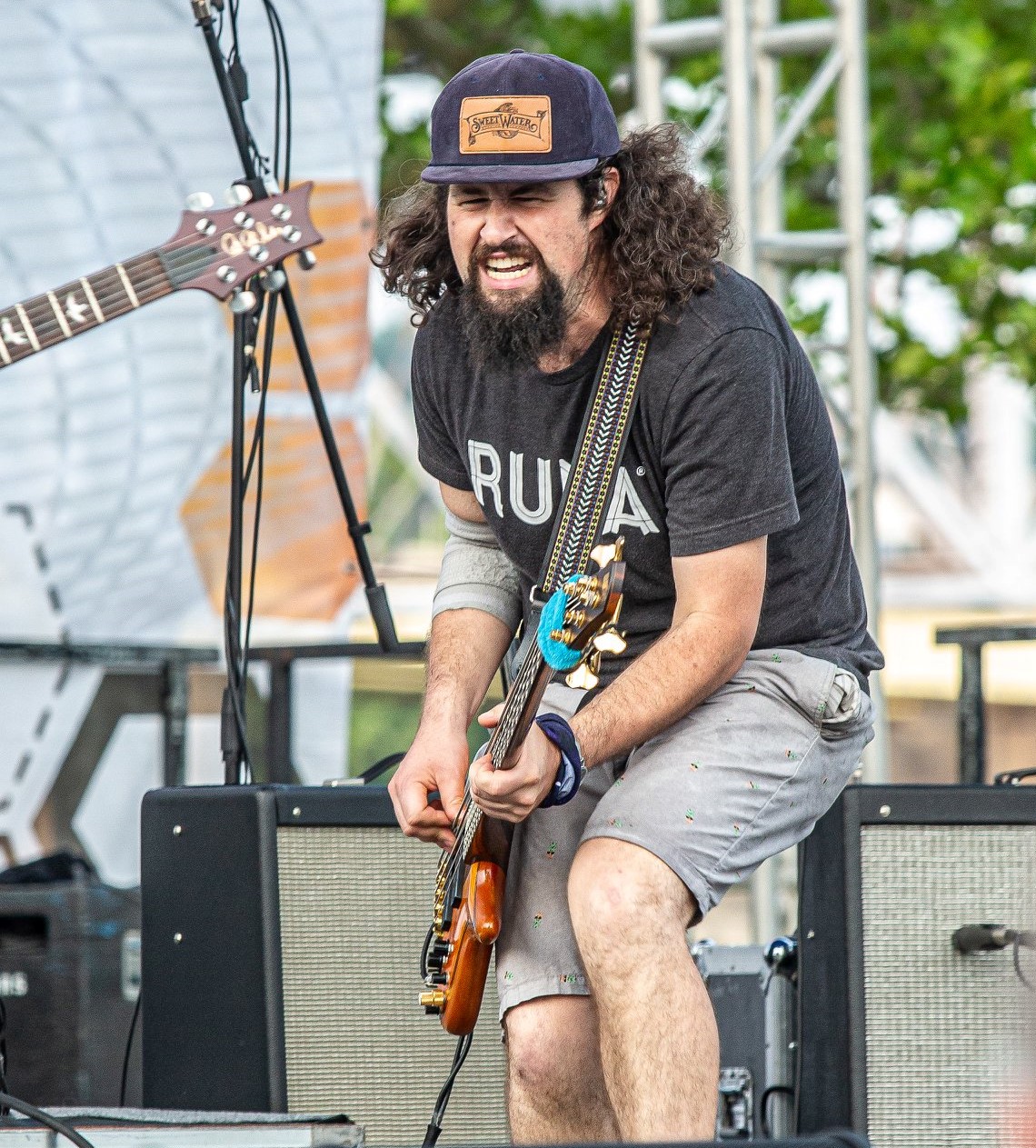 The main stage directly across the field in Yeatman's Cove lit up as soon as Pigeons finished and you could hear NF begin his performance. Having never heard of the Michigan-based rapper, I immediately noticed his raw and powerful energy on stage and a crowd which seemed connected to the music on a very personal level.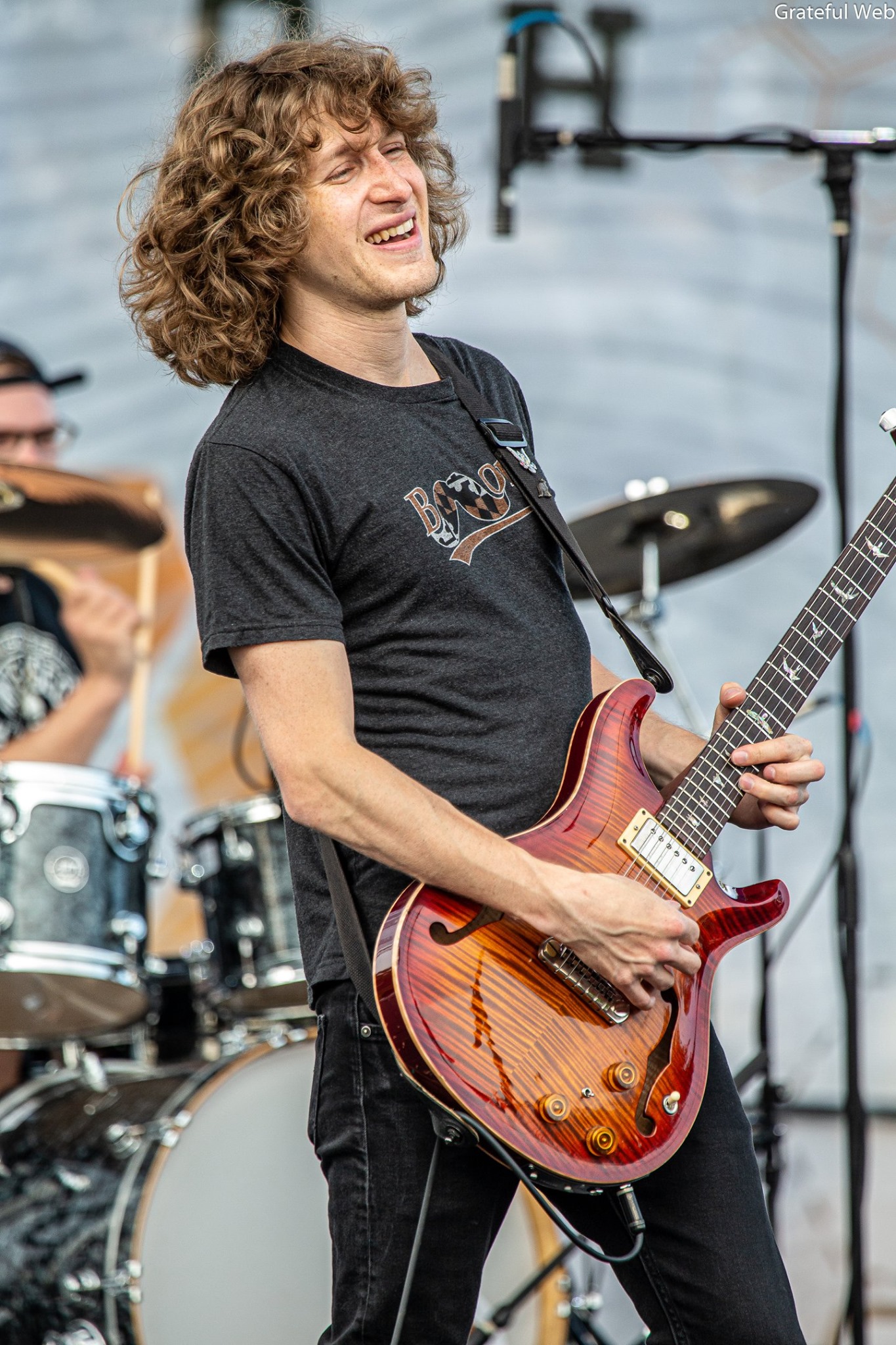 I didn't stay at NF too long because I was eager to see Stone Temple Pilots, who are celebrating their 25th anniversary this summer. They were performing on the Sawyer Point Stage, across the venue in a grassy field beneath Cincinnati's "Big Mac" bridge. The 8: 45-time slot provided the perfect sunset show which was packed with plenty of their hits like Interstate Love Song, Plush, and Vasoline.
Fall Out Boy let everyone in attendance know that they were there to put on a show immediately with confetti cannons and fireworks in the first sixty seconds of their set. Having continually released chart-topping albums for over a decade, Fall Out Boy was out to please several generations of fans with one show. With the sun having completely set on the city and the Cincinnati skyline lighting up the skies, Fall Out Boy escorted the crowd back to a golden era of pop-punk as thousands of people sang along to their smash hit Sugar, We're Goin' Down.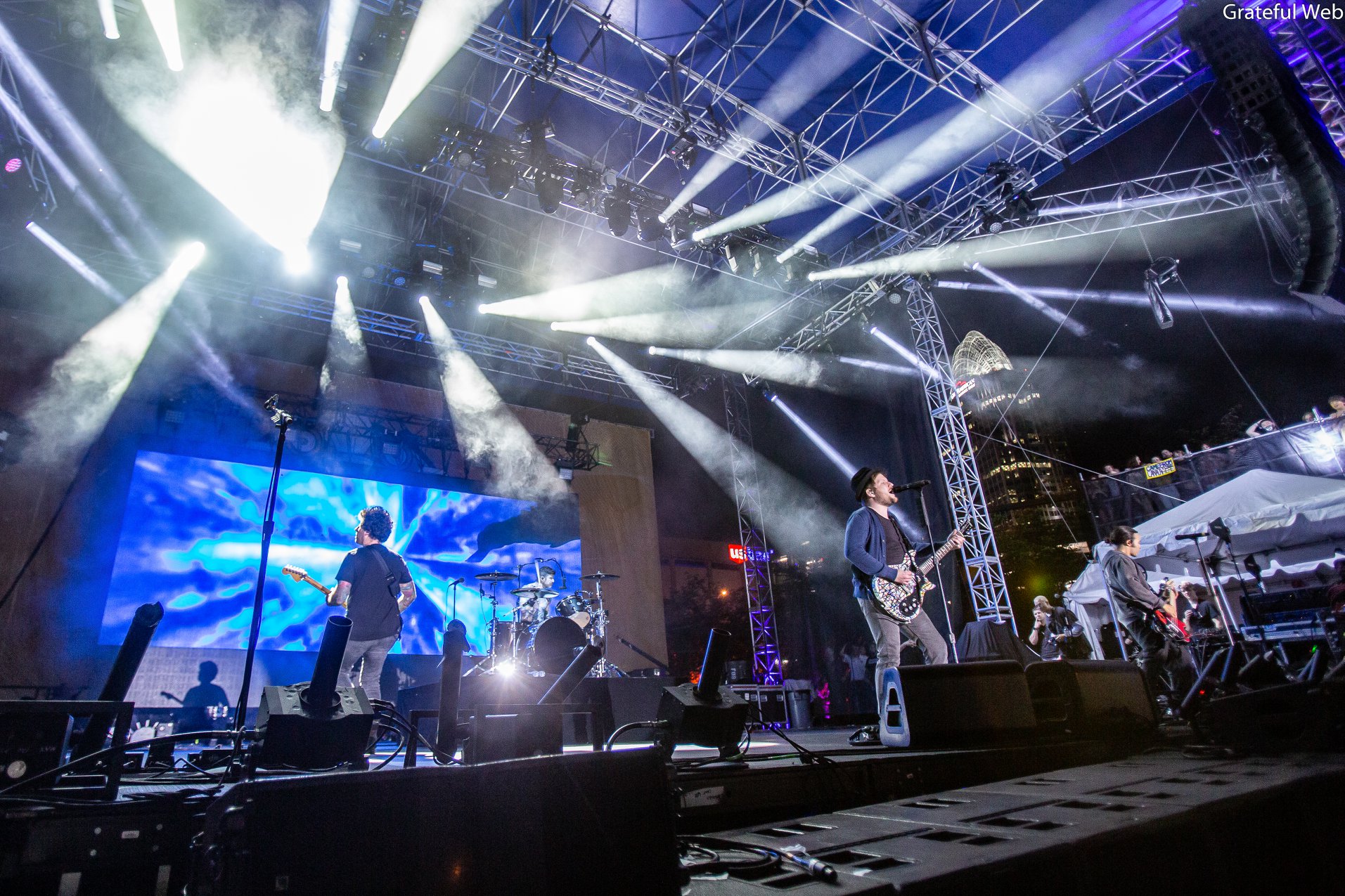 As they continued to bring their upbeat danceable basslines and catchy electric guitar riffs to their fans, on particular fan must have been getting notably wild and crazy because after they played Uma Thurman, they invited a 3rd grader from the crowd to come on stage and join them. "Let's make this such an unbelievable story that nobody will believe you when you try to tell them at school," Patrick Stump said before inviting the kid backstage and sending them home with a ton of Fall Out Boy merch.
The energy of the set continued to increase as the Cincinnati Red's Friday Night Fireworks began erupting in the background of the concert. The fireworks seemed to come as a surprise to the band members, who absolutely loved the addition to their already spectacular light and pyrotechnic display.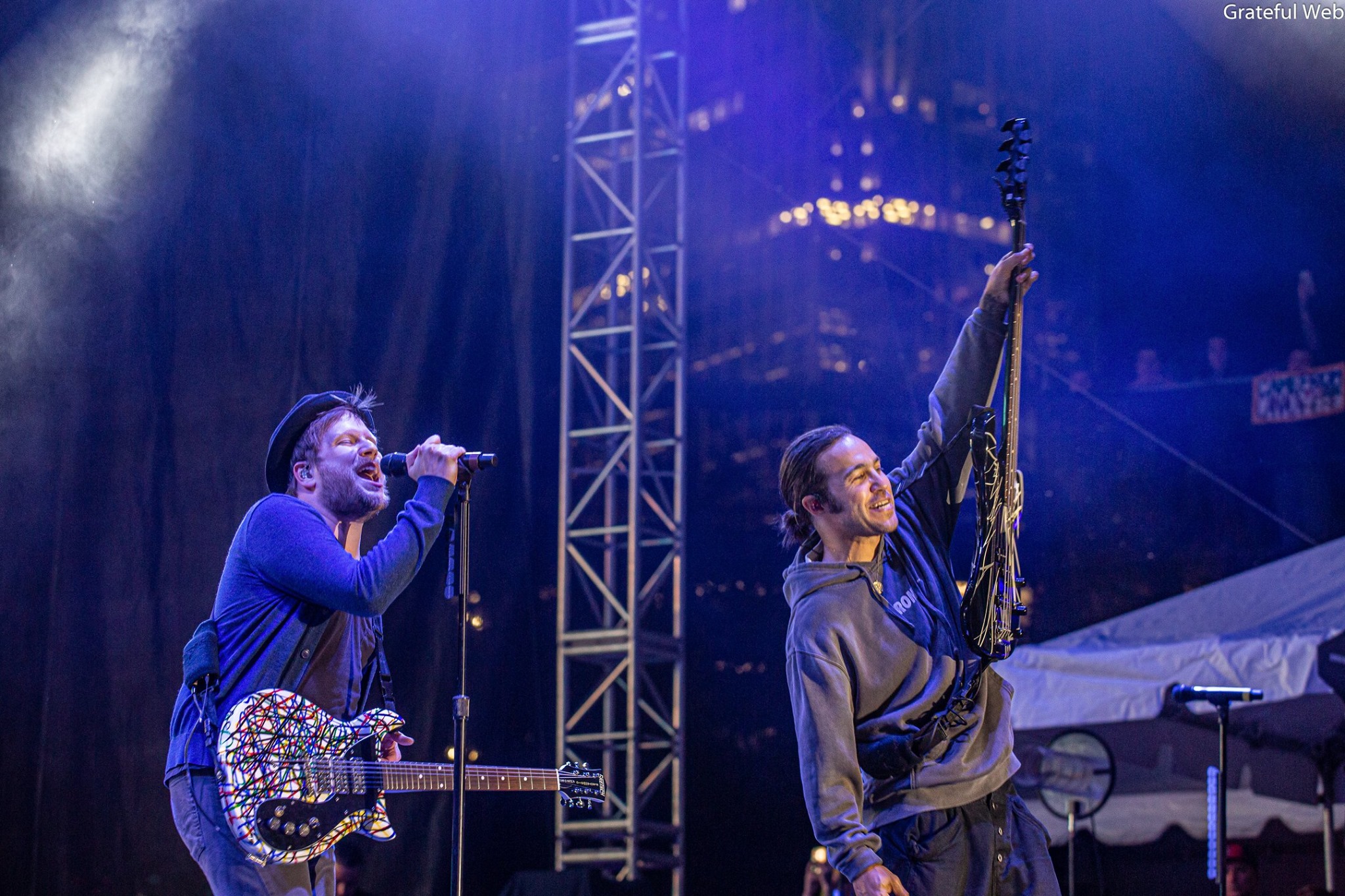 After the fireworks, the band brought the first night of Bunbury to an impressive conclusion and to the satisfaction of the cheering fans, they returned for an encore, ending the night with two of their most popular songs- Light Em Up and Saturday.
We arrived mid-afternoon on Saturday during Common Kings, which seemed to be in full-swing by the time we showed up. The crowd was full of energy, and the music matched the relaxing happy mood that mid-afternoon brings in the summertime.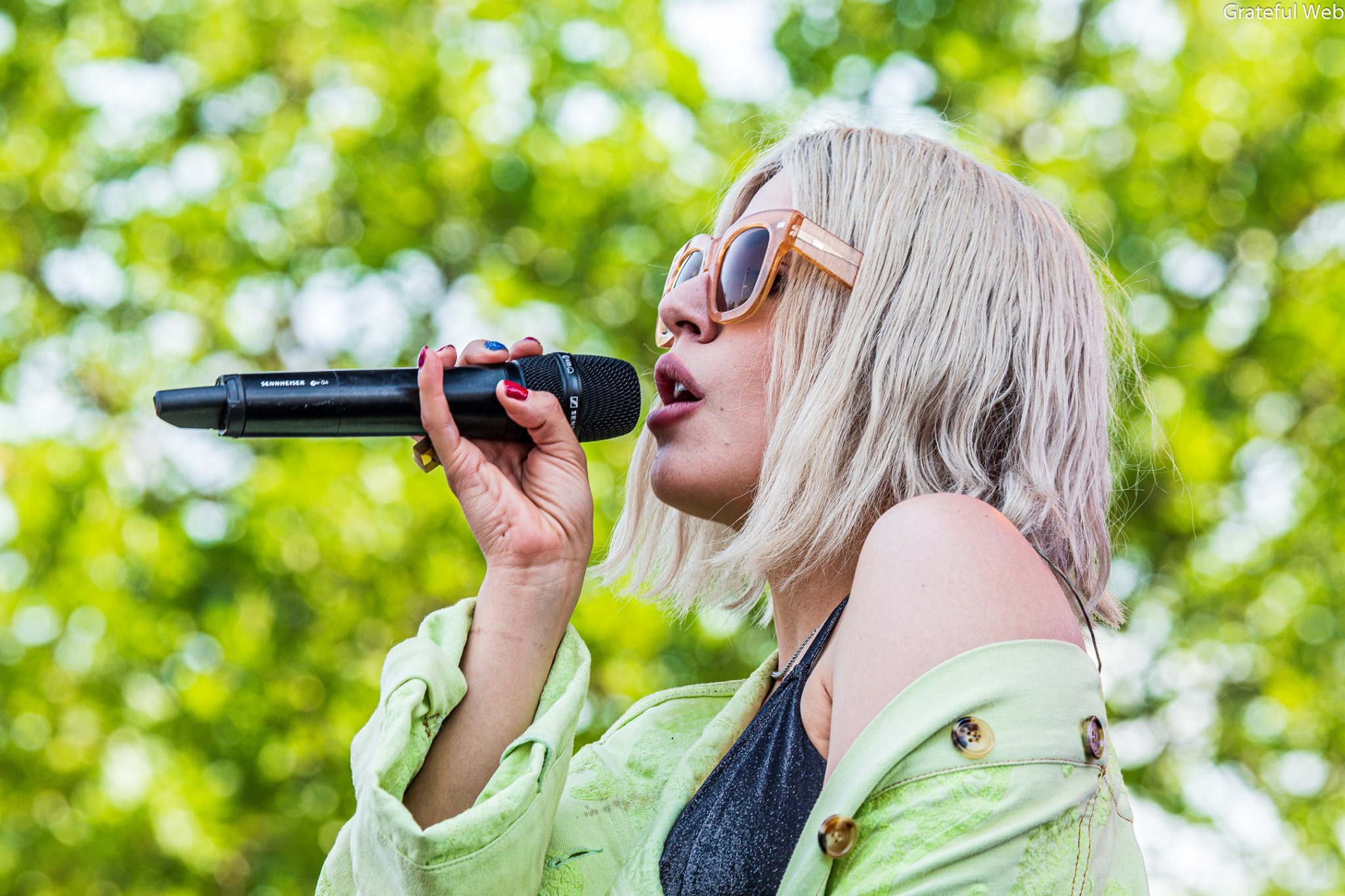 Flora Cash was taking about to start on the main stage on the other side of the festival, so we headed that way and caught a lively performance by the married couple known as Flora Cash, an indie folk group.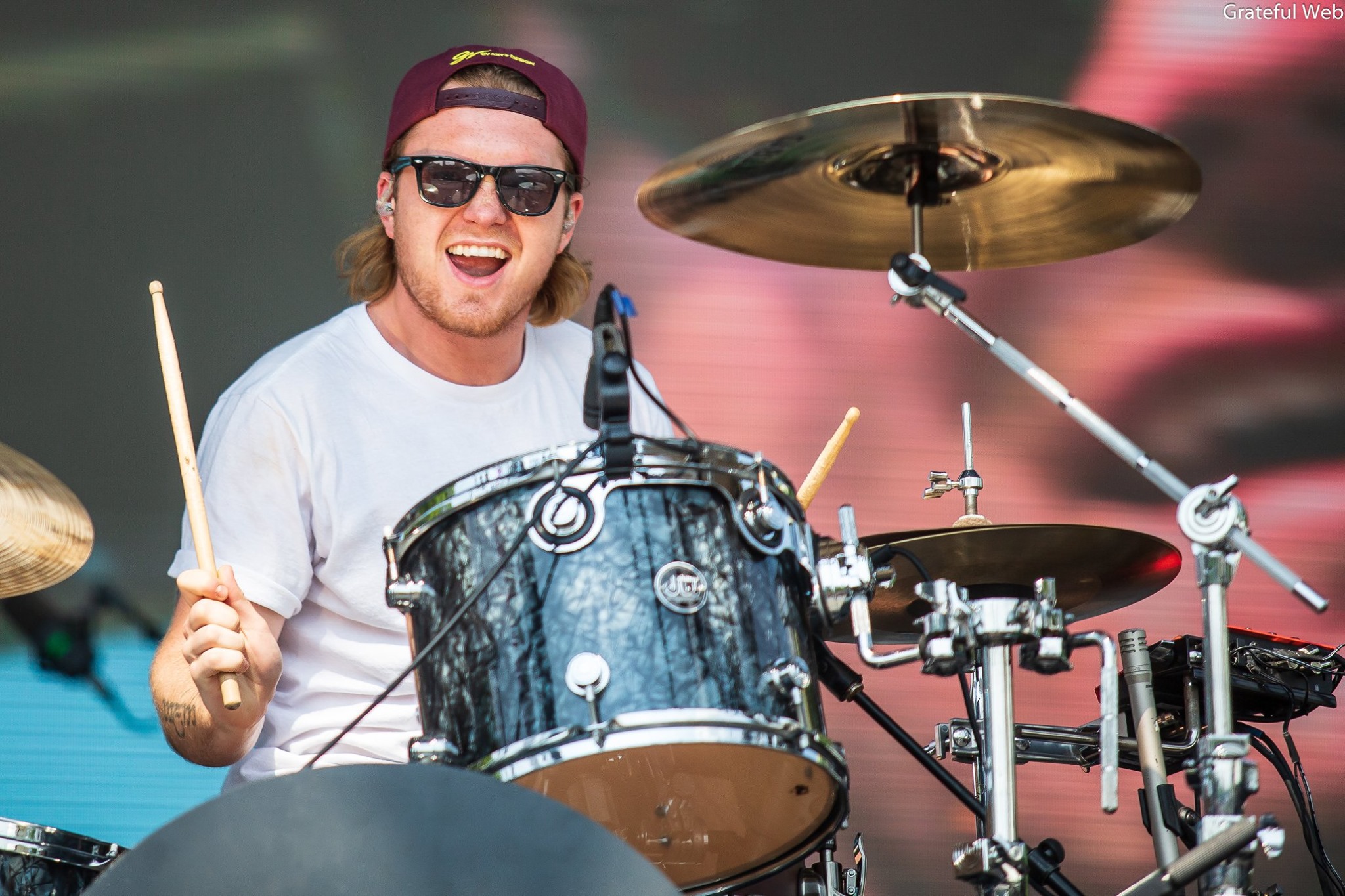 In an effort to keep up with the carefully crafted schedule, we had to walk across the venue again shortly after to see Tropidelic. They brought their upbeat and powerful sounding hip-hop and funk fusion to a joyful crowd that praised each brass player as they took turns highlighting each other's skills with various solos.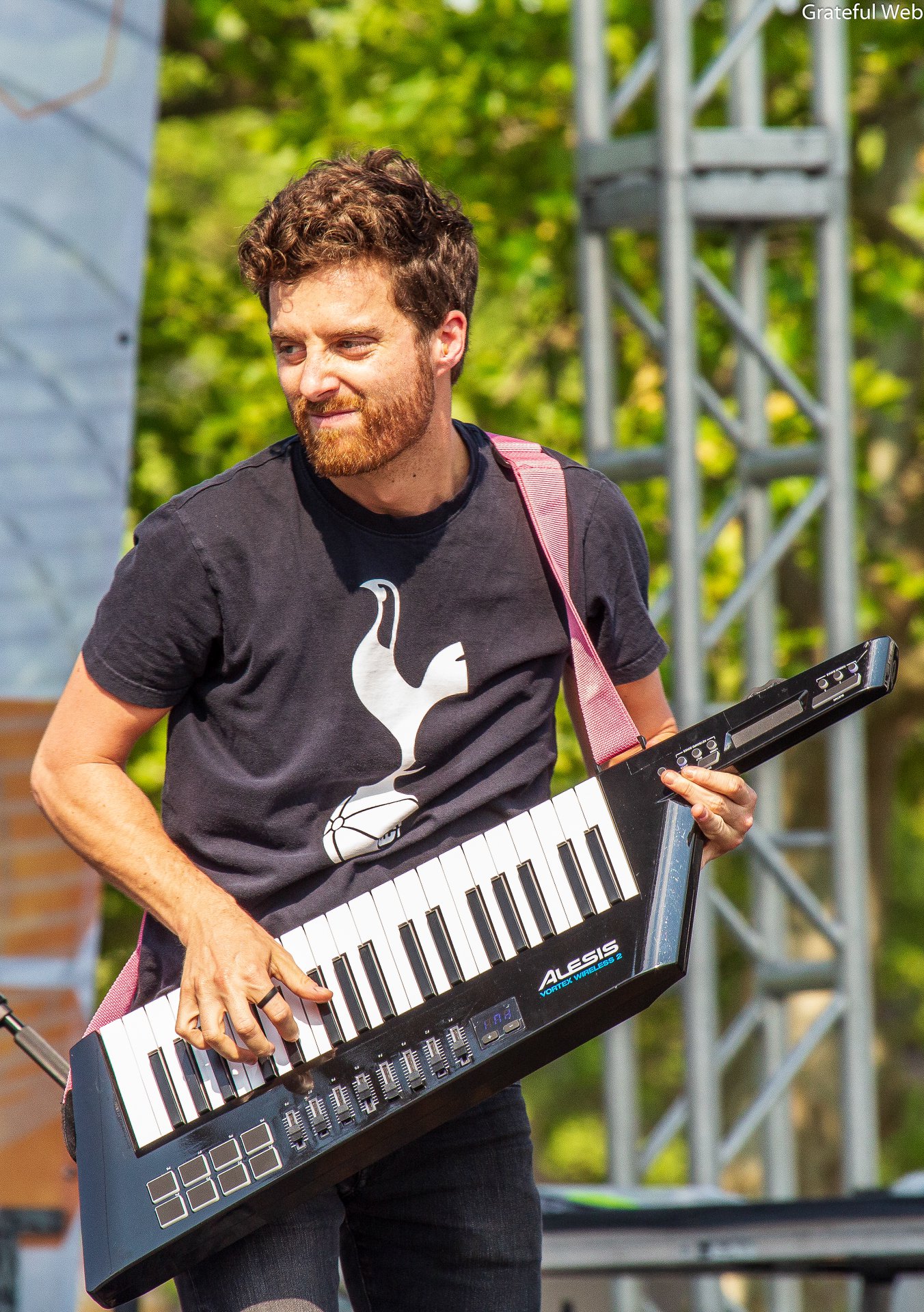 When I first heard that Jukebox the Ghost sounds a lot like Queen, I was skeptical- especially because of the cultural Queen obsession that is happening ever since the biopic about Freddy Mercury hit theatres. My skepticism quickly went out the door when we arrived to hear their lead singer and piano player hitting notes that most singers wouldn't dare to attempt. And better yet, they were young! Something about seeing such a young 3-piece band with a grand piano and operatic vocals rocking out as a colorful crowd of millennials sang along made me happy.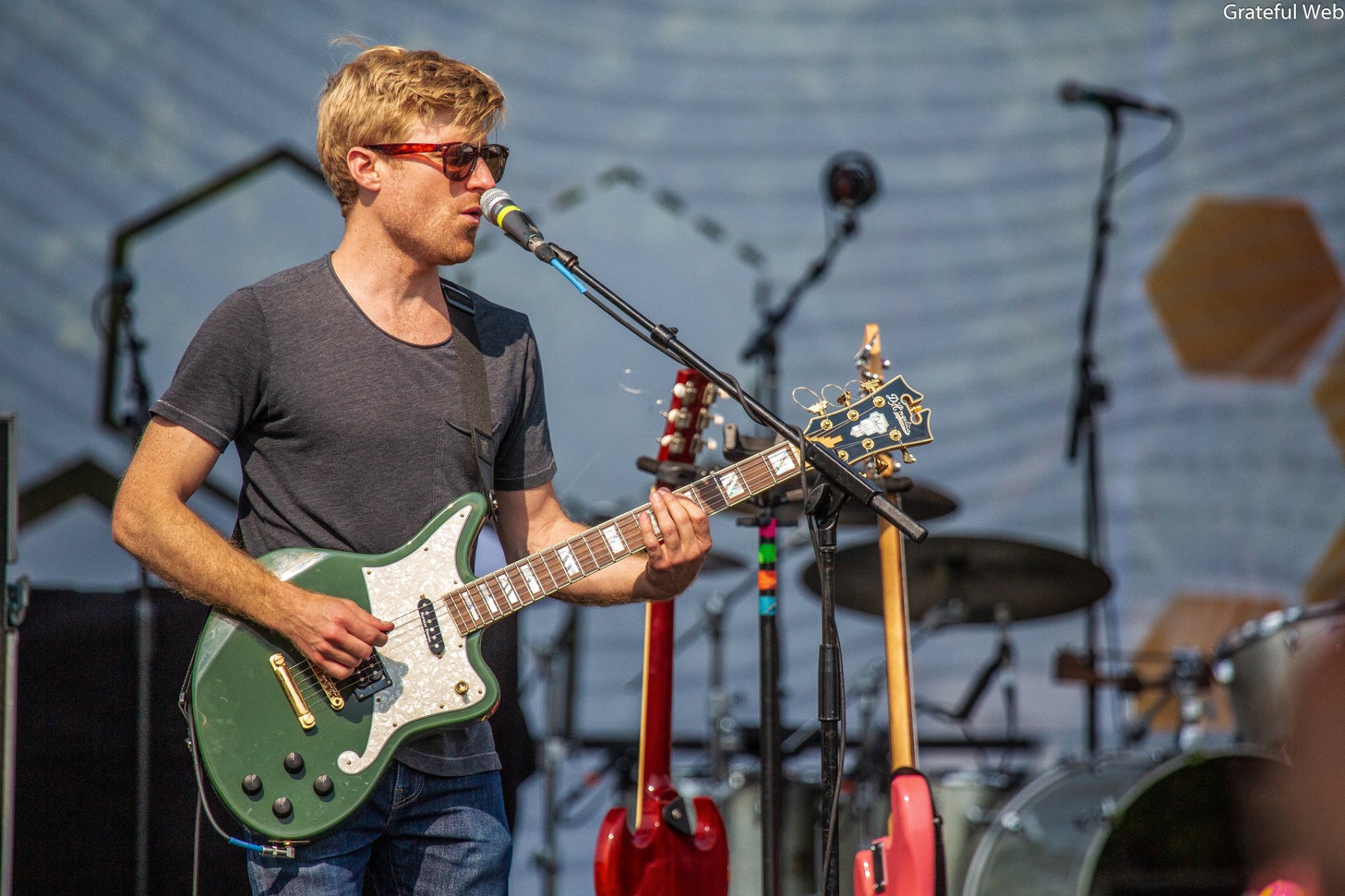 They must hear the Queen comparison a lot because they stuck an incredible Bohemian Rhapsody cover in the middle of their show, which ended with an entire crowd singing along before an epic breakdown that gave the cover a unique twist and made it their own.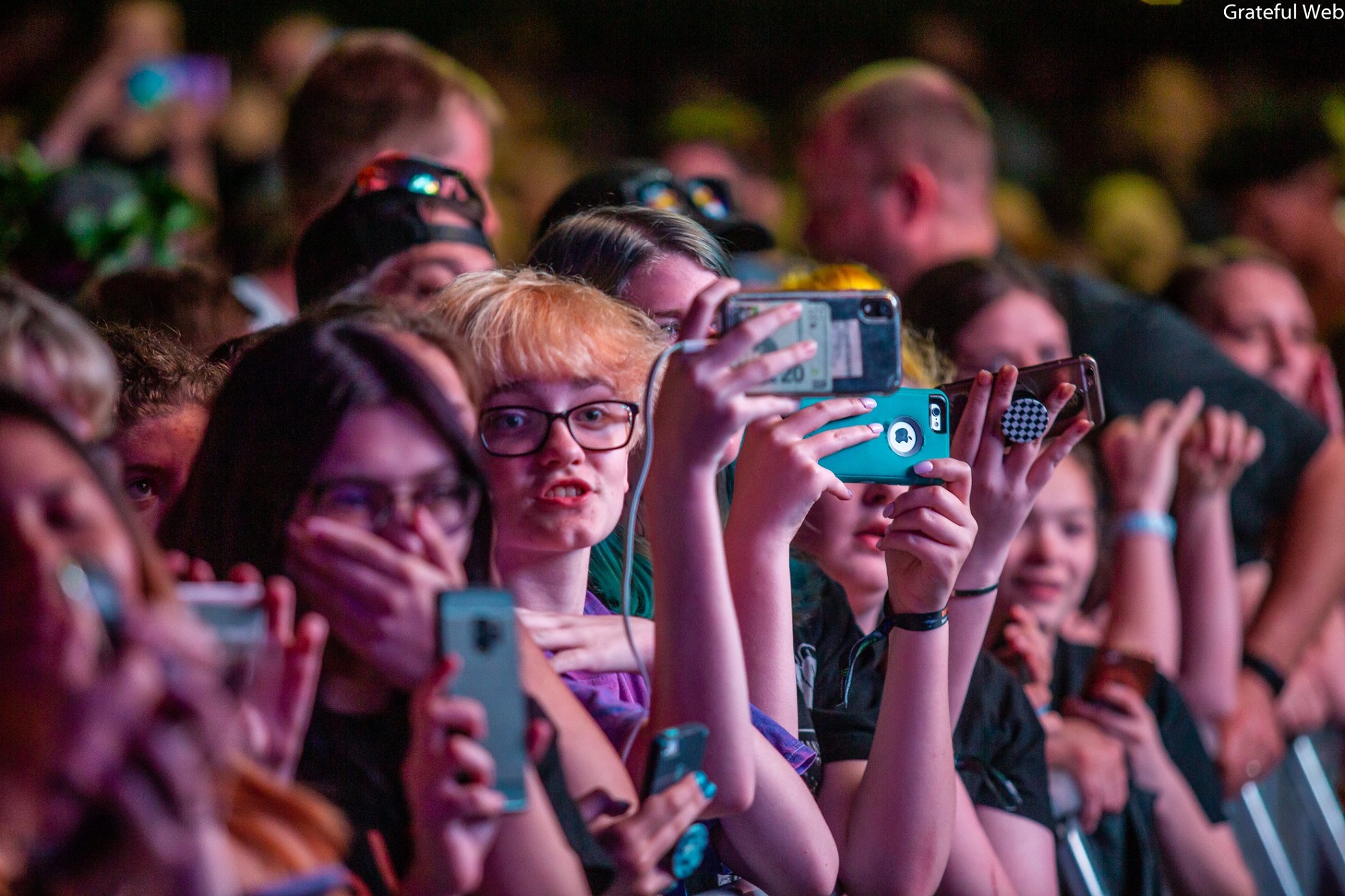 It was at this time that I decided to hit up Mikey's Late Night Slice, a pizza vendor that EVERYONE seemed to be enjoying all weekend. As I enjoyed the delicious food and free coconut water that Kroger was giving away all weekend, I listened to Dashboard Confessional and took in the moment. I watched teenagers with first-festival amazement in their eyes, meeting up with friends and twenty-something-year-olds dancing carelessly around as their beer spilled onto their carefully tailored outfits. I watched as the 40 and up crowd navigated the young groups with excitement, confusion, and careful precision. And just like that, it was time to move onto the next concert!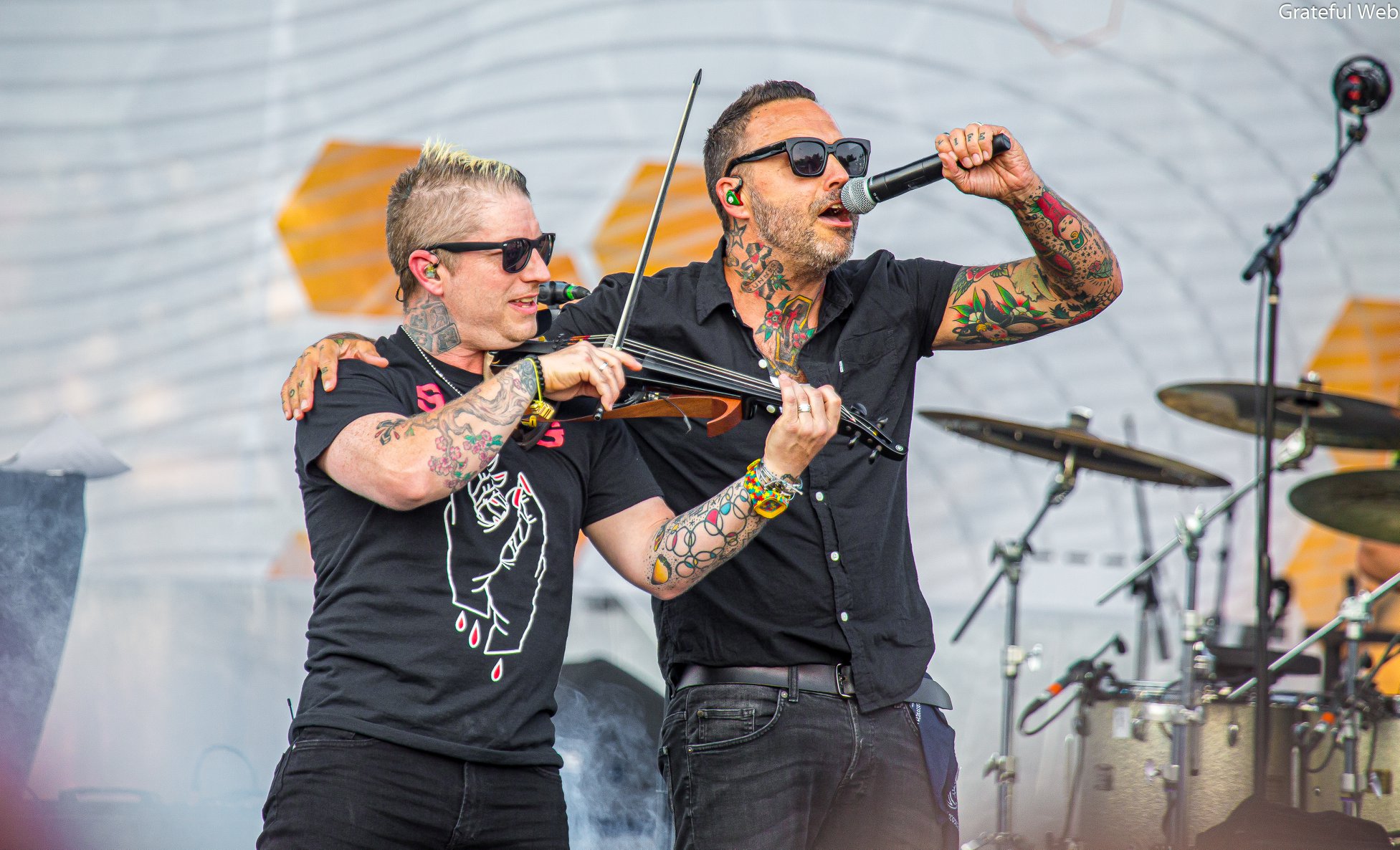 Back on the CVG stage, Blue October was drawing the largest crowd that the stage had seen so far that weekend, and they delivered a very intimate and moving concert experience for everyone.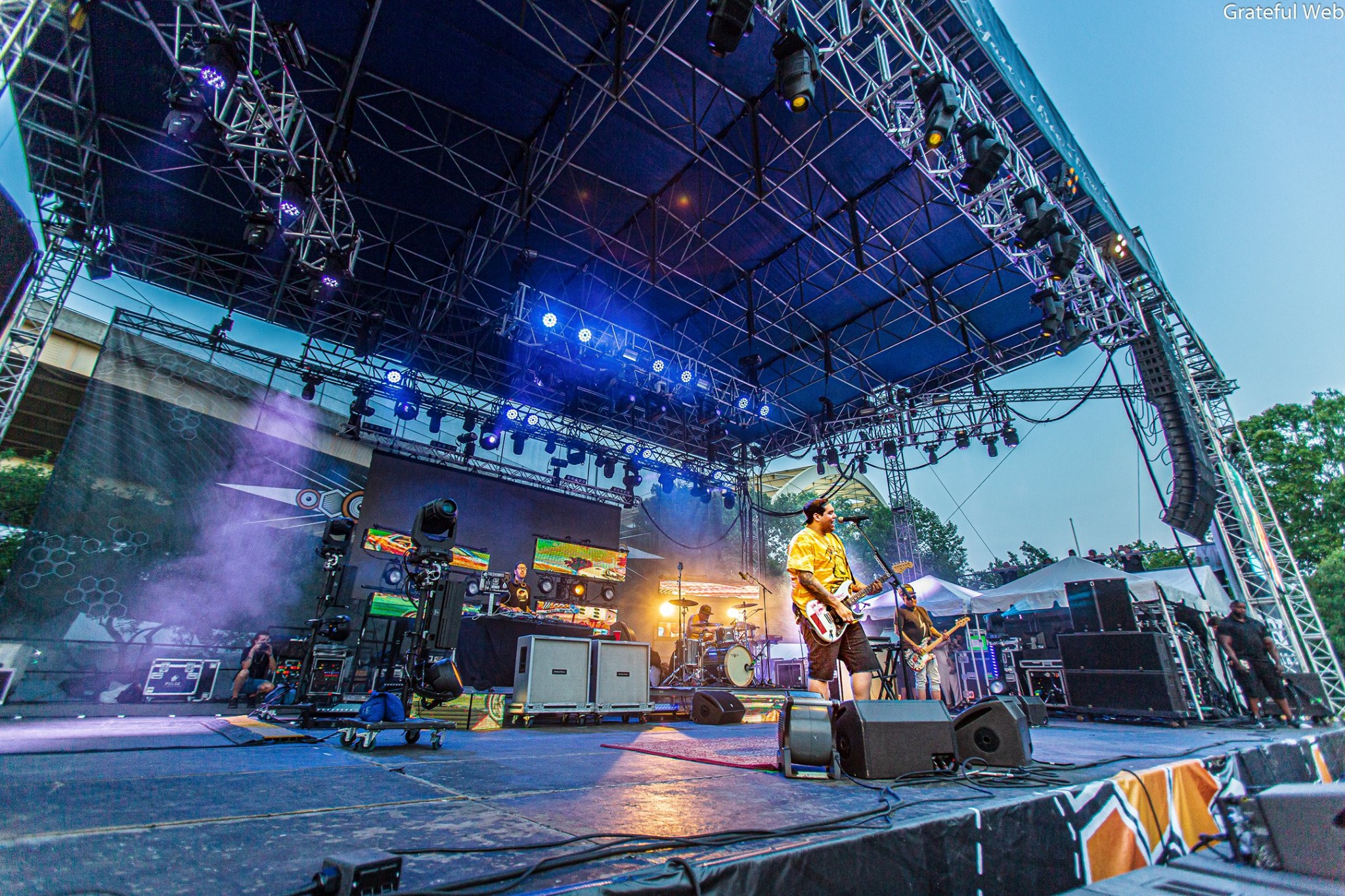 Sublime with Rome, who wound up being my favorite performance of the weekend, came out with a fan favorite, Smoke Two Joints. They continued playing all of the Sublime classics while sprinkling in some newer Sublime with Rome songs seamlessly. As the sun began to set, their lights came on and lit up the crowd. The band has been playing as Sublime with Rome for nearly ten years, and they are gearing up to release their third studio album this summer. In fact, their show at Bunbury was the beginning of a massive 40 show tour that will take up their entire summer! Towards the end of their concert, the crowd thinned out as people began migrating across the venue one last time to see the Saturday night headliners.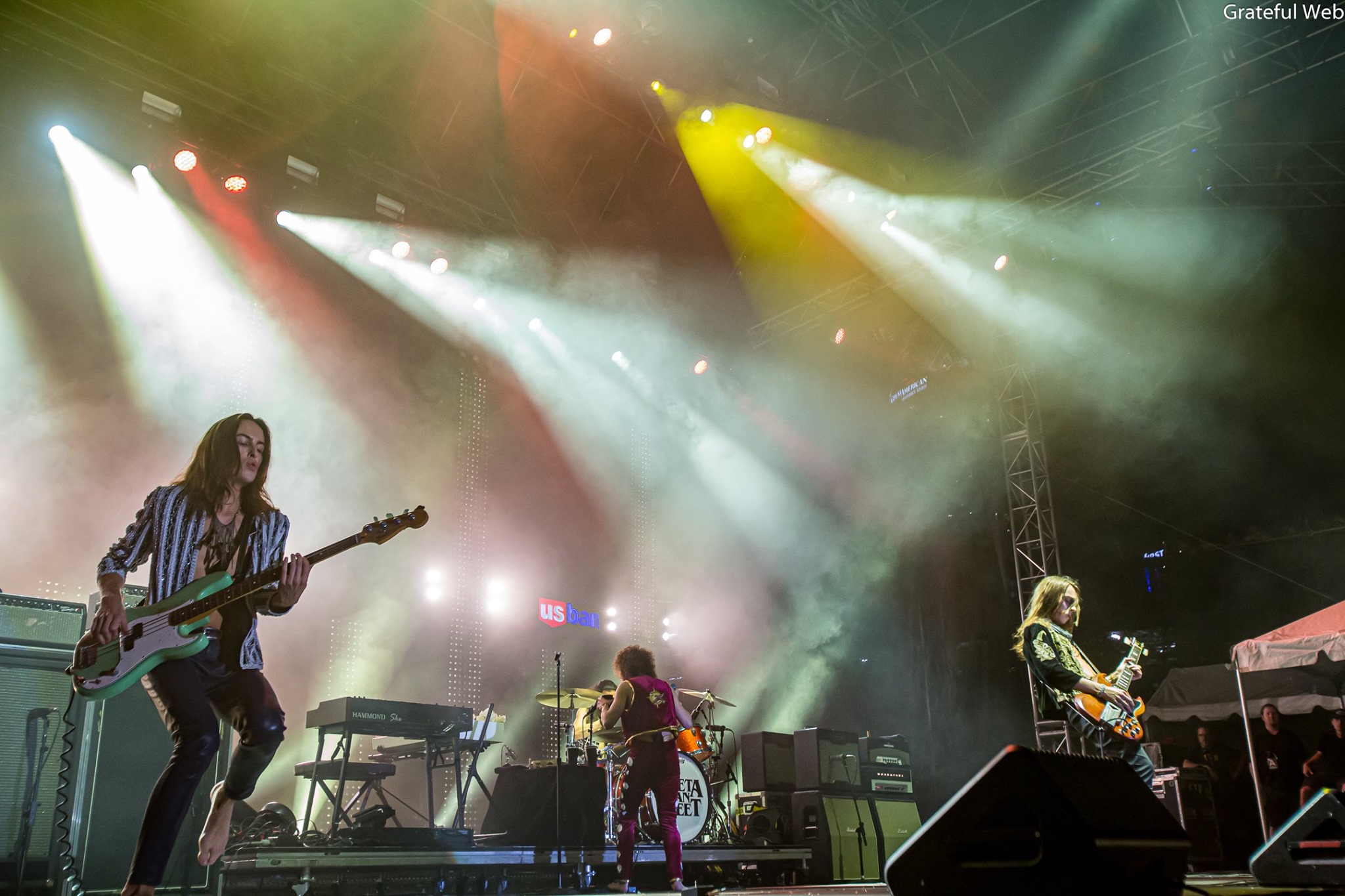 Fresh off of their Grammy for "Best Rock Album of 2018" and a Saturday Night Live performance, Greta Van Fleet was the talk of the crowds all day Saturday, and the band most represented by patron's t-shirts. They easily drew the largest crowd of the weekend, filling the entire length of Yeatman's Cove until fans were in front of the Sawyer Point Stage.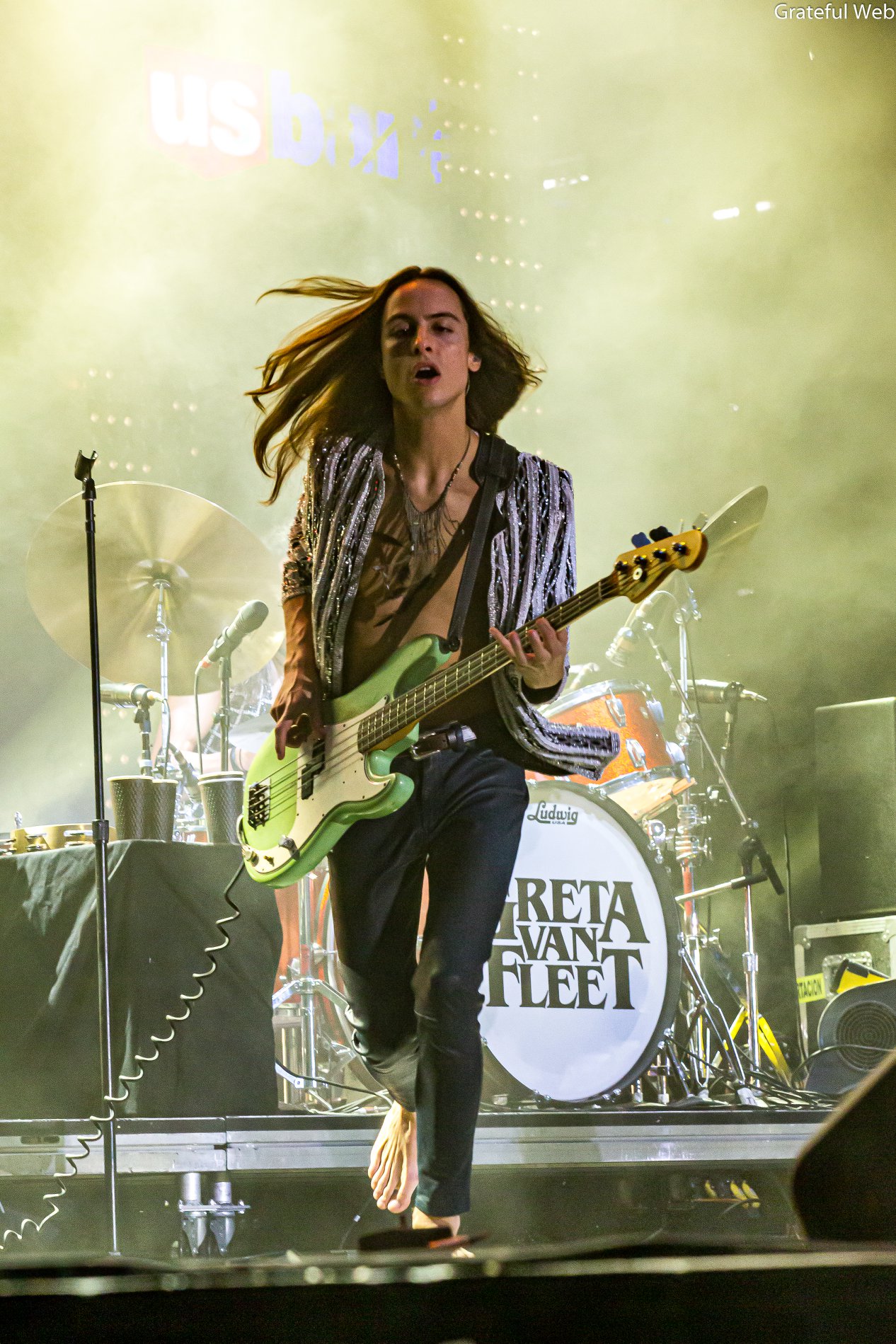 Taking notes out of nearly every notable rock and roll page in the book, these young rockers delivered a performance that was reminiscent of an era none of them were around to witness, and neither was I for that matter. Even the large video display screens were projecting video that had been edited with black and white visual effects giving the impression that you were watching concert footage from the early '70s.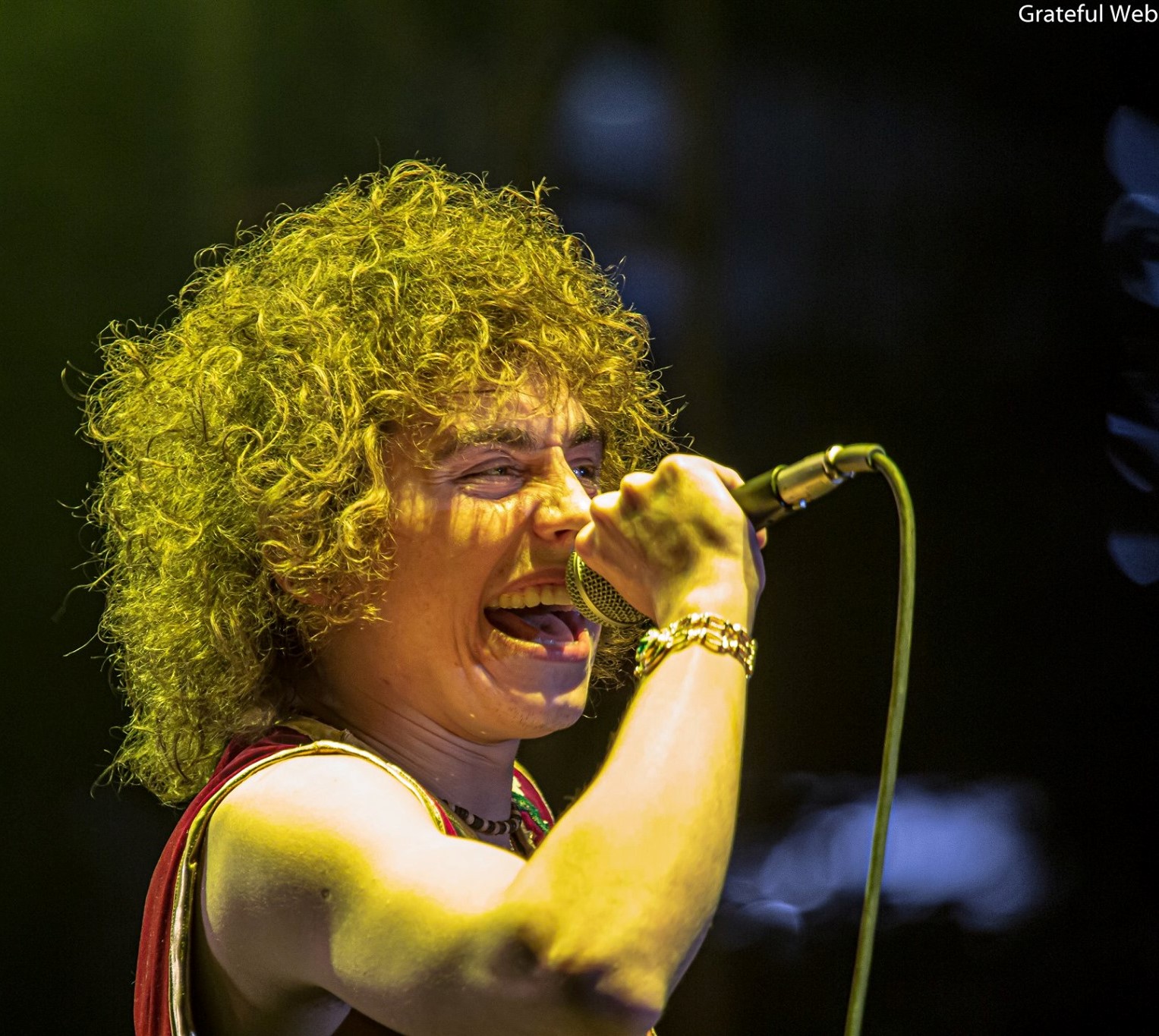 Their larger-than-life sound consisted of epic guitar solos, hauntingly powerful vocals, and a triumphant energy that echoed across the Ohio River Valley and into Northern Kentucky. As Joshua Kiszka bounced around the stage as an animal let out of a cage, you could see and feel the emotion that each member of the band was putting into their own parts. The result was a surreal concert experience which will go down in Bunbury's history as one of the festival's greatest performances.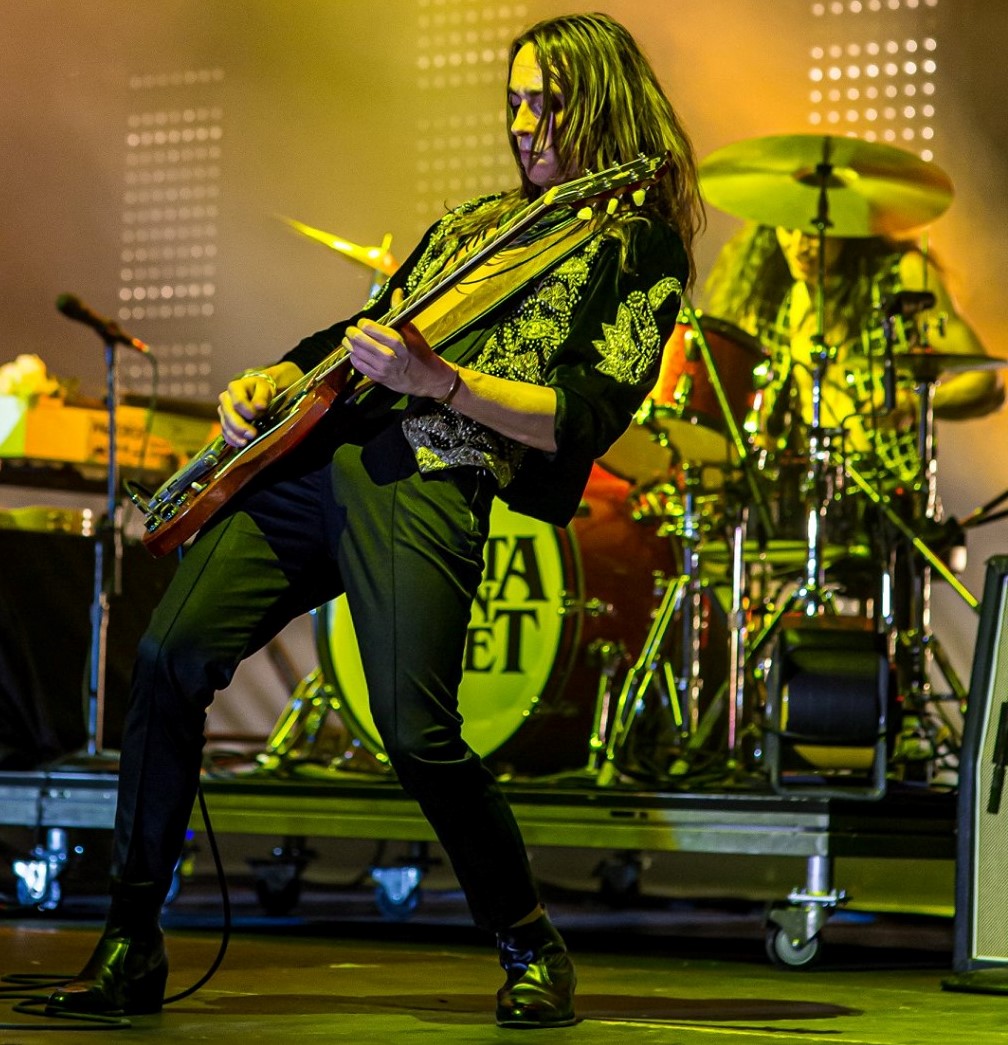 Getting a late start on Sunday meant I missed shows from Friday Pilots Club, Triiibe, Reignwolf, and The Clarks, among others. I arrived just in time to see Streetlight Manifesto starting their main stage performance. Just like any good ska band, they filled their show with hilarious on-stage banter, jokingly referring to the city they were in as anything BUT Cincinnati ("What's up Indiana? Thank you, Hawaii,! Your city is on fire Cleveland!").
The last of these quotes was referring to a mid-concert fire that broke out somewhere in downtown Cincinnati. Halfway through their set, smoke began pouring into the venue from a few blocks away, although the source of the fire was never confirmed. The smoke eventually dissipated and Streetlight continued crushing through their whole catalog of music. There is something about ska music and the summertime that goes together like peanut butter and jelly!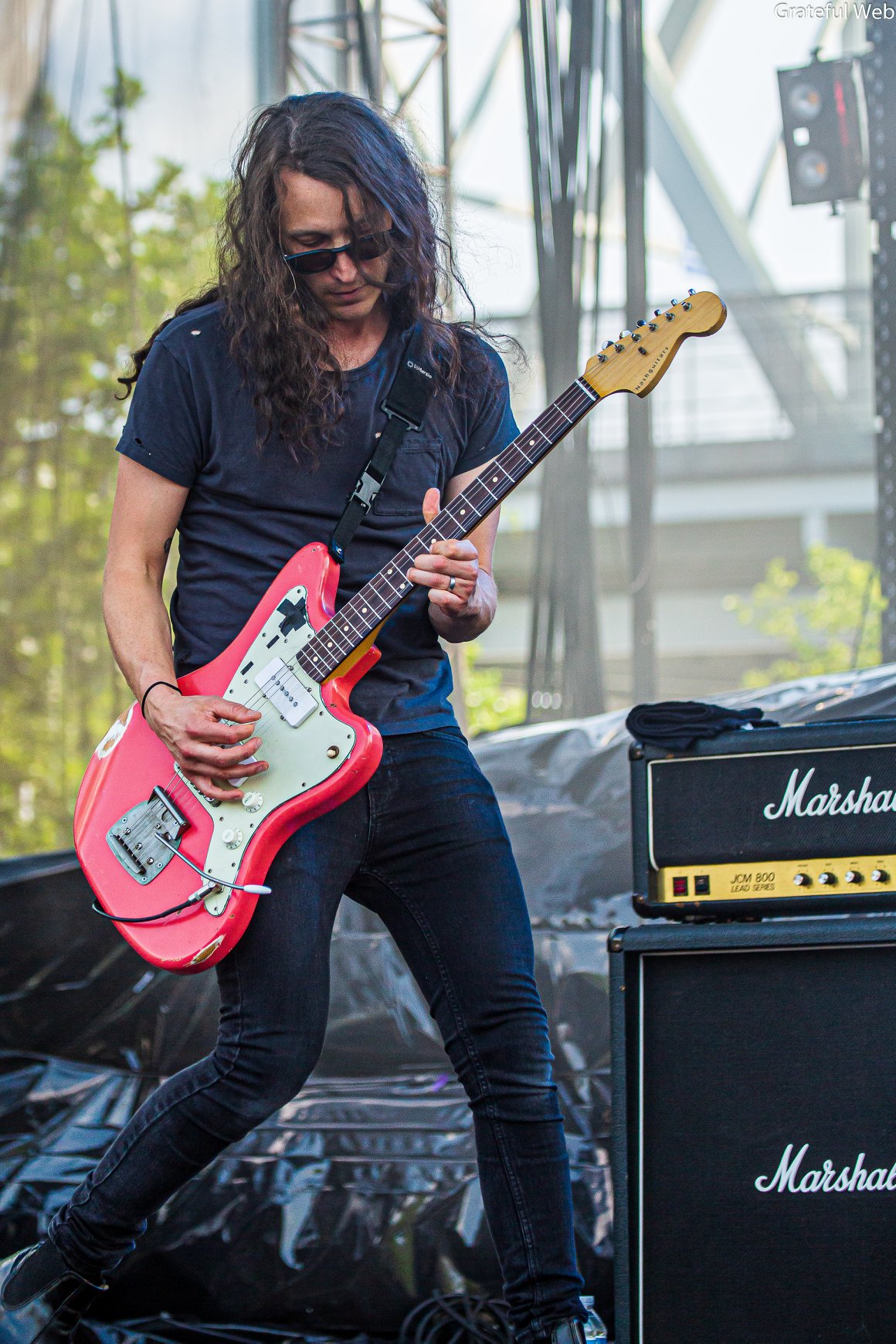 Hard rock fans were already at the Sawyer Point stage waiting for heavy metal rockers Clutch to take the stage. When they finally did, they delivered a non-stop hour of music that had heads banging and air guitars shredding. These guys might have put on Bunbury's heaviest concert of the weekend!
Hype was building among the crowds as we grew closer to the highly anticipated Run the Jewels show.  This hip-hop duo has been at the forefront of the rap music spotlight for quite some time now, and their concert was a contagious mix of high energy verses, empowering speeches, and was a downright crazy time.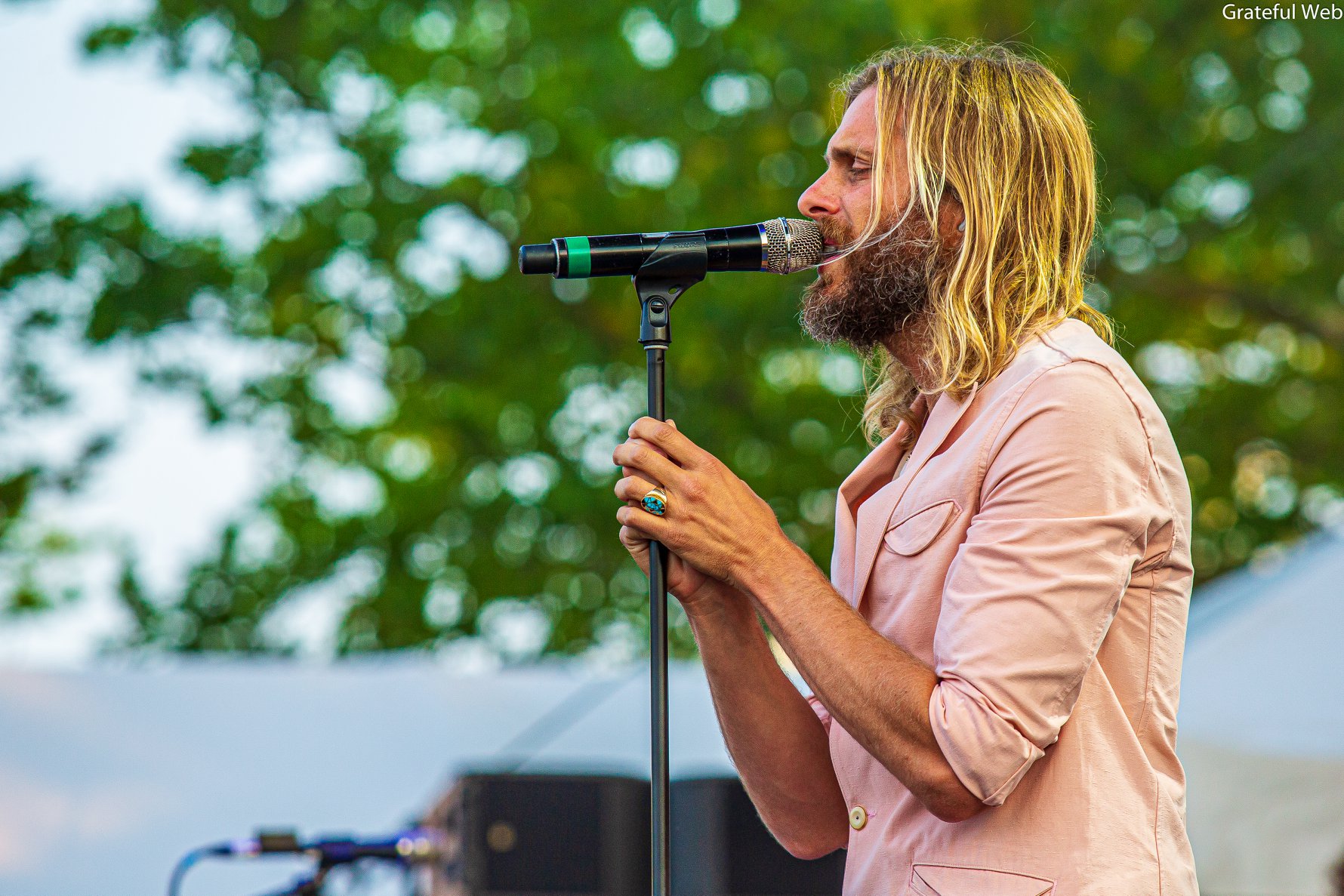 With a long weekend under my belt and a full work-week ahead of me, I headed home after Run the Jewels, skipping out on Girl Talk's electronic sample-based music and the Sunday night headliners, The 1975. Overall my Bunbury experience was a great one that has me reflecting on my new music discoveries, resurfacing old favorites, and a providing a general appreciation for the city I live in and the amazing music scene that exists in Cincinnati. Bunbury offered many music fans a fantastic kick-off to their live-music-filled summer, and reminded many locals that they live in a lively city with people who genuinely want to make a positive impact through live music. I couldn't have asked for more from Bunbury. See you next summer!