Fresh off the pulsating conclusion of their summer tour alongside reggae luminaries Steel Pulse, the dynamic funk ensemble Lettuce takes a moment to reflect and share insights in an exclusive interview with Grateful Web. Held in the backdrop of Cincinnati's PNC Pavilion, we catch up with the band's acclaimed drummer, Adam Deitch, whose riveting prowess and innovative flair have earned him a revered spot amongst the music scene's top drummers. From the band's reggae-funk synergy to the thrill of cross-pollinating fanbases, Deitch peels back the curtain on the tour, his inspirations, and what the future holds for this vibrant collective.
GW: How has the tour with Steel Pulse been and what was it like playing for their reggae crowd?
Adam Deitch: The entire Lettuce crew are huge reggae fans. That's what we listen to in the band van on the way to gigs and we just knew that it would work. We got to meet Steel Pulse on Jam Cruise a few years ago and we bonded with a couple of the musicians, like Amlak, the bass player. So we knew it was gonna work and we ended up being best friends with them. Tonight, we're bringing the whole Steel Pulse up to do a Stevie Wonder song, Master Blaster.
GW: How has their crowd reacted to the funk music Lettuce brings to the table?
Adam Deitch: The crowd's great. You know, they [Steel Pulse] got to win over some of our fans, and we got to win over a few of theirs. And it's great for us, you know, to kind of be outside of the normal scene that we're in. It's great for them to be outside of the reggae scene that they're in. It's a chance for us both to cross-pollinate and get some new fans.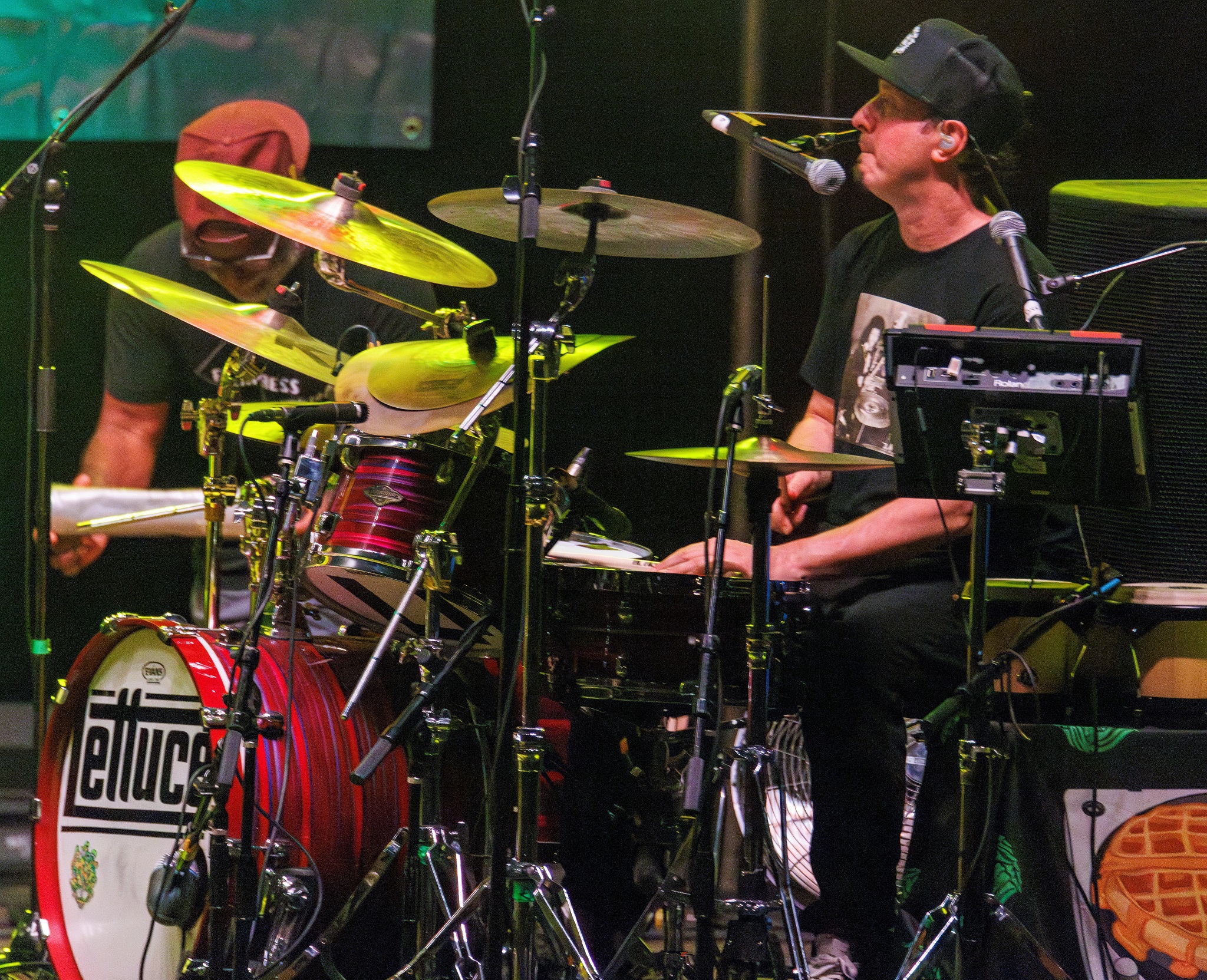 GW: Do you listen to reggae a lot for inspiration?
Adam Deitch: Absolutely, man. All of that stuff. Especially the bass and drums and just the whole idea of dub music and King Tubby, Lee Scratch Perry, and all that stuff. We're big into, you know, rare dub stuff and we just love reggae and it's a big part of who we are as a band.
GW: After your live shows, do you listen to the live sets and see what you were doing in the moment and try to learn from it?
Adam Deitch: Definitely, I've been doing that for ten, fifteen years now. Whenever I can get a recording from the front of the house or from the monitor world, I go through it all. I like to get a piece of paper and draw a line down the middle. Good and bad, and I write down the things that I liked, write down the things that didn't work, and I just try to slowly eliminate the stuff that I didn't think worked, you know. And now it's still fun to do that. It makes the show better. I always say, if you don't like listening to yourself, why should somebody else? I enjoy getting better and kind of learning from yesterday's experience whether it was great or, you know, shitty or whatever. I use it to make today better.
GW: Have you noticed that touring with a reggae band is bringing that kind of influence into you or the rest of the bands' playing?
Adam Deitch: Just being around the Steel Pulse guys has that effect. First of all, they've been around since the seventies. They've become like our older brothers/uncles. Them just being who they are has had a big influence on us. And of course, you know, hearing them play gets us in a good mood. We always feel good watching them before we play and also watching how engaged and loud the crowd is with them. It's not like the typical opening band, you know? These guys are legends! So to play after them, it kicks our butt and makes us perform our best out there.
GW: The past three times Lettuce has played in Cincinnati they've returned to a larger venue than the last time. With such exponential growth for the band, are there any venues or gigs that you've had your eyes set on that you haven't quite reached but would like to?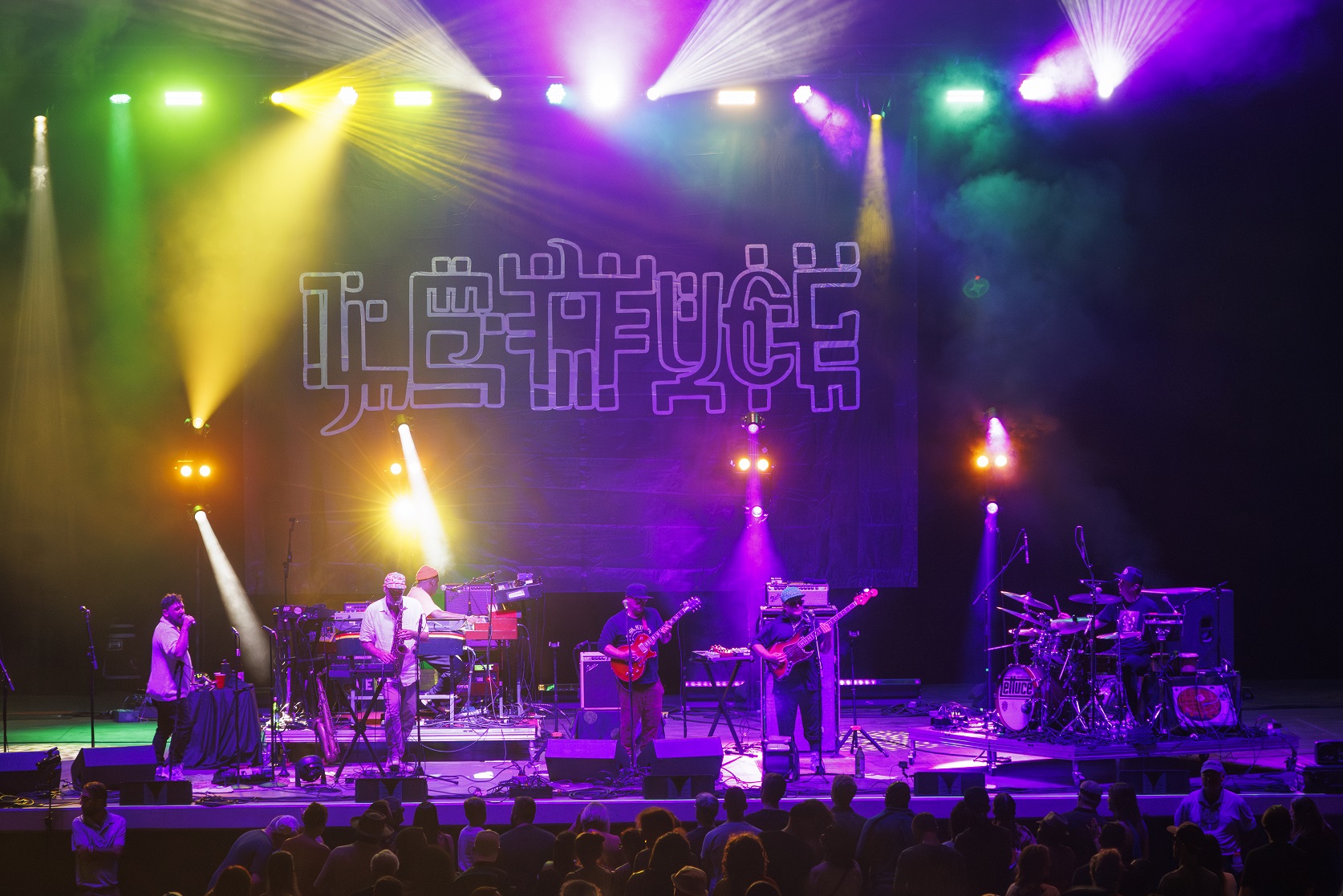 Adam Deitch: We just wanna keep growing grassroots style. We want you and your friends to tell people that don't know about us, "Hey, you're gonna like this band. This isn't your average whatever genre band". We're serious about the music we're playing, and we want people to be here, and it just depends on people telling other people. And then we can continue to grow organically without any sort of viral video or anything crazy. It's just people telling their friends that it's a good vibe and it's just gonna keep growing from there.
GW: With the Lettuce tour coming to an end, what do you have going in the next couple of months and into the early fall with the Deitch Quartet or any other solo projects?
Adam Deitch: The Adam Deitch Quartet is almost ready to be out and I'm just waiting on my management to give the go-ahead on when and how we're going to release it. It's all in-house stuff. I got no record labels, you know, just doing my own thing, Golden Wolf Records.
GW: Are you going to be touring with the band as well?
Adam Deitch: I don't know if I have time to tour. I'll probably be able to sneak in a couple of gigs here and there. Do one in New York, do one in Denver. Hopefully do one in Cali, too. I would love to play more than that, but Lettuce is just so busy that it's hard for me to do Break Science and Deitch Quartet and everything else.
I do have a little situation going on in Denver with a couple of different groups. This band Nightcap… we're about to drop a really cool record. It's me, Josh Fairman from Sunsquabi, and Ian Gilley. He's from a band called Recess. So we have a little trio and it's kind of like sexy, R&B funk shit. So I'm looking forward to that coming out.
GW: Are you involved with the new Pretty Lights tour that Derek is doing?
Adam Deitch: You know, I've been talking to Derek and he definitely needed a full-time drummer and because I'm so busy with Lettuce, you know I don't think so. It's like I got my little fruit stand you know, I'm selling my little fucking apples and oranges. He's just getting back going and I know he's got a lot on his plate. He has performed for five years. So I'm looking forward to seeing him just getting back in the groove of performing and getting used to all the hype and hoopla that surrounds him when he goes out. And then I guarantee we'll be doing something soon.
GW: Jumping back a little bit to when we were talking just about the growth and venue sizes, do you feel like you lose some intimacy with the crowd when you're playing to larger audiences compared to a couple hundred-person venue?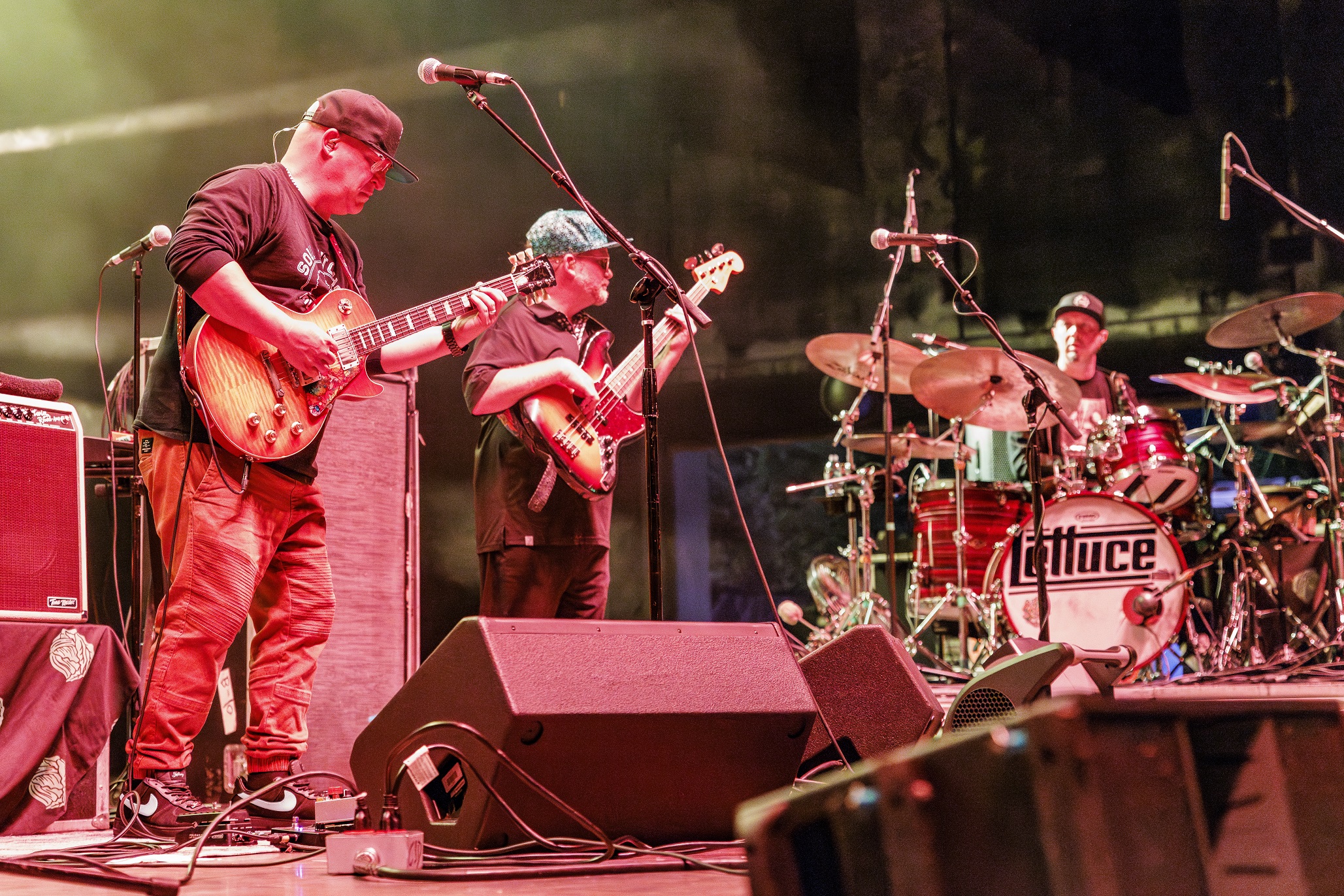 Adam Deitch: We like all venues, man. You know, if it's a giant venue we're gonna hit them hard. We got all the lights and it's a complete show experience that we've developed with our lighting guy, Josh. He's amazing. So we're always really excited for the big venues, but also the little venues since I work right on top of people. We just played The Blue Note in New York, which holds about fifty people or something like that.
GW: And you have a history with The Blue Note, don't you?
Adam Deitch: Yeah. Before Lettuce was touring regularly, I was playing there a lot and doing the late nights there, so we love playing little venues too. It's a different experience. So from the tiny venues and the midsize venues to the big ones, and then you got some festivals with twenty thousand people, they're all part of the game. You have to connect with the crowd no matter how big the places are or how small it is. You gotta find those people in the crowd and you lock eyes and you play to them and just make them feel like they're a part of it.
GW: You recently released a new single called 'Actual Proof'. How has that been received so far?
Adam Deitch: It's gone well. I had no idea that so many people would hear it. It is just a little arrangement I did of a Herbie Hancock tune that I've always loved. It's actually a Buddhist term, and it's one of Herbie's dopest songs. A lot of people play it fast, but I wanted to kinda slow it down and put a different beat on it. So I got asked to collab with this band Electric Kif, they're in Miami, and they're great musicians. And I was really excited to go in there and collaborate with them and co-produce a song. We ended up doing Actual Proof because I had just written that arrangement.
I'm looking forward to doing more stuff with them and just producing more bands. If you're out there and you're a band that wants to try something different, I enjoy doing that. I try to incorporate everybody's input and just kinda filter it all and get it done. You know?
GW: Being such a highly sought-after producer, do you feel you're turning people down that you wish you had the free time to work with?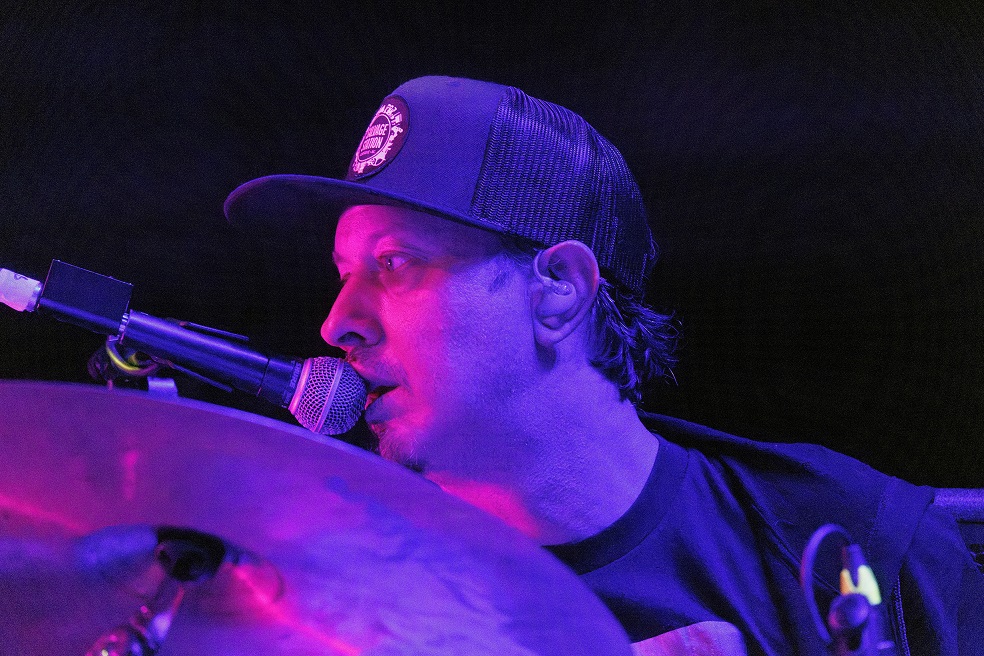 Adam Deitch: Well, certainly with live gigs, yeah, but I would love to continue to do more producing. I will clear my schedule for producing things because that's what I wanna get into in the next few years. You know, I did a lot of work with MCs and rappers in New York for years. I was producing Redman, 50 Cent, Talib Kweli, and all types of different cats. So I wanna get into more like producing bands, singers, and stuff like that, and incorporating the live instrumentation that I do with a sort of hip hop production and whatever the hell else works for the song, you know?
GW: Just one more question to leave you with… What are you listening to nowadays? Not related to your career? Just like, what are you getting inspired by?
Adam Deitch: I'm really digging Kaytranada and the way he incorporates a lot of percussion into house music and hip-hop style. I also really like this group Moonchild. They're like a future R&B style. There's a producer named Afta-1. Afta-1 is really great hip-hop instrumental kind of psychedelic stuff. Flying Lotus, of course.
GW: Have you ever worked with flying LOTUS before?
Adam Deitch: Not yet, but it's on my radar and we really want to.
GW: Want me to put that in print for you and we can manifest it?
Adam Deitch: Yes, please! I would love to go in the studio with him and just get creative and not even do a traditional Lettuce song. Just kinda let him mess with it to do his style. And of course the old school. I'm always going back to the old school - Earth, Wind, & Fire, Tower of Power, Stevie Wonder, Donny Hathaway, you know, the classics. So, yeah, just between the old school stuff and trying to keep up with some of the new stuff. You know, it's all part of the story.