Andy Frasco & the U.N. brought their signature high energy performance to Cincinnati on Wednesday, November 16, as they wrapped up the final leg of their fall tour with Little Stranger.
As an early November snowfall crept across Cincinnati, fans showed up prepared to stay warm by dancing and celebrating the midweek concert. Having never attended a show at the 20th Century Theater in Cincinnati's Oakley neighborhood, I was eager to check it out.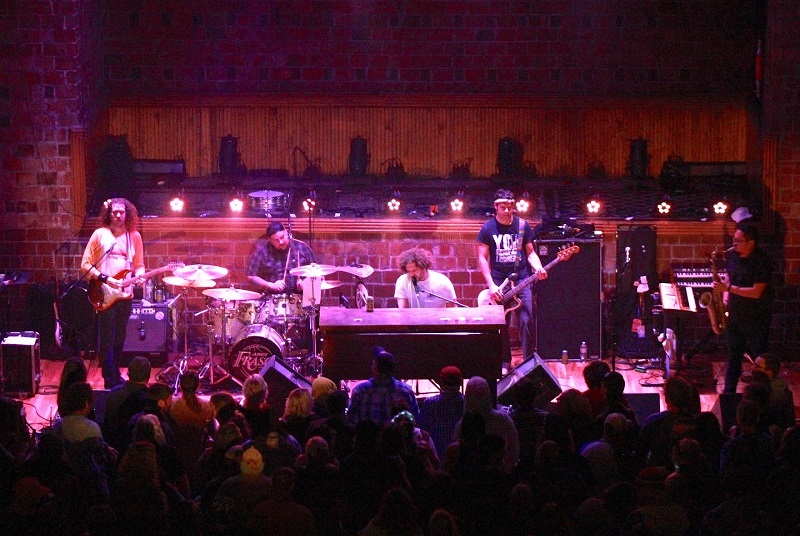 The opening act, Little Stranger, put on an intimate show filled with audience participation. It was the perfect way to grease the wheels for the party that was soon-to-come. The duo consisting of Kevin and John Shields from Charleston, SC, blends an in-your-face style of hip-hop with an undeniable groove that is funky, soulful, and unique. The pair effortlessly jumps between their array of instruments (acoustic guitar, loop/drum machines, keys and the melodica) while taking turns swapping vocals that are both rapped and sung.
Little Stranger's touring manager even came out to join them on the harmonica for a song before their set was over.
Next, Andy Frasco and his bandmates excitedly walked on stage and greeted the audience with a high energy "what the f—k is up Cincinnati" before kicking things off.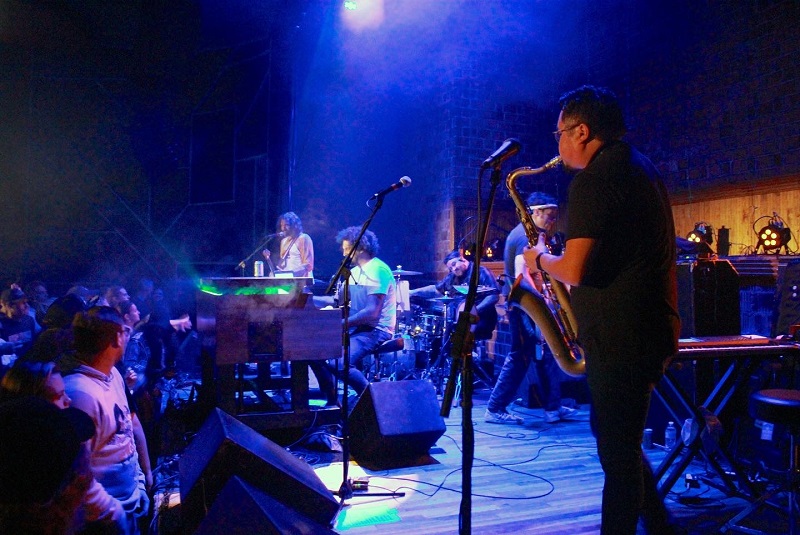 I have been a fan of Andy Frasco for several years and have thoroughly enjoyed watching his traveling circus of a band from the sidelines on social media, but watching them do their thing in person exceeded my already-high expectations.
It's easy to imagine how Andy Frasco's role as leader of the band and his popularity as a podcaster might take the spotlight off of his band members, but he consistently makes the efforts to step aside and (sometimes quite literally) lift up his bandmates as often as possible. During nearly every song of the night, Frasco would shout out one of his bandmates as they shredded their way up and down their respective instruments.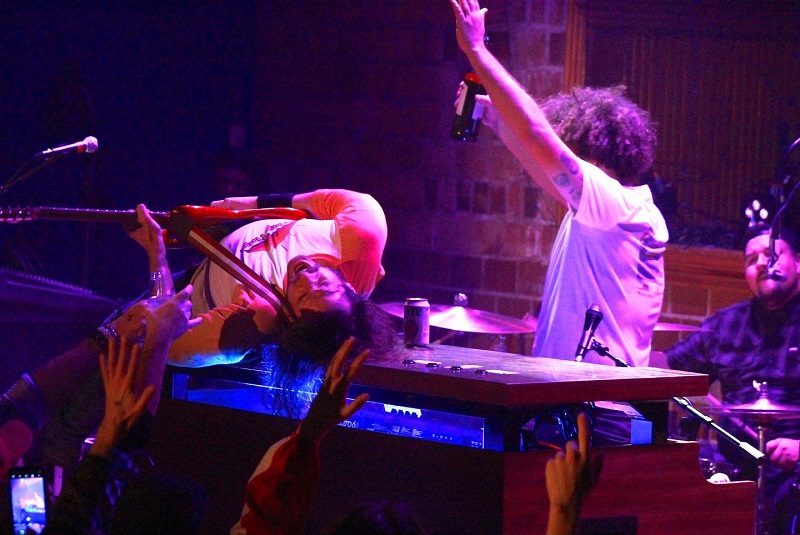 Another undeniable element of the night was the amount of fun the musicians were having on stage. It's obvious that a show is more fun when you can tell the musicians on stage are enjoying themselves, but the way Andy Frasco & the U.N. make the audience feel like they are part of the performance is something special.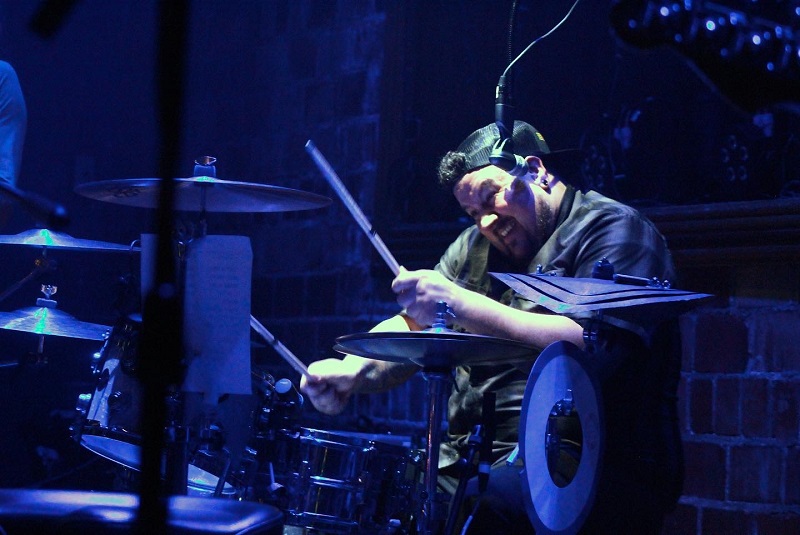 From call-and-response crowdwork, heartfelt speeches and shared sips from the band's bottle of Jameson, to a Conga line that started in front of the stage and went out of the main room of the venue and past the merch booth, you never knew what would happen next. This made timing your bathroom breaks a bit stressful.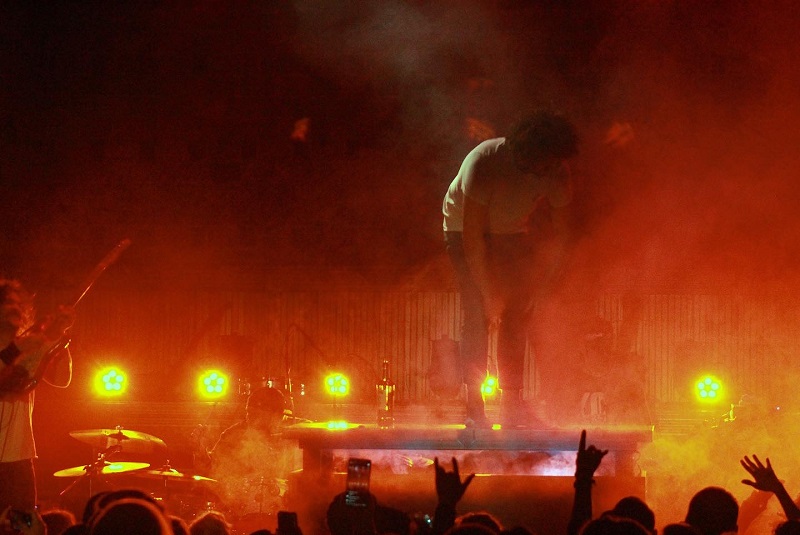 Shuffling through the growing catalog of music that Andy Frasco has released, the band tossed in a few new songs and several covers throughout the night. Led Zeppelin's "Ramble On" and Violent Femmes' "Kiss Off" (led by bassist Floyd Kellogg) were both well received singalongs by the crowd.
Another impressive move that you're unlikely to see other bands do is how frequently the different members traded instruments with each other. It wasn't uncommon to look up and see guitarist Sean Eckles sitting at the piano or to see Frasco slapping the bass. Odds are, you might even look right next to you in the crowd to realize that one of them has walked off stage and is playing among the audience.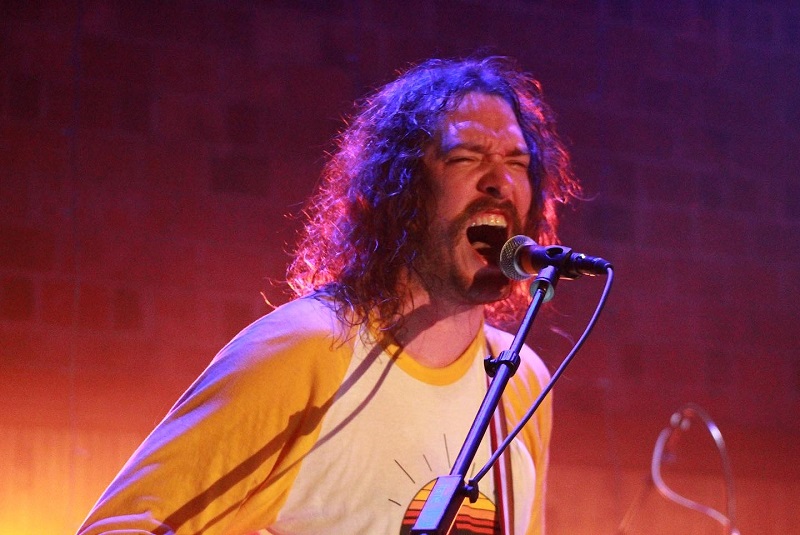 At the conclusion of the night, they brought Little Stranger back on stage to join them for the newest single, featuring both bands, "Oh, What a Life".