I made a deal with my wife that if I could get the kids to bed, so that everything at the ol' homestead was settled and peaceful, then I could go to the show.  So I went, though I was delayed enough by my two daughters that I arrived at the tail end of Dark Star Orchestra's first set.  DSO is not just your average Grateful Dead cover band.  There is a huge debate in the music world about cover bands and I don't know what to think, but at the very least it is always fun.  Can you really ask for more?  Well, yes, but let's come back to that question after a quick review of their show Wednesday night near Albany in Clifton Park, NY.
Northern Lights is an adequate venue.  Roomy, two big bars, and tables and chairs in the back and off to the side for the non-dancers.  I wandered through the crowd as the set came to a raucous conclusion with Lazy Lightning into Supplication.  Everyone seemed to be enjoying themselves during a hot set, with the emphasis on the temperature.  Hot day, big thunderstorm and Dark Star Orchestra…quite an exciting day.
So first off, I found the merchandise table to find out what I missed.  Part of the fun of a DSO performance is that they usually play a setlist from an actual Grateful Dead concert.  So many of the archival minded fans try to figure out what show it is while it is happening.  They opened with Mississippi Half Step and Franklin's Tower, so immediately I thought, 78 to 83 since 77 was more known for the Help On the Way>Slipknot> Franklin's trio, and they stopped doing Lazy Lightning about 1983 (I think), plus I think the first "All Over Now" performance was 1978.  The guys at the merch table said it was a "Donna" show (they even alter their line-up to mimic what version of the Dead played that particular show, i.e., A show from 72-74 has one drummer and Lisa Mackey plays the role of Donna Godchaux, 76-79 includes Ms. Mackey, but the band has two drummers, etc) so it had to be 78 or early 79.
That setlist info did not yet satisfy my pedantic Deadhead hunger to talk tapes.  So I hoped to find one or two of the few folks that I knew might give me that satisfaction.  It is funny to me, because as I go along on this musical journey, I realize that I am in the minority of individuals who give a rat's ass about archives.  Most people are there for a good time.  Sure, me too, but I really love to talk about stats and setlists.  My wife thinks it is a horrible ego thing.  She thinks it is simply showing off how much you remember about meaningless information.  Perhaps.  It is a lot like sports in that way.  Knowing a pitcher's ERA and how well they do against right or left handed batters, etc can bring a lot more to the game than just watching teams duke it out. To me, comparing and stirring memories of shows seen, heard, or even simply read about is fun for me to talk about, plus it can add color to a particular concert experience.  I sometimes have a hard time letting go of that, which in turn sometimes interferes with just enjoying the show.
Anyway I found my friend Dale, who I was hoping to find, and my archival hunger was sated.  We discussed the intricacies and dynamics of the 78-79 era from which we were both confident this show came.  We recalled highlights and favorites as well its inconsistencies and "problems" from the time.  No, not gas prices and inflation, but Donna's screeching out of key and Garcia's raging, heroin-fed, too-many-notes style of playing (that I felt marred his performances from 78 to 84, yet others love that about this period, to each his own).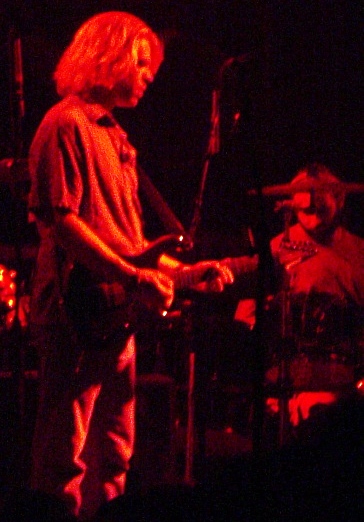 I also found out that the replacement keyboard player for DSO was the now famous in GD circles Rob Barraco, from The Dead and Phil Lesh Quintet.  This was a big question coming into this tour, because DSO lost their keyboard player Scott Larned, who died in April of this year (of course that is just one more eerie DSO comparison to the original band), may he rest in peace.  Barraco played admirably well, though at times, may have been slightly out of synch with the rhythm section.
Then we found time to move on to the other important things, like who else is coming to town, et cetera.  The next big thing for the New York capital district for many of us is the impending visit from Steve Kimock, the amazing guitarist who held down "Jerry duty" for the first The Other Ones tour in 1998, who also incidentally had played with DSO the night before in Teaneck, NJ for an original setlist show.  I wish I had seen that one!  Anyway, time to get back to set two.
Set two started off with the light bounce of Scarlet Begonias which was fine, but it was hot in there and the guitar and drums seemed a little sluggish.  As the transition into Fire on the Mountain kicked in, things started getting weird, some shrieking guitars, disjointed and spacey.  Problem was things never gelled into a groove that carried you.  Here I had my first, to me, hilarious thought.  Does the band simply play the setlist from that particular show, or do they go so far as to mimic the shape of certain jams and even play poorly on purpose in an effort to play it like the Dead did?  That would be a very funny joke, indeed.
As I listen back to the original show through archive.org, I realize two things, one, this is NOT the case, and two, lead guitarist, John Kadlecik, cannot approach Garcia's speed and fluidity.  On the original Scarlet, Garcia played his classic "paragraph-like" flurries of notes, in a Coltranesque "sheets of sound" of which he had spoken at times. The DSO Scarlet>Fire was somewhat disappointing.  Something didn't work, whether it was the plodding drums that couldn't quite entrain, or the sluggish guitar work, I don't know.
There seemed to be a spark of something during Samson and Delilah, but still something was not quite clicking.  Don't get me wrong, I think DSO does a fantastic job, and until this show, they had way surpassed any expectation I had for them. Perhaps the drums and keyboards just didn't quite sync up, but something wasn't "happening".

Terrapin Station turned things around a bit.  Kadlecik offered some nice explorations and detours that led to a powerful closing jam.  Then the crown jewel of the evening came through a surprisingly spacey and bizarre Playin' in the Band.  This was worth the price of admission.  This kind of music is the number one reason why I like to see a live performance.  The drummers found synchronicity, and the band effortlessly explored some of the darker reaches of the nethersphere.
Playin' in the Band became the opportunity for some fun and wild dancing. To me, the long stretches of "jamming" offer the room for self –expression on the dance floor, as long as the drummers hold it together.  To me the "songs" don't offer the surprises that these instrumental explorations do.  Obviously this is a matter of taste and half the dance floor was standing there, jaw-dropped and bowled over, and only a handful of us were "freaking out".  Anyway, it was a worthwhile freak out and left this soft and out-of-shape freak longing for the old days, when I could dance my heart out all night.  Now I am quite content with a single set, but I digress.  In retrospect, the Playin' offered many of the crazy Garcia tones and shrieks, but lacked the speed of the aforementioned barrage of notes that Garcia tended toward during this heavy heroin period.
Drums ensued, offering the dancers (those that still had energy) more opportunity to get down with a powerful and tight display of pyrotechnical drumming.  Space continued the dancers bliss, leading into an explosive Other One bass intro, satisfying our Phil fix, though in general, Kevin Rosen's bass playing understandably tends to lack the depth and power of the original.  This comparison issue is another of the many problems that arises with cover bands, though, as I said before, DSO isn't your average cover band.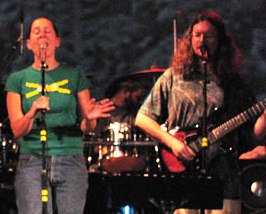 A sweet Wharf Rat allowed us all to sing every man's story, "But I'll get back on my feet someday/I know that the liiiiiiife I'm livin's no good/But I'll get a new start, live the life I should!"  Always introspective and yet triumphant in the end.  Good Lovin' brought things home in a rollicking and rockin' finale.  An encore of US Blues and "filler" Second That Emotion closed out an all in all, a fun if not spectacular or mind-blowing experience.
So of course the question follows:  Can a cover band really blow your mind?  Maybe so, or maybe not.  Any band can treat you to something you have never experienced, to stretch the boundaries of what you may expect and of what you know to be possible, and in that way, DSO may blow some minds.  Hell, a Judas Priest tribute band might blow some minds…"Some heads are gonna roll!"
But the bigger question may be one of value.  How often do we get to experience live music, and especially those songs of a band we love that no longer exists or tours.  Some say Ratdog, Phil Lesh Quintet and The Dead are merely glorified cover bands.  Does including an original member raise them to a "higher" level than a local cover band?  What if the cover band plays "better"!?  What if the cover band cost one tenth of the price?  What if you can see the band in a cozy local bar with your best friends instead of a huge hockey arena with thousands of people who are rude and obnoxious, infringing on your good vibes?  Maybe seeing an original past their prime holds more value than "quality of music" or "atmosphere" because seeing the originator of something may shed more light on a particular quality of their music than anything a tribute artist ever could.  Or maybe not.
But does seeing a cover band lead to impossible comparisons and expectations?  I believe that is the case, with the comparison issue, but who really has high expectations when seeing a cover band?  That they continually defy expectation is one of the reasons that DSO has become so popular, I believe.  As Grateful Web's own Tony Casson described in his review of Phish cover-band Phix, seeing such a cover band allows for "a pleasant evening listening to well-remembered tunes without any of the emotional investment that comes from the excitement of seeing the band in person."   I think that sums it up pretty well, yet now we are facing the problem of paying over twenty bucks a pop to see DSO.  That increases the emotional investment, I'd say.  It also increases the level of expectation, and maybe even the level of comparison, especially coupled with the fact that they actually play particular setlists from the Dead - even more so when they cover a "classic" show.  DSO has recently played such classics as 6/28/74 and 5/8/77, yielding this review of the latter (played last Saturday in Philadelphia) on the band's website.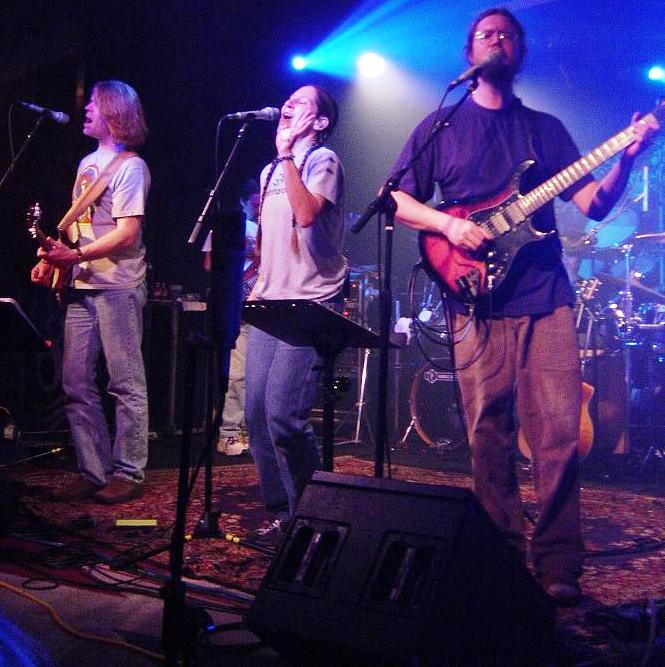 "Philly was mindblowing. The band displayed nuts of steel, daring to pull out all the stops and reach unbelievable peaks. Some of these seemed to exceed the original. I wasn't at the Cornell show, but it's one of my favorite tapes. For me, DSO didn't quite nail the 'Fire', but the NFA>ST>NFA, and the Mourning Dew and the Saturday night exceeded the originals. A pure mass of psychedelia. Vast and deep synchronous hatchet swings into the void. The guitars turned into thundersticks and new guitars, drums and keys turned up in new layers to lead new charges."
Such hyperbole can make many folks laugh, when considering the weight that is given to such a show in the Grateful Dead pantheon of myth and lore (see my review of the 5/8/77 recording on Grateful Web).  I am sure that folks would be startled by how good the DSO show really was.  But I bet most folks would be even more startled by how much better the original Grateful Dead show was!  Yet, no one can ever truly contend which is "better" as it is all ultimately a matter of opinion.  Which is also ultimately why all of the comparisons are BS and nothing more than, as my wife claims, ego based ravings.  And so is this and every review, yet, for some of us even there lies value.
Value is also in the pocketbook of the beholder.  Some folks are "going on tour" with DSO, some are "on tour" with The Dead or Phil or Ratdog, and some would never think of following even the original, yet for five bucks and drink specials, one might find more value with the local cover band for that pleasant evening of well-remembered tunes without the emotional and financial baggage that goes with seeing the original.  And perhaps as long as we have fun, none of the rest really matters.  Maybe DSO has a nice gimmick with the covering whole shows concept that gets some folks in the door, but they play extremely well and most of the time they really do provide the essence of the Grateful Dead experience.  And always it is fun, as long as expectation and comparison don't get in the way!