Last night was fun...the problems were many and it was quite revealing to me why I have moved on from this scene and band, but I had a great time singing and dancing and especially enjoyed all the ballads!
First set was frustrating in that Jimmy Herring's guitar was mostly inaudible, I watch his fingers doing backflips on his fretboard during Music Never Stopped, but no sound...that kind of thing drives me batty...Estimated Prophet was fun for me but flat musically...but like Aaron @ Grateful Web said recently: "there were repeated "moments" throughout the night that were magic little blips of milking the universal turkey of bliss..."
The Dead teased The Other One throughout, which was fun because I never knew when they were really going to play it...glad they held off till late, because that was fun just guessing...most of the crowd were oblivious to what was really going on, but did not get in the way too much...somewhere in the ploddingly slow (but musically interesting) Bird Song, the four people in front of me left and I gave glances up and down the row, no one was moving in, so i did and suddenly I was free...five seats to myself and the couple that was next to me (on ecstasy?) started dancing crazy too...Reuben and Cherise was an absolute treasure...how often are you ever going to hear that one? the jam fizzled but who cares...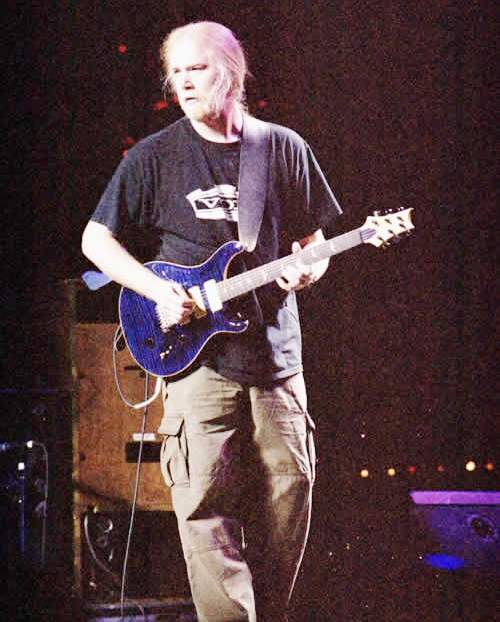 Drums and Space were both excellent, and IMO, one of the best reasons to see this band and earlier versions since the late 80's...the drummers, were a bit heavy handed and dragged the music down most of the night, but during drums they were very free to do their thing...Shine on Crazy Diamond was a surprise and sloppy and awesome, again, how often are you going to hear that live?  Great vocals and solo by Warren Haynes (who was somewhat subdued all night)...other one teases galore, st. stephen, i love for signing along, though not many folks in my section seemed to want to scream, ran into the loss of Jimmy's sound again here, but most of the second set he was loud and playing well, but comes a time was certainly the peak of the night for me and the other one got a pounding intro thatdrowned out phil's bassline...this matter of the Dead's sound being way to clutter and messy is my biggest complaint...i keep dreaming of the lightness and clarity of Kimock's sound (i had to get an skb plug in somewhere)...
if i had more room the dancing might have been better, but gdtrfb was one of the few truly danceable songs that night, but mediocre performance...then the pure Jerry moment of the night came with the gorgeous harmonies and sweet playing of angel band...this was the most obvious statement of happy bday Jerry they made...glad i went, i'll even dl rob clarke's recording, though i'll only listen once...this is definitely a see them live kind of band, and not a listen on tape kind of band...that is more than needs to be said here..