In light of the upcoming Fourth of July I would like to invite all readers to comment with your ideas of what constitutes American Music. We could get a very nice discussion going regarding bands, styles, influences, allusions, imagery, intent, and anything else that might come up about what American Music is, was, means and does.
This is really a simple take on the subject of American Music, with no research nor preparation. I simply thought it might be a nice idea for us to consider our roots on this holiday for the birth of our truly great country, despite its faults. America is known as the "melting pot" and most of what it offers, in my humble opinion, is a wonderful blending of styles and ideas, dissonance and consonance, right and left, red and blue (hopefully our leaders remember that it is yellow and not white that fills the color spectrum, and that metaphor, I hope needs no explanation). This blending does not always result in balance, in fact, more often it swings back and forth, "rocks" if you will, between extremes. What musical genres are truly American? Blues, Bluegrass, Jazz, Rock-n-Roll…Maybe Grunge? Hip Hop? It is certainly open for discussion.
The namesake of this website is obviously the Grateful Dead, and I think no single band encompasses American Music more than they, though that is also certainly open for discussion. They embodied it all, bluegrass, country, blues, jazz, rock, disco, funk, pop…whatever those terms mean. I will always remember the following quote from Bob Dylan when Jerry Garcia died.
"There's no way to measure his greatness or magnitude as a person or as a player. I don't think eulogizing will do him justice. He was that great—much more than a superb musician with and uncanny ear and dexterity. He is the very spirit personified of whatever is muddy river country at its core and screams up into the spheres. He really had no equal. To me he wasn't only a musician and friend, he was more like a big brother who taught and showed me more than he'll ever know. There are a lot of spaces and advances between the Carter Family, Buddy Holly and say, Ornette Coleman, a lot of universes, but he filled them all without being a member of any school. His playing was moody, awesome, sophisticated, hypnotic and subtle. There is no way to convey the loss. It just digs down really deep."
It is always nice to fall back on that quote when I argue about the importance of Grateful Dead music. Almost everyone gives some credence, especially in the music world, to Bob Dylan. But it seems very few folks really give much credit to the Grateful Dead. It is funny, because it is probably the drug thing that gets in the way. Yet many Jazz legends were heroin addicts, many Country musicians were drunks, even Mozart was a partier, and Dylan himself was wasted during much of his career…yet no one takes Jerry seriously because why, because of the fanaticism of deadheads? Well, here is one deadhead that will make a small argument for the importance of Jerry Garcia and the Grateful Dead to American Music, and in turn the world.

(And, it seems, this article has quickly deteriorated into an off-handed tribute to Jerry Garcia with the 10th anniversary of his death only a month away. May he Rest In Peace.)
OK, so I won't really argue, but rather, just make a few comments on the Grateful Dead's songbook and their place in American Music. If one looks at the songs of the Dead, it becomes obvious there is a huge breadth of material and styles. There are the traditional-styled songs of Americana, the west, and the frontier in Jack Straw, Loser, Mexicali Blues, Candyman, Black-Throated Wind, Friend of the Devil, Cassidy, Deal, Let it Grow…that sounds like a nice first set, huh? In the second set the Dead could explore the world of funk and Disco with Shakedown Street and come up with Grateful excursions into the worlds of Rock-n-Roll and Jazz in songs like Scarlet Begonias into Fire On the Mountain, Estimated Prophet into Eyes of the World, and soar through the cosmos with Dark Star. They displayed warring Drums and primal Space. Insane explosions of chaos in The Other One resolved into deep Beauty and the unarmed emotional vulnerability of Stella Blue, but damn it, we can still "dust off those rusty strings one more time; gonna make 'em shine!" And we can Rock to close with Sugar Magnolia. Tonight's double encore (all too rare) is US Blues for the party and a send-off lullaby like Brokedown Palace, which I sing to my daughters nearly every night. I wish I could have seen THAT show…
There are so many songs that just scream Americana in the likes of Dire Wolf, Dupree's Diamond Blues, Stagger Lee, Ship of Fools, Row Jimmy, Sugaree, Ramble On Rose, Uncle John's Band, Cumberland Blues, Friend of the Devil, Ripple and on and on. How many Jerry ballads were there that embodied the spirit of the underdog or the comeback? Isn't that sort of an American theme, at least an adopted one? The aforementioned Stella Blue, Wharf Rat, China Doll, Comes a Time, even Black Peter, Touch of Grey, Crazy Fingers and Days Between.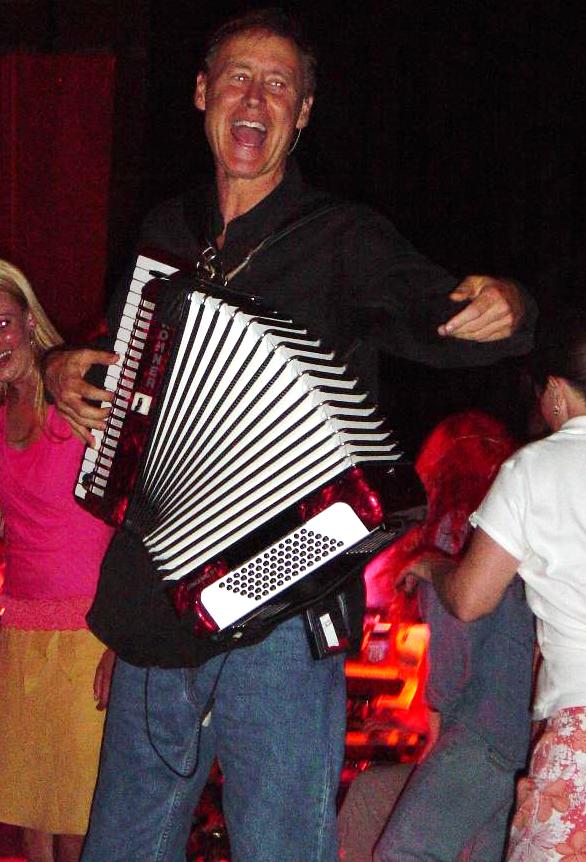 They also covered songs from history and the present. They covered blues standards like Walkin' Blues and Little Red Rooster, rock-n-roll classics like Not Fade Away and Around and Around, country favorites like Big River and Mama Tried, a ton of the Dylan songbook, the Beatles, and bits and pieces from here, there and everywhere (no, they never covered that one). And of course Jazz was embodied in "Space", the Dead's opportunity to explore the craziest spaces of the nethersphere a la Ornette Coleman and John Coltrane. They even teased us Miles Davis' "So What" one March night in 1988, which became a classic for Garcia and David Grisman's acoustic experiment. They drew on as many influences as any band on the planet, let alone America.
And my vote for the performance that sums up the single most classic American moment in American Musical History would have to be the Grateful Dead's performance of Dylan's "It Takes A Lot To Laugh, It Takes A Train To Cry" on September 10th 1991 at Madison Square Garden, with Bruce Hornsby and Branford Marsalis. That song, with its distinctly American themes (what is more American than the Railroad?) and style of folky blues, sung by Garcia, in more of the "author's voice" (as Elvis Costello phrased it) than even the author himself, colored by the distinctly American piano that Hornsby brings to it, and the depths of the soul from the jazzy blues strains of Branford's saxaphone, personifies this classic moment in a truly American musical blend. What's more, how about MSG as maybe the classic American rock venue? It might only be more perfect, if it were played at Carnegie Hall or maybe Lincoln Center on the 4th of July.
The funniest thing to me about this whole article is that I am qualifying music as if one piece of American Music actually could be "more" or "less" American than others. (And what's more American than that? Reds are more American than Blues...) I should like to say that in our American melting pot, the only truly requisite American quality is that it has a blend of influences and styles. Maybe the biggest lesson here may be that when we try to isolate something, a style or idea, the vacuum kills it. Lets not let America be killed by trying to homogenize it into pop country and teeny bop, NASCAR and PGA, reds and blues, Wall Street and Bourbon Street, beef and tofu, mini-vans and bicycles, Nikes and Birkenstocks…we need all the spaces in between and beyond in order to grow.

Anyway, here are a few thoughts about about a few classics in the American Musical World (in no particular order other than this is the order I thought of them):
Bob Dylan—sort of speaks for himself
Bela Fleck—god of the banjo, marriage of Bluegrass and Jazz and even classical music
Bruce Hornsby—carves out his distinctly American niche
John Coltrane—classic Jazz, I think his work with McCoy Tyner has a truly "American" feel
Bill Monroe—the father of Bluegrass, blending European folk songs filtered through Appalachia with Gospel
David Grisman—Bluegrass meets Jazz through the mandolin
Hank Williams—the father of country music
Bob Wills—father of Texas Swing
Miles Davis—hugely influential Jazz composer and player
Louis Armstrong—as important a figure in American Music as Jerry Garcia, as a player, vocalist, composer…Ken Burns says he and Ellington are the 2 most important Musicians in Jazz, and perhaps all of American Music
Duke Ellington—unparalleled prolifically as a composer, drawing on multiple influences
American Classical Music…Aaron Copeland, Phillip Glass - I'm sure many others, too
John Cage - too insane for words, not necessarily fun to listen to, but "important"
Metallica—turned a European music into an American institution
Pearl Jam and Nirvana—something from Metal to make Grunge its own thing and also distinctly American
Marvin Gaye—one could argue it doesn't get any more American than Motown
Otis Redding—Ahh, Otis…pain and sincerity, also an American icon
Janes Addiction—sex and violence, sounds like America to me
James Brown—the father of Soul…another American Institution
Phish—the second Generation from the Dead and Hendrix and the like…for me what separates Phish from the Dead, among other things, is that the Dead were a diverse group of musicians from distinctly different backgrounds, whereas Phish was a group of musicians that were mostly similarly influenced by diverse influences, the natural evolution process, I suppose…
Allman Bros—embodied the southern bluesy rock thing, that became much more limited with the death of Duane, who was their purest musician of true diversity from Jazz to Country a la Garcia, who also arguably was the real meat of Derek and the Dominoes, not Clapton
George Clinton and P-Funk—yeah!
--
Please add comments with your thoughts and additions or subtractions...
Happy Independence Day!