When you bring a together a cast of musicians steeped in different backgrounds for the sole purpose of creating on-stage spontaneity, you have an improvisational outfit. The Everyone Orchestra, conducted by ringleader Matt Butler, is exactly that. The difference between your typical jam band and an improvisational outfit is that the latter shows up to the show with no songbook. The Everyone Orchestra's show-to-show lineups come together with nothing more than mutual musical recognition, if that.
The show on Thursday night featured a lineup that saw some of the best from all reaches of music. Guitar guru Steve Kimock, with his signature sound, showed why he's renowned throughout the jam band scene for his work with countless bands including Zero, Praang, RatDog, and reincarnations of The Dead. The lovely Bridget Law of Elephant Revival harnesses a clear knowledge of rocky mountain bluegrass and traditional string music. Likewise for Anders Beck of Greensky Bluegrass, helped his band rise to the top of the jam-grass scene and garner support from both the far left and right of that blended genre. Bassist Kai Eckhardt comes from a renowned jazz-fusion background,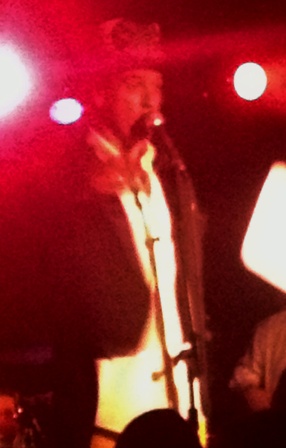 playing with John McLaughlin Trio and most recently Garaj Mahal. Dave Watts and Jans Ingber of The Motet rounded out the lineup at Hodi's Half Note on Thursday night, bringing the influence of more bands than I can name because of their knack for covering other artists. There's a reason they can sell out a show playing Grateful Dead covers and your local bar band can't.
While all of these musicians come from different musical backgrounds, they have one thing in common; they've played in jam band projects where their cross genre influences have been predominant. Everyone Orchestra brings those talents to the table, and builds a band by combing the eclectic styles into a selfless improvisational outfit.
Opener Marcellus Wallace outdid themselves with the bar-lingering crowd hesitant to move to the front and groove to the band's R&B soul jams. The simplistic set up of drums, bass, keys and two vocalists really brought a small, east village bar vibe to their set, and their lady on lead vocals pulled Sunday gospel out of chords. Jans from the Motet joined them on a coffee shop version of John Lennon's Jealous Guy, as did a less than predominant but definitely set altering horn section, leading to the end of a longer than expected set.
Matt Butler opened by telling the crowd that his new means of composing- a dry erase board- is a method for communicating with the band and audience to pull everybody into the music together. Like a psychedelic conductor with a head full of speed he twirled around in circles pointing to the different musicians, telling them to lead a solo or take the music in a new direction. "Mama always told me to keep a clean slate," he said, wiping the dry erase board after the first full on improvised jam.
Keeping with the jam protocol of Colorado, he dedicated the next song to "the Water Gods, who filled the reservoirs," his way of praying for the long, hot summer ahead of us to be easy with all of the devastating fires last summer. The resulting jam sounded like funky, dusty trails, with Beck and Law taking the lead from Kimock and producing an entirely different sounding improvised number than the one before it.
Sometimes bordering recklessness, and even conceptual abandonment, they still found a way to keep the audience involved over two sets. Any of the artists can be the decisive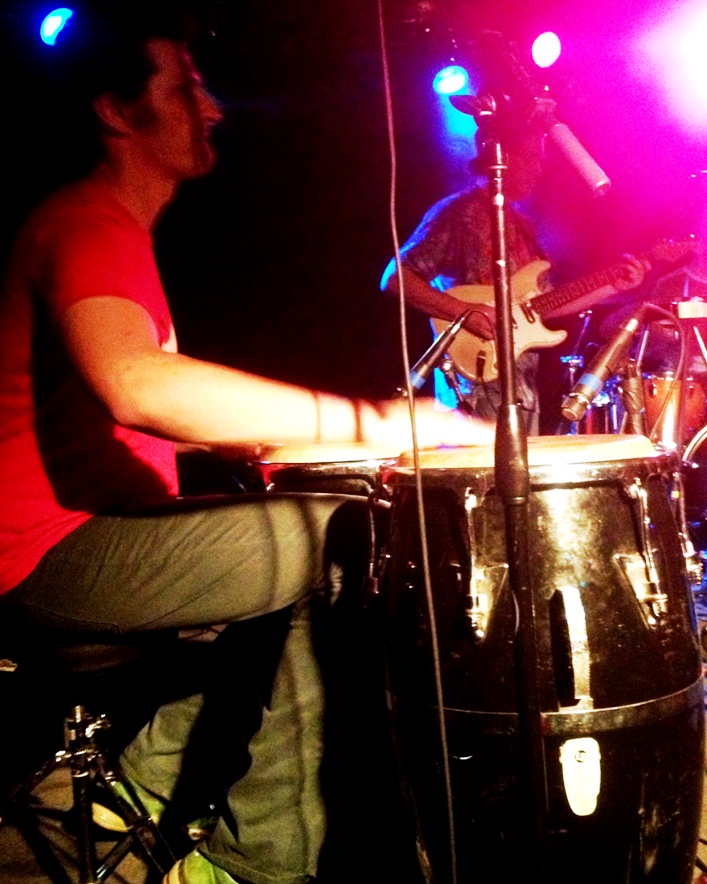 X-factor during the show, and they take turns allowing each to get some time in leading the band down a jam. But Butler is there to conduct. He manages roles throughout the show, not that this skilled of musicians really need it. They are completely selfless in the balance of powers. The conductor works to appease whoever throws out a good suggestion for the jam and lets them off the leash while he noodles on his board.
The very concept of The Everyone Orchestra is something special. Not only does it nurture unity in musicians, but also encourages fans of a certain type of music to explore and expand their tastes. With the lineup changing nearly every show, and the fact that the music is completely improvised, you can expect a completely different show every time you see them. Matt Butler has crafted something very special, and judging by the amount of artists willing to share the stage with him, things only seem to be looking up.
Check out Grateful Web's recent interview with Matt Butler.