It's 10:27 pm at The 8th Annual Festy Experience and I am sitting under the stage, directly beneath Mike Cooley's feet (of Drive-By Truckers), hacking away at my typewriter. The rain is falling, not strong but steady, and I need somewhere dry to write. The music is flowing through me, his boot bottoms stomping out a beat inches from my head.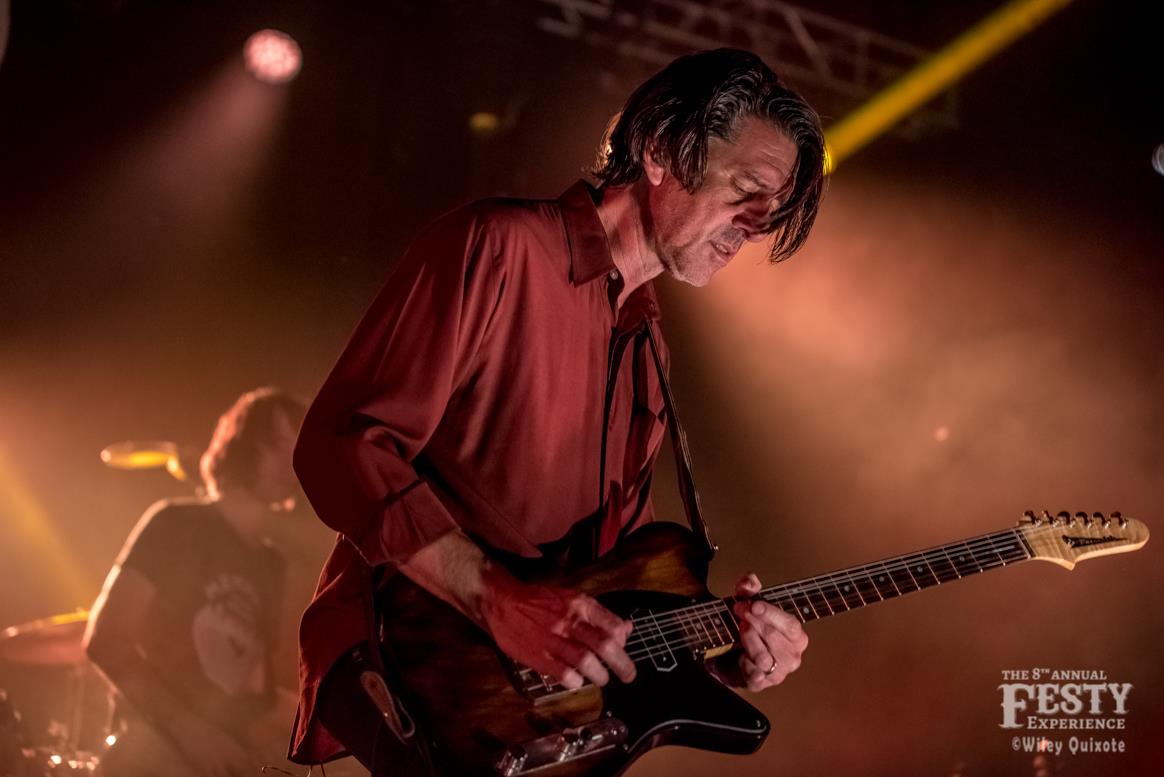 But I am way ahead of myself at this point. I better go back to the beginning. Or the middle at least.
In the end, it was a lucky thing I was there at all. I was supposed to be covering the festival for Grateful Web - my first time to write for a publication I have followed for years. Then the truck broke down. Then the part didn't ship. Then I find myself trying to rent a car from Enterprise on Friday morning with no insurance, no proof of residence, no proof of employment, and no major credit card.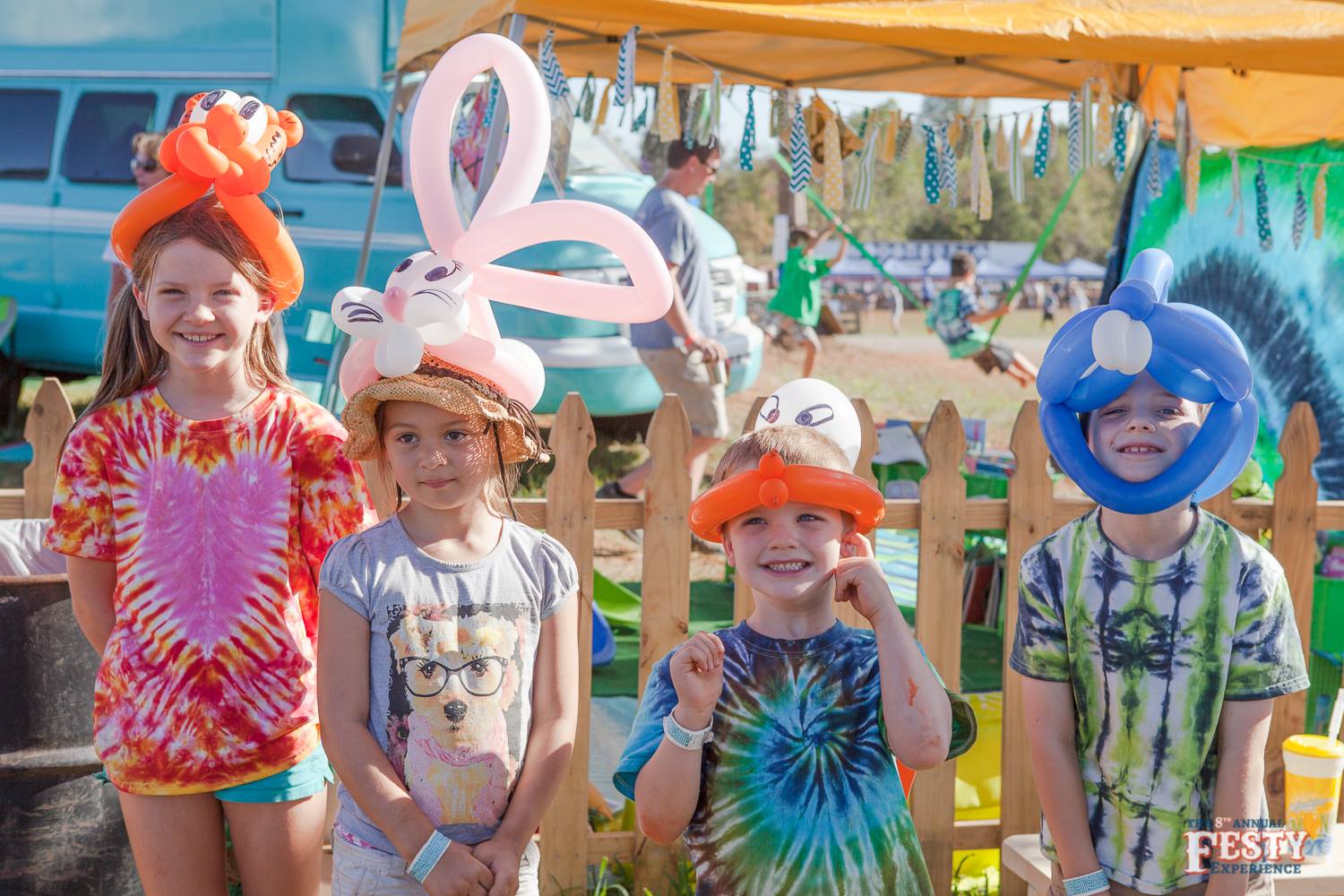 30 minutes later I am on the road in a little white Hyundai. With New York plates. To drive through the deepest red Virginia has to offer. The ride up is uneventful - mainly passing Trump billboards and giant rebel flags while driving 11 miles an hour under the speed limit. I am wearing my favorite tie-dye jumper and, in the words of Jane Kramer, "I ain't going to jail in this dress."
After six hours of driving and one particularly long hour shopping at a Walmart the size of Rhode Island, I arrive on site.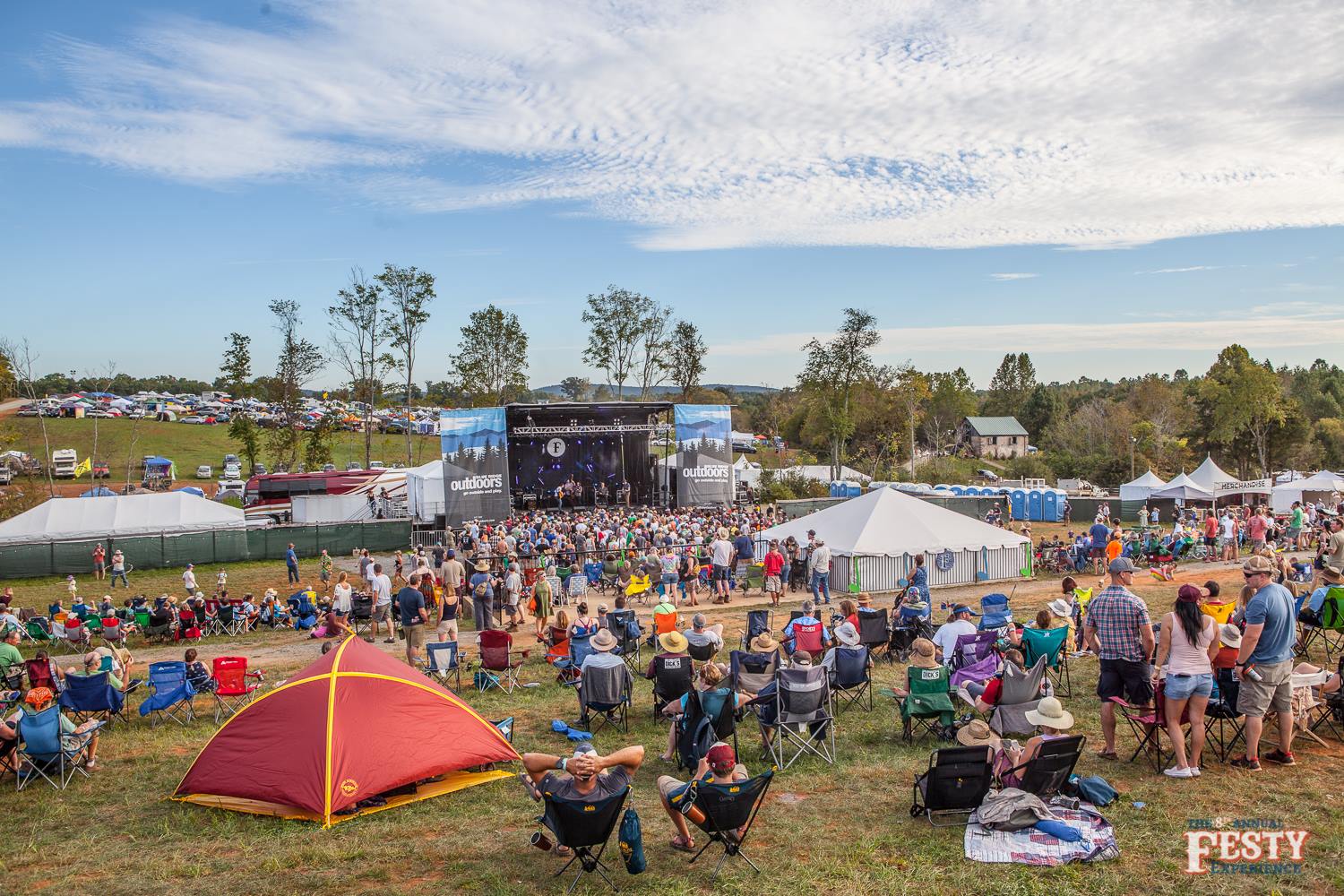 The energy is diametrically overwhelming. Like the feeling of crossing the Kansas state line into Colorado. And really, this may as well be there. The Infamous Stringdusters have never been accused of throwing lame parties, and this one is surely the best they have yet pulled off.
I get situated with the layout, find the media tent, and hustle to the main stage for The 'Dusters's  5 pm set. It takes about twenty seconds for the road weariness to wear off. The Dusters are masters of the feel-good-vibe, and the message of their music seems to be spreading to every corner of this beautiful venue.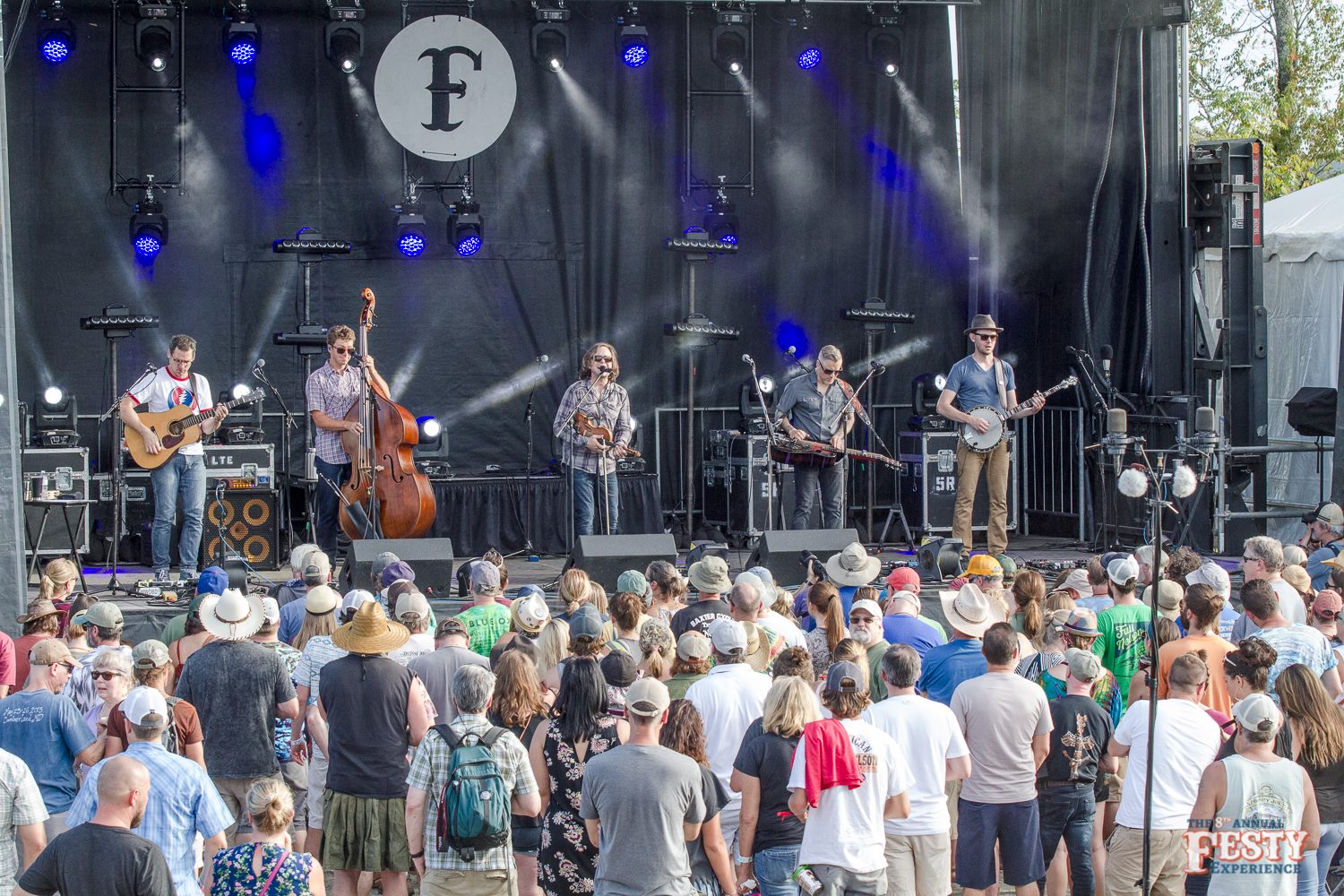 By the time they are done with their ninety-minute set I've already made about fifteen new friends and am feeling, even while not having known anyone on arrival, quite at home. The set ends, and I hustle back to my campsite for a little wine before my interview with JP and Pappi Biondo from Cabinet.
Despite the vibe, I am starting to feel a bit nervous. This is my first time covering a major festival, and it has to inform my agenda for the interview. I hope I don't ask stupid questions or focus on the wrong things. I hope the noise from this old 50's Royal Typewriter I am lugging along doesn't distract them from answering questions. I hope I don't fuck this up on the first night.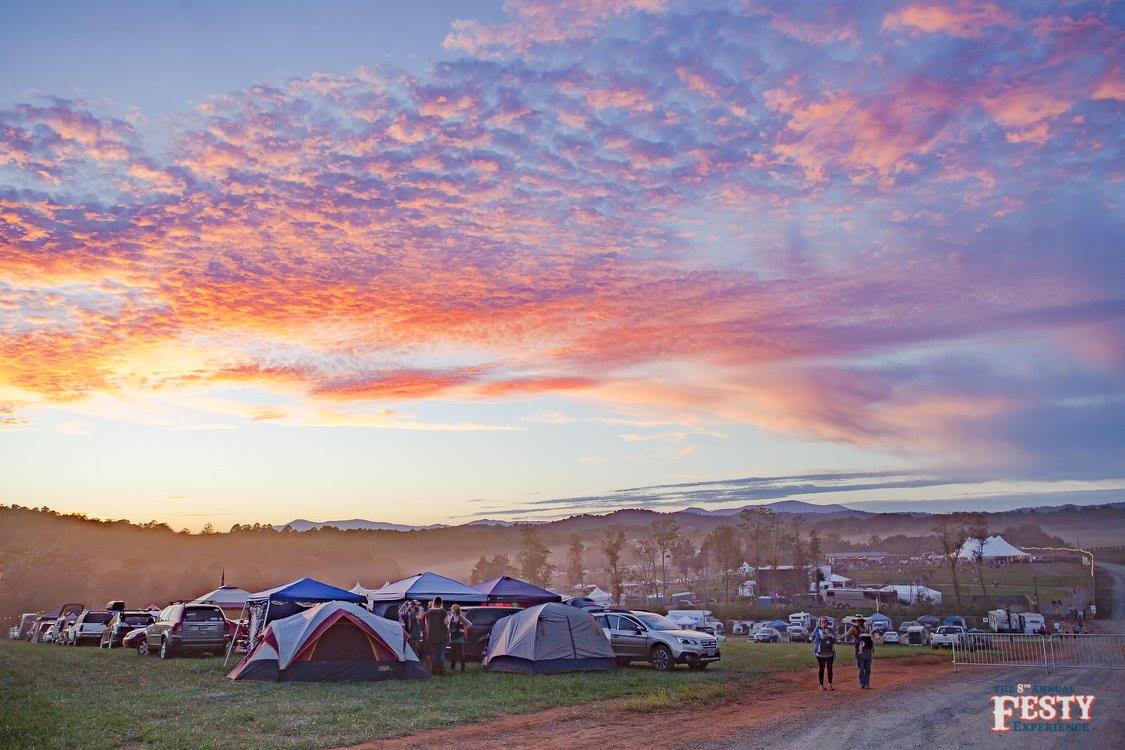 At 8 pm I meet them at their artist's trailer. I'm clearly anxious, shaking a little, having some trouble with the typewriter keys sticking. JP walks over to the bar in the corner, pours a double shot of Bulleit Bourbon and hands it to me.
"Here, drink this and then let's do the interview," he chuckles. Sager words have never been spoken. I down the liquor and snap back into it. My fingers go to work, and the interview quickly turns into a conversation.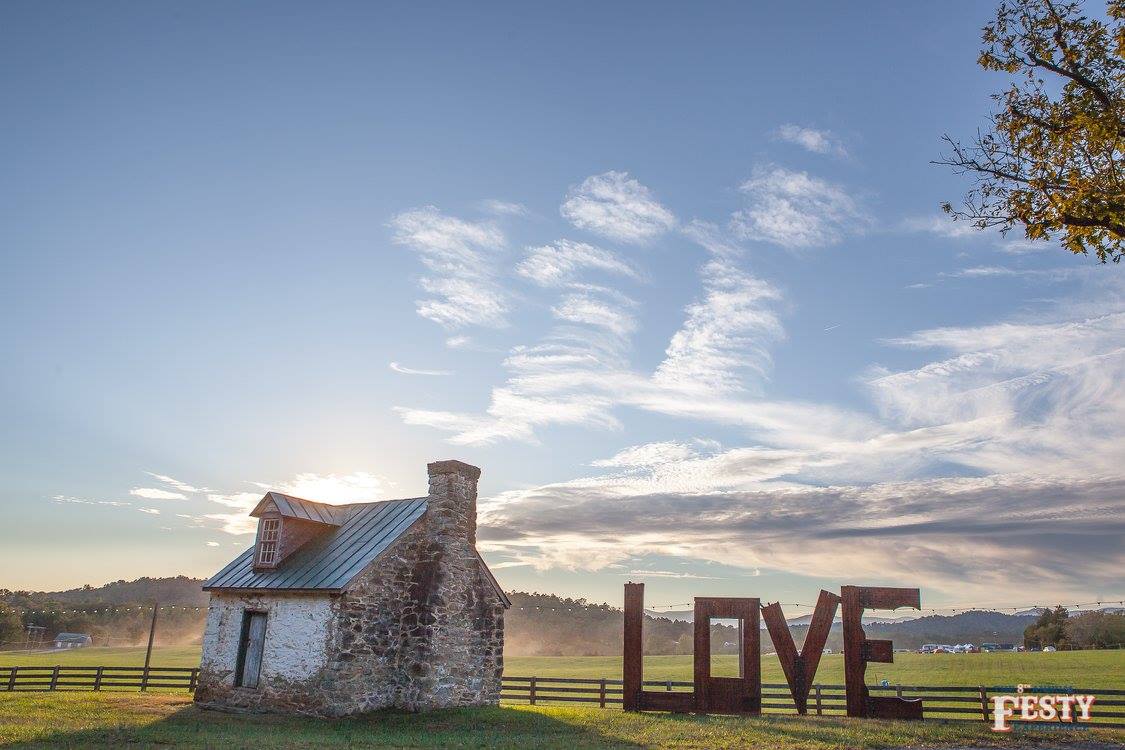 For a couple of guys that have played to sold-out audiences and at major festivals all over the country they sure are some genuine people. I ask them about what their favorite shows look like and Pappi's answer takes me back a little.
"I love playing the shows that are lightly attended," he tells me. "Those are the best ones, it's humbling to see those that come out and get into it." JP nods his head in agreement, and I miss the next line getting my typewriter unstuck.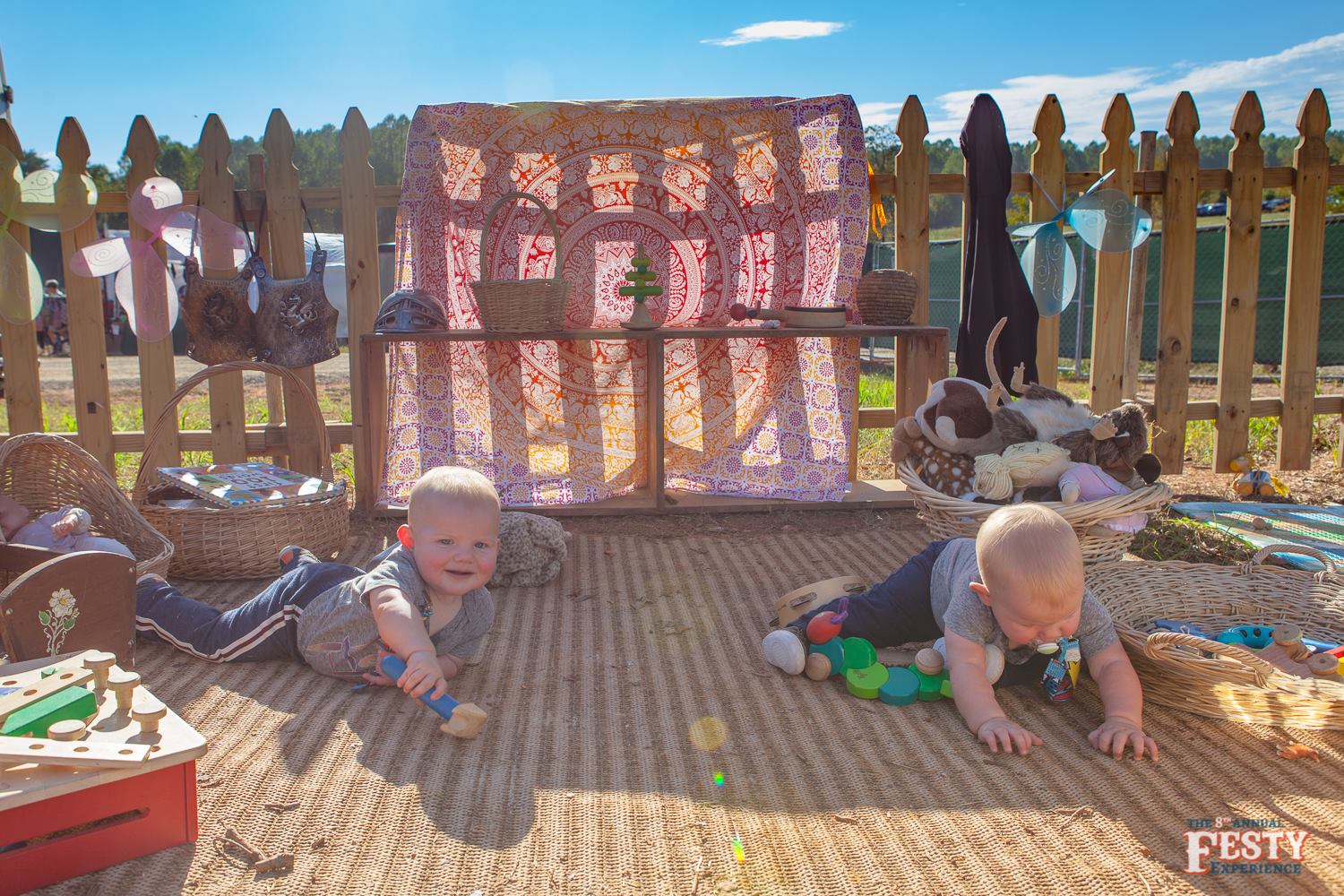 Truth is, there is a learning curve with this ancient machine. Each key must be pressed individually, no overlap, or the humidity will cause the damn thing to stick. Still, I am reminded of why I am carrying around this 40lb dinosaur later that night as I am sketching the scene from side stage at Cabinet's show.
They are playing the Skyline Stage, a tented stage that could not be more perfect for a late night, brain-blasting set like Cabinet is blowing through. The children from earlier in the day are snoozing soundly, a somewhat different crowd still dancing and hopping and screaming along. I'm trying to get it all down, the conjunction of some kind of darkness coming from Cabinet's music but being delivered with sincerity and love. This energy field of right and wrong, deep and shallow, yin and yang. Just as they take a turn, Chris Pandolfi on stage with them, into a masterful version of Catfish John, the ribbon on my typewriter mysteriously manages to pop off the teeth and wrap itself around every internal mechanism possible.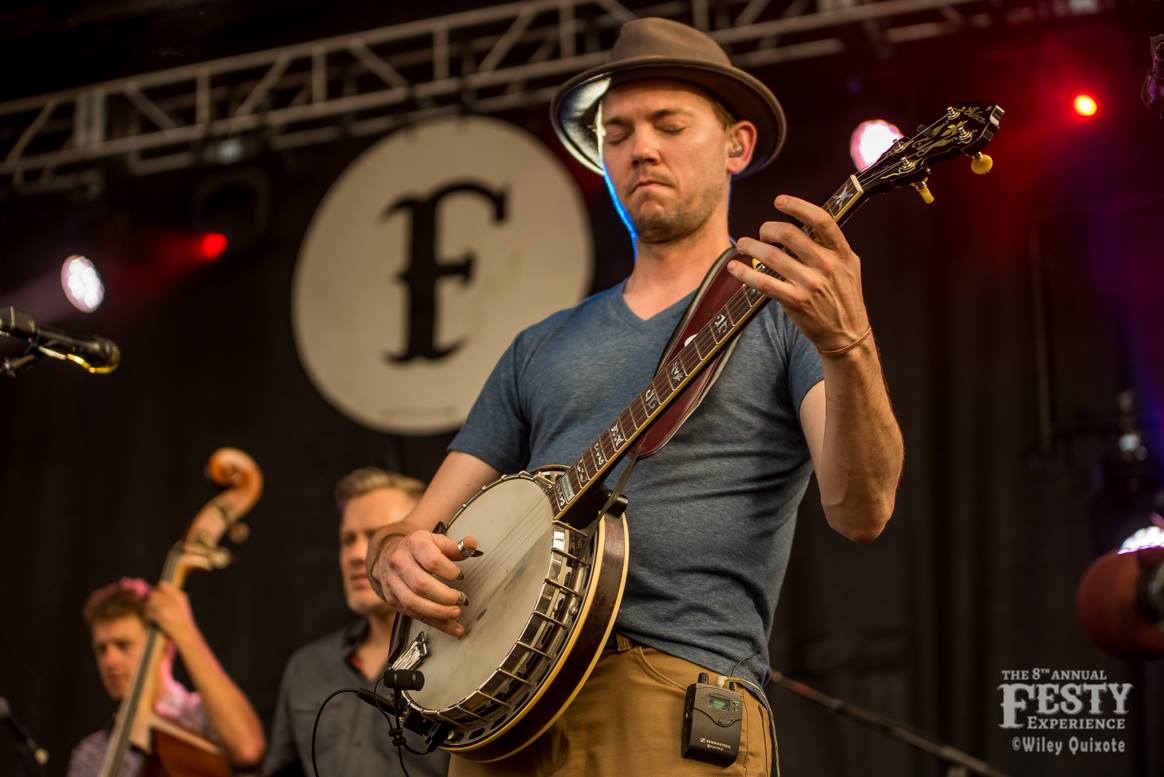 I lean over to one of the artists standing beside me and ask if he has a pocket knife. He produces a small wood handled piece, and I lock it open and set to work. I pop out both spools and dig out the ribbon. I replace the pieces and use the blade to slide the cloth back into place before using it again to wind the spools tight and lock them in place.
Try that with your MacBook sometime when it starts acting funky.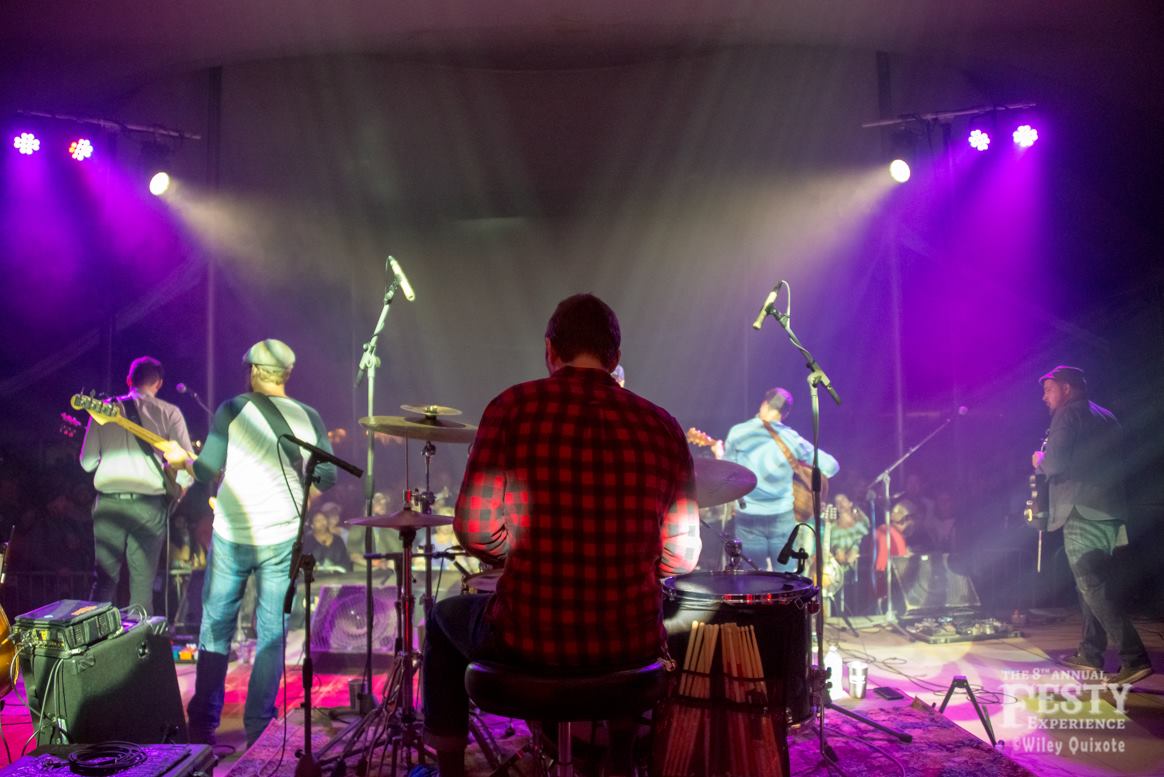 I slam the lid shut, close and pass the small pocket knife back, and try to catch the moment. How do you even begin to explain, how could you even start to speak of this to an outsider. To someone not experiencing what you are experiencing right now? To someone not flying high and feeling the energy of an entire crowd surging as one?
These are not just festival fans, these are Cabinet fans, singing along at the top of their lungs, drinks sloshing all over the heads of those around them. And this is clearly why Cabinet gets asked to play this festival year after year after year. Call them whatever you want to call them - Americana, bluegrass, rock-and-roll - they are rock-stars.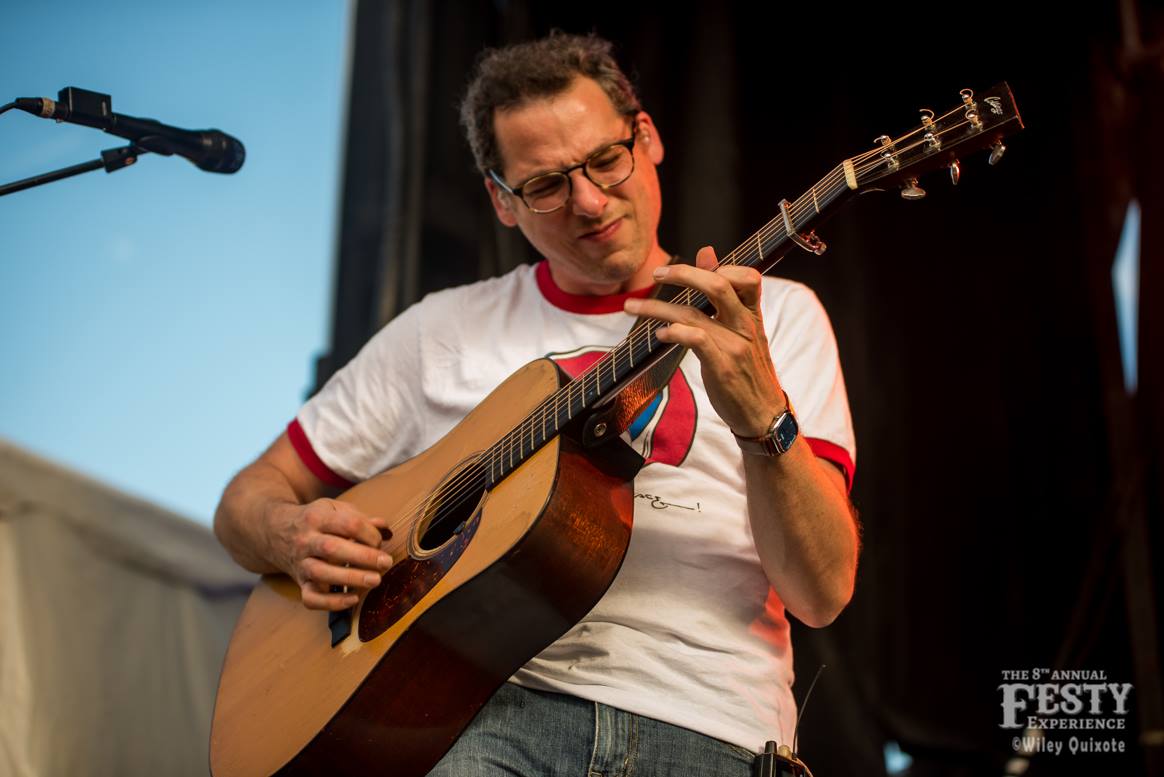 Saturday morning comes on smooth and gentle. It begins with Mimosas behind the Tapestry Tent and continues with Andy Falco at the Almost E-Town Stage. Talk about intimate! Falco is taking requests, playing songs from all over the place, and engaging in vulnerable conversation with the seated audience.
The reality is, every moment of this festival has clearly been scheduled thoughtfully and purposefully. You know how sometimes you listen to a new record, and it sounds like a collection of songs, while other times you can tell that the record, taken in its entirety, is really just one well laid out song itself? Festivals can be that way too, and Festy 2017 is, from start to finish, a masterpiece of a single-headed performance.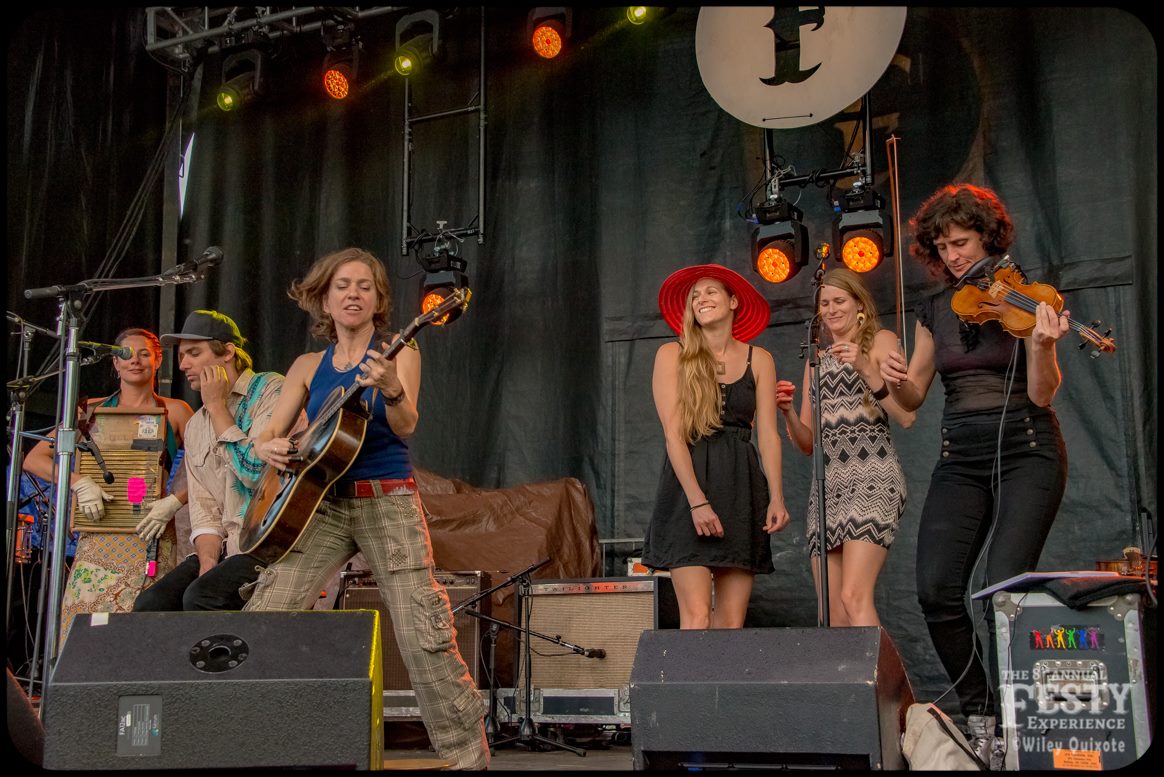 Falco finishes up to head off to a wedding, and I am eyeing the schedule for the rest of the day. Sarah Siskind and Elephant Revival are the only things left standing between me and my first ever opportunity to hear Ani Difranco live. Of the entire festival, this is perhaps what I have been looking forward to the most, but I am determined not to let that get in the way of enjoying everyone else. I catch the entire Elephant Revival set and it's outstanding. I love it when musicians play multiple instruments and each of them does. Perhaps the most eye-catching is Bonnie Paine on the badass washboard and saw. It is wistful and winsome and everything you could possibly want on a sunny Saturday afternoon.
After their set, I head back to my campsite to refill my wine. These festival prices are killing me, 7-bucks for a 12-oz beer, and honestly, wine seems more appropriate for Difranco anyway.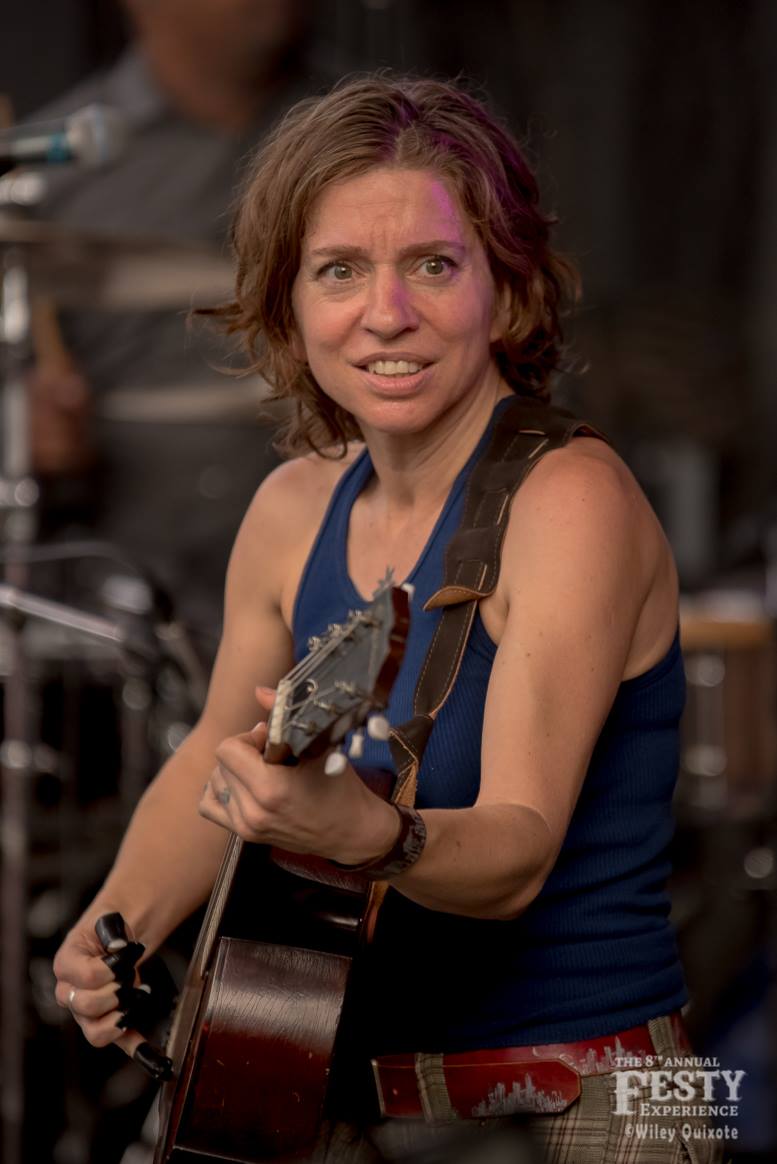 Making my way back towards the Blue Ridge Stage, thoughts collected, typewriter in hand the clouds begin to roll in and the wind to picks up. It is as if the weather, seeing the darkness that is approaching tonight with Ani Difranco and Drive-By Truckers, is doing it's best to match their vibe.
The crowd is running a little late assembling. Truth be told, in my wanderings and conversations around the festival so far I have been flabbergasted by the number of people here who know nothing about or of Ani Difranco's music. This is a grass-heavy crowd, but it doesn't take long. Just a song or two of Ani's voice, and even more-so her energy, and the fans come streaming down the hill to hear this icon perform.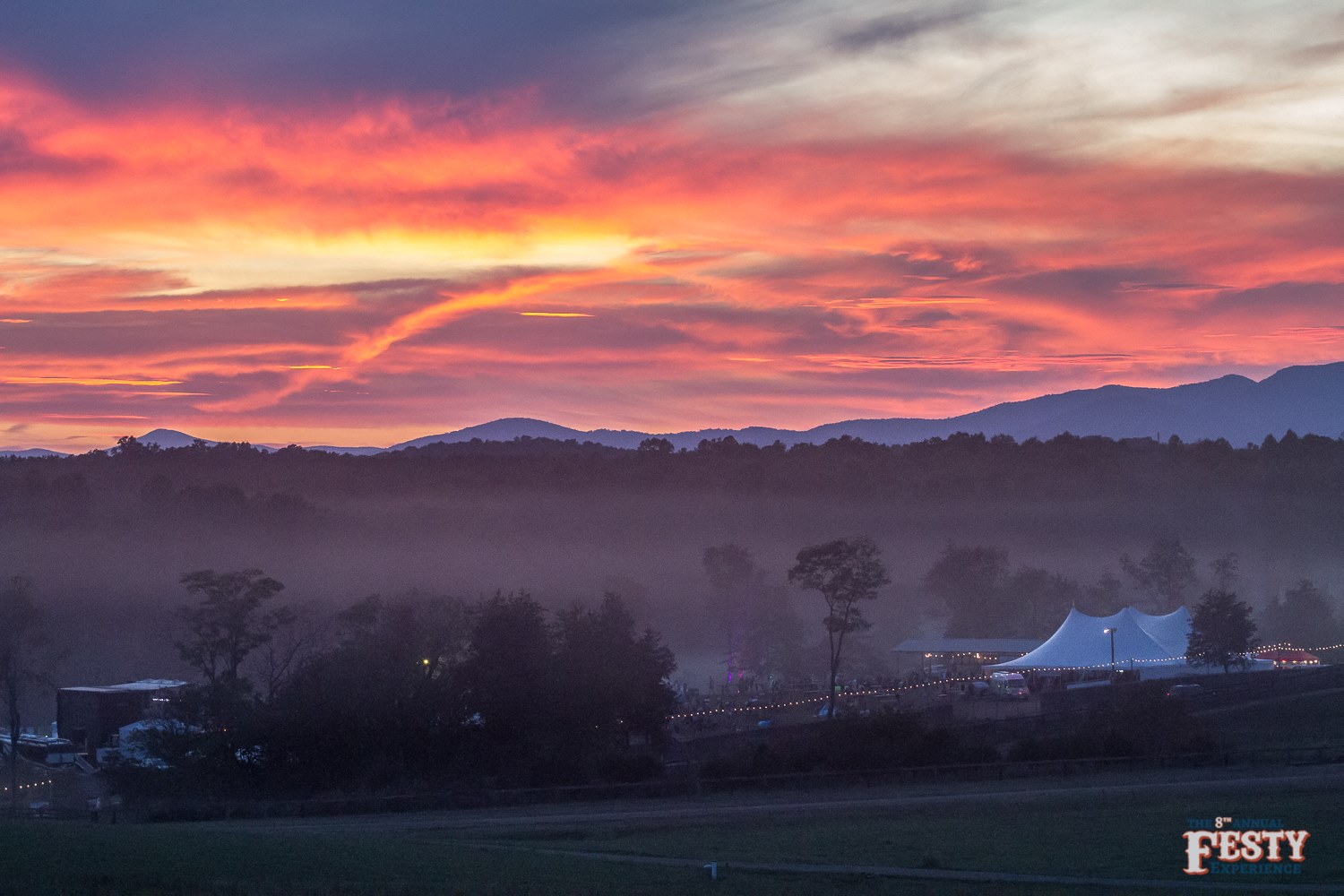 Here I am in the middle of a field, surrounded by fair-weather bluegrass dancers swaying under a stormy sky to the darkness of Difranco's soul worn proudly like a pendant about her neck. Job or no job I'm done typing. It's time to lose myself in the music.
With Ani finished up and off stage I find myself at a bit of a loss. Part of me wants to go revel with my new friends at their campsite, part of me wants to curl up in a ball and weep for all of the innocence lost. And let's be honest here, it wouldn't be the first time that I found myself crying in silence after listening to Ani Difranco. Just the first time live.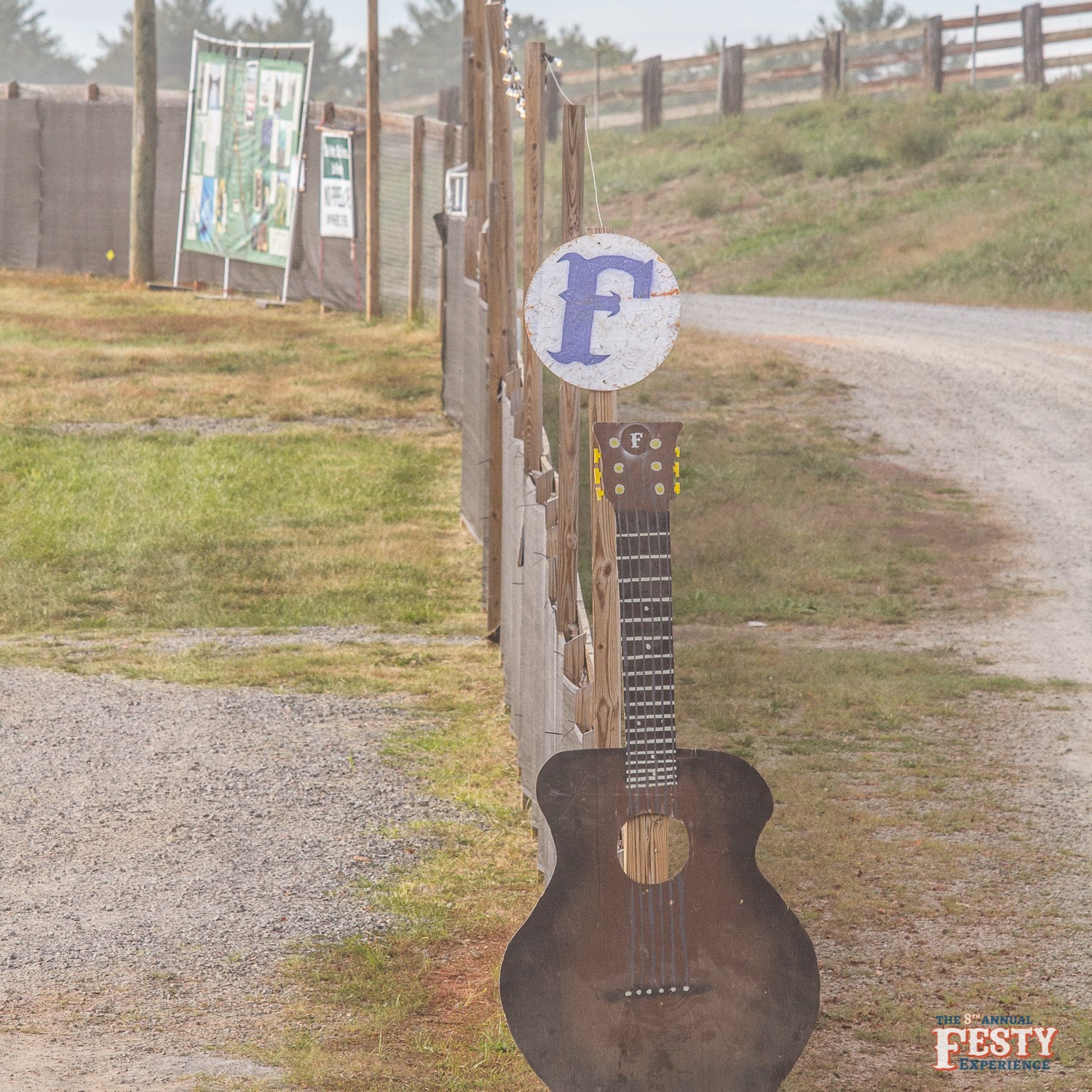 In any case, I decide to hoof it back to my tent for a little more wine. If I cut through the back by the media headquarters, then I should be able to fill my cup and get back for a full set of The Traveling Mccourys.
I hustle to my car, texting old girlfriends from high school along the way to tell them I finally saw Ani. On my way back, approaching the stage from the backside, I can hear that The Mccourys are already on. Then I round the corner.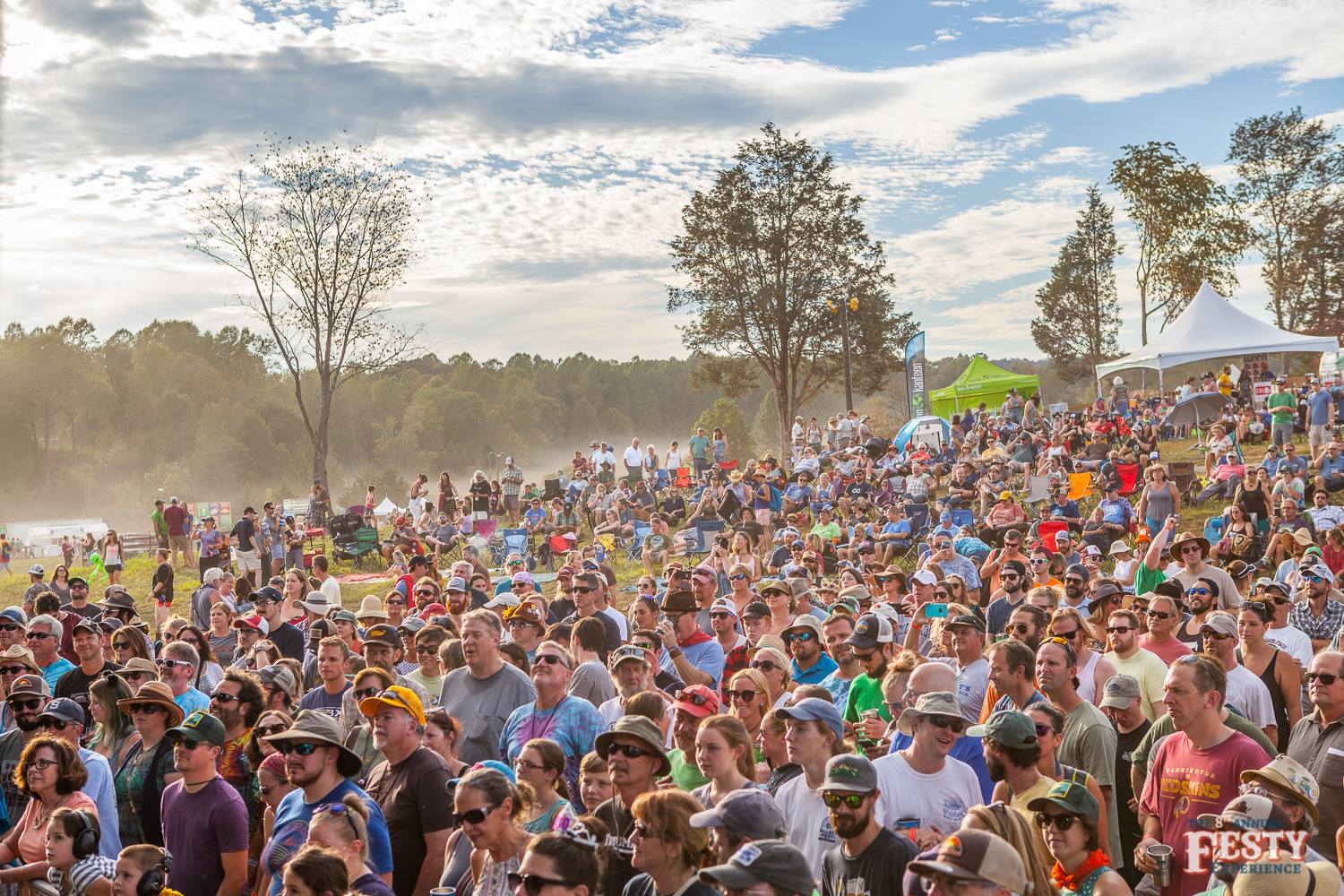 Holy shit. Talk about drawing a crowd. The inside of the tent is something else. The rain has stopped, but everyone wants to be as close to this stage as possible. And why not? Only a few songs in and they already have their grass machine running like a freight train.
The crowd, which has been gathering over the course of the weekend, seems to have reached its zenith, and The Mccourys are the perfect segue from day to night, from family to party, from protest to jubilation.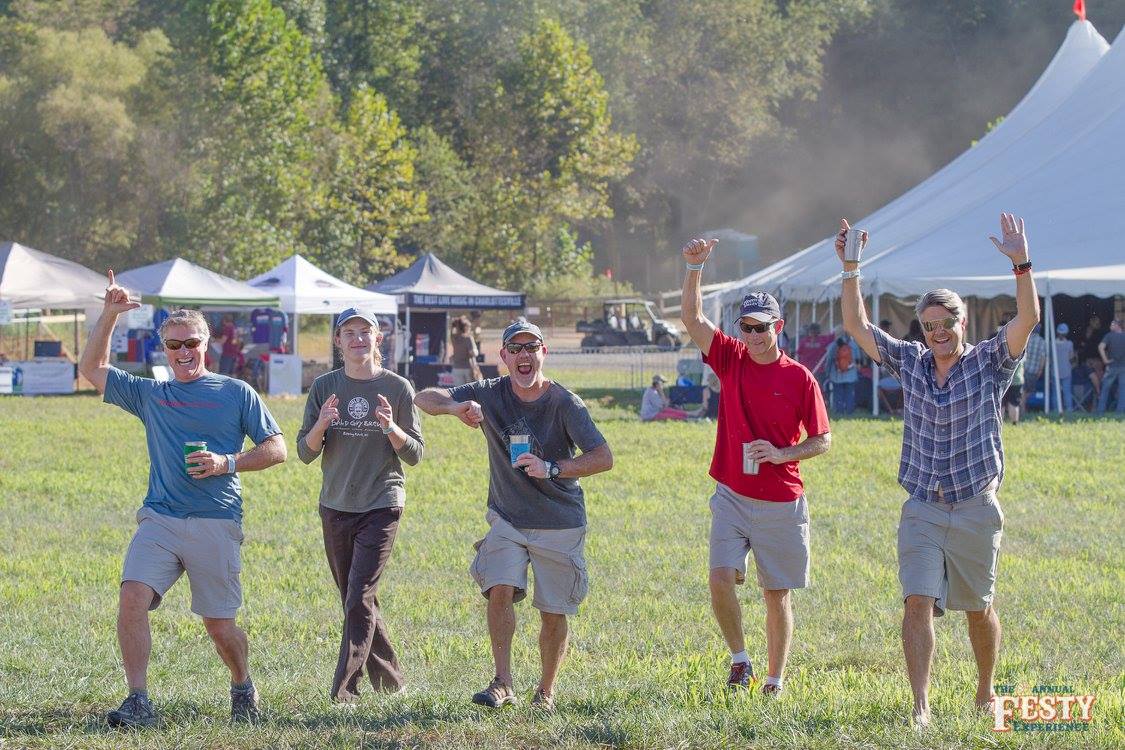 The smell of marijuana comes to me on the wind, and I think back on the cool breeze I was dancing with at Ani. This outdoorsy looking little blonde I met through friends of friends of people I had known for less than 12 hours. Completely engrossed in Ani's forcefield we had shared some beautiful moments. And some spectacular hugs. Hugs that got me higher than any drug I have ever done.
But The Mccourys aren't leaving much room for daydreaming up there. I close up my typewriter and head out into the crowd to dance. I finagle my way through until I am just a few rows back, dead center. It's nearing the end of the set, and they decide to toss us an extra special treat in the form of a few Dead songs.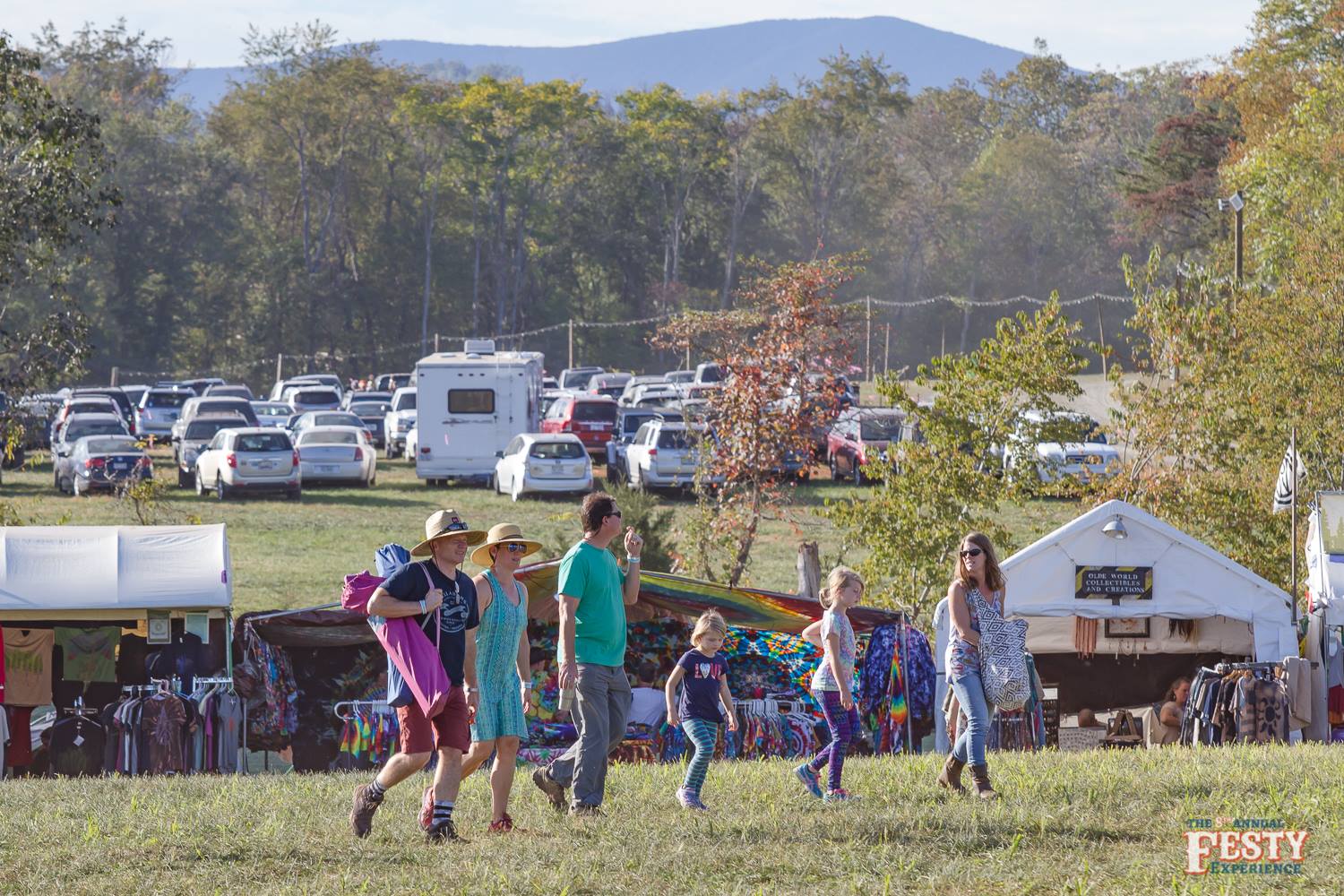 After a blazing Brown-Eyed Women they surprise us all with an inspired version of If I Had the World to Give. I'm losing my shit, and the woman beside me smiles and leans in, shoulder to shoulder with me, sharing my energy and returning some of her own. She is beautiful, white silk shirt, crimson dress, moccasins. When the band heads into Loser>Other One>Loser, I ask if I can spin her around a few times.
Next thing you know the whole center of the crowd has become one big contra-dancing pit. I dance with her, with a younger woman with a backward cap and ripped jeans, with a large man sporting an even larger beard, and then with an older woman who really knows how to step.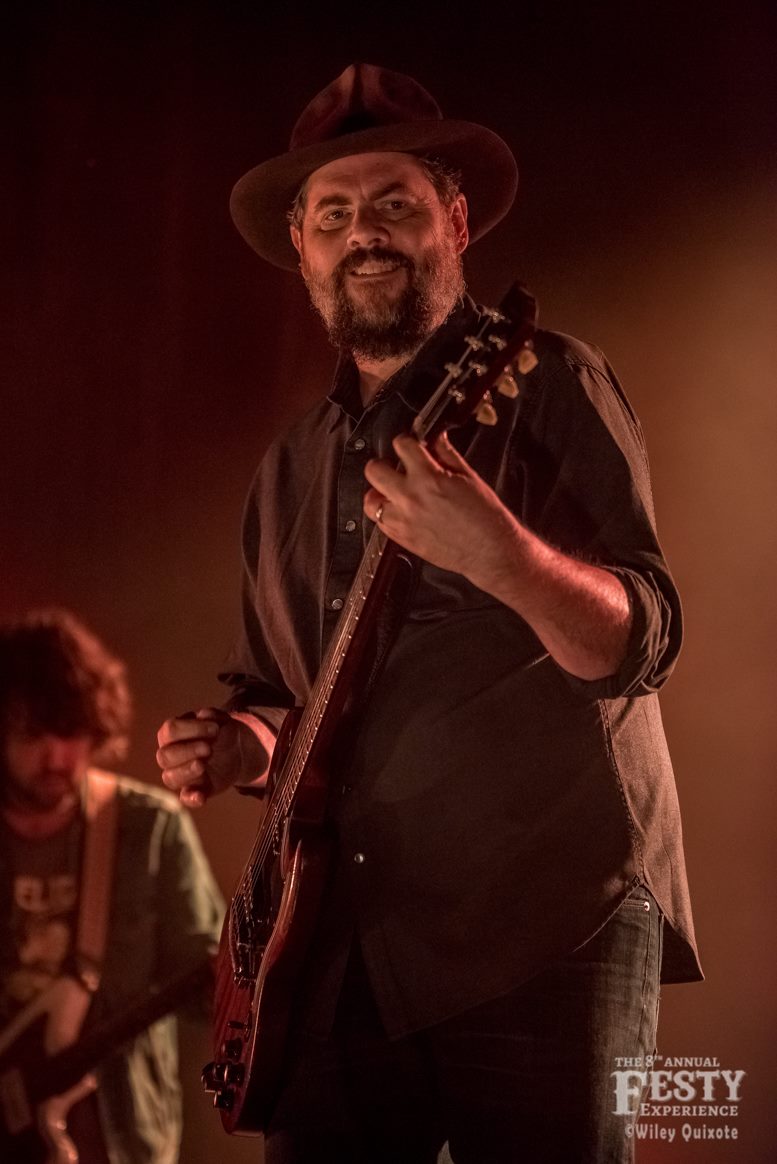 When the set is finally over, and it's time to hear The Drive-By Truckers for the first time I can't help but wish The Mccourys had time for just a few more songs.
So here I find myself, 10:27 pm at The 8th Annual Festy Experience and I am sitting under the stage, directly beneath Mike Cooley's feet (of Drive-By Truckers), hacking away at my typewriter. The rain is falling, not strong but steady, and I need somewhere dry to write. The music is flowing through me; my head inches away from the bottom of the boots that he is stomping out the beat too.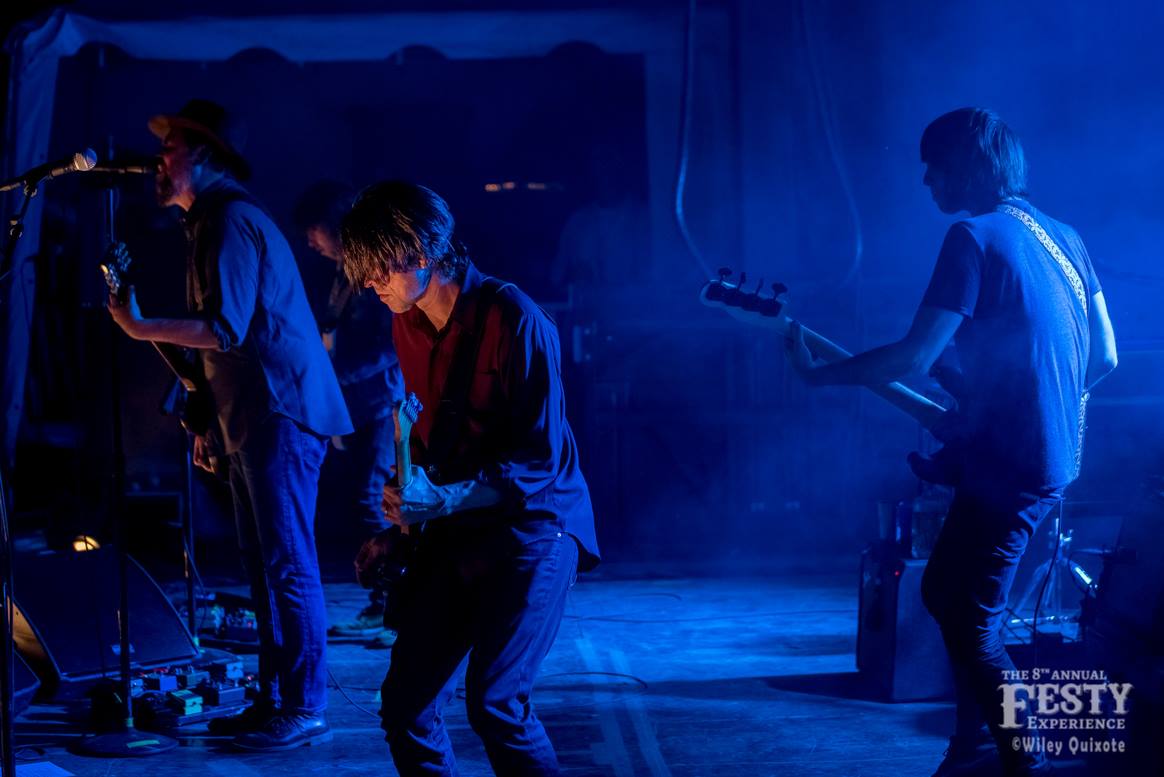 This has been one hell of a festival, and more still to come, but for now, I am trying to recharge through osmosis. The Drive-By Truckers are something else, like Widespread Panic buried in a mine-shaft for 20 years and then played without first cleaning off the rust and mud and grime. It's not my jam, but it's perfect at the moment.
I turn off my flashlight, close up the typewriter and head back out toward the front. They only have a few songs left to go, and I want to get a jump over to the Della Mae tent. As I make my way through the audience and towards the Skyline Stage, I notice the young blonde with backward hat and jeans on. I ask her what she is up to and she says she is just about to ramble a little.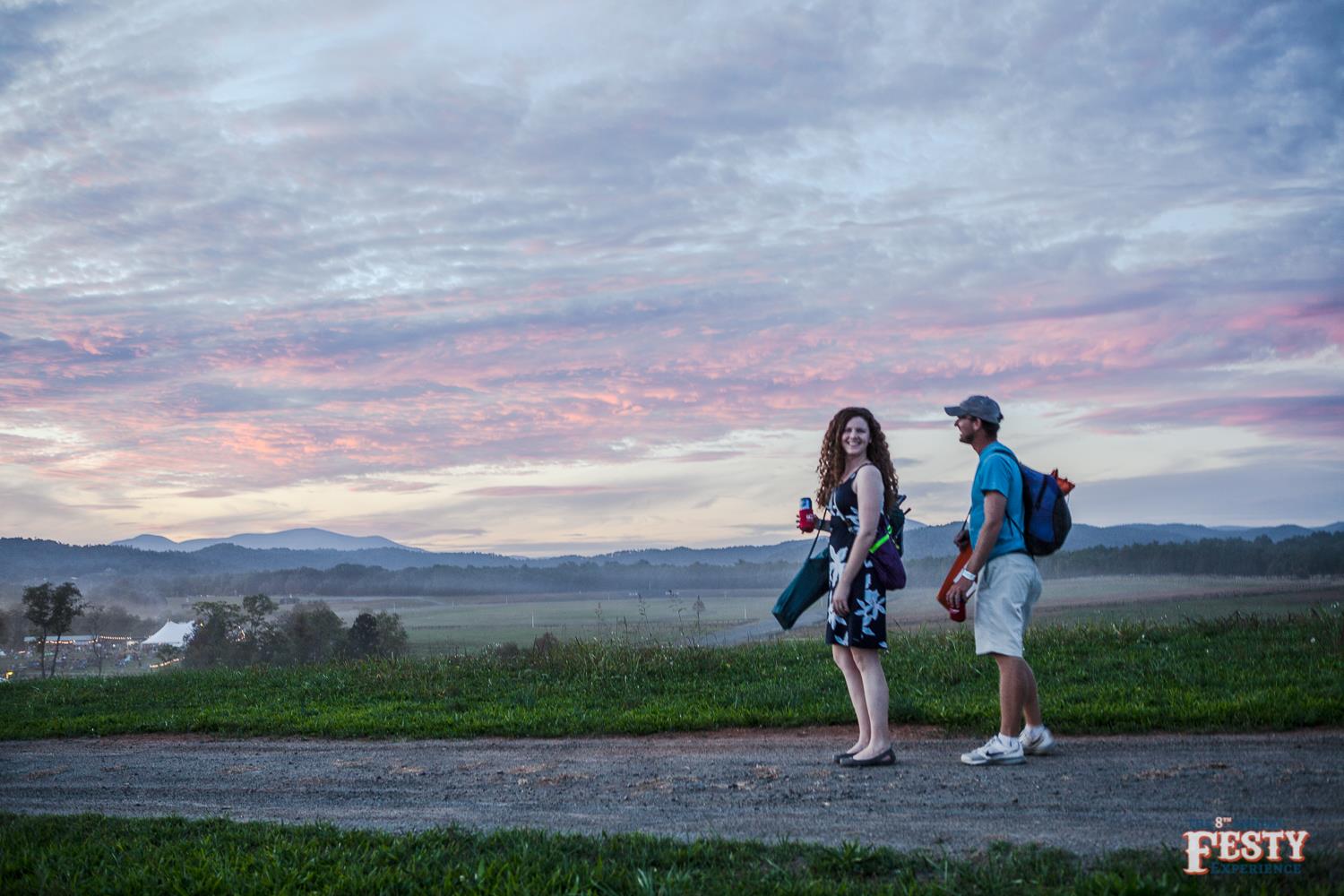 Call me Ramble On Rose I guess, cause that sounded like a pretty good time to me as well. We swing by the slack-line park, the corn-hole development, and make our way towards the fire. We munch on some paper having no money for beer and then decide to cuddle a little. The ground is sloped just so, and as we embrace, she decides to move.
Never the one to slow someone's roll I follow her lead and there we are, names not even exchanged as of yet, careening down the hill in a giggling embrace. We finally come to a stop against the pole of the Tarpestry tent and decide that the most prudent course of action at this point would be to run to my car for wine and smokes before Della Mae's late night extravaganza.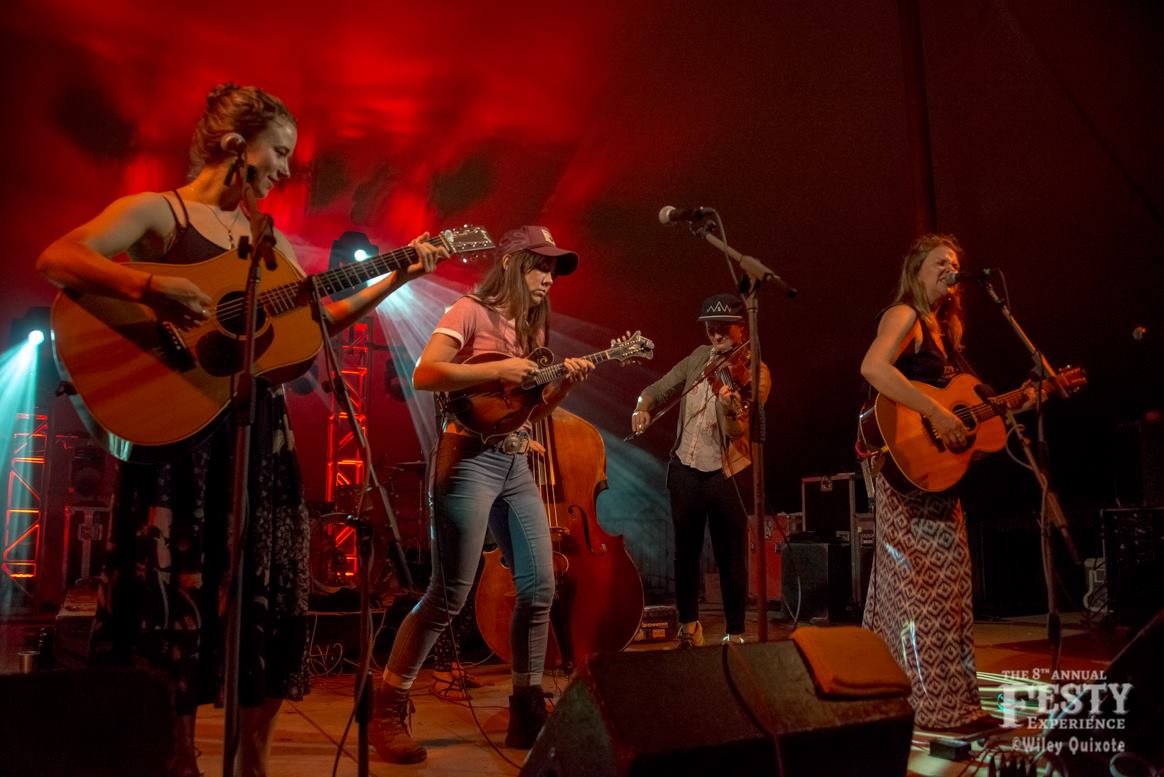 I sneak her through side stage to get to my car more quickly as, with DBT still playing at Blue Ridge, the area is completely empty. What I don't count on is what it is going to look like when we come back through. By the time we return Della Mae and just about every other performer still at the festival is packed into the area we have to get through to get back to the crowd. I let go of her hand, don't want my bosses knowing I brought her back, and quicken my pace. When I get to the gate I turn around to see if she has friends she is looking for but she is long gone.
It takes a few moments, but I see her in the corner talking up Chris Pandolfi and Andy Hall. I grab my typewriter and head off into the night to enjoy the jamfest that Della Mae has planned.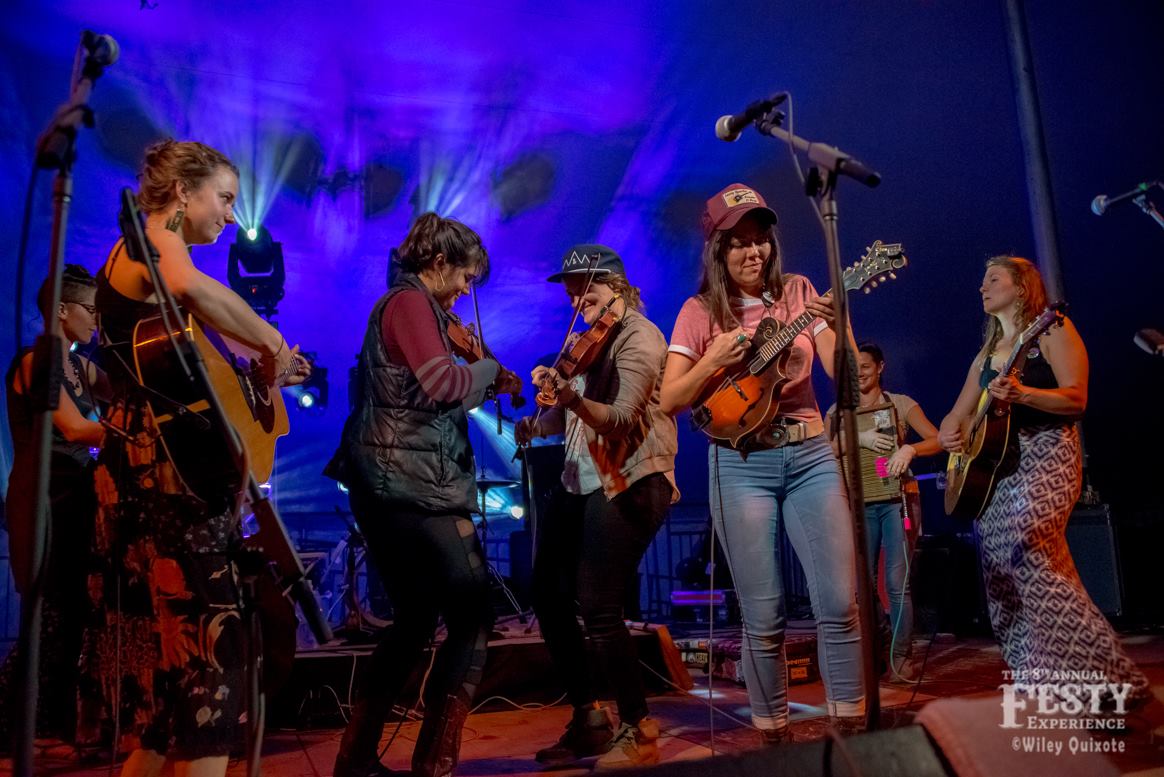 Della Mae plays with about half of the performers from the festival in what turns out to be one of the more legendary shows I've been to. As it ends and I begin to collect my things, and there she is, the same girl, still back stage and still making friends with the musicians. On a tip from a friend, I grab her, and we head back to the artist's area to see what is going on back there. Word is it's about to be a campfire jam for the ages.
We sit on picnic tables under a tent while Erin Lunsford, Andy Falco, Kimber Ludiker, and Carl Anderson jam together. We smoke cigarettes, catching each other's eye from time to time to share a smile, a knowing look, or a nod. These are some of the best musicians in the world just doing what they do. No audience to speak of, no money or fame to be gained. Music and laughter and camaraderie are in their blood, and even at 3am, they can't quit.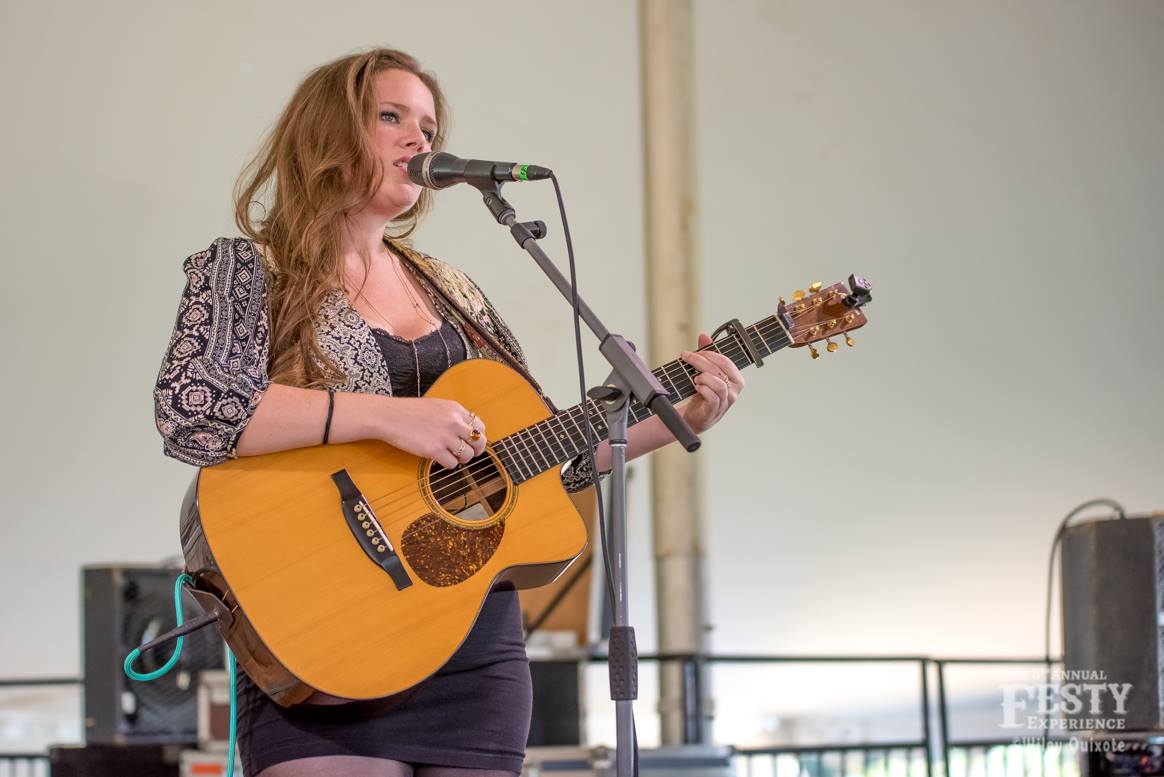 Sunday morning comes on hard and jagged. I wake up in the back of my Hyundai Elantra, and it takes me nearly 15 minutes to unfold myself into a standing position outside of the car door. I wish I had my damn truck right about now, but I don't have time to wallow. I'm due to interview Emi Sunshine in under an hour.
I brush the gopher bones and do the best I can to wash my face from a water bottle. I power through a banana and a few handfuls of Cookie Crisp before heading towards the festival proper in search of coffee.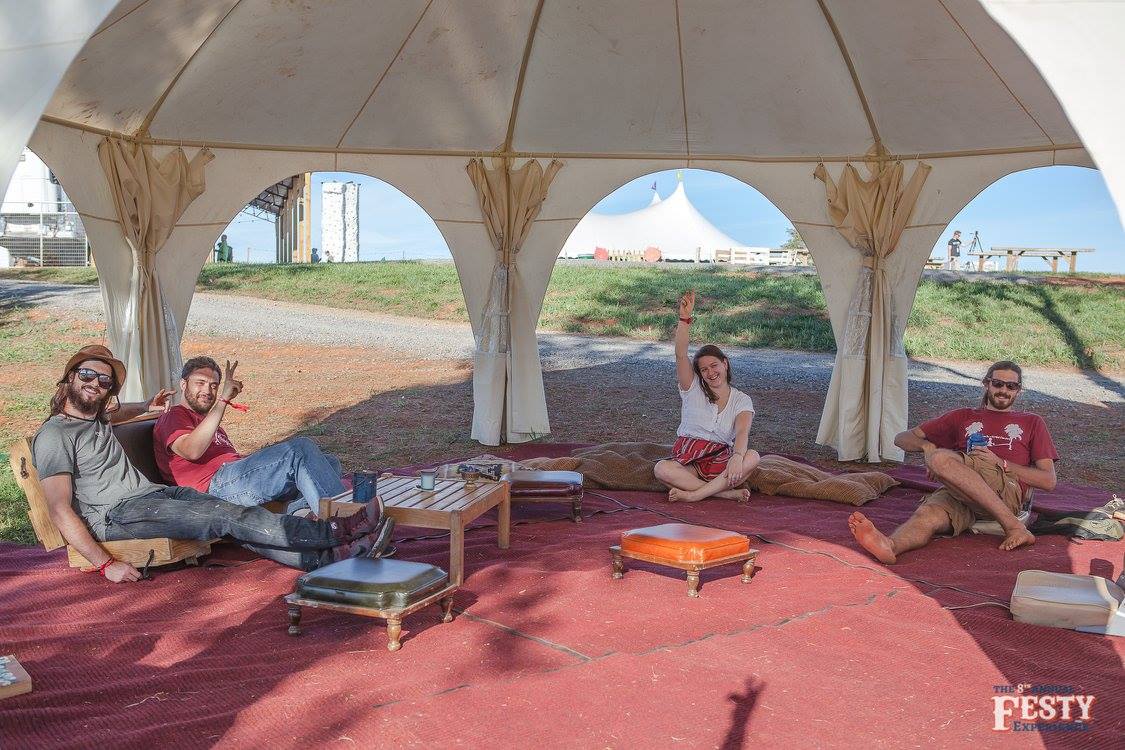 I'm nervous again. I've never interviewed a 13-year-old superstar, and I'm not sure what to expect. My fears are quickly put to rest as I find a world-class musician with the mind of a full grown woman and the heart of a child. She gives carefully worded, well-crafted answers to my questions while playing with a ball of slime.
She tells me that she chooses to produce her own music because she likes to have control over the final product and that the worst part about recording is the early mornings. She talks about her five turkeys, two peacocks, hedgehog, dwarf hamster, cats and dogs, and chickens. She tells me that her favorite thing about music is "When you feel in your heart, and then it spreads to your whole body and then to the audience."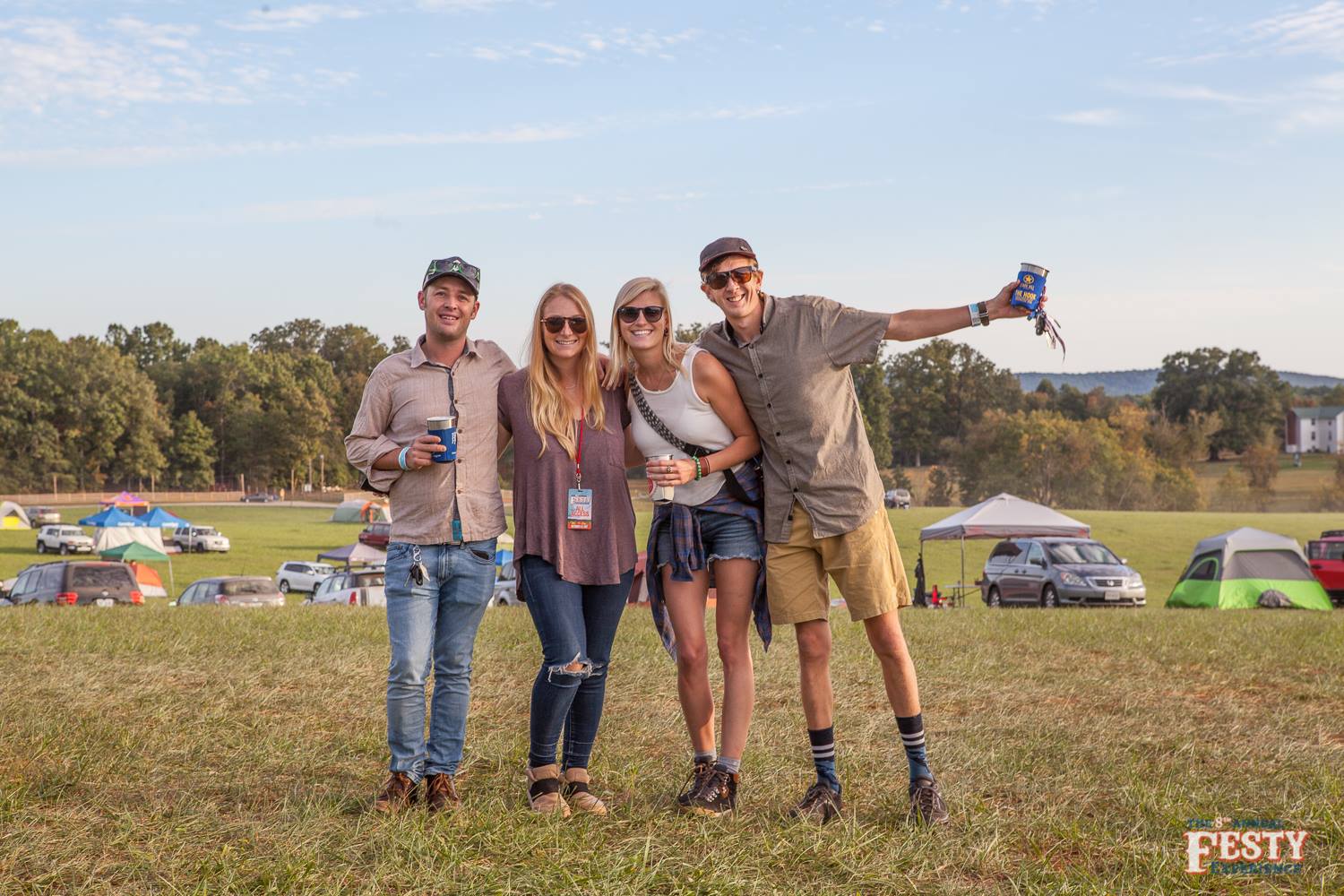 If this had been a phone interview, I would be certain that I had spoken with one of her managers. Talk about a class act.
Once the interview draws to a close, I head on back into the festival to see what the Tarpestry guys are up to. We drink some beers and write some dirty limericks, it being no-filter Sunday and all. There has been a schedule change and instead of Joan Osborne at 2:00 it is going to be The Shook Twins. I had caught part of their set at Almost E-Town and am interested to see their full show.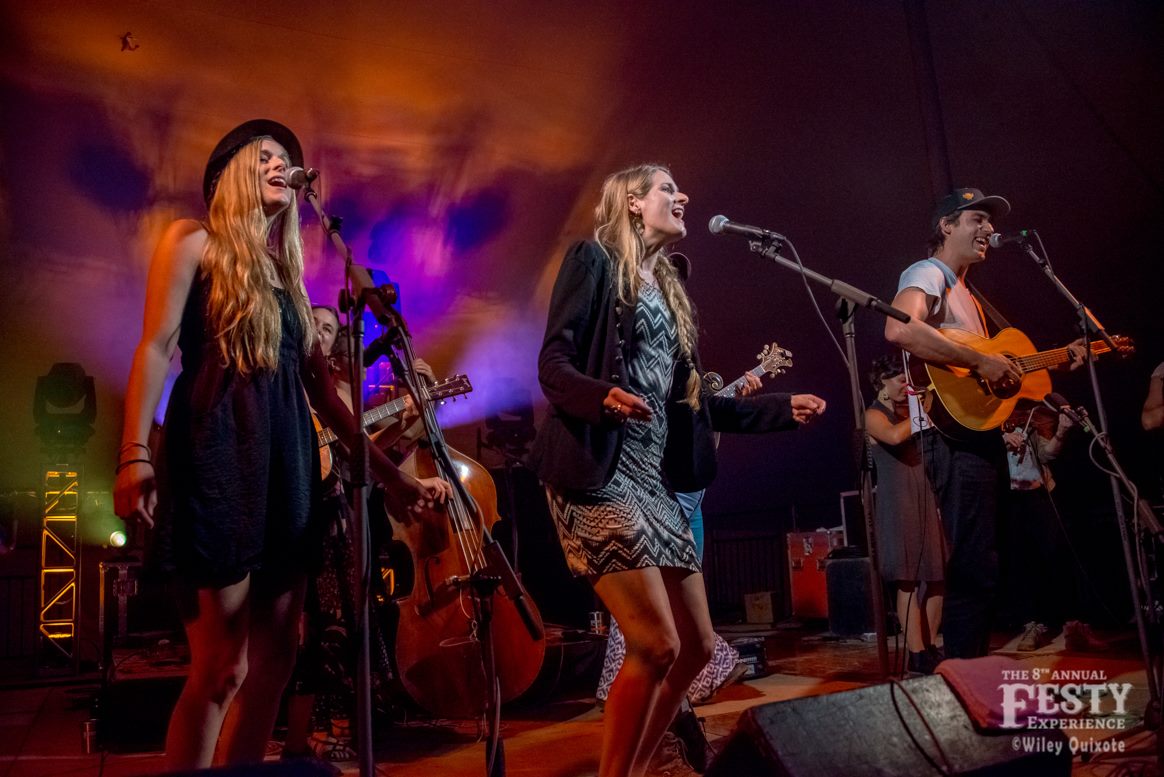 So now, let's have a little chat about The Shook Twins and their golden telephone. This band from Idaho really has something going on here. Like Elephant Revival the musicians are constantly switching instruments, and the Shook Twins themselves are masters of their best instruments, their voices. They use a golden telephone to distort their voices on certain songs, toss a giant egg into the air for percussion, and stomp and pick their way through a moving, powerful set.
I'm trying to get all of it down on paper when they launch into an impeccable version of Son of a Preacher Man and I, myself being the son of an evangelist, can't help but join in the dancing. When the set is done I head to the campsite to collect my thoughts, write some poetry, and save up just a little energy for the rest of the evening.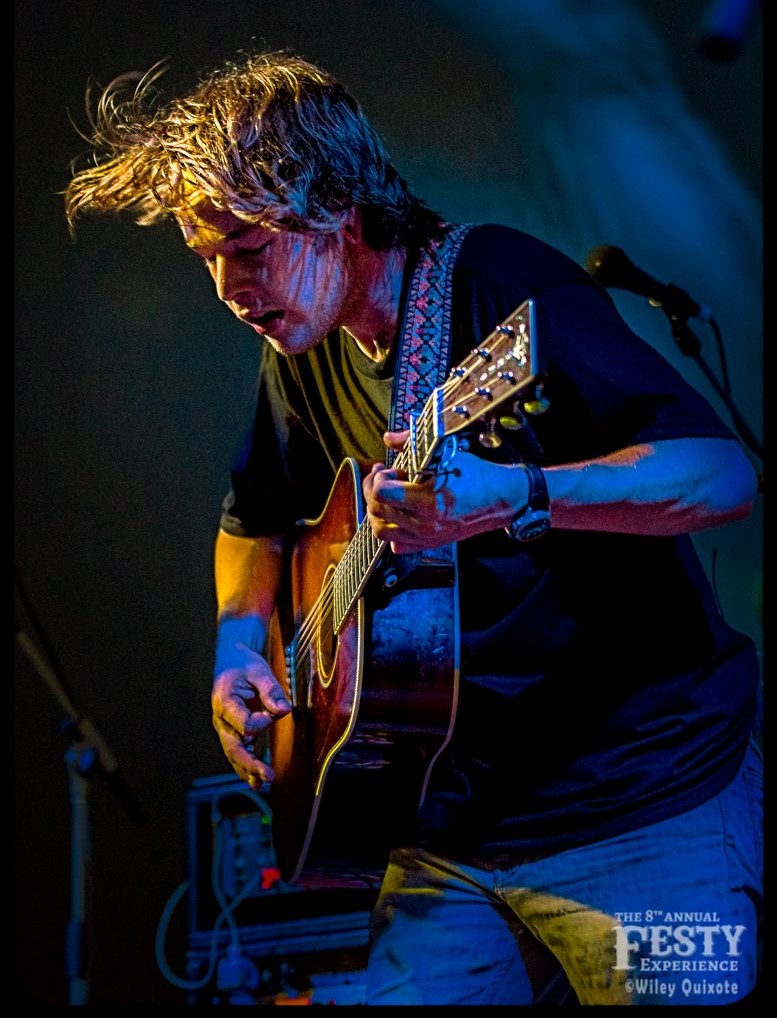 The 'Duster's have their only night set of the weekend coming up and, after that, some guy named Billy Strings is going to be closing the festival out.
There are very few things that make me happier than listening to The Infamous Stringduster's live. Not a swimming hole, not getting paid, not even sex can make me feel the things The 'Dusters do. As I walk back towards the main stage, night having just fallen, I can see that we are in for a treat. The rain that has been popping in and out all day is beginning to clear, and in its place is a light, low-lying fog.
The lighting guys are getting everything perfect at the Blue Ridge Stage, and from a quarter mile away I can see lights cutting through the evening haze like lasers. As Love Canon finishes their set of 80's bluegrass mashups, I make my way, with the rest of the crowd towards the main stage. A few hundred yards away and the first notes cut through the misty mountain air.
Everyone is tired, but no one gives a shit. We dance barefoot in the mud with reckless abandon, losing ourselves to the music of one of the greatest bluegrass bands of all time. There are hoops and glow sticks and trip whips. There are mini-mosh pits and contra dancers and hippies spinning with abandon. A few women, feeling the lawlessness of the last few hours of the festival, do away with their tops. I tie my dress up to my thigh so I can dance with my knees.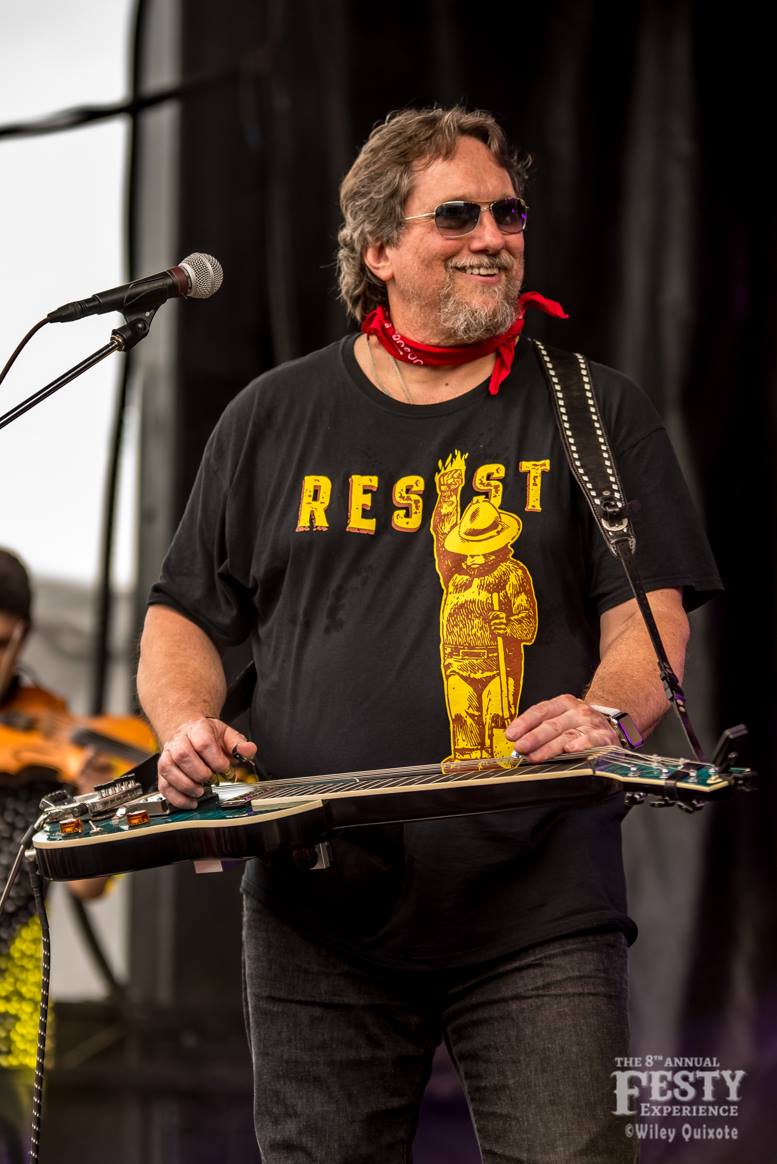 I feel like, if there is a god in heaven, then this right here is why we exist. Moon in the sky, the earth under bare feet, bluegrass floating on the cool Virginia breeze. The 'Dusters, who have been playing all weekend long, have saved a little something special for tonight.
I pull out my typewriter and set it down right in the middle of the dancers, borrowing glow sticks to light the olive green metal keys. This is the secret stash. The jar you keep under your bed in the back room until the party has died down and it's just your best friend, his girl, and the woman you have been hitting on all night.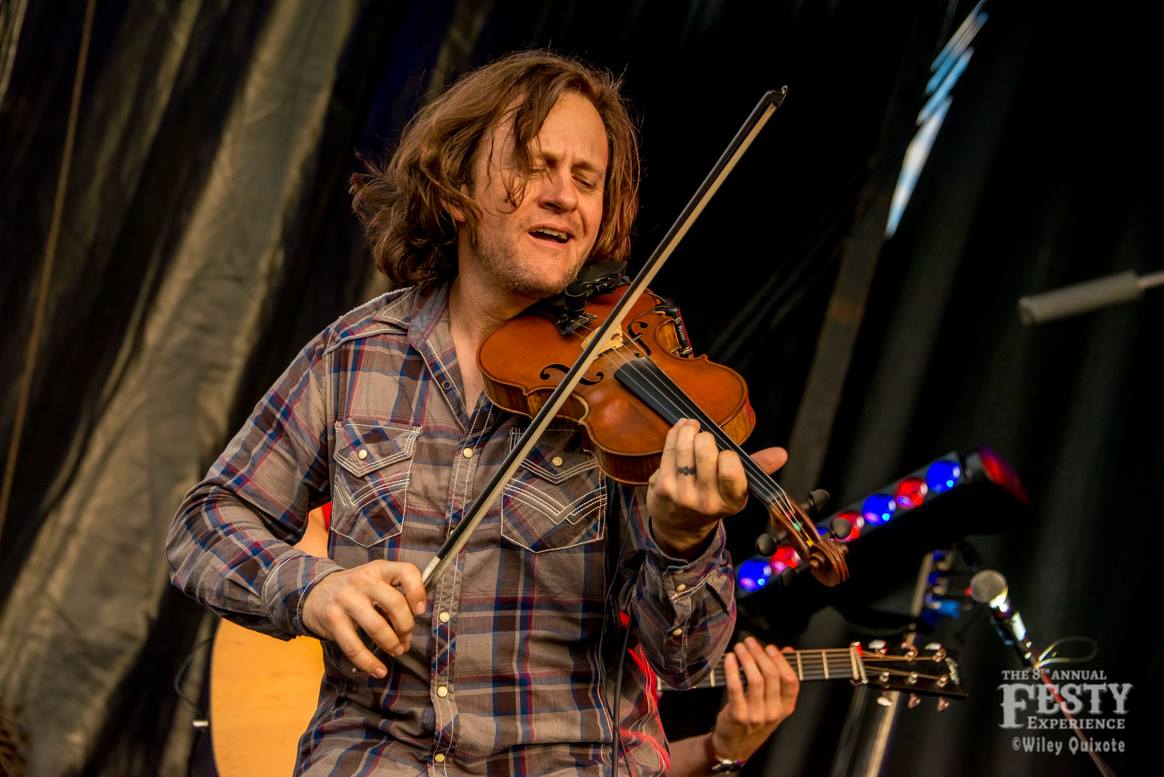 Before I can even finish typing the words as if through some sort of ESP, they launch into Phish's Stash.
When The 'Dusters finally draw to a close Billy Strings takes over at the skyline tent. A whirling dervish if ever there was one his outrageous picking finishes the job for the festival, destroying whatever part of our brains we may have left.
When he is done the crowd chants for an encore, and he obliges. Then another. Finally a third. With the sound shut off and the security ready to clean up and go home he steps off of the stage and into the hands of the waiting audience. There he plays one last song, acoustic, to send us all on our way.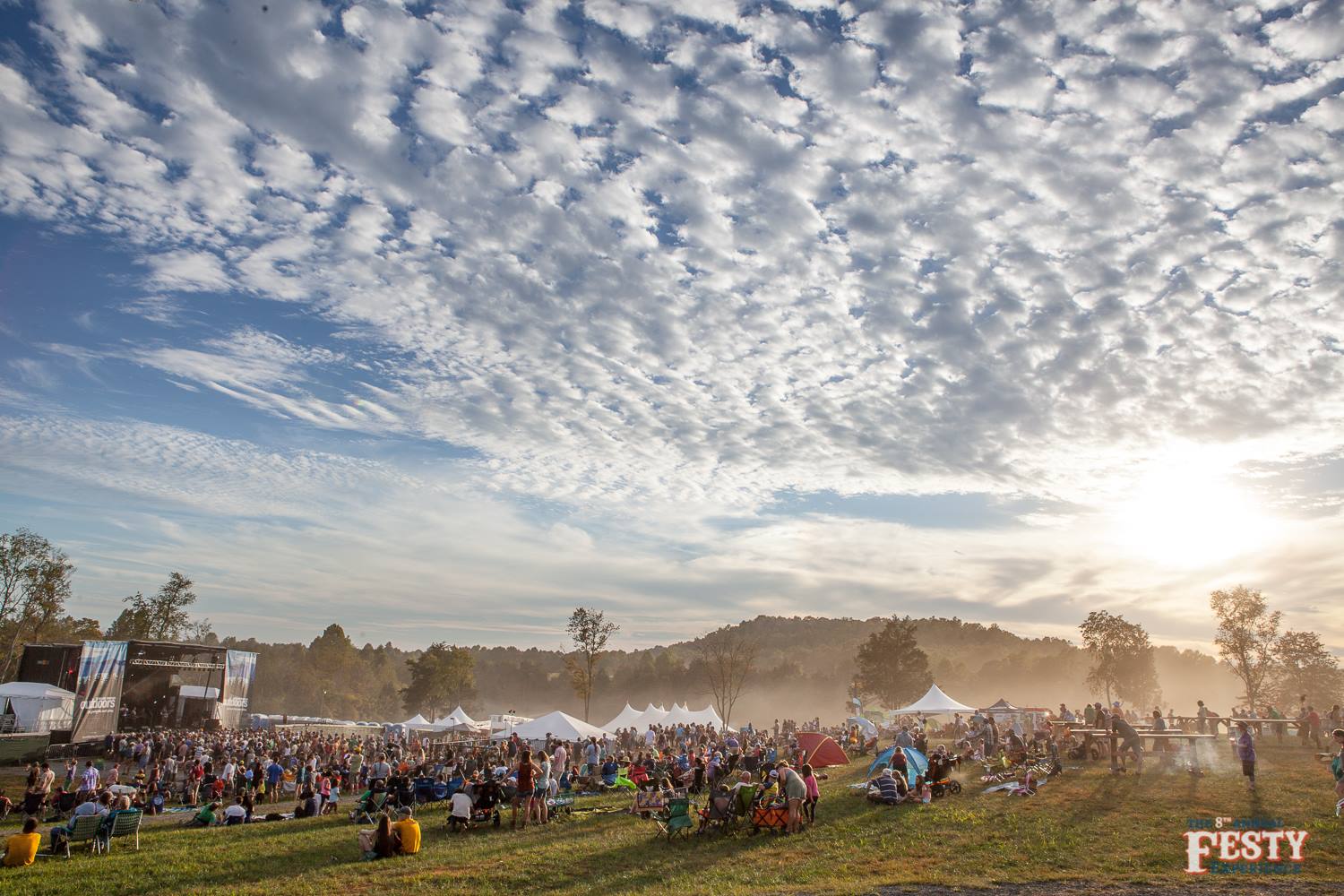 The moment is profound. The barriers between the stage and the audience, minimal all weekend, now, in the final moments broken down completely. This is what we came for, this is why we paid, and this is the reason we are all leaving happy.
-Caleb Calhoun is an author and lover of all good things. He is a regular contributor to ashvegas.Com. hosts an fm radio show, and publishes Rosman CIty Blues. He lives in Asheville, North Carolina with his best friend and soulmate - his dog Dr. Gonzo. Additional editing to this piece was made by Gabrielle Paulhac.