It's a cold and overcast Friday night in Asheville, NC but my spirits are anything other than soggy. I have been looking forward to this night for some time now, as The Campfire Caravan of The Lil' Smokies, The Brothers Comatose, and MIPSO rolls through Asheville's premier club-venue The Orange Peel.
The truth is, although I have heard and seen YouTube clips of all three bands I am very much looking forward to finally seeing them live. The night begins with a major miscalculation. I'm used to things in these mountains running on Asheville time. I arrive a few minutes after nine, and to my dismay, the Lil' Smokies are already playing.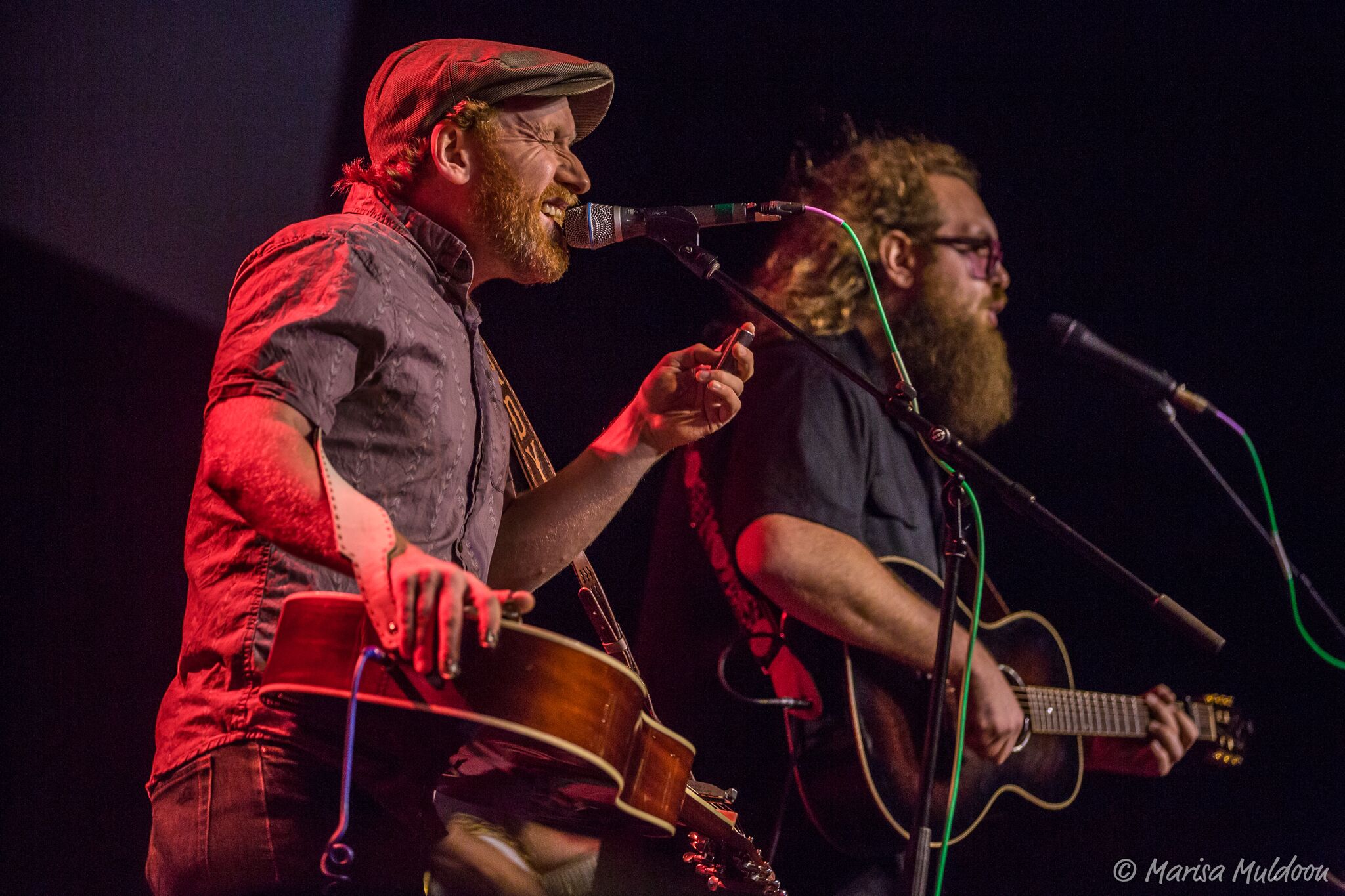 I quickly make my way through the crowd to find a better vantage point. This is the band I am most looking forward to seeing tonight, and I am horrified that I have already missed a song and a half of their set.
The venue is filling up already and it's tough to get too far forward. I choose a spot dead center about 2/3rds of the way back. This is the place to be in this venue, the 25-foot-wide ceiling fan pumping cool air down the back of your neck, the distance from the stage leaving a little more room for dancing.The show is partially seated, but everyone is dancing at this point. After a few inspired originals The Lil' Smokies launch into a stellar rendition of Billy Strings' Dust in a Baggie. The crowd is intelligent, typical Asheville music fans, and this cover is not lost on them. Strings has, at this point worked his way clearly into the national consciousness, and it was uplifting to see the Smokies give him that nod.
From Dust, they head into a masterful version of Going to California. Instead of singing the response lyrics, they have Jake Simpson cover those parts on the fiddle. The effect is outstanding, eerie and innovative.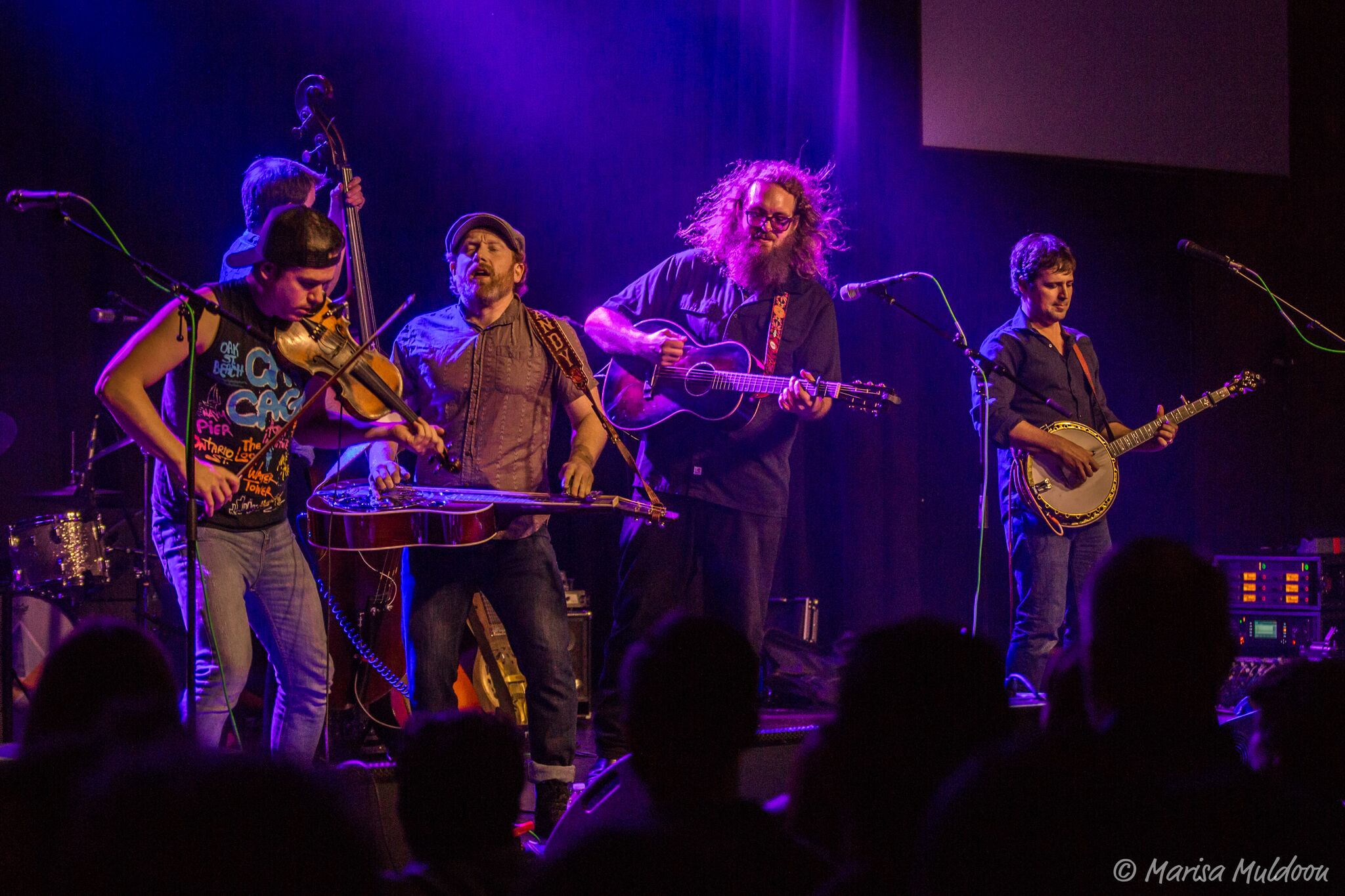 Lil' Smokies play a few more songs to finish out their set, and I can't help but notice the unbelievable chemistry they share. Sure, each musician is a virtuoso in his own right, but perhaps just as enjoyable is watching the rest of the band. When one member takes a solo, they turn into the 12th man on the UNC basketball team, watching intently, waving their towels around. To say that each of these musicians is all in on this band would be a massive understatement.
At 10pm exactly The Brother Comatose begin playing. I am immediately impressed by their dirty, salty sound and by how the fiddle players licks follow and mimic the vocals. AS the set moves on I am more and more drawn in. Drawn in to the fiddler and his camouflage hat. Drawn into the lead singer with his charming looks and pencil-thin beard. The mandolinist with his perfect little melodies complimenting their sound like a rock and roll version of Chris Thile.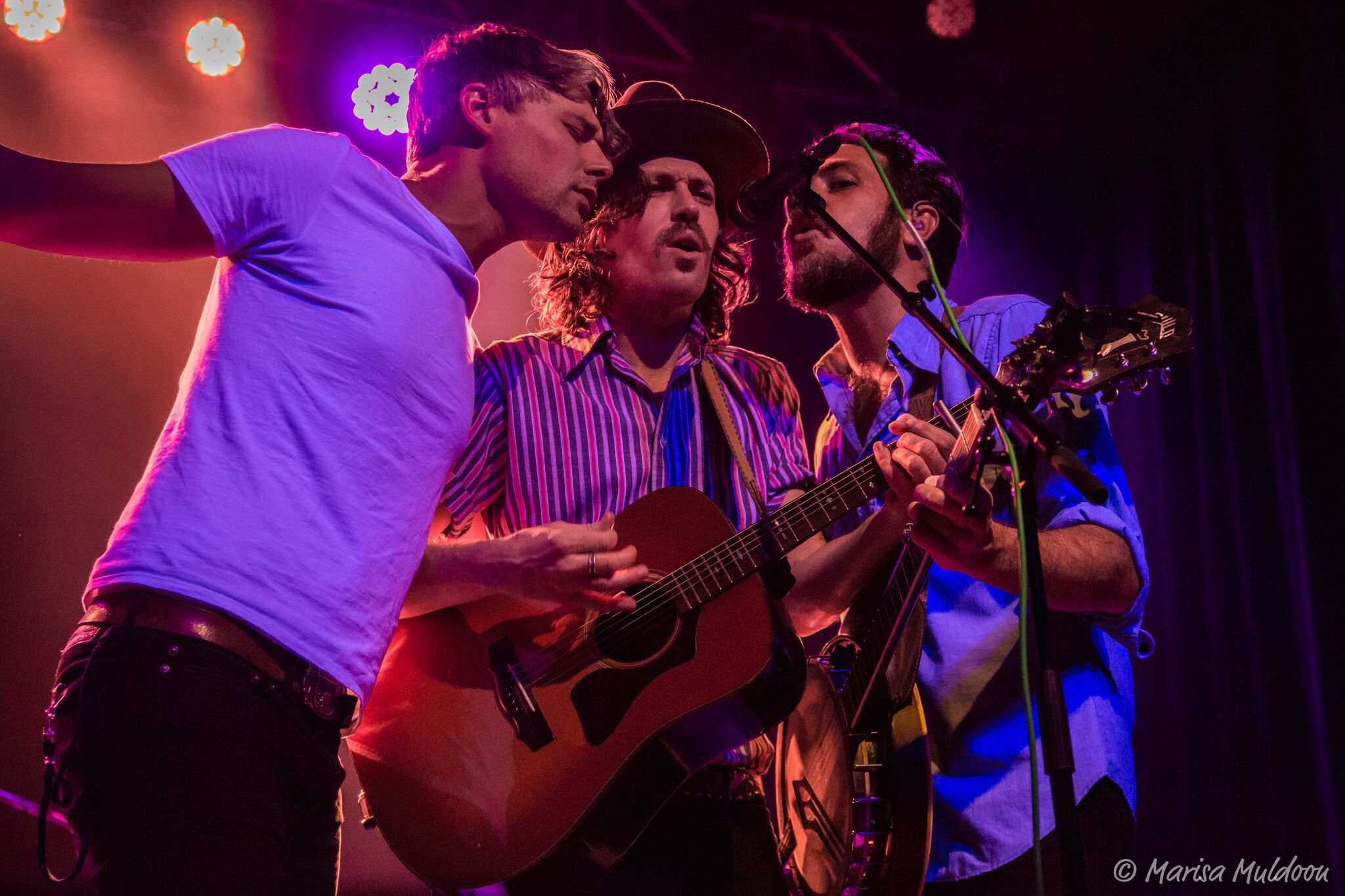 A few songs into playing this opening set to what is essentially a sold-out crowd already, Comatose fiddler Philip Brezina decides to tell the crowd how he feels about playing here.
"This is fucking tight man," he begins, and continues even more strongly, "Asheville fucking rocks. People just love music here."
He couldn't be more right. This is a great place to play, and not just on the weekends. Asheville gets down every night of the week, and there is no surprise that their finest bluegrass fans have packed this venue so early tonight.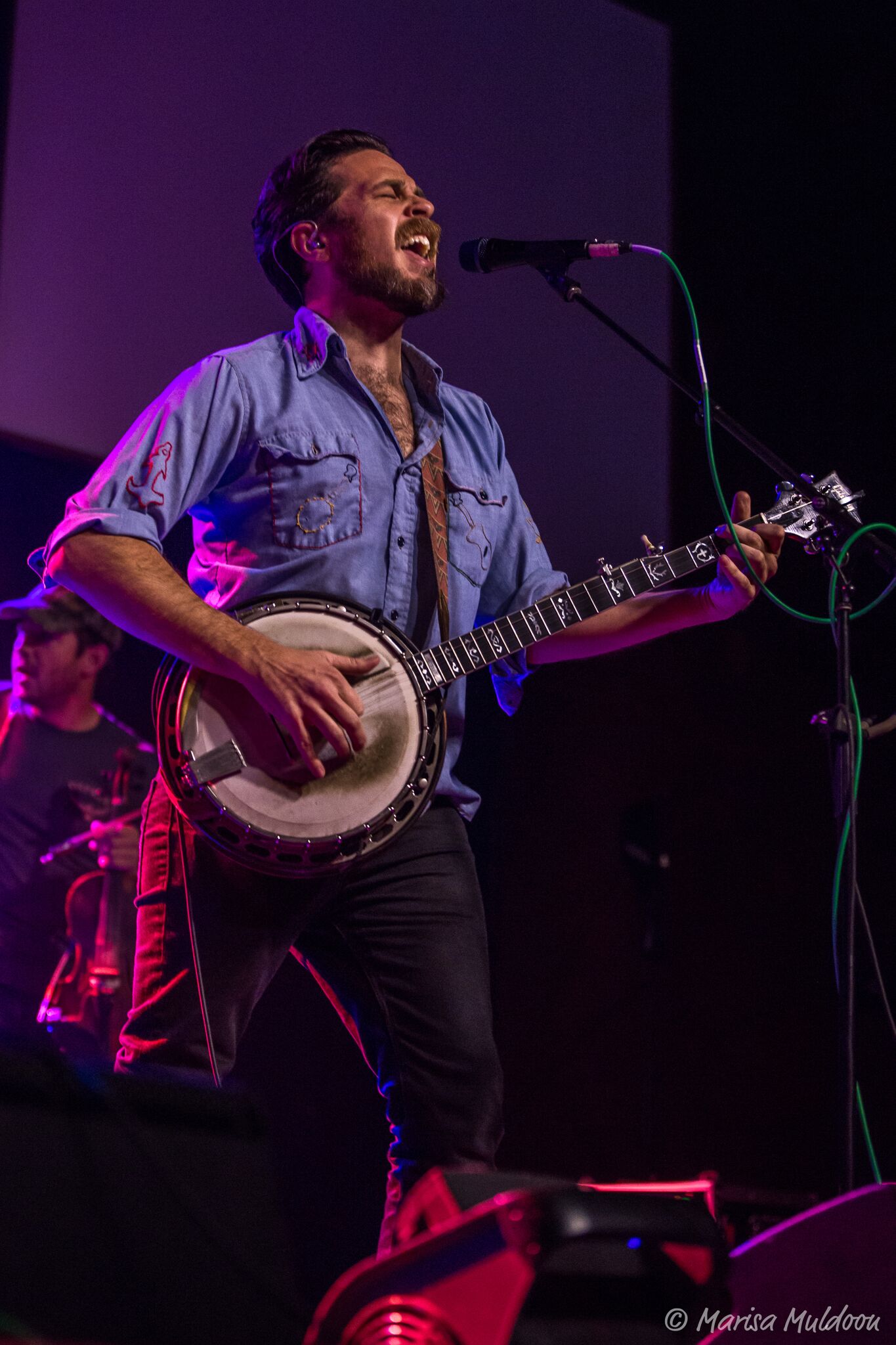 Sitting in the corner in my dress, with my typewriter, I also have the opportunity to observe the room. It's more than just music knowledge that makes Asheville fans so refreshing to be around. It's their attitude. No one is pushing; no one is upset. Everyone is dancing, often guys with guys and girls with girls.
This is a great place to be on a Saturday night, and the show has been outstanding so far. As I am thinking about MIPSO coming up next Jake Simpson sneaks out onto the stage for a fiddle jam for the ages with Brezina. It takes them a few riffs to get into it, but by the time they song is coming to an end they have scrambled every brain in this room. The only thing that I can even think of to compare it to is Guitarmageddon. That special two-song set of the Stringdusters album release show at The Orange Peel last January when Andy Falco, Jon Stickley, and Billy Strings played all played together.
This fiddle jam is every bit as hot as that was. This fiddle jam is the only thing I need to make wheat toast taste good; it is how the west was won.
As The Brothers finish out there set I run into someone, I had met at GSBG a few weeks ago, and he asks how things are coming with the typewriter. After we chat for a moment, he asks how I would describe Comatose's sound. I tell him I have no clue. It's certainly not bluegrass – more like dive bar meets barn dance.
Whatever it is, I'm sold. I step outside after their set for a quick smoke but don't make it long as the Little Smokies come out for a surprise mini-set in between Comatose and Mipso.
And now, in the words of Never Getting Famous, "It's all happening." They launch into an impeccable version of Elton John's Rocket-man, joined on stage by Ben Morrison and Giovanni Benedetti of The Brothers. The crowd has completely lost itself at the moment, and the cover is so good I think even Sir Elton John himself would be proud to hear it.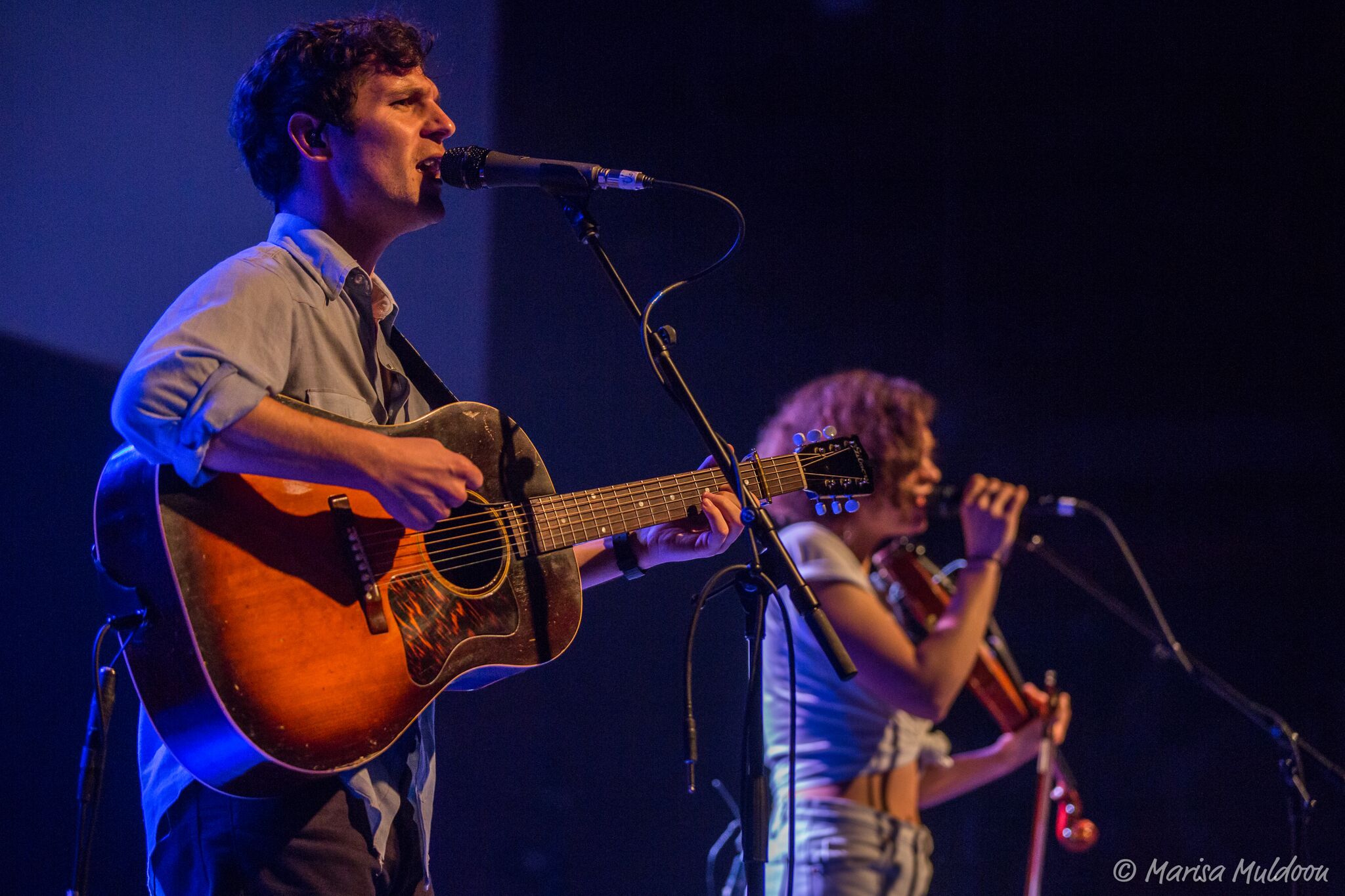 A couple more songs and it's time for Mipso. Badasses from just down the road in Durham, NC they bring a completely different vibe to the rest of the show. Eerie, whimsical harmonies and gentle violin and fiddle, they close it off strongly sending everyone into the cold, rainy, Carolina night feeling warm and dry on the inside.
Sitting on my porch later, the acid and the music still pumping through my veins, I begin to wonder what all I have seen tonight. The wind is blowing through the trees, and the whistle of the leaves sounds like bluegrass music. My friend points out that the trees are always speaking to us if only we take the time to listen. She mentions that maybe, just maybe, the greatest musicians, like the ones we saw this evening, are less playing an instrument than coaxing its true voice out of it.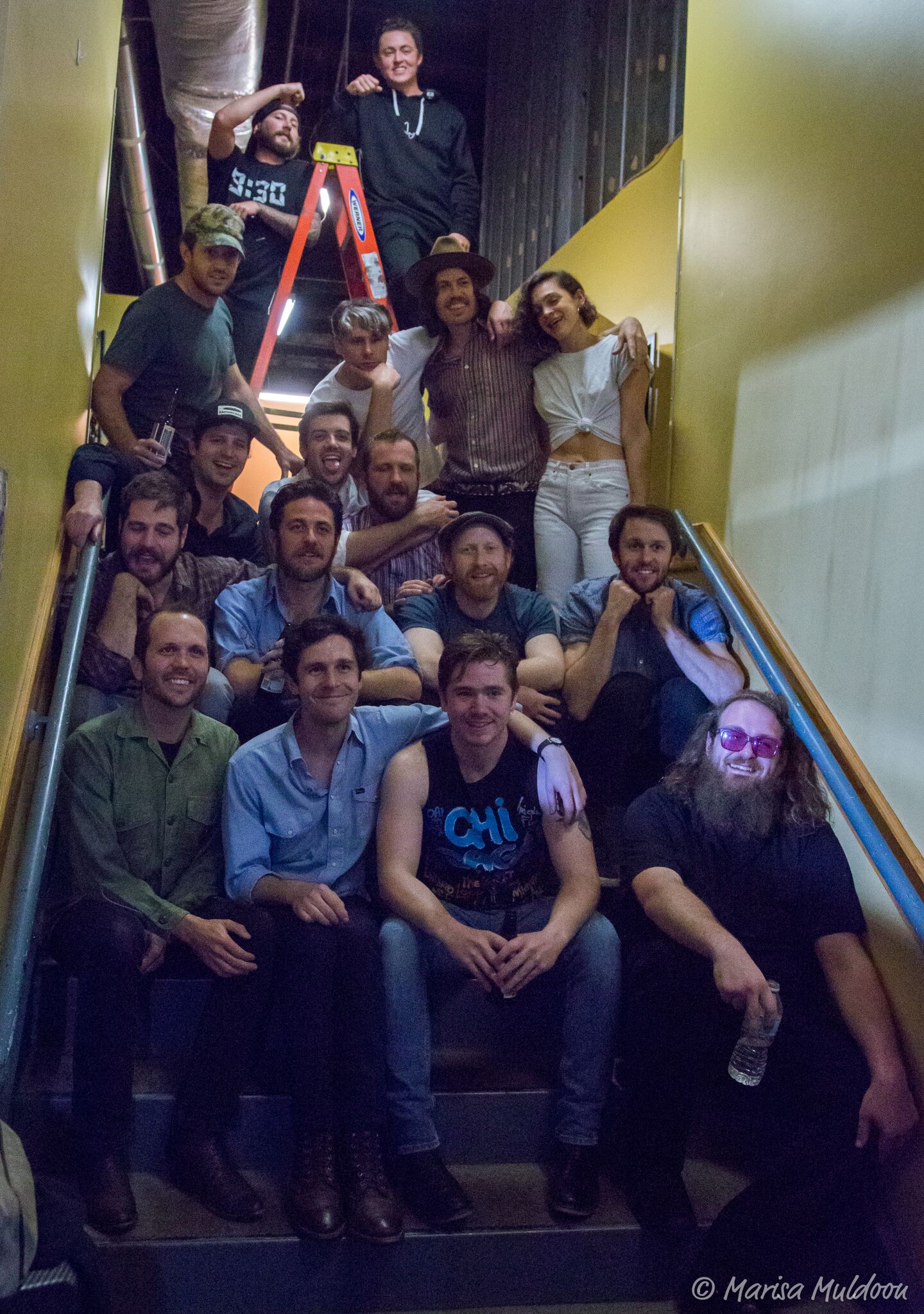 Curled up in a blanket in that windy Asheville November night, I can't help but wonder if she is right. Those bands tonight were clearly transcending the situation, their music taking us all to a higher place, to a place where the spirits of trees and earth and sky still live freely. The connection is so deep and so profound I can't help but understand that the wind in the trees tonight is merely the encore of the show we saw earlier.