Gathering of the Vibes 2007 has finalized the lineup for the 12th  Annual Music, Camping and Arts Festival, taking place August 9-12 at Seaside Park in Bridgeport, CT.  The diverse genres of musicians and bands performing on four stages include Legendary Grateful Dead guitarist Bob Weir and Ratdog, five time Grammy Award Winner Buddy Guy, Latin Rockers Los Lobos, New Orleans based Dirty Dozen Brass Band, Bass Virtuoso Les Claypool, Roots Reggae Favorites, The Wailers,  Southern rocker  Dickey Betts, jaw dropping multi-instrumentalist Keller Williams and the Keels, Martin Sexton, Grateful Dead percussionist The Mickey Hart Band, and Funk Pioneers George Clinton and Parliament Funkadelic.
Gathering of the Vibes is returning to Seaside Park since originally producing the event there in 1999 and 2000.  The Vibes will honor its return to Seaside Park, and it's original 1875 benefactor, circus impresario PT Barnum as the Brothers Grim Sideshow roams the festival site with sword swallowers, fire spiters, contortionists and many other circus style attractions and oddities. Gathering of the Vibes Executive Director Ken Hays said "The 'Vibe Tribe' comes from all across the nation to set up their tents and carry on in the great circus tradition for four days of merriment with an emphasis on great music".  Hays then added, "There's definitely a little bit of clown in all of us".
As in previous years, Gathering of the Vibes will again welcome an assortment of non-profit organizations to educate attendees about their causes.  In particular, this year the Vibes has partnered with a number of organizations at the forefront of developing alternative energy sources and clean energy technologies.
Hays noted, "Our musical community has an opportunity – and the responsibility – to demonstrate continued leadership in combating global warming by setting specific examples for others to follow."
Gathering of the Vibes is an all-ages, camp-next-to-your-car event, with on-site food, beverage, and arts and crafts vendors.  The Kid's Corner provides entertainment options for the youngest of attendees.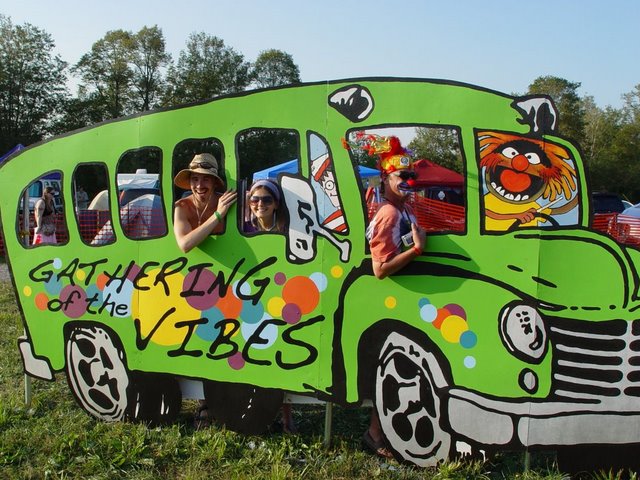 Gathering of the Vibes tickets are now on sale now through www.GatheringoftheVibes.com, or by calling 203.226.8749.  Advance-sale Weekend Camping Passes are available for $140.00.  Single Day admission Passes for Friday, Saturday and Sunday are available for $55.00 per day. Children 12 and under are admitted at no charge. Weekend VIP and RV Passes have already sold out.  Gates officially open on Friday, August 10, although attendees are welcome to set up camp and enjoy the Dark Star Orchestra tribute to Jerry Garcia on Thursday, August 9 for an additional twenty dollars per car.
Gathering of the Vibes began in 1996 as a celebration of the life of Jerry Garcia, who passed away the previous August.  Initially named Deadhead Heaven, the festival provided a forum for fans across the country to remember the counterculture icon.  In each of its 12 years, Gathering of the Vibes has paired legendary artists with emerging acts to appeal to a wide cross-section of music fans.