Gathering of the Vibes is incredibly excited to announce the latest round of band additions to the East Coast's premier music and camping festival, celebrating its 19th year. Live electronic music explorers Lotus headline Friday night, August 2nd, with a tribute to the Talking Heads, titled "Lotus: Talking Heads Deconstructed." According to the band, for this special set, "Lotus (and special guests) will be exploring the intersections between the music of Lotus and Talking Heads, rock and dance, and old and new."  "One of my favorite Vibes traditions are the all-star tributes we have done over the years," says festival founder Ken Hays. "From the 30 Year Jam, celebrating Jimi Hendrix, Jim Morrison and Janis Joplin, to sets honoring Jerry Garcia and James Brown, and now an amazing tribute to one of my favorite bands, the Talking Heads. I know it's going to blow some minds!"
Also new to the lineup is New Orleans powerhouse Trombone Shorty and Orleans Avenue. "Every year, I look forward to having at least one great reggae band, one great blues band, and one great New Orleans band. You have to remember the roots. Trombone Shorty is as good as it gets, and I know he is going to heat Seaside Park up!" says Ken Hays.
Other new additions to the roster include Assembly of Wine (featuring members of Vibes favorites Assembly of Dust and God Street Wine), Orgone, Crash, Barefoot Truth, David Gans, The Primate Fiasco, The Funky Dawgz Brass Band, and the winner of the "Road to the Vibes" contest, Cosmic Dust Bunnies 
Already announced artists include John Fogerty, Widespread Panic, Umphrey's McGee, Maceo Parker, moe.,  Ziggy Marley, Disco Biscuits featuring the Grateful Dead's Mickey Hart and Bill Kreutzmann, Dark Star Orchestra, Strangefolk, Dumpstaphunk, Rodrigo y Gabriela, Joe Russo's Almost Dead, Edward Sharpe & the Magnetic Zeros, Digital Tape Machine, Slightly Stoopid, EOTO, Deep Banana Blackout, Kung Fu, and many more!
In other Vibes news, Single Day Passes are now on sale! This means fans unable to attend for the whole weekend can purchase Friday, Saturday, or Sunday Passes, and enjoy a beautiful day of music on the water. Of course, nothing beats spending the whole long weekend onsite, and the Weekend Camping Pass allows guests full run of the Vibes from Thursday morning until Sunday night, including the Vibe's legendary late night sets and after midnight magic! 
For the ultimate Vibes experience, VIP tickets are also on sale. VIP tickets are available for the full weekend, or for individual days. (Friday, Saturday, or Sunday) VIP ticket holders enjoy added perks: expedited entry, rock-star parking with easy in/out access, prime camping areas, snacks and beverages, catered meals, air conditioned bathroom trailers and hot showers. Located stage left on the concert field, the massive VIP hospitality tent and viewing platforms offer exceptional stage sightlines and the opportunity to mix and mingle with artists.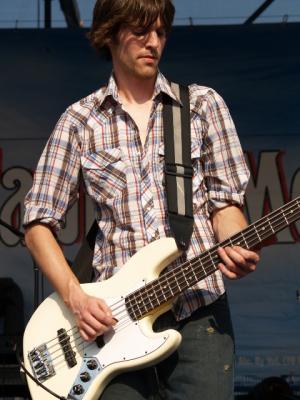 The eagerly awaited Daily Schedule is now available, at http://gatheringofthevibes.com/schedule! Check it out to see which day favorite bands are playing, and get ready to get excited for the most exciting music festival of the summer!
Seaside Park was originally envisioned by legendary American showman P.T. Barnum, and designed by Frederick Law Olmstead, the landscape architect behind New York's Central Park. P.T. Barnum took great pride in the park, and wrote, "It may be a source of gratification and pride to my posterity to hear the expressions of gratitude that possibly will be expressed to the memory of their ancestor who secured to all future generations the benefits and blessings of Seaside Park." It is easily accessible by public transportation and just 50 miles from Manhattan. Fans coming from New York City or New Jersey can travel via Metro North or the Port Jefferson Ferry, and shuttle bus service will transport attendees between the venue, local hotels, and the ferry, train and bus stations. Discounted hotel accommodations at Vibes preferred hotels are available at http://gatheringofthevibes.com/hotels.
Gathering of the Vibes 2014 Lineup full lineup to date:
Widespread Panic
John Fogerty
Lotus: Talking Heads Deconstructed
Ziggy Marley
The Disco Biscuits featuring Mickey Hart and Bill Kreutzmann
Umphrey's McGee
 moe.
Maceo Parker
Edward Sharpe and the Magnetic Zeros
Deep Banana Blackout
Dark Star Orchestra
Strangefolk
Ryan Montbleau & Friends
Grateful Grass, featuring Keller Williams, Reid Genauer and Jeff Austin
Trombone Shorty & Orleans Avenue
Joe Russo's Almost Dead
Slightly Stoopid
Kung Fu
Rodrigo y Gabriela
Dumpstaphunk
Digital Tape Machine
Assembly of Wine (featuring members of Assembly of Dust and God Street Wine)
Orgone
Crash 
David Gans
Barefoot Truth
The Primate Fiasco
Funky Dawgz Brass Band
EOTO
Dopapod
Twiddle
Rusted Root
The McLovins
Leftover Salmon
Donna the Buffalo
Love Canon
White Denim
David Gans
American Babies
Bronze Radio Return
Nahko & Medicine for the People
The Main Squeeze
Langhorne Slim & The Law
SOR
Andy the Music Man
Band Together
Cosmic Dust Bunnies
Master of Ceremonies Wavy Gravy