As I walked up to the Boulder Theater on Friday night there were a ton of people standing out side. Normally these are fans having their last cigarette before heading into the venue for the show. But tonight all of these people were looking for anyone with an extra ticket. I grabbed my ticket from will call and headed in to the all ages show. The place was packed! I heard there were 115 people on the guest list, not to mention the fact the place was sold out by Friday morning. Other bands have covered albums at their shows; Phish being most famous for doing everything from Loaded by the Velvet Underground, to The White Album by The Beatles. This night though, would stand on its' own…. Rose Hill Drive was going to cover Led Zeppelin One.
The opening band was just finishing its' set as I found my friends and grabbed a drink from the bar. We settled as a group towards the back and waited as the lights went down. A large screen was set up behind the band and a video started playing. The images we see are thru the eyes of a person as if they are waking up to a new day. After looking out the window we see our vision directed back in front of a turn table. In front of our face appears a Led Zeppelin One album cover. At this point the crowd erupted in cheers as the album was placed on side 'A' and the needle was dropped to track one. The lights on stage came up and Rose Hill Drive kicks into Track one of Zeppelin One's 'Good Times, Bad Times'.  The place is alive with fans screaming and applauding while the band rips thru its' set of music.
I had listened to the whole Zeppelin One CD earlier in the day wondering how a three piece band could cover this historic album. I was surprised to see the band was joined on a few songs by their friends Mendle on harmonica and Patrick Lee on keyboard. Images of old blues musicians flashed on the screen thru the song 'You Shook Me' as the band hammered out the tunes like true fans of music history.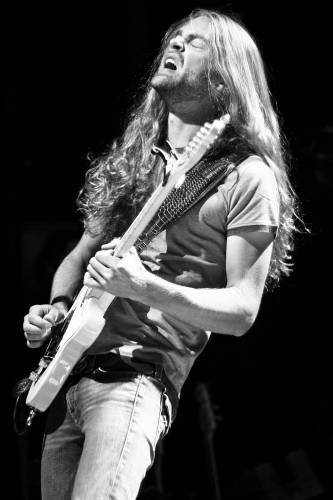 The video production that was running in the background as they played was an array of images corresponding to each song. During a sweet version of 'Dazed and Confused' they flashed images of President Johnson and the Vietnam War. I was told later that the video images were compiled by their friend Mendle. Most of this information was provided to me by a kind fellow standing behind me named Danny Boy and his friend Dawn.
The melodic sound of keys on 'Your Time is Gonna Come' was followed by some of the most intricate guitar playing by I have seen in awhile on 'Black Mountain Side'. The three piece of Daniel Sproul on guitar, brother Jacob on bass and lead vocals, and Nate Barnes on drums have made a name for themselves on the local music scene. Now they have planted the seed to grow as a nationally recognized band.
Rose Hill Drive has helped create a local following of hard rock fans in Boulder . It's hard to imagine this band embodying a town like Boulder, but I saw every type of fan in the audience that night. Kids not old enough to drive or drink were standing with parents who might have seen the original Led Zeppelin line up back in the 70's. There were both college kids and bikers standing next to each other as Zeppelin's music brought a smile to each of their faces. Rose Hill ended the classic album with 'How Many More Times' and the strong voice of Jacob was like that of a young Robert Plant reincarnated there on stage. They might be young, but their sound is everything classic.
Instead of a set break the band went right into eleven more songs proving the might of their young age. I was amazed to see how many fans knew all of their songs and was delighted to hear them singing along. Rose Hill Drive has a strong enough set list to play their own music and create a crowd on any night. As one fan said, 'This could be the last time you see them for $15.00'.  I know I have seen them four times now and am always impressed each time at the young talents they have become.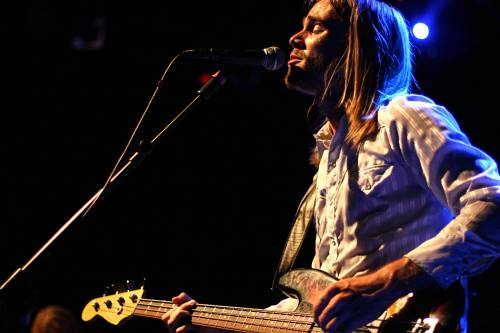 At the end of the show the crowd applauded the new kings of rock and fans lined up to buy the show on CD and also get the limited edition poster in the lobby. I see nothing but great things happening for this band and hope they keep playing with the same drive I have seen them building up the past two years.  If they are playing anywhere close to you, go see them now so you can say you saw them when.
Rose Hill Drive | Boulder Theater | Boulder, Colorado | December 30th 2005
Full Set List:
1. Good Times Bad Times
2. Babe I'm Gonna Leave You
3. You Shook Me
4. Dazed and Confused
5. Your Time is Gonna Come
6. Black Mountain Side
7. Communication Breakdown
8. I Can't Quit You Baby
9. How Many More Times
10. Look On Yonder Wall (Elmore James)
11. Cool Cody
12. The Guru
13. Cold Enough
14. Stuck In Boulder Blues
15. Mexico
16. Showdown
17. Raise Your Hands
18. Roadhouse Blues*+
encore:
19. City
20. Off To The Games
* w/ Patrick Lee on keys
+ w/ Jaques Armand on bass