Portland-based folk artist Eddie Berman has just announced 'Broken English,' a new album of campfire-worthy, cosmic folk rock, out January 21st via Nettwerk Records. Presciently written before the pandemic, the 11-song suite explores the precarious state of a world sinking deeper into isolation, and its tumultuous effects on our relationship to work, family, technology, and community.
Berman announced the album with the release of its title track – and when press started making comparisons to "the folksier studio recordings of the Grateful Dead," we started to get curious. We reached out to Berman to discuss his new album, the music scene in the Pacific Northwest, and his connection to the Grateful Dead. Read on below and keep an eye out for Berman's new album coming out in January. It's a gorgeous, haunting release that will make you eager to check out the rest of Berman's catalogue.
Grateful Web: First of all, congratulations on the new single "Broken English." It's a fantastic song. What can you tell us about the inspiration behind this particular track?
Eddie Berman: When I was writing this new album, and this song in particular, I'd been thinking and reading a lot about rootlessness and isolation. This was in late 2019 a good 3 or 4 months before we had heard the term covid-19. So these things have been oddly magnified in the last couple years.
But we've been living in this increasingly atomized way for decades: the decimation of rural communities, suburban sprawl, retreating into digital worlds. I certainly feel that isolation, and I know so many of the people around me feel it too.
And so this song is about the inner and outer effects of all that: self-obsession, the commodification of seemingly everything around us, the poisoning of our environment. But there is some hope in this song too - hope in our commonalities, on both a cellular and a spiritual level.
GW: How did you decide to name your new album after this song?
EB: I've always had a hard time naming songs and albums. I think anyone who's heard my lyrically dense kind of songs can tell that being concise is not my strong suit.
There's a line in this song "There's too much to say/It can't be explained/In my broken English" which is about how language is too simplistic a tool to describe the ineffable beauty and horrors that make up this world. I didn't think about it till right now, but I like that the title of this album is sort of a condemnation of album titles.
GW: Portland is such a vibrant city with a rich musical history. How does the city, and the Pacific Northwest in general, impact or influence your songwriting?
EB: We've been up in Pacific Northwest now for about 5 years. There's a real contemplative vibe up here. The rainy hikes through Forest Park and Mt Tabor (both biking distance from my home) are pretty ideal to help clear the clutter from your mind.
Also, I was the first person in my family born on the west coast (down in Los Angeles), thousands of miles from where anyone else was born in my entire family line. So living up here near the end Oregon trail feels weirdly appropriate too. I think being in this literal and metaphorical wilderness has been good for my writing.
GW: We understand that your songwriting process for 'Broken English' was different than on past records due to Covid. How did the experience of lockdown impact the new music?
EB: Well, it was less the writing process that was affected than the actual recording of the album. We had planned on recording this album, in the summer of 2020, the same way we always recorded: me and my band playing totally live in the same tracking room at the studio of our longtime collaborator Pierre De Reeder. Capturing those live moments seemed like the most essential element of the process, but with damn near a dozen kids between all of our families the idea of getting together to record seemed out of the question in those early days of covid.
So I moved my 1 year old's crib into her 4 year old sister's room and put together a makeshift studio in the little nursery. I had to work in a totally different way, essentially building the songs track by track myself and then sending them to my bandmates who then laid down their parts at their own studios. Since we were all working around our quarantined families, we only had a few tries to get a good take. So it kinda still has that live feel to it, strangely.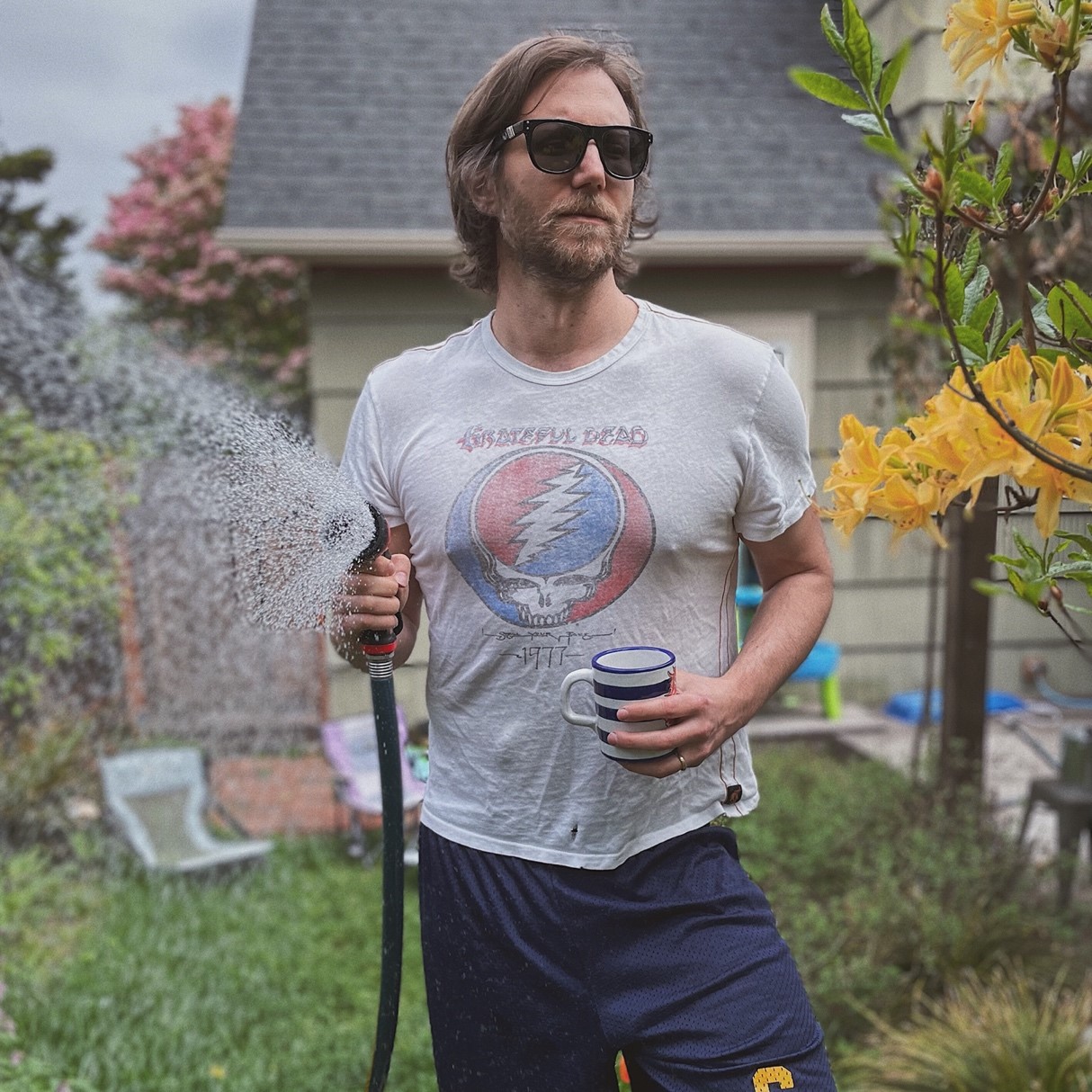 GW: Comparisons have already been made between "Broken English" and the "folksier studio recordings of the Grateful Dead," and we understand that you are fan of their early records. What is your relationship with the music of the Grateful Dead and with their early albums in particular? Do you seem them as an influence?
EB: I think like a lot of songwriter Grateful Dead fans, my favorite album of theirs is "American Beauty." I grew up with it playing in my house all the time. It's one of those formative albums that seeped into my DNA. Ralph Emerson said something like: I remember the books I've read as much as the meals I've eaten, nevertheless they have made me. American Beauty is definitely one of the albums that made me.
GW: Your music has been described as psych-folk, and the music video for "Broken English" definitely has a psychedelic vibe. What does the adjective "psychedelic" mean to you, and do you think it ties in to some of the theme of your new record, or your experience over the past year?
EB: I didn't set out to make anything with a "psychedelic" vibe necessarily, but I think the overlap is in that weird paradox about psychedelics: you fuck up your perception and thoughts to try to see things more clearly. I try to find that same kind of clarity through writing these visually symbolic songs, which sometimes I don't fully understand myself until much later.
GW: What can we expect from the rest of the album?
EB: I'm really excited for people to hear the album in its entirety. Even though most folks listen to songs piecemeal, I still always write albums as one cohesive thing. On the rest of the album there'll be lots of lap steel, organs, horns, and harmonies on songs working through what it's like to be alive during these strange times.