Recently, we at Grateful Web had the opportunity to chat with Elise Olmstead, the founder of the jam-based musical magazine The Jamwich and The Mad Tea Party Jam. Our conversation focused on The Mad Tea Party Jam, a music festival in Artemas, PA every year. She founded the festival with her husband Taco. Together, they have crafted a unique musical festival and we wanted to get their thoughts on some of the more interesting aspects of The Mad Tea Party Jam.
GW: I was wondering how the idea for the Mad Tea Party Jam came about. It's on Elise and Taco's anniversary. Why did you start it? Is this a way to celebrate? Is it something else? How did the whole idea come about?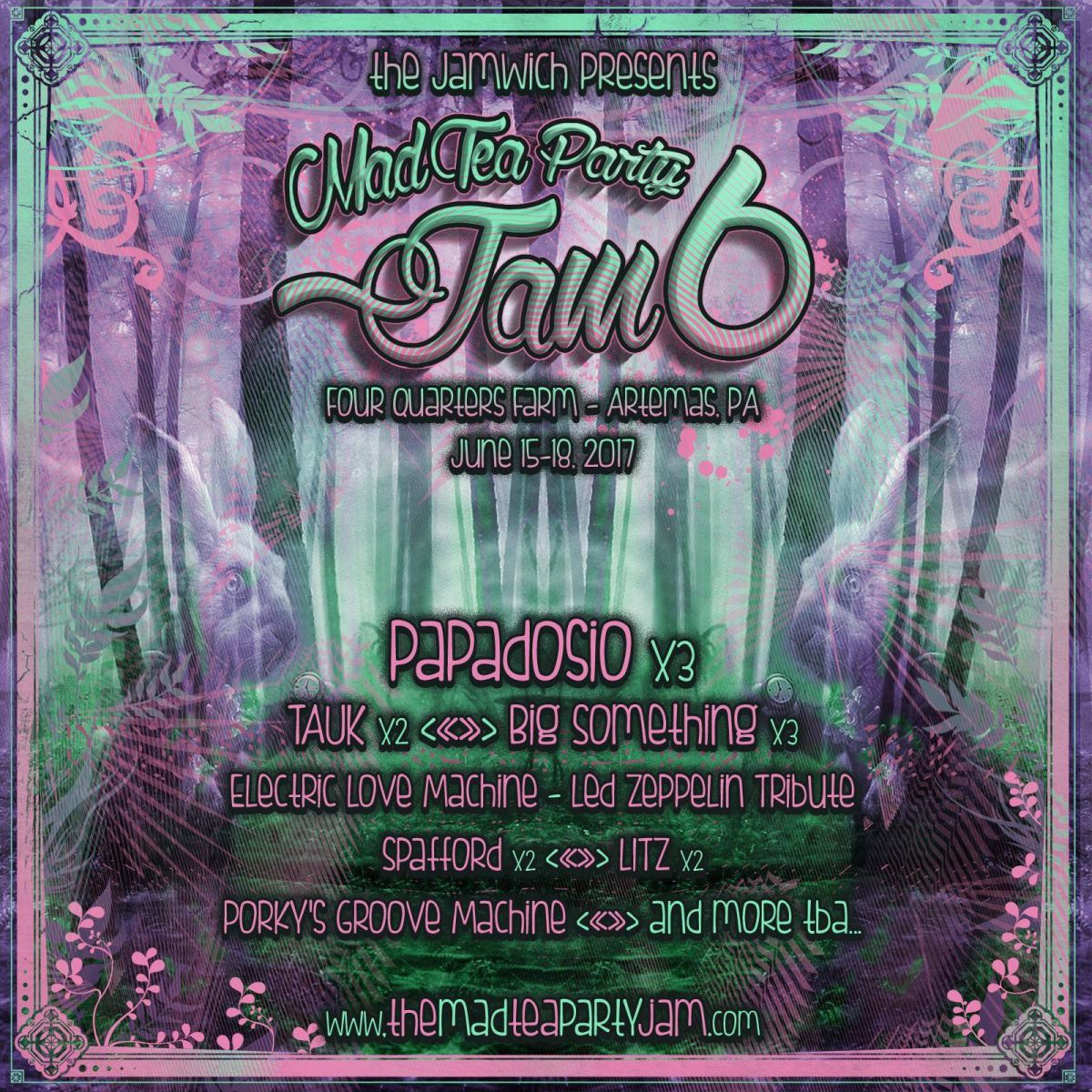 MTPJ: Our wedding actually took place June 26th, 2010 and it was an Alice in Wonderland themed wedding. We had a semi-formal reception for family and then an after party for friends which we called "The Mad Tea Party." There was a full moon that night and it was a wild experience for everyone in attendance. Some people said "I've never been affected like that at someone's wedding before." The love between Taco and I is so passionate and the driving force for everything we do in life.
Fast forward to 2012, Taco and I met The Werks when interviewing them for Appalachian Jamwich (our second interview ever!) and fell in love with their music and everyone in the band. Taco asked them to play in our town the weekend of our anniversary and quickly got a contract signed. The venue we originally booked them at fell through, and we had to continue searching for a venue until about 3 weeks before the date when we finally found a place outside that would let us have the event, Ashton Farms in Hedgesville, WV, which would come to be known as the Bavarian Villa because of the old house on the property.
Now that we had an outdoor venue, we decided to add a couple of smaller bands, including People's Blues of Richmond, who we also became fast friends with, and called it "The Mad Tea Party Jam." The weekend had so many crazy experiences including the "El Derecho" storm that knocked out power, prompting The Werks to play an acoustic set in the house. Johnny Neel from the Allman Brothers (who was good friends with Norman Dimitrouleas) showed up and we all passed around moonshine as we listened. The next night the weather cleared up and The Werks played all through the night, probably every song they knew, until the sun rose. It was magical and intimate, only maybe 100 people were there, and everyone had such an amazing time they kept prodding us to do it again and make it into a real festival. We were crazy for listening, but here we are now!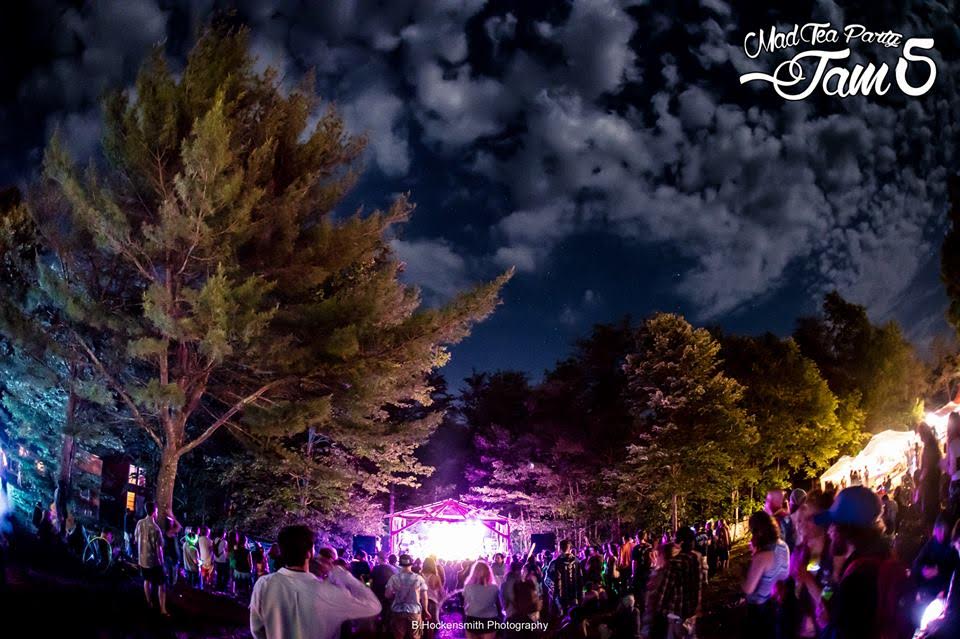 That's the abridged story, believe me, we could talk about it for hours. I think something that makes Mad Tea Party Jam special is the meaning behind it and all of the stories. Anyone who was part of the inception of the festival gets a little sparkle in their eye when they talk about it. Now it isn't so much an anniversary celebration for our own enjoyment, but serves to share the power of love with everyone we can.
GW: One of the coolest things about Mad Tea Party Jam is that there are no overlapping sets. How do you pull this off? Why was this important to you? How do you think this contributes to the vibe at the festival and the festival goer experience?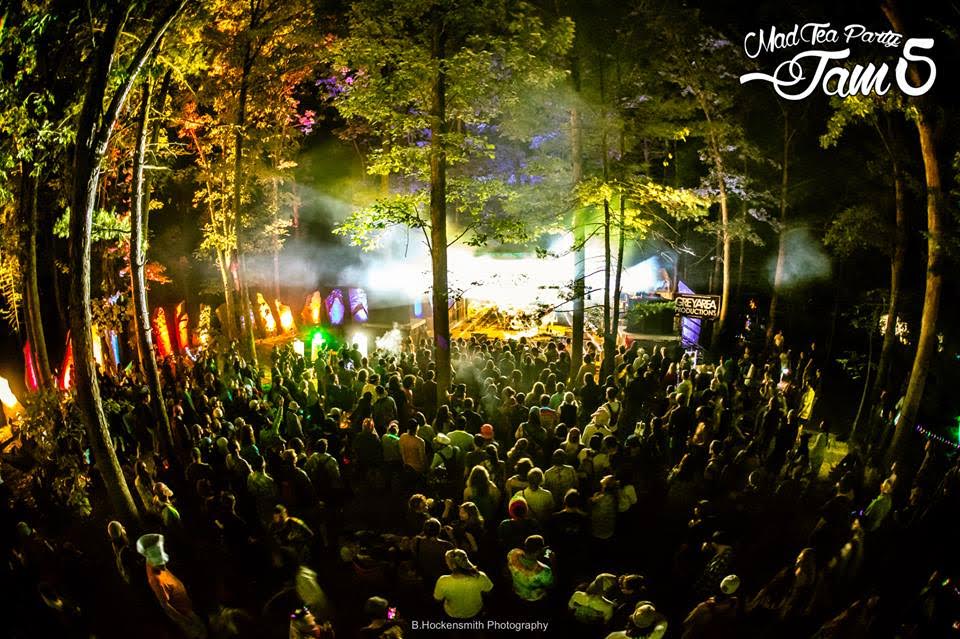 MTPJ: Last year in 2016 was the first year that we booked no overlapping sets. We noticed that splitting audiences at an already small festival between multiple stages was doing everyone a disservice. It makes it difficult for the attendees to decide, the bands get less people in front of them, and we always ended up booking way too many bands on our lineup. No overlapping sets works out better for everyone. We have a main stage inside the sacred Stone Circle, and a permanent Cliffside stage where the sets are exchanged back and forth. The stages are close enough to each other that you can walk right over to see the next band play at the other stage. Then we have late night shows at the pavilion.
GW: The headliners are Papadosio and TAUK. And the lineup continues to have a lot of bands that come from the "prog"side of the jam community (I think of Umphrey's McGee and Moe. being the forerunners of this). How did you get your headliners? Do you intentionally try to find certain kinds of bands? Do you have a certain kind of audience you are trying to reach?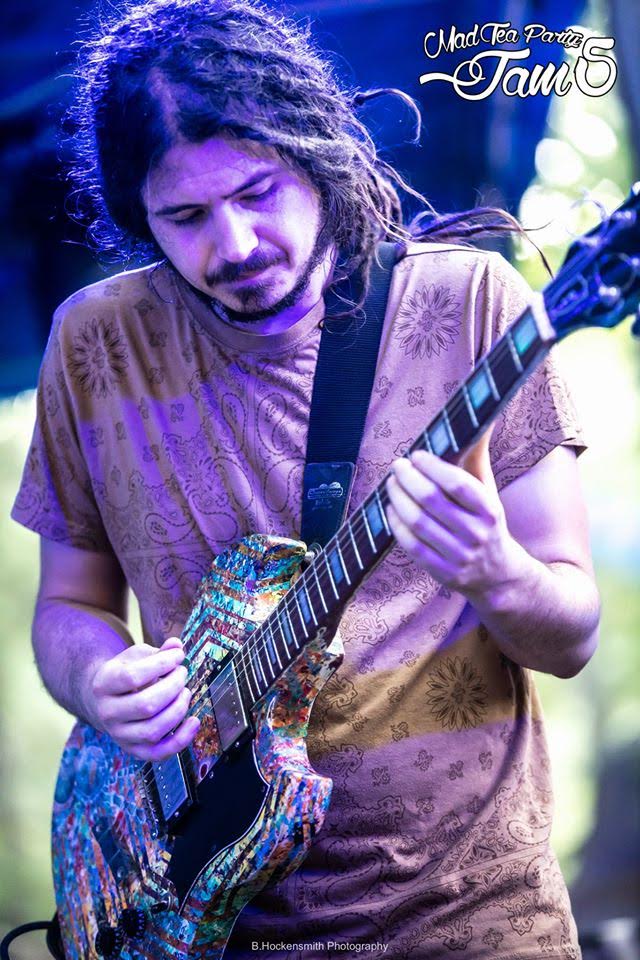 Papadosio is one of my favorite bands (Elise), and we are great friends with a lot of the Papadosio family. They have a dedicated fan base, a great message in their music, amazing songs, and are such nice boys. Papadosio has been a no-brainer. TAUK, we discovered in 2013 or somewhere around there, and were just really blown away by their music. At that time, not many people had heard of them. They played Mad Tea Party Jam 3 and pretty much cemented their place in the jam band world that year. They just keep getting better and better.
We try to find bands that work well together and create a cohesive vibe. Taco does all of the booking for the festival and puts a lot of thought and heart into it. Some bands are just on fire right now, like BIG Something, and many others we are booking for the first time. As a music magazine presenting a festival, we like be "taste-makers" of sort and introduce some new talent to festival attendees, while also keeping our finger on the pulse of what is hot right now.
GW: How big is the Mad Tea Party Jam? What is the attendance? How many vendors do you have?
MTPJ: Mad Tea Party Jam is a small festival, we max out at about 3000 people, and we want to keep it that way. It makes for an intimate vibe and an environment where everyone can become family. We are huge advocates for small festivals and have personally stopped going to large festivals completely (10,000+ people). Keeping it small allows for cultivation of a community. This year we will have 10 craft/merch vendors and 4 food vendors.
GW: Can you explain Four Quarters Interfaith a little bit? Mad Tea Party Jam takes place there, so can you talk a little about the relationship between the two.
MTPJ: Four Quarters Interfaith Sanctuary is a church of Earth based religions and a venue for many other events and festivals like Big Dub, Wickerman, and more. They are also very passionate about the cultivation of community and have a deep respect for the land. There is an incredible vibration throughout that place that you have to be there to experience, but almost everyone who visits falls in love. The property owners actually reached out to us and wanted to meet with us, because they were looking for a jam band festival to host and liked what we had to offer. We were needing to find a new venue anyway, because the infrastructure at The Bavarian Villa simply wasn't there, so our worlds collided at exactly the right time. After our first year there in 2016, it became obvious that Mad Tea Party Jam had found a new home. You must come experience the sacred stone circle as well as all of the other sights and sounds of this venue.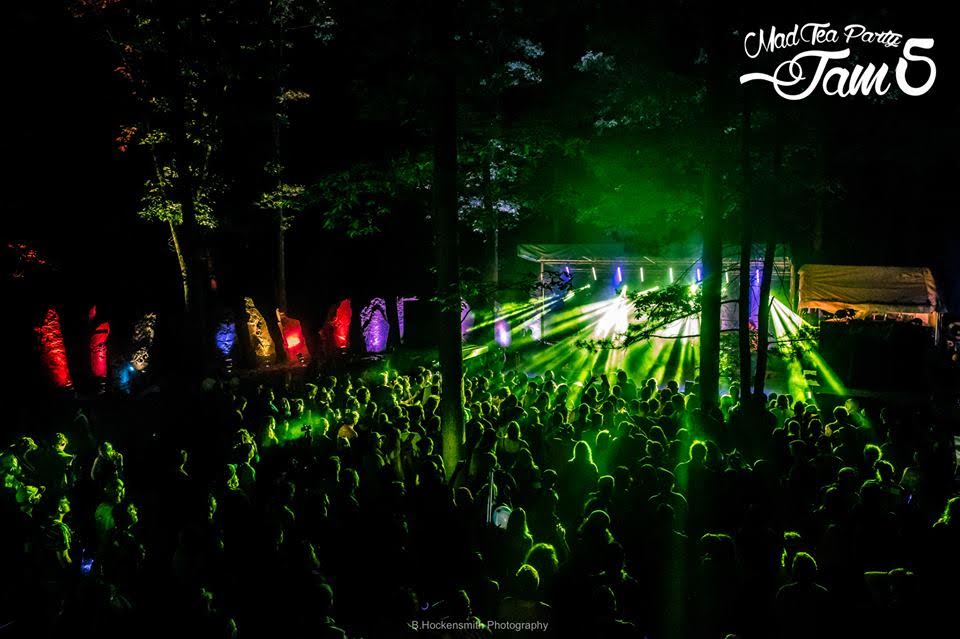 GW: One of the coolest things about the Mad Tea Party Jam are the theme camps and some of the other non-musical activities. Can you tell me how the idea of the theme camp came about? How does this enhance the experience of the Mad Tea Party Jam? What other activities make Mad Tea Party Jam unique?
MTPJ: The theme camps and other activities were inspired by other events that take place at Four Quarters. Wickerman is a burn event, and burns are well known for having theme camps and other fun activities and adventures to take part in, since burns don't necessarily revolve solely around music. Big Dub also has a lot of fun activities that take place during the weekend.
Jam band festival attendees pretty much live and die by the musical lineup, so of course the music and production is our first priority, but we pride ourselves on being unique in that we offer a complete experience. We keep our activities limited so that we aren't keeping people from the music too much, but activities like theme camps and scavenger hunts circle back to the cultivation of community that is so important to us. Some festivals have an amazing lineup, but there is zero vibe. It's almost a weird empty feeling of just standing on gravel looking around like you're missing something. I like to think that our festival has a tangible feeling, a lot of heart, and a dedicated family. Something that has always been important to people at Mad Tea Party Jam is the swimming hole! We will even be having an "Adult Swim" hour at the Hemlock hole, where a river volleyball game will take place and everyone can float around on rafts and play with water toys.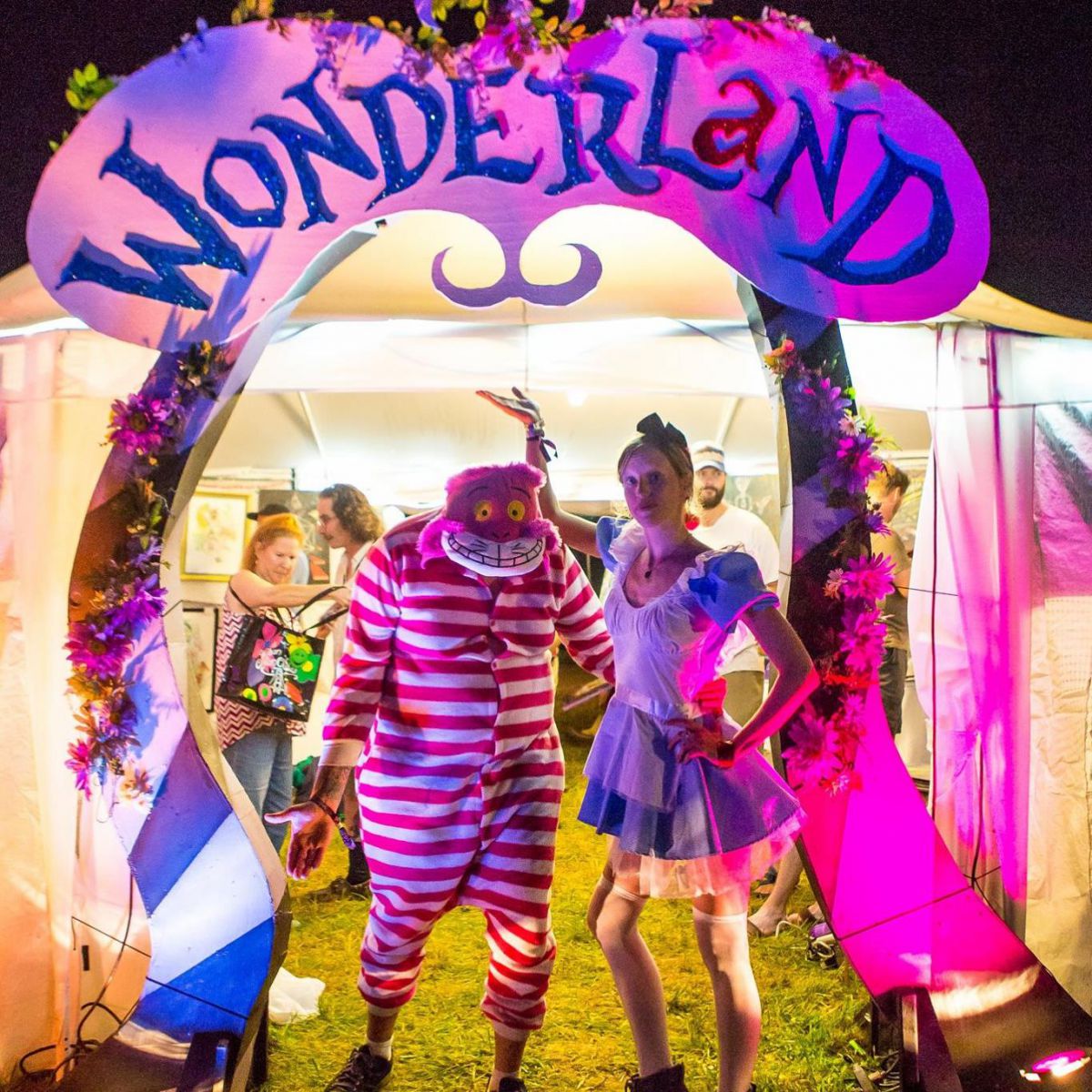 GW: One of the activities you have is a prom! What's that like? How does that play out at the Mad Tea Party Jam?
MTPJ: The prom was completely my idea and I don't even remember how or why I came up with it. It was kind of a joke, but when I started telling people about it, there was a good reaction. The best part is that so many of us didn't go to our prom, and it's adorable that couples get to ask their SO to prom, since they most likely didn't meet or date in high school. It's an experience that we get to do over, our way! The prom is going to take place in the pavilion and we will have a balloon arch to take awkward pictures in front of, as well as the Cha-cha slide and cheesy ballads to dance to. It's just an opportunity to be goofy and fun, which is really important to me. I'm addicted to novelty and silliness.
GW: Each day of the Mad Tea Party Jam has a different costume theme. How did you come up with this idea? How do you come up with the ideas for each day?
MTPJ: The costume themes is another way for me to get in that silliness and novelty. I always loved seeing people dressed up at festivals, especially when it was a costume that made you laugh or smile. Taco and I went to Jam Cruise for two years in a row and costumes are a huge part of that experience, so it's something that's just kind of engrained in me. I also love Halloween, but that only comes once a year. The costume themes this year were entirely chosen by vote! They are "Dank Memes" on Thursday, "Onesie night" on Friday, and "Disney Characters" on Saturday.