The Nth Power is a group of incredibly accomplished musicians, comprising people who have played with everyone from Jennifer Hartswick to Maceo Parker to Beyonce. Their music is a blend of funk and soul and gospel and old-school R&B. And everything they do is about spreading the core values of love and understanding. So, we were stoked when guitarist and vocalist for the Nth Power, Nick Cassarino, was kind enough to talk with us for a few minutes and give us the low-down on what drives the band, their new live album To Be Free: Live, thoughts on their upcoming tour, and their love of Earth, Wind, and Fire.
GW: Hey thanks for talking to me!
NC: No doubt man!
GW: First, I just listened to your new album (To Be Free: Live) and, damn, it's good. Really good. And, uh, I just had a couple of questions about some of the songs on there. The first song I wanted to talk about is "Truth." You guys haven't done anything as…this is a little more political than anything you have done before. Any reason why? Who wrote the song? Any kind of feedback on that?
NC: Yeah man. We wanted to write something that was a reflection of the tumultuous times that we are dealing with right now in our country. I kind of came with some of the basic ideas of the song. But we all kind of sat down and opened up the song and the lyrics and got in there together to finish it. But, yeah, we just wanted to talk about some of the stuff that is happening today.
GW: Yeah, it's really great. It surprised me. I love the positivity that comes in your music. And "Truth" stays positive. How important is that to you as you write the lyrics and the music and all of that?
NC: It's really important. I mean we definitely want to leave a sense of hope instead of a feeling of hopelessness.
GW: That brings me to another song, "Home", on the album. I was listening to it and the first part of it kind of bummed me out.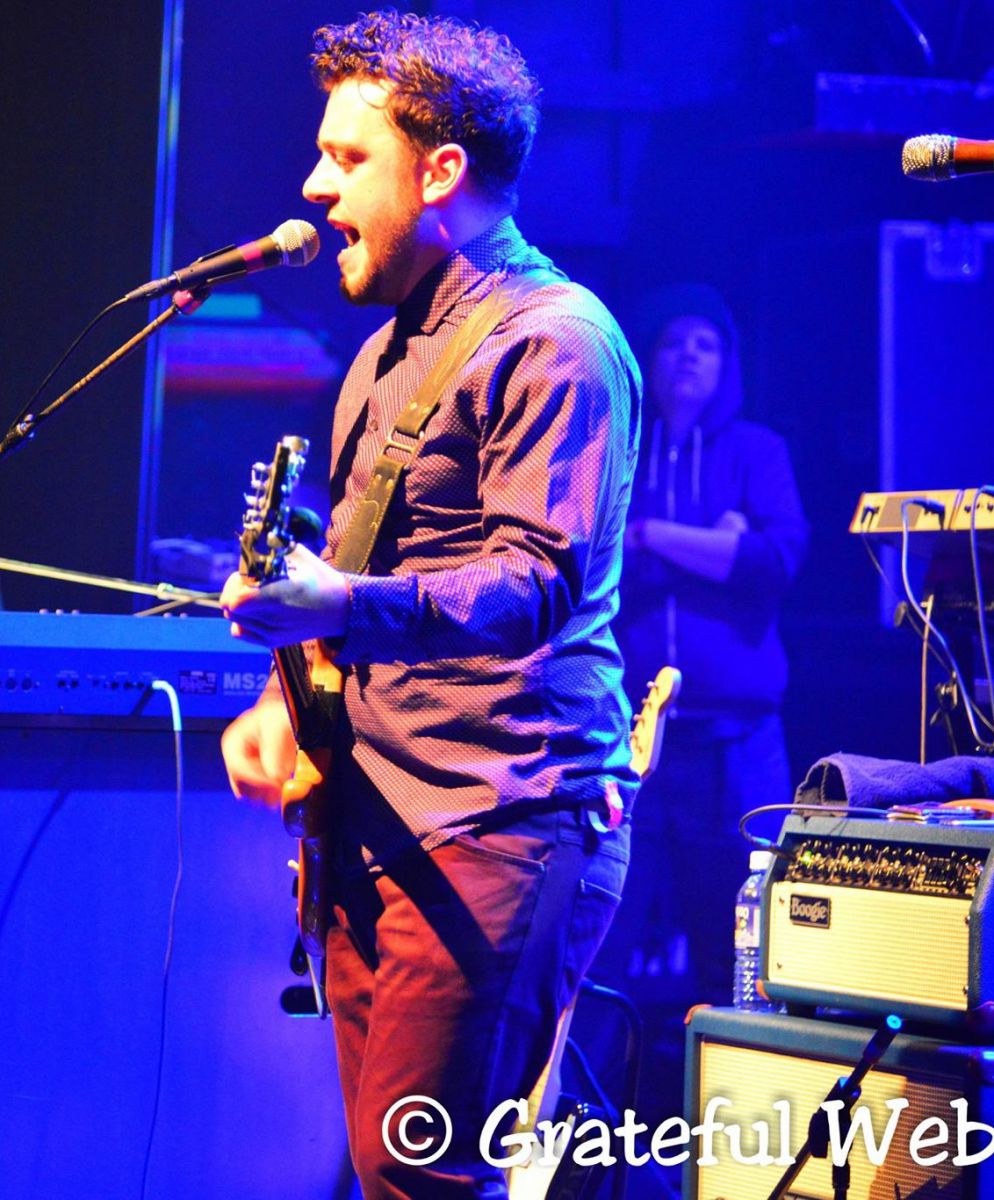 NC: Yeah.
GW: It sounds a little like "oh no this is going to be bad" but the end of the song is so hopeful. I imagine reading some of your other interviews that this is one of your songs.
NC: That's a song that I wrote with the producer on our last record [Abundance] Ira Schickman. And he was kind of the driving force behind that song, which was awesome.
GW: One of the things I notice in your music is this idea of redemption. It's probably a very gospel oriented thing. I know that you all have roots in gospel, you used to play at churches…not that you are a church band, but you all have that background. Can you speak to the way that redemption works in your music and how that plays out, not only in the lyrics but in the music itself? Because your stuff is so positive. Loving. Understanding. That is all prevalent in your music.
NC: You know, the redemption is in the spirit of the music. I like to think of "god" or the spirit as the oneness that connects us all, connects all living things. That oneness. That thing that is in all of us that is the same. I like to think of "god" as that. And, basically, when we write we are trying to channel the spirit, trying to, you know, listen to the spirit, and let the spirit guide the music to a certain extent. We'll be writing and we try to open ourselves up as much as possible to have that happen. Sometimes it happens more than others, you know?
GW: Yeah, yeah. I could talk about philosophy of music all day, but my thoughts are not what's important here. So, another tune I wanted to get your thoughts on is "More and More." Your guitar work in "More and More" is stellar. You go from this very melodic stuff to kind of raging out and coming back to these melodies.
NC: Yeah.
GW: What was the thought process for that? How did you come up with that?
NC: That song was based off an old nth Power composition. We had recorded some basic tracks for in New Orleans years ago but had decided to totally flex it out and try a different approach and write new lyrics to it for this live record. This is a song we have always had in the wings that we played live because we never finished it or had it together.
GW: Can I ask, why a live record? Your studio stuff sounds fantastic…and this sounds great too. But, why a live record now?
NC: A live record because, uh, basically, when we did Abundance last year we wanted to make a really clean, studio kind of vibe, studio kind of record, right? But, there's definitely a spirit, an energy that happens when we are doing our live shows between our audience and us and we really wanted to capture that because we feel like that's some of our truest essence as a band because the majority of us have been playing gigs for years. That's what we do. We're live musicians. We do it live. We love playing in the studio too, but we decided to show people exactly where we're at and what the live experience is like. Because in the studio you try so hard to get it squeaky clean and we really wanted to give them a taste of some real honest shit.
GW: It's definitely honest, man. The recording is pristine. It's great.
NC: Word man, thanks.
GW: And you guys start head out tour tomorrow (Nov. 3), right?
NC: Yeah, we leave tonight (Nov. 1) and we're starting off in Colorado.
GW: You mentioned in another interview that you are live musicians and you like to play smaller clubs and pack it out. Is that kind of your thought process in playing?
NC: Yeah, you know, we want to get more people out. To get more people than we had the last time. Unless we're selling out everywhere, then we are just going to try and play a size appropriate spot.
GW: I understand that. And with your live shows, what do you guys do, how you prepare, what do you do to get ready to play?
NC: Well, before this last 10-date Northeast run, we had had this new music from the live record. So, we were basically just trying to practice and how to integrate that into the set. We had two days of rehearsals, which was really dope, because we could come up with some transitions and we came up with a nice big intro for the show. And, we just prepared for this one and did a couple of more rehearsals.
GW: I'm writing for Grateful Web and how much of your work is improvised and how much of it is set?
NC: So, each composition has certain sections where people can flex in terms of improvisation. But, for the most part, a lot of it is composed. We are trying to convey a complete idea through a song, to tell a whole story through a song, you know?
GW: I kind of figured that from that listening but wanted to get your thoughts. Switching gears, though, I wanted to ask you about Earth, Wind, and Fire. You guys did a show in April in tribute of Earth, Wind, and Fire and you have a festival show on Nov. 18-19 at Suwannee doing Earth, Wind, and Fire stuff. How do they influence you and what does that mean to be able to pay tribute in these ways?
NC: I mean Earth, Wind, and Fire, everyone grew up with that who's in the band. And we really resonate with the sound of their music, with the lyrics, with the message, with the virtuosity of some of these guys. I mean, Maurice White, that dude was just one of the most incredible dudes ever. And when we decided to do the first one in April, we decided to do it in October before he actually died. So when we found out that he died, we were like we really got to do this right now. I mean, the music is just so deep and so original and so unique. Like, the deeper you get into it, every time you listen to it you can hear something else. There's just so much shit in there. And, so yeah, we did a 2 and half hour show in New Orleans starting at like, I don't know, 2 or 3 in the morning. And we worked out a bunch of arrangements of the tunes, worked out a bunch of transitions for these songs, and to get a nice ebb and flow to the set. But we were playing so many of these songs and there are still so many more that we are not playing.
GW: Yeah, you could spend days.
NC: You spend days.
GW: That's cool. You guys play Blue Note in New York City. Is that your first time playing Blue Note?
NC: As the Nth Power. We've all played it in different capacities. I've played there with a couple different groups. I saw Nikki there with Maceo. I'm sure Nate's played there. But, yeah, we're going to take a slightly different approach to those shows because it's a smaller venue and we've got to kind of play to the room. Maybe try to incorporate some more acoustic elements and try some new things because we've go two nights there.
GW: Last thing, man. I'm writing for Grateful Web and we're a jam band publication. How do you guys feel fitting into that community? Do you feel like you fit into that community? You guys groove and make people dance and I just wonder how you feel in that community?
NC: Man, I feel like the people that listen are really, really into the music. I feel like they're really loyal fans. I feel like some of these places we've played….I wish I could remember the name of this one place and this festival. The Grateful Dead used to play there back in the day and it was a bunch of families involved with the festival and with the land. And what the Dead did, we all love and respect and to get a glimpse of accomplishing a little bit of that. Just the impact on so many people and the feeling that is left when they are engrained in the music and the show and into these places. It's all really special. Granted, we'd all love to just be influencing more and more people at the end of the day. But, to be part of the jam band community and that you all have stuck with us is a beautiful thing.
GW: Your Bear Creek set was unreal. Anyway, I know we are out of time and I really appreciate it.
NC: No doubt, man. I appreciate you.
GW: Thanks. Good luck on the tour.
NC: Thanks a lot Nate