In a career that has spanned nearly two decades, California-based reggae rock band Slightly Stoopid has consistently pushed the boundaries of their respected genre with their seemingly endless tour schedule and eclectic blend of roots, reggae, punk, hip-hop, and funk. Since their self-titled debut release on Skunk Records in 1996, Slightly Stoopid has gone on to sell countless records and play massive shows spanning across the globe including Japan, Australia, Dominican Republic, and Portugal. Founding member and guitarist Miles Doughty was kind enough to sit down with the Grateful Web at this year's Summer Camp Music Festival to discuss Slightly Stoopid's upcoming tour, the addition of Karl Denson to the band, and what is was like recording at Bob Weir's TRI Studios in California.
Grateful Web: Good Afternoon, my name is Elliot Engebretson of the Grateful Web and today I'm sitting here with Miles Doughty of Slightly Stoopid. Miles, how you doing on this beautiful afternoon at Summer Camp Music Festival?
Miles: I mean you said it best, it's absolutely beautiful out here today at Summer Camp and we're so blessed to be here right now, it looks like it's going to be around 80 degrees all day. From the looks of it, it looks like there are a lot of people here ready to have a good time so we're excited for that as well.
GW: You guys just recently announced your Summer Sessions 2014 tour along with Stephen Marley, NOFX, Cypress Hill, and G. Love. Tell me a little bit about the upcoming tour and what you guys are looking forward to.
Miles: It's amazing that we were able to link up with so many great artists for this tour. Stephen and G.Love are pretty much on the whole entire tour, and NOFX and Cypress are on for selected dates, and we've actually developed a nice relationship with those guys over the years. It's going to be cool getting to work with NOFX, I mean they are one of those punk-rock bands that I grew up listening to so it's definitely going to be an honor. We've actually been trying to play with them for a long time, probably close to a decade, but our schedules just didn't work out. Also Fishbone will be joining us on some of the West Coast dates, and that's a really cool addition, so this time around everything worked out and we're really stoked about getting this tour started.
GW: In the modern age of the music industry artists can't rely on selling records as much as they once could, and I know you guys are one of those bands that are constantly touring and staying on the road. Talk to me about some of the differences between back in the day where album sales were the main focus, and nowadays where it seems bands need to be touring almost constantly to stay on top.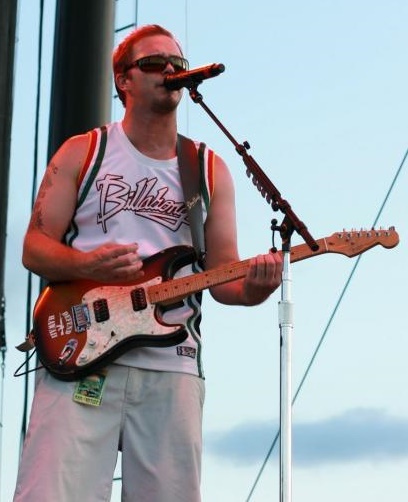 Miles: Well back in the day when records were making just tons of money, you had these million dollar videos, huge rock areas, everything was so massive and they weren't really relying on the livelihood of being on the road. Their records were selling 10-15 million copies and dumping in tons of cash, but that started to decline as soon as the internet hit, which was around the same time we were starting our careers. But you know, that was actually a good thing because it made it so we could tour the East Coast and some areas in the South and hit some of those states that wouldn't have necessarily heard of Slightly Stoopid. Skunk Records released our first CD pre-web but leading into that generation and it was just something you had to kind of embrace and not be lazy about, you know? So many bands just want that quick, "I want to be a rockstar!" or "I want to be famous!" but it isn't really about that, you know? It's about making good music, and traveling, and I've gotten to live with my best friends on the road for my than half of my life. It's pretty crazy, and we've just been so blessed to tour and play with so many great musicians. Like today for instance, on set Don Carlos is going to be with us again and he's been playing with us for the last few years. He's one of the greatest reggae artists of all time and the fact that we get to play with him is just amazing. Then there's Umphrey's McGee, I mean those guys are just insane and we've done so many shows and festivals with those guys over the years so it's just really cool to be a part of and such a blessing.
GW: What are some of the similarities and differences of playing a smaller club show versus a giant music festival. Does your approach change when playing a music festival, where most of the people have already been there for three or four days, compared to maybe a club show where people are only there for the night?
Miles: Yeah there's definitely a difference but our approach never changes. You know sometimes in a club setting things can get a little congested and chaotic because it's such a tight environment, it's very personable, almost like your playing a backyard party. Where as here (Summer Camp), its just madness all around. You know everyone is camping and people are partying pretty hard all weekend, and sometimes people are up for all four days of their camp session. So you know, you just try to play the jams and try to bring a good vibe that will elevate them to the next level. You get a lot from the energy of the crowd at festivals, and sometimes that kind of dictates your show. You can go into a show thinking, "I wanna do it this way," but once you start playing you can tell the crowd is feeling a certain way and your like, "fuck it, lets keep riding that wave," so it's a pretty cool experience.
GW: Slightly Stoopid's latest release "Top of the World" debuted back in 2012, any talks of a new upcoming album or are you guys pretty focused in on the upcoming tour?
Miles: We've actually been in the studio the last few months, recording in between being on the road, and we tried to get an album ready for this summer but unfortunately it couldn't get done in time. However there is an album in the works, yes, we're not taking time just to tour right now, and we're spending a lot of time in our studio out in St. Diego where we live, so it's nice we have access to it at all times of day. Look forward to something in the beginning of let's see it's 2014 now, so…2015.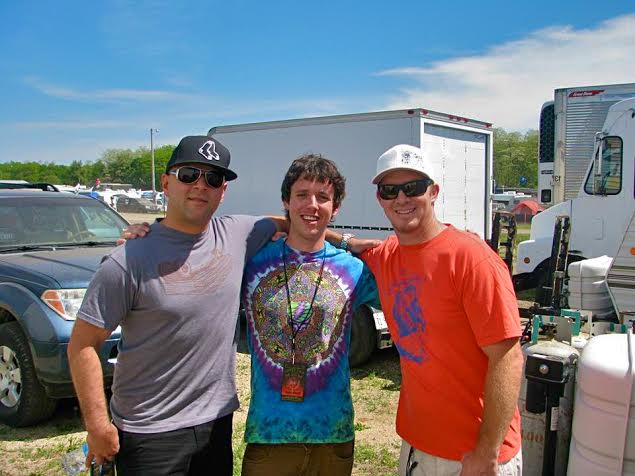 GW: Time flies.
Miles: Yeah it's kind of crazy when you think about it, the year is already half way over.
GW: So you guys are a California-based band, co-founded by Kyle McDonald and yourself. Tell me a little bit how Slightly Stoopid first came to be and your relationship with the other members.
Miles: Well we started Slightly Stoopid during high school when Kyle and I were 15 and 16, and I've known Kyle my whole life, we're basically brothers from another mother. When we were in high school we just a three-piece punk rock band, and we played a couple little ska tunes but mostly just punk-rock music. As we got older and developed and began listening to different types of music, you know our style just kind of matured along the way from reggae to hip-hop, blues, and acoustic music, stuff like that. We've also slowly added members along the way, you know now we've got a three-piece horn section, more percussion and keyboards, so it's been amazing. Also, Karl Denson has been playing with us the last few years, and if anybody is anybody you have to know who Karl Denson is, I mean he's one of the greatest saxophone players to walk this earth. It's been cool also because he comes from St. Diego, so it's rad that we've been able to join forces over the last three or so years. He just brings so many different elements to the band, and also that dude plays with everybody. I mean, he just spent 10 days down at Jazz Fest down in New Orleans so, that guy is just a fucking machine and it's really been an honor to work with him. Also Pauly Wolstencroft, he's on the keys and he's just this amazing musician from Boston, who's got his own little side project called "Knockout Machine," and he's just a musical mastermind. He's been with us for about five or six years now and he's really just taken the band to the next level when it comes to filling in all those extra killer sounds that we do on the records and all that stuff you do in the studio. We didn't necessarily have all those elements to do on stage just because we were still a raw band, and now we just keep building because now you're playing the bigger venues, you're playing those bigger festivals and amphitheaters, so it's just good to have that bigger sound, you know? It makes it more fun for us two as well, because Kyle and I switch off with bass, guitar, and singing, and sometimes when you're singing you just want to pick up the guitar, so it's nice because Pauly just kicks right in where the guitar dropped, so that aspect of him playing with us is really cool. I'm just really stoked about the direction that the band is heading, and I'm stoked that were getting a new album in order so it's going to be a good little year just between touring, recording and getting ready for what comes next.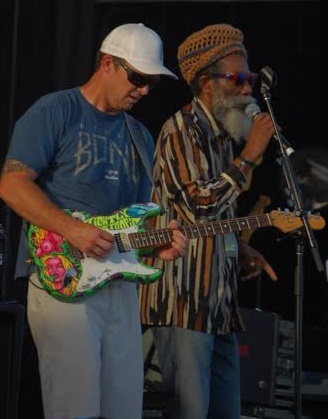 GW: Over the past decade you guys have become pretty close friends with G. Love & Special Sauce, tell me about your relationship with him and how that came to be.
Miles: Yeah we've been hanging out with G for man, almost 13 years now and it's just been amazing, he's a maniac. He's just such a great blues guitar player and songwriter, not to mention a hip-hop vocalist so he's just a crazy cat. We've been blessed to work so many times together, and we've done so many shows with him as well as different musical projects. We pretty much consider him one of our brothers so that's why we push for him to be on the tour because it's nice when you go on the road with your friends, nothing can really beat that. I mean you're going to be out there for a couple months at least, so why not surround yourself with your guys? Not to mention they also happen to be an absolutely amazing band, so it's going to be a good time this summer.
GW: Couple more left for you, Miles. Tell me about recording "Slightly Stoopid & Friends Live at Roberto's," You recorded the entire album with the legendary Grateful Dead guitarist Bob Weir in his TRI recording studios out in California, what was it like working with him on the album?
Miles: Roberto Weir! I mean it was a pretty unbelievable experience, first of all because the recording studio they have you come up in just amazing. It's so sick, they have these mics hanging from the ceiling and there's these things in the wall you can set with an Ipad where if you say a word it will just bounce off the walls and echo throughout the whole room. There's just all this natural ambience in there, it's crazy. So Bobby comes down and, well first we had Karl Denson, Ian and Ivan Neville, Don Carolos, I mean it was an arsenal of musicians, and Bobby Weir comes down and we just started talking about music. Well him and I go into his dressing room and were working on some harmonies on "I Know You Rider," which is actually a traditional song even though most people kind of know it as a Grateful Dead tune. But it was just kind of surreal, you know I'm sitting there singing, and I look over and Bob Weir is singing, I'm thinking to myself "Holy fucking shit, it's Bob Weir," so that was just a really cool experience for the band. It was really cool, he was into it and his entire crew was really helpful so it was a great time.
GW: What stands out about Summer Camp Music Festival, is there anything your looking forward to doing while you're here?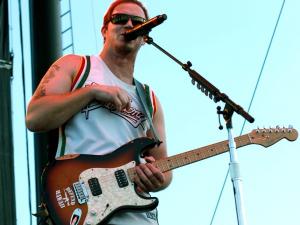 Miles: Honestly, I'm just looking forward to having a good time with the fans and I always enjoy seeing Umphrey's McGee every year, I'm a fan. It's funny we've done shows together but we've never actually toured together, so that's something that we hope to do in the future. But I mean just the all around vibe here is really cool, from the people who show up to all the people that work here, everything has just been really friendly. I like how you've got the forest over there and then the field out that way, it's just little elements of everything here at Summer Camp. Also, Zach Brown Band is playing here tomorrow, I'm little bit bummed I have to miss that one I'm like a new fan of Zac Brown.
GW: I'm interested to see what he will bring to this type of audience, I mean he's not your traditional "jam-band" but he seems to be a hell of a musician.
Miles: Oh man, I went to his show out in LA and really had only heard a few of his songs that were on the radio, but really had no expectations as to what as going to happen at the show. My buddy got my wife and I front row seats right up next to Zach's microphone, and dude, let me tell you his band and him just destroyed it. They absolutely crushed it! By the end of the show my hands were up in the air, I was a total fan. It was a little bit of everything from country and pop to jam, I mean they even did some Metallica songs. They did everything, so it was a cool experience.
GW: Well thanks for sitting down with us this afternoon Miles it's been a pleasure, we'll catch you at 5:30 tonight for Slightly Stoopid's performance on the Sunshine Stage!
Miles: Thank you guys, see you tonight.