Unfolding its surprises as it progresses, Umphrey's McGee has always been a creative conglomerate designed to peel back the layers of musical expression and re-define the realm of artistic possibilities. At the core of that lies one Ryan Stasik, a father figure and family man by day; a hard-slapping, trailblazing pioneer of a bassist by night. The night and day theme seems almost fitting, as the debut of his newest project, Doom Flamingo, begins to make its waves around the scene as the up-and-coming synthwave collection to hit the circuit. Sure, the Charleston-based sextet can play soothing and soulful pop grooves to brighten the spirit and light up the dancefloor, but do not for a moment undermine the dark, sinister sounds that awaken when the moon shines bright. Ryan Stasik was gracious enough to sit down with the Grateful Web to discuss his newest project Doom Flamingo, chat about the how the group came to be, what's in the works for 2019, including a new CBD-infused craft beer and graphic novel, as well some Umphrey's-related content for all to enjoy.
GW: What's happening guys, my name is Elliot with the Grateful Web, and today I'm here with bassist Ryan Stasik of the legendary Umphrey's McGee and founder of the newest, darkest, synthwave group on the scene - Doom Flamingo. Now before we dive into the new single and the new tour dates, tell me a little bit about the origin of Doom Flamingo. Why did you select the specific members that you did, and what were you setting out to accomplish when this thing kicked off in mid-2018?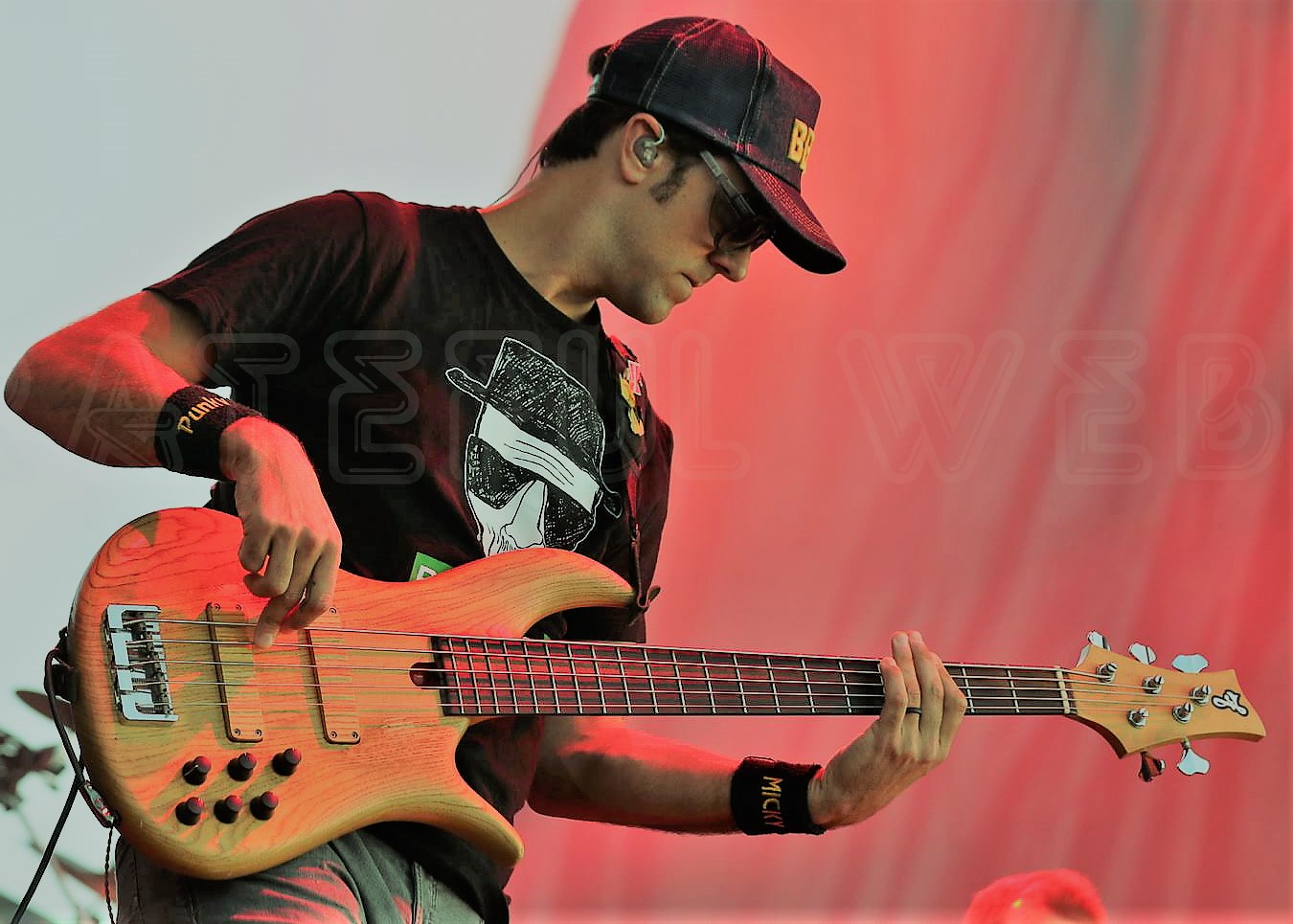 RS: Absolutely, that's a good place to start. Umphrey's was playing in Charleston in May of 2018, and there was an after-party slot that we had held for a different style side project I'm involved in called Omega Moos, but the show actually didn't end up panning out. So, I told my manager Vince, and a guy who's now working with Doom Flamingo, Hank Wharton, that I wanted to use some musicians from Charleston, South Carolina. The Charleston musician scene is off the charts, from the gospel to the funk to hip-hop and jazz, and being a transplant and this being my home for the last six years, I wanted to get a group together of some people that I knew. I had played with Mike Quinn on sax, but I also wanted to include some new people I had never played with before. We have Ross Bogan on keys, Thomas Kenny on guitar, Stu White on drums and Kanika Moore on lead vocals. Going out we all have gigged relentlessly, and everyone has played funk or jazz or fusion, but everyone is really comfortable with improvisational music as well. So, we decided okay, which route and which genre did we want to go to take us out of our comfort zone, but was something that we still all enjoyed.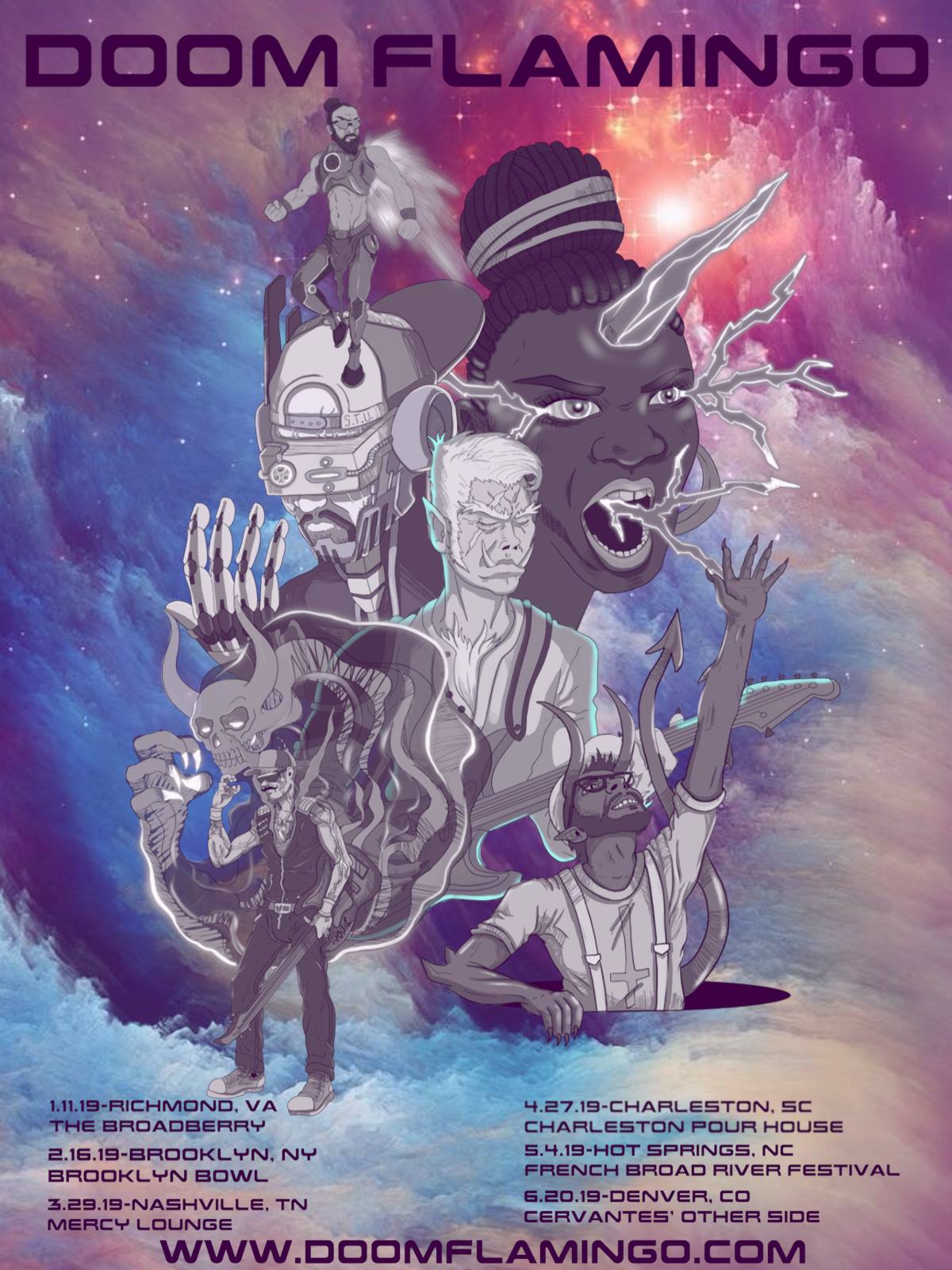 Sythwave was the genre that sort of chose us, and it's such a large genre when you say synthwave, when you really dig into the umbrella of other waves and genres that are underneath, it's enormous, and we're really still figuring out which part of the umbrella we want to be under. The "Doom" part could be darkwave, the "Flamingo" part could be popwave or dreamwave, it really just depends, and we don't want to pigeonhole ourselves onto one wave, we want to ride them all like a good surfer, but that's definitely the genre, and the tone, and the type of music and visuals that we are trying to present. That 80's nostalgia with futuristic music, with the tones, vibes, and culture of the '80s, but more importantly that it's fun and original.
GW: Now you guys just dropped the new single "Domingo's Drive," which perfectly captures the synthy darkness that is Doom Flamingo, along with a handful of dates including some Umphrey's McGee after parties, a beer release celebration which we will get to in just a moment, and a Red Rocks pre-party at Cervantes in Denver. For those Umphrey's fans who have never seen Doom Flamingo, what can one expect walking into a show for the first time?
RS: What I'm hoping is that people come ready to dance, and come ready to be open-minded to the synthwave genre. We only have a handful of songs, and we're busy writing, but much like Umphrey's or things that are similar to the jamband scene, we take parts of those singles that we've recorded in the studio, and we jam them out. Improvisational journeys, if you will, and some of them are darker than others while others are more poppy, so to me it fits in the jamband scene and their fans because they love to see people take chances, they love to see the energy of a room, and  to take a band and an audience on a certain journey, and this band does that, but it's centered more around synth, dance music.
GW: When the band was first coming together and being created, were vocals part of the initial plan or did that element just come naturally to the equation?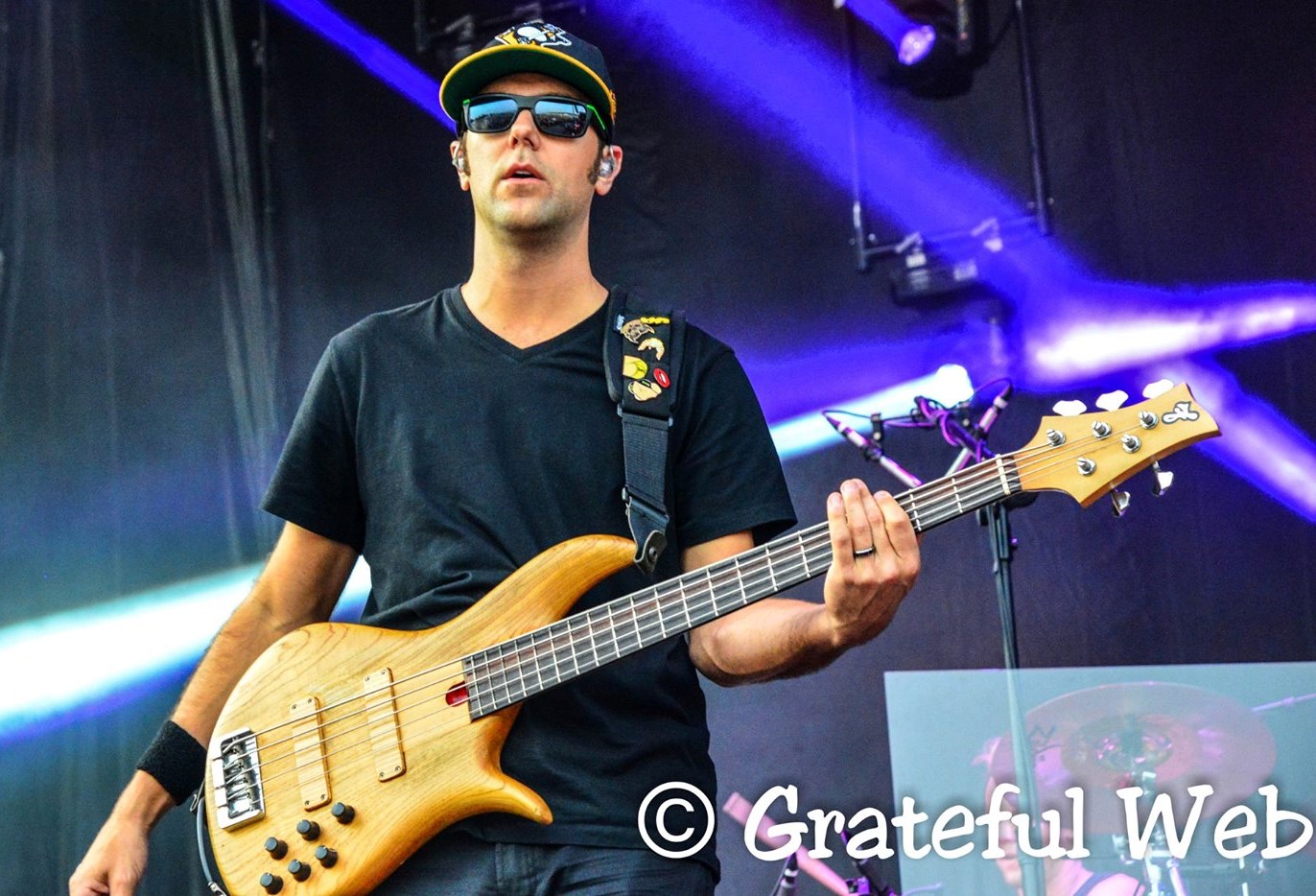 RS: It was absolutely part of the plan, everyone in the Charleston scene knows Kanika Moore, she's definitely a centerpiece and a highlight of the group, her pen to paper is just fantastic and to be able to be in the studio, watch her work, and watch how some of these compositions transform into stories when she puts pen to paper is absolutely incredible. We're also working with a very talented illustrator out of Toronto, Canada that has made characters for everybody in the band, so now we have more a focused, conceptual idea of Domingo, the Doom Flamingo, and then the Doom Flamingo sextet where we all have super powers if you will. This is all in development, some of the story's lines are still being created, and some of the songs revolve around this. Even in " Domingo's Drive", there's a little hint, you hear the motorcycle going off in the distance, Domingo, and then there's this phone call, just alluding to what's going on and what the story entails. In the future, this is all going to be part of it, so it's very fun to be a part of something that's theatrical, both dark and light.
GW: Absolutely, and I'm fascinated by the comics and artwork surrounding Doom Flamingo, like you mentioned previously you're currently working with Jordan Noir on some of the track artwork and concepts, as well as eluded to a Doom Flamingo graphic novel in the works. Can you tell us any more details in terms of additional artists, concepts, storylines, and possibly a release date?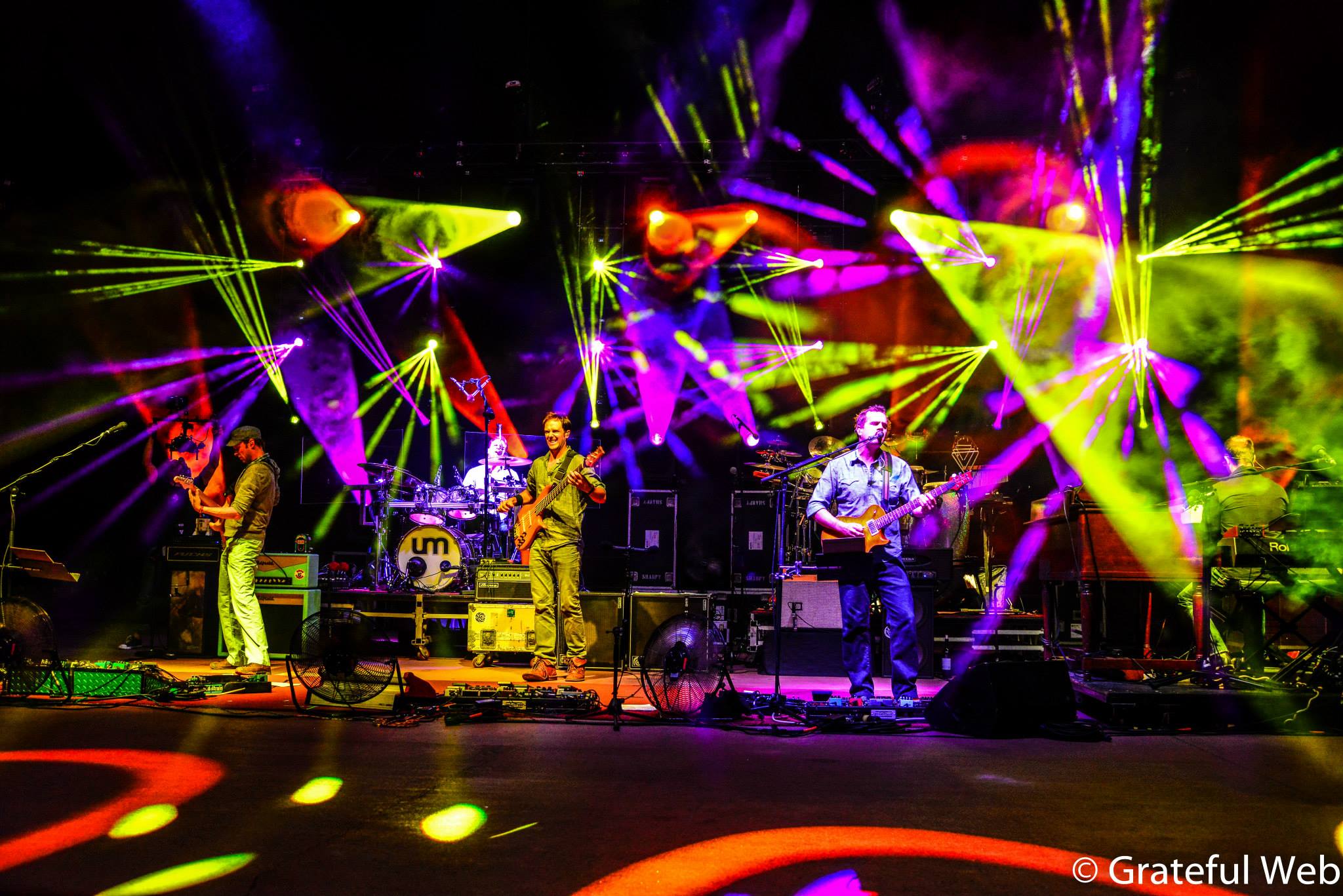 RS: There isn't a release date at the moment, I've been very busy with my family and with Umphrey's, I'm actually on daddy duty tonight, but when anyone has time, we're making the most of it here in Charleston. Luckily we are all here in Charleston, but we're all equally as busy just gigging, touring and doing side projects, so putting a timeline on anything definite can be difficult, it's more when the opportunity arises, but I do predict by the end of the year our goal is to play in front of a lot of new faces, hopefully hit some festivals, get some work done on an EP or more singles and get this concept of a graphic novel moving. We've had some other fantastic artists do some work artwork for us as well, Iron Skullet, he's got a blog all about synthwave and is very knowledgeable about the subject. He's also a pencil illustrator, and he drew an awesome Doom Flamingo, which, and I have to double-check on this one, but I think it might be the label for the new beer they're putting out with Doom Flamingo here in Charleston. Again, I will have to fact check that one so I'm not giving you false news, after all, I'm just a bass player (laughs).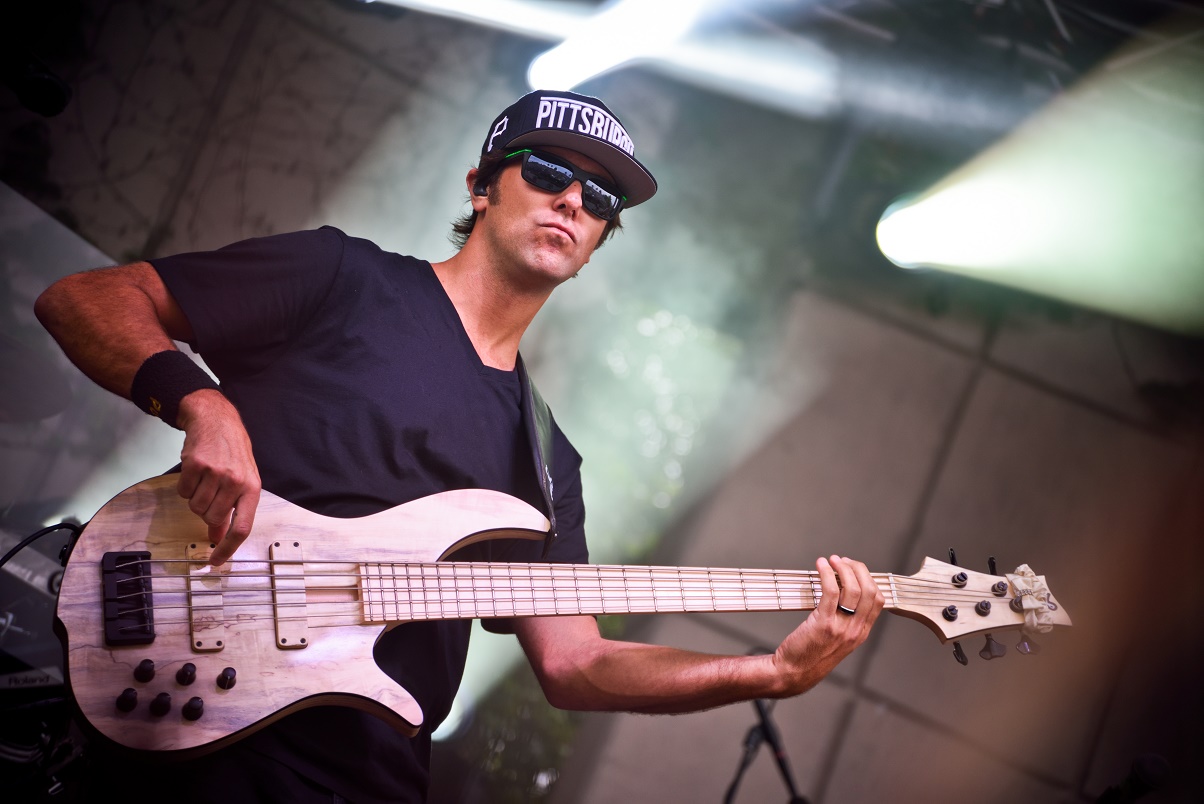 One additional point there, I think what's really cool these days, a positive thing about social media, is being able to discover artists and art and people interests so easy now whereas before, our paths probably would have never crossed. Meeting Jordan and seeing his work was through Instagram, the Iron Skullet was through hearing his playlists on Spotify and seeing him on Twitter/Instagram. It's crazy how these days people can be so reachable if they choose to be, and you have that opportunity to ask and see if you want to work together, it's a very powerful and positive thing about social media.
GW: You mentioned your upcoming beer collaboration with Fatty's Beer Works out of Charleston. Now you're no stranger to beer collaborations; you've done the Umphrey's McGee Nothing Too Fancy Pale Ale, as well as the Dark Brush Imperial Stout in collaboration with Rock Brothers Brewing. This new brew is a single hop IPA with Golden Promise malt, Strata Hops and CBD hemp infusion, tell me a little bit about this collaboration and how this beer came to be.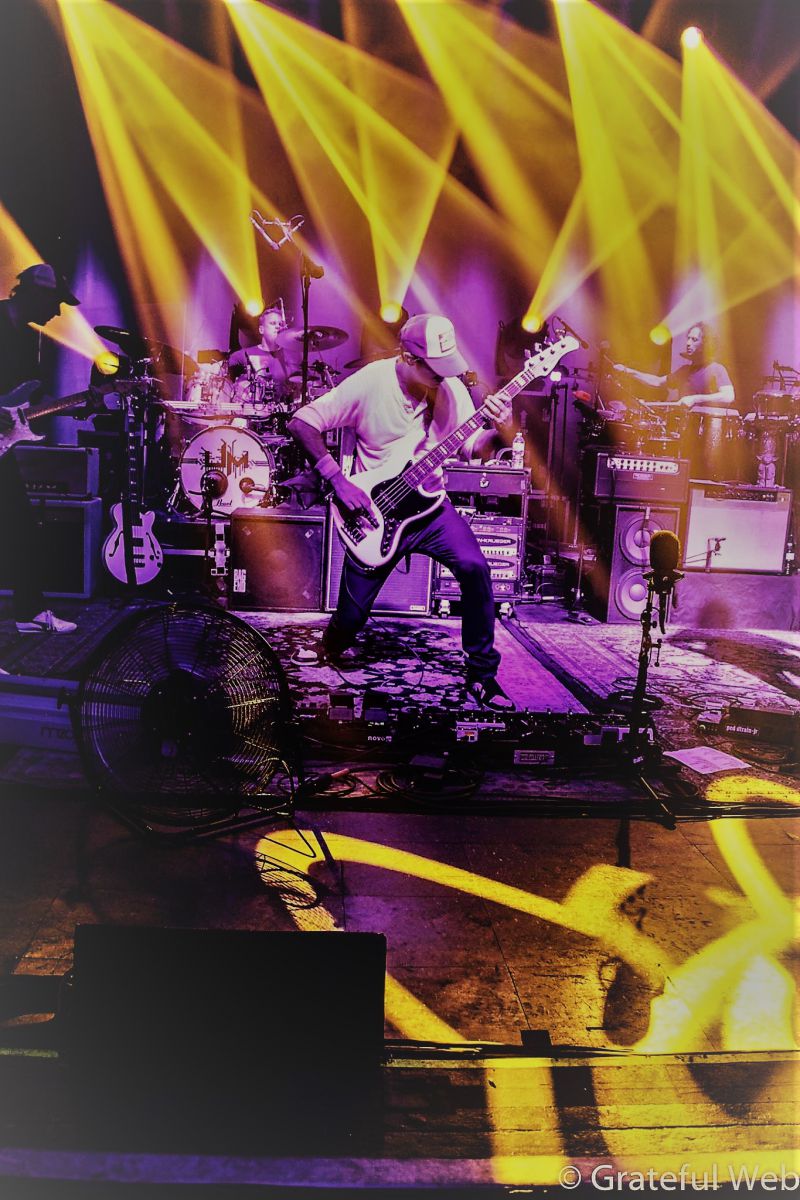 RS: Well I don't know if you've been to Charleston, South Carolina a lot but there's a lot of good food and a lot of good beer. There's several local breweries down here. Personally myself I've become quite the Coast Kölsch drinker, the drinkability is just fantastic, but Fatty's Brew Works makes fantastic beer as well, and they had reached out to us about a Doom Flamingo beer, and they were talking about doing a CBD-infused, either hemp oil or a CBD oil, infused beer for us. So, through social media we all communicated about it, discussed it and agreed on it, and we're going to release it locally through an upcoming RoBoTrio show, which is Ross Bogan's trio and our synthesizer player, and I think there's going to be another release during Trondosa festival, when Umphrey's plays with Widespread Panic and Doom Flamingo does a late night show at the Pour House here in Charleston. So that will be fun, I love pulling those double gigs, I'm not that old.
GW: Speaking of, where do you find the energy to play a late night after party, right after playing a full three-hour Umphrey's McGee show? Where does that energy come from?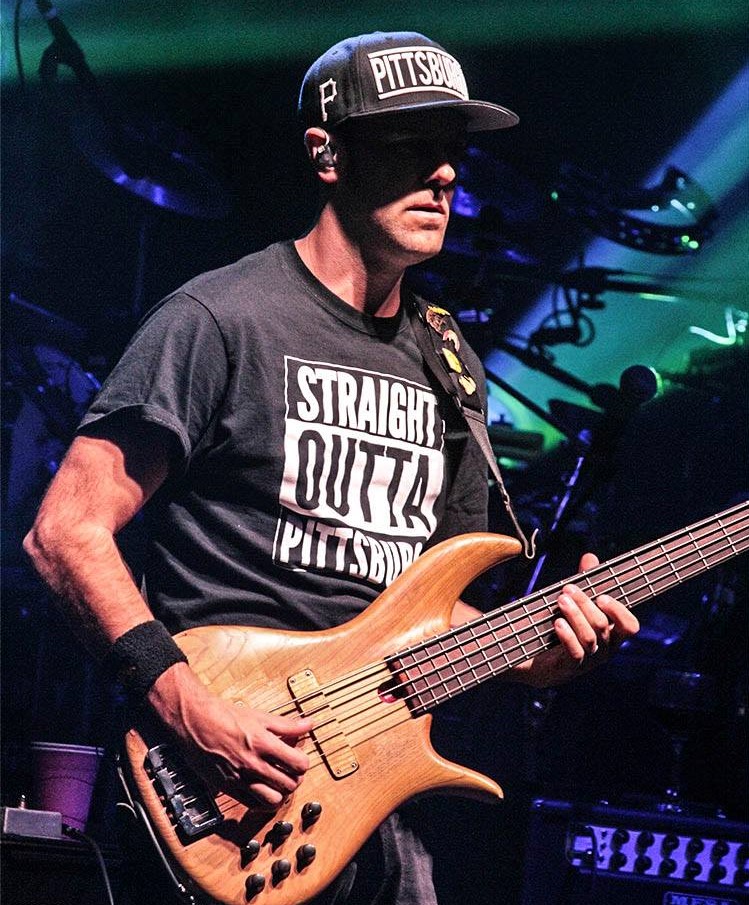 RS: When it's challenging, creative and fun, it's easy. I mean there's a lot of these guys who are pulling way more gigs than that in a day, just going from gig to gig. The people I'm surrounded by, both in Umphrey's and in Doom Flamingo are very, very talented musicians but more importantly awesome human beings. That's when it's the best, if you want to create art, you want to do pure stuff with the people you enjoying being around, and I've been blessed and lucky to be in Umphrey's for long and have that relationship with my brothers, and now have this relationship with the Doom Flamingo cats, starting gigging with them as well.
GW: Great answer. Just a few more for you here Ryan, Doom Flamingo draws a lot of influence from the 1980's - things like video game soundtracks, old-school horror films, and retro sounds. Growing up in the '80s, are there any specific soundtracks, movies, games or noises you could directly point to that influenced the Doom Flamingo style?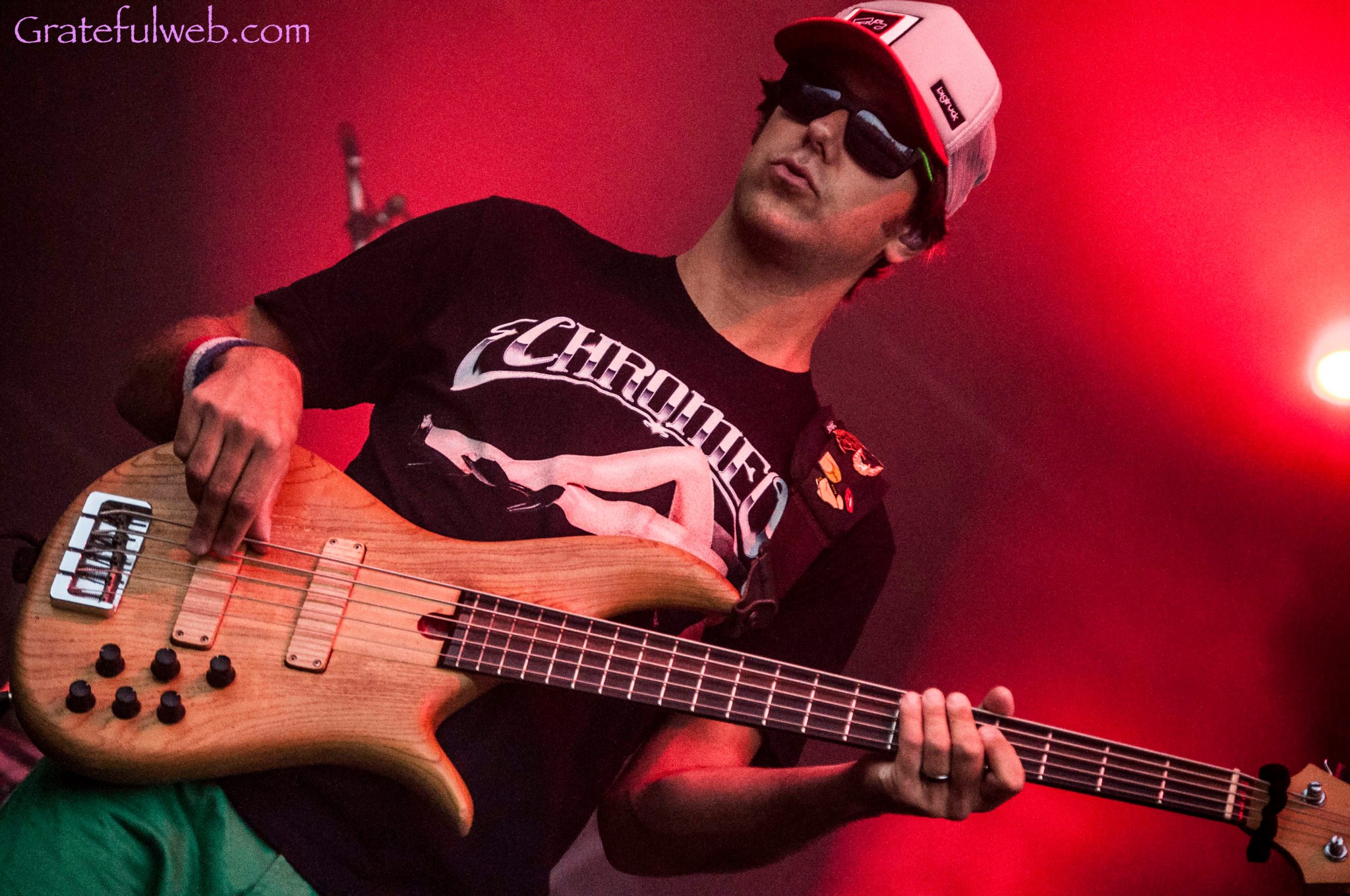 RS: When I was a kid you went to the arcade, or you went to the movie theater early, and they had arcade games there, I remember putting my quarter in and playing games like Tron and Galaga. Then similarly at the time, movies like Top Gun and Terminator had just come out, and I remember Top Gun specifically just with the guitar tones, the 80's sounds, synthesizers, as well as the Rocky movies, just hearing some of those compositions was incredible. I remember games like Contra and Rygar and how cool those soundtracks were. Then you have the classics like Super Mario Brothers and all of that, and some of those darker games just how incredible the music was in those.
When we were first coming up with the name for the band, it was difficult to decide what we wanted to call this group. A couple people weren't really even into it, and I told my wife, I said I just love the word "doom," I love the way it looks, I love the way it sounds, I love everything about it. So, she was then asking, does that mean it's going to be a heavy-metal, all dude band? What direction are you going with the sound? Then the next day it sort of hit me, I was like "flamingo," I think it's a great partner to the doom element. You've got this dark side, and you've got this light side, and I thought that would be a great element for the band. You've got the palm trees and sunsets, but then at night some of the darker stuff that might go on after the full moon comes out appears, so I just thought that was a cool concept to make synthesizer music.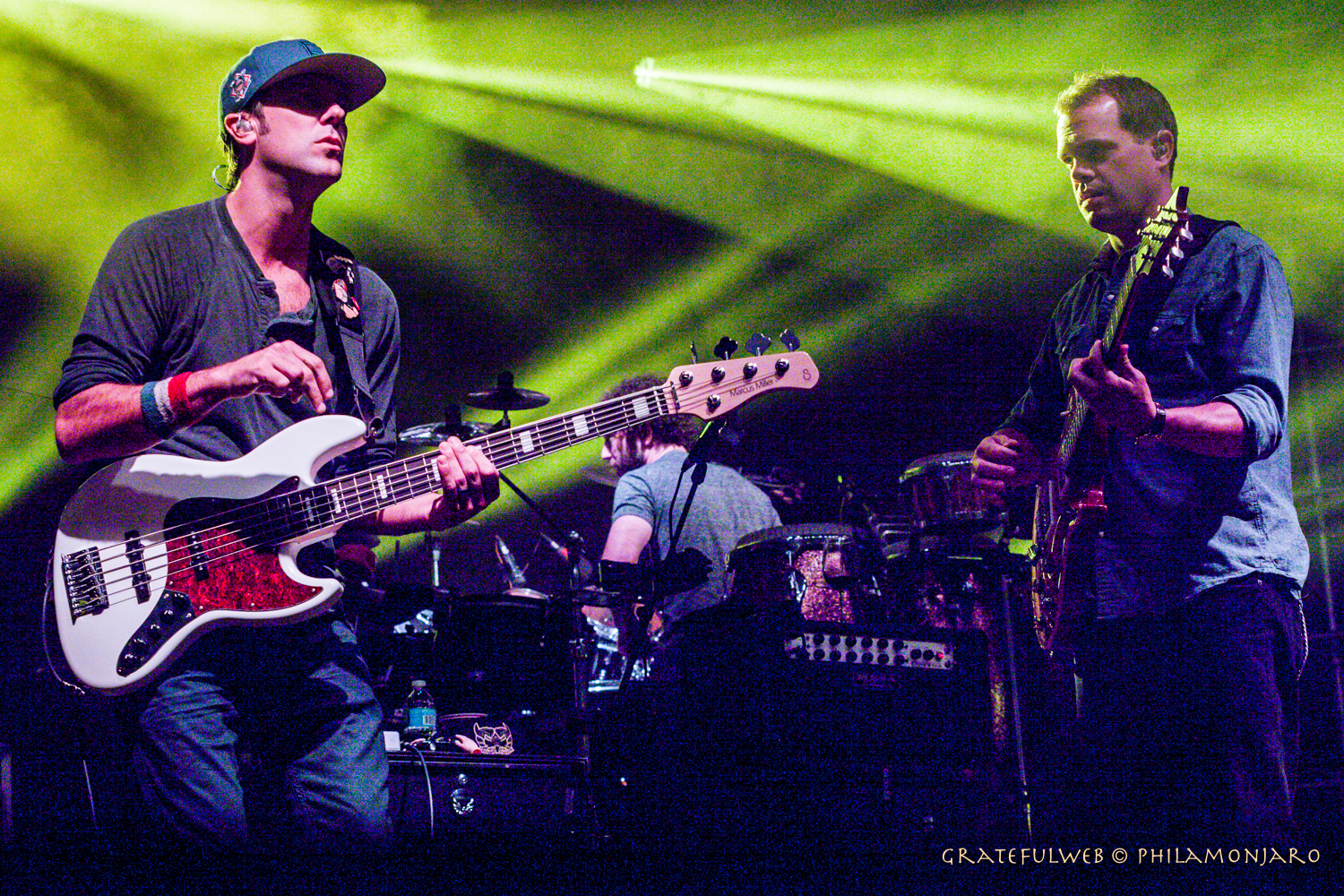 GW: I've been reflecting on that title throughout the day, and it really is a great name for the style of music you are creating, the perfect contrast with the two words.
RS: Well and a lot of people just assumed it was going to be another Umphrey's, where it was going to be heavier stuff, and I was like it's actually a completely different genre, just like Umphrey's doesn't like to be pigeonholed into one genre, but there's different elements to describe us, this is much more 80's dance music.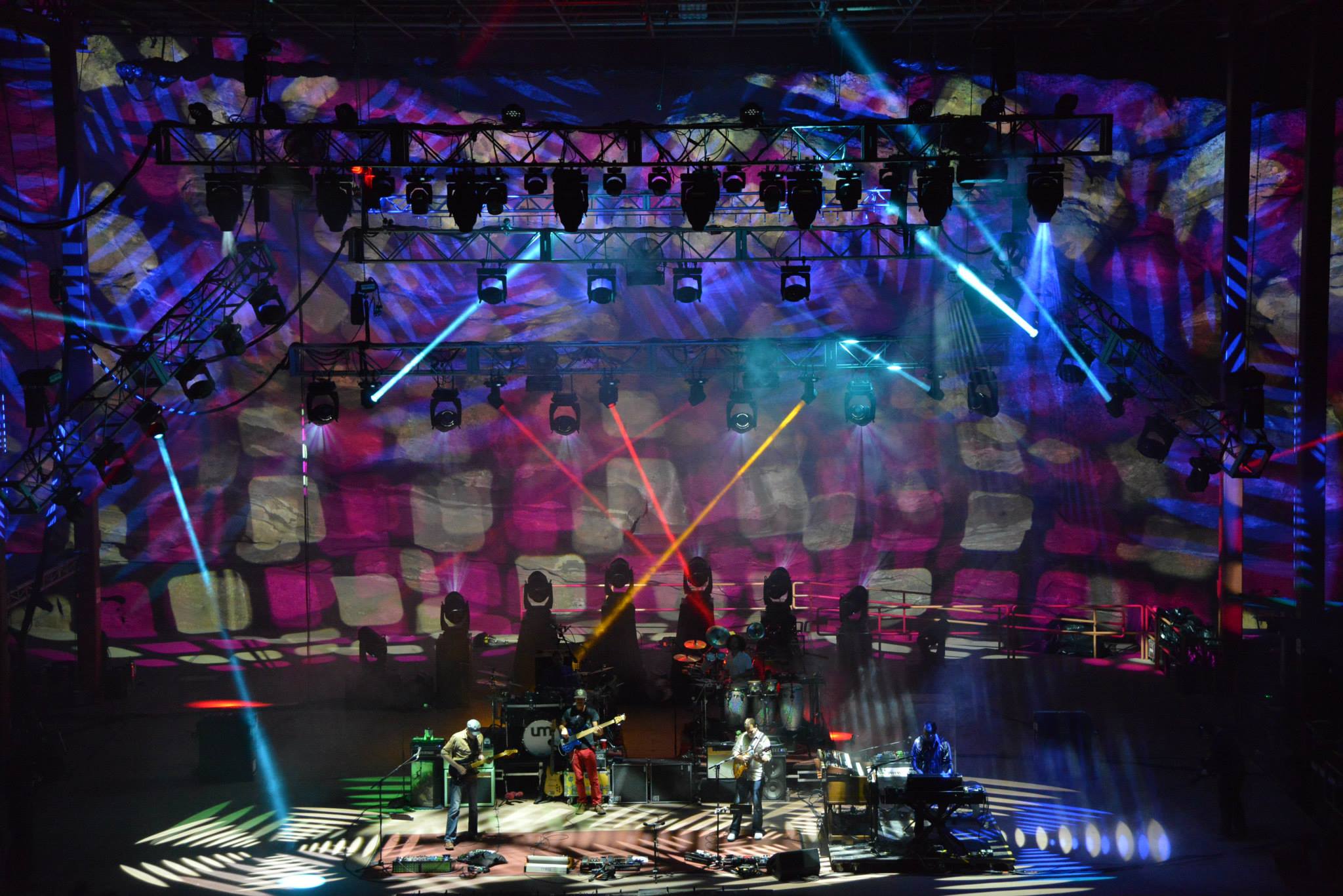 GW: Final question for you here Ryan, Umphrey's is gearing up for a big 2019, we've got the usual suspects with Summer Camp on Memorial Day Weekend and a brand-new timeslot for Red Rocks coming at the end of June. Anything else in the works you care to drop hints about or something the fans of both Umphrey's McGee and Doom Flamingo can look forward to in 2019? More secret albums perhaps?
RS: Well if I told you, it wouldn't be a secret, now would it? (laughs) I don't have anything off the top of my head that I'm allowed to speak on, I don't want to be the guy who gets a call from management, and they say I wasn't supposed to say that. I do know that we've been chomping at the bit to record and lay down new tracks. We were super proud of the amount of music that we put out in 2018, we made a lot of, and we didn't want to sit on it, and now we're ready to create new music again. That's mainly the goal is play some awesome shows, hit some wonderful festivals, go to some of our favorite venues like Red Rocks and create some new music and see what direction it takes us, hopefully the fans dig it!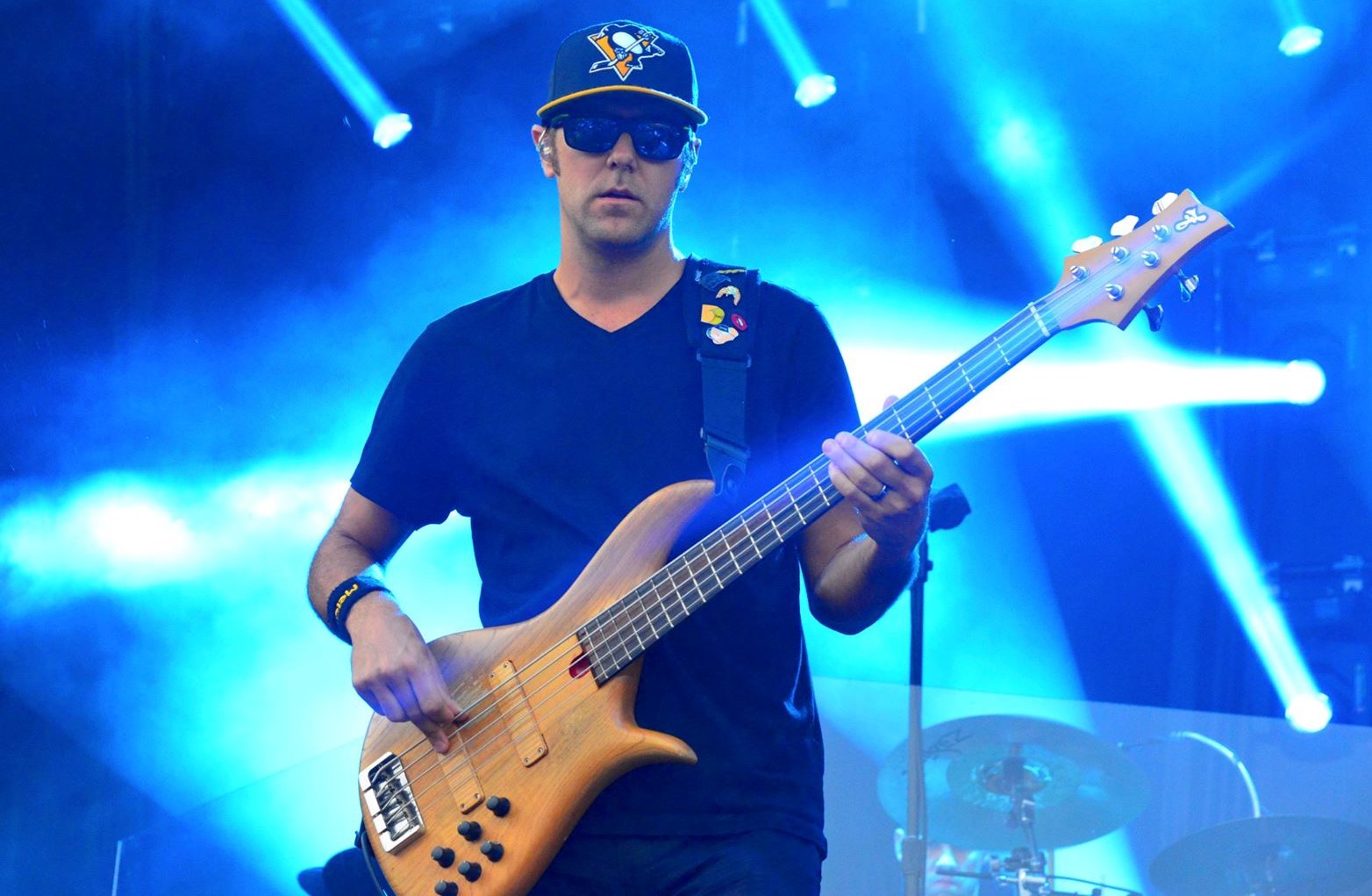 GW: Now the actual final question, what the fans have been dying to know, do the Pens have enough firepower to win the cup this year?
RS: You know, if you would've asked me that a couple months ago, I would've made a fart noise. Now, I think there's a fire lit under their ass, they've won 8 of their last 9, Murray is back and not collectively injured, so if him and Smith can stay competitive behind net, and Crosby stays hot, it looks solid. I mean Crosby, Kessel, LeTang, Malkin, Murray, listen to those names, they always have a shot, right? I will say this, I think Toronto has a lot of talent, I think Tampa Bay is always there, but I don't know if they can finish, and screw the Capitals, I'm over them, but if the Penguins can hang around, I think they can make a run.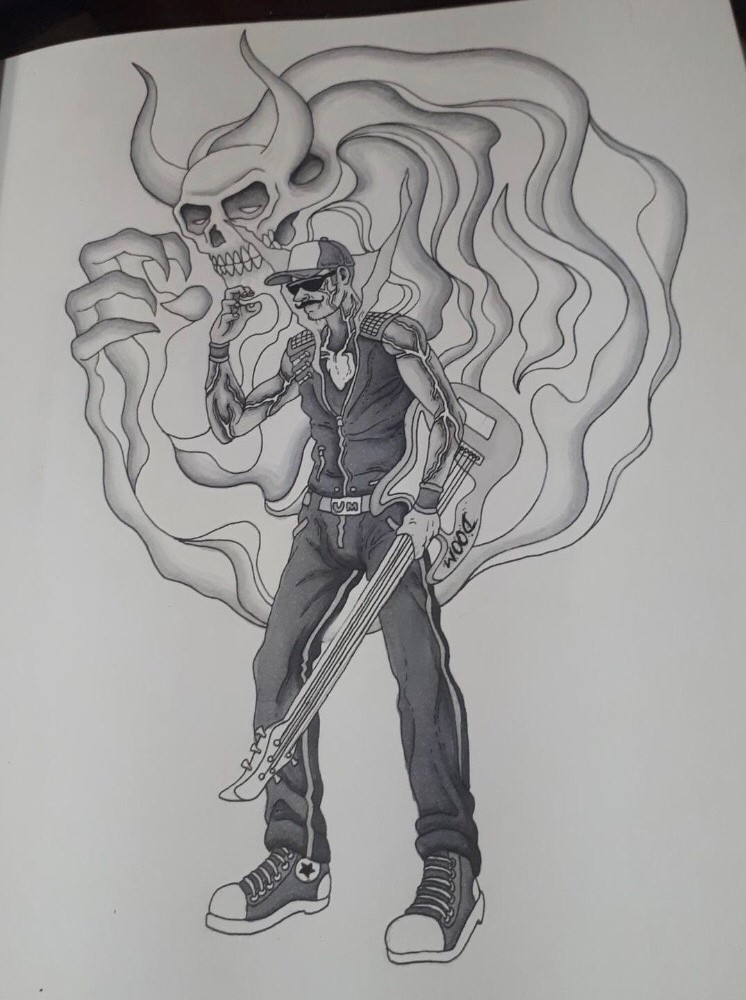 GW: Great answer, thank you for your time this afternoon Ryan, and we will catch you out on the road this summer with Umphrey's McGee and Doom Flamingo.
RS: Thank you man, take care!