Readying themselves for an extensive winter tour that reaches as far East as Chicago, Bay Area bluegrass group Hot Buttered Rum performed a low key and blistering show on a Saturday night at Moe's Alley in Santa Cruz, CA.
The band is currently holed up in a Santa Cruz home, "rehearsing and plotting world domination" according to the band's official Facebook page. The Kite & the Key: Part 2, the second of three strategically conceived EPs drops on February 5.
The Kite & The Key: Part 1, released in November of 2015 and recorded with Tim Carbone of bluegrass peers Railroad Earth features a darker, earthy side of the band. Part 2 will play out more like a tribute, featuring a collection of old bluegrass standards by The Stanley Brothers, American bluegrass pioneers whose musical mark in history is steeped in real life hurdles and professional breaks. Part 3 is to be the band's "late night throw-down" disc, recorded and produced with Kyle Hollingsworth of String Cheese Incident fame.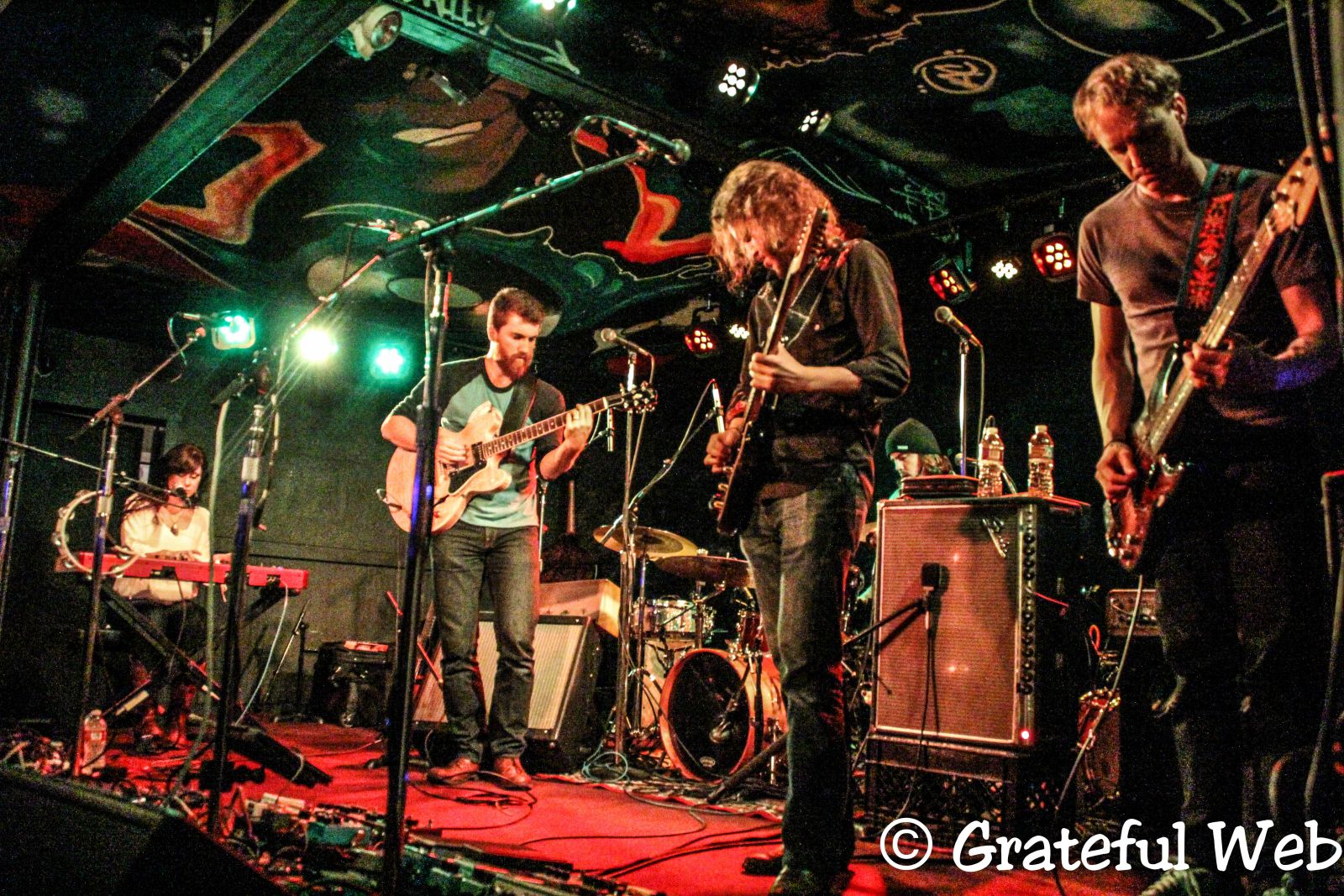 On January 23rd, though, the vibe inside Moe's was clearly loose and fellow San Francisco, CA based quintet Midnight North kicked the evening off strong. It's hard to catch a Midnight North show outside of the Bay Area, they are three years into a (mostly) weekly residency on Sunday nights at Terrapin Crossroads, a live music venue opened by Grateful Dead bassist Phil Lesh in San Rafael, CA. But for those interested, they live stream as many shows as they can.
Midnight North played a rowdy 10 song set that lasted about an hour. Elliott Peck, Grahame Lesh and Alex Jordon all take turns on vocal duties, often incorporating well-rounded melodic harmonies. To boot, they also trade lead turns on electric and acoustic guitars and rotate seats at the keyboard stage right. Occasionally bassist Connor Croonn will contribute on the harmony, but focuses on keeping the beat narrow with Alex Koford on drumming duties.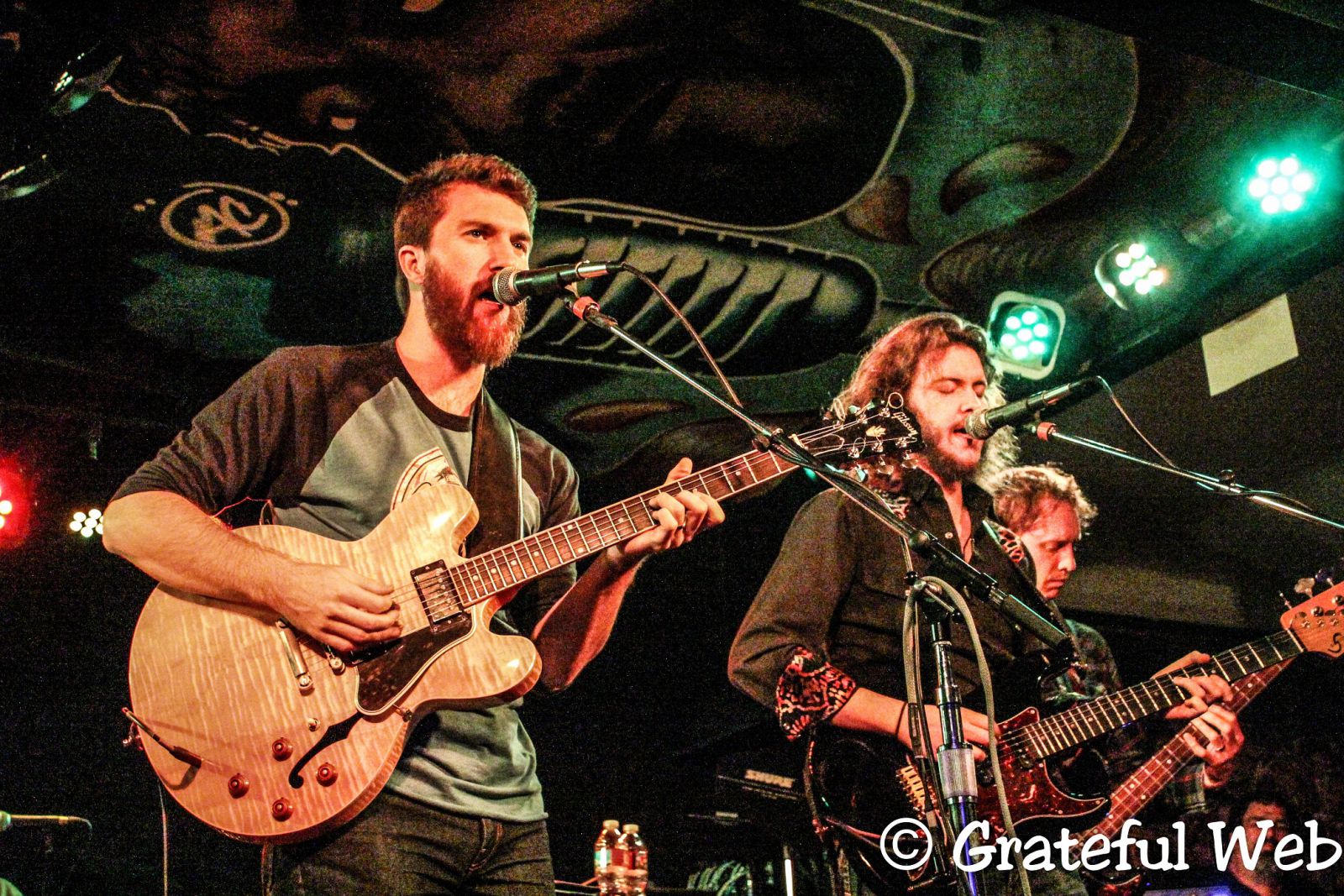 Between the rotating instruments, exchange of high spirits and yelps of encouragement in each other's solos, highlights of the set included a few covers and several new originals. A 10+ minute rendition of Crosby, Stills, & Nash's "Suite: Judy Blue Eyes" and the lead single off their latest disc, Scarlet Skies, "Stayin' Single, Drinkin' Doubles" among the stellar song list.
Original tunes "Wind and Roses" and "Roamin" featured poignant lyrics that carried a timeless resonance with them. The intro chord progression to "Roamin" shares a spirit with the Hendrix classic "Purple Haze" but by the end of the song (and set) it is clear that what Midnight North has conceived holds its own.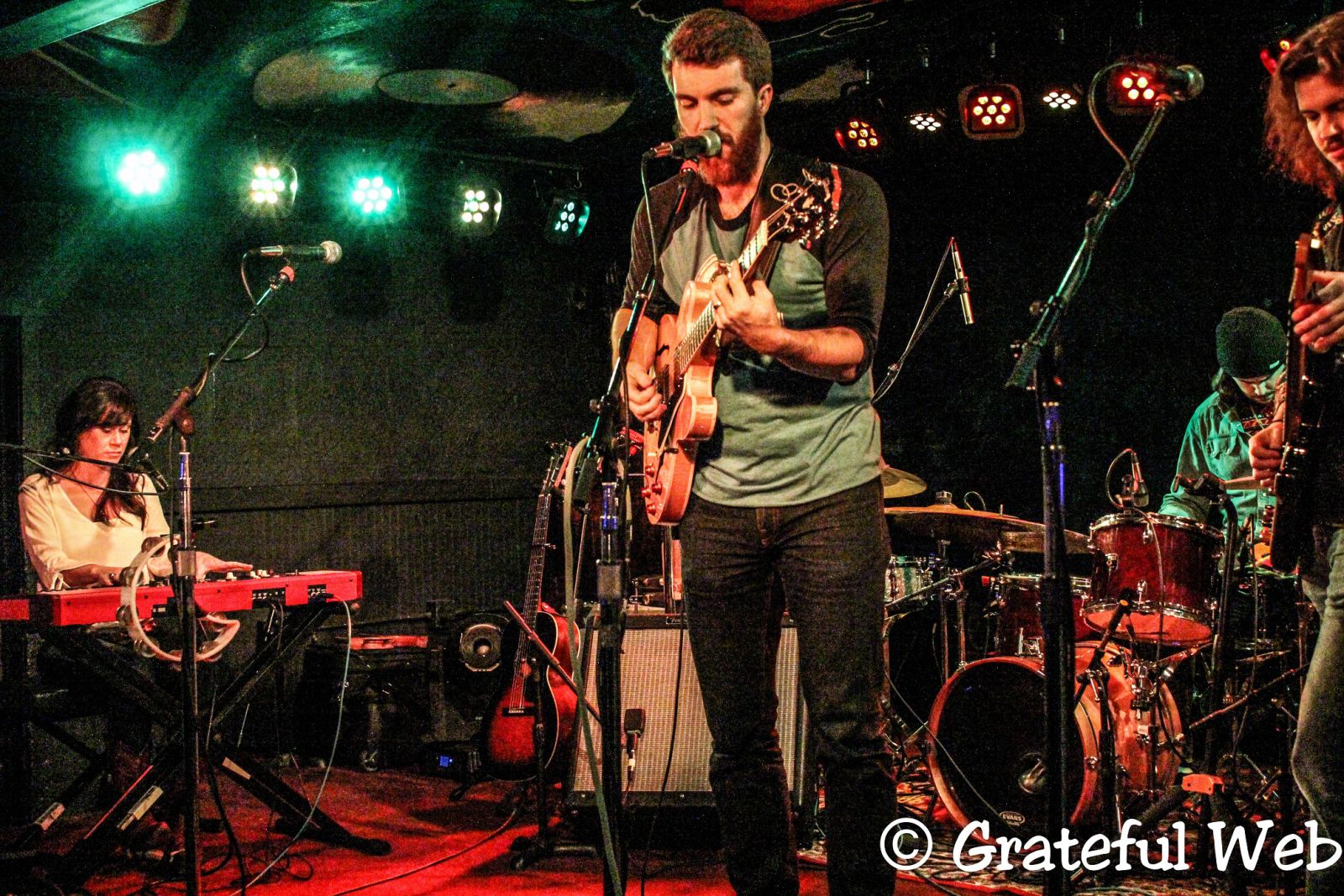 20 minutes after the energetic Midnight North ended their set entered Hot Buttered Rum who wasted no time pumping up the crowd proper by kicking the first of two sets off with a four song segue lasting about ten minutes.
The onstage energy of the band was on point. Despite a rotating rhythm section of sorts, the core batter consisting of guitarist Nat Keefe, bassist Bryan Horne, Erik Yates on banjo and the mystical aura that is fiddle player Zebulon Bowles remains thick. On this particular occasion, drummer Shane Schlick held down the beat while part-time percussionist Rob Hooper (who played the entire show) added color as required.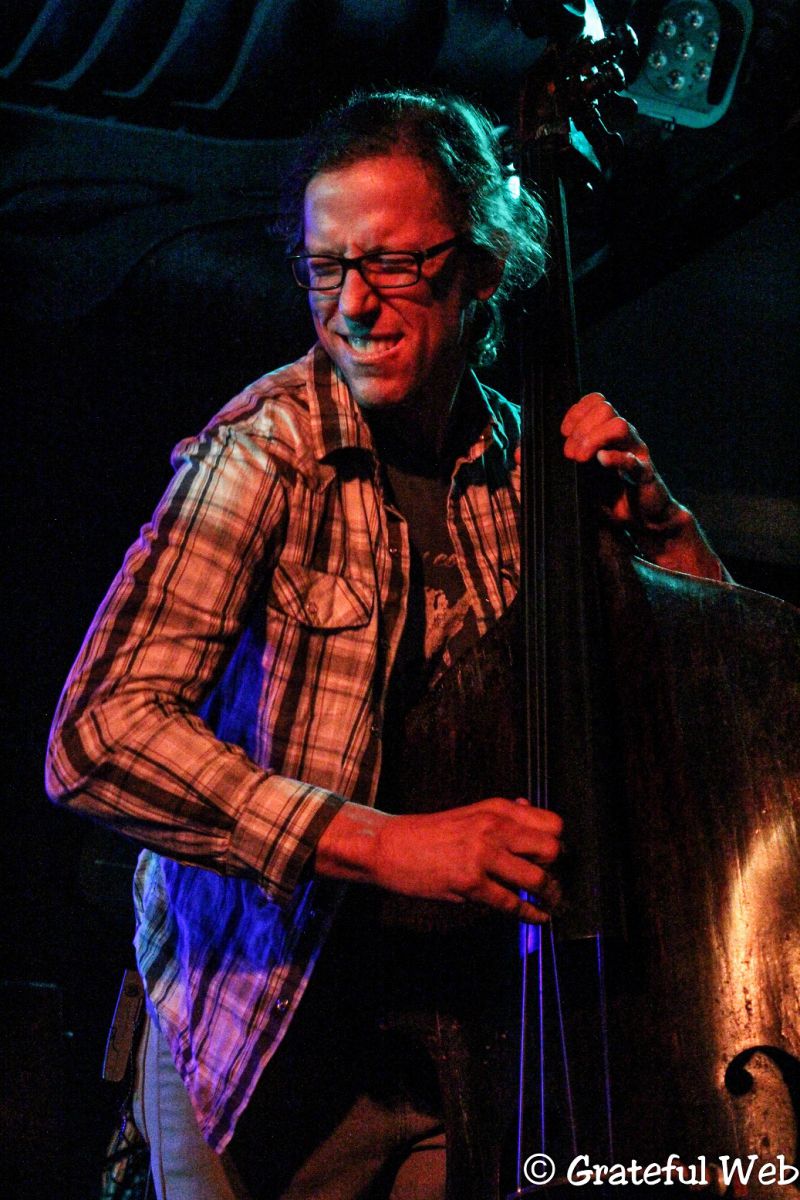 Heavy in material from 2010's Limbs Akimbo and 2014's self titled Hot Buttered Rum, there was enough action that it could have been easy to overlook the debut of "Weary Ways" from TK&tK:P1 as the second song, but they made sure to slow down the pace and properly introduce the next original debut.
"Old school fans are going to dig the new EP," said Yates, tuning his banjo. "This tune is from the first."
Yates began a slow banjo pattern that quickly filled into an uptempo bluegrass beat. "I Wanna Know" is full of an everyman longing for an answer, and resonated well in the crowd. Near the end of the breakdown, Shlick got wild with a very disco sounding drum beat for a few measures (possibly a snippet of what can be expected on the third upcoming EP) before the band reigned it back into the simply upbeat tune it started as, and closed with a furious lead from Bowles.
Very slyly the band provided its fans with several low-key treats, courtesy a few of Keefe's extra curriculars. The next song in the set, "Lonesome Road" appears on an album Keefe produced for a Midwest band called The New Old Calvary and was rounded off with a segue into a heart wrenching "Entangled".
On the setlist for the second set, but played next was the popular track "Busted In Utah" which featured an excellent bass performance by Horne. "Cherry Lake" followed, with "Middle Country Stars" and "Wedding Day" to close out the set.
The second set opened with 2010's "A Great Many Things" and an announcement that the band has a show scheduled in May at The Fillmore in San Francisco.
"It's going to be epic," said Keefe. "It's one of the high chapels of rock n roll music."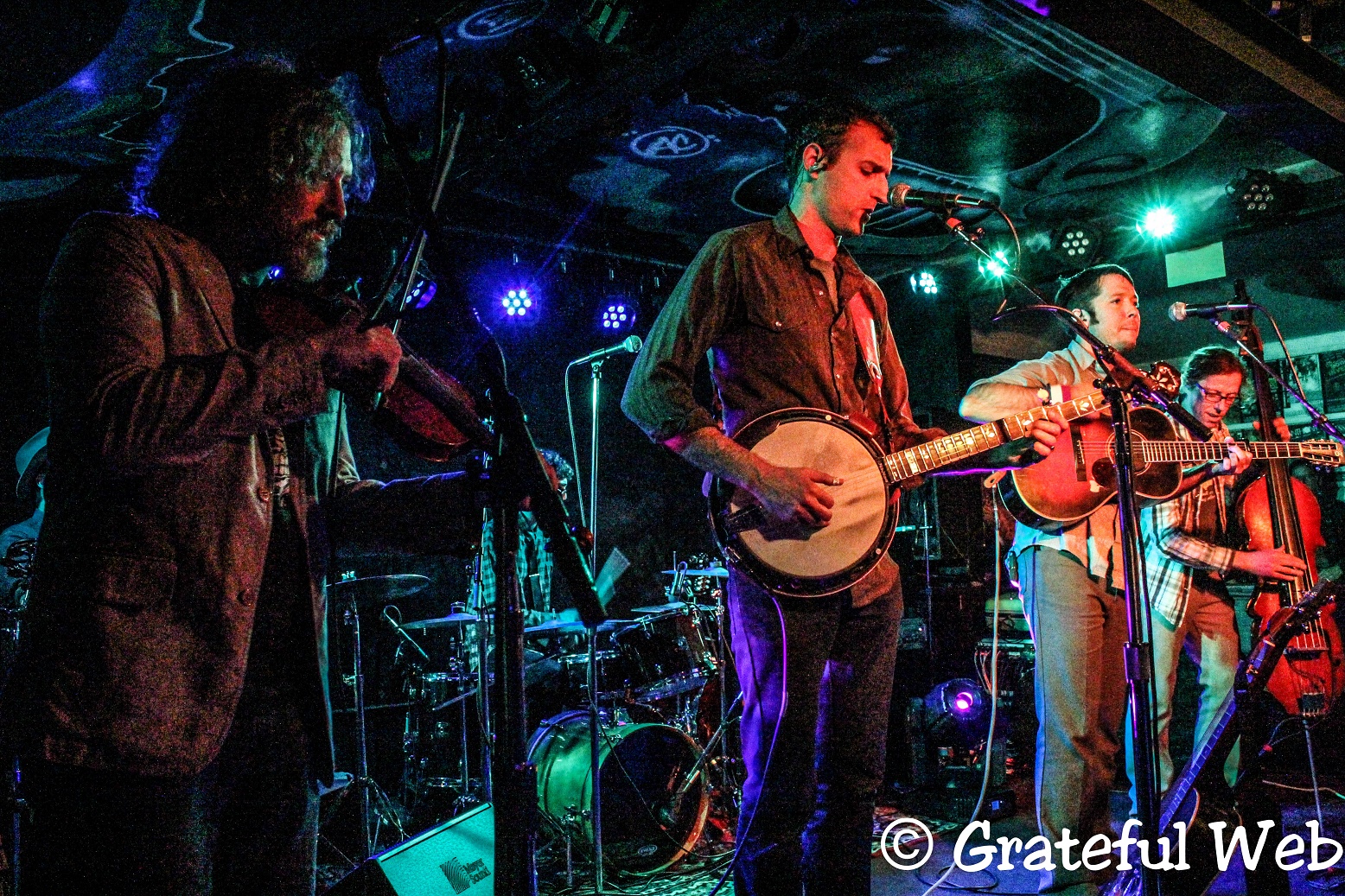 The band then paid homage to another high chapel occupant of rock history with The Beatles' classic Abbey Road medley of "Mean Mr. Mustard > Polythene Pam > She Came In Through The Bathroom Window" and continued the relentless string of covers with Rail Road Earth's "House On The Hill" which saw smiles across the board on stage.
The smiles and segues continued as the third original debut of the night, "Maybe I Just Feel That Way", also from the first EP, segued wonderfully into the 2014 original "Working Man". "What Old Woman" of the same record followed and melted into a lively feel good tune that the entire crowd seemed to resonate with, "The Music's Been Good To Me > Desert Rat". "Desert Rat" featured a banjo + drum solo in the middle section which really elevated the crowd in a "Bouncing Around The Room" kind of way.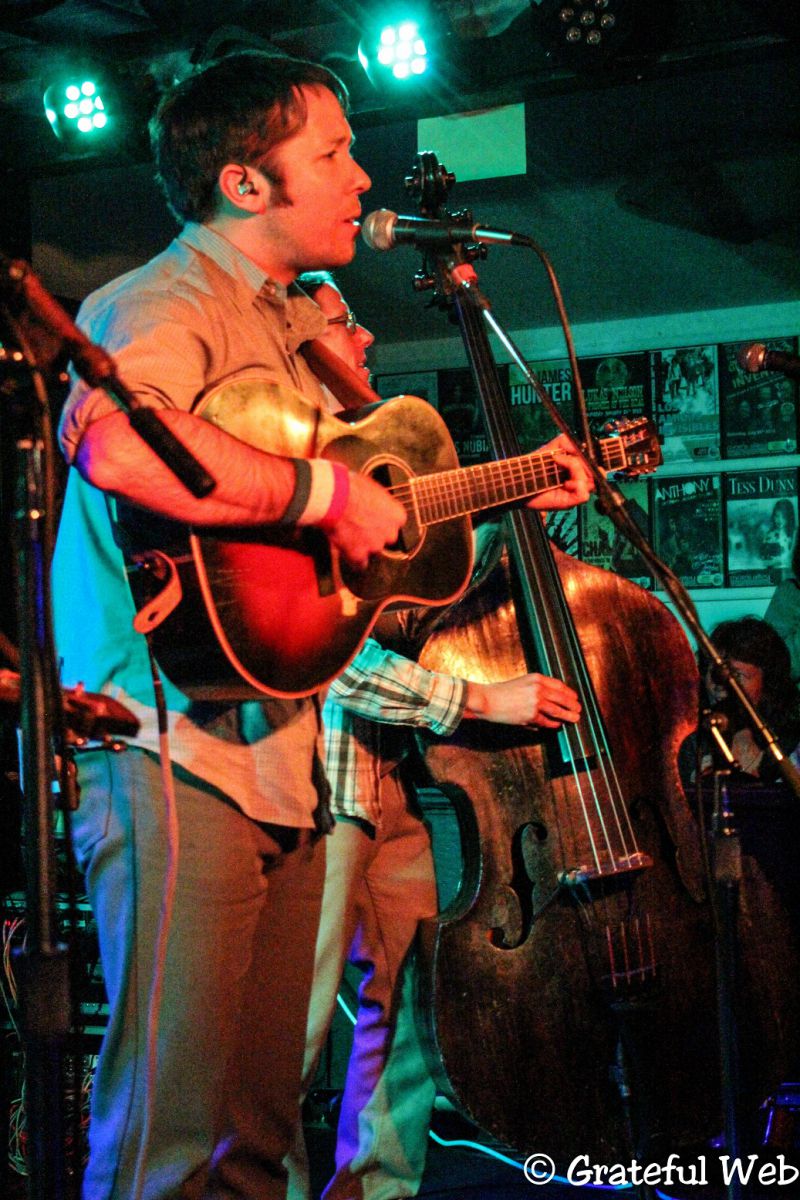 The set closed with a wild section of music and choice song selection. "Ramblin' Girl" featured a scat-jazz breakdown from Yates and segued into "Swing and Sway", a crowd favorite featured on Girl Thursday, a record resulting from Keefe's third trip and second music project with American artists and locals from Ghana, West Africa.
Following the steps of an ever wild dance the band kicked it up for the show closer. Horne opened with a solo bass line and really set the tone strong for 2010's "Summertime Gal". Halfway through, all stringed instruments left the stage as the rhythmic duo of Schlick and Hooper took center stage. One by one returned Keefe, Bowles and Horne with their instruments while Yates sat in on Cooper's cowbell for the bluegrass standard "Walls of Time" by Bill Monroe before returning back to finish "Summertime Gal" and the close the set.
A whirlwind of bluegrass ferocity left the room stinging, begging for more. After an enormous amount of applause from such an intimate venue, Keefe emerged to announce they will be playing an unplugged encore.
"But we're coming down in front of the stage to do it," he said. "We're going to play some old Ralph Stanley tunes we think you'll enjoy."
Ralph Stanley is the brother of Carter and together they make up The Stanley Brothers. The same band to whom Hot Buttered Rum's next release, The Kite & the Key: Part 2 pays tribute. Casual bluegrass fans will recognize them in many songs, but they may be most widely recognized for revitalizing the song "I Am A Man Of Constant Sorrow".
One by one the band crammed into what was the rail seating all night, with still another twist: drummer Schlick had picked up a mandolin and Cooper had only a snare.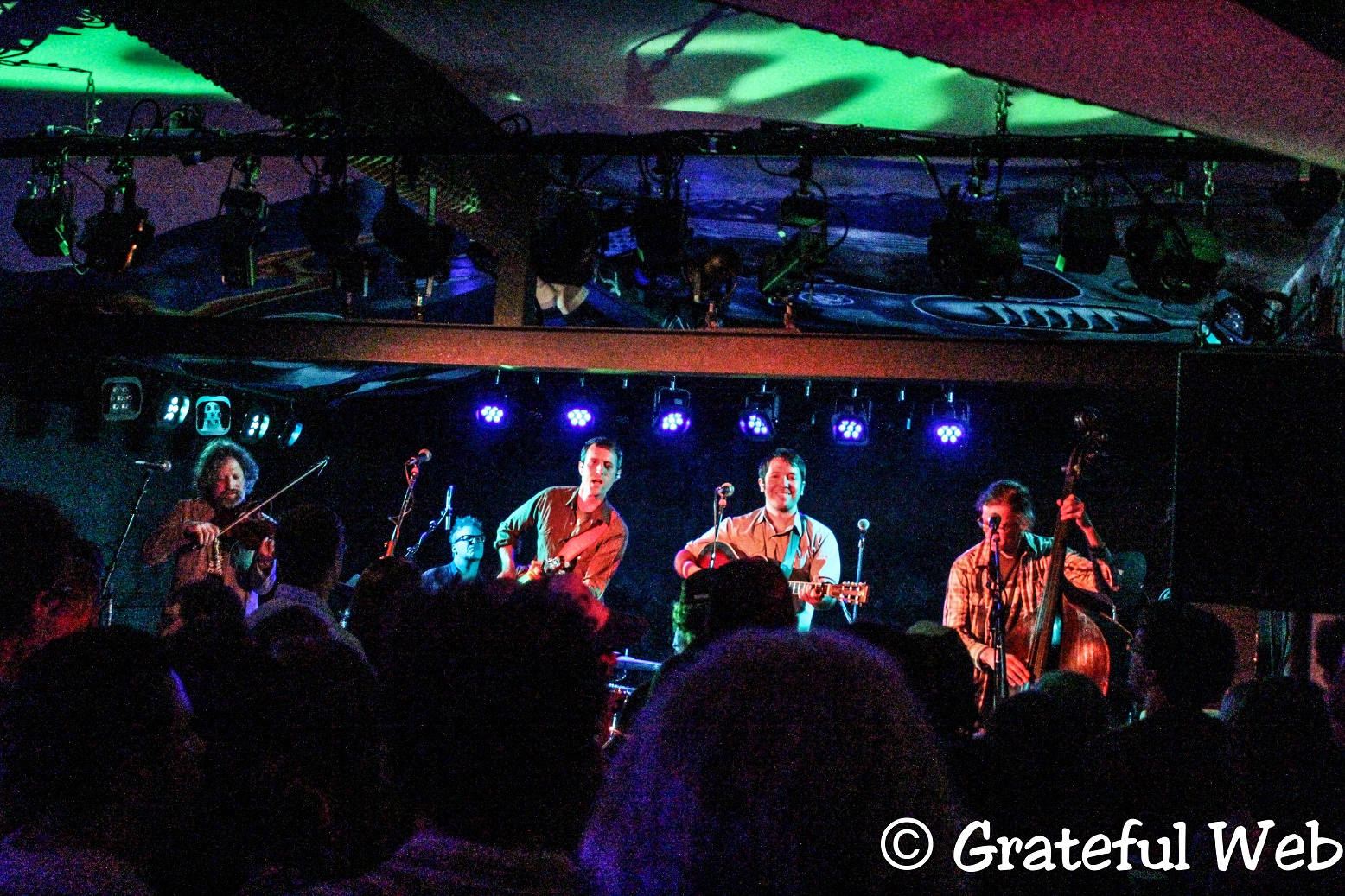 For the next 10 minutes, Moe's Alley was treated to what is likely a sneak preview of the light hearted vibe to come from the upcoming second EP. The three song encore opened with "Red Wicked Wine", co-written with Elvis Costello, continued with "Pig In A Pen", and closed with "Uncloudy Day".
Hot Buttered Rum has been making some serious moves in grooves and the strategic release of these three EPs has given them an exciting breath of life that can be felt even by a first-timer. Their spring tour doesn't officially start for another three weeks, but they kick things off with Tea Leaf Green for a handful of dates in Colorado before coming around the Pacific Northwest and down the left coast before stretching as far East as Chicago in April.
---
Midnight North Setlist – 1-23-16 @ Moe's Alley, Santa Cruz, CA
Phoenix, Lucky One, One Night Stand, Squeaky Wheel*, Suite: Judy Blue Eyes&, Wind & Roses, Stayin Single, Drinkin Doubles, Roamin', The Highway Song > Miss M
*-cover, Tim Bluhm
&-cover, Crosby, Stills & Nash
Hot Buttered Rum Setlist 01-23-16 @ Moe's Alley, Santa Cruz, CA
Set I: (10:25 PM – 11:20 PM)
Something New > Weary Ways > Pay Yer Dues > Another City, I Wanna Know, Lonesome Road*> Entangled, Busted In Utah, Cherry Lake, Mid Country, Wedding Day
Set II: (11:40 PM – 12:59 AM)
A Great Many Things > Mean Mr. Mustard& > Polythene Pam& > She Came In Through The Bathroom Window& > House On The Hill^ > Maybe I Just Feel That Way > Working Man. What Old Woman > Music's Been Good To Me > Desert Rat, Ramblin' Girl > Swing and Sway, Summertime Gal > Walls Of Time$ > Summertime Gal
Encore: Ralph Stanley Tribute set, acoustic in front of the stage with the crowd;
Red Wicked Wine#, Pig In A Pen#, Uncloudy Day#
* cover, The New Old Calvary
& cover, The Beatles
^ cover, Rail Road Earth
$ cover, Bill Monroe/Peter Rowan
# cover, Ralph Stanley Originals