It was over a decade ago, when I was barely of legal age to gain entry into a bar, that I used to frequent a small, smoky bar in my native Long Island, NY, and used to catch the house band that played every Monday night. The house band was a blues, funk, and roots-rock outfit that played a wide array of music, and was known for the stellar musical prowess of its members. Anchoring this band was lead guitar player and singer / songwriter Andy Falco, whose slick bluesy electric guitar solos were an oft anticipated segment of each song. Every so often, Falco would reach for his acoustic guitar and the band would deliver a bluegrass number, which also showcased Falco's rapidly developing flat-pick skills.  Sometime thereafter, the band members went their separate ways. Many years later, I found myself at a small bluegrass festival on the north shore of Long Island. It was at this festival where I learned from fellow performers that six-string extraordinaire Andy Falco had moved to Nashville, TN, and had joined a band called the Infamous Stringdusters.
After subsequently moving to Colorado in the summer of 2009, I recalled the Infamous Stringdusters name and quickly became interested in their music. Though they have been through Colorado multiple times since my relocation, and have played such festivals as the Telluride Bluegrass Festival and the Rockygrass Festival, I wasn't able to catch my first 'Stringdusters' show until their gig at the Fox Theatre in Boulder, CO., on March 18, 2011. This was a gig that had them sharing the bill with Michigan-based Greensky Bluegrass.
Upon arrival to the Fox Theatre on this particular night, I couldn't help but notice an enthusiastic buzz in front of the venue. The show had sold-out, and many were desperately looking for a hard-to-find extra ticket to gain entry to the show. Though I missed much of Greensky Bluegrass' set, people were still lining up to enter for the Infamous Stringdusters widely anticipated set.  "Bluegrass on Ecstasy", is how one show attendee described the music that was to commence shortly. Another female fan alluded to the Infamous Stringdusters' music as being comparable to the soulful delivery of Chicago bluesman Muddy Waters.

Many of the songs performed by the Infamous Stringdusters included appropriate lyrical content about mountain life, relationship successes and woes, and vagabond lifestyle. However, the virtuosic nature of every member in the band on his instrument, as well as strong vocal harmonies and tight chord changes puts this group in an elite class. Setlist highlights were numerous, including tunes such as "The Hitchhiker", sung by fiddle player Jeremy Garret, and including vocal harmonies by bassist Travis Book and dobroist Andy Hall. This song featured a lightning quick banjo solo by Chris Pandolfi after the first chorus, and a slinky Dobro solo by Andy Hall. Guitarist Andy Falco led an extended jam, which meshed well with the swirling lights behind the band. After a couple minutes, Falco's licks were doubled by the mandolin of Jesse Cobb, and soon tripled by Garrett's fiddle.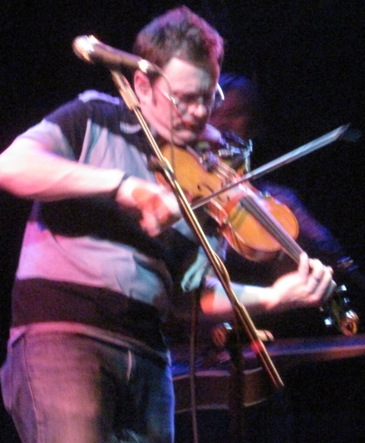 A few songs into the set, the band executed an instrumental jam, at first led by Jesse Cobb's melodic mandolin licks, punctuated with some muted strums by Falco. The jam quickly gave multiple band members a spotlight, as Pandolfi was first to crank out a down-and-dirty banjo solo. Fiddle player Jeremy Garrett was next with an over-the-top fiddle solo. The attention then turned to Andy Falco's guitar as he led off his solo with some lightning quick picking that found himself navigating up and down his guitar's neck. After some acoustic shreddery, Falco brought it down to a slower melodic pace, before the rest of the band brought the pace back up in time for Andy Hall's slithering slide solo on the Dobro.
The crowd and the band were clearly warmed up when the group segued into the Andy Hall penned tune "Well, Well", as the entire floor of the venue danced to the loose country groove offered by the Stringdusters.
"Pioneers", a more laid back number, was beautifully sung by bassist Travis Book.  '"Echoes of Goodbye'", sung by fiddle player Jeremy Garrett, and backed up on vocal harmonies by Book and Andy Hall, was a fast number defined by Chris Pandolfi's banjo during the verses, and Garrett's own raging fiddle solo, and Cobb's superfast fingers over his quick mandolin turn. Everyone took a high-speed solo on this one.
A break mid-set allowed bassist Travis Book to lead a birthday toast for the Dobro player, Andy Hall. After the toast, the birthday boy questioned "So what else could happen tonight?", a sly hint that there were surprises to come.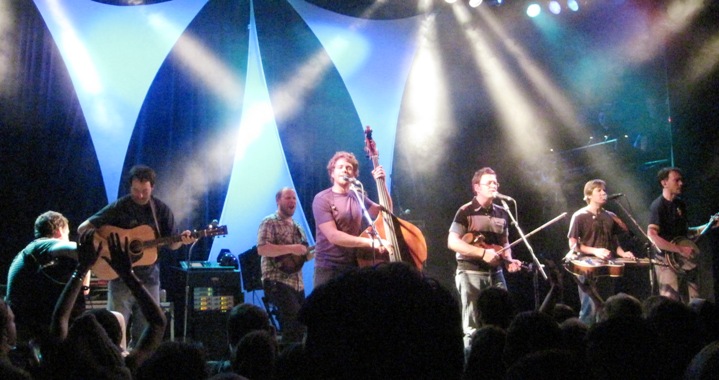 A short time later, the Infamous Stringdusters welcomed some special guests to the stage; Jeff Austin and Adam Ajala from the Yonder Mountain String Band. The expanded group settled into the Peter Rowan cover "Moonlight Midnight", with Travis Book contributing the lead vocal, and joined by others for vocal harmony. The first instrumental break of this song had Cobb taking the first solo, while Jeff Austin contributed the mandolin rhythm 'chop'. After Cobb concluded, Austin took the lead with a tremolo-picked solo, and then both mandolin players locked in with each other and doubled licks in unison. Everyone on stage had huge smiles on their faces, as everyone was clearly excited about this collaboration. Hometown hero Jeff Austin led the charge into "High on a Mountaintop", and an enthusiastic cover of the John Hartford tune "Up On the Hill Where They Do The Boogie". Nick Forster (of Hot Rize, as well as local ETOWN radio show host) and his wife Liz joined the band for several more songs.
After a highly energetic set, The Infamous Stringdusters welcomed several more musicians to the stage for the encore. All of Greensky Bluegrass appeared on stage, and the expanded lineup of performers launched into a massive encore, which included four 'Police' covers, commencing with 'Walking on the Moon', then a furious jam which eventually segued into 'Driven to Tears', sung by Greensky mandolin player Paul Hoffman. One of the extended jams showcased in this tune had Jesse Cobb picking his mandolin lead at an intense pace that would turn heads of bluegrass fans and rock fans alike. Just when it seemed that the tune would reach its conclusion, Falco burst in with a tasty, precise flatpick solo, and the other musicians on stage took the hint, bringing the intensity back up. Greensky Bluegrass guitarist Dave Bruzza followed up Falco's solo with a turn of his own, a uniquely tremolo picked lead with a more Santana-esque feel to it. This great cover was followed by "Roxanne', and concluding with 'Canary in a Coalmine'.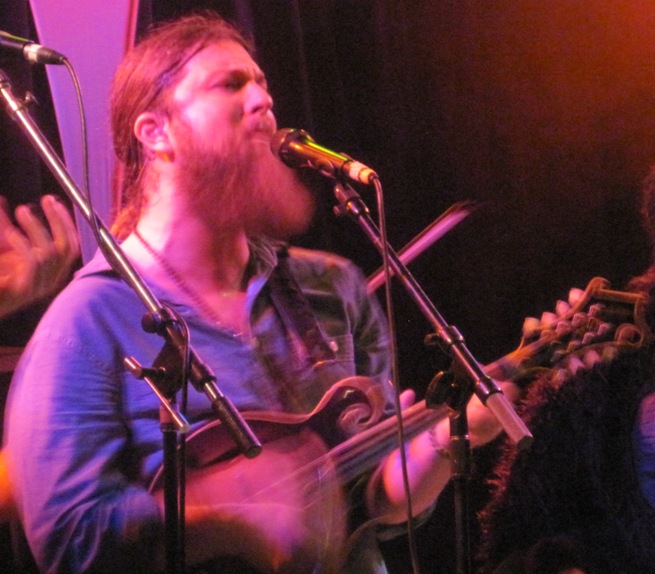 This night out at the Fox Theatre was perhaps one of the most enjoyable nights I have had at this venue. Clearly, the bands on the bill had plans to make this a special evening, and the collaborations with the guest musicians had all performers on stage smiling and obviously having a blast. Most notably, I believe this show will continue to vault the Infamous Stringdusters into the upper echelon of the bluegrass / newgrass genre.  Despite the band's relative brief history, they have already released three albums, with a live release in the works for release later this year. This year also saw the band nominated for a Grammy award; their song "Magic #9", was nominated for "Best Country Instrumental", and is featured on their 2010 release "Things That Fly".  The Stringdusters already have plans to return to Colorado for high profile gigs at least twice this summer. First up is June 16 at the famed Telluride Bluegrass Festival, and on August 20 they hit the big stage at Red Rocks Ampitheatre, opening for Yonder Mountain String Band and Railroad Earth. The Red Rocks show will be a party not to miss!