On December 11, 2010, party-jammers Hot Soup once again hit the stage at the popular Fox Theatre in Boulder, CO, to reprise their 'musical costume' of Ween from from their Halloween show at the Mountain Sun Pub and Brewery. (An interesting choice at the time, as Ween themselves played on Halloween night only a few miles away at Broomfield, Colorado's, 1st Bank Center). For this show, Hot Soup planned to cover the 2003 Ween release Quebec in its entirety.  While my musical fandom has not coalesced very deeply into Ween's catalog, I have rapidly blossomed into a Hot Soup fan in 2010.
A typical Hot Soup night encompasses compelling covers alternating with well-crafted original songs. After witnessing the band several times this year, I have realized that a Hot Soup gig is a fun party, whether it's a packed, sweaty dance-off at Conor O'Neils, a sparsely attended, last minute, drunken rock n' roll night at the Whistler Café in semi-remote Nederland, or a triumphant show at the Fox Theater on University Hill.  It is important to note that this was to be the 2nd time in slightly over 5 months that Hot Soup was to headline at the Fox Theater, and they have a penchant for "turning it up a notch" at their higher profile gigs. In addition to their plans to roar through the Ween album in its entirety, the band encouraged its fans to don "ugly holiday sweaters" to the Fox. Some fans happily took to this request, including good friend and musical collaborator of mine, Daryl Dorgan, who sported some interesting threads that my great-grandfather would likely consider out of date.
Hot Soup took the stage promptly at 10:45 PM on this night, decked out in their own horrendous holiday sweaters.  Guitarist Matt Flaherty strapped on his Heritage SAE custom six-string, bassist  Adrian Engfer slung his bass over his shoulder, keyboardist / saxophonist Mirco Altenbach climbed behind his encampment consisting of a Fender Rhodes, electric piano, MicroKorg synth, and Mac computer, and Paul Kemp snuck behind the skins. The band did not hesitate as it launched into the appropriate "It's Gonna Be A Long Night", the opening track from Ween's Quebec. This quick tune rippled with rock energy, sounding a bit like punk-trash-metal pioneers Motorhead, and was sung by bassist Adrian Engfer. The follow-up to the opening number proved to be a complete change of pace, the ethereal "Zoloft". The pairing of songs was befitting of Hot Soup's talents, as the two songs contrast each other completely, one being the straight-ahead rock, the latter being a slower, trippy voyage carried by Flaherty's vocal and spacey lead guitar melody.  After "Zoloft", Engfer greeted the enthusiastic crowd, and the band brought up a guest guitarist for the next couple of songs, a straightforward "Transdermal Celebration", followed by a spiritual "Among His Tribe". The latter featured Flaherty strumming an acoustic guitar, while he and Engfer harmonized on soft vocal lines, and multi-instrumentalist Mirco Altenbach contributed some spacey textures on his MicroKorg Synth during the middle section of the offering.
Drummer Paul Kemp pounded out the perseverant beat to "So Many People in the Neighborhood", a creepy, yet infectious march that had fans singing along to the low-octave chorus. (I myself found myself humming this chorus in subsequent days as I started my Christmas shopping in the packed markets of Boulder).  The song itself is such an odd ditty that it sounds like something that would be found among deep tracks in a Tom Waits or Les Claypool catalog.
After the quirky and ominously delivered "So Many People in the Neighborhood" came another contrasting sequence; the poppy "Tried and True", one of several songs in which Flaherty and Engfer combined forces on  strong vocal harmonies.  After the feel good aura of "Tried and True", the band switched gears again, delivering "Happy Colored Marbles", a slow dirge featured Engfer singing the low vocal and Flaherty singing falsetto before the song turned to a haunting section which had Flaherty using his pedalboard and resonant qualities of his semi-hollow guitar to produce swirling atonal textures that likely warped the minds of at least a couple show attendees.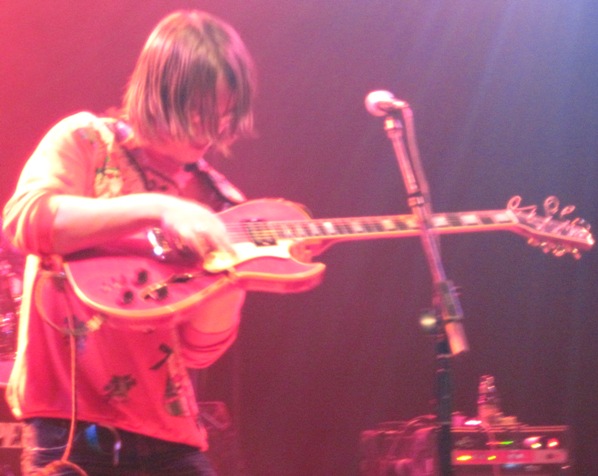 After the sensory overload of "Marbles" came the upbeat and goofy "Hey There Fancy Pants". Engfer delivered the vocal "Hey there fancy pants. Play the songs that make us dance. Play the tunes that make the ladies swoon….".  As if on command, the audience on the floor began buzzing about to the song that has a 1960's retro dance feel to it. Flaherty grinned as he played the quick guitar solo which included some lightning-quick trills and flashy cross-picking. Clearly everyone in the room, audience and band alike, was having a blast with this tune. Soon after a slightly extended version, drummer Paul Kemp began to slow the tempo, and the rest of the band eased from the happy-go-lucky chords of "Fancy Pants" to a dark, minor-key jam. The band used a lot of time and space to channel a psychedelic haze, utilizing some Pink Floyd-esque massive orchestral swells and some treacherous wailing on guitar by Flaherty, before Engfer began repeating the lazy lyrics to "Captain, Turn Around and Take Me Home". Though this song should have been one of the simpler songs of the set, Hot Soup made this tune sonically huge, with well placed instrumentation producing multiple layers over the repetitive chord changes. After an extended take on "Captain", the band forged ahead with more tunes from the Quebec album, continuing with the rolling snare drum of "Chocolate Town", a country tune which was again highlighted by vocal harmony of Flaherty and Engfer. Next was the touching, but anti-climactic "I Don't Want It",  then the electronic "The Fucked Jam", followed by the moody "Alcan Road", and the 70's prog-rock sound of "The Argus". The lyrically-beautiful and Floyd-esque "If You Could Save Yourself (You'd Save Us All)" closed the set.
With the excited crowd lingering around for more, Hot Soup returned to the Fox Theatre stage for their encore. With the Quebec album complete, the band launched into the popular Ween song "Roses Are Free", but executed the song more closely to the style that Phish plays the tune in their rotation, rather than the Ween original. By this point in the show, I was in the mix of the floor crowd, and, looking around, everyone was dancing, twirling, singing, and smiling. Immediately after "Roses Are Free" was complete, the band members glanced at each other, and, without hesitation, the band soared into one of their fan-favorite originals, "Animal Buttplug". Engfer excitedly slid into the funky bass line, Flaherty churned out the slick guitar strums, Altenbach reached for his saxophone, and Kemp clicked on the skins. By now the crowd was well entrenched in a body-flailing frenzy as the groovy vibe permeated through the building. The band was clearly amused, exchanging smiles with each other right before the song hit its signature "Crazy Train" interlude. The song settled back into its jazzy funk theme, and eventually came to a close. Flaherty raised both arms in a victorious manner as the show concluded.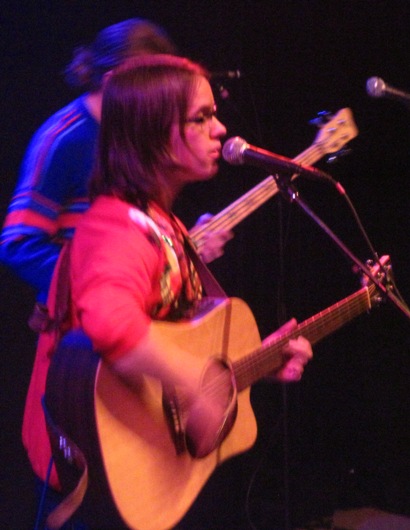 Upon the conclusion of the show, I had gained a newfound appreciation for the genre-bending and possibly nightmare-inducing Ween, and was even more impressed with the ability of Hot Soup to take such adventurous material and offer such a diverse show.  Some fans were slightly disappointed that more of the band's original material was not played at this show, while others were quite content to hear the band's take on the weird album. Friend and singer-songwriter Chris McKee, who attended Ween's Halloween concert, stated, "Seeing Hot Soup play Ween was more fun than seeing Ween play Ween".  It is evident that this band is improving consistently, and is not afraid to take chances and bring something special to their bigger gigs. Already being aware of the band's indelible instrumental prowess, I was highly impressed by the vocals, both solo and harmony, that were exhibited at this show. Special thanks to friends and music aficionados Harrington Baker and Becca Sherman for assisting me on the Ween song titles for this review.
Next up for Hot Soup is their New Years Eve show at Conor O'Neills, 1922 13th St, Boulder, CO. The band is treating this one as another high-profile gig, describing it as "A very special evening with Hot Soup performing circus acts", and promising many surprises for this show.  Music fans who have not yet solidified plans for this night should consider attending. The cover for New Years Eve is only a mere buck, and Hot Soup's party is guaranteed to be leaps-and-bounds above the entertainment value that a dollar would usually translate too. See you there!