When a renowned musician rolls through a music-oriented town such as Boulder, CO, area musicians will take notice. That's exactly what happened when the Stanton Moore Trio made a stop at the beautiful Boulder Theater on December 2, 2010. Musicians of all types made the trip to the venue to watch Stanton and his two pals, guitarist Will Bernard and organist Wil Blades, jam on the this cold winter night. Musician attendees included, but were not limited to, mandolin hero Jeff Austin (Yonder Mountain String Band), guitar whiz-kid Matt Flaherty (Hot Soup, Matt Flaherty Trio), bass funkateer Otis Lande (Smack Thompson, Rogue Sound, Matt Flaherty Trio), and snappy drummer Tim Dennis (Cherry Place Allstars). Musician attendees were not a surprise, however, as Stanton Moore is an icon to many funk and groovers, nearly reminiscent of Neil Peart's following of dedicated prog-rock drummers.
On this tour, the Stanton Moore Trio is supporting the release of a tri-faceted media release of Groove Alchemy, which is the title of Stanton's latest drumming instructional book, accompanying DVD, and the name of the Trio's latest album. The book and DVD aim to focus on the roots of funk drumming by examining the work of funk drum pioneers, while the CD puts into practice the methods covered in the aforementioned media, as well as act as a funk and jazzy CD that serves up hip-shaking, virtuosic grooves separated by loungy, laid back numbers. The CD features Stanton on drums, Will Bernard on guitar and Robert Walters on organ. For this tour, however, Moore invited up-and-coming San Francisco Bay organist Wil Blades to fill Walters' place in the band's lineup. Blades has been coined a 'rising star of the Hammond B-3', and has been honing his skills with many Bay-area musicians, as well as organ pioneer Dr. Lonnie Smith. Blades' relatively new reputation would be deemed correct, as he would prove to have many shining moments during the show.
The first set started off strong, with some straight-ahead, hard-hitting funk, channeling the spirit of the Meters, the 1970's New Orleans funk band that was a major influence on many of today's R & B and funk groups, including all the members of Moore's full-time band, Galactic. This first song was anchored by Moore's frantic hits, while Bernard and Blades exchanged solo passages throughout the tune. The second song was another similarly structured song, before mellowing out into a much slower, nearly "smooth-jazz" passage for the third song in. Next in the set was a Blades' powered organ song. The follow-up to this tune really got the crowd into a dance mood. This next tune, another quick tempo, funky groove, ala The Meters, really hit its stride when it came time for Blades to take the lead on his Hammond B-3 organ. Blades took his organ and his twin rotating Leslie speaker cabinets to new heights during this one, clearly displaying playing chops reminiscent of legendary P-Funk keyboardist Bernie Worell, filling all corners of the spacious venue with thick, full sounding chords and lightning quick lead phrasing with both hands. After Blades' soaring ascent to his musical summit, it was time for Will Bernard to attempt to reach the peak that Blades had established. Bernard came very close, as he switched on a bit of fuzz for his guitar, and his right foot hammered on his wah-wah pedal as he channeled some Jimi Hendrix en route to a loud flurry of string bending and flashy cross-picking that contrasted his 'cool as a cucumber' demeanor, while simply flashing a wide grin at the end of his musical passage. Shortly after Bernard's stoic execution of six-string madness, the tune segued back into a simpler danceable groove that Moore subsequently mentioned was on the new CD.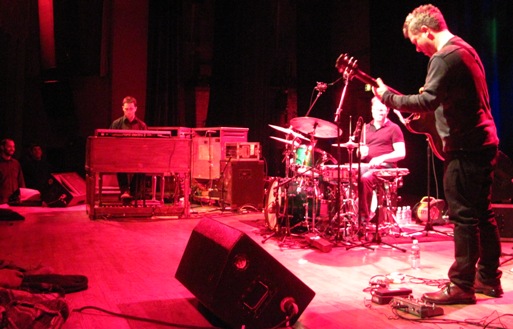 After this selection came to a halt, Moore again addressed the crowd with excitement, and stated that the next tune was a lullaby that his grandmother used to play for him. While I myself did not recognize the song, it was a short, slower melodic number that gave the sweaty dancers on the floor a much needed break. After this lullaby song, Stanton once again spoke into his microphone. This time, an enthusiastic Stanton stated that the band would play one more song in the first set, and then take a break. He stated that he would be in the lobby of the venue during setbreak to sign copies of all his newly released media projects. He proceeded to announce that the last song of this set would be "Late Night at the Maple Leaf", which is a song off of his 2008 Stanton Moore Trio album, Emphasis (On Parenthesis). The song started off with a Wil Blades executed New Orleans style organ intro, which was then powered by layers of precise rhythm hits by Moore, and jangly chords by Bernard. The song featured a quick, passionate solo by Blades, before Bernard turned up his volume for a Brian Jordan-esque guitar solo. Next up was a Stanton Moore spotlight, as he executed some smooth, rapid rolls on his snare drum, accented by hits on his toms. The song's bridge took a quick turn into swing-jazz territory before returning to the 70's style funk riffage that defined the main melody.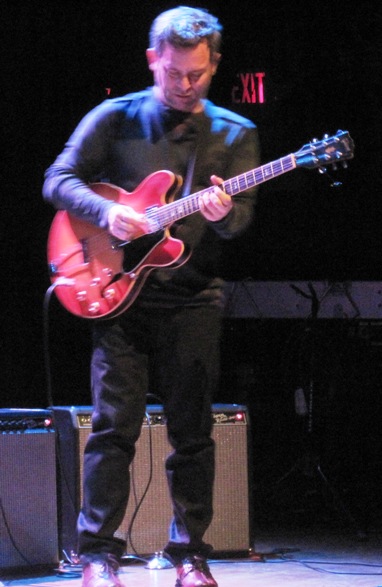 After the set-break, I observed that the crowd had thinned out significantly. Fortunately, there was to be some high-caliber moments left for those that remained. Stanton thanked the crowd for staying through the longer than anticipated set break, and introduced the second set opener as the Will Bernard penned tune, "Neeps and Tatties". This song appears in the middle of the Groove Alchemy CD, and, after a subsequent listen to the disc, is one of the heaviest and most unique tracks on the album. The song started off with a rolling Moore drumbeat, quickly joined by Bernard sliding up into a funky chord strum on his semi-hollow guitar, while Blades played the main hook on his Hammond. The second part of this tune had Bernard and Blades switching roles – Bernard played a strong, heavier hook, while Blades played the backing chords. The song switched back and forth between two main musical themes, separated by some tricky stickwork by Moore, before Blades again used all four limbs on his organ and bass pedals to fill the cavernous venue with sound. Soon after, Bernard played his guitar solo, combining wah-wah pedal pitch manipulation with slinky string sliding to reach one of his many fine moments of the evening. The next song in the set was a John Scofield-esque sounding tune, with Bernard pulling off the Scofield tone and style with great precision. During an extended jam in this tune, however, Wil Blades added the most unexpected turn to this number. Blades began making some haunting tones on the Moog synthesizer positioned atop his Hammond B-3, really adding a unique element to the tune.
For the next song, Moore rolled out an extended drum intro that had me wondering where the music would ultimately go. The intro eventually settled into a short boogie groove once Bernard and Blades settled in. After this jam, it was time for one of Stanton Moore's renowned drum solos.  During his solo, he began with a simpler beat and gradually added more beats to the phrase and switched tempos with ease. After a quite impressive display of drumming prowess, it was on to another new song from the recently released CD.  This new selection started with one of my favorite drum beats of the night, the "thwack-boom-boom-boom-boom-thwack" of the tune "Knocker". This beat led a female attendee to exclaim "This is rock-n-roll!".  This song clearly jarred the crowd back into a dancing frenzy, as suddenly there was a sea of bodies all in motion at once. The song shifted into a stellar organ solo by Blades, all the while keeping the thick groove of the song going by use of the organ's bass pedals.  Bernard then again stepped up with another smooth, flailing guitar solo, which increased in intensity as the seconds passed. The next song in the set was another tune from the CD "Shiftless". Stanton's drum intro quickly caught my attention on this one; because Stanton's multi-layered beats would have a mere listener convinced that there were at least two drummers playing on this one. The song rollicked into a tight, fast groove, with all three players taking plenty of time to showcase their talents yet again.  Upon completion of this longer jam, two slower, quieter songs followed.  The last song of the second set was the opening track off of Groove Alchemy, "Squash Blossum", another song rooted in the heavy, in-the-pocket funk of the 70's. Will Bernard, in particular, wailed on this one during his guitar solo. After this song was complete, Stanton Moore thanked the crowd and left the stage. Shortly after, the band returned to the big stage for an encore. The encore song was, as Stanton explained, a tribute to one of his most influential groups. Not surprisingly, the song he chose was The Meters "Funky Miracle". The song was a fitting end to an impressive night of music, as the Meters influence was heavily heard all throughout the band's set.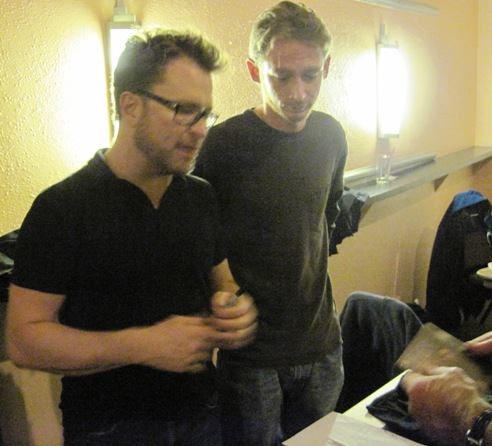 The Stanton Moore Trio is definitely a band to catch on tour, particularly for fans of funk, groove, jazz, or music fans that are interested by the merging of retro 70's tones that merge with the contemporary. Musicians would clearly enjoy the virtuosic skills of all three members of this band, as is commonly the case in an all instrumental band, each member is given liberal time to shine in the spotlight. The tightness of this group impressed me as well, and it is always interesting to me to check out what kinds of projects Stanton Moore gets himself involved with. The only negative feedback I heard about this show is that the slower, loungy songs were too long and detracted from the party crowd wanting to dance into the night.