1968. Oakland, California. R & B, funk and soul legends Tower of Power kept reminding us of their roots all throughout their show at the Boulder Theatre on August 7, 2011. A much older crowd populated the Boulder Theater on this evening, another indication of the band's longevity. Still, the band had a dedicated group of fans dancing and singing along on the floor, as well as a packed balcony of fans who somehow opted to sit throughout the show.
Through the years, many musicians older than I would frequently rave about Tower of Power. In the days preceding Tower of Power's show in Boulder, I was surprised to discover that many music peers in Boulder were not familiar with Tower of Power's catalog, which has left a lasting legacy on a vast amount of music played today. Thus, I've always regarded Tower of Power as a "musician's band". The Tower of Power horn section (today's version consisting of founding members and principal songwriters Emilio Castillo, 2nd tenor sax and background vocals, and Stephen 'Doc' Kupka, baritone sax, as well as "newer" members Tom E. Politzer, lead tenor sax, Adlofo Acosta, trumpet, and returning member Lee Thornburg, trumpet) is a legend even as it's own entity. Over the years, the Tower of Power horns have collaborated with a variety of artists, such as Little Feat, Santana, Elton John, Huey Lewis, Phish, Aerosmith, and many others. The rhythm section is also heavily renowned among musicians, consisting of Dave Garibaldi on drums, and Francis "Rocco" Prestia on the bass. These two icons construct some of the tightest and bounciest grooves in the funk & soul genre, and their unique playing styles have rendered them among the most influential players among newer generations of musicians.. Rounding out the current cast of players in Tower of Power are Roger Smith (keyboards, Hammond B-3 organ, and background vocals), Jerry Cortez (guitar), and Larry Braggs on lead vocals.
Making the set list on this night in Boulder, CO, was a wide variety of songs from the band's lengthy history. "Soul Vaccination" and "Down to the Nightclub" were a couple of the early set "heavy hitters". A welcome surprise was the quick and bouncy "There's Only So Much Oil in the Ground", a TOP song that contains one of my favorite bass lines executed by Prestia. Mid-set, the energy seemed to hit a lull a bit with the slow soul number, "Below us, All The City Lights", but TOP quickly brought the energy back with a monster "You've Got to Funkifize". Other slower soulful tunes such as "Mrs. Jones" and "I Like Your Style" made the setlist as well. Admittedly, I am not a big fan of the slower soul ballads, but the careful setlist placement of these tunes (which are not numerous) makes the fast rippin' funk that Tower of Power executes so well pack an even bigger punch..
Somewhere in the second half of the set, "Maybe It'll Rub Off", was a roller coaster of infectious funk, and perhaps the highlight of the evening for me. While I was previously unfamiliar with this tune off of Tower of Power's 1975 release Urban Renewal, it will now be in frequent rotation on my playlist. When the band started playing this tune, the groove took over my body, somehow convincing me to down the beer I had just ordered and join the group bouncing away on the dance floor. The interplay between all of the various instruments in this tune, including Roger Smith's Hammond B-3 organ filling a lot of space, was the song that truly captivated me at this show. "Soul With a Capital S" was also a solid, danceable offering late in the set.
Nearing the end of the set, Emilio Castillo removed his saxophone, and proceeded to grab a microphone. Castillo took on the frontman persona for a few minutes, enthusiastically introducing each band member. Castillo showed exceptional excitement when introducing his longest friend and TOP co-founder, Stephen "Doc" Kupka. "Doc" played a few low notes on his massive baritone sax after his introduction, and appreciated the loud applause. Castillo then again reminded the audience that Tower of Power is celebrating 43 years together this year and solicited some audience response. "After all this time", Castillo relayed, he "still be diggin' on James Brown". He the led the band into "Diggin' On James Brown" while working all ends of the stage, while the remainder of the horn section executed some hilarious dance moves in unison while continuing to play their instruments.
The next offering, and perhaps Tower of Power's signature song, "What is Hip?" segued smoothly into an extended James Brown cover, "Soul Power", (a tune in which lead tenor sax player Politzer particularly shined). Frontman Braggs brought the crowd into this one, offering the microphone to the audience for the chorus, before leading the band back into "What Is Hip?" to end the set. Raucous crowd chants of "TOP" coaxed the band out for a two-song encore.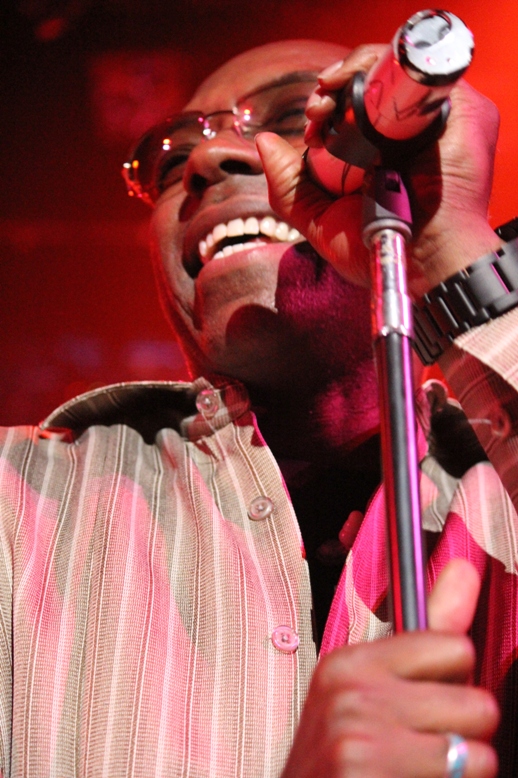 Throughout the show, it was evident that these players are a group of consummate professionals. The lack of a big light show seemed appropriate, as this is a band that has become an institution, and does not need gimmicks or distractions to help further their reputation. Emilio Castillo and his longtime core, Kupka, Garibaldi, and Prestia, have all aged into their 60's, and all remain in top form musically. The entire horn section was positioned at the front of the stage, clearly designed to show of the talents of the horn quintet, but unfortunately this placement partially obscured my view of the great rhythm duo of Garibaldi and Prestia. Guitarist Jerry Cortez played his funky chops in the rear of the stage as well, next to keyboardist Roger Smith. Larry Braggs worked all ends of the stage, with slick dance moves and a confident demeanor reminiscent of Prince. I feel privileged to have finally seen these musical legends in action, and they will continue to reign as one of the classics in the funk/soul genre.