Since I began my professional music writing career over 20 years ago, one thing I have taught myself over that time when it comes to new album reviews is to never pass judgment after only one listen.  Yes, there is something to be said about first impressions however one cannot truly digest the music until given ample hearings.
That wisdom became necessary after listening to the new release from progressive-jam stalwarts moe. called No Guts, No Glory.  Upon my first sampling of the album I found myself less than pleased with the offering.  The band had released essentially 10 studio albums since forming nearly 25 years ago, and save for a few they have been mostly excellent recordings with rich, powerful songs.  So you can understand my initial disappointment, especially considering I believe their previous release, What Happened to the La La's?, was one of their strongest in recent memory.
But something happened after listening to the album around the fourth time…I really started to dig what they are presenting.  My indifference with what I was hearing may not have been all that dissimilar than what the band was going through when they decided to start recording it.  According to guitarist Chuck Garvey, "We had these songs that were written with an acoustic album in mind.  But we ended up making a whole different thing". 
It would appear they intended to go in one direction leaning heavily towards a relaxed, acoustic vibe but the finished product is far from that.  The songs on No Guts, No Glory instead blend those elements of acoustic instrumentation with moe.'s usual upbeat electric rock, and in the end works out much better than previously planned.  The mixing and reformation of song presentations give many of the tracks a truly progressive feel. Garvey adds, "Just adding that one spice to the mix definitely changed the presentation. With the mindset of an album that is a little more rootsy, the songwriting went in a certain direction.  Then it got bent in another direction.  In that way, we actually did something a little more unique because we came at it from that different direction".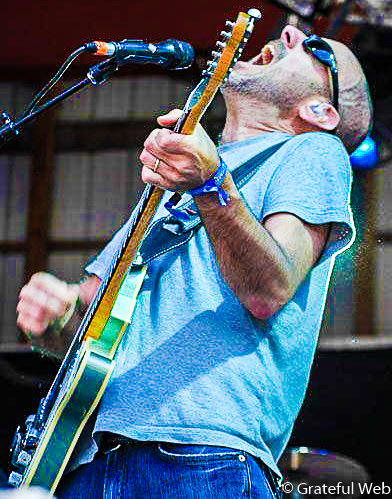 This is evident in many tracks like "White Lightning Turpentine", where the song begins with soft acoustic flair that eventually ascends into wailing electric solos and howling vocals. Same can said for "This I Know", which starts with Al Schnier's mellow singing and slow guitar work that blossoms from ballad to full-on rager at its climax.
Other songs like "Calyphornya" and "The Pines and the Apple Tree" keep mostly to their original acoustic beginnings, but others like "Billy Goat" and "Annihilation Blues" were wisely altered into arena-rocking, hard-charging vehicles.
Moe. have always been at their best while performing live on stage, and many of these songs may actually grow wider legs in that setting.   But overall No Guts, No Glory is a fine collection to their recorded projects.  Fans get everything they expect from the band on this release from sweet compositions, Pink Floyd-esque jams, to escalating changes and more.  I wouldn't say it is one of their best, but maybe for listeners it will eventually grow more and more on them as it did for me.