Hamjambo!  Habari yenu?
I'm doing none other than fabulous after 3 weeks of vacation!  My friend Jamie arrived on May 18th, and we went directly to the beach so she could sleep off jet lag and be baptised in the Indian Ocean.  We then headed south to Iringa town, where we stayed for a stopover on our way to Ruaha National Park.  Ruaha National Park is one of the largest and least visited parks in Tanzania, but also one of the most scenic and diverse.  You can check out good pictures of Ruaha and other Parks in Tanzania on this great website: http://www.tanzaniasafaris.info.  As soon as we arrived in the Park, we were welcomed by a breath taking Kudu buck running across the road. Kudu are large elk like animals, light grey with a few white stripes on their sides and the bucks have huge spiral black horns.  They are absolutely magnificent animals!  We then encountered a group of giraffes, who at once took off running then stopped to stare back at us.  If you've never seen a giraffe run, it is a quite surreal sight. They are surprisingly graceful, and appear as if they are running in slow motion.
At the entrance fee gate waiting for our lodge driver to pick us up, we watched hippos wading and swimming in the river.  That game Hungry Hippos - their mouths really look like that!  We arrived at our place to stay, the beautiful and luxurious Ruaha River Lodge, where we could view giraffes, elephants, hippos and many different birds from sitting right on the front porch of our cabin!  In the morning we woke up to the the singing of birds and grunting of hippos.  We went on a driving safari one afternoon and the following morning where we saw all the typical safari animals, elephants, zebras, giraffes, warthogs, waterbuffalo, but also saw lots of lions! (three females laying by the river and a pride of about a dozen or more females with cubs and one male laying in a dry river bed), several very impressive species of birds (like the lilac breasted roller, saddle-bill stork, african fish eagle,......), croccodiles and a waterbuck.  In one scene we saw a hippo in the river, a croccodile laying on the bank just beside it, and a waterbuck stanking near in the grass!  It was an amazing experience, and we so wished we could have stayed longer! 
But we continued on to the village, where we spent 2 days walking around getting the full village experience (minus drinking the local alcohol, fermented bamboo sap.  Not a good idea for newcomers since most often they become ill after drinking it!).  Despite the difficulty of getting to my site and travelling in Tanzania in general, we decide to venture to Udzungwa National Park on or way to climb Kili.  (Pictures of Udzungwa are on that website also.)  After one long day of traveling, ending with a long 2 hour ride on a bumpy dusty road in the back of a truck, we finally arrived at our destination, the Mountain View Hotel at 8:00 at night.  The accomodations were nice enough, but the scenery made all the trouble worth it.  The Udzungwas are very well preserved because the tribes in the area held such reverence for the forests and mountains, and it is now one of the most ecologically rich and diverse areas in East Africa.  We hiked to the top of Sanje Waterfall, where we swam in a refreshing pool.  Along the way we saw three species of monkey - the blue monkey, the black and white colobus monkey and the iringa red colobus monkey, which is endemic to the Park (meaning it is found nowhere else in the world!).  We also saw several spectacular species of butterflies!  My favorite had brilliant purple-blue wings tipped by bright orange-yellow.
The next day was another hell day of travelling - 12 hours in buses until we arrived in Moshi, again at 8:00 at night.  We met up with our guide and the next day began climbing Mt. Kilimanjaro!  We ascended on the Machame Route (aka the Whiskey Route), summitted on the Western Breach and descended on the Mweka Route.  Most people climb the Marangu Route (aka the CocaCola Route) but this trail is said to be like a highway of people and littered with trash.  No thanks.  The Machame-Mweka Route is said to be more difficult, but also of course the most scenic.  The first few days of hiking, although we were climbing, were completely enjoyable.  We began hiking at 6,000 ft then first night camped at 9,000 feet and second night 12,000 feet.  We passed through serveal very different ecological zones beginning with lush damp rainforest full of lichens, mosses, and flowers.  Then on to the Moorland, with large heathers, everlastings, and giant lobelia.  Third day and night is when it  began to be more challenging.  We entered into apline desert with mostly rock and gravel and just a few sparse tough flowers.  Oxygen became thin and are breathing became more heavy.  We camped at 14,000 feet.  Fourth day was a short day of hiking, mostly for acclimitization, and we camped at 15,000 feet.  I'm glad we didn't camp any higher than this because it was freezing cold!  At 1:30am that night we began summiting on the Western Breach Route.  Most of the guide books say this route is technical, requiring ice axes and ropes, which scares most people away so they climb on the other side, up the scree slope.  But it was only technical when snow dominated the slopes (the glaciers are melting rapidly due to global warming).  It is now virtually snow free and any though we had technical equipment with us, we did not use any of it.  However for four hours we were mostly scrambling up the 3,700 ft rock face.  The moon was out when we began, but then set by the time we reached the rim and it's probably a good we couldn't see down what we just came up!  The Western Breach Route although is the most difficult is also the most successful summit route because you can't really go back down the way you came, it is too steep!  So there is no idea in your head that well I'll just turn around.  Nope.  You're going up and over the top. 
After the rock wall we walked across the glaciers near the rim of the crater and arrived at the bottom of the last bit of climbing - 600 more ft up scree and rock to the summit.  At this point Jamie and I probably would have turned back if we could.  Every step took every ounce energy and will, trying not to pass out or throw up, with a aching head, pounding heart, burning lungs and freezing fingers and toes.  Our guides would not let us stop to rest as often or for as long as we would have liked because of hypothermia.  But that's why they're guides, to help and encourage us along!  They really were great.  Very enthusiastic and strong.  They carried all of our stuff for most of the way, including our heavy jackets when we weren't wearing them.  Thanks to them we made it!  All the way to the top, 19,344 ft.  The highest mountain in Africa and the highest free standing mountain in the world!  The summit at sunrise was absolutely euphoric, with the rays lighting up the glaciers and clouds.  I hope I got some good pictures!  On the way down we suffered tremendously from nausea and headache, but once we got down to 9,000 feet again we were fine. We camped there and the next day ended.  6 days total.  It was amazing but definitely the most difficult thing I've ever done and ever hope to do in my life!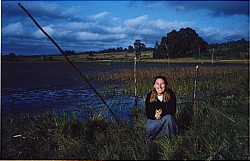 This last week we spent relaxing on Zanzibar, and I'm sure I don't really need to tell you how wonderful that was.  Pure white sand, bright turquoise blue water, hardly any people.....paradise!  We went snorkeling with the fishes one day and spent other days walking or just laying around.  It was great to be back at sea level!
I'm headed back to site tomorrow, and have lots of work to do to finish up my last 5 months here!  I hope you're all doing well and are enjoying many adventures this summer.