Beginning on November 2 and running through April 2024, the Canadian Genesis legacy band The Musical Box will be presenting an extended, multi-part tour of their acclaimed recreation of Genesis' legendary Selling England by the Pound stage show. The tour coincides with the 50th anniversary of the original Genesis album of the same name, which was released in October 1973. Regions for TMB's SEBTP tour will include Canada and portions of the U.S. in Fall 2023 and early 2024, and then UK and European dates in Winter and Spring 2024. Nearly 50 dates have been confirmed to date. Additional 2024 dates for Canada and the U.S. – which band management has indicated will be plentiful – are still to be announced.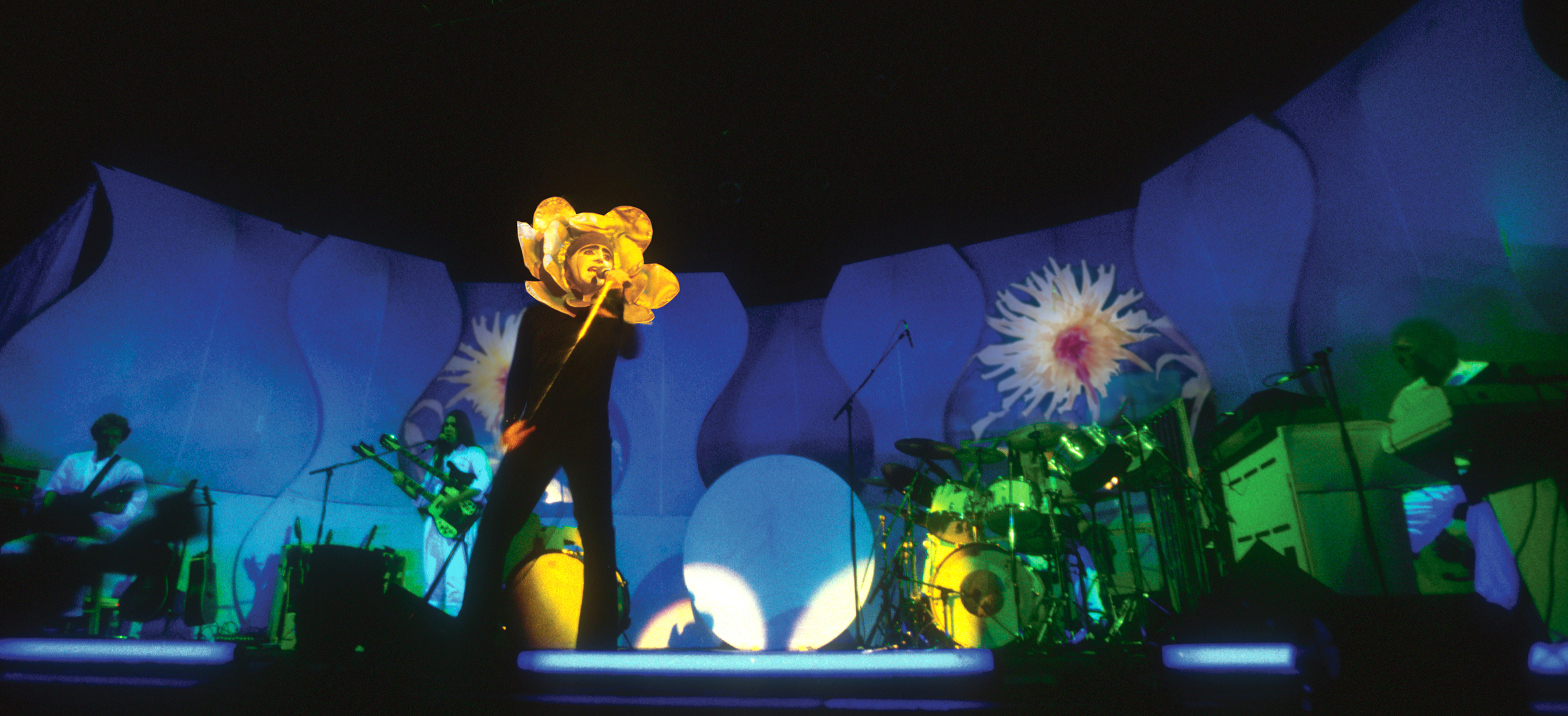 The five-man Canadian rock group – now celebrating more than 30 years on stage – is highly regarded for their authentic musical and visual recreations of Genesis' early-1970s progressive rock live productions. Although there have been a number of line-up changes over time, the band's current personnel include the longtime core members lead vocalist/flutist Denis Gagné, bassist/guitarist/vocalist Sébastien Lamothe and lead guitarist François Gagnon. More recent members include drummer/percussionist Marc Laflamme and keyboardist/12-string guitarist/vocalist Ian Benhamou.
In addition to Selling England by the Pound, TMB's other album-themed productions have also included Foxtrot, The Lamb Lies Down on Broadway and A Trick of the Tail. As a more recent change of pace for their tours, the band had also presented various Genesis anthology shows in between some of the various thematic tours. Recent tours in 2019 and 2021 – dubbed The Genesis Extravaganza I & II – encompassed songs from various Genesis albums from 1970 to 1978. Focusing on a wider range of Genesis' songwriting than TMB's historical show recreations, these special shows gave keenly interested audiences a chance to hear many early songs that Genesis themselves had seldom played or never performed live. Of course, a good selection of the must-hear classics were still included.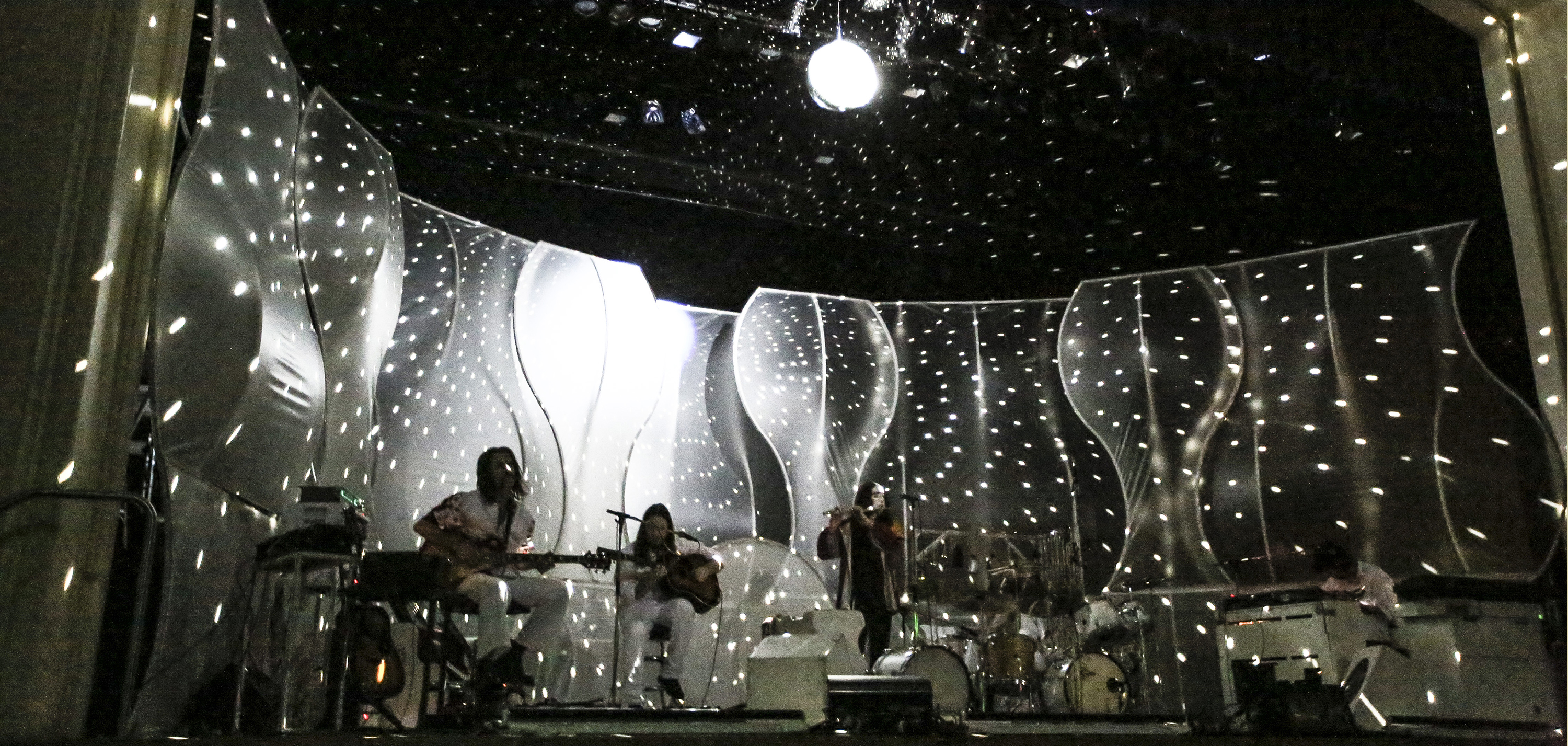 Since their earliest days, The Musical Box have received full approval and historical/technical guidance from the musicians and production team of the original Genesis. (For their various limited-run productions of The Lamb Lies Down on Broadway, TMB also secured special licensing from Lamb lyricist Peter Gabriel.)
More specifically, for several of their productions, including SEBTP, TMB have been using original slide projections that Genesis themselves used in their original stage show. In addition, TMB's production team has done extensive photographic and film research to analyze all staging elements. This painstaking attention to detail has enabled them to replicate the sounds of all of Genesis' original instruments and amps, the lighting and effects, and the many elaborate costumes that were part of the original stage production.

In particular, the vintage 1973 concert film, Genesis: Live at Shepperton Studios, was a strong historical reference for TMB. The film, which has been included on a bonus DVD in the Genesis box set, Genesis 1970-1975, documented one hour of material from the full SEBTP stage show. (On YouTube, there are variously sourced versions of the film, but the one meticulously restored version by The Genesis Museum is a must-see for every Genesis fan.) So that film served TMB as a strong, primary visual reference, not only for the staging elements but especially for the narration and theatrical postures and gestures of Genesis' lead singer Peter Gabriel.
But the research didn't stop there. The band's team have used many professionally shot photos – such as from acclaimed Genesis photographer Armando Gallo – and audience-sourced photos, film clips and audio recordings to gain maximum insight into fine-tuning the performances – for SEBTP and other shows as well. As for musical authenticity, the band emphasizes the use of the same kinds of vintage instruments, amplification, and effects, and they faithfully follow Genesis' song arrangements and setlists. This desire for exact replication assures every fan that they can be totally immersed in the mythical world of early Genesis that's just as mysterious and hallucinatory as if it were yesterday.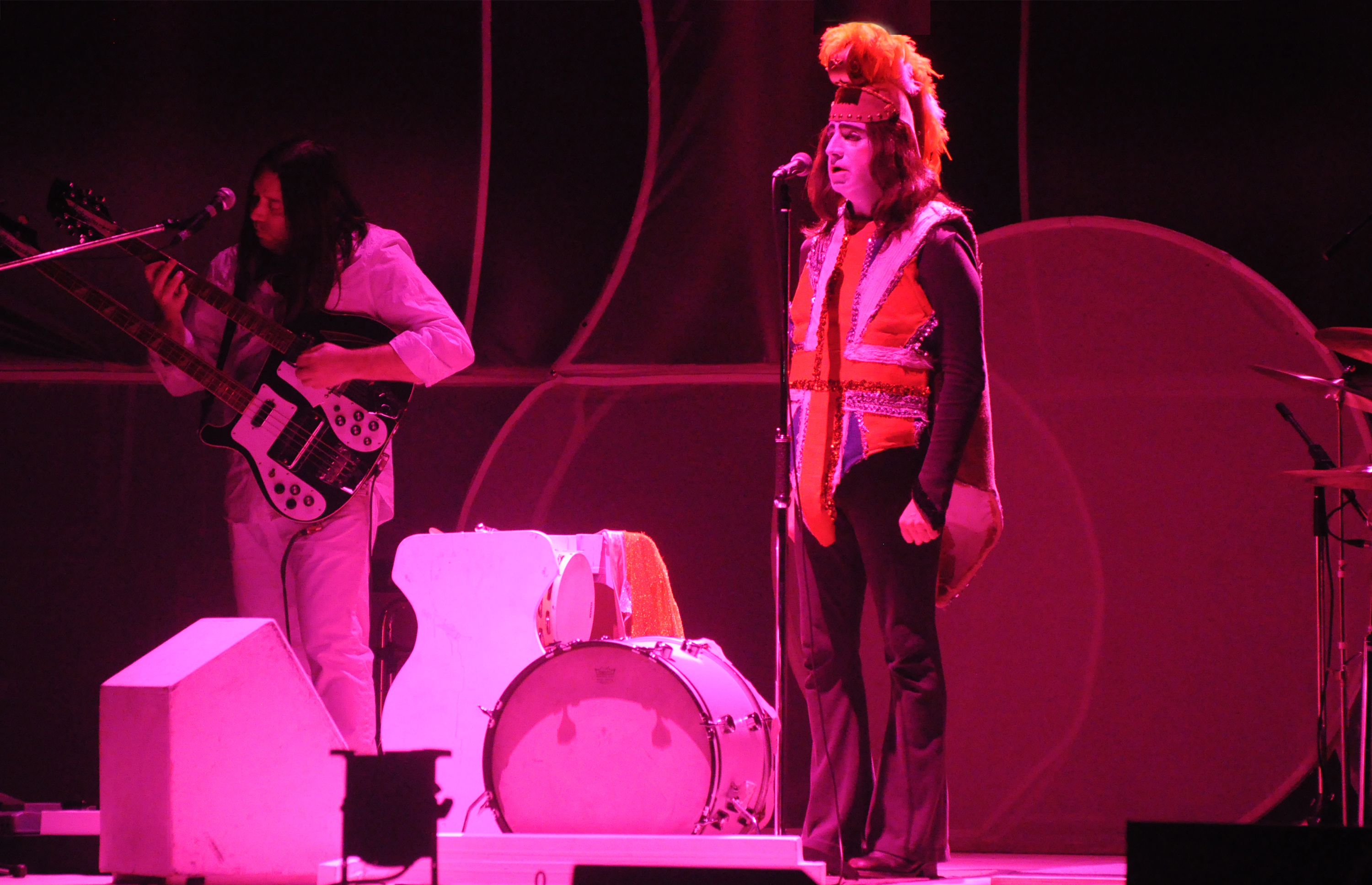 Notably, with the full endorsement and technical assistance from the creators of the music, The Musical Box have also had the honor on several occasions of having guest performances from original Genesis members. For example, in 2002, Steve Hackett joined TMB for an encore at a UK show to replicate his stratospheric guitar solo on the SEBTP song "Firth of Fifth." Also, at a 2005 show in Switzerland, Collins joined them for an encore performance of "The Musical Box" from Genesis' 1971 album Nursery Cryme. (Btw, this song served as the musical inspiration for the band's name.) And last, but not least, another very special guest attending a full performance in the UK was once Peter Gabriel himself.

"TMB recreated, very accurately I must say, what Genesis was doing," Gabriel said of the performance he attended. "I saw them in Bristol with my children so they could see what their father did back then." And perhaps, in his own blunt praise, former Genesis drummer Phil Collins summed it all up best: "I think these guys play it better than we did."
So can TMB really have a more ringing endorsement than any of these affirmations, from the music's own 'parents', as it were? Well, TMB have also enjoyed a working relationship with original Genesis photographer Armando Gallo, who has documented their performances very much in the same style as his classic Genesis photos that fans have been admiring for years. You'll see some of his stunning images of TMB included in this article.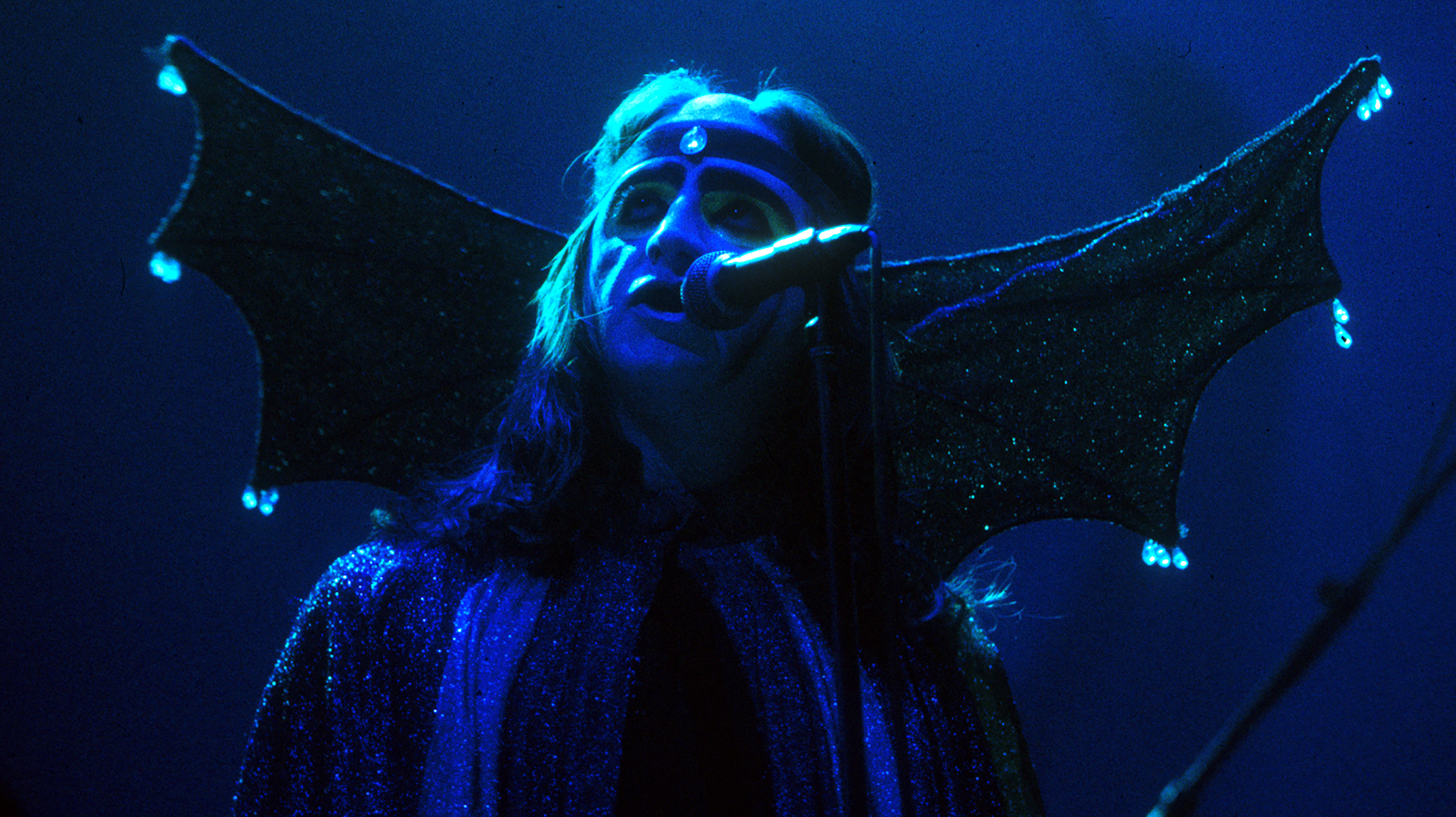 Interestingly enough, in the days that Genesis first performed the SEBTP show live, the band had different versions of the stage production and slightly altered setlists for different legs of the tour. Famously, with a white diorama structure and amplifiers on one tour and a black background and gear on a later version, these SEBTP tours were known, logically enough, as the White and Black Shows. And TMB has actually done both versions, and I have seen them performing both. (I actually think the White Show – in which the white surfaces and even some costumes and face make-up took on a ghostly glow under blacklight – is more vivid visually and, therefore, more memorable. As always, the music was transcendental.)
Setlists during Genesis' tours were generally the same for these two versions, encompassing four different albums – SEBTP, Nursery Cryme, Foxtrot and sometimes Trespass. So SEBTP was not performed in full as part of the original Genesis stage show, and TMB faithfully follows Genesis' same setlist and sequences. But the SEBTP songs "Dancing with the Moonlit Knight," "I Know What I Like," "Firth of Fifth", "The Battle of Epping Forest" and "The Cinema Show" are always centerpieces of the show, and they comprise about 80 percent of the album. Other always-played songs include "Watcher of the Skies", "The Musical Box" and the 25-minute, apocalyptic Genesis musical and theatrical masterpiece, "Supper's Ready", from the 1972 album, Foxtrot. Variable songs, usually as an encore, have included "The Knife" and "Return of the Giant Hogweed".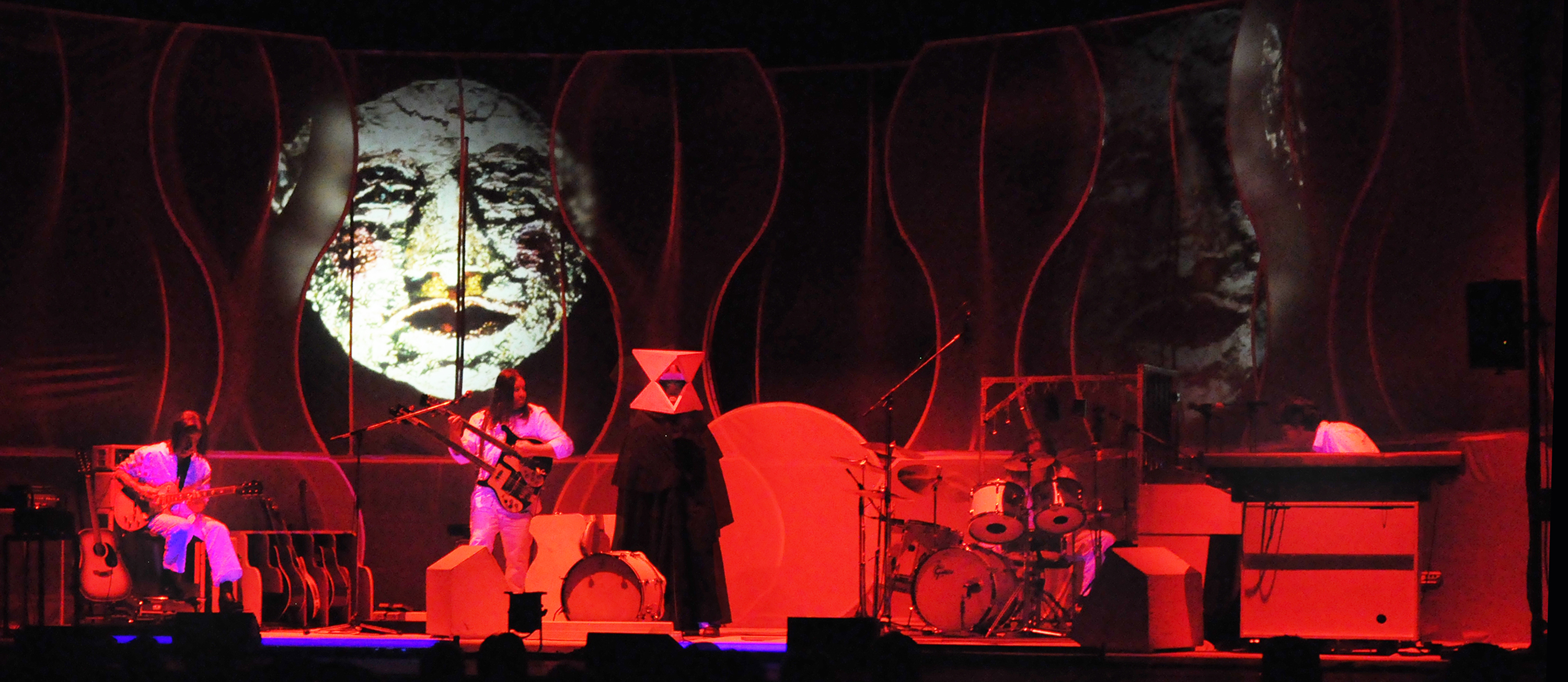 Since their earliest shows in 1993, The Musical Box have performed for more than one million spectators, in some of the most prestigious venues in the world. These include such large theatres as London's Royal Albert Hall and the Olympia Theatre in Paris. When they are branching into new regions and cities, however, TMB will often perform in more intimate theaters and cabarets, sometimes with more stripped-down shows. And in warmer seasons, they can often be seen headlining at large international music festivals, which give them the inspiration to pull out all the production stops.
I've periodically attended TMB shows myself as early in their career as 1997, when I saw them perform an early version of SEBTP, in Philadelphia. (SEBTP was the band's first full thematic show, but according to TMB creative director Serge Morissette, TMB performed mixed setlists of Genesis songs – similar to the Extravaganzas – in their earliest shows and worked their way up to a full SEBTP show. That is when their reputation began to take hold.)

Over time, with more experience and inside knowledge of the show's design and details, TMB has lovingly developed the show into one of their most exciting and finely-tuned presentations. I've personally seen and heard the evolution of SEBTP from the more basic production that I witnessed in 1997 to my last time in 2018. My one great regret was never getting to see Genesis during the Gabriel years, but even at that Philadelphia TMB show, I had felt as if I had traveled back into those fabled Mists of Time in some crazy kind of time machine. And that is exactly what makes The Musical Box so special.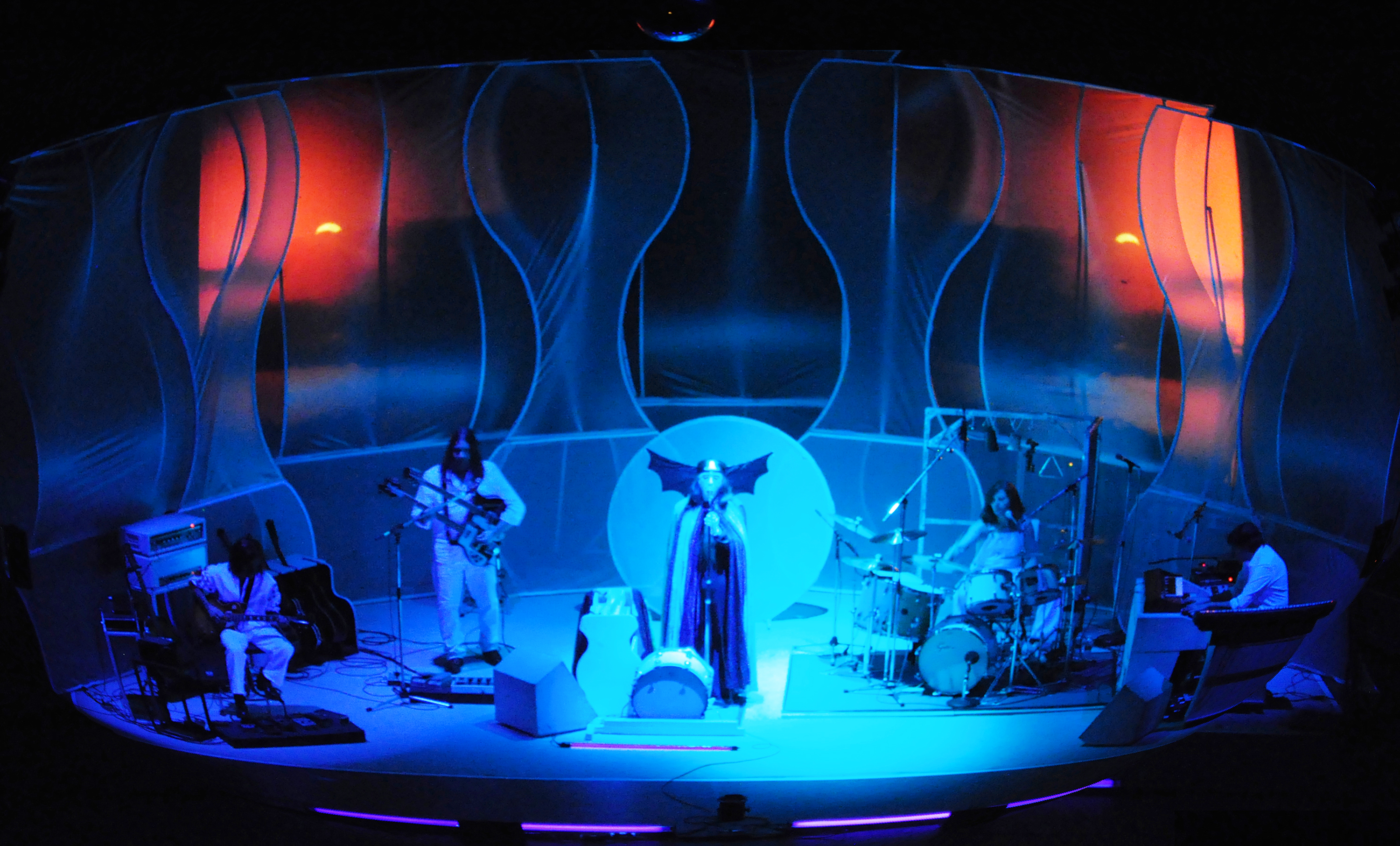 TMB's 2023-2024 production promises to be the most authentic and thrilling production of Selling England by the Pound to date. So come celebrate the 50th anniversary of SEBTP and TMB's 30th anniversary of live performances, and experience the mythical world of early Genesis as only The Musical Box can recreate it.
*************
The dates for The Musical Box's special 2023-2024 production of Selling England by the Pound include the following dates, venues and cities. For more information and additional tour dates, please visit TMB's website, https://www.themusicalbox.net/tour. You can also follow TMB via their Facebook page for updates on confirmed dates for the coming tour. Also, if you wish to read more about the history of the original Genesis album, Grateful Web recently featured an in-depth story about it. For more information about The Musical Box, please visit their website: 
Fall 2023
Nov 2 – Théâtre Granada – Sherbrooke QC
Nov 3 & 4 – Capitol De Québec – Québec City QC (2 nights)
Nov 9 – Wingham Town Hall Theatre – Wingham ON
Nov 10 – Danforth Music Hall – Toronto ON
Nov 12 – L'Odyssée – Gatineau QC
Nov 30 &Dec 1– The Coach House – San Juan Capistrano CA (2 nights)
Dec 2 – The Canyon Club – Montclair CA (First of two venues with the same name.)
Dec 3 – The Canyon Club – Agoura Hills CA (Second of two venues with the same name.)
Dec 5 – Rialto – Tucson AZ
Dec 6 – Celebrity Theatre – Phoenix AZ
Dec 8 – Paramount Theatre – Denver CO
Dec 10 – The Regency Ballroom – San Francisco CA
Winter/Spring 2024
Jan 7 – Wellmont Theatre – Montclair NJ
Jan 9 – Birchmere – Alexandria VA
Jan 19 & 20 – Salle Wilfrid-Pelletier – Montréal QC (2 nights)
Feb 29 – De Montfort Hall – Leicester UK
Mar 1 – Corn Exchange – Cambridge UK
Mar 2 – Forum – Bath UK
Mar 3 – Eventim Apollo – London UK
Mar 6 – Barbican – York UK
Mar 9 – Symphony Hall– Birmingham UK
Mar 10 – Bridgewater Hall – Manchester UK
Mar 12 – Tyne Theatre – Newcastle UK
Mar 13 – Oval Hall – Sheffield UK
Mar 14 – Usher Hall – Edinburgh – Scotland – UK
Mar 16 – 02 Academy – Glasgow – Scotland – UK
Mar 18 – G Live – Guildford UK
Mar 21 – Teatre Coliseum – Barcelona SP
April 4 – Casinos Barriére – Enghien-Les-Bains FRA
April 5 – Salle Pleyel – Paris FRA
April 7 – Theatre Casino – Lille FRA
April 10 – Casinos Barriére – Toulouse FRA
April 11 – Theatre Casino – Bordeaux FRA
April 13 – Le Carre – Liege BEL
April 14 – Cirque Royal – Bruxelles BEL
April 17 – Tivoli – Utrecht NLD
April 19 – Theater Am Aegi – Hannover GER
April 20 – Jahrhunderthalle – Frankfurt GER
April 25 – Muziekgebouw– Eindhoven NLD
April 26 – Ruhrkongress – Bochum GER
April 27 – Kongresshalle – Boblingen GER
April 28 – Neuberinhaus – Reichenbach GER