The classic late-'60s blues-rock band Humble Pie held their first rehearsal – back in mid-January 1969 – at the family home of their then-newly-recruited, 17-year-old drummer Jerry Shirley. The four shaggy-headed musicians – three of whom had to sneak into the neighborhood and house in disguise, due to their local celebrity – squeezed their amps and Shirley's small drum kit into his parents' living room. Very domestic, very humble! But more important, a turning point in rock music history.
"After 15 minutes – doing that first song – we knew we had something great," the acclaimed veteran rock drummer told Grateful Web in a recent interview. Shirley is in the midst of rolling out a brand-new version of the band – although he does not currently play in it – that he calls Jerry Shirley Presents: Humble Pie Legacy - 50 Years of Smokin'. And the band begins a nine-date North American tour on Sept. 13, in Virginia Beach VA.
"Music from Big Pink [by The Band] had just come out [in mid-1968], and we were all blown away by it," Shirley recalled to us in our phone interview. "The first song we ran through was a cover arrangement of their song 'We Can Talk'. First, we played it perfectly with guitars only (no keyboard at that first meeting), through tiny amps, but it sounded huge. And then, they sang just the vocals a cappella. I told my brother that night that I felt like I had just joined the greatest band in the world."
Shirley – who had played his first gig around age 11 and would later play on projects with such legends as Syd Barrett, John Entwistle and Sammy Hagar – had already been steadily gaining pro experience by the time of that first Pie practice. For example, he had gigged with a handful of local bands, including one that had been signed to Immediate Records called Apostolic Intervention. (That was a short-lived specialty label of former Rolling Stones' manager, Andrew Loog Oldham. It was also the home of the smash-hit, British, psychedelic pop group Small Faces and soon-to-be future label of Humble Pie. (The Faces' lysergically-flanged pop single "Itchycoo Park" was their 1967 crossover hit in the U.S.) Meanwhile, Shirley was picking up session work with his pro-guitar-pal – Faces' frontman and future HP bandmate – Steve Marriott. And it was just the beginning of the young drummer getting known and rubbing shoulders with guys like Charlie Watts and Jimi Hendrix around the London scene. To say the least, it was a heady time for a young musician.
The other three long hairs who arrived at the Shirley home were all working pros: First off, there was, of course, then-22-year-old Marriott, guitarist/keyboardist/vocalist for the Faces. That group that had just broken up in the waning days of 1968 and Marriott, who was a musical 'older brother' to Shirley, was already chasing his next move. So he pitched his best fastball to the drummer, almost as soon as that break-up had happened.
And then the other two: A 19-year-old guitarist/vocalist of another top UK teen-pop band The Herd by the name of Peter Frampton was one. (In spite of Marriott's attempts to bring him on board with The Faces, Frampton had not been fated to join that band.) And the oldest of the lot, 28-year-old bassist/vocalist Greg Ridley, from the psych/blues/prog band Spooky Tooth. For sure, it was a case of youthful energy meets experience, and Marriott was the superconductor for it all. But, to borrow the title of Shirley's 2011 witty autobiography for a moment, the drummer suddenly had The Best Seat in the House.
After that one rehearsal, united as one and in the spirit of tamping down expectations that they might just be the next supergroup (It was the year of big debuts with Led Zeppelin, Yes and Crosby, Still & Nash after all.), the foursome adopted their famously self-effacing name and began woodshedding their songs for the next few months at a local community center. They were quickly signed – thanks to the prior success of those three pro members and Shirley's own entry-level contract with Intervention – to a new deal with Immediate. The Pie recorded recorded their hard-blues-rock debut album, As Safe As Yesterday Is, for the label by July, and one song not on the original UK album, "Natural Born Bugie", was tapped as a single. (It was added to the U.S. release of the album as "Natural Born Woman".) That quickly made waves, reaching No.4 on the UK charts. Like an arrow from a bow, HP shot upward and outward from there.
In the Fall of 1969, thanks to some deft booking strategy, the Pie were already fast-tracked to touring in North America. Some dates – such as the November 1969 two-night stand at Cincinnati's famed underground music venue, Ludlow Garage – had them booked as an opener for The Kinks. They had also quickly released a more acoustic-minded second album – Town and Country – which included some tracks leftover from the Yesterday sessions. Both albums quietly seeped into the American 'underground' via FM rock radio and import record shops. But, in the UK market they did much better, with Yesterday reportedly notching a #15 in the NME (New Musical Express) sales ranking.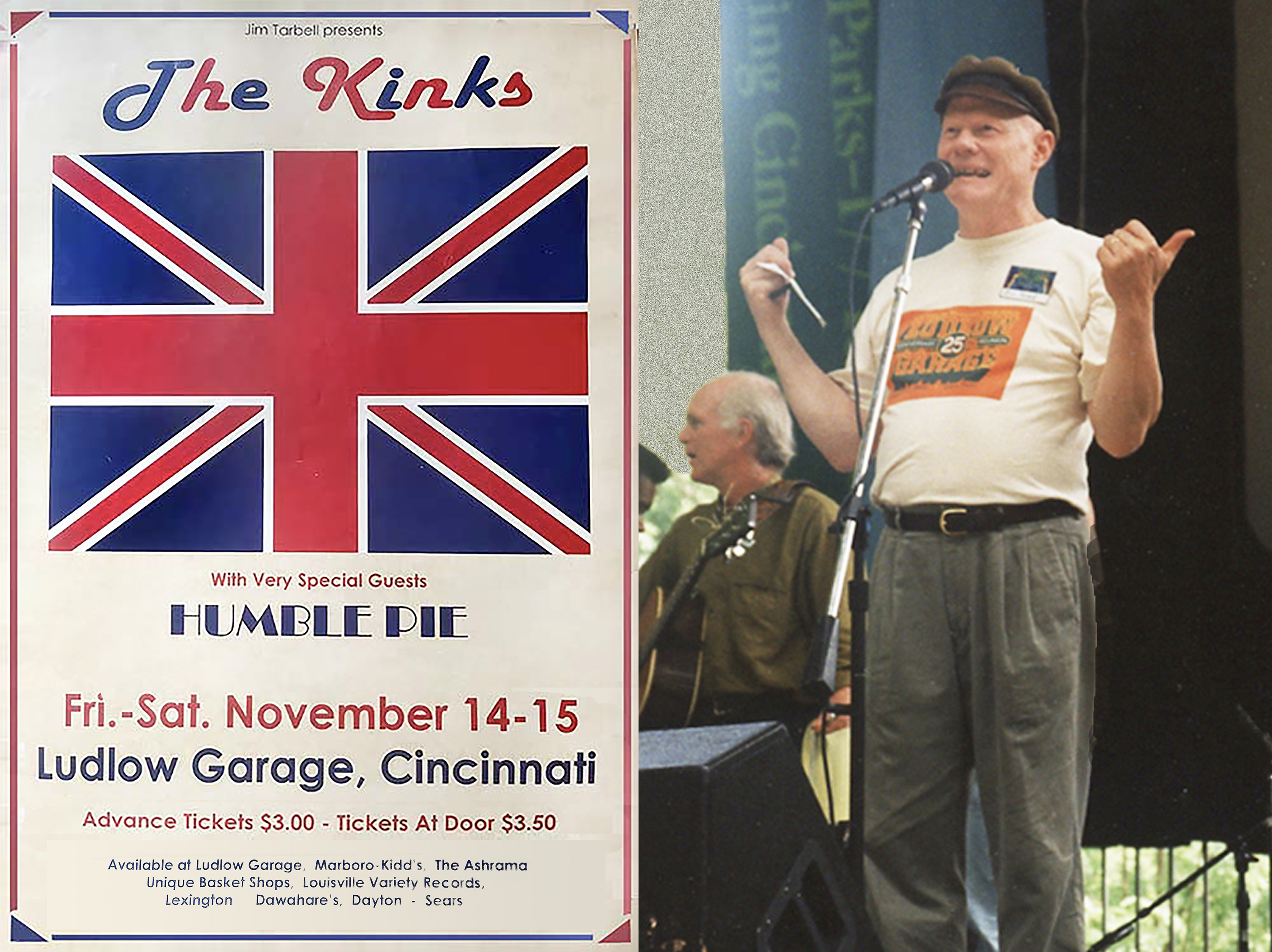 In short, HP's star rose quickly, but their north star fell. When Immediate tanked soon after the release of T&C, the Pie were briefly broadsided. But they rebounded nicely, joining A&M Records for their 1970 and 1971 albums Humble Pie and Rock On. Radio play of these albums spurred audience growth in the UK, Europe and North America. So, by Summer 1971, they found themselves being invited to open for Grand Funk Railroad at that celebrated American band's historic, sold-out, 55,000-plus concert at New York City's Shea Stadium. (Notably, just the week before, the two bands had also played to an estimated audience of 250,000 at an open-air show in London's Hyde Park.)
The Pie had also made a big impression in the U.S. market with their frequent shows from 1969 to 1971 at the two concert halls operated by the legendary promoter Bill Graham, the Fillmores East and West, in New York and San Francisco. Earlier in 1971, when they appeared at Fillmore East in May that year, they had the foresight to record those shows. The acclaimed double-LP Performance: Rockin' the Fillmore, which captured them in top, blistering form (Do "I Don't Need No Doctor", "Four Day Creep" and "Hallelujah, [I Love Her So]" ring any bells?) was released that November and immediately broke big for the Pie. (An expanded version of the original double-disc live album was released in 2013, via Omnivore Recordings, as a multi-CD set that captured the entire four-show run from which the original release had been compiled.)
However, just before the Fillmore album was set to come out – and seemingly as they were about to be catapulted into true mainstream stardom, intraband friction had led guitarist Frampton to announce his decision to leave. Two years, and then over and out! But Fillmore still earned HP a Gold Record for 500,000-plus in sales and #21 on the Billboard Top 100.
And the band played on. A new guitarist, Dave "Clem" Clempson – of the proggier band Colosseum – stepped into Frampton's footprint for a few albums, until the band folded for the first time in 1975. Among these was Clempson's 1972 Pie debut, Smokin', an album that brought the band even more commercial success in spite of its darker and snarkier tone. Three more followed, one each in 1973, 1974 and 1975. But it was a trend of diminishing returns, and then a fade to black.
Some reconciliation had taken place in 1979 and into the early 1980s, with Marriott returning for a time with Shirley and other new members, two new albums, and then a split again. At the heart of those internal problems were reportedly issues of various health emergencies, increased substance abuse, and other misfortunes. Hopes for still another rebirth came in the early '90s came with tentative new writing and recording sessions happening between Marriott and former bandmate Frampton in America, in early 1991. This was cut short, however, by Marriott's reported dissatisfaction with the work in progress.
Then came a stunner: Soon after returning to England, Marriott tragically died in an accidental house fire. Things remained dark for a time, but after acquiring the rights to the band name in 1988, Shirley went on to revive the group with sometime-bassist Ridley for later versions. These included the band roster that recorded the final Pie album, Back on Track, in 2002, with guitarist/vocalist Dave "Bucket" Colwell, also long associated with Bad Company. Frampton also released a box set in 1992 containing two of the new songs he had recorded with Marriott in 1991. All this time, all these struggles and hard turns, and still the spirit and legacy of the Mighty Pie lived on.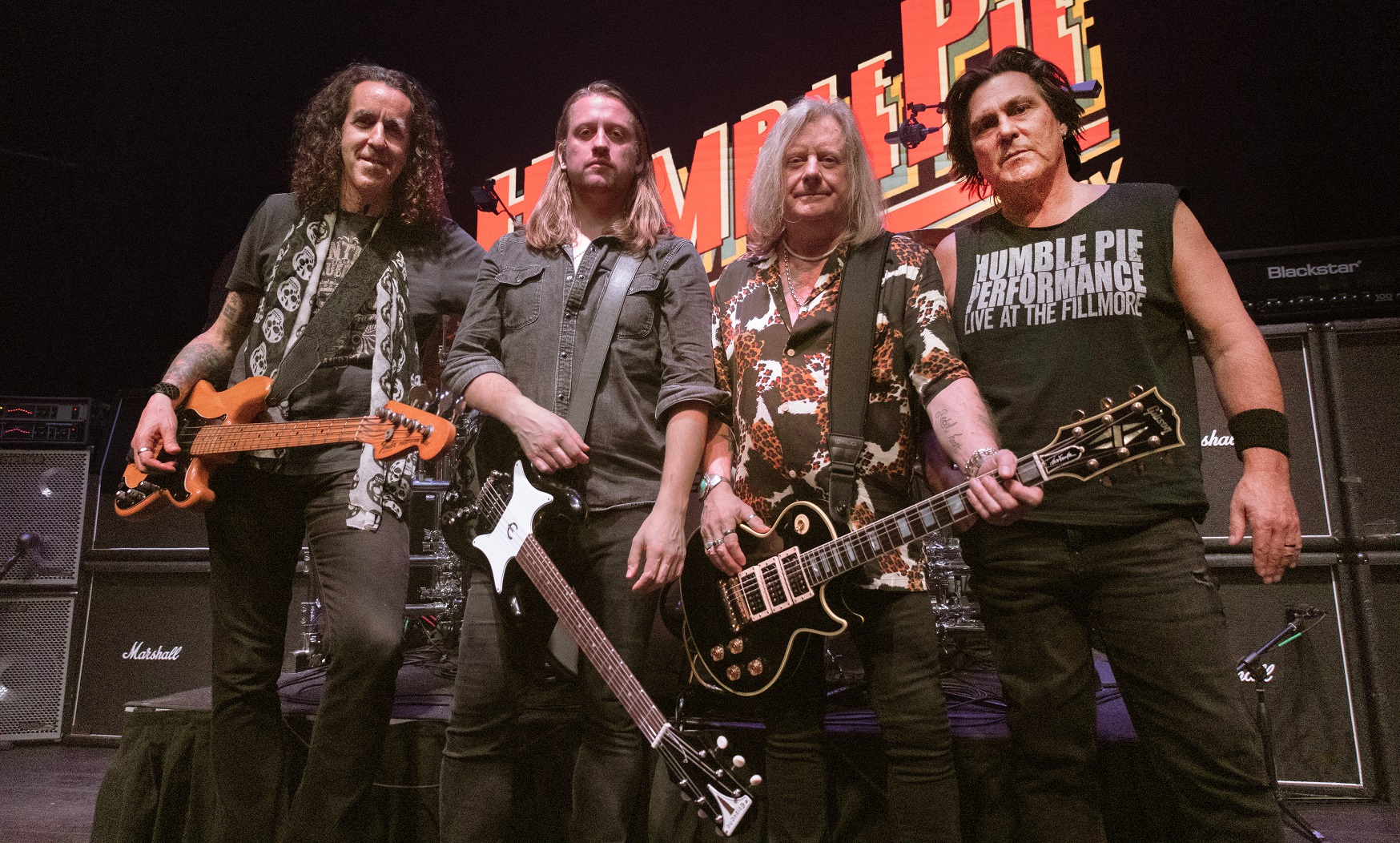 While there have been a number of incarnations of Humble Pie across the decades with some 30 members total, clearly – in the rearview mirror – the lifespan of that original, historic line-up was breathtakingly short. So here we are, 50-plus years later, and Jerry Shirley is still – literally – in the business, not as the band's drummer but as their mentor and guiding light for a completely new line-up that carries on the tradition of Pie's hard-rocking blues and soul music.
The Humble Pie Legacy: 50 Years of Smokin' project – which Shirley oversees with his longtime business partner Steve Karas – is very similar to the most recent reformation in 2018. And, as mentioned earlier, within the next week, the newly re-fortified band will be launching a short, nine-date North American tour to reintroduce the Pie's amazing body of work to a new generation of live audiences.
As he and I discussed in our interview, the now-71-year-old drummer has ongoing physical reasons – complications from hip surgery, to be exact – that limit him from playing drums for any extended length of time. If Shirley were to push it, he explained, it would not be up to his "personal standard." (He does add that he's optimistic that could change, in time.) But as the official owner of the Humble Pie trademark and as a believer in the musical magic that he helped to summon all the way back in 1969, he said he is committed to keeping the fiery chemistry of Humble Pie's music alive and to bringing it to the ears of many new fans. So he has groomed and guided a new, four-man line-up that follows logically from the last recorded line-up of Humble Pie.
Shirley said that since the early 2000s, he has remained close with guitarist/vocalist Colwell, who first joined him and late HP bassist Ridley on the 2002 version of the band. (Ridley passed away in 2003.) So Colwell's direct involvement paved the way for him to work with Shirley on the 2018 Jerry Shirley's Humble Pie tour and again on the upcoming tour.
In fact, Shirley has entrusted Colwell with the role of musical director for selecting the band's members and repertoire as they move forward. And with Shirley's blessing, Colwell personally has brought in soul/R&B bassist Ivan "Funky" Bodley, lead vocalist/guitarist Jim Stapley and drummer Bobby Marks to round out the new line-up and to carry on the band's legacy. (It's worth noting here that former guitarist and founding member Peter Frampton has also given this new tour his full approval as well.) And – just maybe – they will even finally earn the original HP line-up their rightful place in the Rock and Roll Hall of Fame.
The following is a condensed transcript of Shirley's conversation with Grateful Web about the journey of the Pie's music from the Shirley family's living room to a theatre near you. He's hoping fans and newcomers will come out to hear the new HP at one of the clubs or theatres where they'll be playing in the next three weeks. It will be a chance to find out what all the fuss over Humble Pie – all those years ago – was all about.
GW: It's great to talk to you. With my history as a Humble Pie fan and some pre-research, I have a good feeling for your mission with this new project. For example, the personnel, the tour dates, etc. We can talk about plenty of other things!
Shirley: Funny you say that, I just found out today – I was doing a bit of research myself. Our very first tour, in 1969 – we were opening or in the middle of a bill with various people. And the very first gig we ever played in Cincinnati was with the Kinks headlining, and Glass Harp (an Ohio regional band featuring guitar phenom Phil Keaggy) were opening. We were in the middle of the bill, there at Ludlow's Garage. Is it still called that?
GW: Today, its full name is Alive at Ludlow Garage, but everyone here in Cincinnati still just calls it "Ludlow" or "the Garage."
Shirley: We were still finding our feet then, really. Doing some acoustic stuff [early in the show]. Umm, it was going over OK, but it wasn't until we had got to the electric part, that we got [a better response]. Y'know, "Hey! They're pretty good!" Anyway, the band's looking forward to the new tour and playing there again. It's coming up pretty soon, I know. (Sept. 23, in Cincinnati.)
GW: The tour is very compact, less than two weeks long. I understand the reasons for that. You need to keep a handle on expenses, make the most of your travel time, etc. I know that Steve [Karas] is pretty on top of all that, and he's your partner in all this.
Shirley: Yes, he's been fantastic. Over the years that in this business, I've worked with many different managers, agents and publishing people. I know it's not been an easy thing to put this all together. He's been a real champion, and – I must say – a really good friend. He's just been brilliant at his job, can't speak highly enough about him for his help in getting our [new version of the band] this far. Now, once we get this [first] tour under our belt and people see just how good this line-up is, then it will start to develop its own reputation, I think.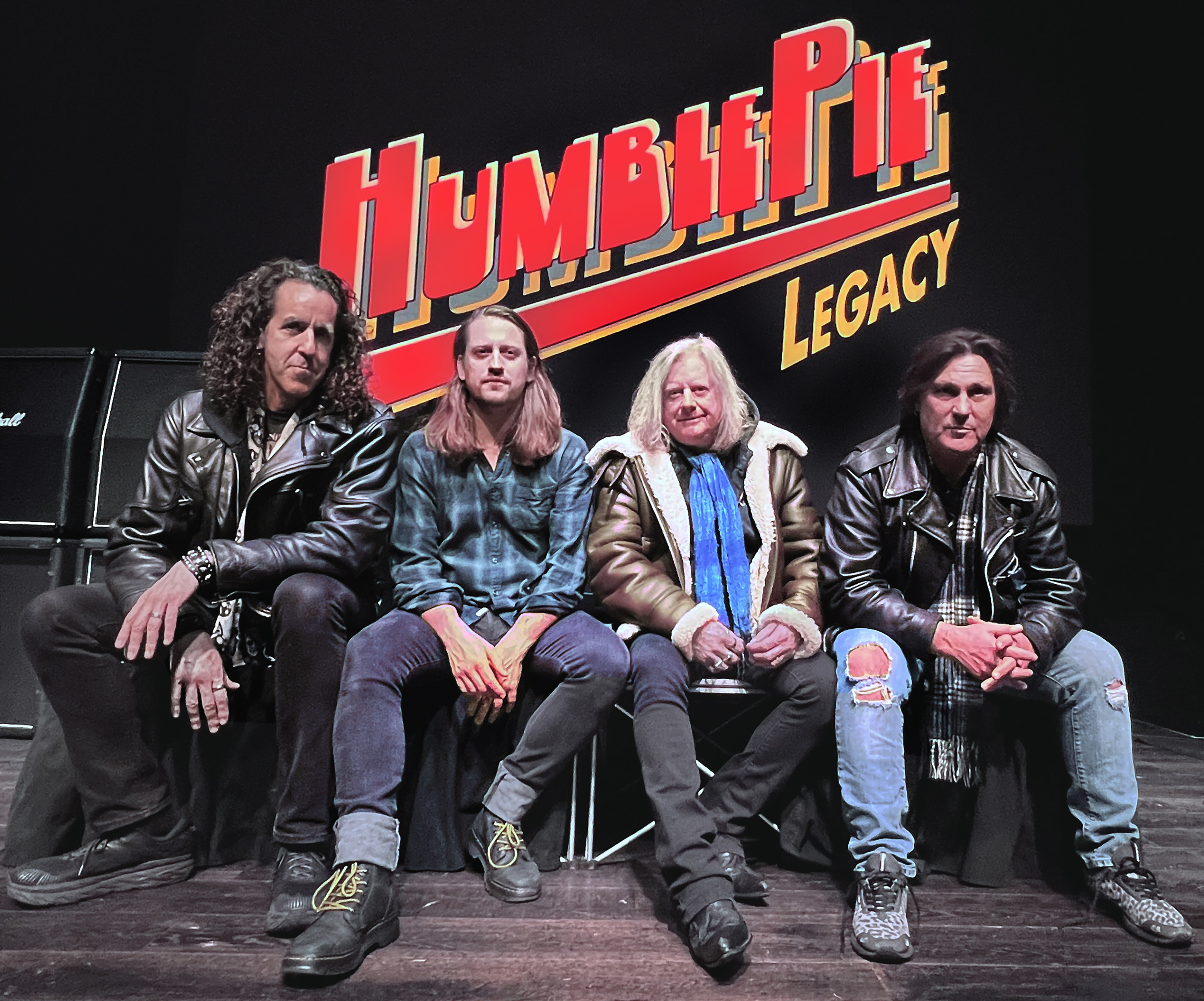 GW: Yes, I've been curious about how [this new band] might click with audiences. I know that when you've got gigs in small clubs (500-seaters such as Ludlow Garage), you can obviously pull in longtime fans. But for reaching a wider audience, maybe you'd need to get [the band] on some festivals or classic-rock cruises, or maybe an opening slot for another major tour, right?
Shirley: Yeah, we're hoping so. What would be ideal is that once the word's out that the band is hot and cooking, and I might possibly regain my playing ability, there might be a chance for me to return to live shows. I can't be there in the band myself right now, unfortunately, for health reasons, but not to harp on about that. That's the reality of it. I had the hip replacement surgeries [in the last five years], and I can walk great now. My mobility is back. But playing is difficult, even after 10-15 minutes. Very painful. If I were to push it, I'm afraid it would not be up to my personal standard.
The strange thing is, the shape of the replacement hips didn't match what Mother Nature gave me. I've been playing since I was 9 years old, playing almost non-stop and my body has been through a lot. My own hips had got used to being a certain way. (Note: He suffered injuries in a car accident in 1999, forcing him to drop out of music for a period of time.)
Before the surgery, the reverse was true: I couldn't walk very well. My mobility was terrible, but I could still sit behind the kit [and play]. Now I can't, so we came up with this idea of how to continue, to perpetuate this band's musical legacy [for live audiences]. And why not?
GW: Right – there's certainly a tradition with certain bands carrying on, as in the case of the Allman Brothers, who continued with Gregg Allman for many years, but with completely new guitarists (Derek Trucks and Warren Haynes filling the shoes of Duane Allman and Dickie Betts.). In fact, they entered a new Renaissance for themselves.
Shirley: Yep, a lot of rock bands have done that.
GW: So, speaking, I noticed you were only 17 years old when you joined HP, recorded the first album and were touring in America (in 1969). But I've seen some interviews with you in which you talked about [being underage on tour] and having to check in with authorities on a regular basis. That had to blow your mind, I think. You were like George Harrison in Germany [with The Beatles], right?
Shirley: Yes, and there's the case of Steve Winwood – when he was in the Spencer Davis Group – going abroad to Germany. He was a wee kid like me, and they used to hide him in the bass drum case! The thing about touring in America – for me to be legal, y'know – was that I wasn't even old enough to walk into bars, let alone perform in them. And there was a special compensation that could be allowed through getting a certain type of work visa, which they got for me. But I had to have a guardian, someone who was like my parent on the road, if you like, but it wasn't my dad. And, in Europe, ironically, the one who had to be my responsible guardian was Steve Marriott!
GW: Heh! That's hilarious!
Shirley: Talk about the lunatics running the asylum!
GW: Absolutely!
Shirley: So, in America, the very same thing was true, and there was a very nice man – the general manager of Immediate Records in America – named Paul Baines. He helped to take me to the British Consulate in each town we were in. And I could register there, and that made it legal for me to perform [in the bars]. But, as a teenager at the time, I wasn't supposed to "cruise the strip" in places like L.A.. Y'know, just walking up and the down the street or being in a car on Sunset Strip, after 10 o'clock.
Teenagers weren't supposed to do that, but of course they did. And teenagers were not allowed in any of the clubs, but , of course, they would get fake IDs. But none of this clicked with me. I was so used to being around people older than me and behaving older than my age – just to fit in – that I'd walk the Strip, go into all the clubs and take in the sights, if you like. I didn't realize until years later that I was breaking the law – left, right and center – because no one ever asked me for my ID!
GW: Interesting. . .
Shirley: Yes, and if I was in the club, playing a gig, that was one thing. But if I chose to go off by myself, that was different. Like one time in L.A, I stepped into a club to check out the Grateful Dead, and it was right about the time of Altamont [Festival]. Maybe because of that, they weren't in a very good frame of mind. They seemed to be having a bad night, unfortunately. But I got to hear a lot of bands for the first time that way.
GW: On the topic of the late '60s and Humble Pie's influences, could you talk about HP's early influences and whether you were drawn to any certain sounds or if the record company and producer steered you in certain directions? For example, when As Safe As Yesterday Is came out, there was one John Kay/Steppenwolf song on it ("Desperation"), and "Buttermilk" Boy sounded like "Born to Be Wild". I'm just curious whether the record company was leaning on you, wanting you to sound more like certain successful artists.
Shirley: No, it was entirely all our own influences from American bands (the ones that they liked) and our decisions. In the very beginning, the most influential group to us was, in fact, The Band. We had gathered together in my parents' living room, just to see if [the band chemistry] worked. It all looked good on paper, in theory. So we arranged a little rehearsal. It was small amps, and my little drum kit, at my parents' home. And the other three guys had to come in long overcoats with collars pulled and hats down over their faces. They didn't want to be recognized, because they were all very well known at the time. Steve and Peter were the equivalent of Michael Jackson in the '80s, for the size of their fame at the time. How recognizable they were. . . .
GW: And, I guess, how many magazine covers they were on.
Shirley: Yes, exactly. Everything was "magazine" back then. All the music papers then were like the Internet today. So their faces were so recognizable that they had to show up incognito. And, once they all got there, we set up and played a couple of those Band songs. Music from Big Pink had just come out [in mid-1968], and we were all blown away by it, The first song we ran through – I can clearly remember – was a cover arrangement of their song "We Can Talk". We had wanted to also do "Chest Fever", but we didn't have a Hammond organ yet.
First, we played ["We Can Talk"] perfectly with guitars only, through tiny amps, but it sounded huge. And then, they sang just the vocals a cappella. After 15 minutes – doing that first song – we knew we had something great. Greg and I connected immediately, and Steve and Peter did, too, with their guitars. And when they started singing together – Oh-my-God! We knew we had all the ingredients – especially the groove of the rhythm section! And I told my brother that night that I felt like I had just joined the greatest band in the world.
However. . .at the exact same time that we were forming, there were also other bands, like Led Zeppelin, and Crosby Stills and Nash, and Blind Faith, who were coming out around the same time. So the competition we were up against was absolutely intense! In terms of new groups coming out who were being advertised as "supergroups," I still felt – as far as I was concerned – I was in the best band I could ever be in. And I never was in a better band than I was [with the original line-up] and when Clem joined us [in 1971]. Just superb!
GW: The early albums Yesterday and Town & Country were so different from each other – one was hard rock, and the other more folk and pop-flavored. And the sound got tougher again over time, especially with the Fillmore album and Smokin'. Since the new tour is called 50 Years of Smokin', what's the balance of the old and new? Will the new tour focus on Smokin' or will it try to cover the band's whole history? And will the band include any of the quieter, acoustic-guitar material?
Shirley: Yes, it's going to be the whole history and lean a bit towards Smokin', because they're going to have some keyboard tunes that they didn't do in 2018. So they'll doing [songs like] "Hot and Nasty" from Smokin' (1972) and Peter's tune "Shine On" from Rock On (1971). both of which require Hammond organ. And our lead singer, Jim Stapley, also plays organ. So it will be very much like the original band in that it's now a four-piece, and Jim will switch from playing second lead or rhythm to organ, so [they] can do a bunch of songs we didn't do back then or when I was running the band in the '80s and '90s. Actually, back then, we did do a version of "Hot and Nasty" without organ, and it didn't sound bad, but, y'know, it didn't sound right either. And, as far as acoustic songs, no, I don't think that's in the plans this time around.
GW: As a general rule, will the shows have a set format of songs from night to night, or is there wiggle room for different songs on different nights?
Shirley: I'll have the final say, but I've left the choice of material mostly up to my band leader and musical director Dave [Colwell], since he was in the band with me and Greg and Bob Tench (singer and guitarist) when we made the Back on Track album in 2002. So he and I have played together, and he has history in the band, if you like. He's getting a lot of help from his old buddy Jim Stapley, who's the new lead singer. Jim's doing a great job. He's not trying to sing like Steve [Marriott]. You can't imitate Steve! Ohh, you can try, but it's not right. Like, y'know, Chris Robinson from Black Crowes openly admits that he got his start by being a Marriott rip-off. Jim's got the range needed for these songs, but he's singing them his way.
GW: And Black Crowes' overall sound, even down to how they add in electric piano, really reminded me of early Humble Pie when I first heard them. Had to do a double take.
Shirley: Absolutely! I've met them. They're just lovely. So many bands that came up after us, I've found out many years later that they claim they learned how to play and write by listening to our music. So much more than I ever realized, until way later in life. You name them — Black Crowes, Aerosmith, Gov't Mule and Red Hot Chili Peppers. I'm friends with Chad Smith from the Chili Peppers, and he told me he learned to play drums by practicing to "I Don't Need No Doctor" endlessly, until he got it right.
And, y'know, the Chili Peppers are not necessarily like Humble Pie, but their roots – where they came from musically – were from listening to us. Even Eddie Van Halen, may he rest in peace! I met him once — years after he was very successful, and he was signing a guitar at a charity event — and he was so pleased to meet me. And I was so surprised. He was the big shot – not me! And he told me, "You guys were the best! We learned how to play by listening to Smokin' " And Steven Tyler [of Aerosmith] has also told me that he learned from watching Steve [Marriott] how to grab an audience and keep them there.
GW: Over time, Humble Pie has always been known for its choice selection of covers—for example, Ray Charles, Eddie Cochran, Willie Dixon, Muddy Waters and Buddy Holly. "I Don't Need No Doctor" is probably your most famous cover. I'm curious whether the setlist for this tour unexpected covers, or even deeper Pie tracks.
Shirley: Covers to us were just us taking songs we loved and making them our own, as best as we could. And for "Hallelujah (I Love Her So)" (a Ray Charles song), in particular, that was definitely the case. But, as to which songs they would actually do, I'm really leaving all the choices up to Dave and the band in general. I imagine there will be a few more deeper cuts in there than there were before. Haven't seen the final list yet. I think they will definitely be doing "Hallelujah" and "Doctor" and those things, but the final choices are yet to be made about how deep they're going to go. There should be some surprises in there.
GW: Sounds great. Personally, I'd love to hear "Strange Days" (a keyboard-heavy blues song from Rock On), but it's such a deep track that I wouldn't be disappointed in not hearing it. Just a dream song for me. I love the dynamics so much and Peter 's [Frampton's] jazzy guitar lines are so brilliant. Like Mick Taylor in the Stones.
Shirley: Well, now that we have a keyboard in there, that's one of the ones I'd definitely like to hear them do. It may well happen. Maybe not on this tour, but it could certainly happen down the road. If I had to pick a track, that would be [at the top].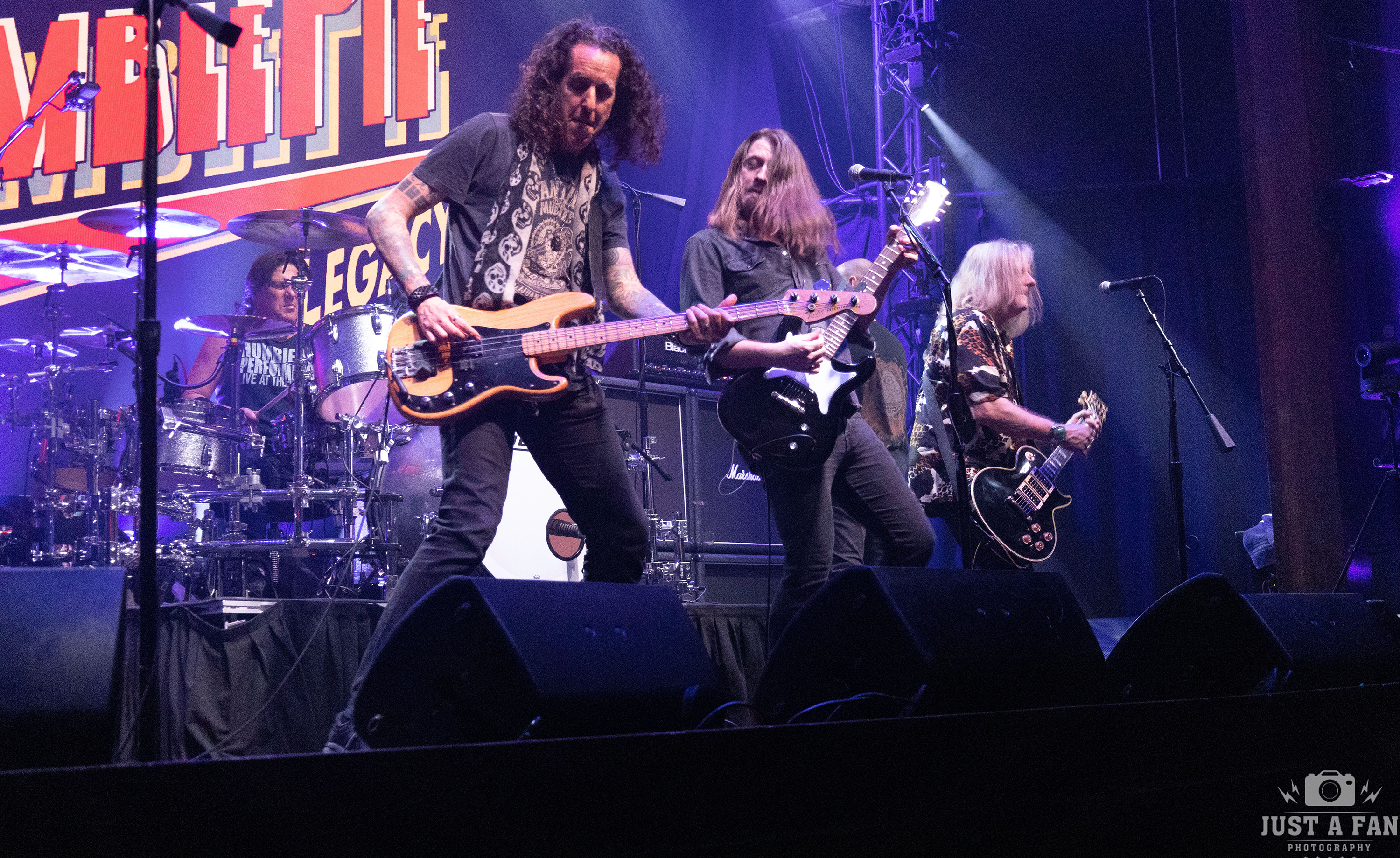 GW: As we mentioned before, it's a very compact tour – less than two weeks – for obvious reasons. But you mentioned in one recent video interview that I saw about possibly adding dates. Will those come as add-ons while the band is here, or will you just plan on knocking out these dates first and then look at doing additional legs?
Shirley: Right now, it looks like that's what will happen (doing this early run in full first). But never say never! They might get into a few shows and find the word is getting out and they might add a couple more dates on to the end. It's very similar what [early Humble Pie] did when we first started as a headliner. We'd take a three-week block as a test to see how we'd do, and then, from that, we'd book 8-10 weeks of dates. So, maybe if the word spreads this time, come next Spring we might be out there for quite a while longer. We did that with the 2018 Legacy tour also, and it worked very well.
GW: In some of your recent interviews, you've seemed optimistic about your recovering to the point that you could play again someday. Could you talk about whether it might be for a residency or some kind of charitable event, such as the one as James Gang did with the classic line-up for the VetsAid show in Columbus in 2022? And, as I suggested before, do you think you could get the band onto festivals or charity show line-ups like that?
Shirley: I'm working on my personal physical part where I could get up and play a couple of songs here and there. So that means once we get the new band up and rolling, maybe we could look at some special events, like a one-off musical tribute show, where we could get a bunch of friends who are all Humble Pie devotees to all do [a few minutes each]. I'm not saying that I've made any arrangements to do this. But I know many friends who – if I were to say "Let's do it!" – would love to be involved.
Nothing is set in stone, so to speak. But I know Chad [Smith] and some of the guys from Black Crowes would love to get involved. And if we could, I'd love to put together a night of Humble Pie admirers [like them] to help the Salvation Army, because I've helped them before, and they're the best at what they do. Not their religious side, really, but just their work with helping people with food, clothing and rehab makes a big difference. And compared to other organizations, I've heard they have a low overhead, where they spend only eight percent of their gross income on staff/administrative costs. So you have to tip your hat to them for that. That's all for the future, but I think it's all very doable.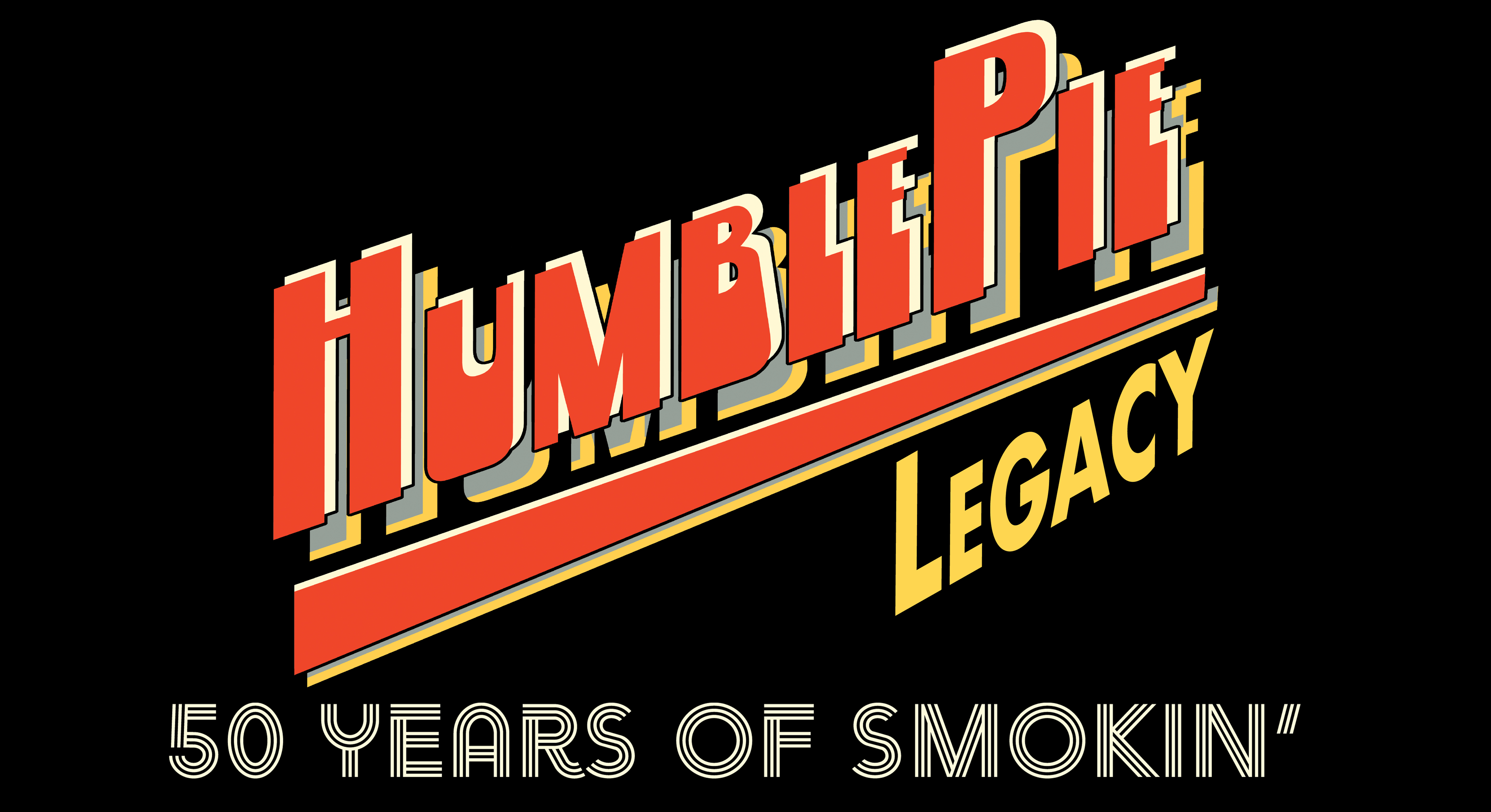 GW: That's really great, and I'd love to hear one of those gigs. So, really, I just have one more quick topic for you. As a longtime Pink Floyd fan myself, I'm aware of your work and friendships with Syd Barrett, David Gilmour and others in that musical family. For example, your drum contributions on Syd's second solo album in 1970. And, of course, there is the new documentary film about him that includes an interview with you. (The 2023 film, Have You Got It Yet?, directed in part by the acclaimed, late graphic design and film pioneer of Floydian media, Storm Thorgerson.) Could you briefly talk about your role in the movie and whether you think the end result was a balanced portrait of Syd?
Shirley: Yes, I think it was a very balanced movie. Very sensitively and beautifully done. And, for those of us who knew [Syd], we all agreed that it didn't lean on all that "losing his mind" stuff. It talked about the beauty of the man and how incredibly sun-like he was. As for my bit in the movie, it lasted all of 30 seconds, I think. I knew it was coming up in the film, but, by the time I got to nudge my ex-wife who came with me – we're still good friends – but was starting to get a bit sleepy, it was over. My 30 seconds were gone!
It was nice to be in it, but it wasn't like I was a main feature. They just talked about my having played on [Barrett's] second solo album, and I said, yes, that was correct, but it also came during a time that I was sharing a flat with the other drummer who was also on the album, which was Willie Wilson. For years , he's not been getting any credit, and I've been gettin all of it. So I've been putting that right for years.
The second album was mostly me, and the drummer on the first [Barrett] album (The Madcap Laughs) was mostly Willie, from Sutherland Brothers & Quiver, and also Cochise. He was also a member of the [1980-81] Pink Floyd tour, and he played as the drummer in the "pretend" Pink Floyd backing band that was part of that show. And he's known David [Gilmour] since they were kids in school, in Cambridge. And that's how I met David, through Willie, and from working in a band from Cambridge, right before Humble Pie.
GW: Well, thanks for those insights. I've heard nothing but good things about that movie, which is why I asked. Really forward to seeing it, and I'll have to look for your 30 seconds in there!
Shirley: Well, thank you so much for the chance to talk about our tour. Take care then.
For more information about the Jerry Shirley Presents: Humble Pie Legacy - 50 Years of Smokin' tour, please visit the Humble Pie website at the following URL: https://humblepieofficial.com/
The dates for their upcoming nine-date September tour include the following venues and cities.
September 13, 2023 – Elevation 27 – Virginia Beach, VA
September 14, 2023 – Landis Theater – Vineland, NJ
September 15, 2023 – The Vogel – Red Bank, NJ
September 16, 2023 – Newtown Theatre – Newtown, PA
September 17, 2023 – Tupelo Music Hal l– Derry, NH
September 21, 2023 – Oaks Theater – Oakmont, PA
September 22, 2023 – Token Lounge – Westland, MI
September 23, 2023 – The Ludlow Garage Cincinnati, OH
September 24, 2023 – Kent Stage Kent, OH