On Saturday, October 14, a loving and celebratory, 200-guest Station Hall audience at Jorma Kaukonen's famous eastern Ohio guitar camp, Fur Peace Ranch, cheered on the guitar legend and his Hot Tuna bandmates Jack Casady and Justin Guip through a passionate, late-afternoon concert of electric blues, ballads and tougher stuff.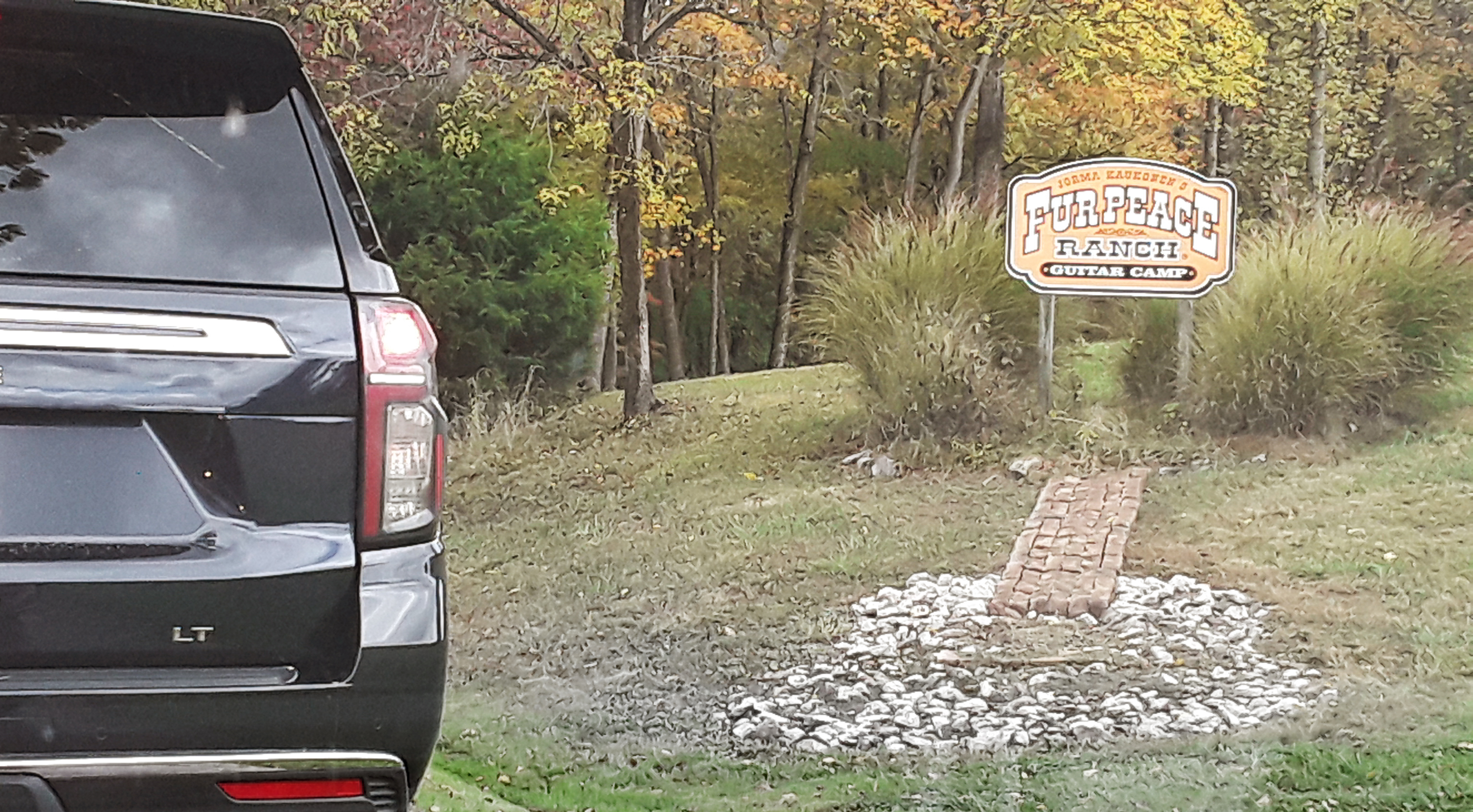 One excitable guest in the audience at this special weekend show – which came one week past the last date of the original end-date for the Electric Hot Tuna's career-capping, 2023 Going Fishing tour – was not exactly a heckler. But still, from the back of the hall, he had burst out during a quiet moment midway through the nearly three-hour concert with a spontaneous, head-turning song suggestion.

"Good Shepherd!" the perky fan suddenly blurted, name-checking perhaps an all-too-obvious Kaukonen touchstone from his days in Jefferson Airplane. He might have known that it would be played at some point anyway and was just trying to show off. But Kaukonen wasn't swayed. Not missing a beat, the guitarist chuckled while flashing a "nice try" grin and did his best cheap sheep impersonation.
"Baaaaa-aaaaa!" Kaukonen bleated into the microphone. Laughter then rippled through the small, rustic, one-level, ranch-style auditorium, and the band launched into their next song. And, no, that next tune wasn't "Shepherd".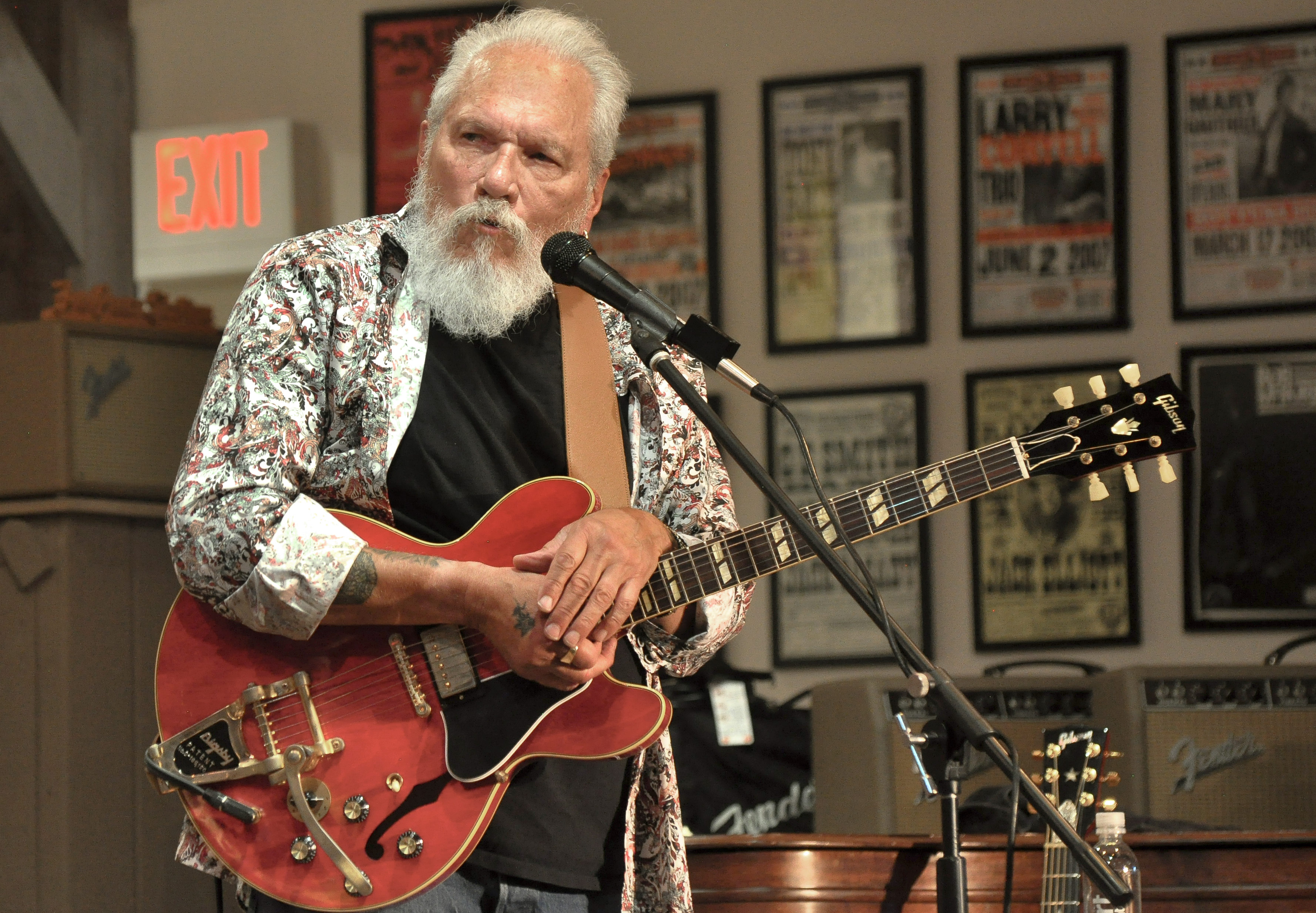 For such an emotional event as this largely-by-invitation-only farewell concert at the Fur Peace Station concert hall in the rolling, densely-wooded hills of southeastern Ohio, bandleader Kaukonen was in evidently good humor throughout the show. Yet, through the song choices (everyone was a reflection of Kaukonen's and Tuna's history), the pacing, and performances, one could feel a current of deeper and more complex emotions that gave the Electric Tuna trio's performance a certain extra tang of meaning. It wasn't hard to imagine that he and the band might have had a few things on their minds.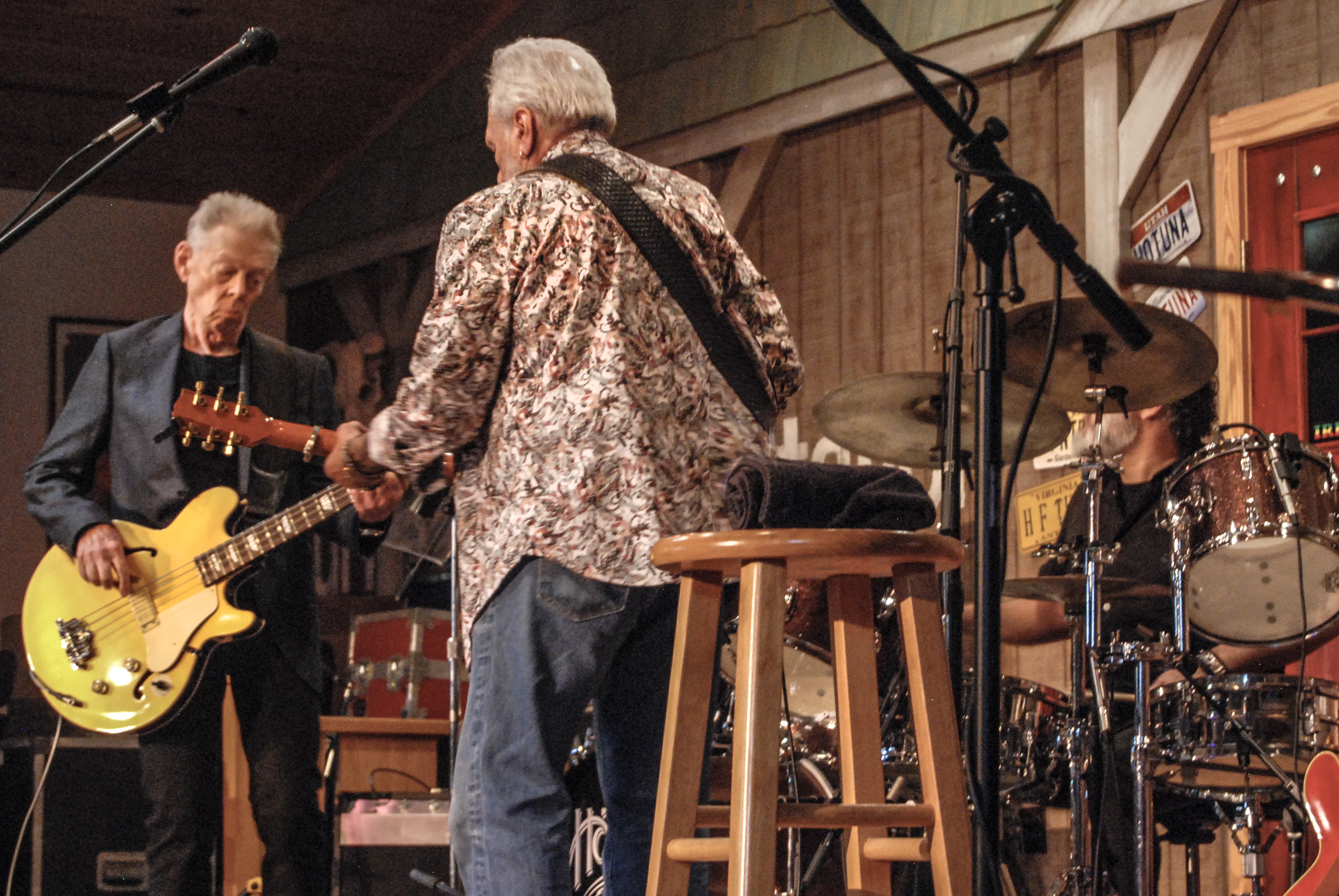 Although Hot Tuna took the audience over many peaks and valleys in the evocative show, the threesome stepped gently into their first song, a slowly unfolding, acoustic-based ballad. Excitement had risen in the room as the band first came out through the red-painted, double wooden doors behind the center of the stage and basked in the cheers of the buoyant crowd for a moment. And then the audience's voices dropped quickly after Kaukonen's brief intro.
"Everyone deserves a second chance," a smiling and casually dressed Kaukonen said plainly into the microphone as he announced the name of that first song, "Second Chances," from the band's 2011 Steady As She Goes album. As the tender song began, the room had become so ghostly quiet you could have heard a pin drop. Lyrics such as "If chances were like highways/a map would bring you home. . ." seem to bring the whole occasion into focus. And just like that, it almost felt as if the room had been transformed into a pastoral congregation, with a warm, churchly glow settling in the room. And we all shared in the communion with that spirit. There would be plenty of time for rocking later. Or so it would seem at the time.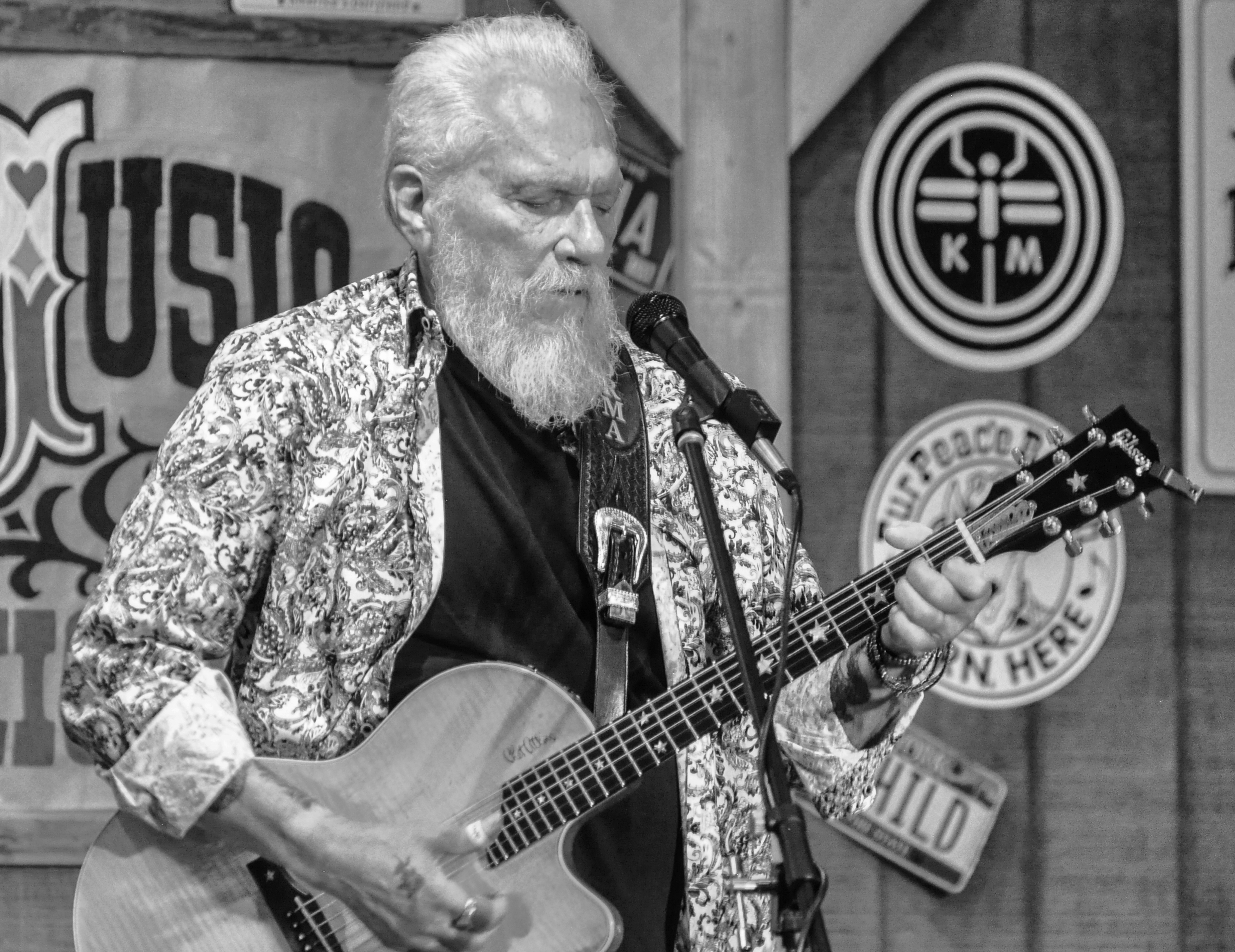 Applause was eager and persistent following that song and between the streams of songs during the show, but the audience remained reverently quiet during songs. That in itself was a blessing. Scattered patterns of stand-up responses after songs started early, and they soon began to grow in frequency and size. (I rose up spontaneously a few times myself, and I probably only flew 'solo' the first time. Early in the show, though, I was taking photos for documentation, so sometimes I was already on my feet.) Each of the two main sets and the encore would end with full-standing ovations that carried on after the band would leave the stage.
It was a generous, flowing show that seemed like it might go well into the night, and yet – looking back on it even just an hour later on my drive back home to Cincinnati – it really was over in the blink of an eye. Like a candle burning brightly until the wick and wax finally go, we burned along with the band, too. It was just as the band's promotional slogan had said when the tour was first announced, all those months ago: "Witness history, folks! All we're saying: See them before you can't!" And witness history we did!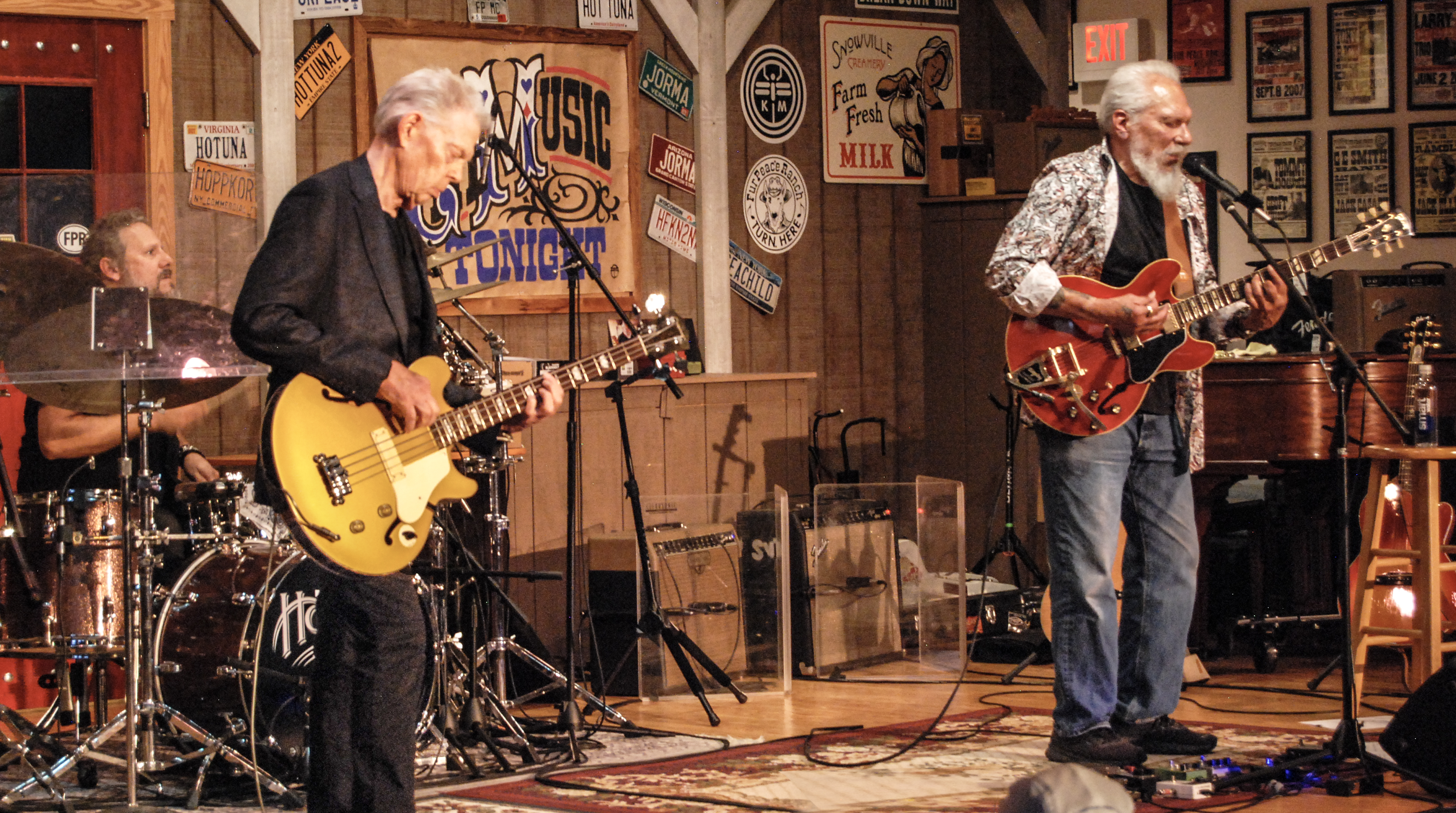 The ghosts of San Francisco – such as "Death Don't Have No Mercy", a meditation on mortality written by the historical blues-Gospel artist, the Reverend Gary Davis, and immortalized on Tuna's 1970 debut album and even earlier on The Grateful Dead's first live album Live Dead in 1969 – whispered in our ears several times during the show. Drummer Guip – a multi-Grammy-winning artist in his own right and steady HT collaborator since 2014 – gave the song a somber, funeral drum feel with his mallet rolls and cymbal rushes. For their parts, Casady and Kaukonen explored the darker harmonic corners of this time-tested, 16-bar blues with a walking bass line and penetrating blues phrases. To me, it also conjured a mournful New Orleans atmosphere. With Kaukonen's own long-demonstrated love of Deep South folk and blues roots, many of the ballad-based Jorma solo and Tuna tunes – such as "Been So Long" and "Sleep Song" – seemed to possess the same spectral and bittersweet qualities, in writing style, tone and delivery.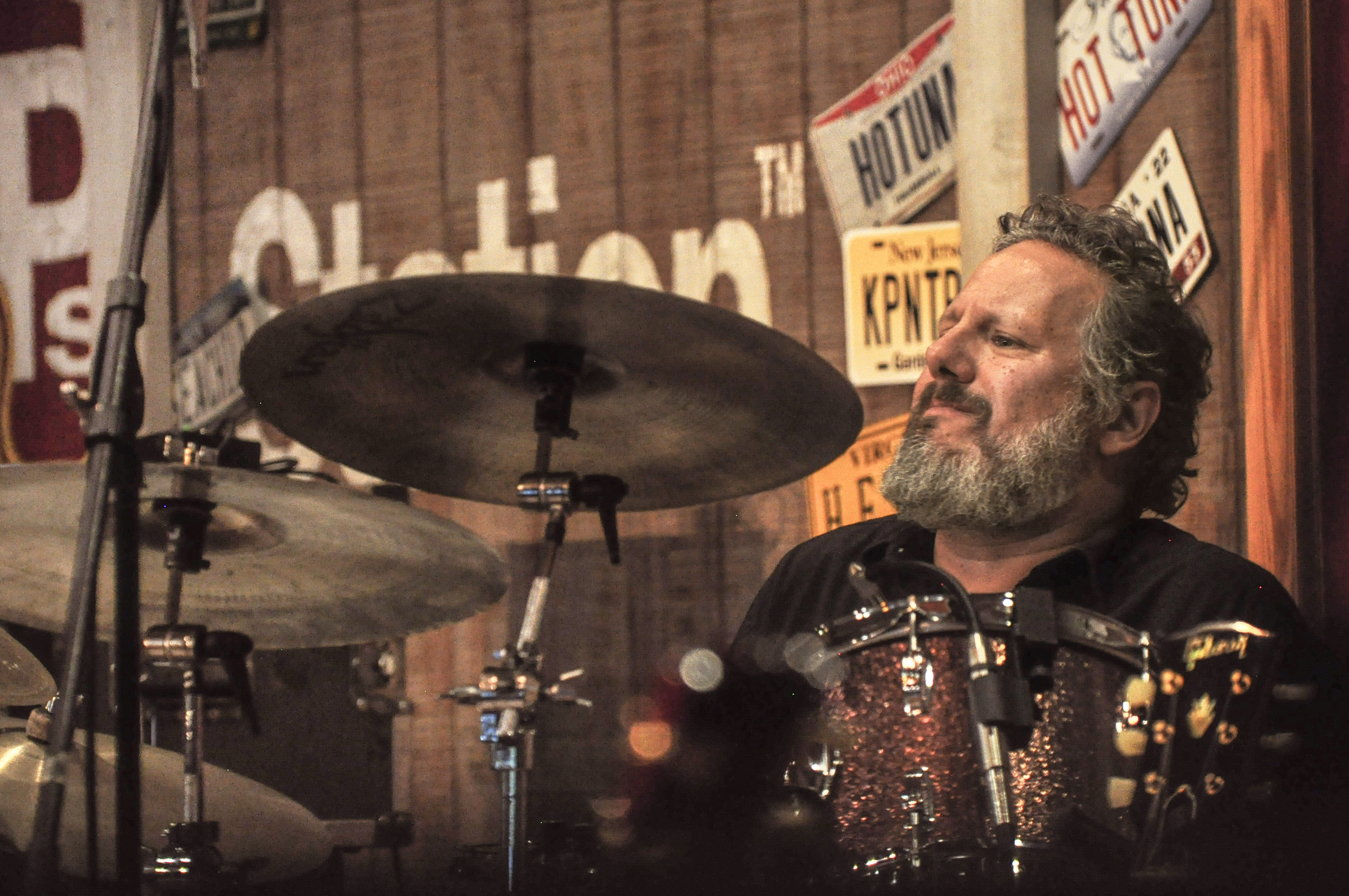 More ghosts took form in a pair of Jefferson Airplane covers, though neither was closely associated with the band's wiggiest early Frisco days. A handful of R&B and rock 'n'roll covers – Chuck Berry's "I'm Talking About You" was given a rightful nod in the second half – as well as a handful of vintage Tuna songs from the '70s to the '00s and selected Kaukonen originals were evenly sprinkled in. Though in a slightly different order from the main dates on the farewell tour, quite a few of the songs that had already been heated up on tour were – luckily for all of us at this show – brought back one more time for another hot run-through.
I think the first half of the show could be fairly summarized as somewhat songwriter-focused, with dashes of R&B and early rock thrown in for flavor. For example, that's where the rockier Bobby Rush cover – "Bowlegged Woman, Knock-Kneed Man" – seemed to come along at just the right time, four songs in. Moments of balladry returned, and the first Airplane song, "Trial by Fire", was also slotted in, right before the two more rousing set closers, the Tuna originals "Hit Single #1" and "I Don't Wanna Go". By the end of the set, you could feel that the emotional temperature in the room had definitely been dialed up several clicks.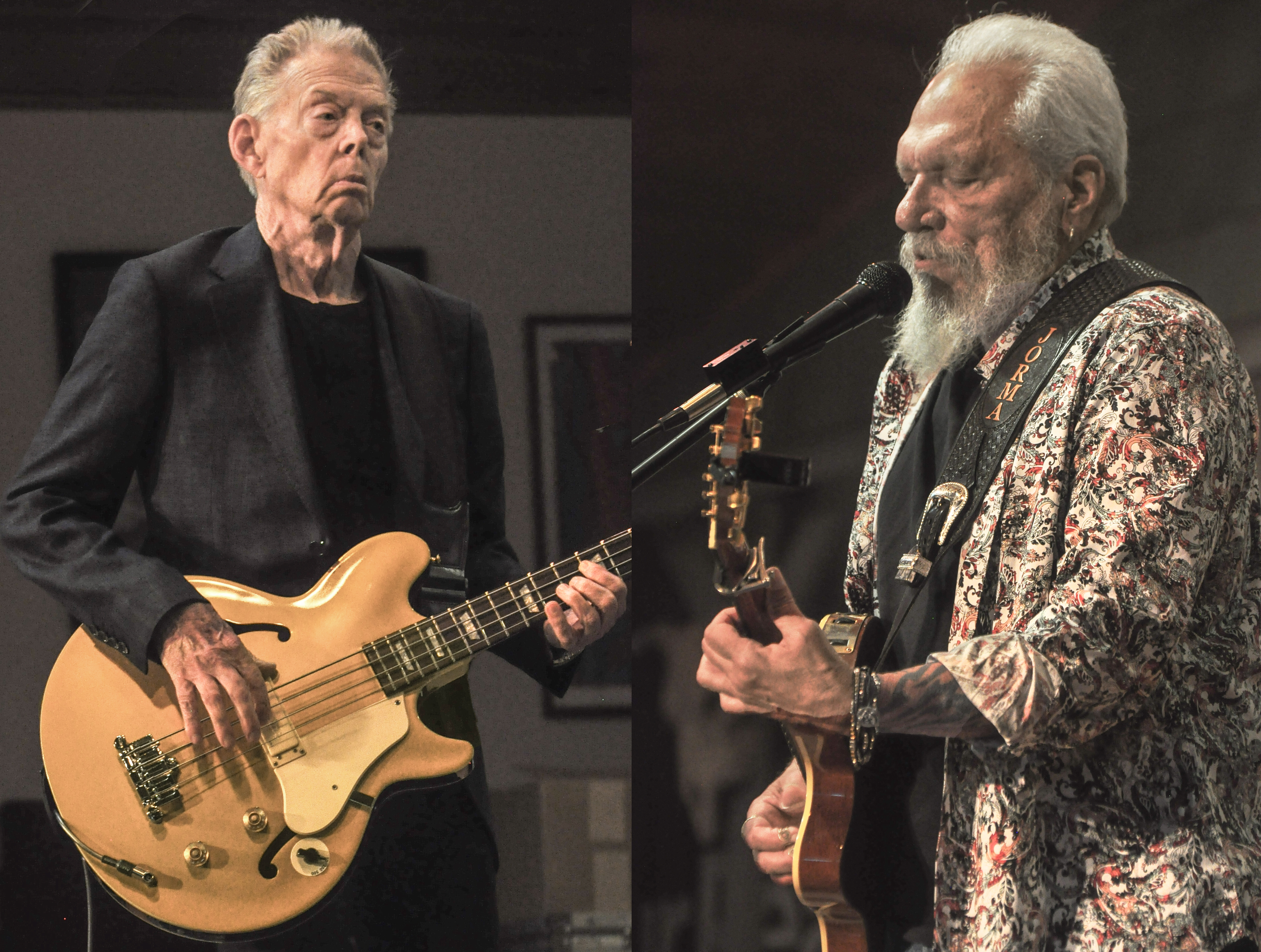 The communal spirit, which was expectant though more subdued during the pre-show social time, was in full bloom during the mid-show break, with a great deal of back-and-forth among the guests in and around the performance hall. One could hear in the animated chatting that the first set had tapped into many memories and shared experiences of past HT shows and other historical performances. Clearly, this show mattered to everyone who was there, and Kaukonen and the band seemed to have struck the perfect pace and emotional stride.
Considering that the band arrived at break time on the back of that electrical surge, I had naturally expected the trio to pick up right where they left off, in that more elevated state. Interestingly enough, though, Kaukonen dialed the tone lower again with somewhat more introspective songs leading into the second half. That's where his original "Been So Long" – also the title of his 2015 autobiography – and their cover of Reverend Davis' "Mercy" came in the show.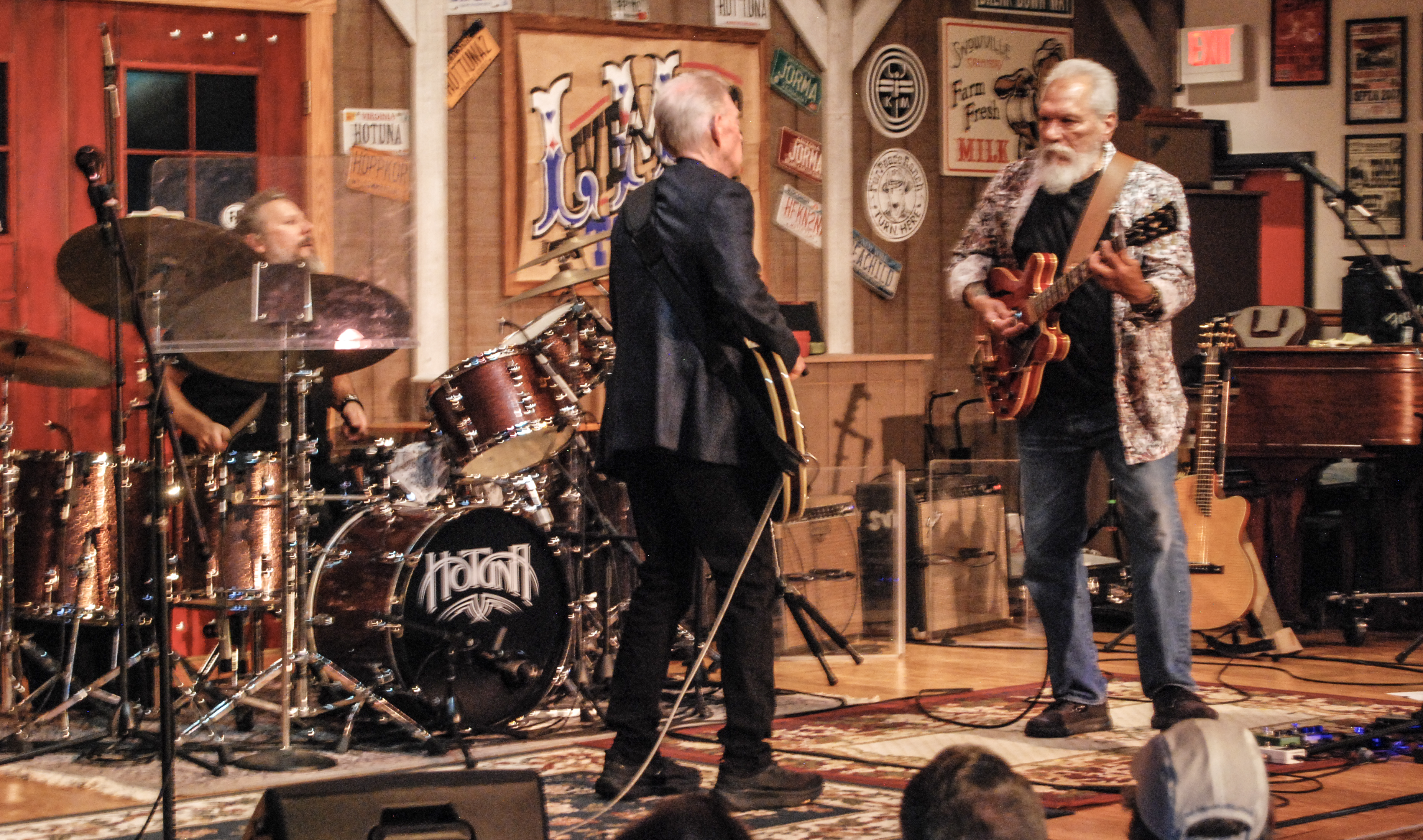 On a personal level, this was the moment of the event that felt most spiritual, and – for me – hauntingly relevant. It did seem that with the electric band bidding farewell to the touring life this year, Kaukonen's song choices were conscious nods to the joys, regrets, and puzzles of life. A personal puzzle that was very forward in my mind at the time of the show is how to come to grips with being a firsthand witness to a close friend's harrowing fight with a life-threatening illness.
So the wonder of Kaukonen's curating of the show is that he was sharing so many songs that are not only essential in the band's history but also – at the same time – potentially meaningful on the individual level. So – with what has been going on in my mind and life – when he bluntly sang the first lines of "Death Don't Have No Mercy", I felt the pang of timeless truth deep in my heart. And, yes, tears followed. It seemed like exactly the song that I needed to hear, and, as such, hearing the ensemble bring the song's buried anguish to the surface was my favorite moment in the show. For this performance alone, Tuna now has my eternal admiration and gratitude. I just have to ask: How did they know?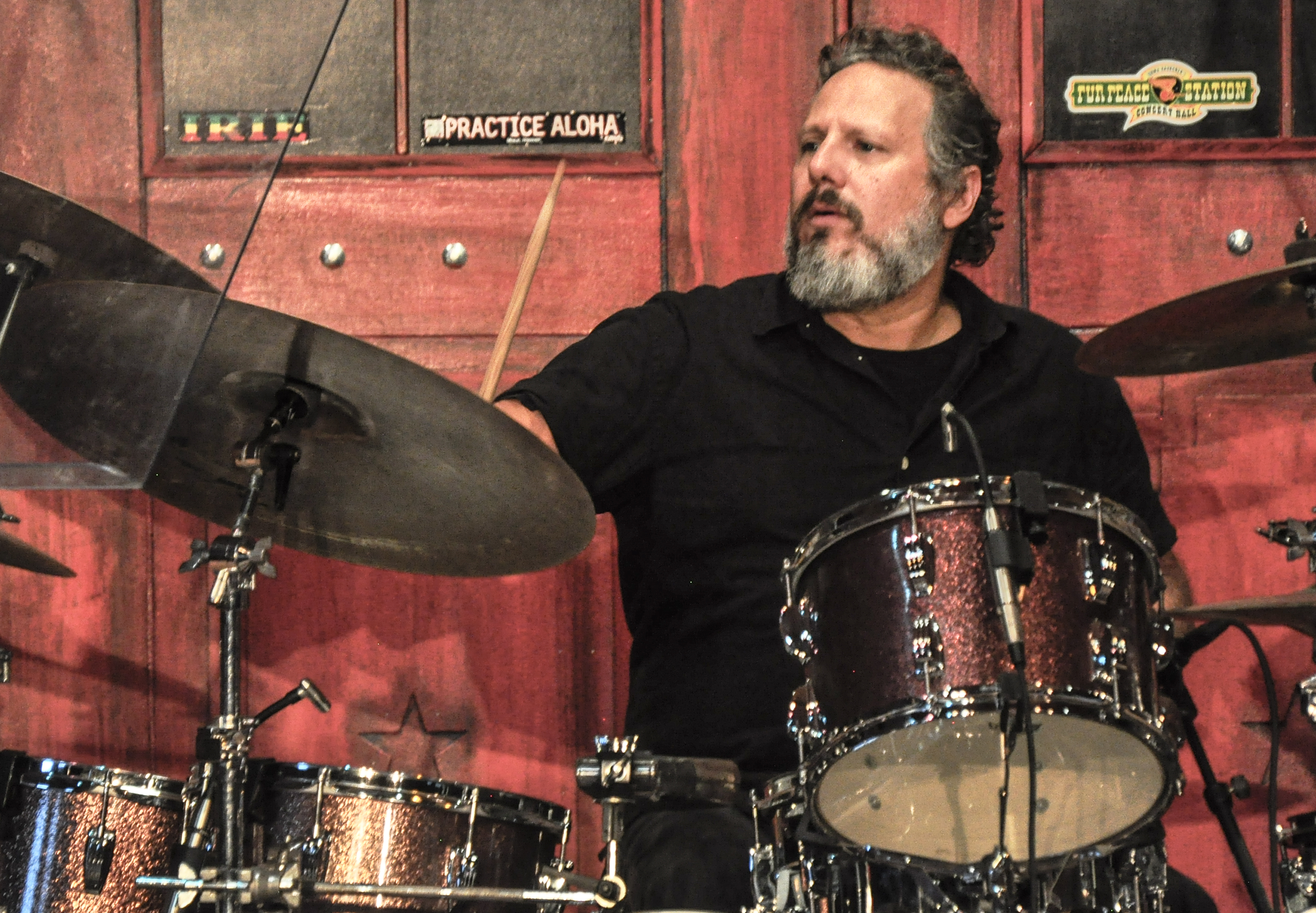 With existential vagaries at least visited and acknowledged, the band turned their attention toward more good old rock-and-blues entertainment from that point forward in the set. Changing from a finger-picking guitar to a more rock-toned Gibson guitar, Kaukonen kicked into some earthier and more humorous story songs. Among these were the Chuck Berry song and a Walter Davis cover, "Come Back, Baby".
In fact, Kaukonen had done exactly the same thing in the earlier part of the show. His early guitar of choice – before turning up the electricity – was his blonde Chet Atkins' model Gibson SST, a semi-hollow-bodied, electro-acoustic guitar that he has said is well suited for heavier-gauge strings meant for finger-picking. But by the time they got to "Bowlegged Woman", out came his classic-but-modified, cherry-red, semi-hollow body, the Gibson ES 345. And then he opened up with more crackling rock licks and bluesy Chicago-blues bends.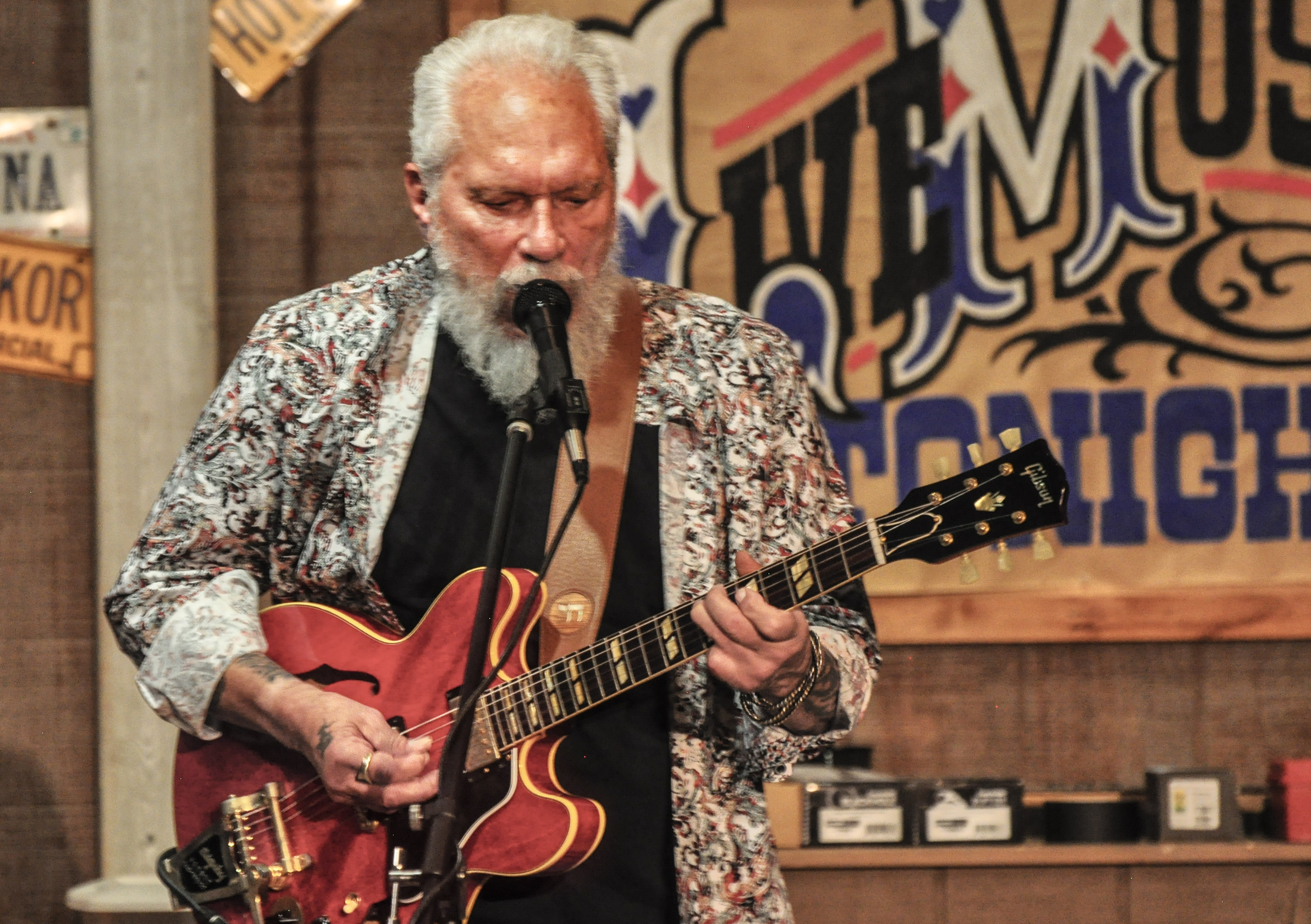 He even leaned into his Bigsby tremolo bar and fired up his original Thomas wah-wah pedal for a bit of that old-school '60s psychedelia on a few moments moving toward the end of the set, such as the chunky blues-rock set closer, "I Don't Wanna Go." For the start of the second set, he switched back to the SST for the folk/finger-style songs, but the ES 345 made its triumphant return on the most straight-ahead pieces And there was plenty more blues-bends, gritty distortion, and harmonic feedback to please even the most die-hard Jorma fans.
Even though the two sets were roughly the same in length, about midway through the second one, the show suddenly felt as if the escalator was accelerating, like the last sand in the hourglass flowing faster. There was, of course, that Chuck Berry song that had been in Tuna's sets since the early '70s, and several other songs that pointed toward the now-inevitable end. Connecting the loops of time, as it were. The next two deep Tuna songs, "Invitation" and "Soliloquy for 2", were both emotionally stirring with steady beats, although the first one made use of more rock power chords and the second was relatively lighter and more major-key in tone.
It was then that the band finally gave that one eager fan what he had apparently come for – a soulfully acoustic rendering of "Good Shepherd", with delicate guitar-bass interplay between Kaukonen and Casady. In particular, Casady – who has always provided the definitive bass undergirding for this song since the Airplane's 1969 recording – stretched nicely out of the root song form for an extended, melodic bass interval as Kaukonen and Guip provided a floating rhythm behind him. This spiritually cautionary song seemed to have a more obvious gravitas than usual. Truly, in the context of this farewell tour, 'getting to heaven' seemed to be a more tangible desire than ever.
As the second set moved into its final minutes, even without looking at a watch, you could feel that the sands in the glass were, indeed, nearing the end. The band and audience were visibly delighted, with many smiles, even on the faces of the often-serious musicians. So it was at that moment when Kaukonen turned the reins of the show over to his bassist.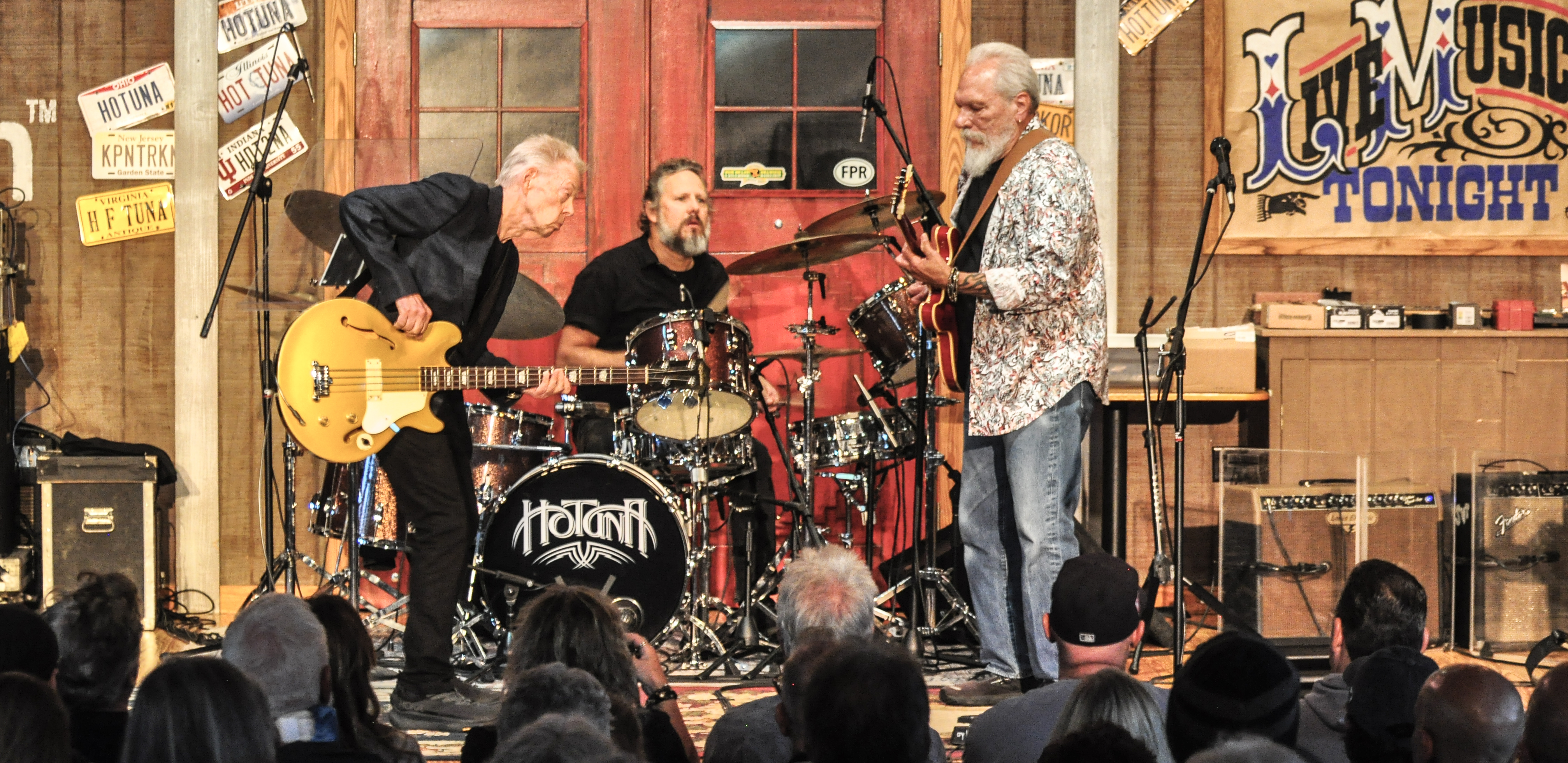 "So, Jack," Kaukonen said to Casady with a glimmer in his voice. "Since we're heading into our last song, make it a good one." The master of bass groove and growl nodded dutifully and started off by himself on a spiky, one-chord R&B vamp, with drummer Guip slipping in quietly on cymbals. Soon, Kaukonen fell in behind them, breaking into a chicken-scratch guitar counterpoint against Casady's sharp slap-and-pop accents.
The song – "Funky #7" which has been a staple of Tuna shows since the mid-'70s – then turned into a full-boiling, three-chord blues rocker, with a few transitional chords thrown in, just to keep it interesting. Kaukonen barked out the song's acerbic words, which included this killer line: "With your finger on the pulse of time/there ain't no time to rest…." So with Casady doing his best as de facto band leader, the extended funk workout brought the show to a steaming conclusion, and those famous last words left no doubt as to what was most likely on the musician's minds.
And speaking of Casady, I hope you'll please indulge me with a moment of admiration for his one-of-a-kind musicianship. Although I had seen and heard Kaukonen solo before, this was my first HT show and I had actually never seen any Casady performances. (He has worked on separate projects over time not connected to Kaukonen.) Which means that until now, I could only enjoy his work at a distance, through recordings. As a more rudimentary bass player myself, I delighted in being able to closely observe his techniques translated into expression.
As I heard it, he seemed to not only know the material intimately – as of course he would – and to supply exactly what was needed but he would also stretch out on the more open arrangements to add harmonic fills and counterpoints to Kaukonen's guitar melodies and chords. His tone and phrasing were impeccable. After having seen a good number of the great bassists in rock and jazz, such as Entwistle, Pastorius, Lesh, Squire, Wooten, and Clarke, I certainly felt that seeing a Casady performance – even at this late hour – was a great privilege. As lifelists go, seeing such an important music pioneer certainly filled in a huge, bass-shaped gap in my own experience.
For a brief moment earlier in the show, when I was taking a zoomed-in photo of Casady, I had misread a salvaged vanity license plate on the back wall of the stage just behind where he had been standing most of the night.(As you can see in the following image, there was a whole collection of Tuna- and Jorma-related plates on that wall.) The one license plate actually says "HOT 2NA", but – in a careless glance – I had first thought it said "HOT DNA," which amused me. For better or worse, at the end of the show, Tuna proved that its musical DNA ran both hot and deep.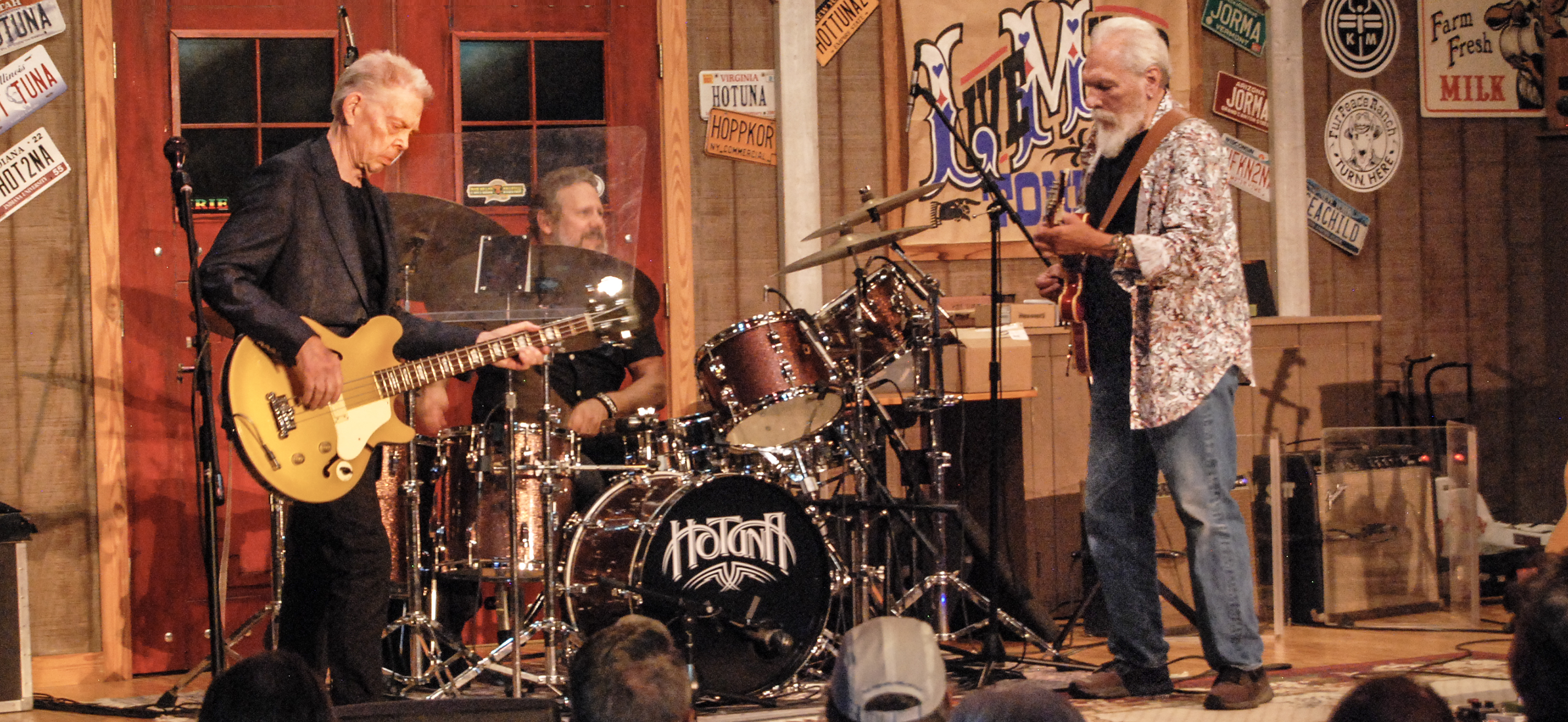 As was the case all concert long, there were no accidents in the song selections, and every song that Tuna had included had historical significance and personal meaning for them, if not for every listener. For the single encore song, they tipped their musical hat to their own humble beginnings with the bright, rolling, finger-style instrumental from 1973, "Water Song." Changing guitar one last time, Kaukonen picked a guitar he had not played all night, his bright-red Gibson electro-acoustic.
But, before the band could start into that final song of the night, there was one technical gremlin that needed to be resolved: A seemingly blown amp speaker. Kaukonen had picked up that other Gibson semi-hollow body, plugged in, and strummed a chord when suddenly there was what sounded like a rattling speaker cone. Then, as a stage tech came out to take stock of the problem, Kaukonen frowned but wisecracked: "I've got pedals that can make that sound!"
It's helpful to know that the Fender guitar amp in question– a vintage 1962 Fender Pro tube amp – was one that Casady had given to the guitarist as a gift in 2022. This explained his laughing, on-stage apology to Casady. "I'm sorry, Jack, that I broke your amp!" But then, a moment later, it was all smiles again: It was only a case of not having flipped off the standby switch! Problem found, problem solved. So now they were ready for a perfect ending!
As Kaukonen started into the ringing, major-key progression of "Water Song", a wave of recognition surfaced in the audience, and the trio's music flowed onward with the River of Time. It reminded me of the final published panel of the Calvin & Hobbes comic strip in which those two fun-loving characters had embarked upon their next adventure on a single, pure-white canvas. The Future is Unwritten . . . not yet drawn, played, or lived. And the energy of that song strongly suggests that the sea refuses no river.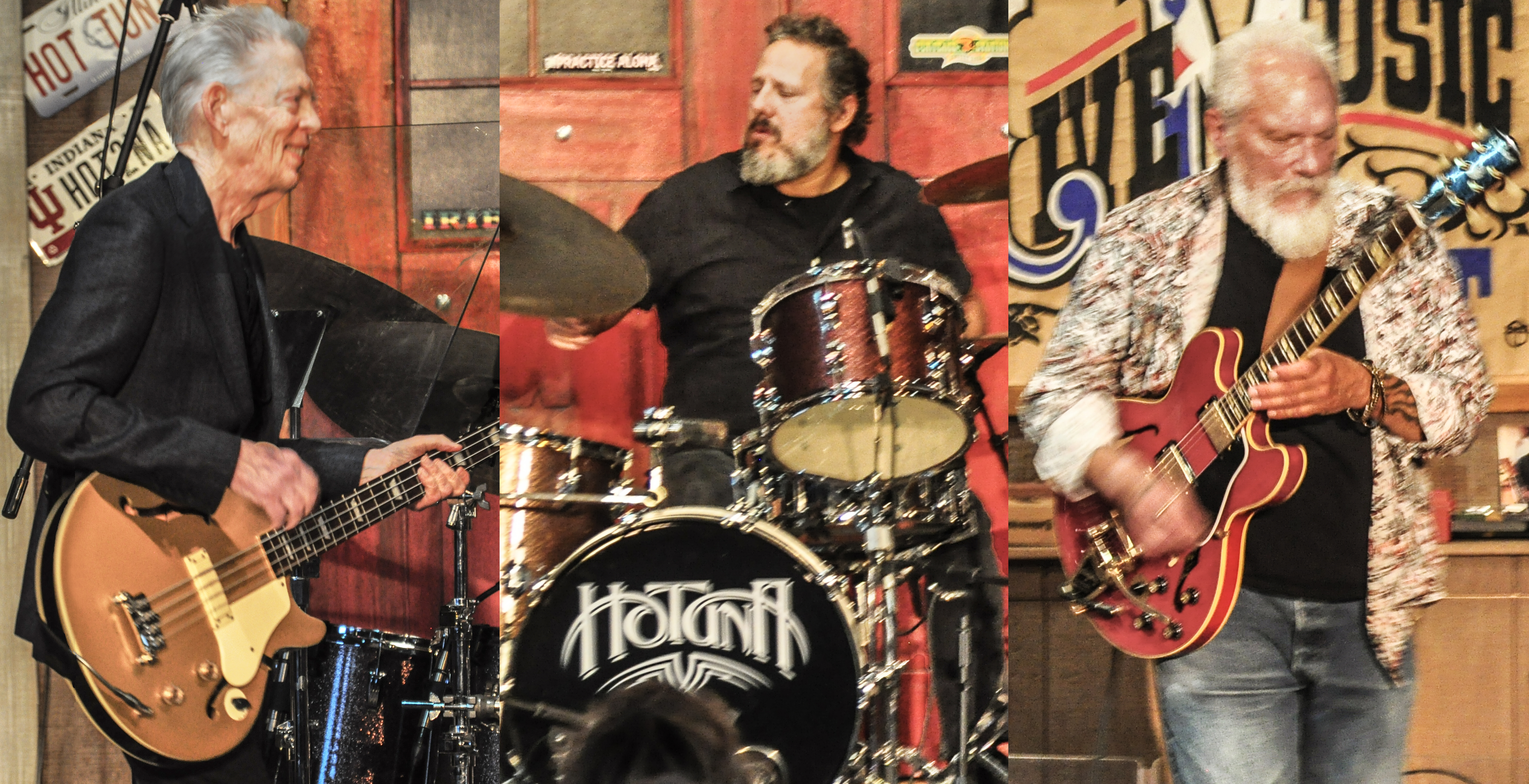 And so it was like that for me, as I headed back out into the dark and lightly misting rain to point my car back onto the winding rural roads toward Cincinnati, except my canvas was black. One thing I know for sure: Out of a grey afternoon and into the arms of a darkened mid-October evening, Hot Tuna shared their warming light with all of us. And when we left the concert hall, still buzzing from that show, we were all different people than we were when we went inside.
#############
In November, Jorma Kaukonen will return to Fur Peace Ranch to perform an acoustic show with singer-songwriter John Hurlbut, on Nov. 11. Tickets are still available. Then, in December, the Electric Hot Tuna will perform three final shows to wrap up the 2023 Going Fishing tour. Two shows are scheduled for Dec. 1 & 2 at the Fillmore in San Francisco, with the first one sold out. The second one, which is a special benefit show for the REX Foundation, still has tickets available. Finally, there is still one more chance to "witness history" with Electric Hot Tuna on Dec. 7, at the Paramount Theatre, in Denver CO. And then, the core duo of Kaukonen and Casady plan to offer more live acoustic HT shows in 2024. (Check back often.) That's all we're saying.
Websites:
https://hottuna.com
https://jormakaukonen.com
http://www.jackcasady.com
Setlist from Fur Peace Ranch, 10/14/23 (Source: setlist.fm)
Set 1:
Second Chances
Ice Age
Great Divide: Revisited
Bowlegged Woman, Knock Kneed Man (Bobby Rush cover)
Ode for Billy Dean
Sleep Song
Trial by Fire
Hit Single #1
I Don't Wanna Go
Set 2:
Been So Long
Death Don't Have No Mercy (Reverend Gary Davis cover)
Day to Day Out the Window Blues
I'm Talking About You (Chuck Berry cover)
Invitation
Soliloquy for 2
Good Shepherd
Come Back Baby
Funky #7
Encore: Water Song