This is the beginning. You are about to read Part I of a 3 part series about a quest for true Americana, true outlaws, true America. In case you haven't noticed, the somewhat over genricized music industry is breeding a dozen cowpokes per corral. And America is it recognizable to you?
So yours truly, a determined, attractive (yes a little vain but I'm cute, be nice), slightly crazy lone journalist, crazes herself further and displays questionable judgment repeatedly as she travels from Rt. 66 to the Country Music Hwy. I will tell you tales of battling hurricanes, family feuds, rock stars, would be rock stars, their managers and even the occasional producer, sound-guy or bartender. I even heard some music while I was at it.
So, stay tuned for Part II, Asbury Park and Part II, a tiny Appalachian town I've lovingly dubbed, "Flatpick Kentucky", (names' not too far off). But here is #1. It somehow, through a long string of coincidence and karma, ended with this interview.
From Public Outlaw #1, Michael O'Neill, I learn about his new CD, his extensive work with Bob Weir and other legends, and, (watch out, this is even more interesting), something about what an outlaw is made of.  Be your hero's cowboys, philosophers, musicians or medicine men, you'll see something of each in him. 
Allow me to introduce you, in case you don't know him yet. If you don't, my guess is you're either too young to hear him in the early days and/or when he became a real outlaw, (much in the press, no need to go into it here), and then took some time to resurrect, as all good heroes do.  Not only is he back, with 2 new CDs and well-deserved cult status but he's as real as the deal gets if you're looking for truth in genre.
In his music, Rt. 66 and the Country Music Hwy. converge in a sound that reflects both deep-dug roots and rock that rolls. Italetellersd you a little of Cash and other tall, (or perhaps not so tall), taletellers.  And he gives it to you with an attitude. I'd say he's best described as one man with elements of each of the Highwaymen.
He'll tell you more about himself than I can…
Liz: I have to warn you, I've had no sleep and I tend to go on tangents.
O'Neill: Well that can be a good thing with writing…
I see we're coming from the same place, laugh in agreement but warn him again.  He asks me about what else I'm writing.
"A quest for Outlaws and you're the Fisher King" I say jokingly, but not entirely.
I mention NJ, where I saw a Seeger Sessions/E-Street Band member and Appalachia, where I'd been researching/learning from his most recent opening band, Jeff Walburn with Kentucky Memories.
"It's a sort of like, here are the Seeger Sessions, here's why Seeger and old-time music were important to Springsteen and why it's all important, both Jersey Sound and Appalachia, as part of American music."
O'Neill: I feel I fit in with all of that. Both types of music really influenced me. I was exposed to and love Springsteen and Seeger. Of course I love the Seeger Sessions. I had an older brother bringing Dylan, Seeger, Baez, the whole folk rock era of music home. It was my Bible, the grammar school books that influenced my songwriting. 
Liz: That came from Appalachian music to a large extent, but the music itself?
O'Neill: Appalachian music is pure, grassroots music. I'm a true Americana songwriter, so I bring it into my melting pot of styles. When perform or tour in Appalachia John Perry, the fiddler who also plays with Goose Creek plays with me. It's an easy blend because musicians in that area play the same music so much of the music mine is based on came from. Jeff (Walburn), anyone like him, can walk in cold and take any direction they want to go and it sounds great.
Liz: How, looking back and looking at yourself now, do you feel about yourself as an artist?
O'Neill: I'm comfortable with who I am as an artist. When people look at me, my work, I think that is going to be most important thing because people really connect when you're honest about who you are. No matter how bad you fuck everything else up, consciously make that choice that you're going to be true.
It takes a real leap off a cliff to do it. But look at Weir, Springsteen, they made that choice. And when they made that choice nothing else really mattered. They were totally respected for it. It's ok to be a struggling artist, to be tortured but the tortured artist is the artist that doesn't lay claim that he is an artist. Those are the people who always knew they were,  just didn't know how to go about it. The doubters.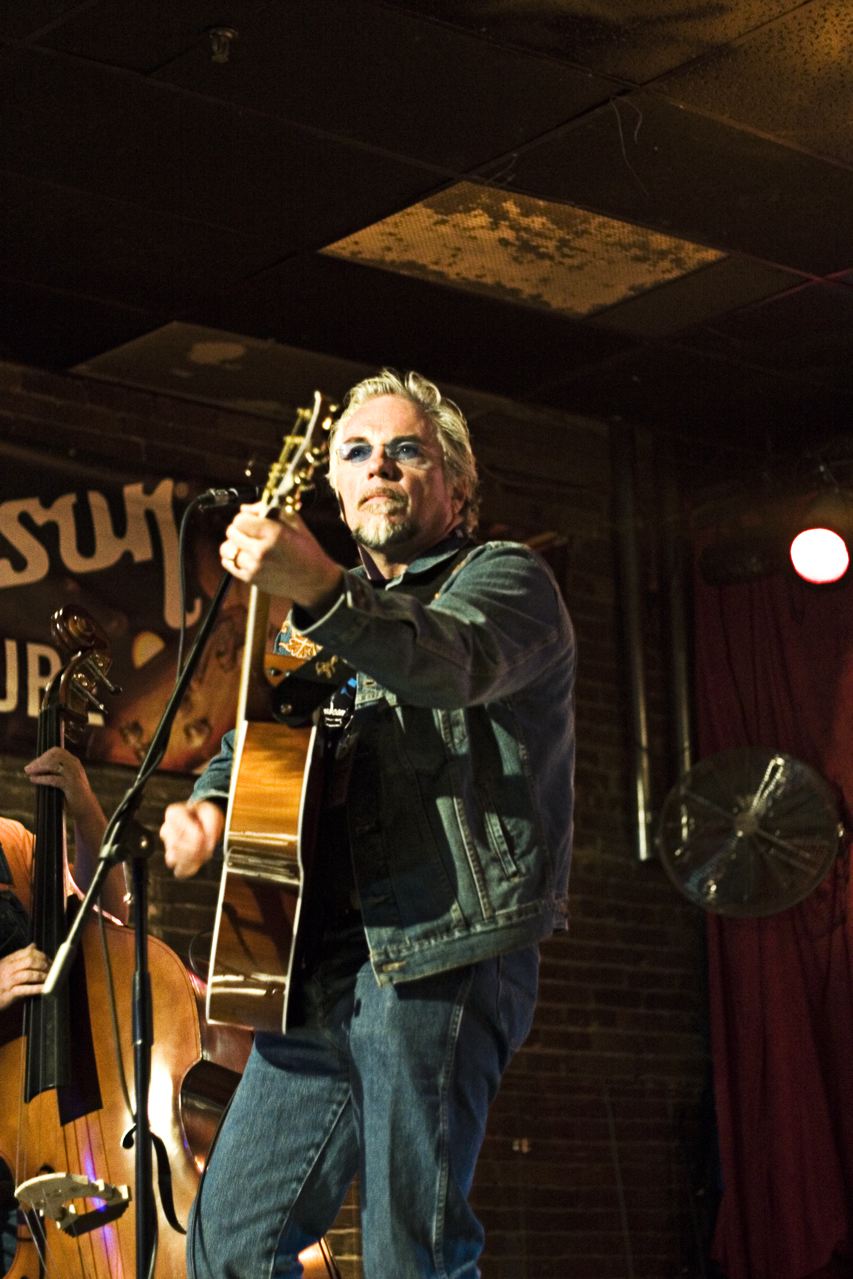 I've doubted. I've doubted everything in the world surrounding me; all the negative, all the stand up sort of things too. I realized, through exercise of doing and putting out my real self… I had an epiphany really. You see, we are really just mirrors for each other. So ... so when someone you're with is sad, or happy, its' not just them but you.  It changes when you're off by yourself.
Liz: That's what a shaman I interviewed said. Then the self is mirror of self. So how did you become yourself, the outlaw Mike O'Neill? Did something suddenly happen, right place at right time, a lot of work, all of the above?
O'Neill: Well, being in the Pacific Northwest and starting out musically there I had to really want it, first off. But I did, I wanted and needed to express myself musically. Song gave voice to whatever was moving me. Guess I ended up shouting loud enough so I got attention.
I did a college tour in '79. At the end of it I was picked up by large concert booking company who happened to have U2, they were just starting. By the end of '80, I'd been seen by the right people. When I ended the tour in LA I first signed on major record deal. I was 24. I was working with Kenny from Little Feat, John Shanks, producer of Sheryl Crow and Stevie Nicks; I thought it was the picture of rest of life. I did the train ride movie with the Dead across Canada…
Liz: So, what landed you there, with the Dead?
O'Neill: Well, Kenny was introduced to Bob Weir. Andy Leonard, president of Grateful Dead Records. Kenny and I had a gig every Tuesday night at a place called the Viper Room. All sorts of people would show up to, Rickie Lee Jones, whoever was in town that night would come out. They'd play with us and solo, lots of good friends of Bobs'.
Anyway, Andy, also managing Bob at the time, approached us and we put a band together. I remember the first time I saw and met the Grateful Dead, in Oakland.
Liz: What was that like?
O'Neill: Well…don't remember much…
We laughed as I said, "Small by comparison but that's part of my problem with the first time I went to the Stone Pony."
O'Neill: So, I ended up in Cherokee Recording Studios doing the America record with Bobby & the Midnights. Bobby was Eddie Cochran's' nephew. We had Skunk Baxter from the Doobie Brothers, Steely Dan. Yes, I thought that was going to be the rest of my life. Little did I know, there was more to it, more to come…
Right then, at a point when I was watching the band record while sitting in the control room, I notice this guy walking around talking to everybody. He comes in and talks to me and I tell him that I'd been asked by Dave Edmonds, (who was producing a new record for the Everly Brothers at the time) to submit a song. I'd written it but I wanted to run it by him if I could, it just wasn't done. He said sure, come on over. So I ended up hanging out with him for a few days.
I didn't realize it until I got to his house, but I soon discovered I was writing with Seve Cropper, the guy who'd written "Knock on Wood", "Midnight Hour", stuff for the Blues Brothers, and more. Needless to say, the song turned out awesome. We've stayed close friends for 35 years, continued to write together. 
Liz: So you too walk in a bizarre coincidence-vector.
O'Neill: Yes, yes I do.
Liz: What became of you & Weir?
O'Neill: Bobby & the Midnights ended when the Dead picked back up and went real hard again for another 10 years until the death of Garcia in '95. Through that period I continued to tour with Weir. I'd open his show with Kenny and also Sam Clayton from Little Feat, with John Shanks on Guitar and Bony James on keyboard and sax. We'd all mix together and play with Weirs' band too.  A song he and I wrote together in the Hotel Shangri-la in Santa Monica was released on my '99 album.
Liz: And…
O'Neill: I continued band with a few changes. Grabney went back with Little Feat, Robin Lamble from Spencer Davis' band, (writer of "Gimme Some Lovin'"), the drummer from Poco came…
Liz: Man, (I've at this point promised him I'll try to control myself from 'cool' my perpetual interjection when ½ sleepless), how do you manage such an impressive, seemingly perpetual line-up?
O'Neill: Well, I used to say,  "Flies are drawn to good shit have and this is some good shit." 
Liz: (Again laughing and debating the advisability of printing that) …O.K. you've written fantastic songs, both alone and with others. Do you like doing one better than the other? I mean, do you always choose who you collaborate with or are you sometimes teamed up with someone? I'd think that could be chaotic.
O'Neill: I'm both both put with and asked or choose to collaborate on projects. The deal is, if I write with somebody and it's really not the way I would go with the song, I let them go their way. I support their way of creating even if it's something I would never have created. It's cool simply because it's a song created. Because it came from wherever it came from. I honor that muse more than walk away from or just leave it. It's more exciting that way. 
Liz: So, when does the outlaw step in?
O'Neill laughingly asked hadn't I heard? I said no, and he put it this way, (I suggest ignore, as I did, what you may have heard previously and go with this),
O'Neill: Well, as the band changed and morphed I got married, had 3 daughters, towards the end of 80s into 90s my marriage was falling apart, I had personal stuff to go through. Decided in '91 I needed to retreat from the music business to gain perspective and work on my family. I did well on perspective part…
I moved out of LA to my home in the Pacific Northwest in '91/'92 but couldn't move away from music. I started an independent record label in '93 because, no matter what was going on, I still had to play. Songs were still coming out of me during that period. Called it 'Sleeping Trout Music".
Liz: Why "Sleeping Trout"?
O'Neill: Well, we know that trout do not sleep but I'm a sleeping trout because I'm on the flip side. I didn't entirely make it up. There's a theory called long tale in the industry. The way the business is run, it's a very niche marketing boutique biz. I can touch so many more people that way because in that type of market, people look for you.
In main-strain media, which is short end of tale, you have a peak, a highest point. In a small window you have to sell hundreds of thousands in the smallest window. Longtale is the biggest window, it goes on for life.
Liz: So, some can ride the long tale. 
And again with the laughing as I said, "I did not say that", and "I warned you, no sleep and the mouth has a mind of it's own." And yes, again, "I did not say that."
We somehow got back on track…
O'Neill: In the mid-90s, Evan Rubecker, who owned cake records approached me to record a record called "From the Beginning".  Originally I went to him and said, "I don't know if I can do another record under my name because I don't know who I am today." So I gave myself the name Fromme Younger (From-me-Younger).
Liz: Ah, and another outlaw named Younger.
O'Neill: (laughing again, sonorously as usual) Yes. Finished record, Fromme the Beginning. But then my attorney caught wind of it and said, "This is you" and advised me to release it as me. Man, I had written up whole story about Fromme Younger, had press releases ready go – oh well. Springsteen and Garth Brooks did it, but guess I'll have to wait. The liner notes on beginning of the album thank younger though.
Liz: When you look back at your songs from when you were 24, until now, how do they strike you?
O'Neill: That's an interesting question. I look at songs that still stand up today I wrote 20 years ago, I'll still pull some of them out and play them in a live show. I have more years and knowledge now, more emotion goes into song, but the song itself, the idea stands up really well from way back. I've had the same subject matter from beginning, a common thread since 24.
Liz: What kept you going through that time when things were so bleak? Many people wouldn't have emerged from that sort of 'long dark night of the soul' or whatever.
O'Neill: Really, love of the muse and connecting to her throughout life. Music is who I am no matter what all goes on this world. I'm here for a purpose and I know what I'm here to do.
Liz: How do you keep from being distracted when things get overwhelming, like they seem to have at one point? 
O'Neill: I'm totally distracted all the time. I take notes on it. Then when I sit down to write or record or make new body of work, I go to the notes to re-create the feeling.
Liz: So what now?
O'Neill: Well, the new record I released is produced by Joe Cerrelli, who produced U2 and Fionna Apple among others. It came out in July and made it to top 40 on Radio Americana, America Roots Music Chart reports it at 18, it's even  #60 on New Music Weekly. Crosses different genres…
Liz: Outlaws do cross…
O'Neill: Yea, there's the Outlaw.  I got a radio call from a guy in Florida who said, "You've broken all the rules. Until now no one has been played on all these different charts."
Liz: What are you going to do next?
O'Neill: Well, I leave tomorrow for San Antonio and Austin, it's a whole 'nother world, a country separate to itself when you go to Texas. I'm committed…
Liz: Not yet…
O'Neill: To do another record…I think I'll do it in Austin.
Liz: What do you see yourself doing in the next 5 years?
O'Neill: It's funny you say that because 5 years ago I said I'd have 5 records in 5 years on own label, looks like 5 in 7 now but I'm putting out enough body of work. I've already seen the momentum. I'm already in flow, know I'm doing right thing. So I'm
 going to be able to touch a lot of people. 
It's Evolutional. Revoloutional.
As is Mr. O'Neill. Check out his cd's, old and especially new. My quest for true Outlaw Americana ended here, with a Younger no less. How did I get here? We must travel back in time for that, to two hurricanes, two fiddlers, oh the 'dreadful wind and rain'. To Be Continued…