The Suwannee Roots Revival music festival held its fourth annual concert at the Spirit of the Suwannee Music Park in Live Oak, FL. The four-day festival ran from Thursday, October 10th through Sunday, October 13th, and featured a variety of top-rated musical acts. The family-friendly event is situated in northern Florida where concertgoers and campers can relax amidst the Spanish covered Oaks, a lake, a river, or a beach.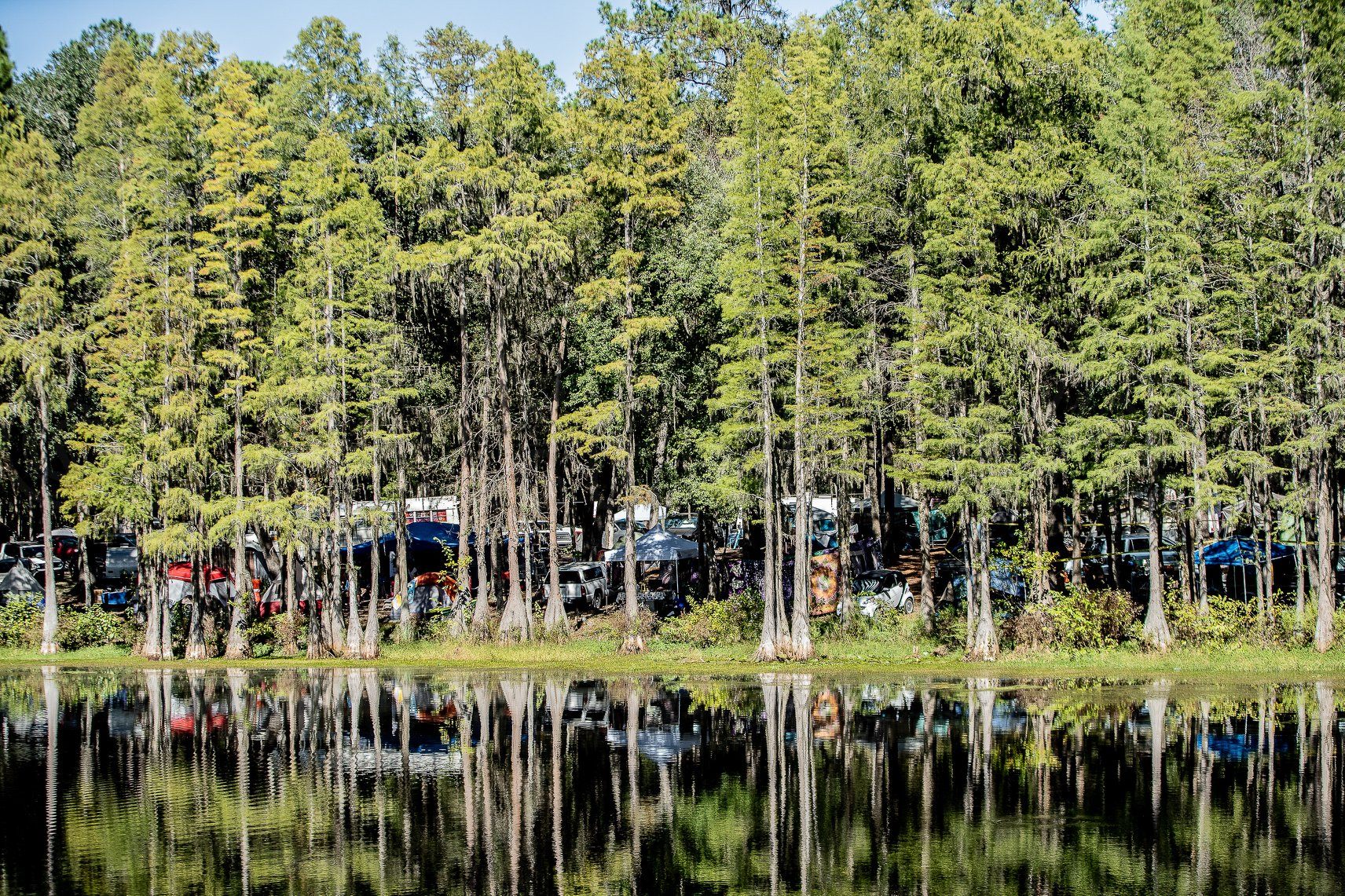 Longtime promoters Beth and Randy Judy have created cultivated an atmosphere and environment that offers plenty of entertainment for all ages. From dancing, yoga, Kayaking, and frisbee golf to hands-on music workshops and a kid's talent show. Not to mention plenty of campground jam sessions. Where else can you enjoy one of your favorite bands while relaxing in a hammock set up in a natural outdoor amphitheater?
Highlights from Saturday: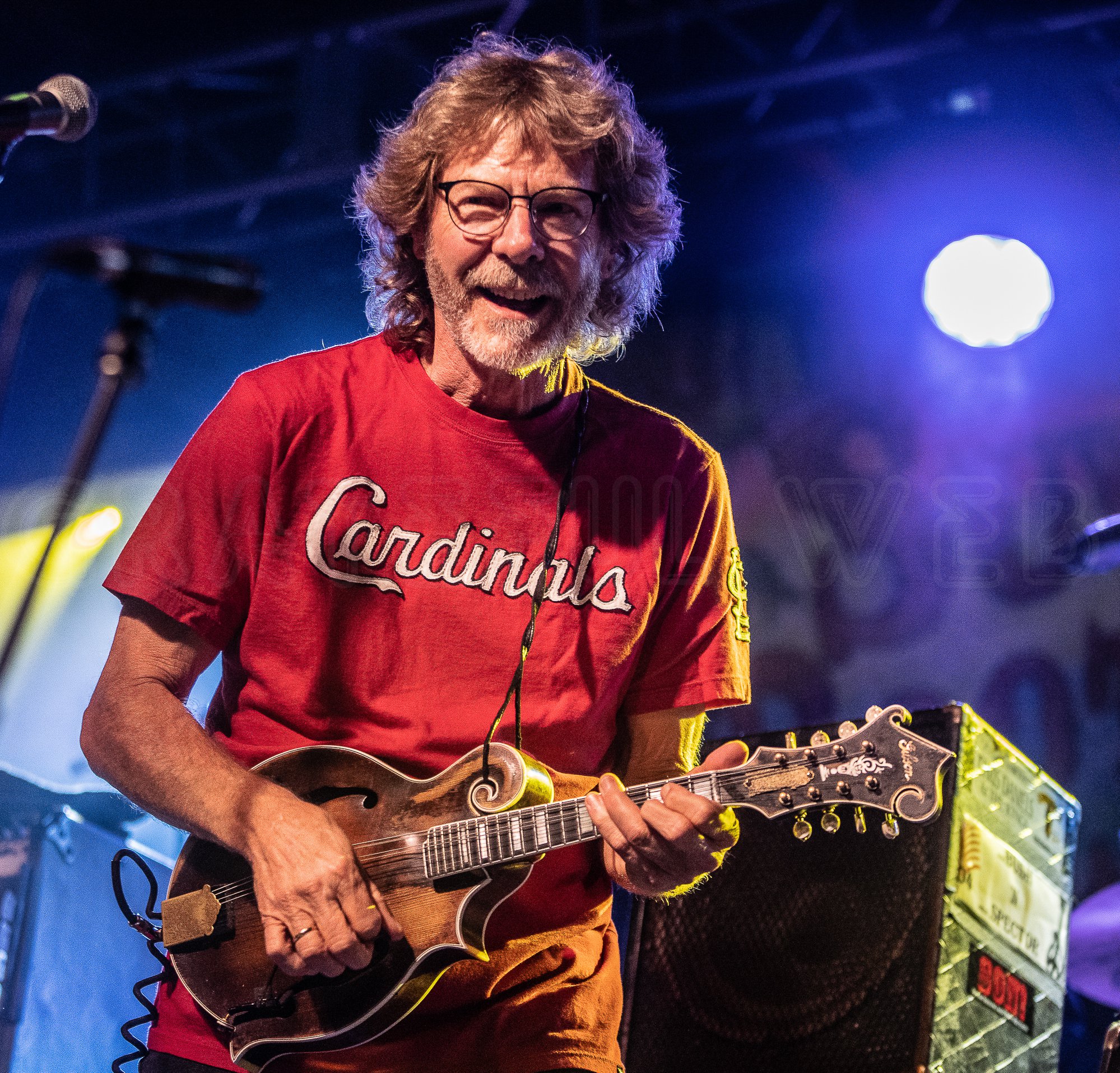 Sam Bush- Jam-grass legend Sam Bush thrilled the Suwannee amphitheater crowd Saturday evening with an energetic star-studded set.  Mr. Bush welcomed Del McCoury and The Travelin' McCourys on stage for a big-league bluegrass jam. Bush, a musical pioneer and founding member of the legendary bluegrass band 'New Grass Revival,' was in fine form all night as he entertained the crowd with his ferocious style of mandolin playing. Del McCoury dueted w/ Mr. Bush on Merle Travis' 'How Can I Roll When The Wheels Won't Go' and 'Midnight On The Stormy Deep.'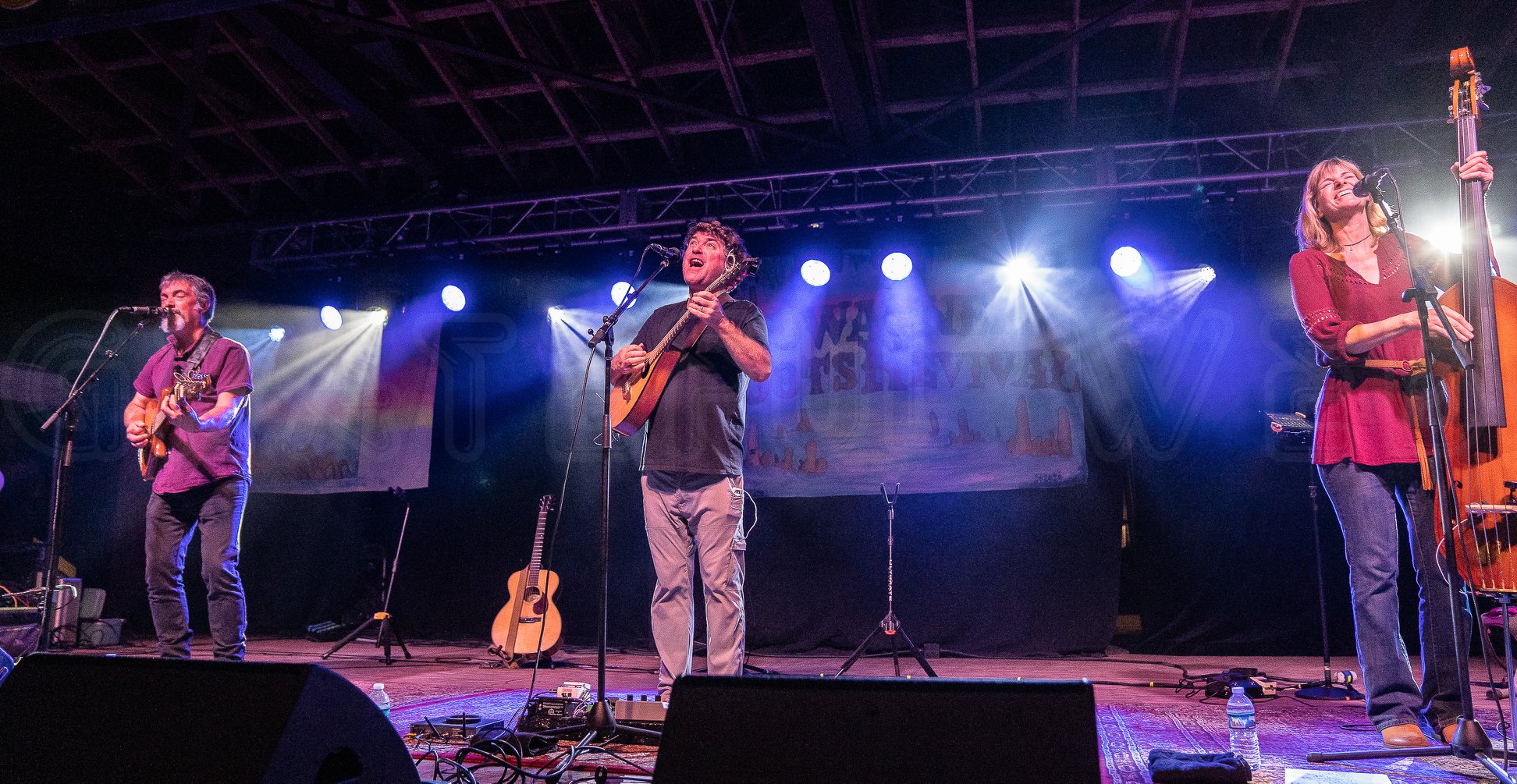 Keller & The Keels-The acoustic trio formed in 2014 consisting of Keller Williams along with husband & wife Larry and Jenny Keel. This Appalachian Psychedelic Bluegrass 'side project' band now has three albums under their belt. Jenny Keels upright bass compliments Larry Keels's ferocious flatpicking. They cover a wide range of songs from 'Another Brick in the Wall' and 'Loser' to Amy Winehouse's 'Rehab". Their 12:30-2:00 AM slot kept the party going late into the night. Their set included 'Peaches' and 'Breath' that segued into 'Seven Bridges Road.'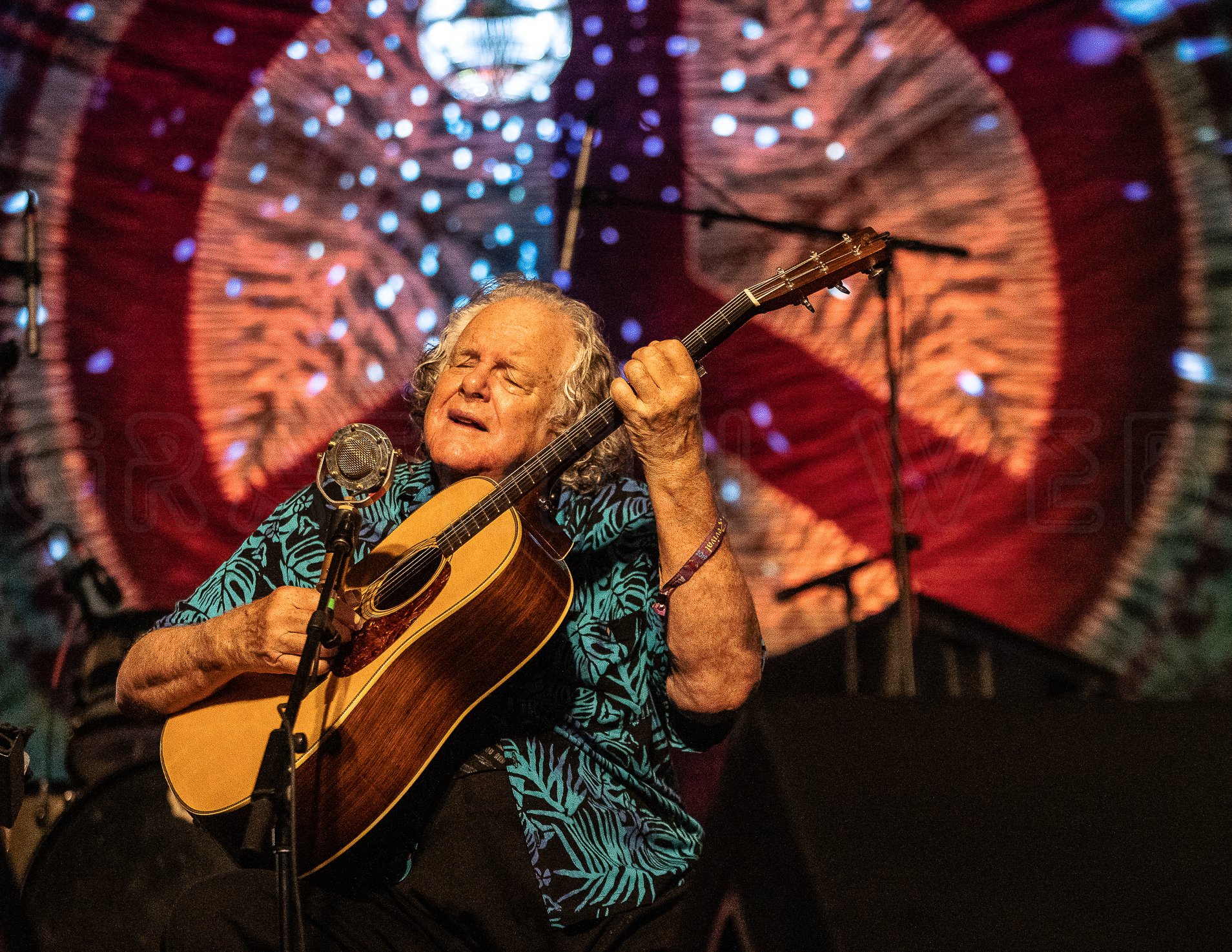 Peter Rowan-Played a 'Songs & Stories" set in the Music Hall than an early evening set in the Amphitheater. Rowan was the lead vocalist and guitarist with Bill Monroe's Bluegrass Boys and later teamed up with David Grisman to form two bands, Earth Opera followed by 'Old & In the Way.' The latter featuring Richard Greene, John Kahn and Jerry Garcia. Rowan entertained the crowd with songs intertwined with tales, including how he came to choose the guitar he was playing after years of the instrument lying dormant. The guitar had finally aged to perfection. The indoor set included a solo version of Buddy Holly's 'That'll Be the Day". Rowan was joined by Ronnie McCoury on mandolin for a version of Bill Monroe's 'In the Pines. Rowan's set later in the evening at the amphitheater included another Holly cover 'Peggy Sue'.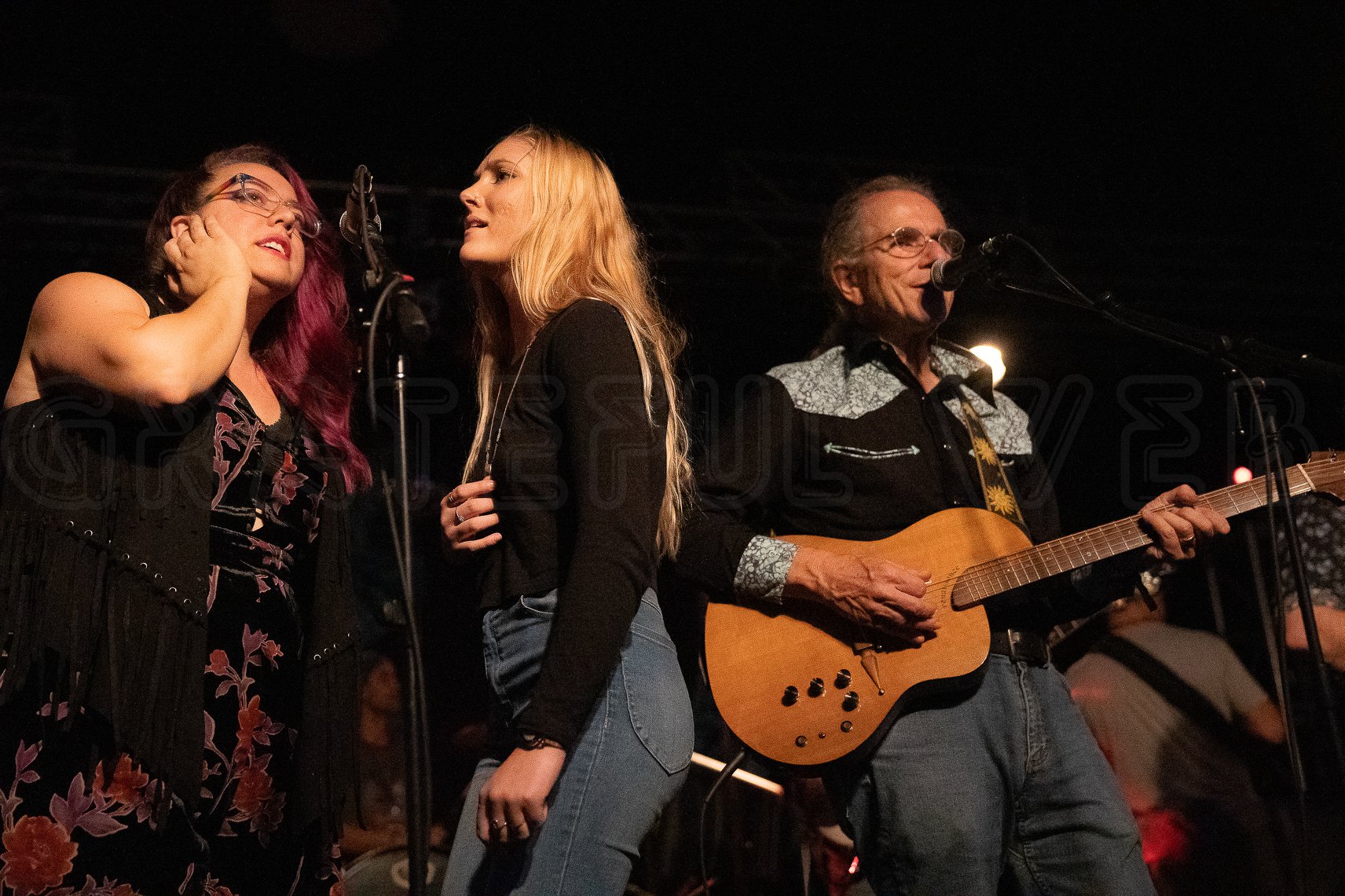 David Gans-The musician, author, and radio host played a solo set at the outdoor amphitheater, including a touching 'Brokedown Palace.' He then led an all-star band tribute to Dylan & The Dead featuring Joe Craven on fiddle, Melody Walker (Front Country) & Hattie Craven on backup vocals, Jeff Mosier on banjo, Billy Gilmore of The Grass is Dead on banjo & 'Pickled Holler', the husband & wife team of Jessica & Matthew Williams. Jacob Groopman of Front Country added some lovely acoustic dobro and Bruce MacMillan from Joe Craven's Sometimers band, shined on slide & lap steel guitar, as well adding some terrific vocals. The set included 'Scarlet Begonias,' 'All the Watchtower,' and 'Ripple.'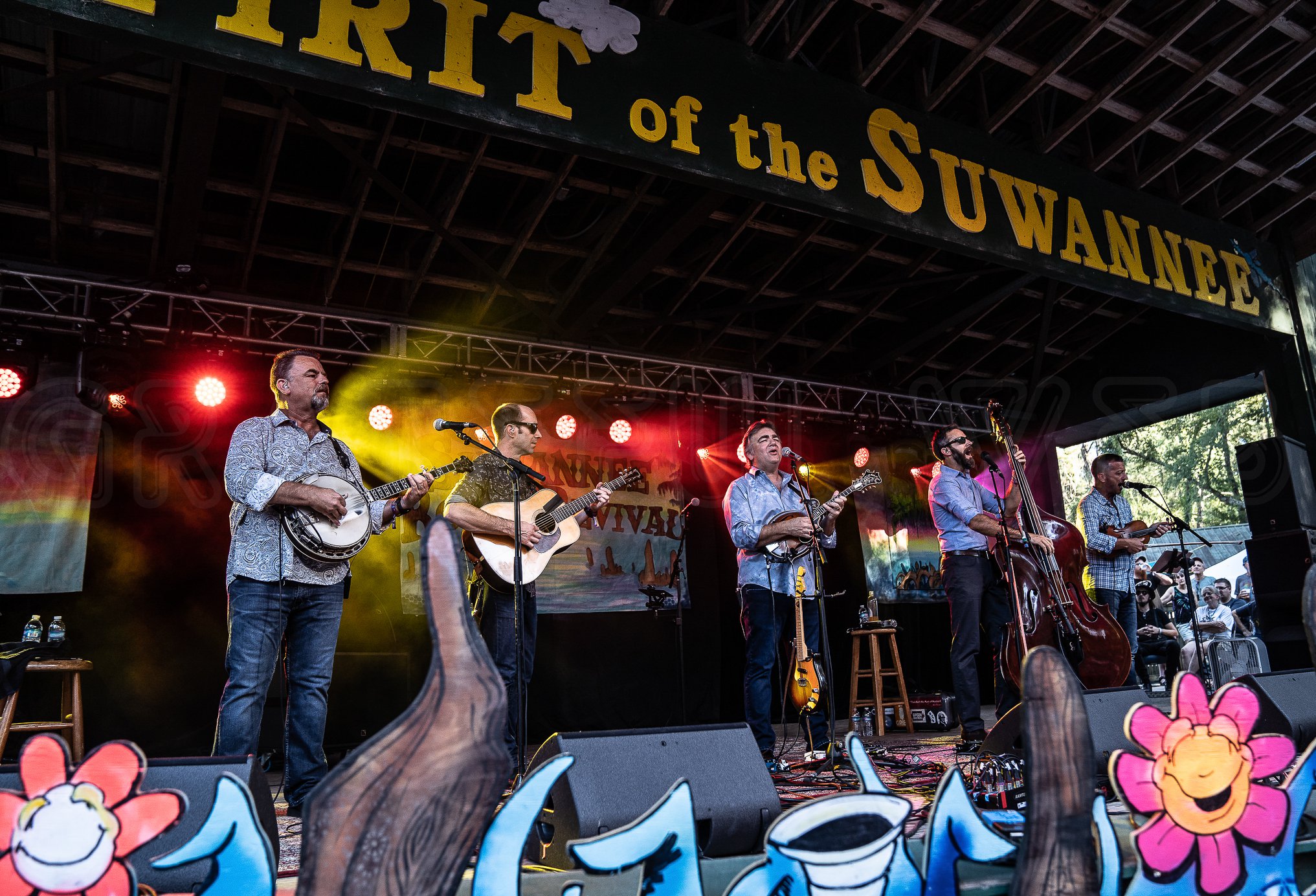 The Travelin' McCourys-Ronnie & Rob McCoury are the sons of bluegrass royalty. Their tenure with Dad Del McCoury served them well as they carry on the sounds of traditional bluegrass. Ronnie and his mandolin kept busy sitting in with both Peter Rowan then Sam Bush.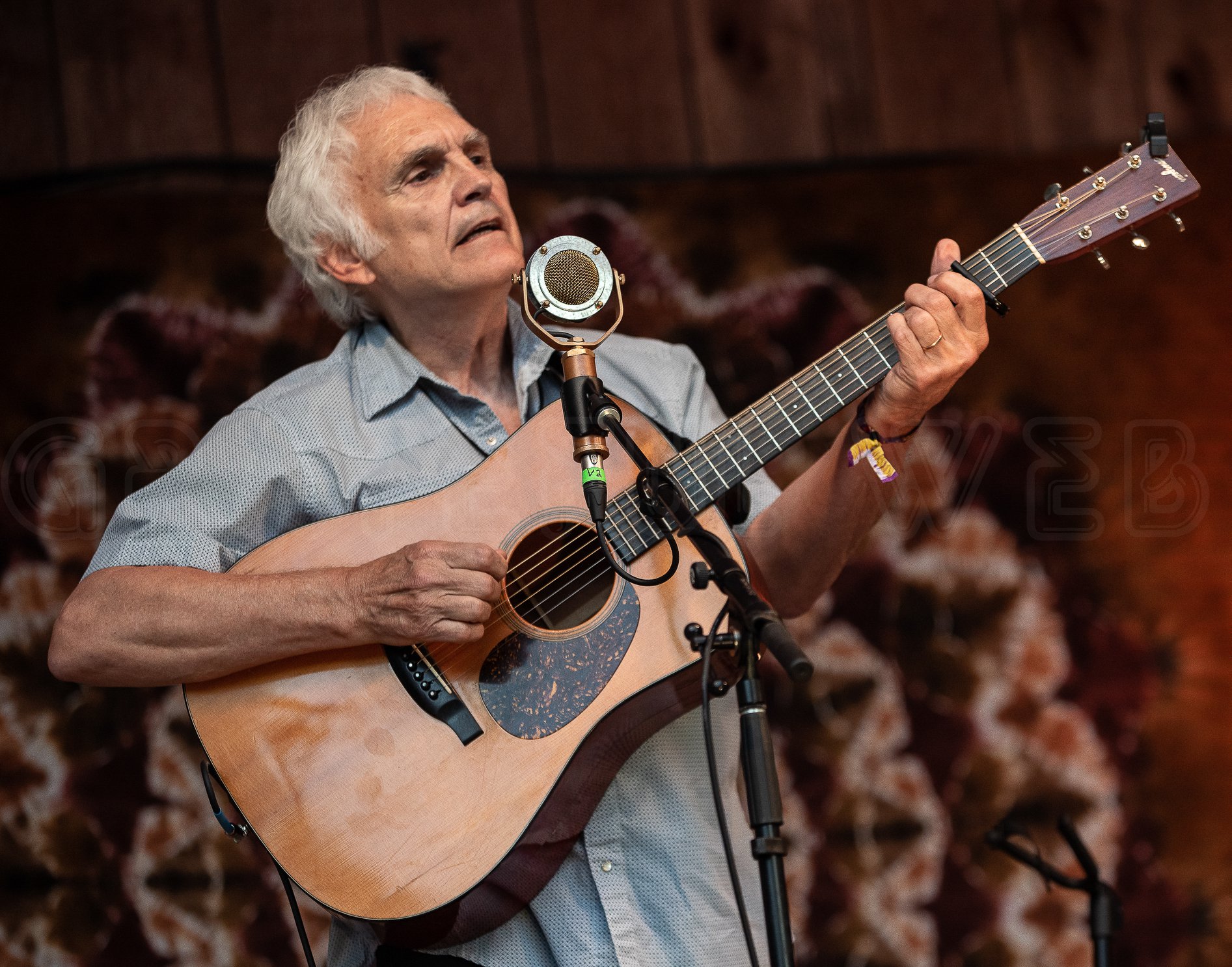 Verlon Thompson- The Oklahoma native and Guy Clark sidekick delighted the Porch Stage crowd with a solo acoustic performance including 'The Guitar Man" the segwayed in and out of a poignant 'While My Guitar Gently Weeps'.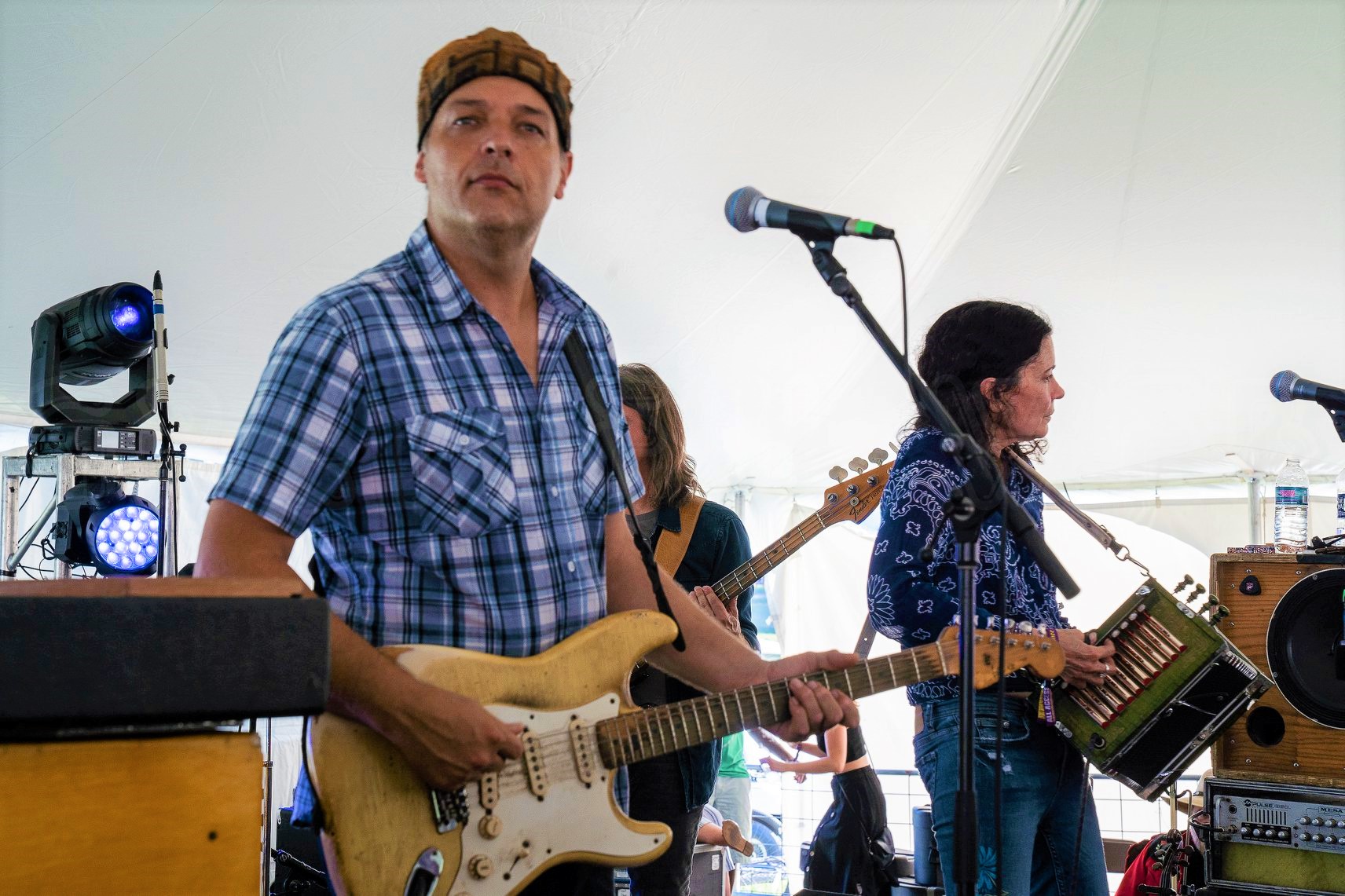 Donna The Buffalo-The Trumansburg, NY quintet rocked the intimate 'Dance Tent' Saturday afternoon. A perennial Suwuannee fan favorite with devoted following known as "The Herd". The group is led by Tara Nevins (vocals, accordion, fiddle, Washboard) and Jeb Puryear on (vocals, electric guitar). The band had the tent jumping with their swamp infused 'Hot Tamale Baby.' Both Nevins & Puryearon are top-notch songwriters, and the band positively locks in the groove. Drummer Mark Raudabaugh later sat in with the Jeff Mosier Ensemble in the Music Hall.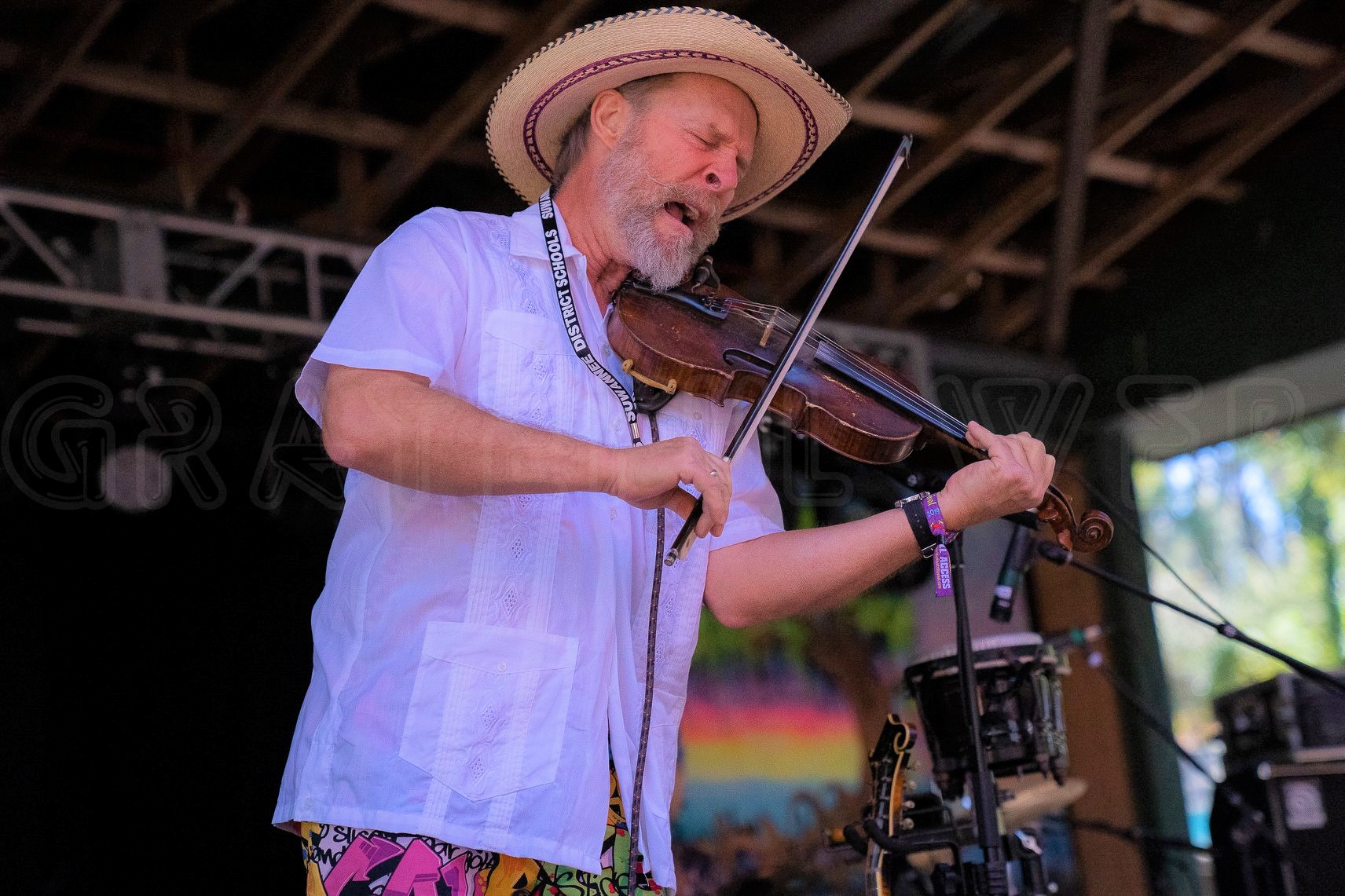 Joe Craven & The Sometimers -Craven & Company's, band motto is "No genre left behind." Perhaps the busiest of all the festival artists, Craven could be found on any number of the festival stages-from teaching a 'rhythm boot camp' to the Dylan/Dead All-Star tribute. His World/folk sound features daughter Hattie on vocals with guitarist Bruce MacMillion displaying some terrific slide guitar on his b-bender telecaster.

Jeff Mosier Ensemble-'The Rev' was busy on Saturday with an early set at the indoor Music Hall Stage and a late set on the Porch Stage. In between, he sat in as part of the David Gans Dylan/Dead tribute. Mosier combines his Scruggs style banjo with the spirit of Rock N' Roll. He is the founder of the jamgrass band, Blueground Undergrass. Donna, the Buffalo drummer Mark Raudabaugh sat in during the Music Hall set, which included a lively version of Guy Clark's 'Dublin Blues'.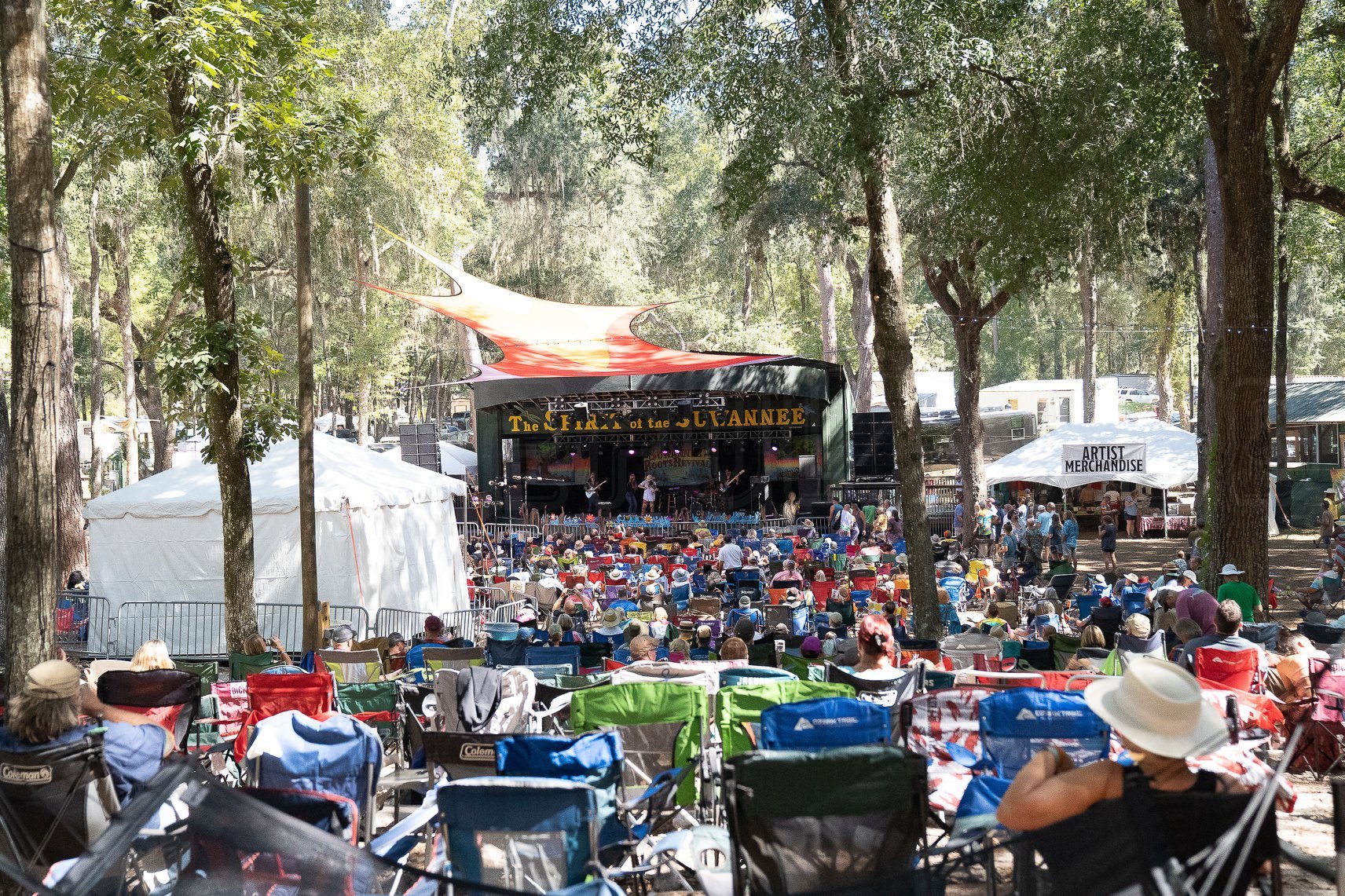 Ralph Roddenbery-This was a pleasant surprise as I stumbled across Roddenbery in the 'Dance Tent.' At first glance, this seemed like a pickup bar band. But upon further listening, you get a real appreciation for Roddenberry's songwriting and energetic performance. I could hear shades of Neil Young and John Mellencamp. Roddenberry seemed like a contraction that worked as he appeared to be pretty wild as he sang of the tenderness of his infant son. I look forward to hearing more him.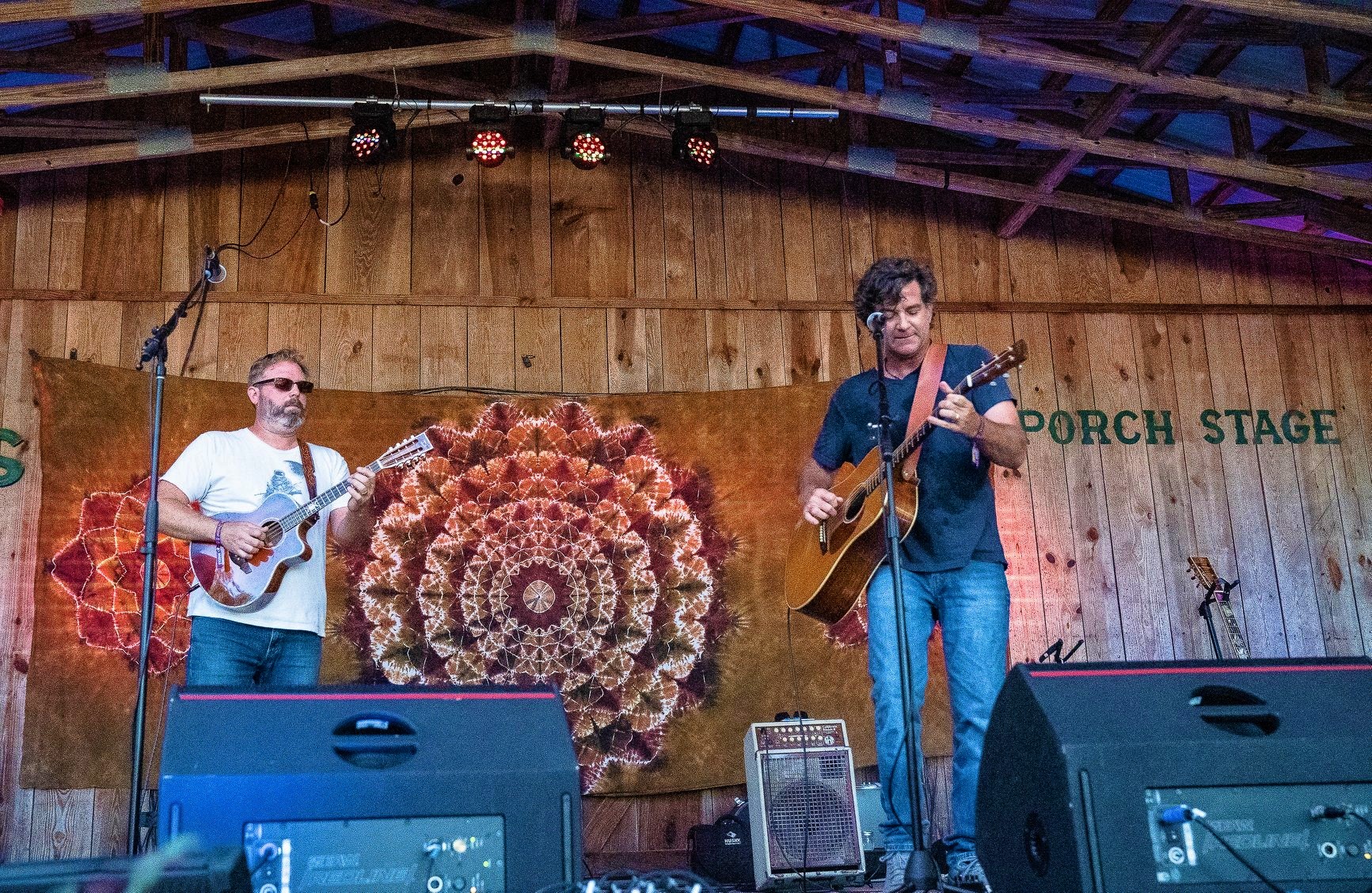 Dread Clampitt-The hipbilly duo hailing from Florida's panhandle, delighted their fans with a set on the intimate 'Porch Stage.'