Recently I had the special opportunity to see the legendary Toots and the Maytals, just a couple of blocks from my house at the Fox Theater in Boulder CO. My work thus far with Grateful Web has been mostly reviewing jam-bands, taking notes on their instrumentation, and reporting commendable jams. So, as you could imagine, this was a much different experience than I was used to.
The show didn't sell out, but the theater was pretty packed with the most diverse crowd I had seen in boulder. A mix of civilized wooks, white guys in Hawaiians and some old school roots reggae dudes sprinkled in throughout the floor. The band came on stage around 945 and began playing. The bassist came out to the front and gave an enthusiastic introduction for Toots who stepped out in a black leather suit with the sleeves cutoff, black sunglasses, a black headband, and white penny loafers. Everyone went wild for Toots as he launched into his first song commanding the crowd into collective chants. Pressure Drop, one of Toots most famous songs got people really bouncing. Then, during Higher and Higher, Toots took his first trip of many to the front of the stage to give fist bumps and handshakes all around. Fans climbed over each other to shake his hand as Toots moved meticulously from one corner to the other, making sure to show his appreciation to anyone who could reach.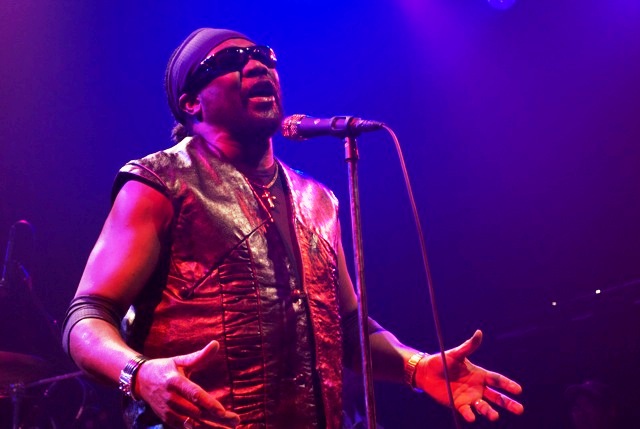 Higher and Higher ended with the band picking the tempo up 10 fold, a technique they used throughout the night to end many songs. Reggae Got Soul was another mentionable song that highlighted a two-part keys melody, and the vital importance of the two female backup singers. Bam Bam followed, which sent the crowd into another high-energy frenzy. In the middle of the tune, Toots had one of his crew come out and help him put his acoustic guitar, which added a nice layer of sound that buzzed delicately above the melody and rhythm. Toots' soloing abilities were limited, but well received. Funky Kingston followed the extended Bam Bam and carried on for a good while before the final song, Monkey Man.
A four song encore that included classics such as Toots' rendition of Country Roads by John Denver, and the super-famous 54-46 topped off the night with high spirits. This show exceeded any expectations I had, and I was immensely impressed by the fire that still rages in Toots' heart which he shares with everyone in the room. When he approaches the front of the stage for fan greetings or does some hammertime-style dance move, the crowd cheers him on every single time. The staggering amount of energy that he brings in his performance is absolutely incredible for the 68-year-old legend he is. If Toots comes to your town, I hope you take the unique opportunity to see him do his thing. It's guaranteed to make you smile