As with most things in life, the end is usually bittersweet and ripe with emotion. This was certainly the case for the eighth and final collaborative performance by the Trey Anastasio Band and Goose. For Goose, this tour was a "pinch me" moment, enabling them to play along side legendary musicians that they have looked up to. Conversely, the Trey Anastasio Band was given the opportunity to vibe with a rising, innovative artist, who experienced an explosion in popularity during the COVID-19 pandemic, when musicians were mostly side-lined from live performances. This fortuitous run wrapped up for a sold out crowd on November 19, 2022 at the seven thousand person capacity Santander Arena in Reading, PA.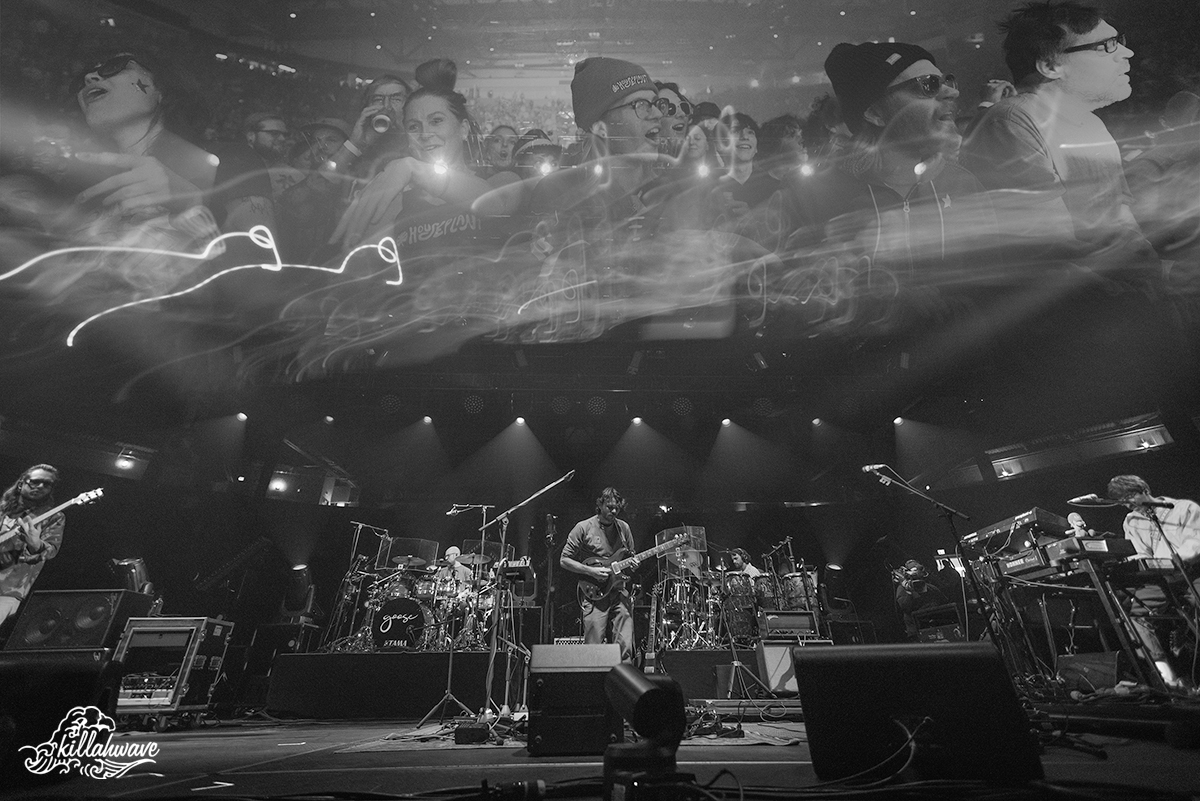 Goose began this final night with a high energy Flopener, also known as "Flodown." Lighting Director Andrew Goedde was firing on all cylinders from the gate, as the lighting space was much larger than their normal rig for this tour. "Pancakes" followed, with multi-instrumentalist Peter Anspach getting the crowd to clap in unision early in this song. The jam built up nicely as drummer Ben Atkind and percussionist Jeff Arevalo steadily increased the speed. Bassist Trevor Weekz and Anspach created a smooth groove that gave guitarist Rick Mitarotonda the space to explore. And explore he did, as the music morphed into a mind melting tension and release explosion.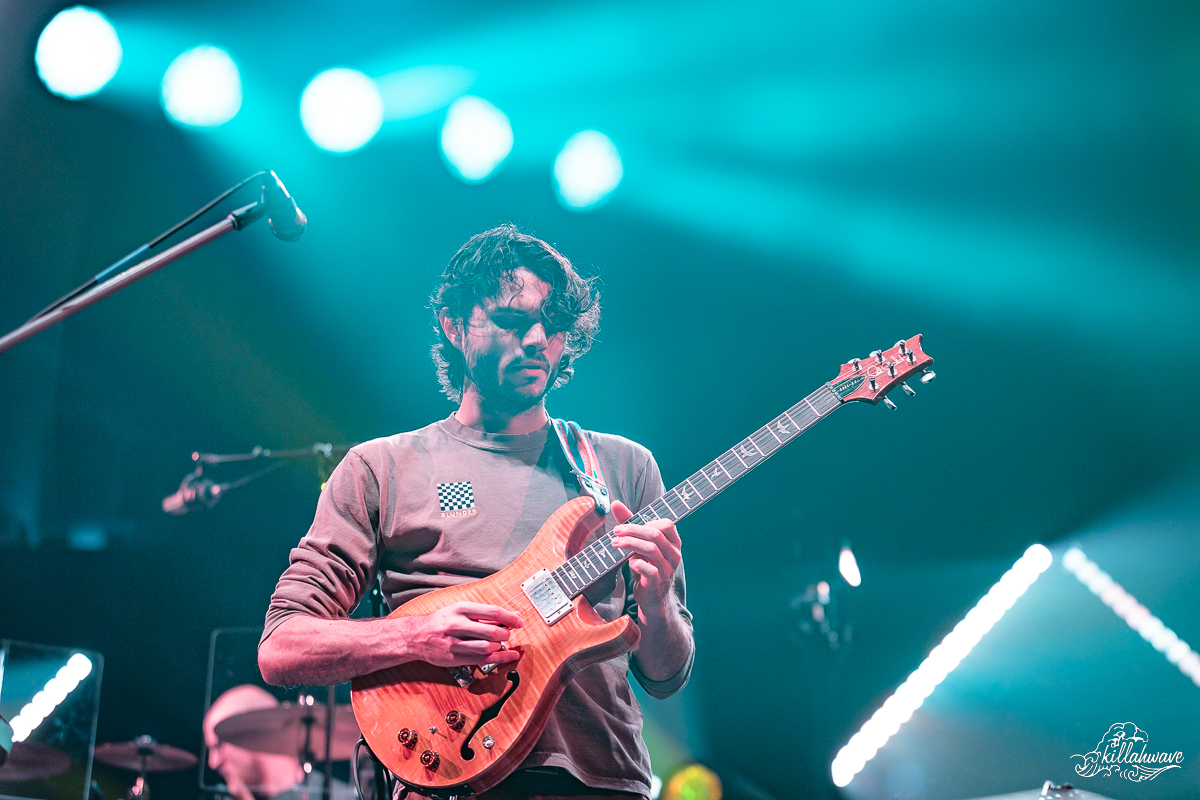 The bluesy, funk fueled "Turned Clouds" jumped into the set next, complete with soulfully sung lyrics by Mitarotonda. Anspach uplifted the music with a vibrant organ effect during the jam. The band dove into newer indie inspired tune, "Dripfield." Anspach traversed the stage with his wireless guitar, playing for those sitting behind the stage, and as synth loops he orchestrated played concurrently. The blue, green and pink lights drenched the stage throughout this song. Weekz held the bass steady while the band fell into a tight jam pocket during this jam.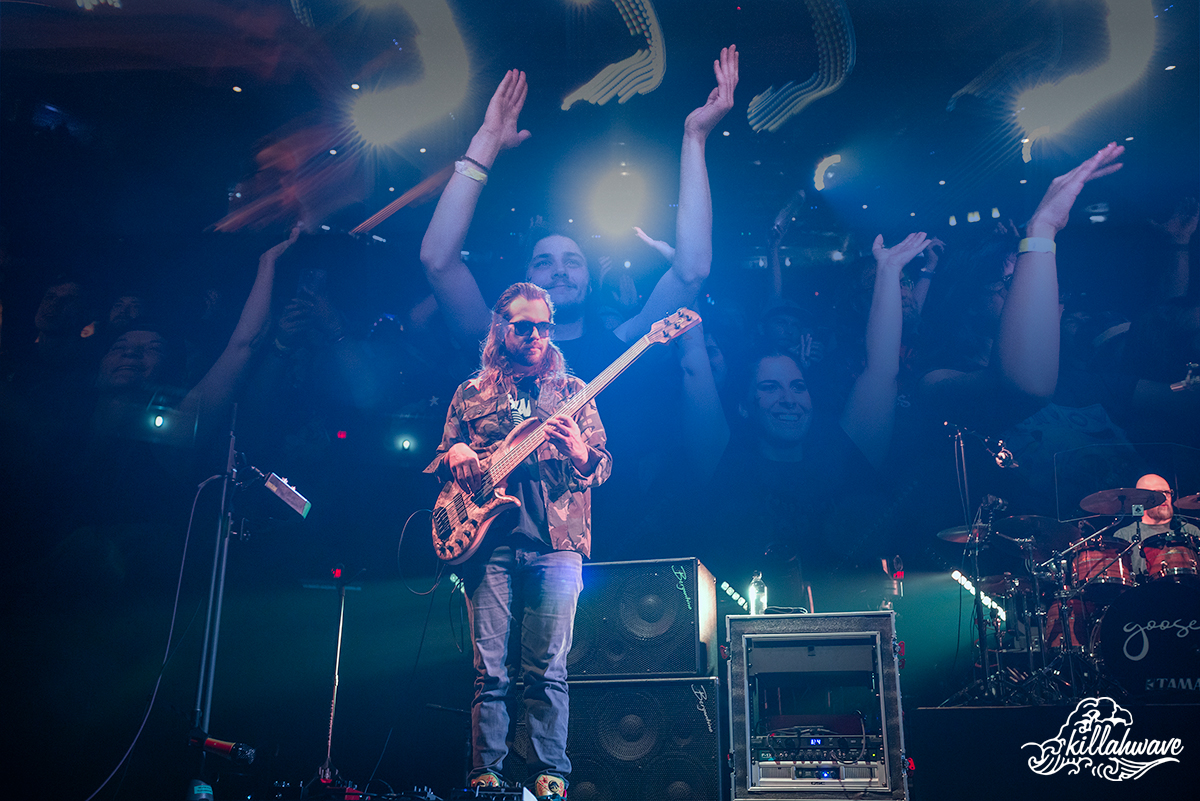 Anspach gave a huge shout out to the seventy seven person crew who made this tour happen, and expressed gratitude for being on tour with Trey Anastasio. Anastasio was then welcomed on to the stage, and walked out wearing white pants. Mitarotonda joked "I should have worn my white pants." The group of six began playing "Rockdale," as both Anastasio and Mitarotonda's guitars combined to create a bluesy Allman Brother's sound during this Vasudo tune. As the jam got dark, Anspach layered in the synth. Atkind and Arevalo set the consummate foundation for a blazing tension and release build up between Anastasio and Mitarotonda.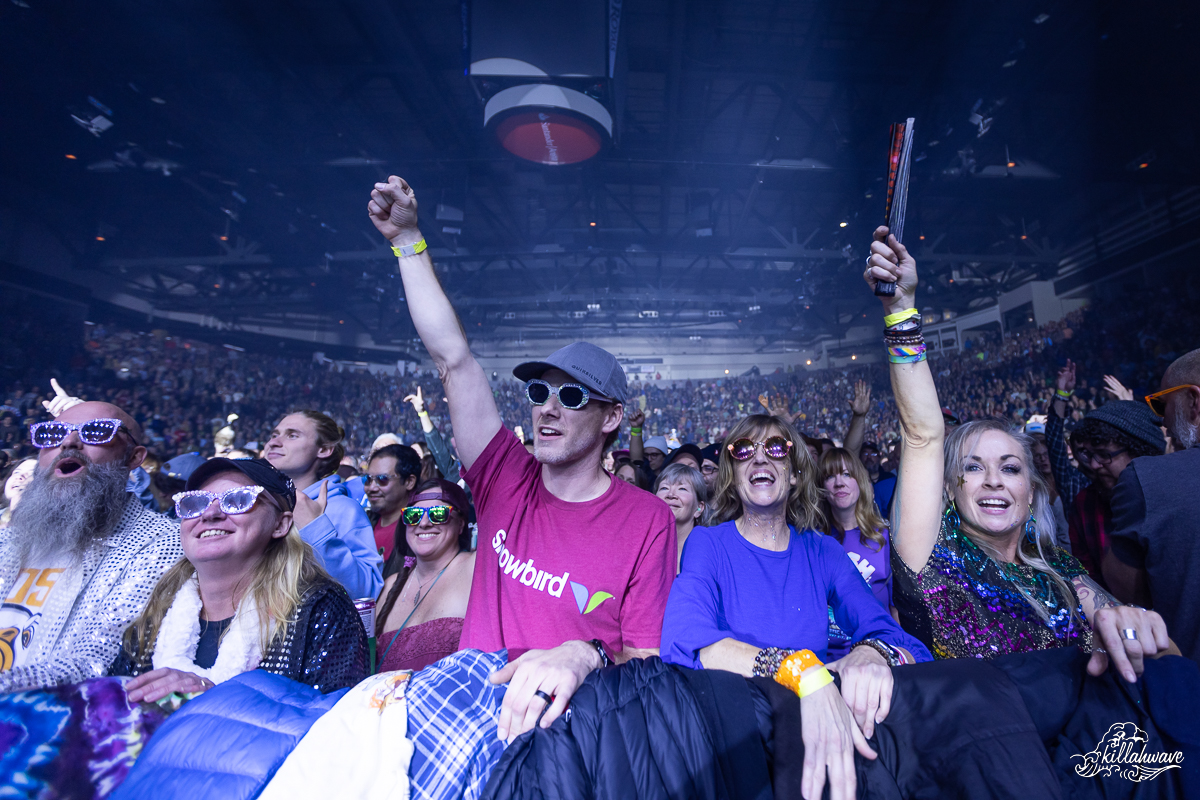 The rarely played "Elmeg the Wise" flowed into the set next, last played at Red Rocks Ampitheatre on August 18, 2022. This dropped the intensity momentarily for the first time this evening. Weekz stood out during this jam, and meshed perfectly with the percussion section. Mitarotonda and Anastasio continued to masterfully weave their guitars, elevating intensity with each note.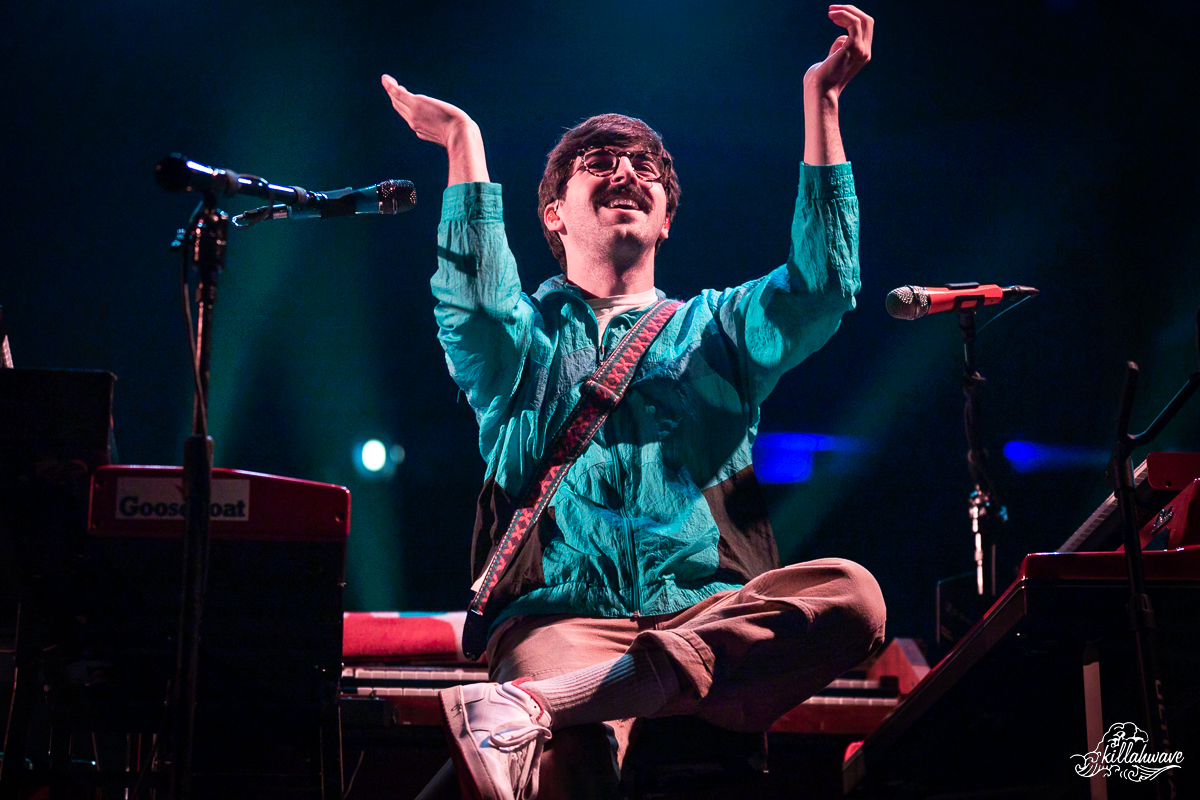 Goose invited the Trey Anastasio Band horns section, including saxophonist James Casey, trumpeter Jennifer Hartswick, and trombonist Natalie "chainsaw" Cressman, on the stage for one final tune, "Hot Tea." The well placed horn solos elevated this tune to new places. This Constitution State based band was all smiles, as Anspach once again rallied the crowd in clapping fury. Anastasio joined the tea party with more of his signature tones while Mitarotonda layed down a funky, rhythmic base. This quickly transitioned into one final raging guitar duel between the two skilled guitarists, before wrapping up on an incredibly high note.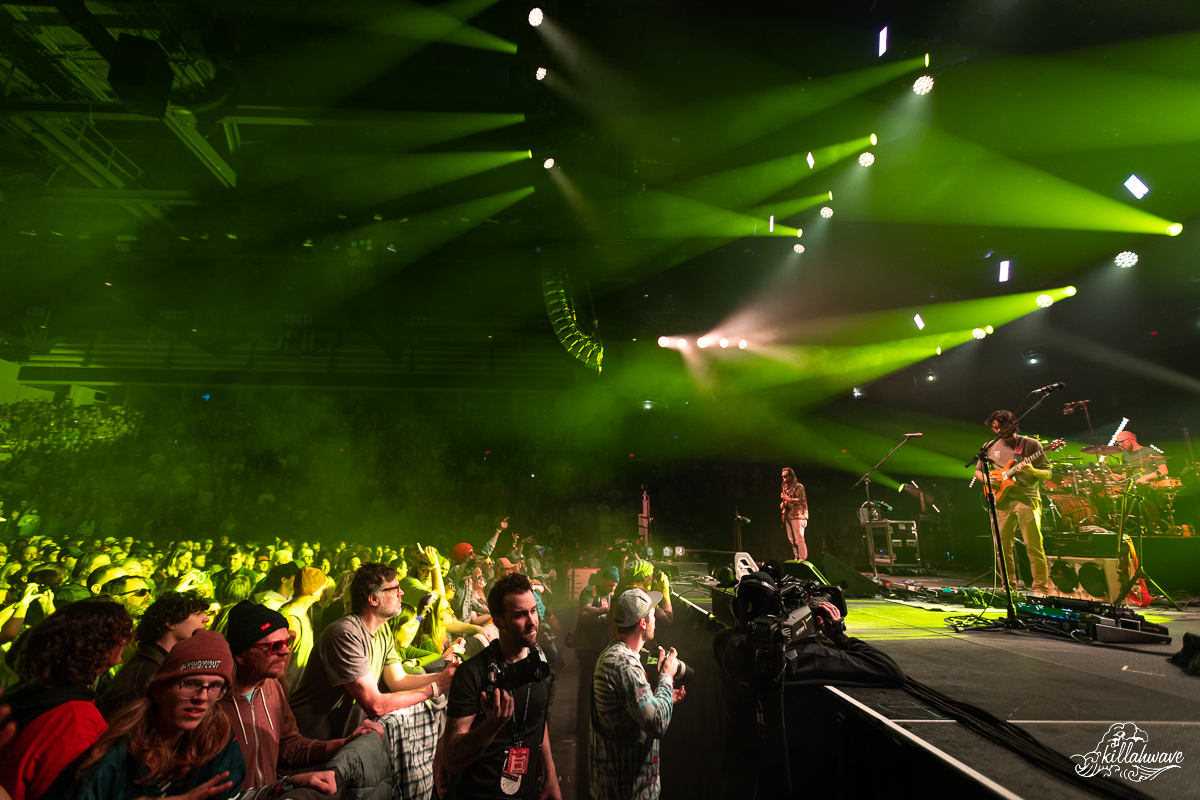 After a quick break, the Trey Anastasio Band took the stage ready to delight with a fiery "Push On To The Day." Anastasio was in rare form early, as he proceeded to dance and jump with joy front and center during this bouncy tune. The mood mellowed for a few moments as the band played the heartfelt "Love Is What We Are." Percussionist Cyro Baptista shot a love arrow into the crowd towards the end of the tune. The horn section stepped up to the plate for the classic TAB instrumental, "Mozambique." Each member took a spirited solo as the fans boogied to this afro-beat salsa song. Baptista contributed well played percussive notes that broadened the sound of this technical tune.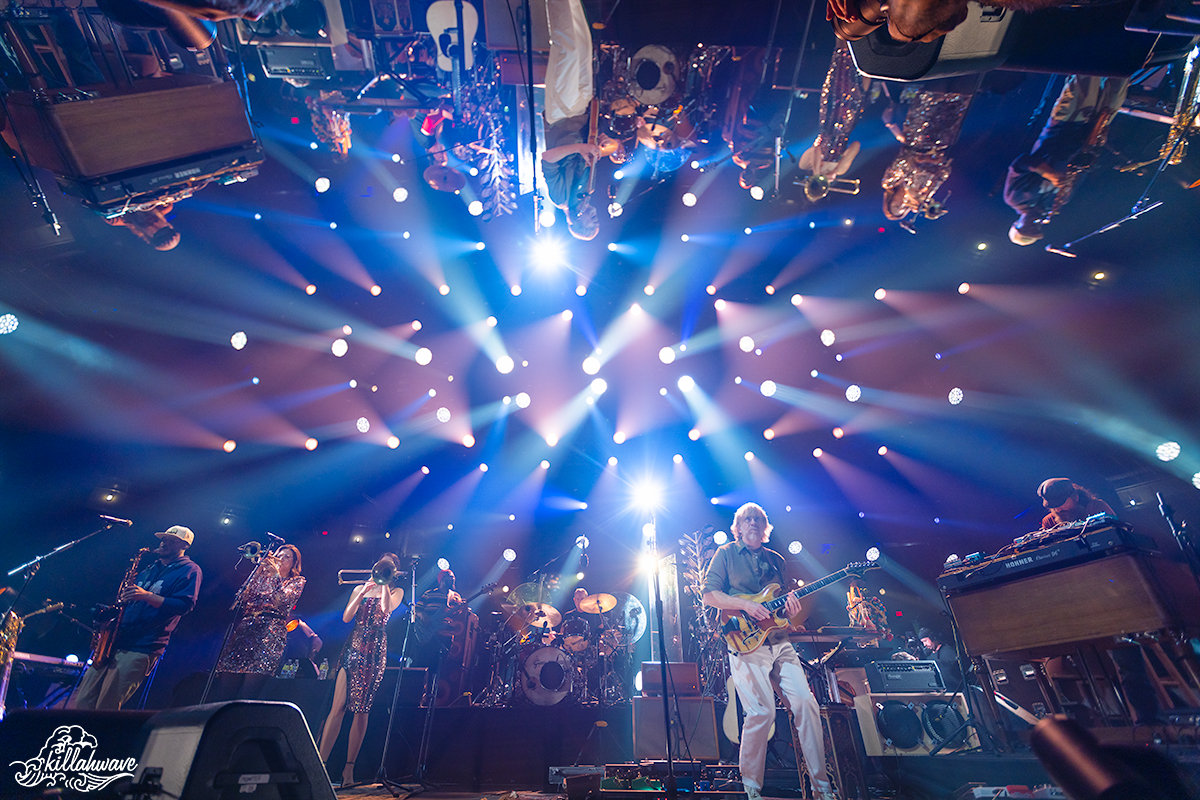 The vintage Trey Anastasio Band tunes took a trip to the islands with the quintessential "Cayman Review." Keyboardist Ray Paczkowski hoisted the funky groove with the clav as Anastasio emitted those signature guitar licks that fans can not get enough of. The funky theme rolled on with a horn fueled "Camel Walk," which is also a Phish song that is near and dear to the phans out there. Drummer Russ Lawton and Baptista showcased their percussive proficiency as they filled out the immersive soundscape. Anastasio, Cressman and Hartswick stepped to the side while Casey took a memorable late night inspired solo.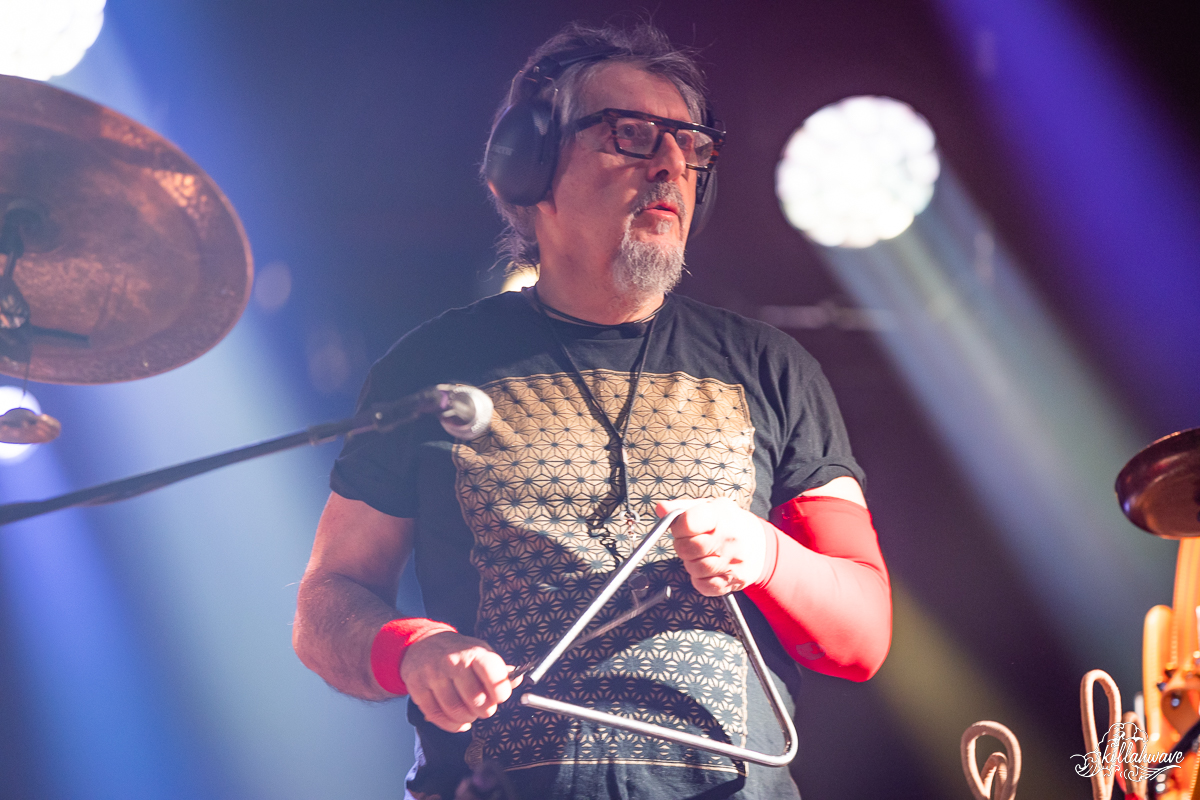 The band maintained the Phish theme, and leapt into "Twist," followed by a racing "No Men in No Man's Land." Casey engaged in a duel with Anastasio in what can only be described as a jam off between the two. This resulted in more dancing and jumping by Anastasio, as well as a tasty solo by Lawton and Baptista. After the song ended, Anastasio took a moment to acknowledge the crew and how much fun this tour with Goose has been. He even engaged in a "Goooooose" chant.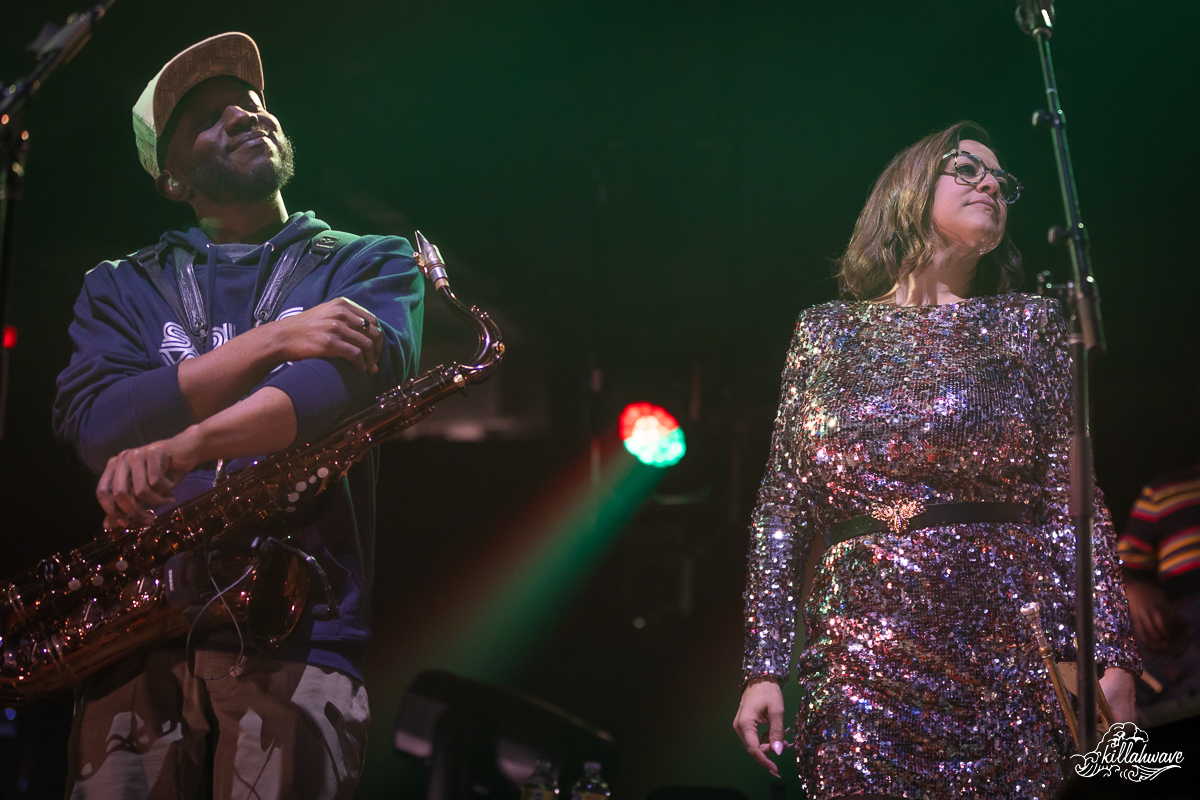 A profound "A Life Beyond The Dream" ensued, proceeded by newer tune "...And Flew Away." The mood got heavier with the introspective "Dark and Down," which led directly into an almost scary percussion and vocal solo by Baptista. During this dark moment, Mitarotonda, Atkind, Weekz, Arevalo, and Anspach, alternatively Goose, quietly emerged from back stage, and joined in on the next tune, "Ghost." Baptista's evil voice overs continued into Ghost, and added a daunting element to this well known Phish jam vehicle. "Hey Stranger," from Anastasio's recent release Mercy followed, complete with backing vocals from the talented horns section. Paczkowski and Anspach brought a delightful keyboard jam to the mix.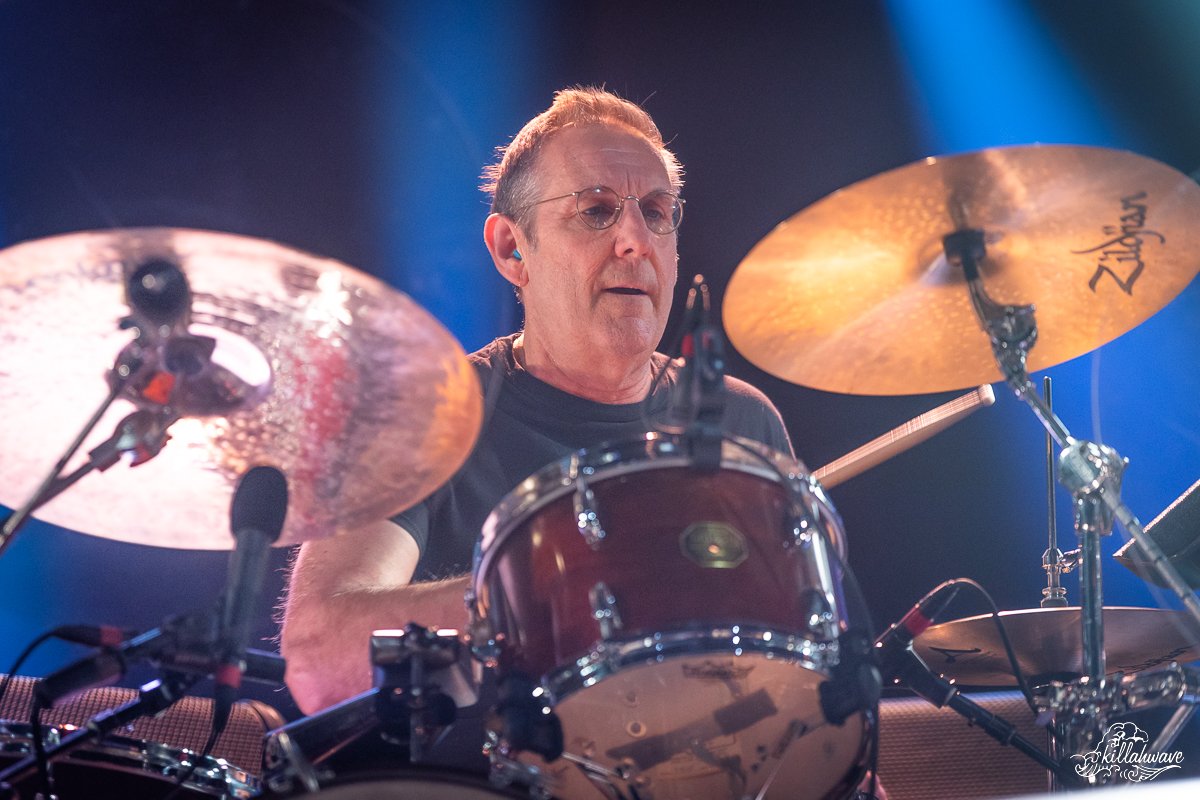 As this well rounded show waned, the band played the "Everything's Right" card. "Focus on today, and you'll find a way. Happiness is how, rooted in the now." Everyone on stage was undoubtedly feeling the love, and knew how truly special this set, and moment, was. Smiles were frequently flashed reaffirming this ideal. The set closed out with the same intensity that it began with, as the band jettisoned into "First Tube." Mitarotonda and Anastasio wove their chords together once again for a parting jam. And, of course, Anastasio waved his custom guitar in the air, making those unusual feedback sounds that only a Languedoc guitar can make, to end the set.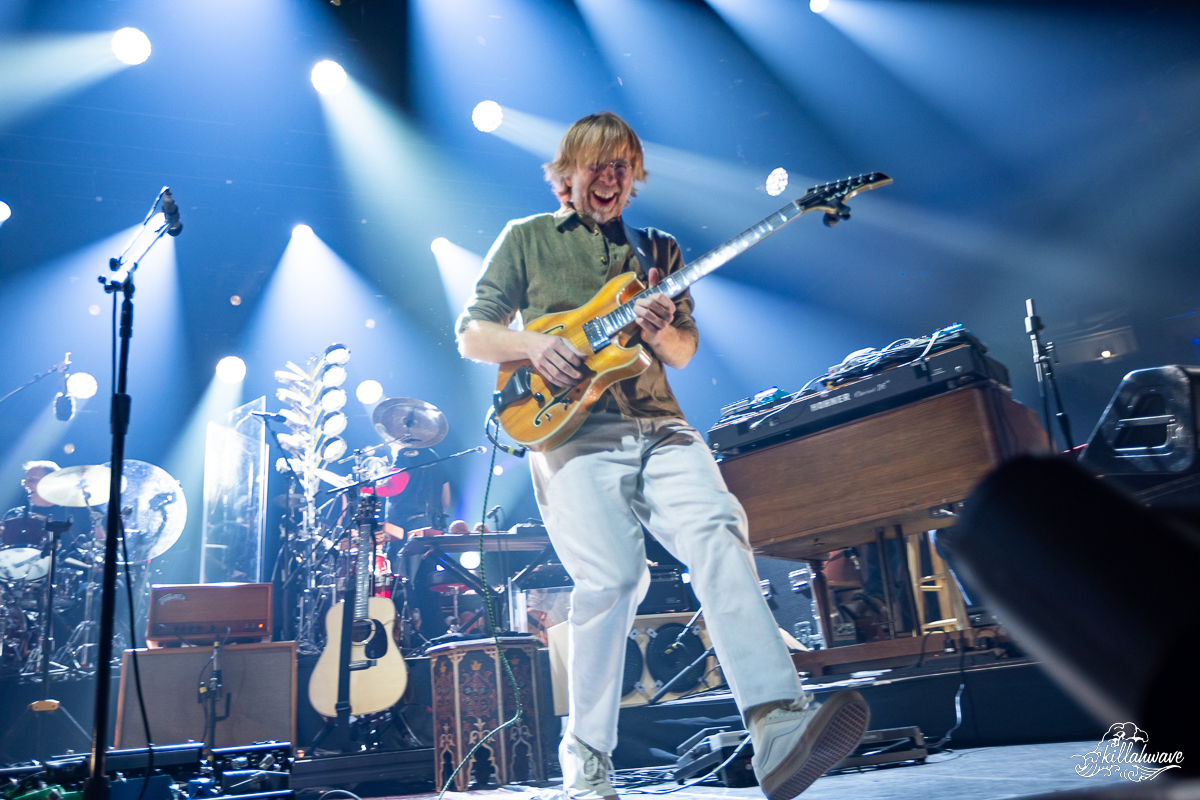 The crowd went wild with applause until both bands returned to the stage one last time for an encore. The music kicked off with a exceptionally funky, slowed down version of the high speed Phish tune, "Llama," led by TAB bassist Dezron Douglas. Atkind, Arevalo and Weekz joined Baptista on percussion for this round. The last lyric from the song was changed from "taboot" to "taboose," honoring this exceptional mashup. The show was not over just yet, as the mood dipped briefly for the ardent "Show of Life." "It's a limited time that we exist. We slowly make our way into the mist." Perhaps this was Anastasio's way of quantifying this noteworthy moment.
Anastasio quickly thanked Goose, mentioned that he hoped to see everyone soon, and expressed his desire to keep the party going. This evolved into the elusive "Party Time" by Phish, complete with Baptista on the whistle. As the song wound down, Casey and Hartswick delivered monster solos, before Baptista rounded up the troops into a line. All non-horn playing band members picked up a percussive instrument, and paraded off the stage in a line, led by a whistle toting Baptista. This ended what can only be described as an undeniably outstanding show with vigor.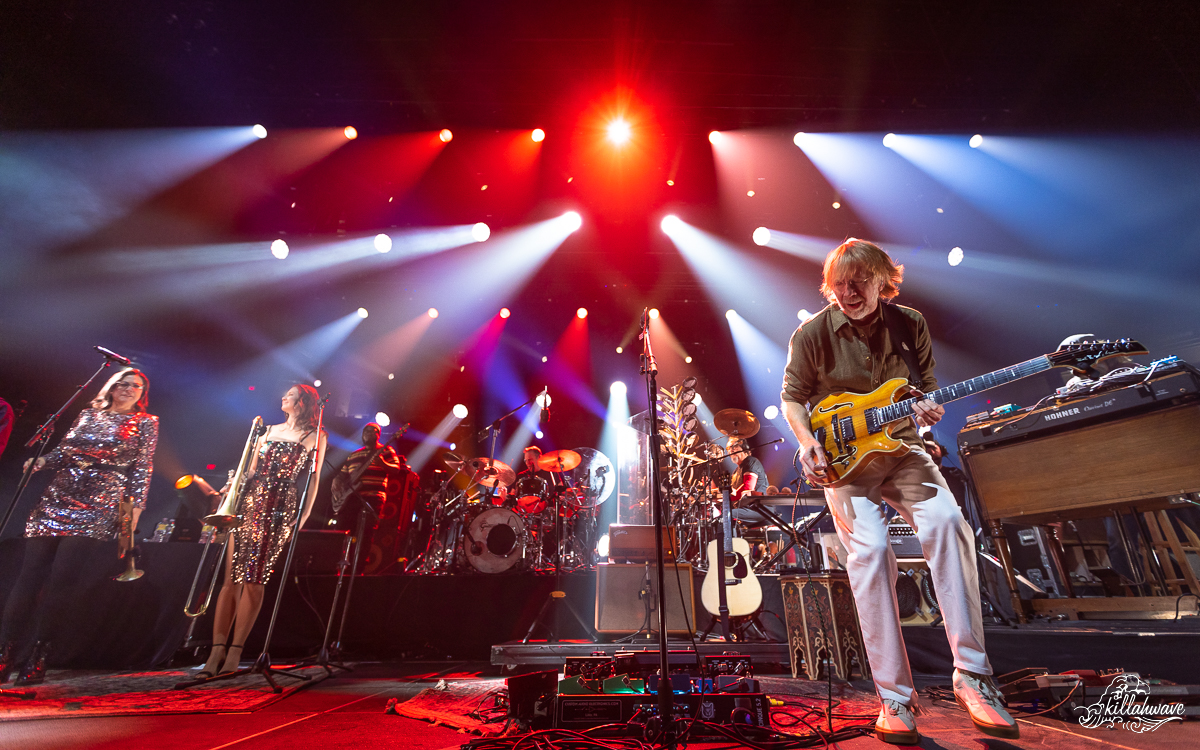 Fans of both bands who were able to attend any part of this tour were very fortunate. Goose unequivocally brought a vibrant burst of fresh energy to the Trey Anastasio Band, and also learned immeasurably from this veteran squad. We can only hope to see future collaborations for any subset of this accomplished group of musicians.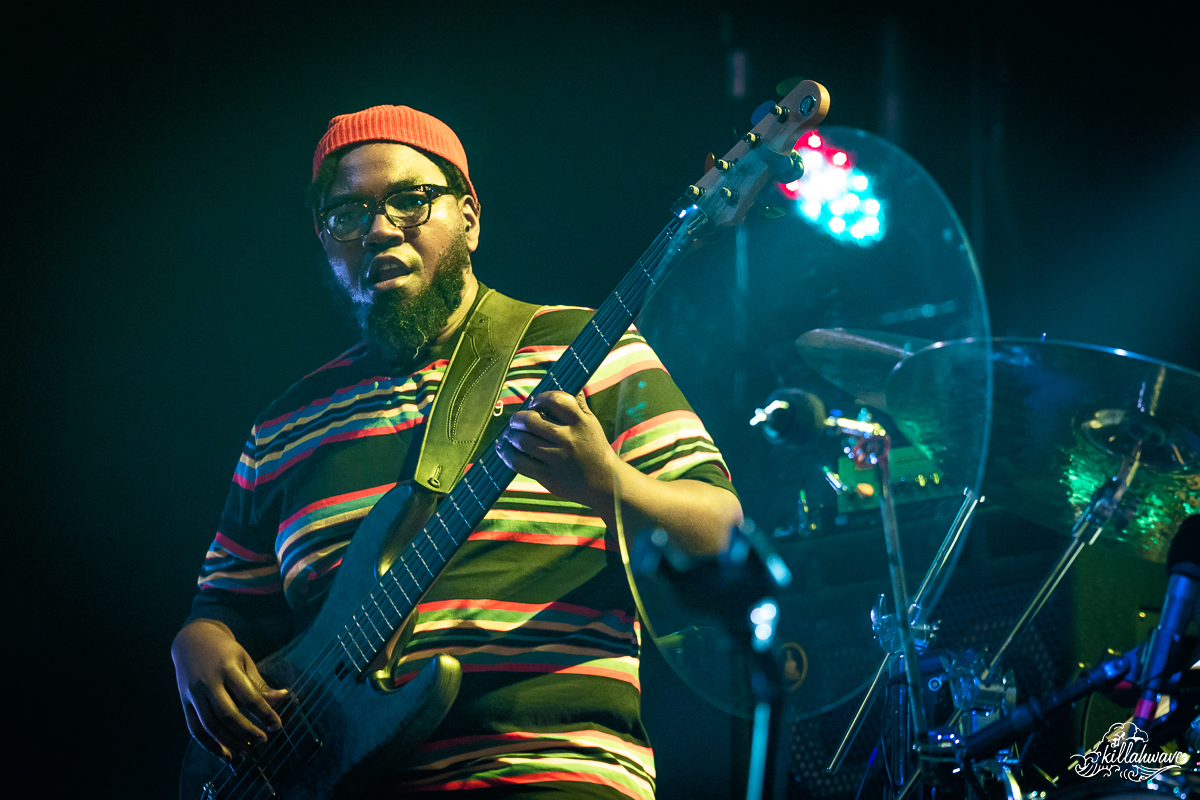 For more coverage from prior stops in this soon to be celebrated tour, visit our reviews for Mohegan Sun Arena, Cool Insuring Arena, UPMC Events Center and Upstate Medical Arena.
Check out more photos of Goose and Trey Anastasio Band from the show!
Goose Set
Flodown[1], Pancakes, Turned Clouds, Dripfield, Rockdale[2], Elmeg The Wise[2], Hot Tea[3]
Trey Anastasio Band Set
Push On 'Til the Day, Love Is What We Are, Mozambique, Cayman Review, Camel Walk, Twist, No Men In No Man's Land, A Life Beyond The Dream, …And Flew Away, Dark and Down, Ghost [4], Hey Stranger [4], Everything's Right[4], First Tube [5]
Encore
Llama [6], Show of Life [7], Party Time [8]
Notes
[1] Flopener.
[2] With Trey Anastasio on guitar.
[3] With Trey Anastasio on guitar, James Casey on saxophone, Jennifer Hartswick on trumpet, and Natalie Cressman on trombone.
[4] Rick Mitarotonda on guitar and Peter Anspach on keys.
[5] Rick Mitarotonda on guitar, Peter Anspach on keys, Trevor Weeks on bass, and Jeff Arevalo and Ben Atkind on percussion.
[6] Rick Mitarotonda on guitar, Peter Anspach on keys, and Jeff Arevalo, Ben Atkind, and Trevor Weeks on percussion; performed in an alternate arrangement. Final lyric changed to "Taboose."
[7] Rick Mitarotonda on guitar, Peter Anspach on keys, and Jeff Arevalo, Ben Atkind, and Trevor Weeks on percussion.
[8] Rick Mitarotonda on guitar, Peter Anspach on keys and vocals, and Jeff Arevalo, Ben Atkind, and Trevor Weeks on percussion. Ended with the horns and everyone else on percussion playing as everyone walked off stage.